Things to do in Annecy: The 12 Best highlights and points of Interest
You're looking for a nice weekend or few days trip destination in France? No need to look further!
You should definitely visit Annecy, in Haute-Savoie. In summer or winter, you will easily find enough things to do to enjoy 2 or 3 awesome days!
So, where to go in Annecy? What are the best places to visit?
In order to help you plan your stay, I have written this guide of the 12 best things to do and see in Annecy and around.
Then, I will give you tips to visit Annecy in 1, 2 or 3 days without missing any points of interest.
I will finish this article with my hand picked selection of the hotels that offers the best value for money in the area, so you will know where to stay in Annecy.
Let's start by the list of Annecy's must-see attractions!
1. Lake Annecy

When you hear about Annecy, the first thing that comes to your mind is this postcard image: the lake's translucent water reflecting the mountains surrounding it. It's really the #1 tourist attraction in town.
For sure, Lake Annecy (Lac d'Annecy in French) is the first thing you will want to see when you arrive, so let's start your trip in Annecy by a small walk on the lake's shore. You will finally be able to see the crystal clear, lagoon like water and the beauty of the place by yourself!
You can for example start your stroll starting from Paquier, the huge lawn boarding the lake, and go on the right to the Jardins de l'Europe (Gardens of Europe).
With this itinerary, you will go through one of the top places in Annecy, the Pont des Amours (lover's bridge), with, like the one in Paris, has "love locks" tied to it.
The jardins de l'Europe are very nice for the lake view of course, but also for the huge and magnificent multi centennial trees you can find there.
On the other side of Paquier (left side), you can go to the Imperial Palace gardens, for sure the most luxurious hotel in Annecy.
It's located at the border of Annecy's adjacent town, Annecy le Vieux, which, despite it's name, is not and shouldn't be confused with the old town of Annecy.
You can keep going on the lake shore to find a beach as well as the starting point for many nautical activities to do on the lake. I will tell you everything about them a bit later in the article.


2. Segway Stroll on the lake shore
A cool way to discover the place is to choose a Segway stroll, a nice activity to do on Lake Annecy shore. Even if you have never tried before, it's a great place to start as the area around the lake is a pedestrian only area.
Trips are offered from 30 minutes (around 17€ per person) to 2 hours (around 55€ per person). It can be a great activity to do with your family!
I strongly recommend you to book your Segway tour in advance. It's more convenient, as you can do it directly online by clicking here.

3. Bike ride around Lake Annecy
The sportier will for sure enjoy to do a bike ride around Lake Annecy.
There is around 42km of bike path, it's really a great way to discover the surroundings. You will of course need to stop a few times to admire the view! it's also the best way to find some places without too much people, especially in summer.

4. Do paragliding: discover Annecy from the sky
For those with an adventurous spirit and big thrills enthusiasts, I strongly recommand you to book a paragliding session above Lake Annecy.
The view is just crazy, no wonder why Annecy is the most famous paragliding site in Europe, and one of the best in the world!
Many companies are providing this service, starting from 95€ for 15/20 minutes. You can even chose if you want a big thrill acrobatic flight or something calmer.
The paragliding session usually starts from Forclaz pass (col de Forclaz in french) or the small town of Talloires and it should be booked in advance. Doing paragliding in Annecy is the best way to discover this sport!
For me, it's a really a "must do" tourist attraction in Annecy.
The best paragliding session in Annecy can easily be booked online by clicking the button below: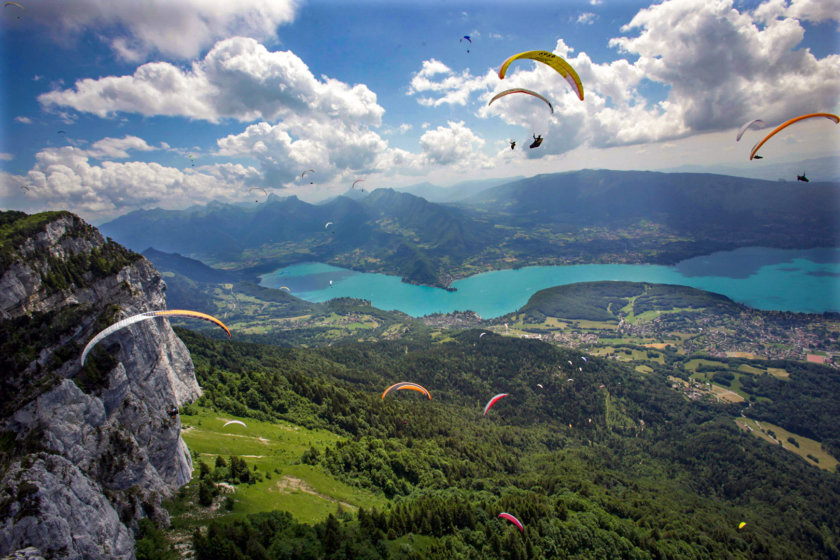 5. Do nautical activities on lake Annecy

If you are looking for what to do in Annecy, enjoying the numerous nautical activities can be a good choice!
From pedal boat to water-skiing and wakeboarding, everyone will for sure find a nautical activity that suits him on lake Annecy.
To enjoy the quietest places of the lake or just swim a bit further from the shore, you can find on the lake shore many types of boats or pedal boats available for rent.
A few examples:
A paddle boat trip starts at 12€ for half and hour, or a license-free motor boat starts at 30€ for half an hour.
If you enjoy water sports or simply want to try something new, you can do water-skiing or wakeboarding, starting from 38€ a ride.
And if you prefer to discover Lake Annecy the calm way, and, why not, while eating a good lunch or diner, you can take the restaurant boat "Libellule" from Annecy.
2 departures per day, one at 12h and the other at 20h. The round trip takes around 2h30. For 65€, you will have the mini cruise and a 3 courses menu (starter, main course, dessert).
And if you are looking for a free acitvity, you can of course just go swim or get a tan in one of Lake Annecy beaches!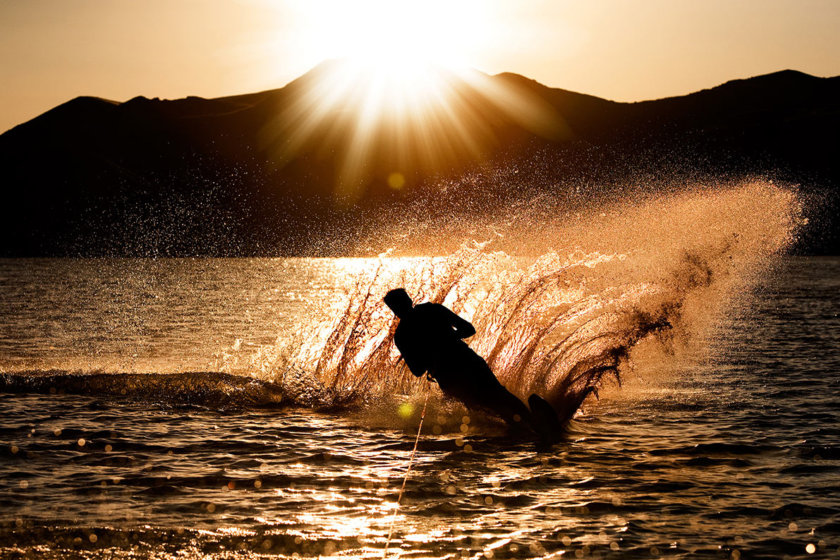 6. Annecy old town and it's canals

In addition to the lake, the city of Annecy is also famous for it's beautiful old town and the main canal going through it. That's why the town is also known as the Venice of the Alps (la Venise des Alpes in french). It's really one of the highlights of the city.
With it's cobbled streets and arches, the Annecy old town is for sure a must-see!
It's the place where you can take the famous picture with "l'écluse fleurie" (the flower tidegate on the Thiou canal) or the palais de l'Isle (Isle palace), located between 2 canals.
Don't hesitate to wander in the small alleys and to follow the canal along the Louis-Lachenal promenade.
With many areas in the shade, it's a very nice small walk to do in summer when it's very warm!
It's also in Annecy old town that you can find most of the city's restaurants (touristy, but some of them are very good), as well as all the small souvenirs shop where you can buy local things as well as the superb (a bit of irony maybe!) placemat with the picture of the lake.
You will also find some typical french shops with amazing Haute-Savoie cold cuts and cheese.
About awesome local food, if you are lucky enough to be in Annecy on tuesday, friday or sunday morning, you should definitely go to the old town market.
It takes place next to the canal, and don't hesitate to bargain a bit on local products: Maybe you will get a free dry sausage if you buy a few!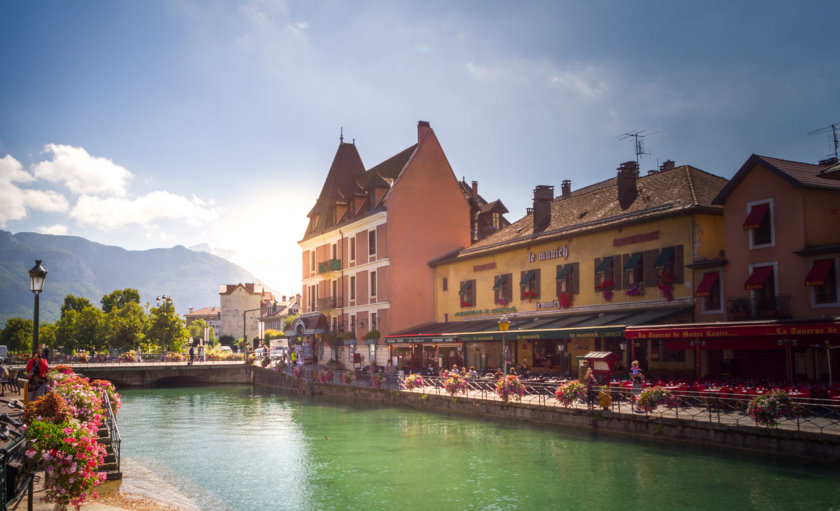 7. Eating in Annecy
Taking a stroll in Annecy old town streets is nice, but doing so while eating the best ice cream in town is even better! Yep, there is an excellent ice cream shop in Annecy: Le glacier des Alpes.
It's even considered to be one of the best in France. They offer more than 45 flavours, so the hardest part is to chose and stay reasonable!
Annecy is also the perfect place to eat a good tartiflette, croziflette (quite similar to tartiflette, but made with crozets, pasta from Savoie), cheese fondue, diots de Savoie (sausages) or, of course, fishes from the lake like perch, trout or arctic char.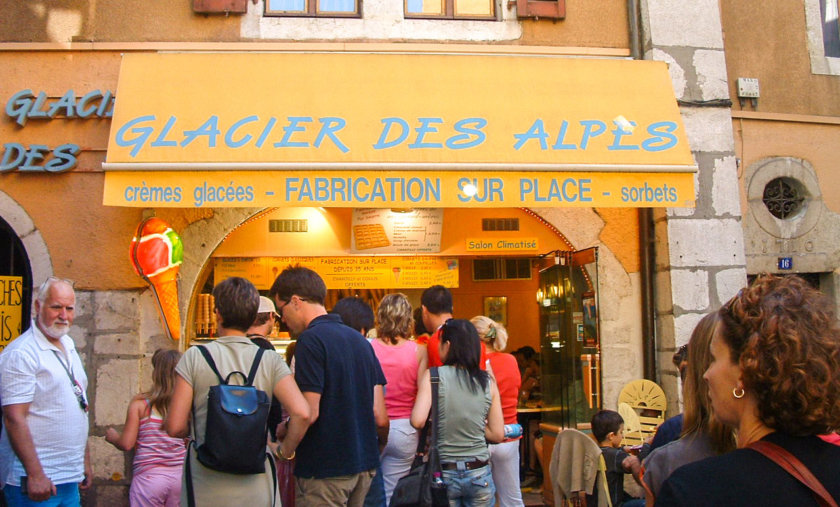 8. Château d'Annecy (Annecy Castle-museum)
Another thing to see in Annecy is the Castle museum. It's located at the top of the small hill and you can easily walk there from the old town.
For adults, the entrance price is 5.5€. At this price, you will be able to visit the château d'Annecy as well as the temporary exhibitions. It takes around 1h to visit, but let's be frank: the view from the castle is the main interest!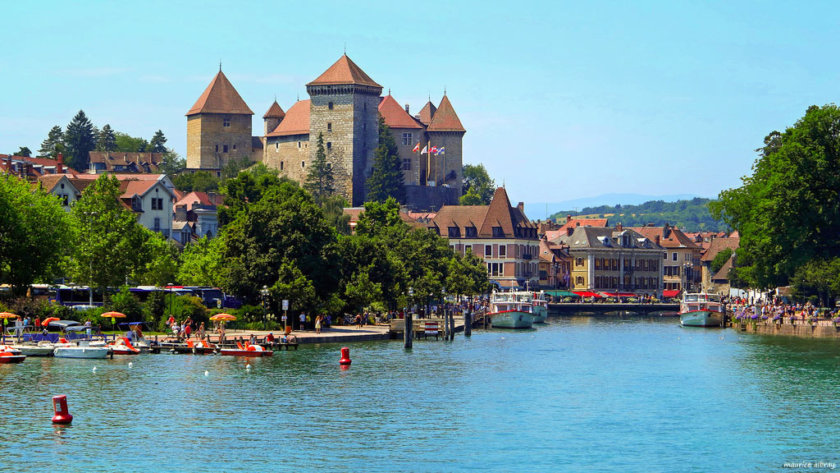 9. Venetian Carnival
As I was telling you earlier, Annecy's nickname is "the Venice of the Alps", because of the canals you can see in the old town. But Annecy borrowed something else from the famous Italian city: it's famous carnival!
Every year, generally at the beginning of march, hundreds of people dressed with magnificent costumes parade in the street. Several activities related to make-up or masks creations can be done in Annecy during the Venetian Carnival.
A very beautiful tourist attraction!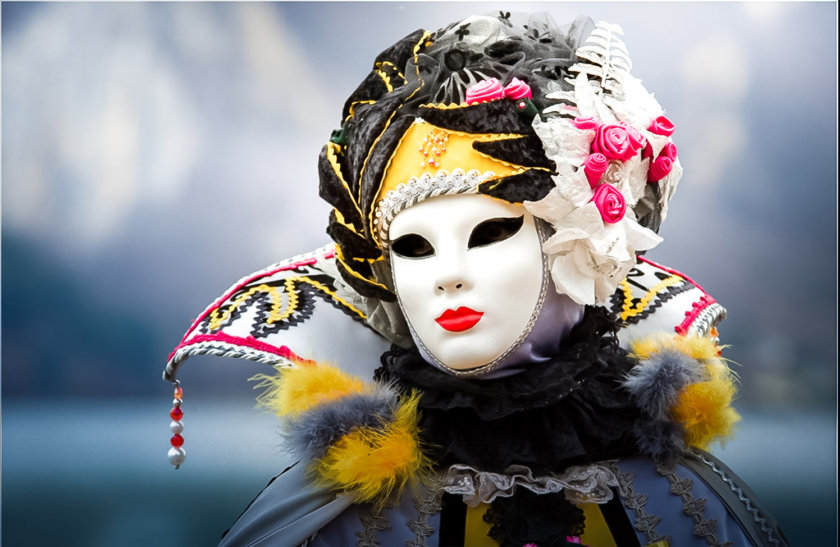 10. Annecy International Animated Film Festival
The international Animated Film Festival takes place every year in June in Annecy.
Professionals of the industry from all other the world are showcasing their movies, ranging from 3D animated graphics to traditional animations and some very original creation (stop motion clay based animation, Chinese shadows theatre etc…).
A great thing about this festival is that every evening, a movie  projection is organised on the Paquier lawn, and everyone can enjoy it!
If you are lucky enough to be doing your trip to Annecy at this period, it's really perfect for an evening with the kids (or without !)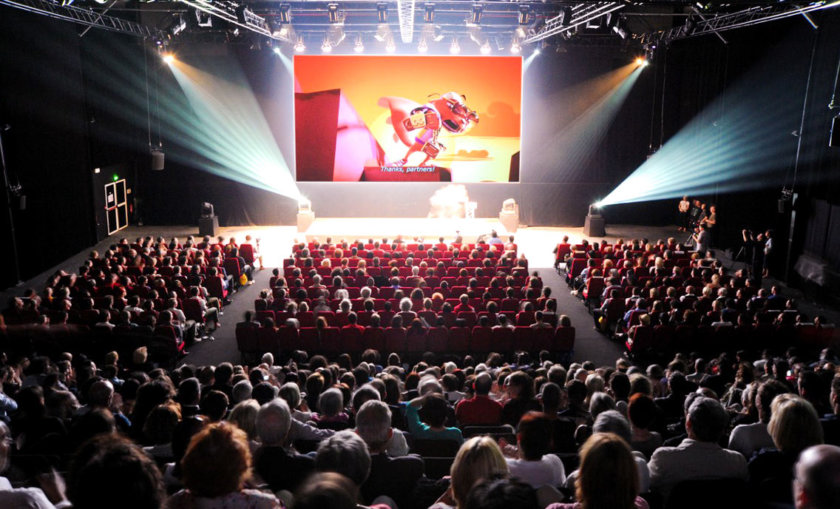 11. The Annecy Lake Festival
Another must-see for locals and tourists is the Annecy Lake Festival. This amazing pyrotechnic show takes place every year on the first Saturday of August and is the biggest in Europe.
Fireworks are shot off from Lake Annecy and stands are built everywhere around Paquier so everyone can enjoy it. There are around 46 000 paid seats, but of course, you can view it from anywhere!
Anyway, a good advice et to hunt for a good viewing spot quite early, as the show attracts more than 100 000 spectators every year. You can imagine that the best spots are taken quite fast!
For more info and seat booking, you can have a look a Annecy official website (in french)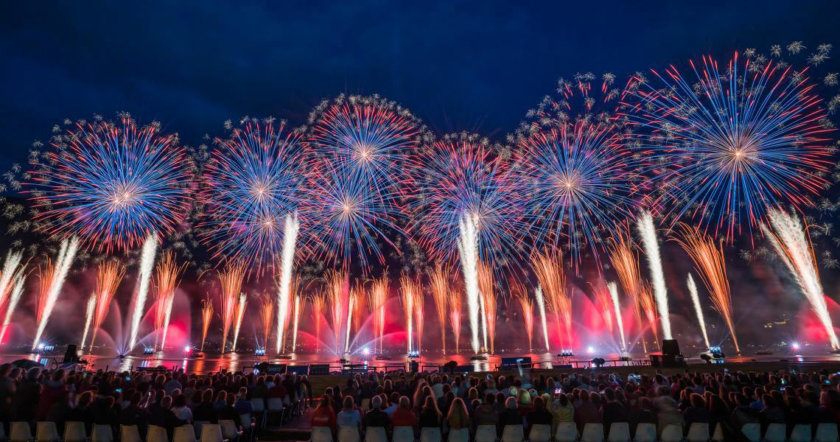 12. Going for a hike around Annecy
Considering Annecy is located at the heart of the French Alps, one of the top thing to do is to go for a hike in the mountains surrounding the city. Here are a few of my favorites:
The Semnoz
it's the easiest hike around Annecy. Take your car, and go to the top of the Semnoz, there is lots of parking places. From there, you will have amazing viewpoints on the lake and moutains surrounding it.
In summer, you will be able to do a few hikes as well as mountain bike in the high mountain pastures, and in winter, you can enjoy sledge, ski and snowshoe.
Mount Veyrier
This hike starts from the town of Annecy le Vieux and Veyrier. You can walk for a few hours without major difficulties and you will be protected from the heat in summer as most of the paths are in the forest.
The great part of this hike is that you will benefit from an amazing view on all Lake Annecy.
It's also possible to go directly next to the top of Mount Verrier with a car, by the "col des contrebandiers". You will then have to do a short walk to go to the lake viewpoints.
For a short walk with a nice view on the lake, I suggest you to follow the signs to the "Talabar", a small meadow with one the best views of Annecy.
La Tournette
This hike around Annecy is for experienced hikers, as the last part is quite hard, with chains, cables, ladders and quite slippery rocks. From there, you will have a great view on the lake as well as the Mont Blanc.
The Gorges du Fier
Properly speaking, this is not a hike, but rather a short walk in a nice natural site at about 10km from Annecy.
Result of the water erosion on rocks, the 25m deep gorges du Fier can be visited thanks to the footbridges installed all along the torrent. At the end of the walk, don't miss the "sea of rocks".
The site is closed from October to March and is then open everyday. The ticket price is 5.70€ for adults and the visit takes around 1 hour.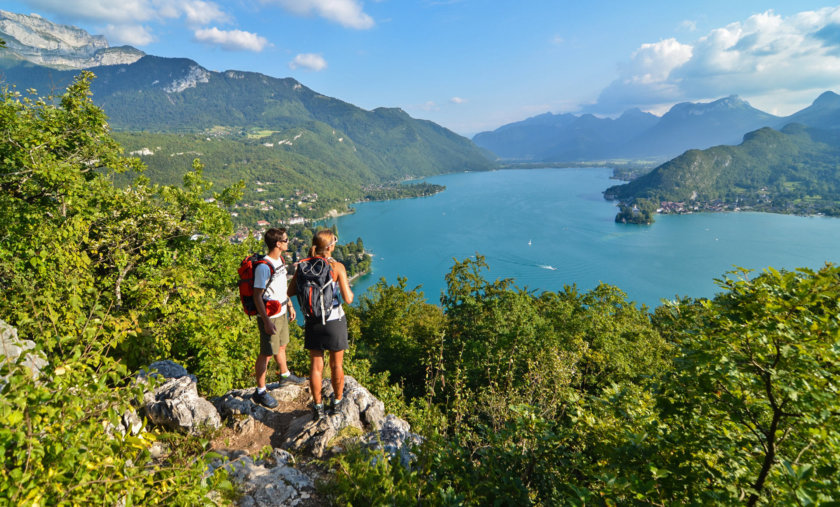 One day in Annecy
If you have only 1 day to visit Annecy, you will have to make concessions! To make the most out of your day in the Venice of the Alps, I recommend you the following things to do :
For a good start, take a stroll on Lake Annecy shore

Then go to Annecy old town to see the canals and Annecy castle museum
For the lunch, you can eat something in the old town (the famous local "tartiflette" if it's not too hot!) and finish with one of the amazing ice cream from the Glacier des Alpes
In the afternoon, you should try to do one of the nautical activities available on Lake Annecy like wakeboard, water ski or paddle boat!
To end your day in style, go for a paragliding session and enjoy the amazing view of Annecy from the sky!
2 days in Annecy
In 2 days in Annecy, you will have the time to go for one of the nice hikes you can do in the mountains around the city!
In addition to the 1st day program, I suggest you to go to the Semnoz and maybe do this hike (in Fench) that offers a superb view on the lake.
For the most adventurous among you, the La Tournette hike is a great alternative to have a memorable day!
If you choose a short hike, you can finish the day at the beach, next to Annecy le Vieux and enjoy the lake's crystal clear water.
3 days in Annecy
if you have 3 days in Annecy, you will have the time to go around the lake and maybe spend one night in of the the small towns like Talloires or Menthon-Saint-Bernard.
Take the opportunity to do a few pictures of the castle of Menthon-Saint-Bernard. Depending on the day and season, you can even visit it (more info on their website)

Another very photogenic place is Duingt castle, on the other side of the lake.
And if you are visiting the region with friends, why not go for example do some tree climbing in an adventure park or paintball in the forest, near Annecy?
If you would like to know more about special events in Annecy or just get a tourist map, you should go to the Annecy tourist information center.
Address:

Centre Culturel Bonlieu, 1 Rue Jean Jaurès, 74000 Annecy.
Where to stay in Annecy
In Annecy, hotels nights can quickly become quite expensive. So a good solution can be to use Airbnb to rent a room or a full appartment! With Voyage Tips, you can benefit from a 25€ discount on your first booking. If you already have an account, don't hesitate to create a new one to get the 25 euros. This rebate will then be automatically applied to your first booking above 69 euros.

And you, what do you plan to do in Annecy?
France travel Guides
You're traveling in France? These articles will help you!
Discover all our articles about France: All Voyage Tips articles about France are listed there.
You're using Pinterest? Here is the picture to pin!