Things to do in Taormina: the Best Places to Visit and Highlights

About an hour's drive north of Catania is a small town considered one of the jewels of Sicily. Perched on a cliff at 200 meters high, Taormina offers an incredible view of the sea and the Etna volcano.
In this guide, I will first present you the 13 best things to do in Taormina. Yep, you will know everything you need to visit the must-see attractions of the city and its surroundings!
And if you are wondering where to stay in Taormina, I have selected for you the best hotels depending on your budget.
So, what are the best points of interest in Taormina?
Visit Taormina: the 13 Must-See attractions!
The first thing to know before visiting Taormina is that the city center is a pedestrian only area.
It's really a great thing, but also something important to know if you arrive by car, as you will have to leave it at one of the 2 paid car parks located at the extremities of the city. In high season, needless to say it can quickly become very complicated!
So if you spend at least a night in Taormina, it's very important to choose an accommodation with private parking.
Alternatively, you can also park in the lower part of the city and take a bus that will take you directly to the old town. It's a backup solution as it can be really crowded in summer.
Now you know this, let's discover the city of Taormina!
1. The Corso Umberto
The Corso Umberto is THE main street that crosses the whole center of Taormina.
Flanked on both sides by a succession of luxury boutiques, clothes, jewellery,  and souvenirs, it makes you understand why Taormina's nickname is "the Sicilian Saint Tropez".
You will also find many grocery stores, bakeries, cafés and restaurants, and you will certainly hesitate where to go for your lunch or dinner.
Speaking of dinner: How about joining a gastronomic tour of the city to discover the best bars and restaurants in Taormina?
This tour will allow you to taste local wines and typical Sicilian dishes!

Simply click here for more information about this activity.
Voyage Tips - Advice
To visit Taormina in an original way, you can also opt for a Segway tour!
You will discover all the best points of interests without getting tired and at the same time, benefit from the explanations of your guide .

To book your Segway tour in Taormina, just click on the button below:

2. Piazza IX Aprile
On your way, you willl find the Piazza IX Aprile, one of the best viewpoint in Taormina, with a huge panoramic terrace overlooking the bay below and the Etna.
It's the perfect place to take beautiful photos, especially at sunset.
Enjoy its typical atmosphere with musicians, acrobats and painters.
You will also see a small church that adds to the charm of this small square, the Chiesa de San Giuseppe. Its baroque facade is very beautiful, but the interior is quite classic.



3. St Nicolas Cathedral of Taormina

If you wish to visit a typical Sicilian church, choose the cathedral of Taormina (also name Duomo di Taormina in Italian).
Located at the end of the Corso Umberto or at the beginning, depending on where you entered the city, its medieval facade and baroque door are its main attractions.
The interior is worth a visit, and it also offers another appreciable thing in summer: It remains quite cool even if it's hot outside!
4. Public garden – Villa Comunale

To get away from the crowds, don't hesitate to visit the Villa Comunale, which houses a large public garden.
This villa belonged to a rich Englishwoman, passionate about birds and who decided to build many structures such as feeders and nesting boxes.
The view of the bay is magnificent and it is the ideal place to enjoy a picnic in the shade of the vegetation. If you plan to buy sandwiches for lunch, it's definately the best place in town to enjoy them!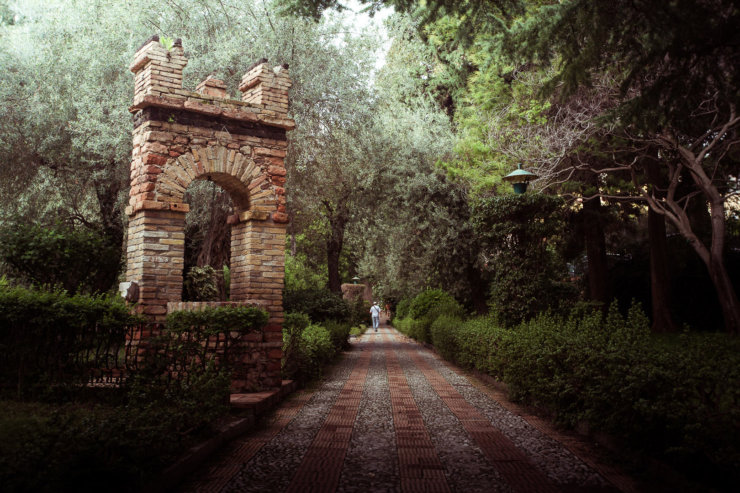 5. Greek Theatre of Taormina
The most famous monument of Taormina remains its Greek theatre.
It dates from the 3rd century BC and is remarkably well preserved. It can accommodate more than 5,000 people and is home to theatrical performances and concerts.
An important thing to know is that if you visit it a day of  concert, you will see a huge stage in the middle, which removes a bit of magic from the place.
Admission for this ancient theatre is 10€, which is a bit expensive, especially considering that the visit is done quickly without any explanatory panels or brochures. Only about 30 minutes to take a few pictures but again, it is mainly for the view that we go there.
Despite the prize, the Greek theatre remains an absolute must see in Taormina.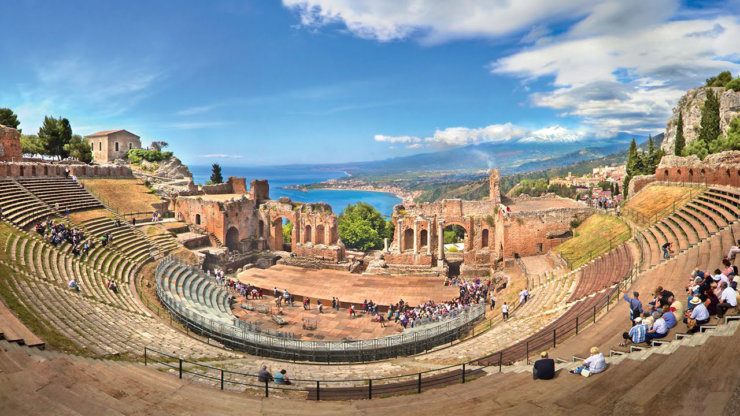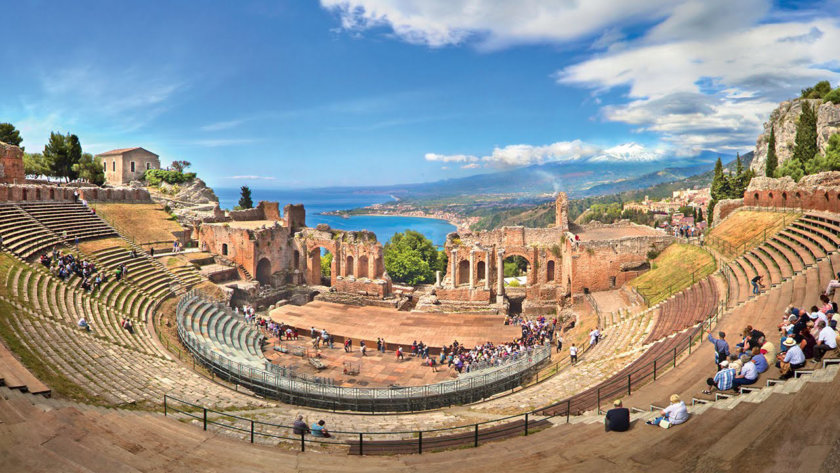 6. Chiesa Madonna della Rocca
For those who still have some energy left, go to the via Circumvallazione.
From there, a staircase of more than 300 steps and without any shade (bring a bottle of water), will bring you to the heights of Taormina in about twenty minutes on foot. You will enjoy a bird's eye view of the city and the Greek theatre.
Also worth seeing: the sanctuary of Madonna della Rocca, a small chapel partially dug in the rock.
Voyage Tips - Advice
It's true that the view from the small church is beautiful, but if you want to see Taormina from even higher, I have the perfect activity for you: paragliding!
What's great is that the price of this activity includes the pick up from your hotel and photos/videos of your flight!
For more information and to book your activity, click on the button below: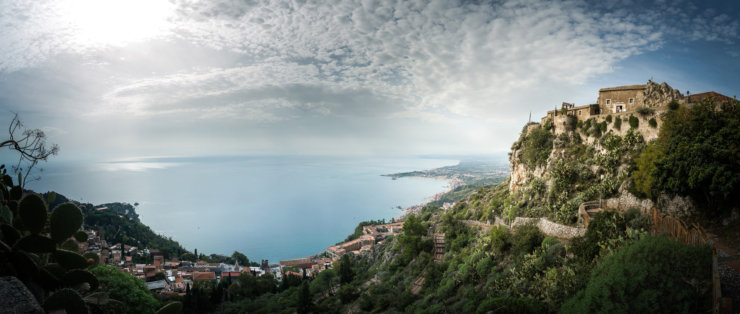 7. Isola Bella
You can't miss it, it's the little island at the bottom of Taormina, the one you can see on every postcards!
You can reach Isola Bella on foot in half an hour from the top of Taormina (going back will be harder on your legs!) or by car (good luck to find a parking space nearby!).
This cove is simply stunning, with its pebble beach and crystal clear waters.
At the beach, you can also enjoy many activities (click on the links to book):
2-hour kayak tour with an instructor who will show you the marine reserve around Isola Bella.
4-hour kayak tour, to explore a good part of the Taormina's coast.
Boat tour + Snorkeling: Get on the boat and enjoy several stops to observe the underwater fauna and flora around Isola Bella!
At Isola Bella, you can go diving, take a boat trip, rent a jet ski or just relax!
Voyage Tips Advice
The best way to discover Isola Bella is to go on a boat trip, and this one is clearly amazing.
There is a swimming and snorkeling stop in Isola Bella bay and you will see, Graziella and her husband, the boat owners, are super friendly!
To book your boat trip, simply click on the button below: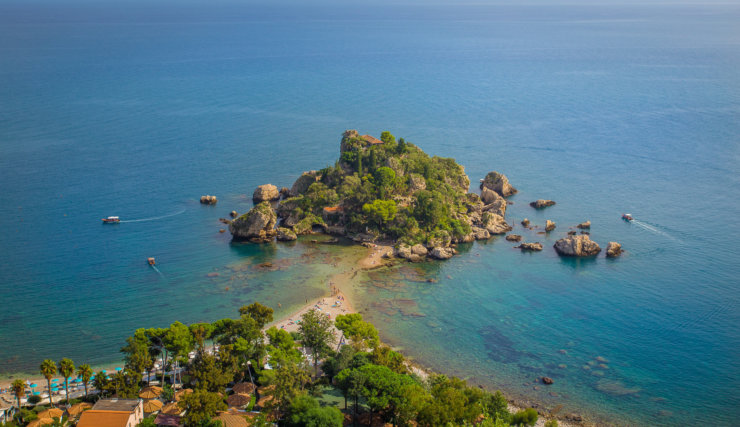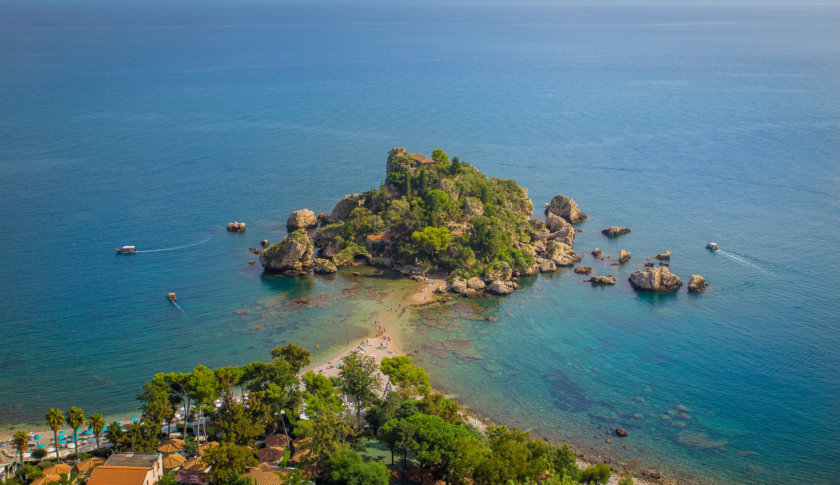 The 6 Best Things to Do Around Taormina
8. Castelmola
Located 5km from Taormina, the small village of Castelmola is worth a visit for its ruined medieval castle and its charming little streets.
In the village and from the castle, there are some of the best sightseeing points on the valley below and on Etna. Don't forget to taste the almond wine, a speciality of the village.
Voyage Tips Advice
You can park your car at the villages'car park, it's only 1 euro per hour.
Less touristy than Taormina, Castelmola is the perfect place to have a drink or go to the restaurant!


9. Alcantara Gorge

Located 50 minutes drive from Taormina, this site is a geological curiosity. The Alcantara Gorge are more than 25 meters high and only 2 to 4 meters wide.
The particularity of this narrow canyon lies in the formation of its walls, which are the result of several lava flows coming from the northern slope of Etna.
This volcanic material cooled down in contact with the waters of the river and drew original shapes. This place is not necessarily the best for swimming, because the water is very cold!
The Alcantara Gorge, on the other hand, is the ideal place to try canyoning. As you will be well equipped, you will not feel the cold and the descent of the river by canyoning in the middle of the gorges is really great!
This activity includes pick up at your accommodation (at all hotels located between Taormina and Catania).
Book your canyoning tour in the Alcantara Gorge by clicking on the button below:
If you don't need the included transport because you have rented a car for your roadtrip to Sicily, you can drive to the meeting point for your canyoning tour by yourself.
You should thus click here to book the Canyoning tour without transport (it's obviously a bit cheaper!).
Voyage Tips Advice
There are several ways to reach the gorge.
The first one is by the main tourist spot, there is a big sign at the entrance and a large parking lot that will allow you to park your car easily.
You will then use an elevator to go down to the gorges and will be have a guided tour. The minimum entrance fee is 15€.
The 2nd possibility (which I advise you) is to continue a little bit further along the road, where you will find a small hut on the right side.
You can buy Alcantara Gorges access ticket there for only 2€ per person. At this price you will use the municipal staircase to go down the gorges, but can enjoy the place the same way for a much lower price!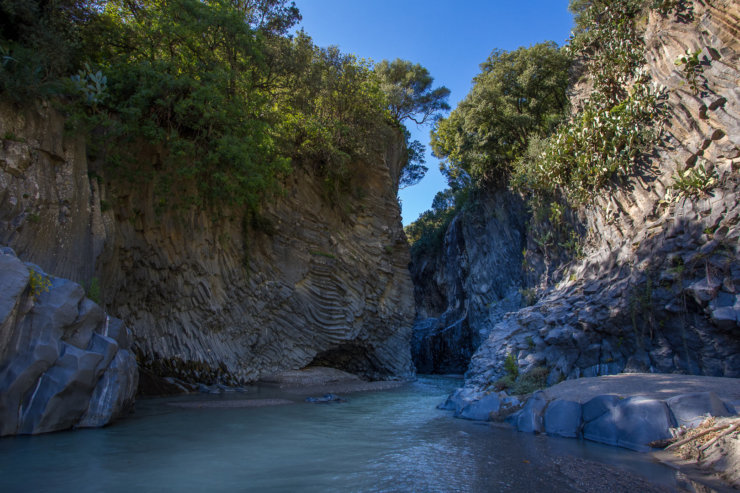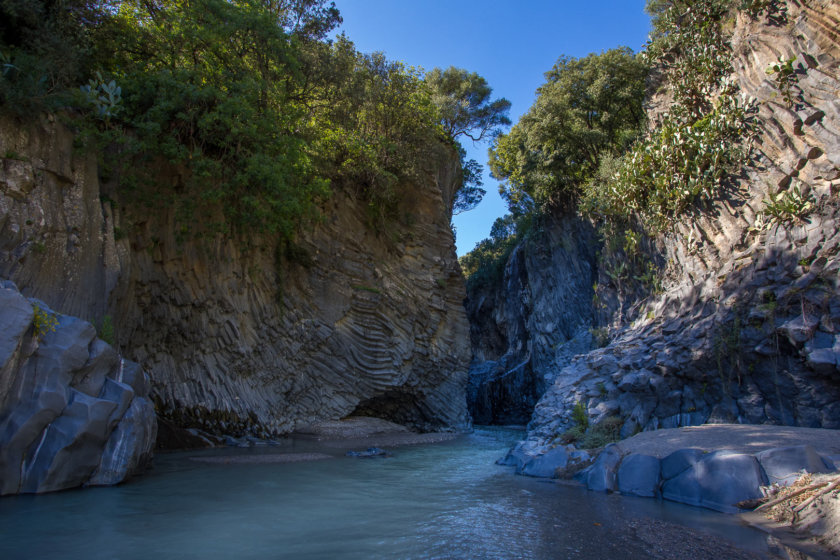 10. The Etna volcano

Starting from Taormina, many tours operators offer one-day Etna excursions. They will take you to the foot of the volcano, provide a guide and equipment, and organize the 4×4 ascent to the crater. Probably the safest option to visit the Etna!
You can of course go there by yourself, with your car. It's about an hour's drive from Taormina.
If you want to do go to Etna during your stay in Taormina, I highly recommend you to book your trip with Getyourguide. It's simple, they have the best English speaking guides! And the price is very good too.
Click on the following button for more info about the trip to Etna volcano:
Voyage Tips - Advice
If you want to enjoy a unique experience during your trip to Sicily, you should book a private helicopter tour over Mount Etna!
It's of course a bit expensive, but it is not every day that you can fly over one of the most active volcanoes in the world!

You need to click on the following button to book your helicopter flight: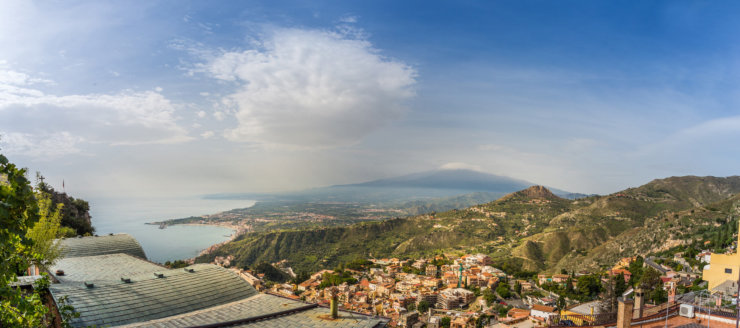 11. Visit the Aeolian Islands from Taormina
From Taormina, you have to opportunity to visit the Aeolian Islands as a day trip.
This tour includes:
Bus transport and then the cruise

A stop at Panarea island, where you will be able to visit the village and enjoy the beach
Going around Stromboli island coastline by boat to admire the volcano
A stroll in San Vincenzo village

A magical moment: at the end of the day, you will enjoy the sunset on Stromboli volcano

To book this your, simply click the button below:
Another version of this tour will allow you to discover 2 more Aeolian islands :
Lipari, the largest of the islands: You will have some free time to visit the old town and the archaeological museum.
Vulcano: you will be able to enjoy the beach or take a bath in the hot springs.
The transportation and the boat trip are included in this tour. For more information and to book your activity, click on the button below: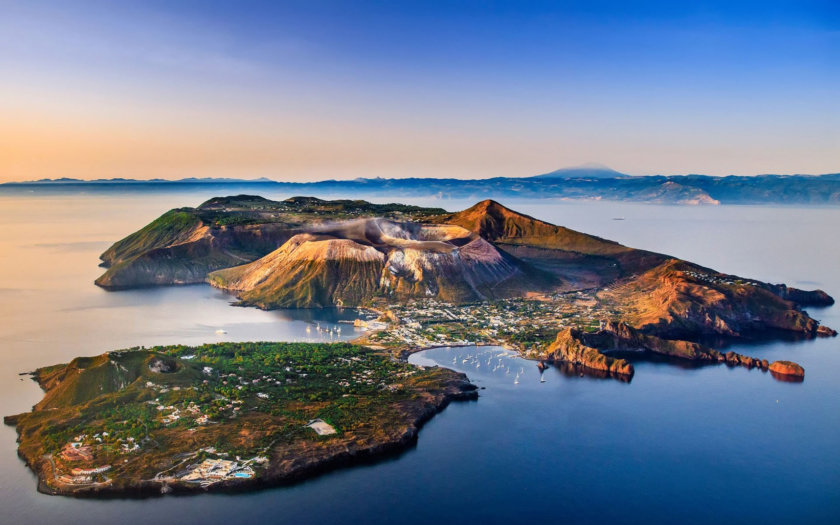 12. Visit "The Godfather" filming locations
You may know that the famous "The Godfather" movie was shot in Sicily.
Well, I have a great new for all the Michael Corleone fans: you will be able to visit some of the filming locations during an amazing guided tour!
During your trip, you will discover Savoca village, the Vitelli bar, the Chiesa di San Nicolo/Santa Lucia where Corleone got married or Forza d'Agro village.
This day trip also includes a typical Sicilian lunch, with sea view.
To visit the filming location of "The Godfather", you need to book your tour by clicking the button below (limited availability):
And if you prefer to book a "The Godfather" filming locations private tour, you need to book it there: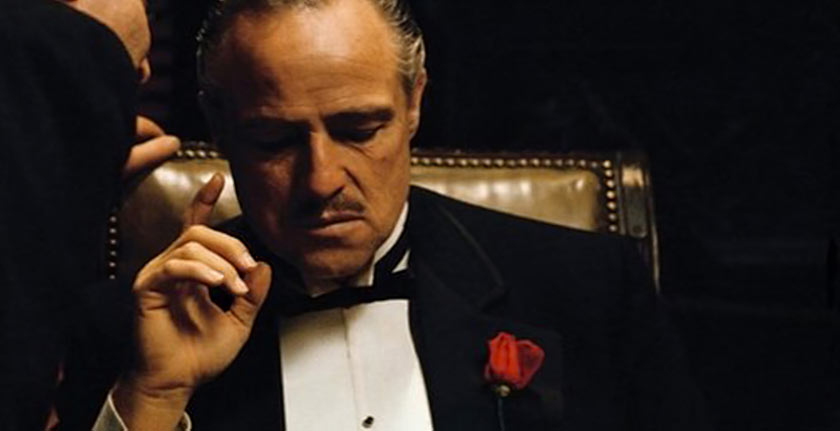 13. Discover the best Etna wineries
Sicilian wine is getting more and more famous around the world, and some of the best wineries are located around Taormina and the Etna Volcano.
From Taormina, you can go on a guided day trip to learn more about the unique wines produced on Etna's volcanic soil. Your guide will give you all the info about the local wines and of course, you will have the opportunity to do amazing wine tasting!
And as we all know it's not good to drink on an empty stomach, you will also enjoy local food tastings of cheeses, deli meats and pastries.
To book your wine and food tasting tour, simply click on the button below:
If you prefer, you can opt for a luxury private tour.
You will visit the 3 best wineries of Mount Etna (12 wines – unlimited tasting), and do food tasting too. It's simply fantastic!
It needs to be booked there:
How many days in Taormina?
The time you spend in town will depend on what you want to visit, but I recommend spending at least 2 days in Taormina. In my opinion, this is the minimum for enjoying the must-see attractions of the region.
Taormina: what to do in 1 day?
Here is a short itinerary for one day in Taormina, so you will not miss any major attractions of the city!
Visit of the old town in the morning and climb to the Madonna della Rocca sanctuary to enjoy the view.
Go back downstairs and lunch break
Swimming at Isola Bella beach in the afternoon and visit of the Greek theatre of Taormina.
I recommend that you visit the Greek theatre at the end of the day, that's when the light is most beautiful!
But if you're in a hurry, there's nothing to stop you from visiting it in the early afternoon and then going down to the beach (and so you don't have to go back up to Taormina).
If you're spending the afternoon in Taormina, you can also do the boat trip in Isola Bella Bay I talked about in this guide. Click here for more info.
2 days in Taormina
For your 2 days in Taormina, take the itinerary of the first day mentioned above, and then:
Start with an excursion to the village of Castelmola, which offers a magnificent 360-degree view of the entire region. A must-see place near Taormina!
Eat on site
Then head to the Alcantara Gorges for a refreshing moment in the shade of its walls made of columnar jointed volcanics with improbable forms.
3 days in Taormina
If you have 3 days in Taormina, I strongly recommend you to go on a trip to Etna, it's an unforgettable moment! You need to click here to book it.
Beach lovers will certainly also want to go back to Isola Bella. If you like snorkeling, you can go for a walk in the Grotta Azzura of Isola Bella. Just be careful with the boats, because there are organized tours to this place.
Other options (or if you spend 4 or 5 days in Taormina!) are:
Voyage Tips Advice
If you have planned to visit Taormina and its surroundings with a guide, you can save money by opting for a 3 activities day trips package doable in 2 or 3 days.
You will be able to enjoy:
A guided 2h30 walking tour of Taormina with wine and food tasting
An excursion to the "The Godfather" filming locations.
A tour of the best vineyards of Etna and wine tasting
To book these 3 tours, you just have to click on the button below:
Where to stay in Taormina ?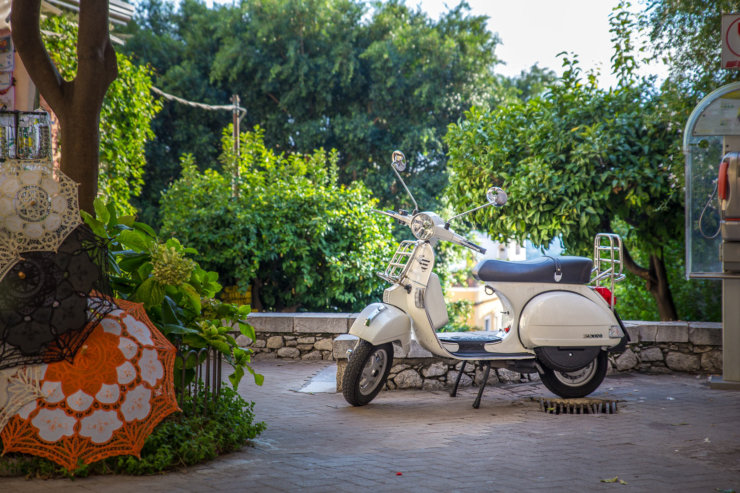 Where to eat in Taormina ?
Tiramisu Trattoria: Nice decoration and friendly welcome with a quiet terrace. Excellent cuisine based on fresh produce. Copious dishes for a reasonable price. Not to be missed: tiramisu, the house specialty. Reservation recommended.
Trattoria Don Ciccio : Located in a quiet street. Very good cooking with quality products. The pasta is succulent. A Prosecco cup and a small bruschetta are offered  in case you need to wait. Reservation recommended.
Pizzeria Villa Zucaro: As the name suggest, you go there if you want to have a good pizza! Impressive choice, delicious, copious and original pizzas. Choose the terrace over the noisy interior. Attractive and thoughtful waiters.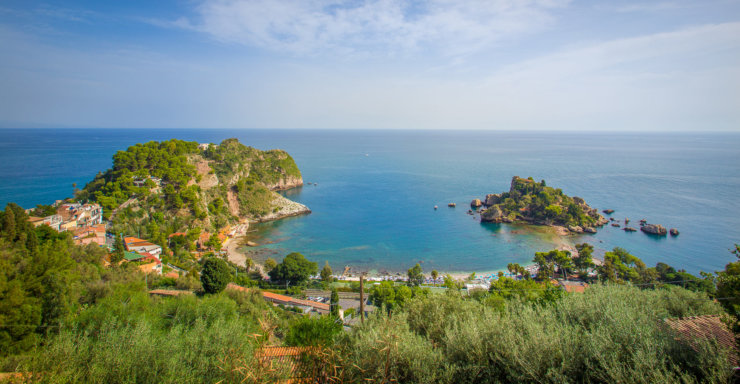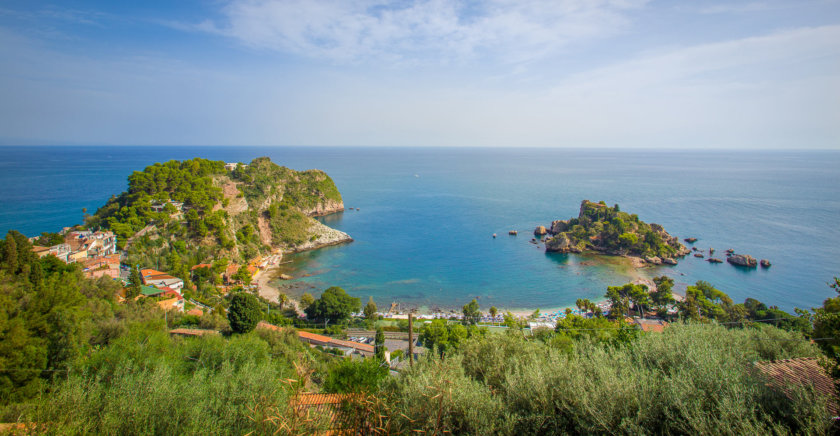 Renting a boat in Taormina
If you want to rent a boat for a nice day at sea during your trip to Taormina, you should book it with Samboat.
Motorboats, sailboats, yachts, small boats without a license, with or without a skipper: they simply have the most complete offer for boat rental.
So, what are you waiting for to book your boat trip in Sicily? 😊
How to go to Taormina ?
To get to Taormina, you must first take the plane to Catania.
From Catania airport:
By car: 1 hour drive via A18 and E45
By bus: One bus every hour from Monday to Saturday and 2 on Sunday; 1h30 by road; 5.60€.
By train: The train is not recommended because the train station is located 2km downhill from Taormina and you will then have to take a bus to get to the city.
Check flights ticket prices now with our flight comparator: This is the solution to find the best price for your flight to Sicily!

So, when are you going to visit Taormina? 🙂
Book your trip now and save money!
Sicily travel Guides
You're traveling in Sicily? These articles will help you!
Discover all my articles about Sicily: All my articles to help you plan your trip to Sicily are listed there.
You're using Pinterest? Here is the picture to pin!