Things to do in Honfleur: The Best Activities and highlights
Honfleur is a charming town located in Normandy, in the north of France. With more than 1000 years of history, it's really worth a visit if you love the ocean and medieval architecture.
From the twelfth century onwards, it became an important crossing point for goods transiting via the sea to England. In order to be protected from enemy invasions, the town was fortified and did not cease to grow with the expansion of maritime trade.
Visiting Honfleur means discovering a nice little town, with its cobbled alleys, half-timbered houses, small typical harbour and old trawlers. This Normandy town for sure will surprise you!
My guide of things to do and see in Honfleur will help you to discover this millennial city! After the Top 15 must see attractions, and itineraries to visit Honfleur in 1 or 2 days, you will also find a list of the best hotels in Honfleur for every budget.
Let's discover Honfleur points of interest and activities now!
Visit Honfleur: The 15 Must-See Attractions
Saint Catherine's Church
Saint Catherine's Church (L'église Sainte-Catherine in french) is the main monument of Honfleur, the one you shouldn't miss even if you're only spending a few hours in town.
Built in the 15th century to replace a stone church destroyed during the Hundred Years' War, the Saint Catherine's Church was built entirely in wood, gathered in the nearby forest.
Its original form of overturned double hull boat is due to Honfleur's workers excellent knowledge of shipbuilding. Thus, Sainte-Catherine Church is the largest wooden church in France.
Must-see: its separate bell tower made of oak is visited as an annex to the Eugène Boudin museum.
Voyage Tips - Advice
To learn more about Honfleur's history during your visit, you can book a guided tour.
You will be able to choose the desired duration (between 2 and 6 hours) and your local guide will take you to discover the best secret sights of the city!
This tour needs to be booked in advance, as it's the only one available for small groups (6 people maximum).
To book your guided tour of Honfleur, simply click on the button below: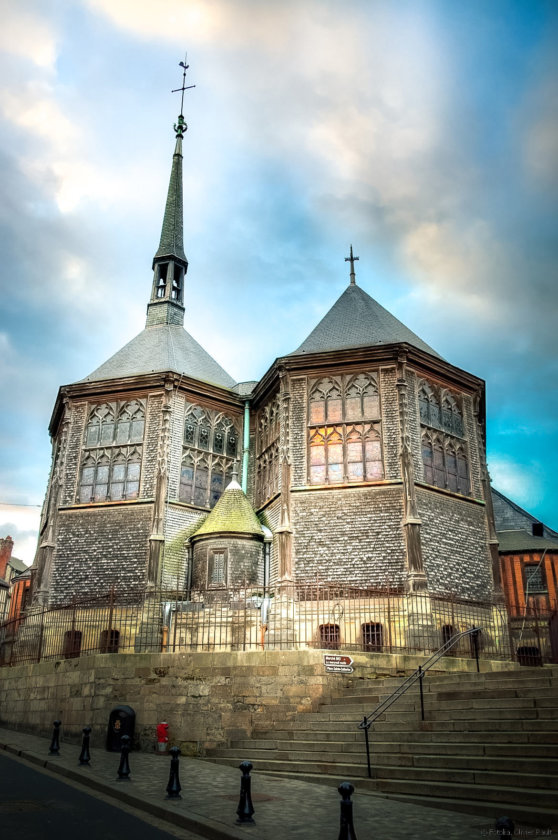 Le Vieux Bassin
Le Vieux Bassin is the picturesque name given to the typical Norman port of Honfleur. It was built it 1681 and necessitated destruction of part of the city's ramparts in order to enlarge the old port.
Today, le Vieux Bassin is fore sure the must-see attraction in Honfleur!
The poetic spectacle of its houses reflected in the water has become very famous, mainly thanks to the impressionist painters in the 19th century. The 17th and 18th century houses surrounding the port are listed as historical monuments.
There is no doubt that their narrow facades and slate roofs will seduce you, while the ships moored in the Vieux Bassin give the impression that time has stood still.
For me, this is the best photo spot in Honfleur, to do preferably at nightfall when the lights of the houses are reflected in the water.


Notre-Dame de Grace

Overlooking Honfleur, the Notre-Dame de Grace chapel was built at the beginning of the 17th century to replace the old chapel destroyed by a cliff collapse. It was originally built by the Duke of Normandy as a token of gratitude for his survival during a violent storm.
Since then, this chapel has been venerated and is the home of paintings, ship models and an ancient organ.
During the sailors' day (Fête des Marins) in Honfleur, around Pentecost, children dressed as sailors climb the hill to offer small ships models to Notre-Dame de Grace.
Do not miss: the panoramic view on the Normandy Bridge (Pont de Normandie), Le Havre city and et the Seine river
Address: 989 Côte de Grâce, 14600 Équemauville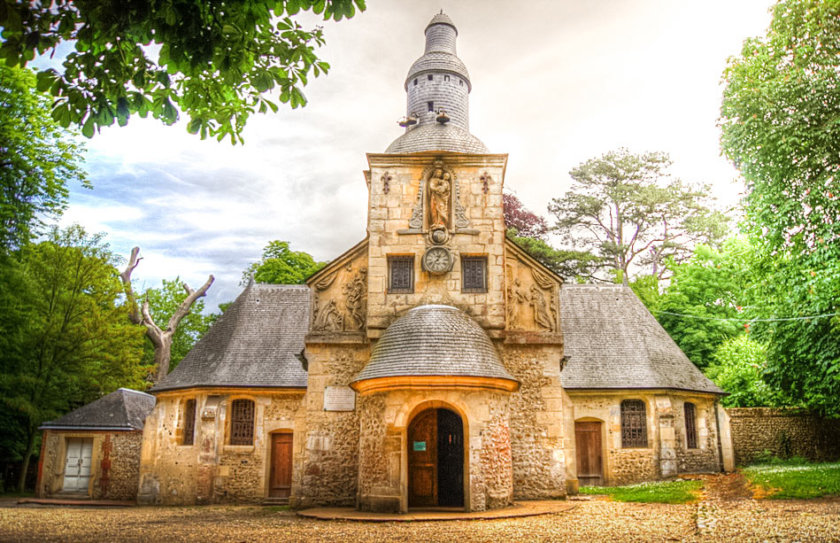 See the Normandy Bridge

The Normandy Bridge (Pont de Normandie) was built in 1995 and links Honfleur to Le Havre. It's a true symbol of maritime supremacy in the region.
This 215 m high and 2141 m long cable-stayed bridge spanning the Seine river was a world record at the time of the construction. Built in concrete and metal, this bridge has four cars lanes, two pedestrian lanes and two cycle lanes.
Thanks to it's high, It doesn't disturb the navigation of boats sailing on the Seine, and has become a true icon of the city, appearing on numerous postcards.

Voyage Tips - Advice
You're going to Honfleur?
You probably know it: the hardest part of planning your trip is to find an hotel offering a good value for money!
The closer you get to your travel dates, the harder it will be to get a good deal. Lots of people will be visiting Honfleur on the same dates as you, so you can be sure that the best deals are booked extremely quickly!
Hopefully, there is a pretty simple solution to this problem: do like me and book your hotel as early as possible!
So, my best advice is to take 5 minutes (now) to have a look at the list of travelers' favorite hotels in Honfleur.
And if you see a good offer, book it!
Most hotels offer free cancellation, so it's quick, easy, and you will avoid the the inconvenience of finding nothing but mediocre rooms at exorbitant prices.
To check the current best deals for your hotel in Honfleur, simply click on the green button below 😎:
Once you've booked your hotel, it will be time to continue reading this guide and find out more about the best things to do in Honfleur!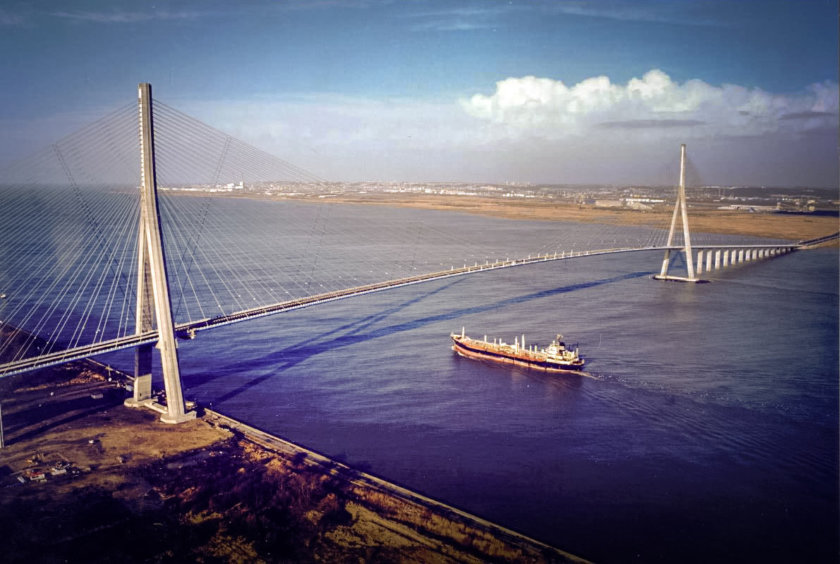 The Naturospace
In the heart of Honfleur, the Naturospace is a privileged place that aims to recreate the ecosystem of the rainforest.
Home to about ten bird species and sixty butterfly species in a greenhouse of nearly 800 m2, it's a great place to observe rare and tropical specimens.
With observation and patience, you can even spot various species of caterpillars as well as chrysalis in a luxuriant vegetation that is particularly well-kept. And if it's your lucky day, you can even see the birth of a butterfly live!
This magical moment is made possible at Naturospace thanks to a team dedicated to promoting the natural reproduction of these insects.
Average visit time : 45 minutes to 1h
Address : Boulevard Charles V, 14600 Honfleur
if you are interested to visit the Naturospace, you can find more information on their official website.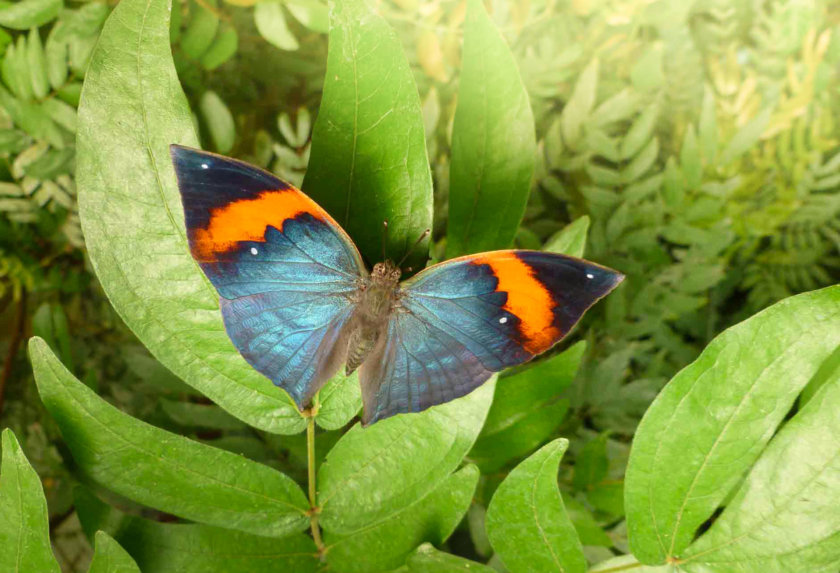 The Jardin des Personnalités
The 10 hectares Jardin des Personnalités (literally "personality garden") is a bucolic and cultural walkway created by the mayor of Honfleur in 2004. It's located between the Vieux Bassin and the dyke.
As you stroll through the many alleys of the garden, you will be able to meet the busts of illustrious personalities, natives of the small Normandy harbour or having stayed there.
Among those I have retained are painters Claude Monet and Eugène Boudin, composer Erik Satie, poet Charles Baudelaire, sailors Samuel de Champlain and Jean Doublet, or even Charles V and Jean-Baptiste Colbert.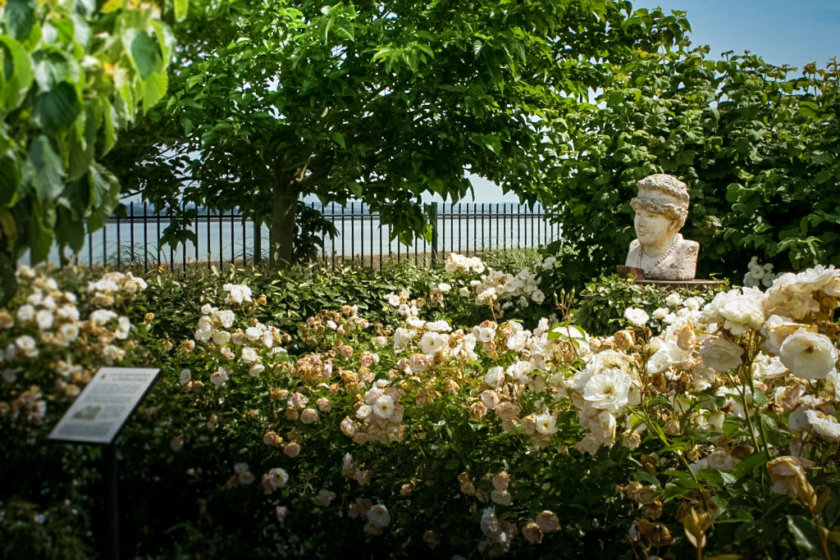 Visit Satie House and Museum

The Satie House and Museum (Maisons Saties) is dedicated to composer and musician Erik Satie. Born in 1866 in Honfleur, this genius worked with such great names as Picasso or Braque, and inspired artists like Debussy and Ravel.
This is probably the most surprising museum I have ever visited! During the visit, you will walk through the different rooms with an audioguide which will be triggered according to the room where you are. It's really immersive!
You will discover musical scenographic paintings mixing the magic of image, sound and light, retracing Erik Satie's artistic journey in order to make him better known to the public.
Young and old alike will appreciate this poetic show, which places the visitor at the heart of the staging, inviting him to observe but also to live the experience offered by the Satie House.

Address : 67 Boulevard Charles V, 14600 Honfleur
Entrance fee : 6,70€ for adults and 4,70€ for children.  If you are interested in visiting several museums in Honfleur, you can buy a museum pass.
You can find more information on the Honfleur museum official site (same website for all the other museums too!). You can switch the language on the website.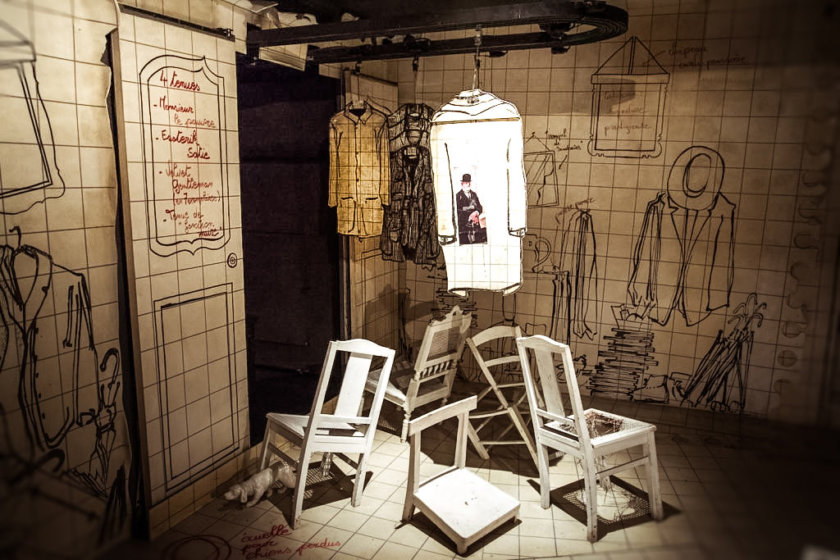 The Eugène Boudin museum

Honfleur main museum is named after a famous local painter: Eugène Boudin.
Created at the end of the 20th century by Alexandre Dubourg and Eugène Boudin, this museum is home to a large painting collections from Norman painters: Boudin, Courbet, Money, Dubourg, Dufy… Lots of great names!
The seven exhibition rooms of the Eugène Boudin Museum are themed and offer an intuitive dive into the heart of romantic and impressionist painting in the region.
One of these rooms is dedicated to a remarkable ethnographic collection, including Norman costumes, traditional headdresses or typical furniture.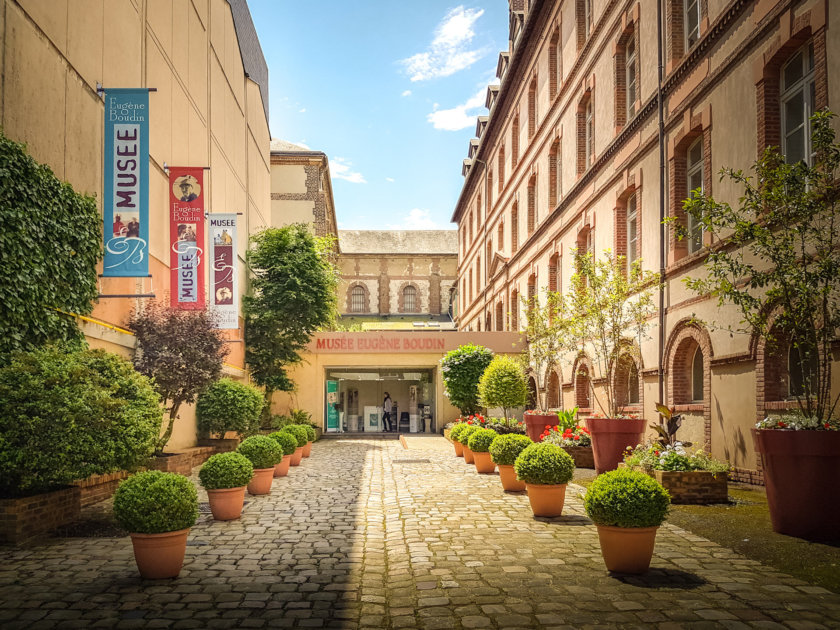 Honfleur Saint-Leonard's church

Built in 1186, Honfleur Saint-Leonard's church (église Saint-Léonard) was destroyed during the Hundred Years' War.
Rebuilt at the beginning of the 16th century, this religious building has been created in tribute to Leonardo (Léonard), a young noble of King's Clovis court. He is considered as the Holy Patron of the prisoners.
One of the most interesting details of this church is its main portal, a magnificent testimony to the rich and flamboyant Gothic architecture of the time.
Its bell tower was rebuilt in dome according to the popular Easter France architectural style, and contributes to give Saint-Léonard church a unique cachet.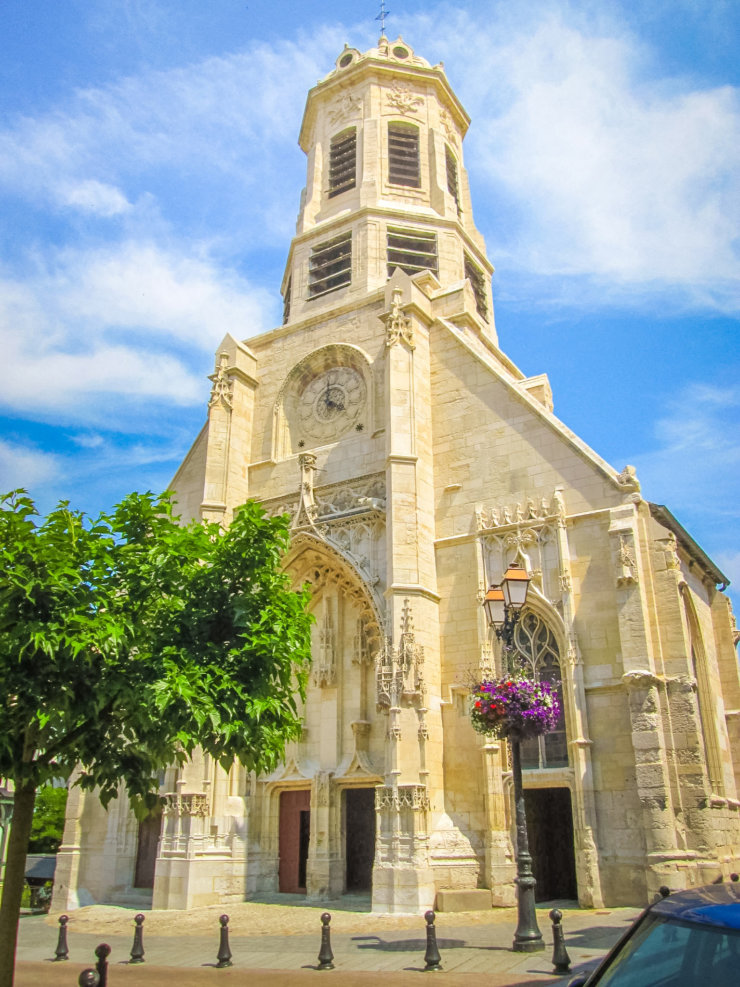 Go in a Calvados shop

Normandy is famous for its Calvados and Pommeau, alcoholic drinks that delight all the taste buds.
Honfleur has several shops selling these drinks, but also whisky and beer from Normandy.
I can only advise you to go to the Cave Normande or the Compagnie des Calvados de la Cave Honfleuraise, in order to go back home with a typical souvenir of the region.
Voyage Tips - Advice
Near Honfleur, you should visit one of the 2 following Calvados distilleries:
Christian Drouin Calvados Estate – A family distillery where you can even make your own Calvados blend!
The Spiriterie Française at the Château du Breuil Normandie, which offers in addition to Calvados tastings, whisky and rum tastings.
You need to book these visits in advance by clicking on the green button below: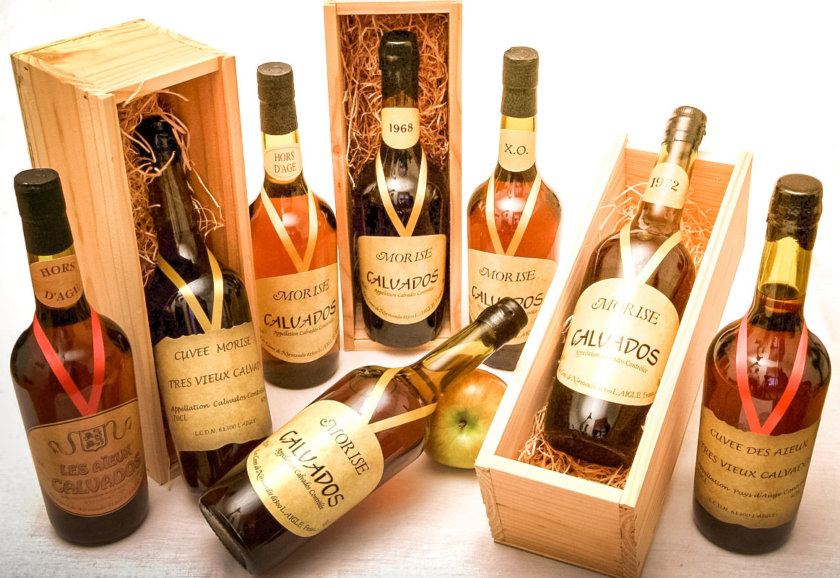 The carousel of Honfleur
The carousel of Honfleur, well known to the locals, has been set up every year since 1995 in front of the town hall. Its pretty wooden horses are a joy for children and adults alike, who traditionally gather around this merry-go-round.
The carousel is present in the city from May to October, before leaving for a check-up in winter. He will then entertain the children of Angers at Christmas time, then return to take its place in Honfleur.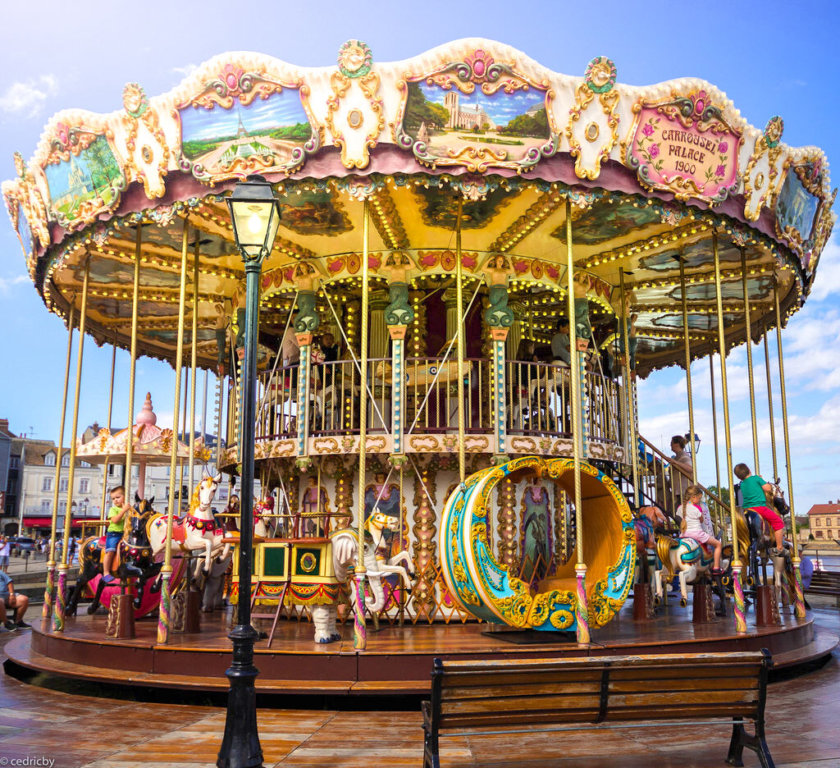 Butin beach

The city of Honfleur is recognized as a seaside and tourist resort. Its beach, named "Plage du Butin" in French, is located at the entrance of the city and gives the Normandy coast a bit of a southern air.
Fully equipped, the Butin beach has showers, changing rooms, rental equipment, free parking and a playground for children. During the summer months, kids can have fun in inflatable games while older kids relax at the food court.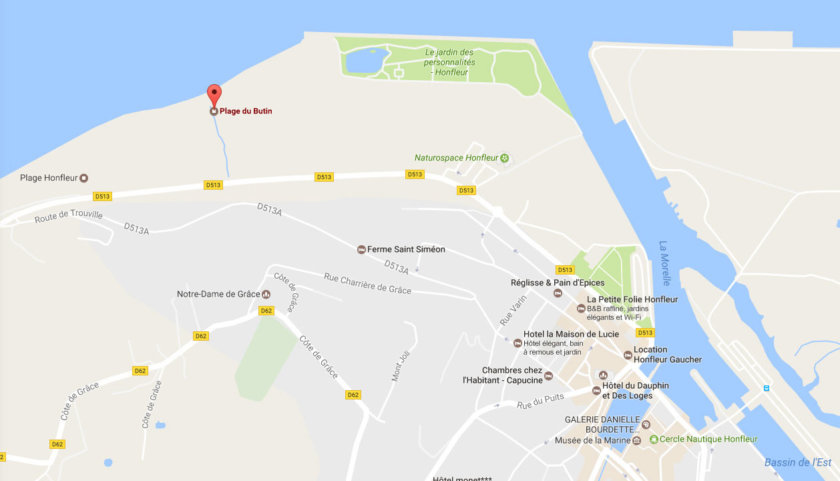 Honfleur Marine Museum

Located in the oldest church of Honfleur, the Saint-Etienne church facing the Vieux Bassin, the Honfleur Marine museum (Musée de la marine de Honfleur) houses an important collection of models, engravings and objects of all kinds related to the sea.
The treasures of the Musée de la Marine, mainly come from donations and legacies, . They allow you to learn more about Honfleur's sailors life, as well as about the typical activities of the time: fishing, maritime trade, shipbuilding, etc..
Address: 11 Quai Saint-Etienne, 14600 Honfleur
entrance fee : 4,20€ for adults and 2,90€ for children and students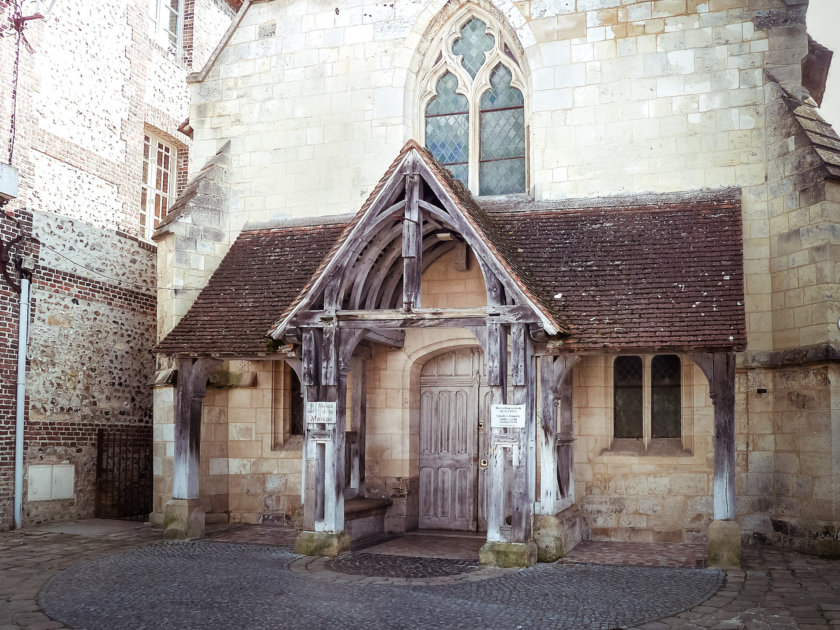 Visit Honfleur "greniers à sel" (salt storage location)

The famous "Greniers à sel" of Honfleur were built in 1670 with stones from the city walls. They could store up to 10,000 tonnes of salt, which was then used to preserve cod for a longer time.
In the past, there were three of them, but there are only two buildings left, which nowadays host exhibitions, concerts and conferences. It's not one of the main tourist attraction of Honfleur (not very well known!), but it's clearly worth going inside, even just to see the impressive ceiling design.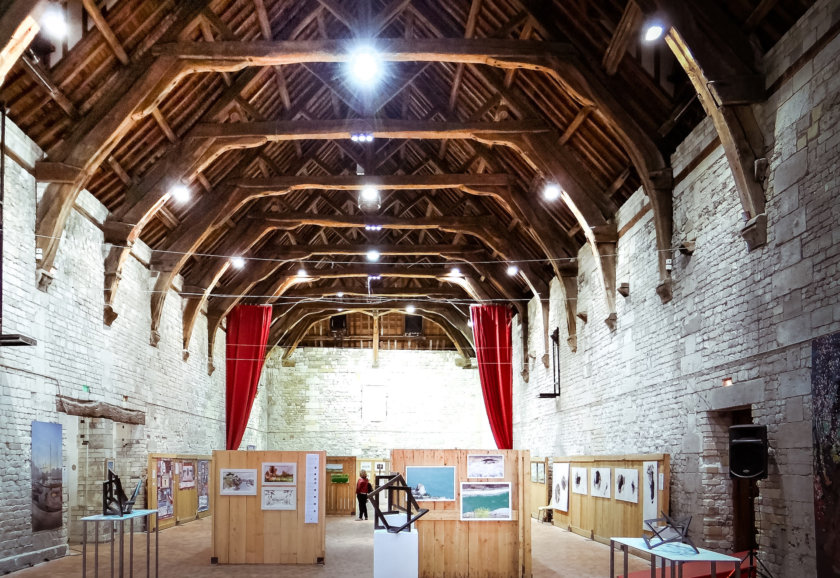 Enjoy a boat trip from Honfleur
While you're in Honfleur, you can also enjoy a boat trip!

There are 2 different tours:
A 1h30 commented tour on the Seine estuary, up to the Normandy bridge.
A 45-minute commented visit of Honfleur.
You will find the schedules and prices of these boat trips from Honfleur on this website.
Voyage Tips - Advice
And if you prefer to enjoy a VIP experience, there are 2 other options that will allow you to discover Honfleur's surroundings by boat, away from the other tourists:
1) Book a private boat trip from Honfleur
In my opinion, this is the best way to make the most of your day at sea in Honfleur!
You will rent a boat with an experienced skipper that will take care of showing you the most beautiful places of Normandy coast.

Motorboat, sailboat, catamaran or even yacht: choose the boat you want to spend a dream day!
As you can imagine, this type of VIP day at sea is extremely popular, so you should rent your boat with skipper as soon as possible. It would be a shame to miss this day because all boats are already rented!
You can find all boats with skipper in Honfleur by clicking on the button below:
2) Rent a boat to discover Honfleur's surroundings

If you have a boat license, your second option for a great day at sea is simply to rent a boat!
To do so, it's very simple: you just have to click on the button below:
Discover the local gastronomy

Honfleur is located in the department of Calvados, renowned for producing the best products of Normandy. Discover authentic flavours from its fertile lands and delight your taste buds.
Among the dishes not to be missed:
The local apple and the alcohols produced with it
The excellent seafood products that delight the amateurs
 The artisanal high quality cold cuts

The milk produced by Normandy cows and the excellent cheeses it makes, not to mention sweet treats such as milk jam ("confiture de lait" in French) or Isigny caramel.

The 2 best things to do around Honfleur
Now that you know what to do in Honfleur, let's see what are the most beautiful places to visit around Honfleur:
17. Deauville / Trouville
Deauville is certainly one of the most famous cities to visit around Honfleur.
You can get there by car or with the direct bus going from Honfleur to Trouville every hour. In both case, it will take approximately 30 minutes.
This luxurious seaside resort is a trendy holiday destination among Parisians and foreigners alike, especially thanks to its renowned American film festival.
Dedicated to "chic" leisure activities, there is a casino, a golf course as well as a horse race track.

During your visit to Deauville, you can also take a stroll along the famous "Promenade Les Planches", where you will find the typical beach huts or do a bit of shopping in the luxury boutiques.
Just opposite Deauville, you can also walk around the seaside resort of Trouville, easily accessible by a pedestrian footbridge or by crossing with a small boat (about 1.20€).
There is also a large sandy beach and a casino.
From Trouville, you can also:
18. Le Havre
Near Honfleur, you can also visit Le Havre, located 35 minutes drive.
Going to Le Havre will give you the opportunity to drive over the famous Normandy bridge!
Here are the best places to visit in Le Havre:
St. Joseph's church and its impressive 110-meter high tower
The André Malraux Museum of Modern Art and its collection of impressionist works
The hanging gardens, located in an old fort. They offer a beautiful view of the city
The port of Le Havre, one of the largest commercial ports in Europe
Les Bains Des Docks (The Bath by the docks), a large aquatic center with pools, swimming pools, sauna and hammam.
And if you're up for some action, here are the best activities to enjoy around Le Havre:
How many days to visit Honfleur ?
Honfleur is a small town, very pleasant to discover. Depending on your interest in visiting churches and museums, one or two days are enough to discover the city. Spending a weekend in Honfleur is therefore a good solution!
What to do in Honfleur for a day
If you only have one day in Honfleur, you will have to focus on the must-see attractions and activities:
Start the day with a visit to the Notre-Dame de Grace chapel, to enjoy a magnificent panorama of Honfleur, with a good light for photography.
Continue with a visit to Sainte-Catherine church,
Enjoy a pleasant lunch in one of restaurants located in the Vieux Bassin. A good time to also have a look at the old houses architecture.
If you have children, don't hesitate to go to the Naturospace,
End the day with a visit to Satie House and Museum
What to do in Honfleur in 2 days
For the first day, you can take the itinerary I wrote for the 1 day city tour. Just add a photography session at the Vieux Bassin at the end of the day!
If you spend 2 days in Honfleur, you will have 2 options for your second day:
1) Stay in Honfleur.
For this second day, start by a stroll in the city  and visit the Eugène Boudin museum if you are an art lover,
Shop in one of the cellars selling the excellent Calvados from Normandy
Don't miss the "Greniers à sel"!
And take your children to the old Honfleur carousel, which is in town between May and October.
Spend the afternoon at the Butin beach, if the weather allows it.
And, at the end of the day, relax in the Jardin des Personnalités
2) Discover the surroundings and visit Deauville and Trouville or Le Havre.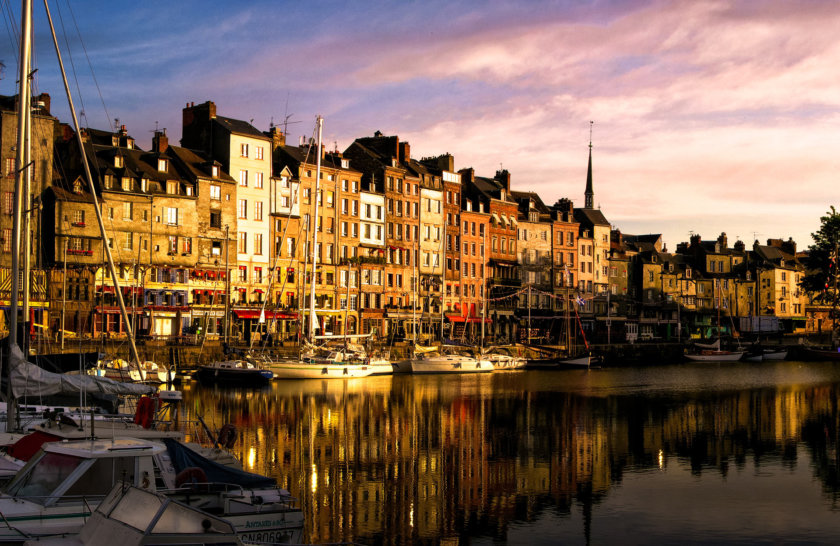 Where to stay in Honfleur
And if you prefer to stay at a campsite for your vacations, you will find the list of all the campsites near Honfleur and will be able to easily book online by clicking on the button below.
Book quickly while there is availability 😄
Where to eat in Honfleur

Here are some of my favorite restaurants in Honfleur, to have a great lunch or diner!
For gastronomic pleasure, head to the Sa-Qua-Na. This excellent restaurant offers a refined and delicate cuisine, without falling into clichés of the genre. The welcome is warm and relaxed, while the dishes are innovative in terms of taste and texture, resulting in an experience that pleases everyone.
If your budget is tighter, go to lunch at the Coup de Fourchette. This small restaurant in La Riviere-Saint-Sauveur (3km from Honfleur), very simple at first sight, seduced the inhabitants of the city and connoisseurs thanks to its fresh, local cuisine and friendly staff. If you don't mind getting out of town, I highly recommend it!
You can also stop at the Café du Port, an establishment renowned for its tasty seafood dishes. In particular, oysters and mussels are popular with customers! As a gourmet foodie, I recommend the local cheeses, perfectly matured, you will love them!
Renting a boat in Honfleur/Le Havre/Deauville
If you want to rent a boat for a nice day at sea during your stay in Honfleur, you should book it with Samboat.
Motorboats, sailboats, yachts, small boats without a license, with or without a skipper: they simply have the most complete offer for boat rental!
So, what are you waiting for to book your boat trip in Honfleur? 😊
FAQ – I answer your questions about Honfleur
What to do in Honfleur with children?
If you plan to visit Honfleur with your family, you can for example go to the Naturospace.
Another option is to take your kids to Butin beach and take a ride on the carousel nearby.
They will also for sure love the boat trip to the Normandy Bridge!
Where to park for free in Honfleur?
There is free parking in Honfleur (but this may change) at the Naturospace, a 10-minute walk from the Vieux Bassin.
For a cheap parking in Honfleur, you can also park "Place de la Gare" for only 4€ a day. In the city center, there are only paid parkings and they are much more expensive.
And you, what are you planning to do in Honfleur?
Book your trip now and save money!
France travel Guides
You're traveling in France? These articles will help you!
Discover all our articles about France: All Voyage Tips articles about France are listed there.
You're using Pinterest? Here is the picture to pin!