One week in Sicily: Which Itinerary for 6, 7 or 8 Days?
You're planning to visit Sicily for your next trip?
Great choice! Sicily is the ideal destination to spend a week of holidays in the sun, without breaking the bank. You will be able to enjoy magnificent beaches, breathtaking landscapes and numerous archaeological remains. All accompanied by the legendarily delicious Italian food.
In order to help you plan your stay, I have prepared a detailed 1 week itinerary in Sicily, so you won't miss anything during your trip!
In addition to showing you the best things to do and must-see attractions, I will give you tips as well as accommodation suggestions depending on your budget. Planning your 6, 7 or 8 days trip to Sicily will be easy as 1, 2, 3 !
As you can't visit the whole Sicily in a week (you need 2 weeks for that!), please note that his itinerary is about the East coast of Sicily. I have also written a 10 days itinerary about the West coast, which you can find here: How to spend 10 days in Sicily (West coast). It can also be done in one week.

I will now show you how to spend a week in Sicily!
Itinerary: A week in Sicily (East Coast)
1) Catania (1 day)
When booking your plane ticket to Sicily, you will have the choice between arriving in Palermo or Catania international airports.
To visit the east coast, it's best to land in Catania. Many airlines offer flights to this destination but the cheapest (in most cases) is undoubtedly Easyjet, with round-trip flights from 60€ (without checked baggage).
I told you, it's possible to go on a trip to Sicily without breaking the bank!
When you arrive in Catania and start your 7 days itinerary, the best way to get around is to rent a car.
If that's your plan, I advise you to book it in advance on the internet to be sure to have your car. The best website to book your car is Rentalcars.com for 2 reasons:
It allows you to compare prices between all the rental companies. It's the best way to save money!
You can choose the "Full Protection insurance" when booking. You would get complete excess refund in case of car accident (or any damage done to your rental car) as well as rental agency's scams. They are unfortunately very common in Sicily, they costed me more than 1300 euros, hopefully all refunded by Rentalcars.com Full Protection insurance!
That's why it's now the website I always use to book my cars when I go travel! You can go on the website by clicking here. I highly suggest you to bookmark it!

If you don't want to rent a car, many buses and trains depart from Catania and serve the surrounding cities such as Syracuse or Taormina, but if you want to be completely autonomous, the best option is still to rent a car.
This is what we did for our one week road trip in Sicily!
Depending on your plane arrival time, you will have about half a day to visit the city.
I advise you to first visit the piazza del duomo, the heart of the city. Sicily's cities organisation is very simple: they all have their own piazza del duomo which concentrates a lot of monuments. Theses Piazza always are the starting point of a lot of beautiful small streets to wander in.
The piazza del duomo in Catania is recognizable by the emblem of the city that stands in its centre: the elephant fountain.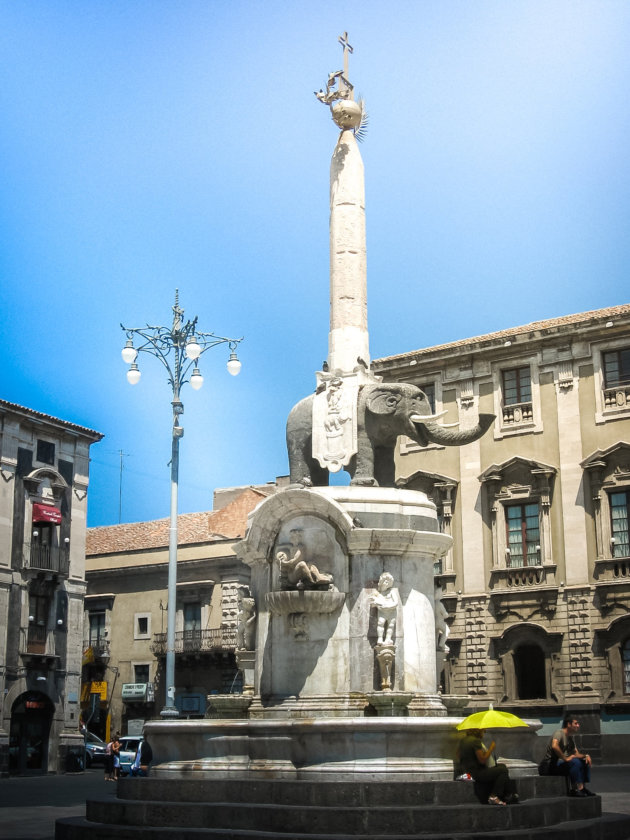 On the place, you can also admire the palazzo municipio or take a touristic train or bus ride around the city. It can be a good option if you want to start your stay in Sicily slowly!
But the must-see monument is Catania Cathedral (St. Agathe Cathedral), located behind the the elephant fountain. It can be visited every day of the week and free of charge! You will be able to admire the Saint's relics and the tomb of a famous Sicilian composer: Vincenzo Bellini.
You can continue your visit of Catania by walking along the 2 main streets: the via Etnea which starts from the piazza del duomo and the via Crociferi. The must-see attraction on this street is the former Benedictine Monastery, which now houses the 2nd largest university in Europe. You can visit it freely or with a guide, and it will take you about an hour.
This half day in Catania is a great start for your week in Sicily!
If you want to spend more time in this city, I advise you read our guide of the best things to do in Catania.
Voyage Tips Advice
If you plan to spend a bit of time in Catania, I recommend you one of these 2 guided visits. Simply click on the orange links to book them:
Where to stay in Catane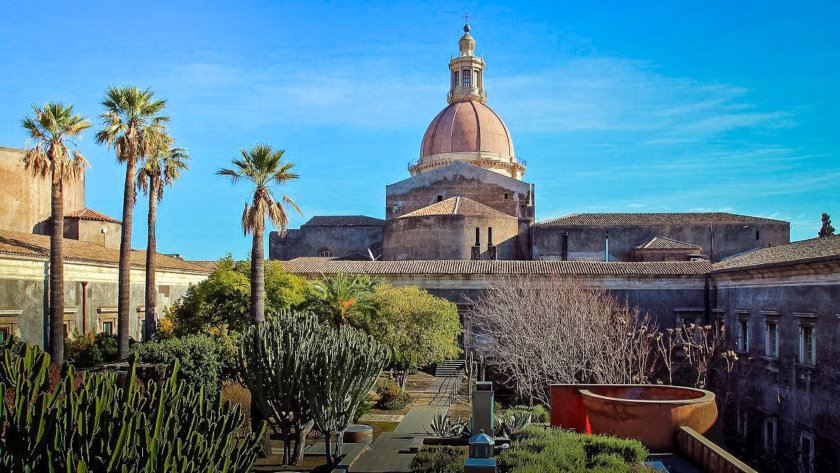 2) Syracuse / Ortigia Island (3 days)
Syracuse, located at 1-hour drive south of Catania is the 2nd stage of your one-week itinerary in Sicily.
Syracuse itself is a large modern city of little interest, so I recommend you find a much nicer and typical accommodation on Ortigia Island.
Spend your first day visiting the island and don't hesitate to stroll along all the small alleys. Impossible to get lost, you will always fall back on the piazza del duomo or the Seafront.
Best things to see in Ortigia Island:

The fish, fruit and vegetable market overflowing with freshness and bright colours.
The harbour with its typical boats and its very special species of marine worms (you will quickly see what I am talking about!)
The majestic piazza del duomo with its cathedral, the town hall and many palazzo.
The Castello Maniace offering a breathtaking view of the bay.
The Fountain of

Arethusa,

the best place to see the sunset on Ortigia!

If you don't feel like walking a lot and want to visit the town of Ortigia in a more original way with a guide, you should really opt for a Segway tour:
After this, enjoy a refreshing swim or a good coffee at the shady terrace of one of the island's many restaurants.
And if you're not on a diet, you can also enjoy an ice cream on the steps of the piazza, but let me  warn you: there is a high risk of addiction because they are so delicious!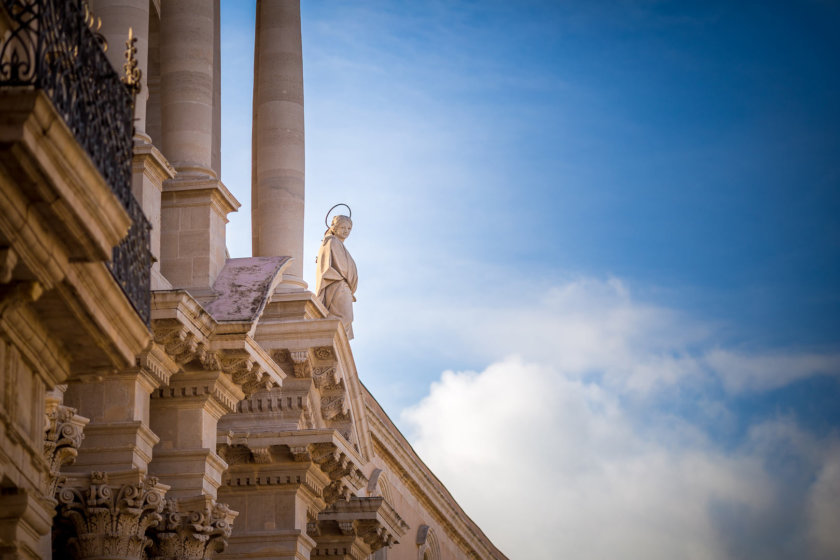 For this second day of your one-week stay in Sicily, I suggest you to start your morning with a good walk along the Syracuse bike path.
To do this, you just have to leave Ortigia island by crossing the bridge and turn right, along the road by the sea. The starting point of the stroll is the piazzale dei Cappuccini, recognizable by its horses' statues.
The walk offers many views of Ortigia and its surrounding cliffs. It is equally suitable for everyone because the path is flat and has no difficulty.
If you want to do something else than visiting the city, you can opt for an original activity: a kayak tour!
Accompanied by an instructor, you will spend the morning discovering the most beautiful landscapes of the coast.
To Book your guided kayak trip in Syracuse, you simply need to click on the button below:
After a picnic or a good meal in one of the trattorias (Italian typical restaurants), you can spend your afternoon visiting the Neapolis Archaeological Park (also named Archeological Park of Syracuse).
Admission costs 10€ except on the first Sunday of the month, where it is free of charge. Be careful to plan sunscreen and hats, because there isn't much shade!
You can as well see:
A huge Roman amphitheatre almost completely carved out of the rock.
A Greek theatre with a capacity of up to 20,000 people.
The altar of Hieron II dedicated to Zeus and serving the sacrifices of animals.
Ear of Dionysius is a cave located in a limestone quarry more than 20 meters high.
For the archaeological park of Neapolis, plan about 2 hours of visit If you have some energy lef. You can combine this visit with the archaeological museum, located 500 metres from the park.
Another option is to opt for a guided visit of Neapolis archaeological park. The one on Getyourguide is great, and it also includes the guided visit of Ortigia!
To book it, it's simple, you just have to click on the button below:
Voyage Tips Advice
If you only have 6 days in Sicily
, the best thing you can do is to do the 2 first days in Syracuse in 1.
Here is how:
Leave from Catania early in the morning to arrive in Syracuse around 9:30-10am
Visit Ortigia Island in the morning
In the afternoon, go to the archaeological park of Neapolis.
Go back on Ortigia Island (it's where your hotel will be located) at the end of the day. Don't miss the sunset at Arethusa fountain!
It's a quite busy day (but still enjoyable, don't worry, you won't spend your day running!), but it's the best way to view all the must-see attractions I talk about it this itinerary!
You're not in Sicily everyday, right?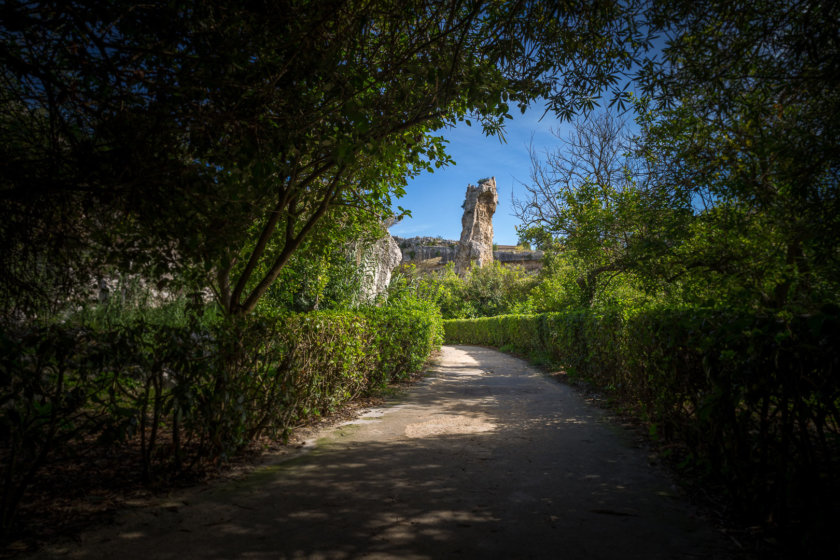 For your last day in Syracuse, don't hesitate to take your car to visit baroque cities around Syracuse.
The 3 best known are Noto, Ragusa and Modica. They are all listed as UNESCO World Heritage sites for their architecture and historic centres, and compete with each other for beauty.
Things to see in Noto: Baroque palaces and churches along the corso Vittorio Emanuele
Things to see in Ragusa: The San Giorgio Cathedral on the Piazza del Duomo
Things to see in Modica: Its historical medieval centre and its magnificent Baroque cathedral
Voyage Tips Advice
if you are lucky enough to do a 8 days trip to Sicily, I advise you to spend one more night in Syracuse. This would allow you to be able to go to the beautiful nature reserve Orientata Cavagrande del Cassibile.

I talk about it in my article: The 15 best things to do in Syracuse and around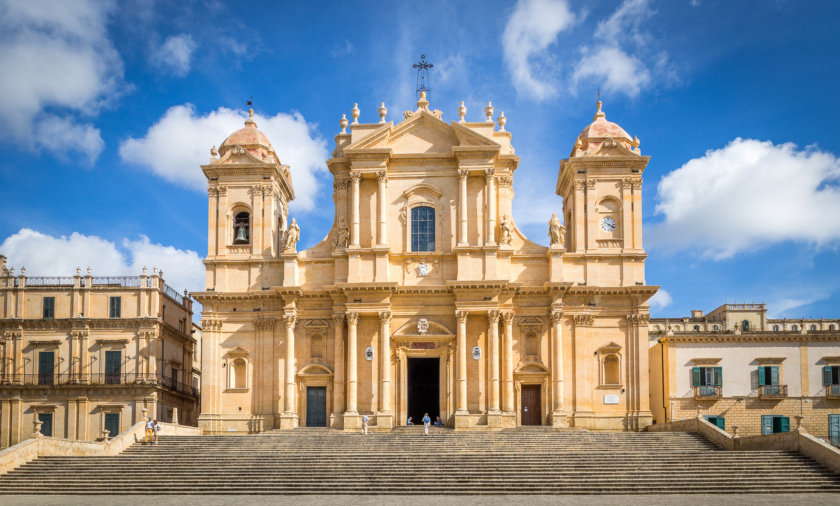 Where to stay in Ortigia
An advice, spend the night in Ortigia rather than in Syracuse, the prices are not necessarily higher and the environment is much more pleasant.
II Duomo:Located on the Piazza del Duomo, you can't dream better as a location. A large room with a classic decoration. View on the garden or the square. Free Wifi and possibility of paid parking. Double room from 80€, breakfast included.
TRE Archi B&B: Located 50 meters from the piazza del duomo, very quiet. Colorful and authentic room. Free Wifi. Double room from 50€, breakfast included.
Alla Giudecca: Located at 5 minutes on foot from the Piazza del Duomo. Large and bright double room starting at 120€ per night, breakfast included. Strong points: The beautiful view from the terrace, the location, the good breakfast.
Caportigia Boutique Hotel: Located at 1km from Neapolis archaeological Park (not on Ortigia Island). Beautiful modern double room starting at 200€ per night, breakfast included. Strong points: The amazing breakfast, the staff, the jacuzzi on the terrace. If you want something modern, it's the place you need to book! It's the best for a luxury stay in Syracuse.
3) Taormina (3 days)
Visit Taormina, the Sicilian Saint Tropez for the last leg of this one week tour in Sicily. Located about an hour's drive from Catania, Taormina, perched on a cliff, deserves to linger for a few days!
A quick tip: you should find an accommodation close to Taormina, at the top of the cliff, so you can enjoy the magnificent morning view. As a pedestrian city, you don't have to worry about traffic or noise.
Start this first day by discovering Corso Umberto, the city's main street.
You will not be able to miss the place where all handicraft shops, clothing shops, groceries and restaurants are concentrated. Along your way, you can also see and visit churches like the Chiesa di San Giuseppe or St Nicholas' Cathedral.
It will also be an opportunity to discover views over the valley, the sea and of course the Etna. Piazza IX Aprile is a must for sunset photos, thanks to its huge panoramic terrace.


You can also visit the only ancient monument in Taormina, its remarkably well-preserved Greek theatre.
To finish the morning and do some exercise before lunch go to via Circumvallazione, and climb the 300 steps stairs that will lead you to the heights of Taormina.
It will take you about twenty minutes to reach the top. From there, you can enjoy  a bird eye view of the city and its Greek theatre.  In addition, you have the privilege of admiring a magnificent little chapel partially carved in the rock: the Chiesa Madonna della Rocca.
Then go back down to Corso Umberto and take the time to choose a restaurant from the multitude of possibilities.
A little tip: if you want a bit of calm, shade and to escape from the crowd, buy a sandwich or a slice of pizza without forgetting the dessert (cannoli, ice cream, biscuits the choice is also impressive). Then go have your lunch at  the Villa Comunale public garden.
In the afternoon, after admiring it from Taormina, go down to Isola Bella and it's beautiful pebble beach.
Many activities are available on site (click on the links to book):
2-hour kayak tour with an instructor who will show you the marine reserve around Isola Bella.
4-hour kayak tour, to explore a good part of the Taormina's coast.
Boat tour + Snorkeling: Get on the boat and enjoy several stops to observe the underwater fauna and flora around Isola Bella!
You can enjoy a half day of idleness and swimming, dive in its crystal clear waters or go for a boat trip.
Voyage Tips Advice
You can book the best boat trip in Isola Bella bay, with Graziella and her husband, the very friendly boat owners, by clicking the button below: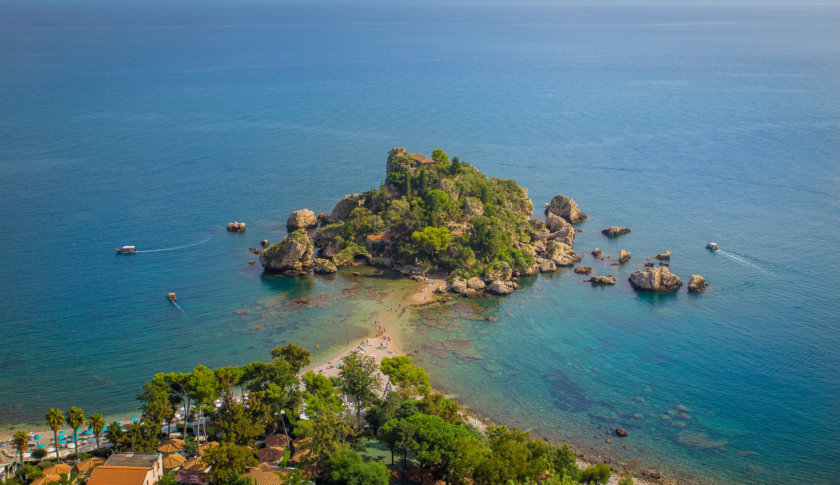 This 6, 7 or 8 days road trip in Sicily wouldn't be complete without the island's must-see visit: the Etna volcano!
You have been able to admire its imposing silhouette and threatening shade from many cities, but nothing beats the privilege of climbing its volcanic slopes and enjoying a unique atmosphere.
From Taormina there are 2 options to go to Etna.
If you have opted for a road trip in Sicily, you can choose to go by car yourself, it will take you about an hour to reach the refuge. Then, you will be free to spend as much time as you want there and to go to the top of the crater with the cable car or a four wheel drive vehicle.
The second option, which, in my opinion, is the most interesting, is to book an excursion from Taormina.
You won't have to worry about anything: transportation, guide, cable car, 4-wheel drive vehicle and the equipment, everything will be organized and provided. You will be able to enjoy this exceptional place in complete safety.
If you want to do go to Etna during your stay in Sicily, I highly recommend you to book your trip with Getyourguide. It's simple, they have the best English speaking guides! And the price is very good too.
Click on the following button for more info about the trip to Etna volcano: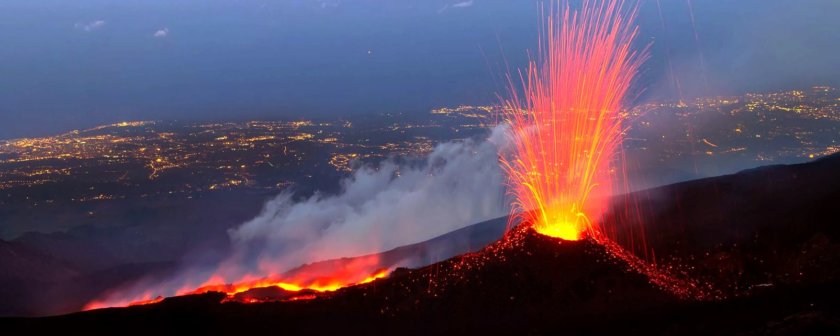 On your third and last day in the region, I highly recommend you to take your car and visit the little village of Castelmola
Listed as one of the most beautiful villages in Italy, it's located at only 5km from Taormina. It's worth a look for its ruined medieval castle and its small alleys.
In the village and from the castle, there are numerous beautiful viewpoint, where you can admire the valley below and the Etna. And from the belvedere, top-notch view guaranteed! I also recommend you to taste local almond wine (drink with moderation 😋), a specialty of the village.
You can then continue your program by going to the famous Alcantara Gorges.
Located 50 minutes' drive from Taormina, this site is a geological curiosity. The gorges have walls of more than 25 meters high and only 2 to 4 meters wide.
The peculiarity of this narrow canyon lies in the formation of its walls born from various lava flows coming from the northern slope of Etna.
This volcanic material cooled down in contact with the waters of the river and drew original shapes. Before going, keep in mind that this place is not necessarily made for swimming, because the water is very cold!
The Alcantara Gorge, on the other hand, is the ideal place to try canyoning. As you will be well equipped, you will not feel the cold and the descent of the river by canyoning in the middle of the gorges is really great!
This activity includes pick up at your accommodation (at all hotels located between Taormina and Catania).
Book your canyoning tour in the Alcantara Gorge by clicking on the button below
If you don't need the included transport because you have rented a car for your roadtrip to Sicily, you can drive to the meeting point for your canyoning tour by yourself.
You should thus click here to book the Canyoning tour without transport (it's obviously a bit cheaper!).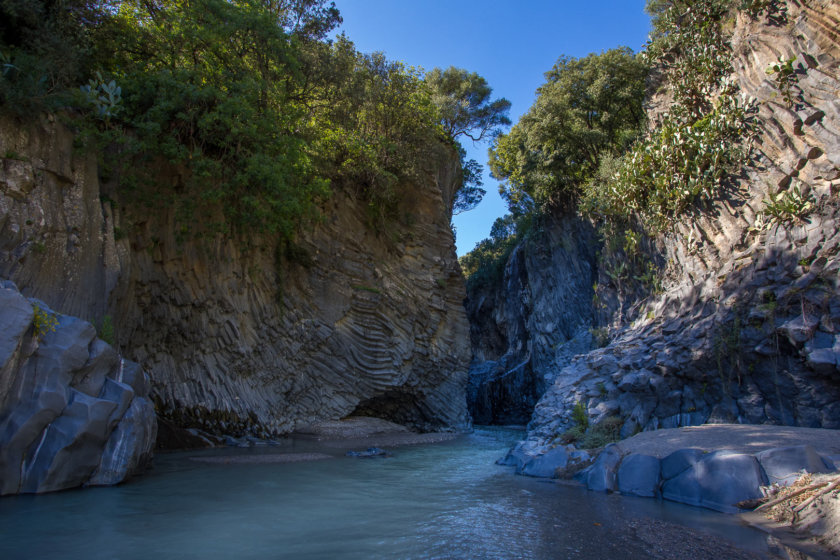 After this full day, return to Taormina for the last evening of your one-week tour in Sicily. Perhaps for a last swim at Isola Bella or a drink on a terrace, followed with a good meal.
Voyage Tips - Advice
There are several ways to reach the Gorges.
The first one is for a fee and is signposted by an entrance and a large parking lot that will allow you to park your car easily. You will then go down to the gorges by elevator and will be entitled to a guided tour. It costs a minimum of 15€ per person.
The 2nd possibility (which I advise you) is to continue a little bit further along the road, you will find a small hut on the right side of the road.
You can buy Alcantara Gorges access ticket there for only 2€ per person. At this price you will use the municipal staircase to go down the gorges, but you can enjoy the place the same way for a much lower price!
Where to stay in Taormina
This is it for your 1 week itinerary in Sicily! You have been able to visit archaeological sites, take beautiful walks, discover baroque towns, see Mount Etna and even relax at the beach.
There is no doubt that Sicily is an ideal destination to spend a week of holidays at a low cost.
And if you're disappointed that the holidays are over so quickly, think about making another trip to Sicily to visit the West coast!
You can check our Sicilian West coast itinerary here: How to visit the west coast of Sicily in 10 days.
Other activities for 1 week in Sicily
If you feel like doing other activities during your one week trip to Sicily, you will have plenty of choice! Here is the list of the best activities you can do on the island:
Don't hesitate to click on the following links to get more information and book!
1) Best activities around Catania
2) Activities in Syracuse / Ortigia
3) Near Taormina
Renting a boat in Sicily
If you want to rent a boat for a nice day at sea during your itinerary in Sicily, you should book it with Samboat.
Motorboats, sailboats, yachts, small boats without a license, with or without a skipper: they simply have the most complete offer for boat rental.
So, what are you waiting for to book your boat trip in Sicily? 😊
Do not hesitate to give your opinion and suggestions on our one-week itinerary in Sicily!
Trip to Sicily: Flight prices
Flight prices to Sicily vary widely, so it is a good idea to compare them as soon as possible. To do this, you can use our flight comparator, in partnership with Skyscanner. With it, you will be sure of getting the best price!
On the results page, do not hesitate to compare several sites to ensure that no fees are added to the final rates.
Sicily 1 week Tours
On Voyagetips.com, I give you all my best tips and itineraries to plan your trip to Sicily by yourself. (All Sicily articles are here)

However, if you prefer to book a Sicily tour with a travel agency, I recommend you to check the 10 best Sicily tours by clicking the button below:
Book your trip now and save money!
Sicily travel Guides
You're traveling in Sicily? These articles will help you!
Discover all my articles about Sicily: All my articles to help you plan your trip to Sicily are listed there.
You're using Pinterest? Here is the picture to pin!