The 20 Best Things to Do in Sicily (Bucket List)
You're planning to visit Sicily for you next trip or holidays and you are looking for the best places to visit?
Great choice, there are many things to see on this beautiful Italian island!
With important historical sites such as Agrigento Valley of the Temples, the Roman theatre of Taormina or the Baroque cities of Noto, Ragusa and Modica.
Natural richness, with its volcanoes (Etna, Stromboli and Vulcano), its islands, its beaches and its magnificent nature reserves like the one in Zingaro.
And of course, the fabulous Italian Cuisine! (I am a big fan!), you will for sure enjoy your stay. Now the question is: Where to go in Sicily?
To help you plan your trip, here is the list of the best things to do in Sicily, as always accompanied by my best tips for a memorable stay!
So, what are the best points of interest in Sicily?
Visit Sicily: The 20 Best Places to Visit and Must-See Attractions
Voyage Tips - Advice
You're planning to visit Sicily?
Great!
In order to help you plan your stay, I have prepared detailed itineraries depending on your trip duration. You should read them after reading this article.
You can find them here, simply click on the orange links to read the articles:
They will allow you to plan your trip very easily!
And if you have any question, don't hesitate to ask me in the comments section, at the end of the article. I would be glad to help you plan your stay.
1. Palermo
I can only start this list of the top things to do in Sicily  with the capital, Palermo. It is a very rich city in terms of historical buildings and monuments and the ideal place to visit if you like churches and palaces.
In Palermo, you shouldn't miss:
The Norman Palace
Palermo Cathedral
The Massimo Theatre
The Ballaro Market
Not far from Palermo, there is one of the most visited places in Sicily: Monreale Cathedral and its thousands of square meters of golden mosaics. To give you an idea, 2200 kg of pure gold was used to make them!

For more details about Palermo and the best accommodations in town, you should read my article: The 15 best things to do in Palermo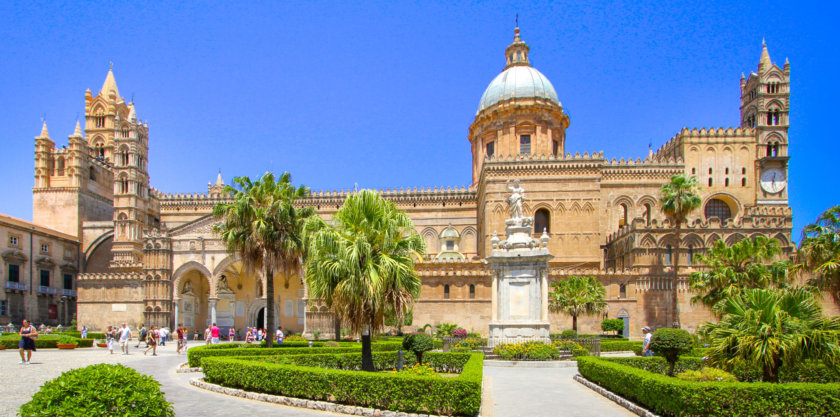 2. Cefalù
This is a very picturesque place and probably the first Sicily picture you saw!
This small fishing town with its colorful boats moored at the pier seems calm and peaceful.
Ok, I will tell you something, so you will not be disappointed when you will visit Sicily: the reality is nowadays a bit different because Cefalù has become a popular seaside resort. With its sandy beach and medieval alleys, the place is certainly pretty, but quite crowded, especially in high season. I don't advise you to go there if you only want to enjoy the beach, you will find much better and quieter elsewhere!
However, Cefalù is worth a stop to admire the panorama from the old port and pier and stroll through its narrow streets full of shops and restaurants. If you have time, you should also visit the Cefalù Norman cathedral, the most important building of the city.
Finally, you should climb to the top of La rocca di Cefalù, the cliff that overlooks the town and offers spectacular views.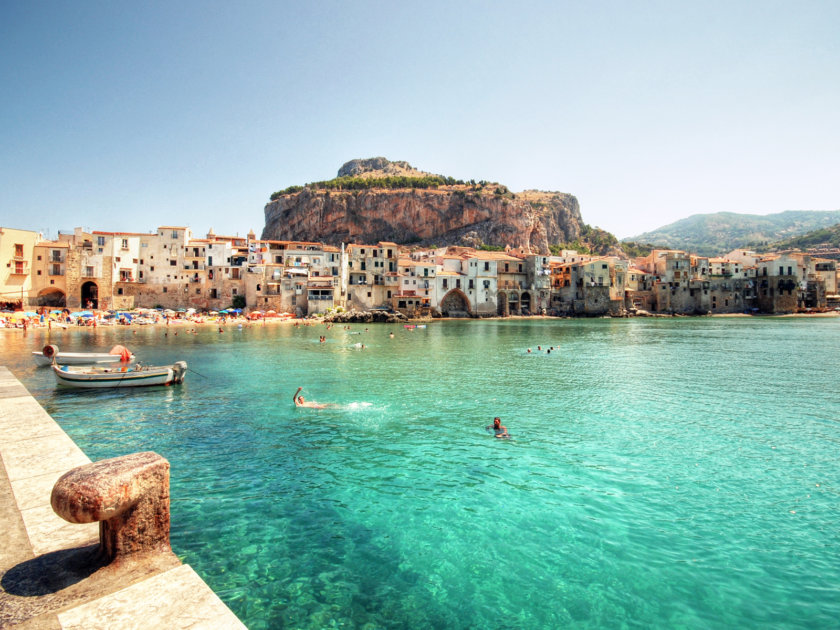 3. Taormina
Let's continue this bucket list of things to do in Sicily with Taormina, nicknamed "the Pearl of Sicily". This town is world-famous for the magnificent view it offers on the plain of Catania, Etna and Isola Bella. It's one of the most touristic cities in Sicily, so it's best to go off-season to make the most out of your stay.
If you've decided to visit the east coas of Sicily, it's a must-see destination. Here are the things you shouldn't miss in Taormina:
Go down to Isola Bella, the small island and its beach that contribute greatly to the fame of the city.
Visit Taormina Greek Theatre
The beautiful view on the Etna and the sea from Piazza IX Aprile
Climb the 300 steps leading to the Madonna della Rocca Church to enjoy a Bird's-eye view of the surroundings.
I give you all the best tips to visit Taormina during your trip to Sicily in my article: Visit Taormina: The 10 things to do and see.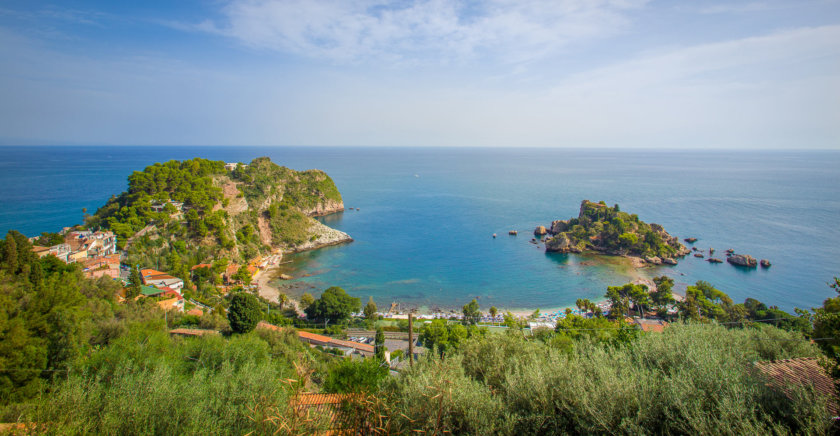 4. Etna
The Etna volcano is impossible to miss if you are in Sicily. It is one of the island's main attractions, and it should definitely be included in your tour in Sicily.
From Taormina and Catania, many viewpoints allow you to admire it from a distance. But as it's so close, it would be sad to miss the opportunity to climb up and see its crater, right?
The best things to do is to choose a day or half-day excursion. From Catania or Taormina, many tour operators offer full package around 55€ with transport, equipment, guide and 4 Wheel drive vehicle to go up to the crater.
Of course you can also drive there, but you will not be supervised, so be careful to have the right shoes and equipment. Check the weather conditions beforehand as well, access is not always allowed. Please note that if you are not accompanied by a guide, you will have to stop at the first level, (after the cable car). To reach the crater, the climb to the second level must be done in a guided minibus.
Going on the volcano is an unforgettable experience!
To make the most out of your day trip to Etna, I highly suggest you to book your tour with Getyourguide. It's simple, they have the best English speaking guides!
Click on the following button for more info about the trip to Etna volcano: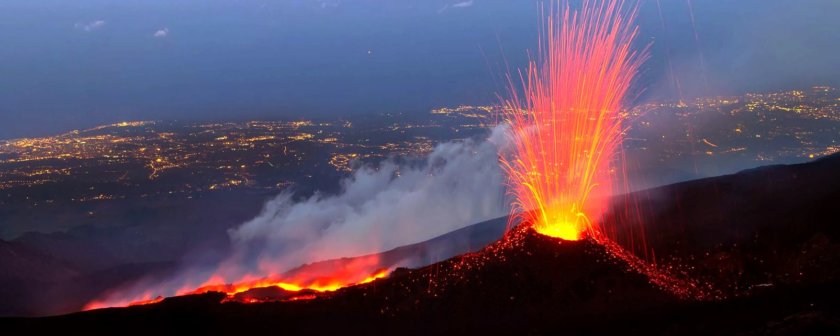 5. Catania
Catania, the 2nd largest city in Sicily after Palermo, is located at the foot of the Etna. As I told you before, this is the ideal starting point to get to the volcano.
Nicknamed the black city because of its buildings built in lava stone, Catania has many things to offer.
During your trip to Sicily, I advise to spend between half a day and a full day visiting the city.
Here are some of the things to do in and around Catania, in addition to the Etna excursion:
Take a walk around the Piazza del Duomo to see the emblem of Catania: The Fontana dell' Elefante.
Visit Duomo Di Catania, the Cathedral dedicated to the patron saint of the city, Saint Agatha.
Visit the "Cyclops rocks" (Faraglioni in Italian) in the seaside resort of Aci Trezza, only 35 minutes from Catania.
Find all the best activities to do in Catania in my article: The 12 best things to do in Catania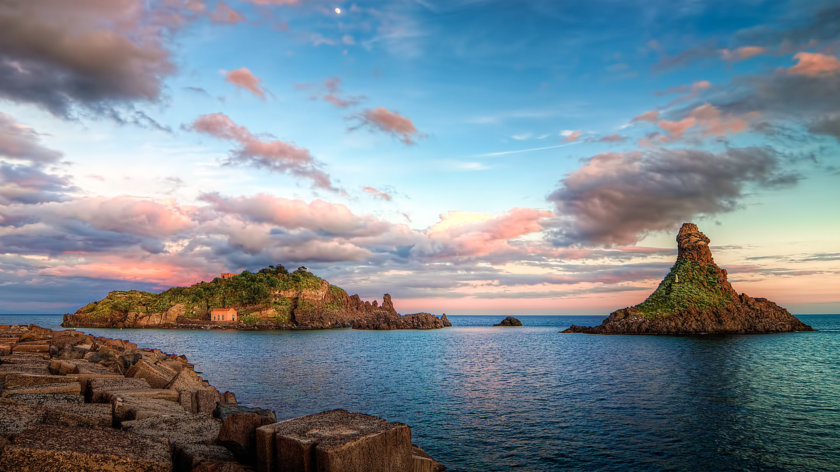 6. Syracuse and Ortigia Island
On the east coast of Sicily lies the town of Syracuse and the charming Ortigia Island, its historical center. It's simple: everything in Ortigia is pretty! Monuments, squares, fountains, palaces and churches. There's also some really good ice cream. You will have guessed it, at Voyage Tips, we loved our stay on this island!
Ortigia Island must-sees attractions:
The beautiful Piazza del Duomo
The port
The Castello Maniace
Arethusa fountain at sunset
In the modern city of Syracuse, there is only one must-see attraction: Neapolis archaeological park with its Roman amphitheater, Greek theatre and the Ear of Dionysius.
Find everything you need to plan your stay in Syracuse in my article: Syracuse: the 15 best things to do
Another great place to visit in Sicily!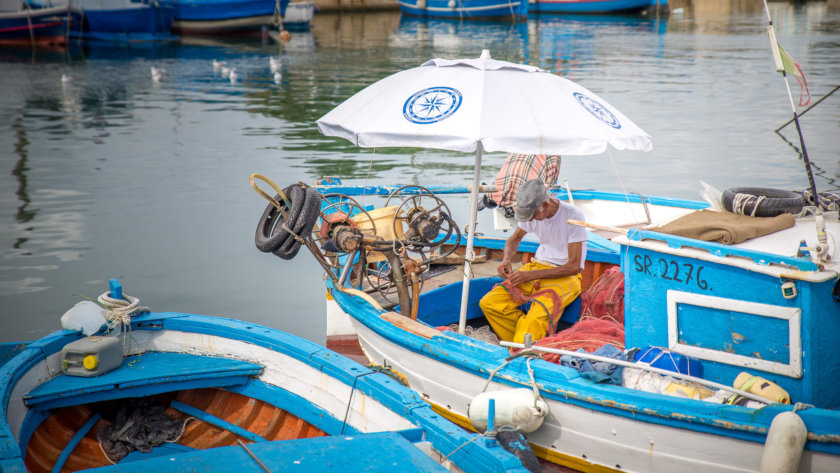 7. Visit Noto, Modica and Ragusa
If you are looking for the best place to visit in Sicily to discover the amazing baroque architecture, then look no further!
The Baroque towns of Noto, Modica and Ragusa are all listed as UNESCO World Heritage Sites. There are no specific monuments to visit here. All you have to do is stroll through the historic centers and enjoy it! (Tip: With an ice cream, it's even better).
Palaces, churches and Baroque cathedrals, architecture lovers will really be happy!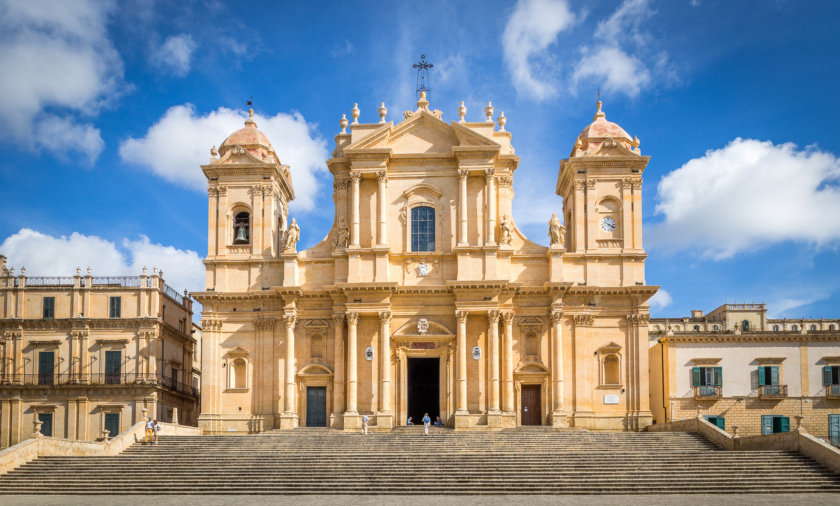 8. The Valley of the Temples in Agrigento
The Valley of the Temples, next to the city of Agrigento, is Sicily best-known archaeological site. It's the number 1 in terms of visit, before Selinunte Temples and Segesta (I will tell you more about them below).
8 temples are visible in the valley but the 2 best preserved are undoubtedly the temple of Concorde and the temple of Hera. The walk between the temples is very pleasant and easy to do on foot.
If you choose to go by yourself, you can find detailed information to plan your visit in my article: How to visit the Valley of the Temples?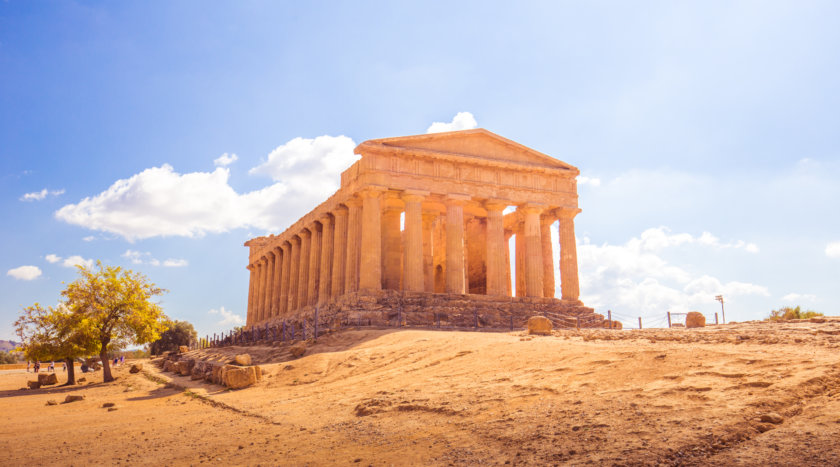 9. Scala dei Turchi
About 20 minutes' drive from the valley of the temples, the Scala dei Turchi is another must-see if your trip to Sicily takes you in this region!
This white limestone cliff is famous for its particular shape: it looks like erosion has carved steps! And if you add the turquoise color of the sea and the fine sand beaches that border it, you will understand why Scala dei Turchi is a very popular place.
Several dozen people gather here at the end of the day to watch the sunset, probably hundreds in high season. A show you shouldn't miss!
Adresse de la Scala dei Turchi: Strada Provinciale 68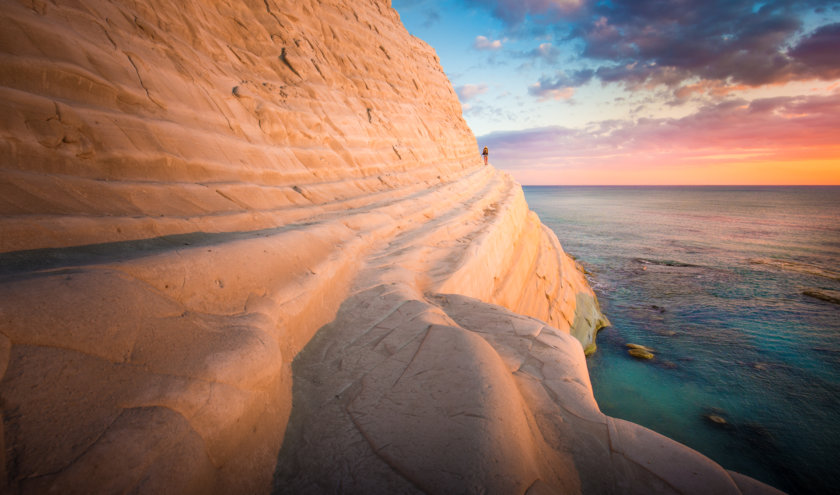 10. Selinunte Temples

 
I will not hide it: Selinunte is my favorite archaeological site in Sicily! The temples with the sea view is simply a must-see during your trip to Sicily.
The archaeological park is split in 2 different sites, so I recommend you take your car to go from one to another. There are several temples to see. Some are very well preserved, others in less good condition.
Since the experts were not sure to which divinity the temples were dedicated, they preferred to name them according to the alphabetical letters. So don't be surprised to visit temple A, B or C.
The site is really beautiful and will keep you busy for half a day. If you can, I really recommend you to stay there for the sunset.
Details for visiting Selinunte temples can be found in our article : How to Spend 10 Days in Sicily? The Best Itinerary!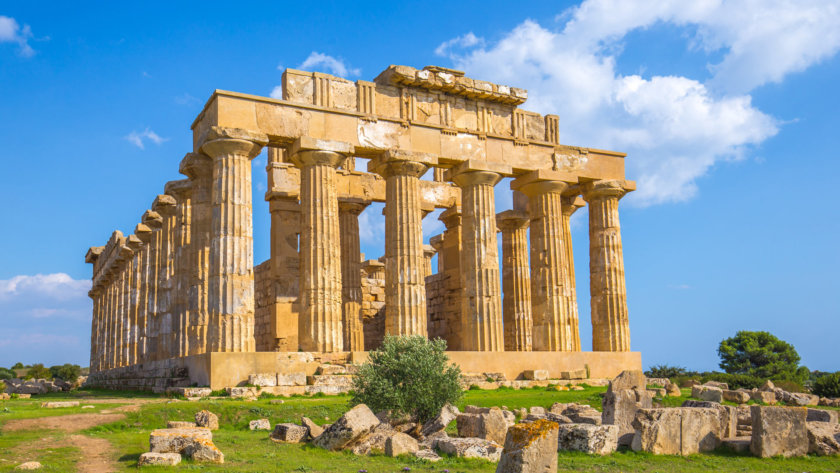 11. The temple of Segesta
Last temple and archaeological site of my Sicily bucket list, the temple of Segesta.
Perched in the middle of the green hills, Segesta Temple dominates the surrounding countryside. Extremely well preserved, it's definitely worth a look if you are in the area.
Fun fact: if the temple doesn't have a roof, it's simply because it was never finished!
Another vestige you can see on the site is the theatre, which is perched at 400 meters above the temple. It's still used in summer to host concerts and theatrical performances.
All the info to know how to visit the Temple of Segesta is in my article: The 10 things to see in and around Trapani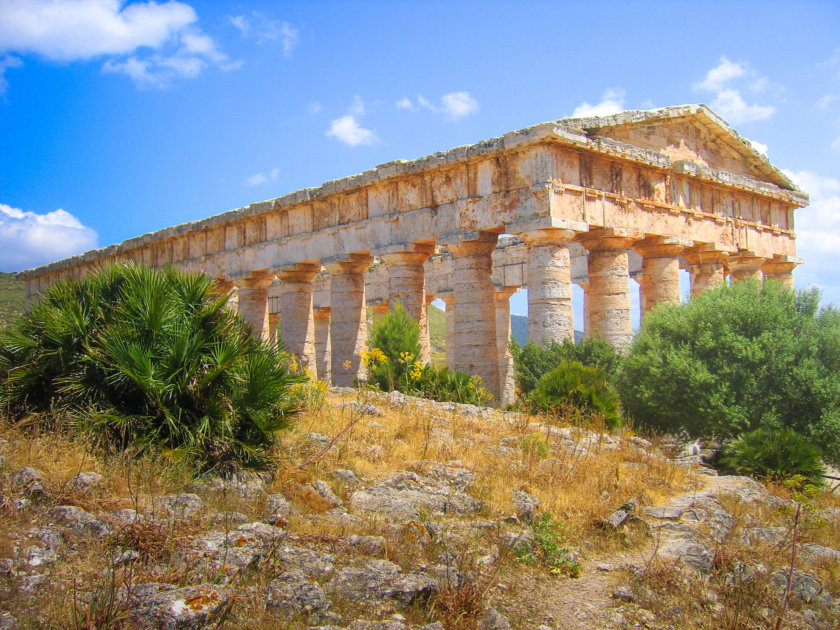 12. Torre Salsa Nature Reserve
Torre Salsa nature reserve is located between Agrigento and Selinunte, which makes it a very nice stop during your road trip in Sicily.
Another good reason to go there: the sandy beach is huge and there are really not many people. This not very well-known point of interest is a real paradise for swimming or picnic!
To get there, you will have to go down a dirt road for about 20 minutes, then park your car in the parking lot.
Be careful though:
It's not well indicated, so you may be struggling a little to find the right entry (there are several)
The path to go there is very rocky, so watch out for your rental car!
Avoid leaving your car on the parking lot with your belongings inside. Don't leave anything in the car.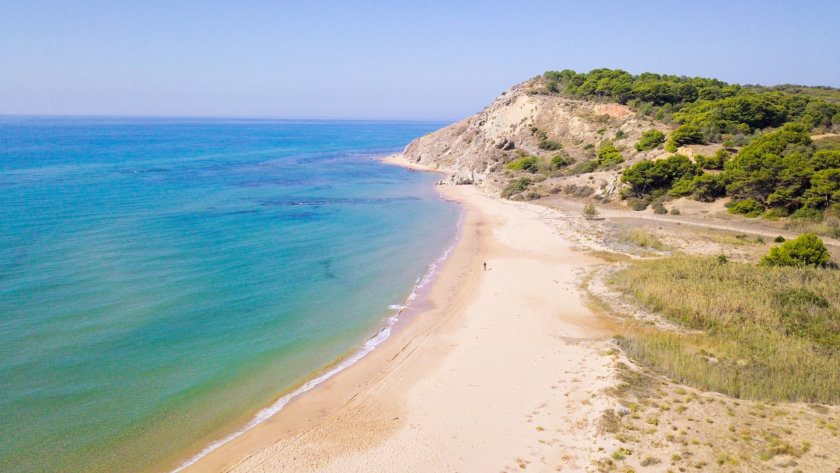 13. Marsala salt pans
When you get out of Marsala town, take the salt road that will take you directly to the salt pans. The road then continues to Trapani.
The salt pans and their mills are on many postcards, and you will quickly understand why when you will see them! Try to go there at sunset if you can, they are even more photogenic!
You can easily stop on the roadside, take a few pictures and maybe buy some of this renowned salt, used by the best Sicilian chefs.


14. Trapani and Erice medieval village
Trapani city itself isn't a major point of interest of Sicilian tourism, but it is an ideal starting point for at least 3 major attractions:
The temple of Segesta I mentioned earlier
Visit Erice medieval village
Take a trip to the Aegadian Islands. I will tell you more about them in a minute!
Let's talk a bit about Erice, this small medieval town built at an altitude of 750m, on top of the rocky cliff overlooking Trapani.
You can of course get there by road (good luck finding a parking space in summer!) or go for for something more original: the cable car!
From Trapani, a return trip by cable car costs 9 euros and the view is breathtaking.
Once at the top, here are some of the must-see places in Erice:
Erice castle, from where you will have a beautiful view on Trapani
The opposite view, on Monte Cofano reserve and San Vito Lo Capo
The 14th century medieval church
Discover the charm of small medieval lanes and shops (Even though touristic!)
The Maria Grammatico pastry shop, an Erice institution!
For more information on Trapani region, I recommend that you read our article: Visit Trapani: The Ultimate guide.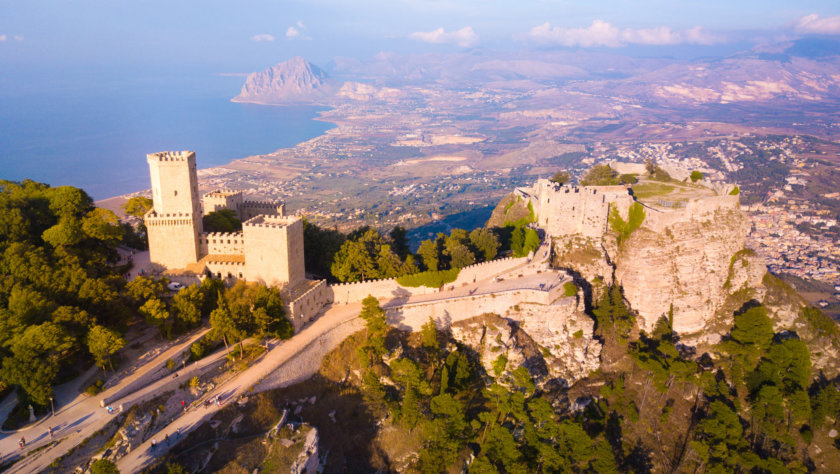 15. Aegadian Islands
From Trapani, you can leave for a day trip (or several days!) to one of the Aegadian Islands.
Boats connect Trapani to the islands several times a day.
The 3 Aegadian Islands are Favignana, Levanzo and Marettimo. They are all ideal for long walks, bycicle riding and swimming breaks in beautiful coves. And in addition the use of cars is very regulated, so there are almost none!
However, if you only have one day to devote to Aegadian Islands, I recommend you choose Favignana. Most people then opts for bicycles rental, to be able to see as much as possible in a day. Impossible to get lost, everything is well indicated. The paths have no particular difficulty, except for a few potholes.
Things to see in Favignana :
Cala Rossa
Cala Azzura
Cala Rotonda
Lido Burrone
Everything you need to know about the Aegadian Islands is in our article: Visit Trapani: The Ultimate guide.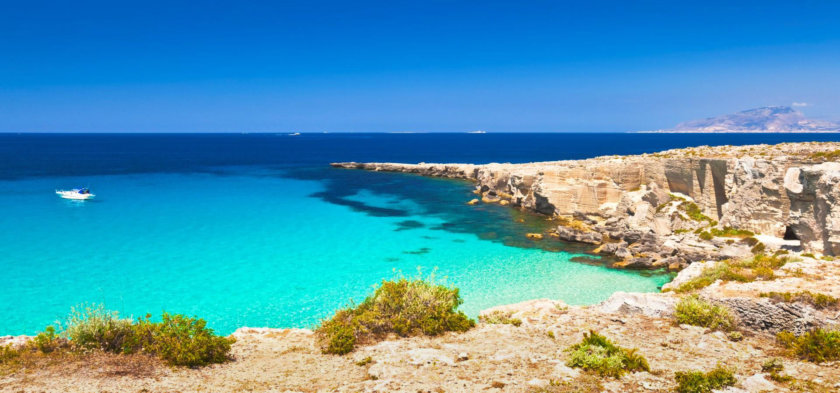 16. Enna, the Heart of Sicily
Located in the heart of Sicily, Enna is nicknamed "the navel of Sicily".
The region of Enna is the only one without access to the sea. However, it has the most lakes, including Lake Pergusa, the only natural lake of the island.
Perched on a promontory over 900 meters above sea level, Enna has retained its typical charm and offers several points of interest:
Lombardy castle, which offers an unobstructed view of Etna from the top of its main tower.
Enna's Duomo
Via Roma, the city's historic center
Archaeological Museum
Lake Pergusa, with a racing circuit on its shore
17. Zingaro Nature Reserve
It is undoubtedly the most famous nature reserve in Sicily. The Zingaro Nature Reserve is easily accessible from Scopello or Trapani.
During the easy 3h trail (back and forth), you will be delighted by the beautiful panoramas, with the path overlooking the sea.
And if you still need a reason to go there, this nature reserve offers access to several super beautiful coves. You can go for a swim before, during and after your hike! Isn't life beautiful?
If you plan to visit the Zingaro during your trip to Sicily, you should read my detailed article: How to visit the Zingaro nature reserve?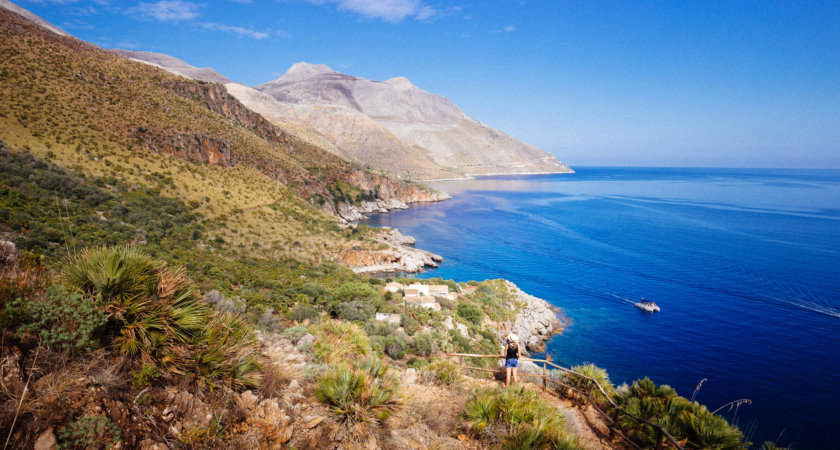 18. Monte Cofano Nature Reserve
Just as beautiful as the Zingaro Nature Reserve, the Monte Cofano Nature Reserve is not as famous.
Other travel blogs may not tell you about it when you're looking for points of interest in Sicily, and that's a good thing! Like the Zingaro, it's a path that runs along the seaside, however the vegetation and landscape is very different. personally, I loved it!
It's also a lot quieter, very pleasant to walk around alone or almost.
For more experienced hikers, the reserve also offers another trail that allows you to climb to the top of Mount Cofano. But beware, with very steep passages where it's necessary to use ropes and chains attached in the rocks, this trail requires good equipment and a good physical condition.
If you want to know more about Monte Cofano Nature reserve, you can read our article : Top 10 Things to see in Tripani.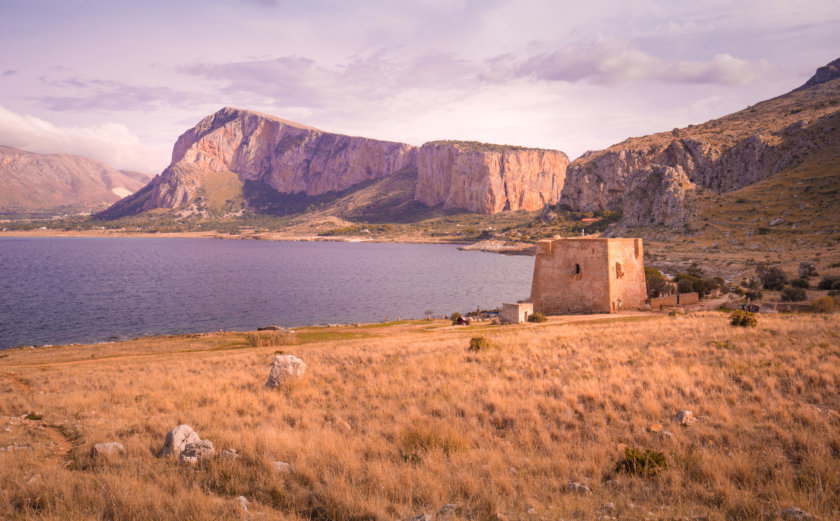 19. Aeolian Islands
The Aeolian Islands are located in Northern Sicily. This volcanic archipelago is made of 7 islands + a few islets and rocks. The best known and therefore the most visited are Lipari, Salina, Vulcano and Stromboli.
Each islands has its own charm and atmosphere:
Lipari is the largest, best served by boats, and therefore it's more animated than its sisters. It also has beautiful beaches.
Vulcano is also easily accessible. It is famous for its beautiful volcanic landscapes and mud baths.
Stromboli, well-known thanks to its continuously active volcano. An impressive night show you shouldn't miss!
Salina, has some beautiful hiking trails and good restaurants to eat after activities. It's less touristy than the previous ones.
To get to Aeolian Islands, you will have to take a hydrofoil or a boat from Milazzo, Palermo or Messina. For example, the boat from Milazzo to Vulcano takes about 1h30. Once on the islands, cars are forbidden and reserved for residents exclusively.
If you only have a day to devote to the Aeolian Islands, I advise to choose only one, but if you want to see them all, you can choose a multi-day cruise.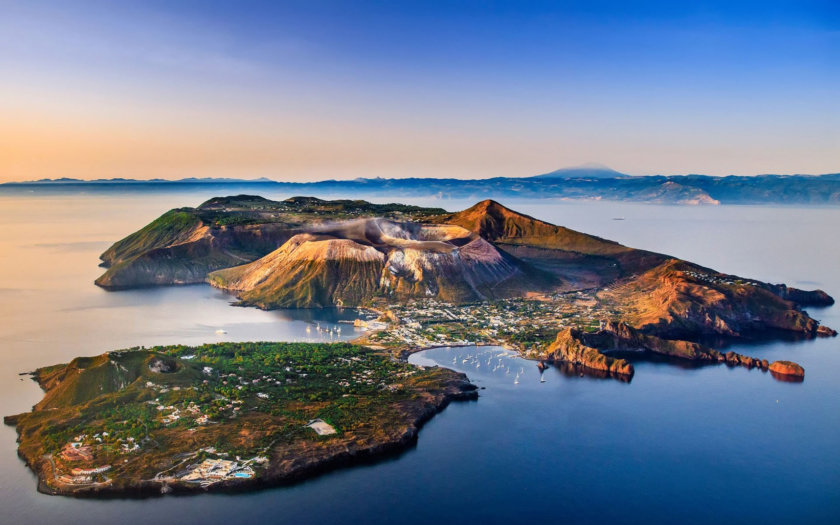 20. Sicily most beautiful beaches
My Sicily bucket list wouldn't be complete without a list of the most beautiful beaches. Yep, if you're going on a tour to Sicily, you will for sure want to enjoy the beach and crystal clear water! It's one of the best things to do in Sicily after all.
Here are some of my favorite beaches and coves:
San Vito Lo Capo Beach: Perfect for families with children, this large sandy beach is great for swimming or sunbathing! Public beach + private beach.
Isola Bella: Small pebble beach with crystal clear water, at the foot of Taormina. Ideal for snorkeling with lots of small fish to observe. Public beach + private beach.
Scala dei Turchi: This is the most romantic beach to enjoy the sunset in Sicily. Turquoise water + limestone cliffs getting orange and pink tone = the perfect combination! Public beach + private beach.
Cala Rossa in Favignana: Surrounded by huge rocks, this cove offers crystal clear turquoise water. The view from above is breathtaking.
Torre Salsa Nature Reserve Beach, a large, fine sandy beach, with very shallow water. Great place to spend a day with family, far from everything. Be careful for 2 things: the road to go there isn't very good and it's extremely important not to leave anything in your car.
Parco Marino del Plemmirio: Close to Syracuse, you can find numerous beautiful small coves there.
Calamosche Beach: One of the busiest beaches around Syracuse, well known for the beauty of its shallow and translucent water.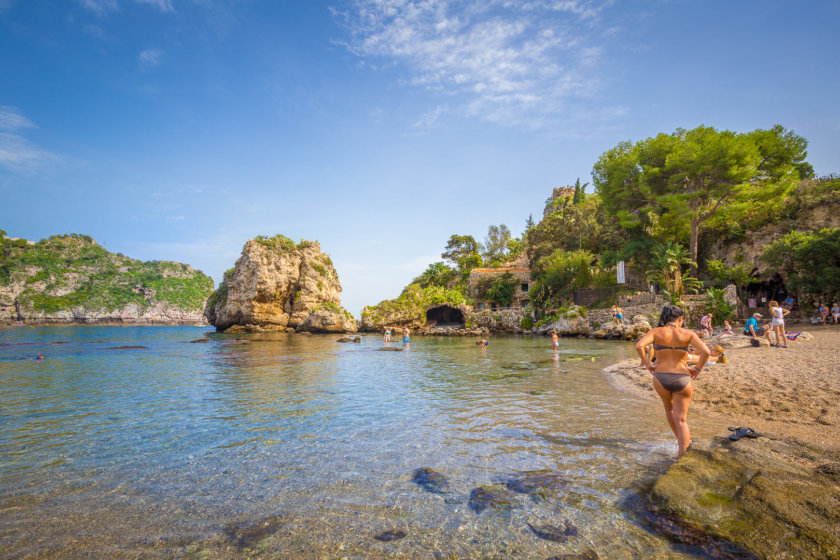 The best activities in Sicily
During your stay in Sicily, you might want to do something else than cultural tourism or going to the beach.
I have thus selected for you the best activities in Sicily. There is something for everyone ??
Simply click on the links below for more information and to book your activities:
Paragliding: You can enjoy this activity in Palermo, Agrigento, Taormina, Trapani or Cefalu.
4-hour cruise from Catania to Cyclops Bay – And for the Small group version, on a sailboat, click here!
Canyoning in the Alcantara Gorge – Five-hour trip (Book here!) 3-hour excursion (Book there.)
A boat trip to Isola Bella, in Taormina
Snorkeling tour (Aeolian islands – Vulkan and Lipari) or a Snorkeling tour in a marine reserve around Catania.
Kayaking around the beautiful island of Isola Bella, in Taormina – You can also do a snorkeling tour there!
Diving in Sicily, near Catania – First dive also possible on the Aeolian Islands
Mountain bike on Etna / Also possible with a buggy!
Parasailing, a great way to enjoy the view over the coast!
A Kayak course along the coast of Syracuse, or in Catania
Quad bike tour near Ragusa/Modica
Jet Ski Rental to discover a part of the south coast of Sicily.
Jet boat tour (a very fast boat that takes very tight turns)
Guided hike to the necropolis of Pantalica, near Syracuse.
And if you have the budget, you should opt for a unique and exceptional activity: A Private helicopter flight over Mount Etna!
Now, I would love to know what you have planned to do during your trip to Sicily!
Sicily Tours
On Voyagetips.com, I give you all my best tips and itineraries to plan your trip to Sicily by yourself. (All Sicily articles are here)

However, if you prefer to book a Sicily tour with a travel agency, I recommend you to check the 10 best Sicily tours by clicking the button below:
Renting a boat in Sicily
If you want to rent a boat for a nice day at sea during your trip to Sicily, you should book it with Samboat.
Motorboats, sailboats, yachts, small boats without a license, with or without a skipper: they simply have the most complete offer for boat rental.
So, what are you waiting for to book your boat trip in Sicily? 😊
Tourist map of Sicily
To help you get a better overview of this big island, I have created a tourist map of Sicily , which lists all the best places to visit I mention in this article. You can view the map's legend by clicking on the upper left button, the one with a small arrow.
Book your trip now and save money!
Sicily travel Guides
You're traveling in Sicily? These articles will help you!
Discover all my articles about Sicily: All my articles to help you plan your trip to Sicily are listed there.
You're using Pinterest? Here is the picture to pin!