How to Visit Elafonissi, the Pink Beach? The Definitive Guide!
You want to go to Elafonissi, one of the most famous beaches in Crete?
Great idea!
Also known as the pink sand beach, Elafonissi offers a heavenly setting for swimming. It's definitely one of the most beautiful beach in Crete!
In this comprehensive guide, I will tell you everything you need to know to spend a dream day in Elafonissi.
You will learn how to get to Elafonissi by car, boat, bus or with a guided tour and get all my best tips for your day at the beach (including how to avoid the crowds!) and to discover the surroundings.
So, Let's plan your visit to Elafonissi beach!
Elafonissi Beach – One of the most beautiful beaches in Crete
It is not for nothing that the pink beach of Elafonissi* automatically ranks among the top 3 most beautiful beaches in Crete.
In direct competition with the lagoon of Balos (with which it often fights the first place), it has a landscape worthy of a postcard with its shallow turquoise waters and fine sand.
Elafonissi beach is located in the south-west of Crete. If you are planning a tour of Crete, it is absolutely essential to include it in your agenda!
*When doing your research, you will spellings like "Elafonissi" or "Elafonisi"?
This is normal: Elafonissi beach is mentioned but "Elafonisi" with only one "s" is the name given to the island located opposite to it.
Voyage Tips - Advice
Are you wondering why the sand is pink in Elafonissi?
The very particular colour of the sand comes from some shells of molluscs that are pink and decompose over time and erosion and then mix with the sand. 
One clarification: depending on the tide, the season or the light, the Elafonissi sand is more or less pink. But it's never going to be as pink as all the pictures you can find on Instagram that are edited to the extreme!
Moreover, the sand is only pink at the water's edge and not on the whole beach. It is also forbidden to collect it, if you get checked, you will be fined.
Considering this, you are now ready to enjoy this sublime beach during your tour in Crete!

How to get to Elafonissi – The different options
To get to Elafonissi, in the South of Crete, you will mainly have the choice between taking a car or bus.
If you are in a hurry and just want to book your return bus without reading the entire guide, I have selected here the 3 best trips to get to Elafonissi beach.
Just click on the orange links to book:
I will now explain in detail all the ways to reach Elafonisi.
Getting to Elafonissi beach by car
If you are planning to go on a road trip in Crete and have rented a car to go around the island, you can drive to Elafonissi beach. 
Unlike Balos, where the access is more complicated owing to its 8 km track (see my detailed article here: Visit the lagoon of Balos ), the road leading to Elafonissi has no particular difficulties. As is the case everywhere in Crete, you just have to be comfortable driving along narrow, winding mountain roads.
To give you an idea of the distance, Elafonissi is about 50 km from the lagoon and 45 72 km from Chania, which is the closest big city. It takes about an hour and a half to drive from Chania to Elafonissi.
Once there, you can park your car in the huge car park just at the entrance to the pink beach. Given its size and the number of vehicles parked, you'll quickly understand that you are arriving at Crete's most famous beach!
Elafonissi beach is only 5 minutes away on foot from the car park.
Voyage Tips - Advice
To rent a car to go to Elafonissi and for the entire duration of your stay in Greece, you must compare prices and book directly on Rentalcars.com by clicking here:

How to get to Elafonissi by bus?
If you have not rented a car for your stay in Crete, there are trips to get to the pink beach of Elafonissi by bus from several Cretan towns.
1. Day trip to Elafonissi beach from Chania
It's the best (and only!) way to get to Elafonisi without a car from Chania: take the bus.
The organised trip is also very convenient as the bus will pick you up directly at your hotel or at a meeting point nearby in the morning.
You will then be on the road for about an hour and a half before being dropped off at the entrance to the beach where you can spend a good part of the rest of the day.
On the agenda: relaxation and swimming in the crystal clear waters. And if you want to know about the things to do in Elafonissi, you just have to read the rest of the article. 😊
At the scheduled return time, the bus will wait for you at the meeting point to take you back to Chania. Simple and effective!
To book this bus trip from Chania to Elafonissi, just click on the button below:

2. Day trip to Elafonissi from Rethymnon
Your  2nd option to go to Elafonissi beach by bus is to opt for the day trip from Rethymnon. If you don't have a car, this is the only way to discover one of Crete's most beautiful beaches!
It is exactly the same as the trip from Chania, since the bus will pick you up in front of your hotel (or in the vicinity) in Rethymnon and then take you to Elafonissi where you will have all the time you need to swim.
Click on the green button below to book your round-trip in a bus to Elafonisi:
3. Trip to the pink beach of Elafonissi from Heraklion
Lastly, this organised trip by bus to Elafonissi is also available from Heraklion. But you have to be aware that this is a long journey and that the departure will be very early.
Book your trip to Elafonissi Beach from Heraklion by clicking on the button below: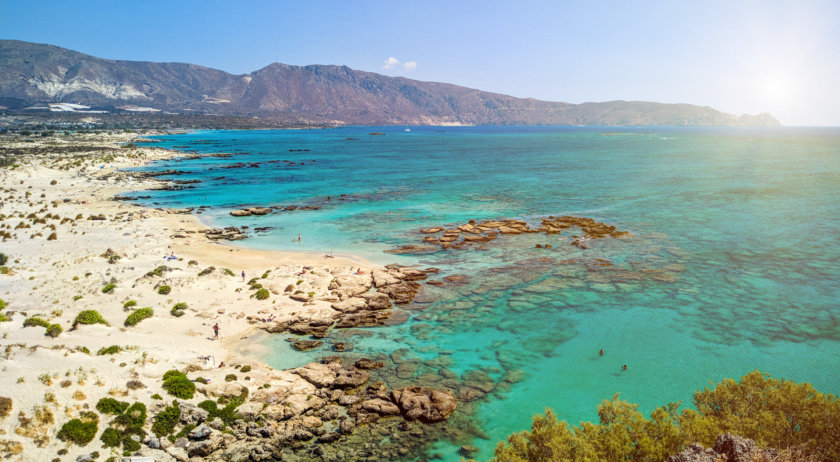 How to get to Elafonissi by boat?
Here are the 2 ways to reach Elafonissi beach by boat.
1. Paleohora to Elafonisi
If you just want a boat shuttle to Elafonisi, you will have to leave from Paleohora. It is a small village located on the seafront, in the south-west of Crete, 70 km from Chania.
Only available during peak season (from May/June to the end of September), the boat leaves every day at 9h from the port of Paleohora and arrives at Elafonissi at 9h45. It will take you to the pink beach and pick you up around 3 pm for the return trip.
The return boat trip from Paleohora to Elafonisi costs around €25 for adults and €20 for children.
2. Private cruise to Elafonissi from Falassarna
If you have chosen to visit Elafonissi with your family or friends, you must book a private boat cruise.
The boat leaves from Falassarna beach, 52 km from Chania and North of Elafonissi beach.
During this one-day sailing trip, your captain will take you to the island of Elafonisi where you can swim as much as you want. The snorkelling equipment (mask/snorkel/fins) is provided so that you can go and admire the underwater fauna.
Guests can also enjoy an excellent breakfast made from local produce, cooked on board and served on the boat deck.
This cruise is only available between June and the end of September, and provided you have booked in advance by clicking on the green button below:

The 3 Best Things to Do in Elafonissi?
Now that you know how to get to Elafonissi by bus, car or boat, here's what you'll be able to do once you get to Crete's best-known pink sand beach!
1. Swimming on Elafonissi beach
Going to a beach means swimming (well, that's okay if you have decided to visit Crete between May and October, otherwise it might be a bit cold)!
And yes, the main activity to do in Elafonissi is simply to swim and enjoy your day of relaxation in this heavenly setting.
You can even afford the luxury of hiring a parasol and deckchairs.
Voyage Tips - Advice
The main part of the beach (where deckchairs are kept) is very touristy.
You just have to cross over (see below) to get to lots of nice places which are much quieter to swim and and aren't crowded.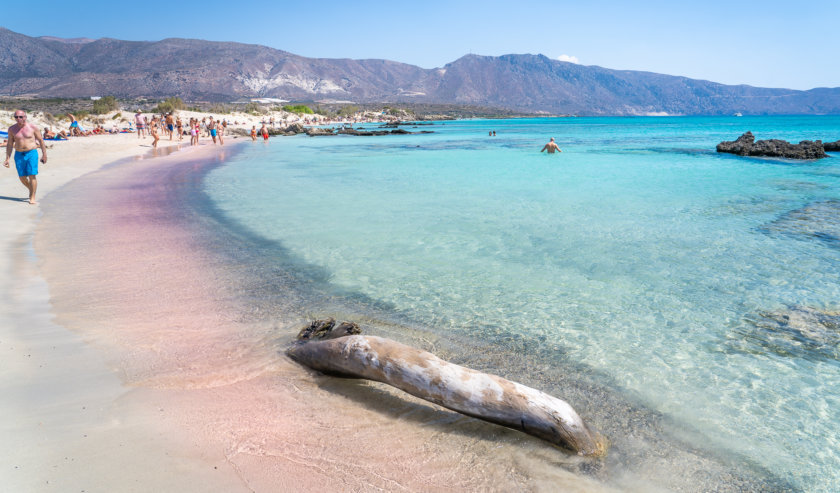 2. Visit Elafonisi on foot
Between 2 swims, you must really stretch your legs with a little walk at Elafonissi.
As I told you, the main part of the beach (where you arrive from the car park) is the busiest. But you just have to cross over to the island of Elafonisi located just opposite to enjoy some peace and quiet.
Depending on the season, the island is linked to the pink beach by a sandbar but you may have to to cross through water up to your knees.
On the other side, you will discover many small coves with turquoise waters, bordered by rocks, with the famous pink sand and most importantly, there are far fewer people! For me, it's much prettier and much nicer than the main beach.
Here, the landscape has remained quite untamed (no deckchairs lined up!) and you may even come across some naturists.
You can lay down your towel or choose to walk to the chapel at the end of Elafonisi island. Be careful, as the island is a protected natural area, so it is forbidden to walk in the dunes.
Voyage Tips - Advice
The monument is dedicated to the 850 people who took refuge on the island in 1824 to escape the Turks.
Unfortunately they found them, killed all the men and sent the women and children to Egypt as slaves. Legend has it that it was at this point that the sand turned pink, coloured by the bloodshed of the massacre.
3. Water activities in Elafonissi
Unlike in Balos Beach, where there are no water sports, in Elafonisi, you will have the choice between:

Tips and practical information for your visit to Elafonissi
What are the best places to eat in Elafonissi?
At the entrance of Elafonissi beach, you will mainly find 2 snack bars/beach bars where you can buy food and drinks.
For a real restaurant in Elafonissi, you have to go on the road beyond the car park. Towards the Elafonisi Resort hotel (which I'll tell you about a little further down), you have the Panorama restaurant which offers a superb view of the beach and the Kalomirakis tavern where you'll have a warm welcome.
What should you bring to Elafonissi beach?
Here is the list of useful things to take when visiting the pink beach of Elafonissi:
Sunscreen – There's absolutely no shade on the beach (apart from your umbrella!). If you don't want to spend the rest of your holiday in Crete tanned red, don't forget the sunscreen (and this applies to many other places in Crete).
Water – Of course you can buy it in the snack bars but expect to pay a high price compared to any supermarket. Even better, why not invest in a bottle/thermos? In Crete, tap water is safe and drinkable.
Money – If you want to go to the toilet, all of them are charged.
How long will it take to visit Elafonissi?
If you have your vehicle, it will depend on your desire of basking on the beach… One hour, 2 hours, 1/2 day or 1 full day, it is up to you!
For those who have chosen the bus trip from Chania, Rethymnon or Heraklion, expect to spend 4 hours on average in Elafonissi.
For the shuttle boat from Paleohora, the arrival is at 9.45am and the departure is at 3pm, so about 5 hours there.

What to do around Elafonissi's pink beach?
Here is my selection of places to visit around Elafonisi beach:
Kedrodasos beach
Only a 5 minute drive from Elafonissi via a track + 10 minutes walk on a downhill path, you can reach the beautiful sandy beach of Kedrodasos. 
Surrounded by a juniper forest (which is great hanging your towel in the shade!), the beach has remained very wild (there are no parasols available) and offers beautiful stretches of turquoise waters, separated by rocks.
Do not forget your mask and snorkel as there are plenty of small fish to watch.
Note that the beach is frequented by naturists who practice wild camping there.
Voyage Tips - Advice
From Elafonissi beach you can also take the E4 hiking trail to Kedrodasos beach. It takes about 30 minutes on foot, following the yellow and black markers.

Agia Sofia cave
On the way from Chania to Elafonisi, you can make a quick stop at the Agia Sofia cave.
After climbing the 250 steps, you can enter the cave for free to take some photos. Occupied since the Neolithic period, a small chapel was carved directly into the rock. You can also observe some stalactites and stalagmites.
From the entrance you also have a beautiful view of the Topolia Gorge.
It takes a total of around ten minutes for the visit.

Chrysoskalitissas monastery
The Chrysoskalitissas monastery is located close to Elafonissi beach, just a few miles North and about 10 minutes away by car. 
Honestly, I won't necessarily recommend visiting because there is nothing to see except a small church and a tiny folklore museum.
Even with an entrance fee of only 2€ per person, I still think it's not worth it, there are many more beautiful monasteries in Crete!

Chania
Chania is the nearest major city around Elafonissi.
During your stay in Chania, you will be able to walk along the Old Venetian Port and the streets of the old town that have retained all their charm. The place is really pleasant and there are plenty of shops and taverns where you can enjoy excellent Cretan cuisine.
You can also visit the Maritime Museum, the Archaeological Museum or the covered market of Chania.
To prepare for your visit to Chania, you have all the details in my other article, right here: What are the best things to do in Chania?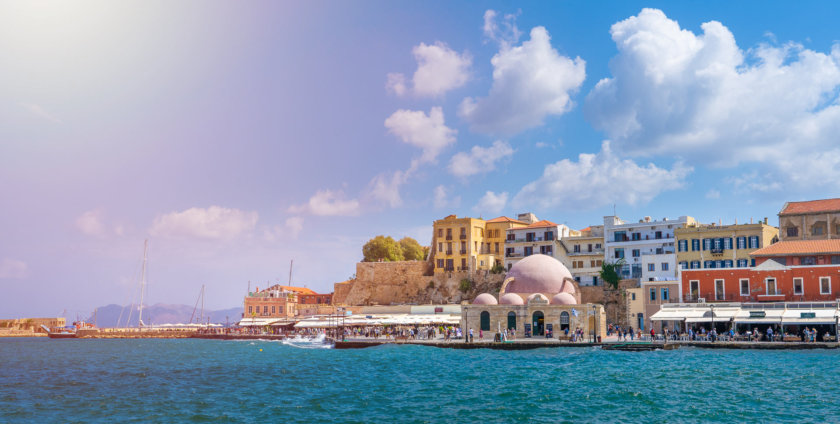 Where to stay when visiting Elafonissi?
To get to Elafonisi easily by car or bus, there are 3 main options to stay in Elafonissi.
Hotel Elafonisi Resort – The closest to the pink beach
The Elafonisi Resort is the closest hotel to Elafonissi beach. It is just 700 metres from the car park.
The hotel is run by the same family who own the Kalomirakis tavern next door.
They offers rooms or studios/bungalows, some with a kitchenette and all have a balcony or terrace. The decor is modern, fancy, and the rooms are really nice and bright. 
Located in the middle of an olive grove, you will enjoy a quiet stay while being just next to the beach.
To book your stay at the Elafonisi Resort, simply click on the button below:
Where to stay near Elafonissi beach?
A few kilometres from Elafonissi, you can also stay at:
Lafo Rooms: Located 1 km from Elafonissi. Modern double room with comfortable bedding from 80€. Strong points: kind hosts, cleanliness, ample breakfast, location 10 mins on foot from the beach.
Cretan Fleur Apartments: Located towards the monastery of Chrysoskalitissas, 5 minutes by car from the beach. New, bright and well-equipped apartments from 119€ per night. Strong points: terraces with magnificent views, comfort, friendly owners. A great choice for its value for money!
Glykeria Hotel: Located 4.5 km from Elafonissi. Spacious, modern and comfortable double room with balcony and sea view from 140€, breakfast at 13€. Strong points: swimming pool, friendly staff, excellent breakfast and food quality. The best hotel near Elafonissi for an upscale stay in Crete!

Where to stay in Chania?
If you opt for a day-trip by bus or if you have a car, Chania is also a great place to stay for visiting Elafonissi and the whole of West Crete:

Renting a boat in Crete
If you want to rent a boat for a nice day at sea during your stay in Crete, you should book it with Samboat.
Motorboats, sailboats, yachts, small boats without a license, with or without a skipper: they simply have the most complete offer for boat rental!
So, what are you waiting for to book your boat trip in Crete? 😊
FAQ – I'll answer your questions about Elafonissi
How to reach Elafonissi beach?
To reach Elafonissi, you can choose:
Car – Immense parking on the beach.
The boat from Paleohora
Where is the beach of Elafonissi located in Crete?
Elafonissi's pink beach and Elafonisi Island are located in south-west Crete.
To go from Chania to Elafonissi, it takes about 90 minutes by car.
When should you travel to Elafonissi?
By car, you can drive to Elafonisi all year round.
Bus trips, as well as boat transfers or cruises are only available from   May to the end of September/October. You won't be able to go to Elafonissi in winter if you don't have a car.
For me the best time to visit Elafonissi is May, June, September and October. You can swim, enjoy the beach while avoiding (a bit of) the tourist crowds of July and August.
For a visit to Elafonissi in summer, expect crowds. Go there in the early morning or at the end of the day if you want less of a crowd. Elafonissi beach is also superb at sunset.
Elafonissi or Lagoon of Balos?
Are you choosing between a day at Elafonissi or a visit to Balos lagoon?
I get it: both beaches are ranked among the most beautiful in Crete, it's difficult to choose. And I'm not necessarily going to help you decide because I really think you to go to both.
Here is a small comparison:
Elafonisi is easily accessible by car or bus (no track) and more developed. There are plenty of parking spaces, bars and restaurants nearby. With family or children, it is also much more practical than Balos.
In Elafonisi, you can also always find a quieter place to swim. In Balos, everyone has to gather at the sandbar, so there's less peace and quiet.
On the other hand, Balos Beach offers a heavenly landscape that you won't find anywhere else. And the boat trip is definitely worth it. Please read my article by clicking on the following link: Visit the lagoon of Balos, Crete.
Are you planning to visit Elafonissi beach during your stay in Crete?
Book your trip now and save money!
You're traveling to Crete? These articles will help you!
Discover all my articles about Crete: All my articles to help you plan your trip to Crete are listed there.
You're using Pinterest? Here is the picture to pin!