How to visit Balos Beach? The Definitive guide!
You want to visit Balos Beach (sometimes also called Balos Lagoon) during your stay in Crete?
Great idea!
Balos Beach and its magnificent turquoise lagoon is simply one of the most beautiful beaches in Crete.
In this guide, I will tell you everything you need to know to plan your visit: how to get to Balos Beach by car, by boat or with a guided tour as well as all my best tips for a perfect day.

You will see, with all my best tips and practical information, you will be able to organise your day at Balos Beach very easily!
So, let's plan your visit to Balos Lagoon!
Balos Beach – One of the most beautiful beaches in Crete
Balos beach is one of the top 3 most beautiful beaches on the island and is often ranked first.
Balos is located in the north-west of Crete, at the end of the Gramvoussa peninsula. If you are planning an itinerary in Crete, you must absolutely include this beach in your scheduled visits.
Once there, you will discover a lagoon divided in two by a sandbar and shallow translucent waters on either side.
In some places, the sand even has a slight pink colour (similar to Elafonissi beach, another very famous beach in Crete), which gives the place even more charm.
How to get to Balos Lagoon – The 6 options
To get to Balos Beach, you will mainly have the choice between going there by car or opting for a boat trip. 
If you are in a hurry and just want to book your boat trip to Balos without reading the entire guide, I have selected here the 2 best cruises to go to Balos Lagoon. Just click on the orange links to book:
I will now explain all the ways to reach Balos Lagoon.
Visit Balos Lagoon by boat
There are boat trips to Balos from several Cretan towns.
1. Boat trip to Balos Lagoon from Kissamos
This is the most classic way to go to Balos Beach and the lagoon: choose a boat trip during the day. 
But where do you take boat to Balos?
The boat leaves from Kissamos, a town located north-west of Crete, 38 km from Chania. You can drive to the hotel and leave your car in the free car park at the port. You can also take the bus from Chania (departure from the bus station).
As part of this superb voyage, you will start along the coast before reaching the first stop of the day*: the Gramvoussa island. You will have about 2 hours to swim on the pretty beach and/or go up to the 16th century Venetian fortress.
The boat then leaves, and after about 20 minutes, reaches Balos where you will have the chance to spend the rest of the day swimming in the crystal clear waters. Deckchairs and parasols can also be rented at Balos beach for just €10 and €2.
You can also walk a little to Cape Tigani. To know the things to do in Balos, just read the rest of the article. 😊
In the late afternoon, the boat will take you back to the port of Kissamos.
*The order may be reversed: first Balos, then the stop at Gramvoussa.
To book your boat trip to Balos Beach by boat from Kissamos, just click on the button below:
Voyage Tips - Advice
Be sure to arrive at least 30/40 minutes before the cruise departure time. You should allow time for everyone to board the boat if you want it to leave on time. You can also choose the best seats!
The boat has a bar and a small restaurant but you still take your own picnic materials.
Sneakers are recommended to go up to the fortress of Gramvoussa.


2. Day trip to Balos Lagoon from Chania
If you have not rented a car for your stay in Crete, you can also go to Balos through a trip from Chania.
The bus will pick you up directly from your hotel or at a meeting point nearby (you will receive an email with the exact location and time after your booking). It will then take you to Kissamos where you will take the boat to Balos.
The boat trip is exactly the same as the one I just told you about with a:
Stop on Gramvoussa island
A swimming stop in Balos Lagoon.
At the end of the day, the boat returns to Kissamos where you'll have to wait for your bus to take you back to Chania. This is really the best way if you don't want to bother with organisational issues, everything is taken care of from start to finish.
To book your trip from Chania to Balos Lagoon, just click on the button below:

3. Day trip to Balos from Rethymnon
Your 3rd option to visit Balos beach is to go on a day trip from Rethymnon.
It's the same as from Chania, with a bus that will pick you up from your hotel in Rethymnon, takes you to Kissamos to take the boat and go to Balos Lagoon.
Click on the green button below to book your boat trip to Balos:
4. Day trip to Balos Beach from Heraklion
If you aren't planning to stay in Chania during your tour in Crete, this organised trip is also available from Heraklion (even if it starts to be a little far away for the bus ride):
Departure from Heraklion by bus early in the morning
Arrival at Kissamos and boarding the boat
Stop at Gramvoussa
Swimming at Balos Beach
Return by boat and bus to Heraklion in the evening.
Book your trip to Balos Lagoon from Heraklion by clicking on the button below: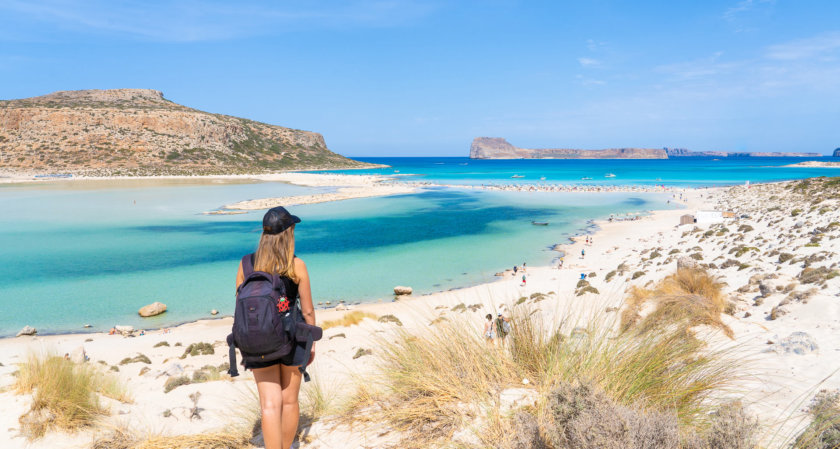 5. Private cruise to Balos
For those who want to visit Balos Lagoon without other tourists, I have the perfect boat trip for you: a private cruise!
For 4 hours, you and your family or group of friends (up to 5 people) will get the services of a captain who will take you to Balos and Gramvoussa in a semi-rigid inflatable boat.
Snacks and drinks are included in the fare.
Snorkelling equipment (mask, snorkel, flippers) is also provided.
This private boat trip to Balos starts from the port of Kissamos. Guests can choose between departure at 8:30 a.m. and a departure at 3:30 p.m.
In both cases, this let's you have a much quieter time in Balos because the big boats arrive later in the morning and will already be gone if you choose the afternoon departure.
To book this half-day trip by boat to Balos Beach, just click on the button below:
Voyage Tips - Advice
If you're looking for a more upscale private cruise, you must choose the private day trip in a sail boat.
The boat can accommodate up to 6 people and leaves Kissamos around 11:00am. After a 90 minute trip where you can gaze upon the coast, you will arrive at Balos Lagoon for a swim break.
You will then leave for Gramvoussa where you can also swim or climb up to the fortress.
The trip also includes an excellent lunch cooked on board and drinks.
Book your day trip by private boat to Balos by clicking here:

6. Rent a boat to go to Balos beach
If you have your boat licence, you can also rent a boat to go to Balos Lagoon.
It's also a great idea if you want to visit Balos with family or friends and have a quiet time, deciding your own schedule and where you want to swim.
The easiest way is to rent a boat in Kissamos.
To rent a boat and spend a wonderful day in Balos Lagoon and its surroundsings, you should use Samboat. They simply have the most complete offer for boat rental!
So, what are you waiting for to book your boat trip? 


Going to Balos beach by car
As I said a bit earlier, you can also get to Balos Lagoon by car.
From Chania, it takes about 90 minutes by car, but you should be aware of some specific points.
Entry to Balos by car is charged: €1 per person. To be paid to the guard in a shack on the right of the road, about 10 km before arriving in Balos.
From the shack, the road turns into a rather rugged track with many stones and large potholes.
That's why no car rental company in theory allows you to take this track to Balos in a rental car. It will be made clear in your contract that you won't be covered in case of damage and that if you break down, everything will be at your expense.
If you want to take this risk, you should know that if you drive slowly and leave enough space between the car in front (to avoid getting hit by breaking stones), you won't need a 4*4 to cover the 8 km of track up to Balos (about a 25 minute drive).
This will become evident when you see the number (and types!) of rental cars that are in the car park! A gentleman will tell you where to park your car.
The car park at Balos is free and has a small snack bar and a paid toilet (€1).
From the car park, you can reach Balos Lagoon on foot via a path that goes down about 1.2 km and descends 150 metres (which you have to climb at the end of the day, which is a little harder 😅).
You must wear sneakers and not flip-flops.
If you are having problems climbing back up, a gentleman will offer you a horseback ride for the return trip.
Voyage Tips - Advice
You must reach Balos Beach by car before 11:00am as after the car park will be full.
Otherwise, you will have to park by the road, which is clearly less practical given its layout and which will greatly increase the walking time to reach the lagoon (the line of parked cars can stretch for miles in summer!).
The best view of Balos Lagoon when going down the path from the car is just before the gentleman who keeps the horses. This is where the most famous photographs of Balos are clicked!
To rent a car to go to Balos and for your whole road trip in Greece, you must compare prices and book directly on Rentalcars.com by clicking here:

The 3 Best Things to Do in Balos Lagoon
Now that you know how to get to Balos by boat or car, here's what you can do once you get to the lagoon.
1. Swimming in Balos Beach
Since Balos Lagoon is considered one of the most beautiful beaches in Crete, you must of course take the opportunity to swim!
It has everything to allow you to spend a heavenly day: fine sands, crystal clear turquoise waters at the ideal temperature, and the little fish to watch.
Between swims, you can relax on your deckchair under a parasol. In this regard, I would like to say that I was very surprised (favourably) by the price of the deckchairs/parasols at Balos beach: only € 10 for 2 for the day.
It's a good change from the prices at the French Riviera where the beaches aren't even as pretty as those in Balos!
2. Visit Balos on foot
You must also alternate swimming with small walks at Balos.
You just have to cross the sandbar to get to Cape Tigani. From there, you must take the path that leads to the small chapel, then for the bravest among you, continue on the same path to reach a sublime panoramic view overlooking the entire Balos Lagoon.
If you have chosen a boat trip and you have therefore arrived directly by sea, you must make the effort to cover part of the trail that goes up to the car park.
This is where you'll have the best view of Balos Beach and the island of Gramvoussa.
3. Water activities in Balos?
Do you want to make the most of your visit to Balos Beach by trying some water activities?
Well unfortunately, it won't be possible, you won't be able to do any water activities in Balos because the area is a protected natural site. 

Tips and practical information for your visit to Balos
Where to eat in Balos?
As I was saying, Balos is a Natura 2000listed site, so there are certain regulations that must be complied with to protect the flora and fauna. As such, most restaurant-type constructions are forbidden to preserve the place.
On Balos beach, there is only one snack bar offering sandwiches and drinks.
If you have taken the classic boat trip from Kissamos, you can eat directly on the boat.
At Balos car park you will also find a small snack bar. 
The best option for eating in Balos is to have a standard picnic. It will be cheaper and certainly be better!
What are the things to take when visiting Balos Lagoon?
Here's a the list of useful things to take when visiting Balos Lagoon:
Sunscreen – There is simply no shade on the beach. If you don't want to spend the rest of your holiday in Crete tanned red, you know what to do.
Water – Of course, you can buy it on the boat or in the snack bars, but not at the same price as in any Cretan supermarket.
Sneakers – Necessary if you are arriving by car or if you want to reach the viewpoints of the lagoon.
Cash – To pay the entrance fee of €1 when arriving by road or if you want to go to the toilet (€1).
How long does it take to visit Balos Beach?
If you have taken the boat trip, consider 1 day in Balos because for all trips, the boat leaves in the middle of the morning and returns to the port of Kissamos in the late afternoon.
For those coming by car: between the return journey on the track, the descent (and the ascent!) on foot + time to enjoy (even if it is a minimum of one hour), plan a minimum of half a day. 
If you can, reach Balos as soon as possible to avoid the crowd that arrives with the boats or in the late afternoon when everyone has left.

What are the things to do around Balos beach?
Here is my selection of the best places to visit near Balos beach.
Falassarna beach
Close to Balos (40 minutes by car), you must visit Falassarna beach.
It's an excellent beach with translucent waters and pink sand on the water's edge. A large part of the beach is private, with many Beach Clubs that offer deckchairs and parasols at reasonable prices.
You will easily find a parking space on the large car park or along the road.
Coming from Balos, on the road that goes down to Falassarna, you also have several taverns with a very nice view.

The Botanical Garden of Crete
On the road between Balos and Chania, you can make a small detour to visit the Botanical Garden of Crete.
A 2.5 km walk (around a 90-minute visit) will allow you to explore a wide variety of plants and fruit from all over Greece and the whole world. It is a really nice place where you can even admire the many peacocks walking freely in the park.
There is also a restaurant (which I recommend!), a bar and a shop selling local produce.
Entrance fee: € 6 with a small bottle of water offered per person, which is very nice!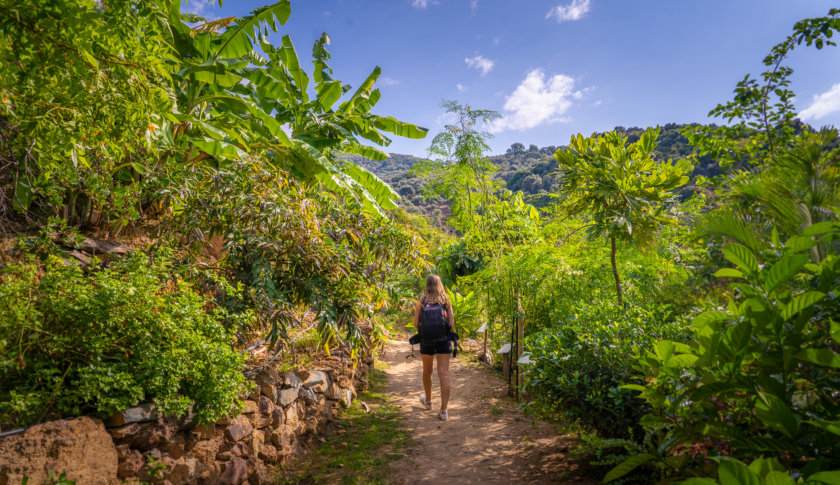 Chania
Chania is the closest major city to Balos Beach.
In Chania, you shouldn't miss:
The Old Venetian Port and its piers lined with restaurants
The old town, very picturesque and full of shops
The Chania Maritime Museum, located on Fort Firkas
The covered market to soak up the local flavours.
For your visit to Chania, you must read my article right here: What are the best things to do in Chania?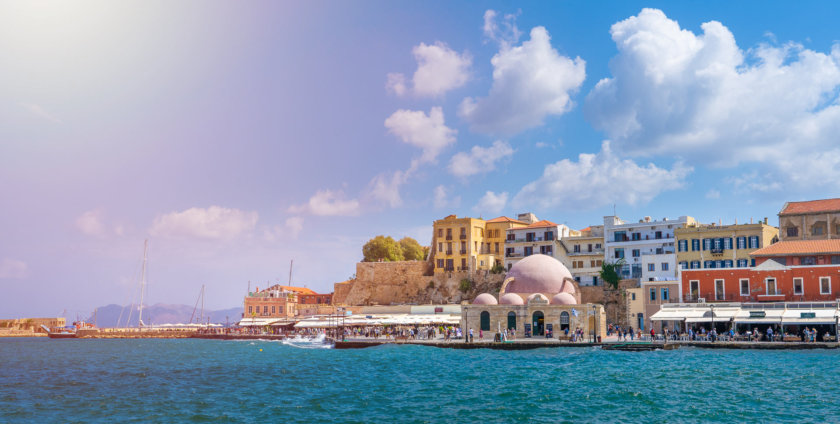 Where to stay when visiting Balos Lagoon?
To get to Balos Lagoon easily by car or boat, you have mainly 3 options to stay around Balos.
Balos Beach Hotel
Balos Beach Hotel is, as its name suggests, the closest hotel to Balos. It is just a few hundred metres away from the beginning of the path leading to the car park.
The hotel overlooks the entire bay of Kissamos and offers a superb panorama.
It has studios, apartments or suites for up to 4 people, all with a sea-view balcony/terrace. The accommodations are modern, spacious, bright and all have a kitchenette.
Finally, the hotel has a large swimming pool and a jacuzzi. 
To book your stay at Balos Beach Hotel and check the rates for your travel dates, click on the button below:
Stay in Kissamos and take the boat to Balos
If you want to go on a cruise to Balos, you can stay in Kissamos to take the boat easily.
Here is my selection of the best accommodation in Kissamos:

Stay in Chania
If you opt for a day-trip to visit Balos Beach or if you have a vehicle, Chania is also a great place to stay for visiting Balos and the whole of West Crete:
Renting a boat in Crete
If you want to rent a boat for a nice day at sea during your stay in Crete, you should book it with Samboat.
Motorboats, sailboats, yachts, small boats without a license, with or without a skipper: they simply have the most complete offer for boat rental!
So, what are you waiting for to book your boat trip in Crete? 😊
FAQ – I'll answer your questions about Balos Beach
How to go to Balos Beach?
To get to Balos Lagoon, here is a summary of all the options:
Where is Balos Lagoon located in Crete?
Balos Lagoon is located at the far north-west of Crete, at the end of the Gramvoussa peninsula.
To go from Chania to Balos, it takes about 90 minutes by car.
When to go to Balos?
Balos Lagoon is accessible throughout the year by car.
Boat trips are only available from April 30 to October 30. You won't be able to visit Balos by boat in winter.
The best time to visit Balos Lagoon is during the months of May, June, September and October. You can swim, enjoy the beach and there are fewer people than in July and August.
For a visit to Balos in summer, you should expect crowds and the weather will be very hot. Going to Balos by boat will be a more pleasant option as it will avoid the hike to reach the car park in the sun. If you are coming by car, you should arrive as soon as possible to get parking space.
Balos or Elafonisi Lagoon?
Are you choosing between a day at Balos or at Elafonissi?
It's not easy to choose between two of the most beautiful beaches in Crete! And I won't be able to help you much because for me, you absolutely must visit both during your stay in Crete.
I'll still give you my opinion to help you.
Balos Beach offers a heavenly landscape, less classic than Elafonisi and which you won't find anywhere else. You can also take a nice boat trip to get there, which is not the case for Elafonisi.
Elafonisi is more easily accessible by car or bus (no track) and is much more developed: large car parks all around, restaurants. With children, for example, it is more practical than Balos.
And its pink sand gives it a lot of charm. In Elafonisi, you can also always find a quieter place to swim. In Balos, everyone is gathered in the same place on the sandbar.
The practical information to get to Elafonissi is in my article: Visit Elafonissi beach.
Are you planning to visit Balos Lagoon during your stay in Crete?
Book your trip now and save money!
You're traveling to Crete? These articles will help you!
Discover all my articles about Crete: All my articles to help you plan your trip to Crete are listed there.
You're using Pinterest? Here is the picture to pin!