Things to do in Rethymnon: The 13 Best Places to Visit and Highlights
So, you're planning to visit Rethymnon during your next trip to Crete?
Great idea, this charming city ideally located between Chania and Heraklion is really worth a look!
In order to help you plan your stay, I have written this guide of the best things to do in Rethymnon, with all the must-see attractions and points of interest.
At the end of the article, you will also find itineraries to visit visit Rethymnon and its surroundings in 1, 2, or 3 days (or more!) as well as my suggestions of the best accommodations depending on your budget.
So, what are the best places to visit in Rethymnon? Where to stay?
Let's find out!
Visit Rethymnon: 13 Must-See Attractions
1. The old town of Rethymnon
On your trip to Crete, you will quickly see that each well-known city has a pretty historical centre.
So it's no surprise that this is the best place to go for a walk in Rethymnon.
You can enjoy a pleasant walk through all the small alleys lined with shops and taverns.
The old town is also home to all the places of interest to see in Rethymnon, including:
The Venetian fortress (see below for information)
Museum of contemporary art in Crete, where there is a permanent collection featuring numerous works by Lefteris Kanakakis, an artist born in Rethymnon. The museum also has a temporary collection. Entrance costs €3.
The Old Venetian Port (see article 3)
The Rimondi fountain, built in the 17th century, is one of the most famous relics of the Venetian period.
The old Venetian houses and their wooden loggia
The Archaeological Museum of Rethymnon (see point 4)
The Grand Gate of Rethymnon or "Porte Guora": this ancient 16th century stone gate used to be the entrance to the venetian enclosure. Today, it opens on to the main shopping street of Rethymnon.
I won't list the religious buildings here because I'll go into it in detail later in my article.
Voyage Tips - Advice
To visit the old town of Rethymnon, you can also choose a unique means of transport: the Segway.
Your guide, who is super nice, will show you all the unmissable places in Rethymnon for 3 hours.
To book your Segway tour of Rethymnon, just click on the green button below: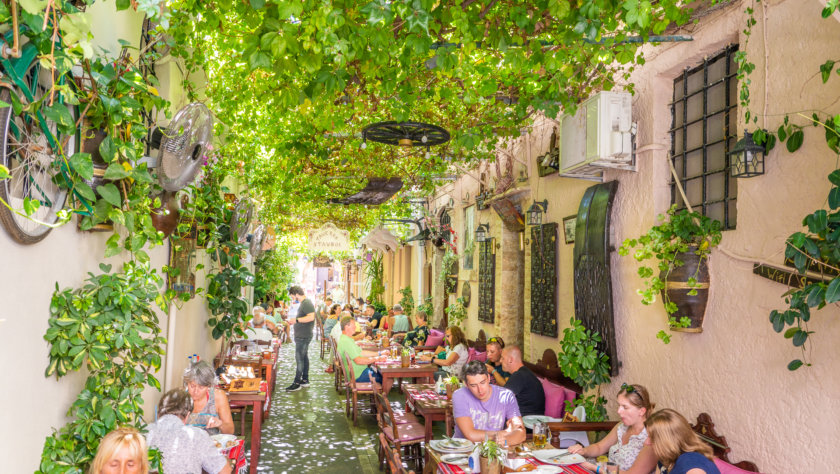 2. Rethymnon fortress
Among the tourist sites to see in Rethymnon, go to the Venetian fortress.
It was built in the 16th century by the Venetians after the Ottomans destroyed the city in 1571.
Originally, the fortress was meant to house the entire population, but due to the lack of space and mainly because the inhabitants did not want to leave their houses, only the Venetian administration and guard settled there.
The fortress was then occupied by the Ottomans in the 17th century then by the Germans who turned part of it into a prison.
Now the city is undergoing renovations. The renovated buildings include:
Ammunition and gunpowder depot
The house of one of the city's leaders
The mosque of Sultan Ibrahim Khan built by the Ottomans in 1646 in the place of St. Nicholas Cathedral which was destroyed
St. Catherine's Church.
You can also take a short walk up the ramparts to admire the view of the city and the sea.
To visit the fortress during your stay in Rethymnon, the entrance ticket costs €4.
Voyage Tips - Advice
To visit Rethymnon, it's best to park your car and go everywhere on foot. The city is not very big and is vehicles are not allowed in certain areas.
But I have to admit that finding a parking space is a bit complicated. You could try your luck along the Emmanouil Kefalogianni street, which passes by the foot of the fortress and then goes up to the port car park.
There is also a car park at the Marina, located at the beginning of Rethymnon beach.

3. The Venetian port of Rethymnon
Another must-see spot in Rethymnon: a short walk along the Venetian port and the jetty that leads to the Egyptian lighthouse.
The place is very small, but you can also sit on one of the terraces of the restaurants bordering the port.
The Rethymnon tourist office is located at this port if you want to get a map of the city.
Voyage Tips - Advice
From the port of Rethymnon, you can also embark on a 5-hour boat ride. The trip includes a swimming stop (mask and snorkel are provided) and lunch.
Book your boat trip from Rethymnon by clicking on the green button below:
A 90 minute cruise is also available at sunset. It is the best way to admire a beautiful view of Rethymnon and the port that is illuminated at the end of the day.
Click here to book:


4. Rethymnon Archaeological Museum
You can also take the opportunity on your trip to Rethymnon to visit the city's archaeological museum.
Located in the church of Saint Francis, you will discover a whole collection of objects ranging from the Neolithic to the Venetian period and also covering the Minoan period.
Although smaller than the famous archaeological museum of Heraklion (which you really must visit during your tour in Crete), the objects are well presented and there are even explanations in English.
Among the must-see objects that have all been discovered in the surroundings of Rethymnon are:
An extremely well preserved sarcophagus
Minoan pottery
Beautiful statues
The bronze lamp depicting Dionysus riding a panther.
Entrance to the Archaeological Museum of Rethymnon costs €4.

5. Religious monuments to see in Rethymnon
If you're still wondering what to do in Rethymnon, I suggest you take a tour of the city's religious buildings:
The Saint Francis church that houses the archaeological museum
The Agios Spyridon church, a Byzantine chapel located squarely on a cliff below the fortress
The Church of Our Lady of the Angels, built during the Venetian period, was then converted into a mosque before becoming an Orthodox church
Nerantzes mosque, an ancient church that became a mosque under Turkish occupation in 1657. After being desecrated, the venue is now a concert hall.
The Four Martyrs Church, located next to the large Rethymnon gate and not far from the municipal park
Kara Mussa mosque: originally a monastery, the building was transformed into a mosque by the Turks. You can't visit the interior as the place has been abandoned.
The Veli Pasha mosque and its 9 domes, where you will find the Paleontological Museum of Rethymnon, home to a very small collection of fossils. I don't necessarily recommend the visit, but the mosque is worth a look.
Voyage Tips - Advice
On Vernardoy street (the same street where the Nerantzes mosque is located) you can visit the shop of one of the last traditional filo pastry and angel hair pasta makers.
Yiorgos Hatziparaschos (an institution!) and his wife make delicious handmade pastries every day, making their own filo pastry.
Be sure to include it in your circuit in Rethymnon and to take some baklavas to go, you won't regret it!

6. The beaches of Rethymnon
Where to go to the beach in Rethymnon?
The beach of Rethymnon starts next to the Venetian port and extends over several hundred metres. This long sandy beach is the closest one to the old town and therefore the busiest in summer. Deckchairs and parasols can be rented. There are also restaurants.
You can also swim on Pervolia beach, Missiria beach and Platanes beach. They are all lined with taverns and also offer deckchairs on rent.
Don't expect them to be the most beautiful beaches in Crete but they are perfect for cooling down between 2 visits during your trip to Crete.
If you have decided to go to Rethymnon in the summer, you should know that the beaches in the vicinity are known to behatching grounds for Loggerhead sea turtle. Between May and September, hundreds of them come to lay their eggs at night. So you need to be particularly careful not to walk on a nest.
Voyage Tips - Advice
If you don't really want to sunbathe on the beach, I recommend 2 activities to do from Platanes beach: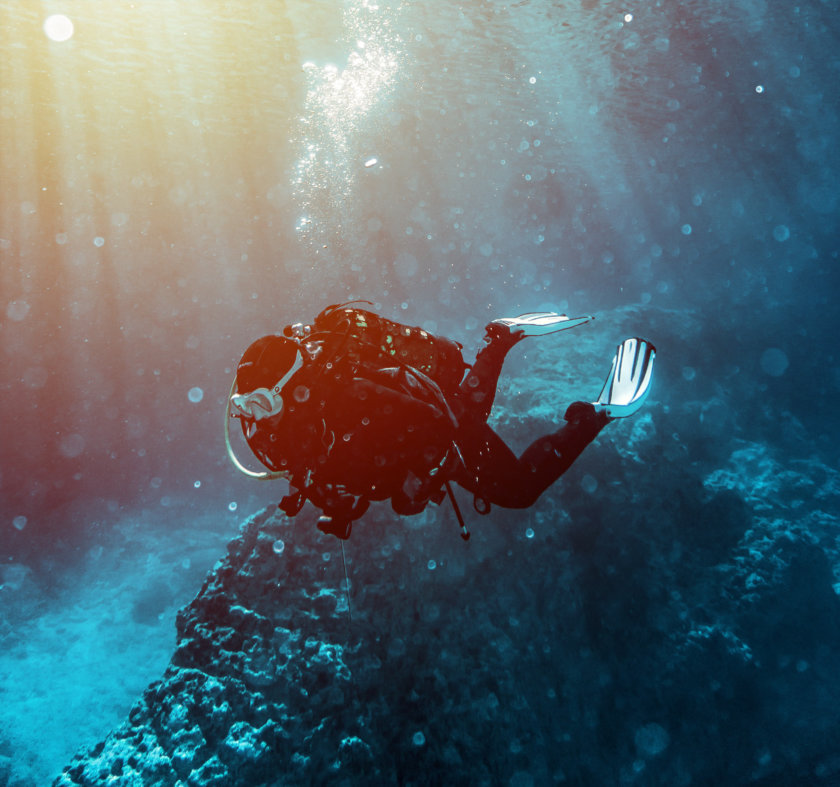 7. The best activities to do in Rethymnon
After finishing your visit to Rethymnon, there's nothing better than to leave for a nice little activity!
To help you choose, here is my selection of the best activities you absolutely must do during your stay in Rethymnon. As usual, you just have to click on the orange links or the green buttons to access all the details. And don't forget to book in advance to make sure you have a spot.
But let's start with one of my favourite activities that I was able to do during my road trip in Crete: quad biking!
Your guide will take you to discover places off the beaten track, in the Cretan mountains, in all-terrain driving mode. I thought it was a really nice experience.
Pick up is included from any hotel in Rethymnon, so it's very convenient.
To book your quad bike trip from Rethymnon, click on the green button below:
For those who are not very comfortable on quad bikes, you can opt for the buggy version. It's exactly the same trip, and you need to book it by clicking here!
Other activities you must do include:
Voyage Tips - Advice
You're going to Rethymnon?
You probably know it: the hardest part of planning your trip is to find an hotel offering a good value for money!
The closer you get to your travel dates, the harder it will be to get a good deal. Lots of people will be visiting Rethymnon on the same dates as you, so you can be sure that the best deals are booked extremely quickly!
Hopefully, there is a pretty simple solution to this problem: do like me and book your hotel as early as possible!
So, my best advice is to take 5 minutes (now) to have a look at the list of travelers' favorite hotels in Rethymnon.
And if you see a good offer, book it!
Most hotels offer free cancellation, so it's quick, easy, and you will avoid the the inconvenience of finding nothing but mediocre rooms at exorbitant prices.
To check the current best deals for your hotel in Rethymnon, simply click on the green button below 😎:
Once you've booked your hotel, it will be time to continue reading this guide and find out more about the best things to do in Rethymnon!
What to do in Rethymnon with children?
For a stay in Rethymnon with your family, you must take them to Limnoupolis water park. With the lazy river, water slides, swimming pools, there is something for everyone to enjoy.
By booking with the button below, you also get pick-up from your hotel and the meal included: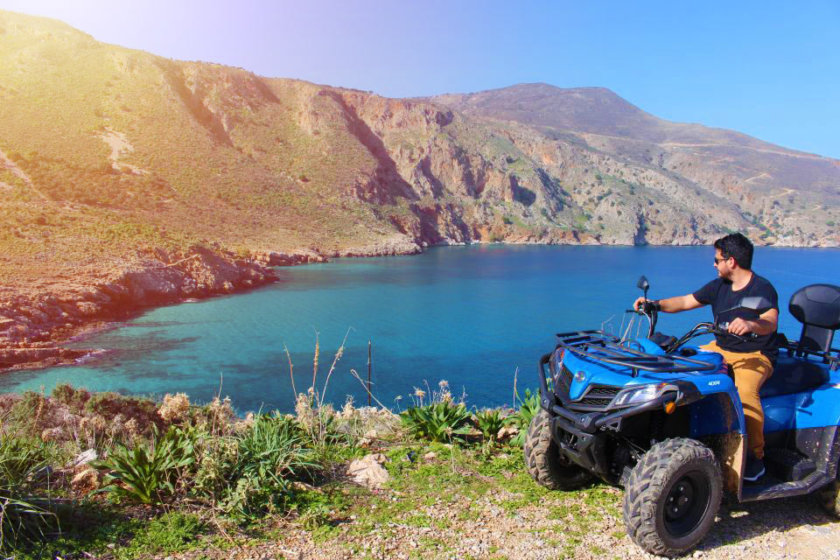 What are the things to do around Rethymnon?
Now that you know what to do in Rethymnon, it's time to take an interest in the trips to be done nearby.
So I've prepared my selection of the most beautiful places to see around Rethymnon.
8. Arkadi Monastery / Melidoni Cave / Margarites Village
If you have rented a car, you should go on a one-day road trip to discover 3 famous sites all located in the vicinity of Rethymnon.
Start with the Arkadi monastery, which is a 30-minute drive from the centre of Rethymnon. For €3, you can discover its 16th century Venetian church, a small museum with relics and the old wine cellar.
The monastery is of great historical importance to the island's inhabitants, as it is here that hundreds of Cretan people took refuge during the Ottoman occupation.
Unfortunately, the place was besieged by 2,000 soldiers, and rather than surrender, the Cretans preferred to kill themselves by burning the barrels of powder stored in the wine cellar.
All were killed, soldiers included. This event is considered the beginning of the struggle and resistance of the island against the invaders.
After visiting the Arkadi Monastery, drive for 25 minutes to Margarites. The village is famous for its many pottery workshops. You can leave with a handmade bowl or colourful plates , and for a cheap price too.
Then head for the Melidoni cave (a 20-minute drive), which I found very pretty and where you can admire beautiful stalactites and stalagmites. For €4, it is really worth stopping by.
The cave was also the scene of a massacre under Turkish occupation: 400 residents were hiding there but the soldiers decided to set fire to it to suffocate them. All of them died.
To conclude this day near Rethymnon, you must go swimming at Karavostasi beach. This small cove with clear waters is great for snorkelling or kayaking.
Voyage Tips - Advice
Good news for those who don't have a car: you can the exact same day trip with a guided tour!
Simply click on the button below for more info and to book it: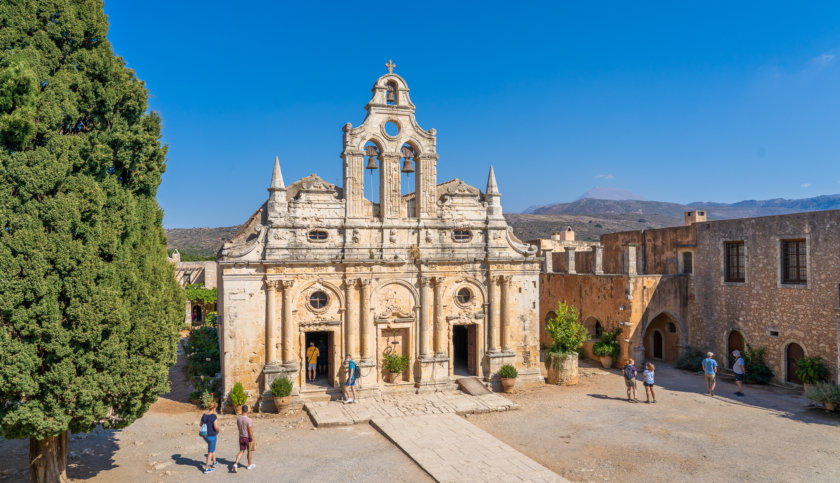 9. Chania
Chania is the most famous city in the area around Rethymnon. It is about a 1-hour drive away.
Here are the unmissable places in Chania:
The Old Venetian port and the lighthouse of Chania
The old town and its traditional alleys
The Fort Firkas that houses the maritime museum
The covered market.
You will find all the details to visit Chania in one day in my dedicated article. Read here: The 15 best things to do in Chania
To get to Chania from Rethymnon without a car, you can choose (click on the orange link to book):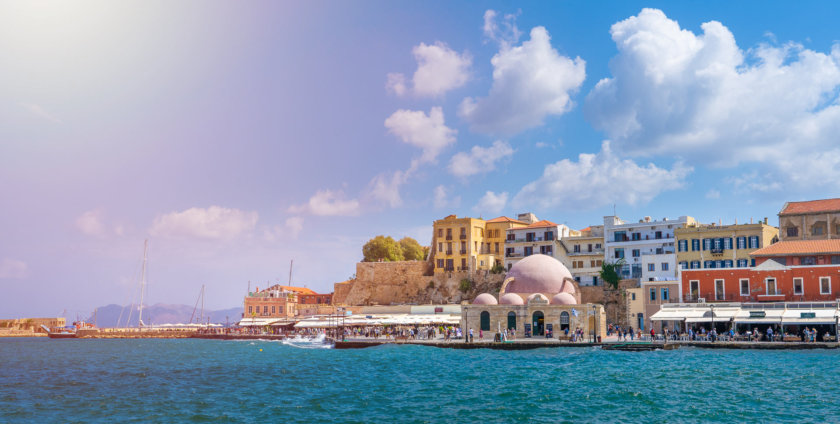 10. Trip to Balos beach from Rethymnon
If you want to see one of the most beautiful beaches in Crete, you should really spend a day at Balos beach, also called Balos lagoon!
It's not quite near Rethymnon, you will need to drive for 2 hours to get there, but I can assure you that once you get there, you won't regret having driven a little.
Walking down from the car park, you will arrive directly at the most beautiful view point on Balos that will allow you to admire this magnificent lagoon with turquoise and shallow waters. You will then be captivated by only one idea: swim!
To get to Balos, you can take a superb boat trip from Kissamos (1 hour and 25 minute drive from Rethymnon). Reservations must be made in advance by clicking here:
All information about Balos Beach can be read directly here: Logoon of Balos: the definitive guide!
Voyage Tips - Advice
Finally, for those who don't have a car or don't want to drive, the easiest way is to book a day trip from Rethymnon. The bus will pick you up from the hotel and take you to Kissamos where you will board the boat to Balos.
You will then have about 3 hours to swim. There is also another stop on the very pretty island of Gramvoussa.
Click on the green button below to book your boat trip to Balos:


11. Day at Elafonissi beach from Rethymnon
From Rethymnon, you should also visit one of the island's other most beautiful beaches: Elafonissi beach.
What really makes it so charming is the particular colour of its sand, which is slightly pink. Combined with turquoise waters and white sands, you have a postcard-worthy landscape par excellence.
Elafonissi is obviously quite touristy but if you don't like being in a crowd, here's a tip: cross to the island on the other side and you will find plenty of quieter places to lay down your towel. And I assure you it's just as beautiful!
Without a car, you can book your bus ride to Elafonissi from Rethymnon directly by clicking on the green button below:
More info about the pink sand beach are available in my dedicated article. Read here: How to visit Elafonissi beach?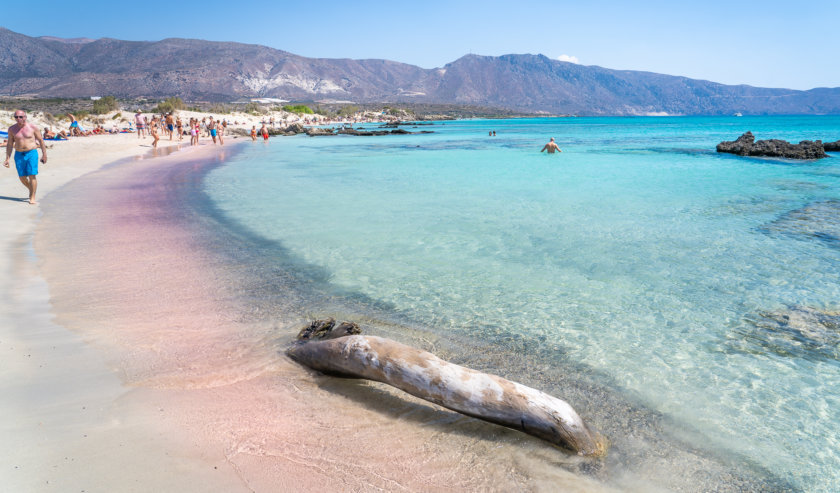 12. Hiking in the Samaria Gorge from Rethymnon
So, there are some beautiful beaches to see around Rethymnon, but if you feel like doing a bit of a workout, you must go on a hike.
And not just any hike, this is the Samaria Gorge hike, the most famous one in Crete!
Bring good shoes to walk along the 16 km path that will take you down to the bottom of the Gorge. The difficulty does not necessarily lie in the length of the path but in the fact that for the first 4 km, it's a steep descent and that the path is very rocky all along + slippery in places.
The hike ends at the village of Agia Roumeli, from where you will have to take the boat and then a bus that will take you back to the car park where you left your car in the morning.
To go to Samaria from Rethymnon, you can also opt for one all inclusive day with transport and an English-speaking guide:
All the practical information about hiking in Samaria Gorge can be found in my dedicated article: Samaria Gorge: The Definitive Guide.

13. Other day trips to visit the surroundings of Rethymnon
If you have decided to visit Rethymnon for a few days, you can also choose from several other day trips: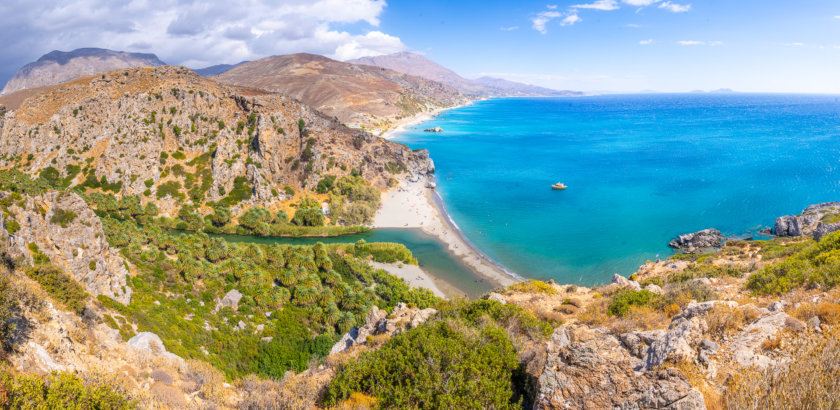 How many days to visit Rethymnon?
To visit the main sites of interest in Rethymnon, it will take you no more than a day.
However, you can plan to spend more time there if you also intend to explore the surroundings. Even if you have not opted for car rental, you can easily go everywhere and explore West and South Crete through organised trips.
There is plenty to keep you occupied for 4 or 5 days or even a full week if you have decided to spend your holiday in Crete only by staying at a hotel in Rethymnon.
Visit Rethymnon in 1 day
Here is my suggested itinerary to visit Rethymnon in 1 day:
Visit to the Venetian fortress
Visit to the Museum of Contemporary Art – Optional visit if you are interested in this type of exhibition
Stroll to the Old Venetian Port
Visit the Rimondi fountain, the Neratze mosque and the workshop of the last artisanal filo pastry maker
Exploring the Rethymnon Archaeological Museum
Go through the Grand gate to reach the Four Martyrs Church, the Veli Pasha Mosque and the Kara Mussa Mosque
Relaxation on one of the beaches of Rethymnon
Cruise at sunset for a romantic stay in Rethymnon.
Visit Rethymnon and its surroundings in 2 days
For 2 days at Rethymnon, you can continue from the schedule for the first day and you can add:

Visit Rethymnon in 3, 4, 5 days or 1 week
If you're planning to stay in Rethymnon for 3 days or more, you can do other day trips, such as (simply click on the orange links for more info and to book):
Where to stay in Rethymnon

Where to eat in Rethymnon
Othonas Taverna: Located in an old town alley, not far from the Neratze Mosque, this traditional-style inn offers delicious Cretan dishes at excellent value. The waiters are really nice (just like the owner!). For me, this is a must-visit place in Rethymnon!
SOFRA: another small tavern in the old town, in a small, quiet and shaded alley. Here too, you will enjoy high quality traditional Cretan cuisine, all served with a big smile. You must try the moussaka and the shrimp risotto.
Notes: Restaurant located on the beach of Rethymnon which offers excellent local dishes at very reasonable prices. Everything is fresh, delicious and served in generous amounts. Add to this the super welcome and the welcome drink + liqueur + 1 scoop of ice-cream!
How to get to Rethymnon
Rethymnon does not have an airport and does not have ferry connections to Athens, for example. There are only a few ferry connections to some of the islands in the Cyclades, such as: Santorini, Naxos and Mykonos.
The most practical and quickest way is to arrive either:
At the airport or port of Chania, which is an hour's drive away from Rethymnon
At the airport or port of Heraklion, which is around one hour and fifteen minutes by car from Rethymnon
Since flight prices for Chania or Heraklion vary greatly, it is a good idea to compare them as soon as possible. To do this, you can use our flight comparison tool, in partnership with Skyscanner. You can rest assured that you will get the best rates.
Rent a car in Rethymnon
Once you arrive in Chania or Heraklion, to get to Rethymnon, it's best to rent a car.
You must book your rental car for your stay in Crete on the Rentalcars.com website.
It's very practical, you can directly compare the rates of the rental agencies present at the airport or at the port and get the best rate.
Click on the button below to compare car rental rates for your trip to Rethymnon:
Rent a boat in Rethymnon
If you want to rent a boat for a nice day at sea during your stay in Crete, you should book it with Samboat.
Motorboats, sailboats, yachts, small boats without a license, with or without a skipper: they simply have the most complete offer for boat rental!
So, what are you waiting for to book your boat trip in Crete? 😊
Tourist map of Rethymnon
To help you visualise the city a bit better, I have created this tourist map of Rethymnon, with all the best places to visit and things to do in Rethymnon and its surroundings.
You can display the map legend by clicking on the top left button, the one with a small arrow on it.
If you need help planning your visit to Rethymnon, don't hesitate to ask me in the comments section below.
Book your trip now and save money!
You're traveling to Crete? These articles will help you!
Discover all my articles about Crete: All my articles to help you plan your trip to Crete are listed there.
You're using Pinterest? Here is the picture to pin!