Things to do in Linz: The 12 Best Places to Visit and Highlights
You're planning to visit Linz, in Austria, during your next trip?
Great idea!
Linz, located on the banks of the Danube, is the 3rd largest city in the country. Less famous than Vienna or Salzburg, it's nevertheless a great city to explore during your trip to Austria.
In order to help you plan your stay, I have prepared for you this guide of the 12 best things to do in Linz, with all points of interest and must-see attractions.
In addition to this list of things to do and activities, I will also give you itineraries to visit Linz in a day as well as my selection of the best accommodations depending on your budget.
So, what are the best places to visit in Linz? Where to stay?
Let's find out!
Visiting Linz: 12 Must-See Attractions
1. The historic center of Linz
The discovery of Linz begins with a walk through the historic center to appreciate the city's iconic monuments.
The center is particularly appealing: cute houses with colorful and characteristic facades, renaissance and baroque-era buildings, many cafes and trendy restaurants and a bunch of hip designer stores.
The must-sees in the old town of Linz:
The Hauptplatz: Linz's main square where you'll find the old city hall and the Trinity Column. With a surface area of 13,200 m², it is the largest enclosed plaza in Europe. It is on this square that the Linz Christmas market is held every winter.
The Landhaus, official home of the region's president. This beautiful renaissance-style building houses the "Planet Fountain" in one of its courtyards. A tribute to a celebrity and genius that lived in Linz, the astronomer Johannes Kepler. He discovered that the planets revolve around the sun in an elliptical path.
The Kremsmünstererhaus where Emperor Frederick III reportedly died in 1493.
Mozart's house where the famous composer created "The Linz Symphony" in only 3 days, as a tribute to the city.
St. Martin's Church whose construction goes back to before 788, making it the oldest church in all of Austria. Archaeological excavations have revealed inscriptions and a Roman oven.
Voyage Tips - Advice
While you're at Hauptplatz, take the opportunity to pass by the Linz Tourist Office to pick up a city map.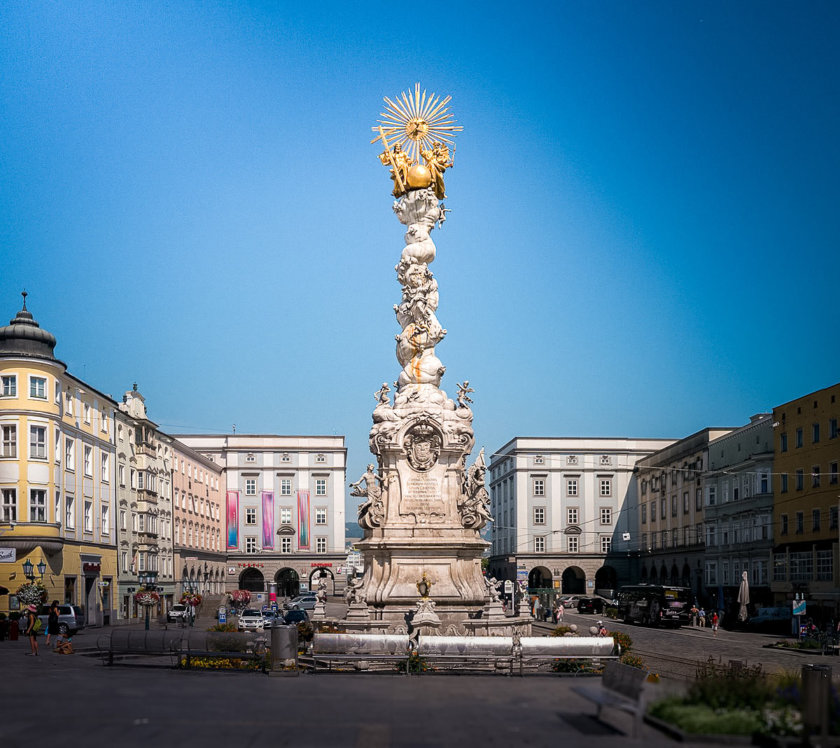 2. Mariendom / New Cathedral
To continue your Linz tour, you should pay a visit to the Mariendom, also called "New Cathedral" right next to the Hauptplatz. With a capacity of over 20,000 people, it is the largest church you can visit in Austria.
Inside, you get to admire magnificent stained glass windows like the Linzer Fenster or the Kaiserfenster. The interior gallery, at a height of 15 meters, also offers a unique view of the entire church.
Also make sure to climb to the bell tower to enjoy the amazing panorama over the entire city of Linz.
It's one of the must-see places of interest in Linz!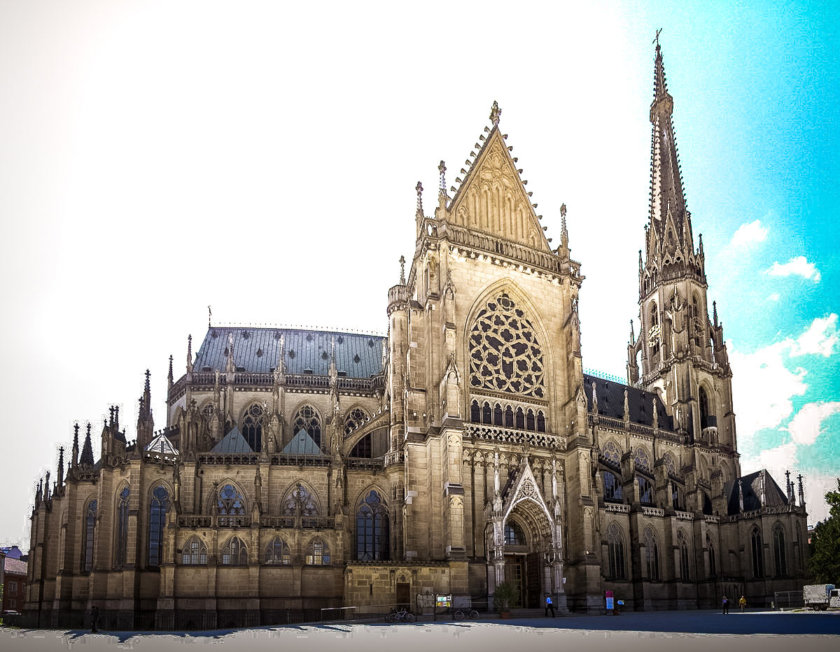 3. Linz Castle
Linz Castle stands on high ground and overlooks Linz's historic center and the Danube. It's one of the must-see monuments during your stay in Linz.
It most notably served as the residence of Emperor Frederick III, until his death in 1493. The castle has undergone several modifications over the centuries and has also served as alternatively a hospital, prison and military barracks.
The castle has a peculiar facade mixing ancient and contemporary architectural styles. One of its wings having been destroyed by fire in 1800, it was rebuilt in contemporary fashion with a glass and steel structure, to celebrate the city's designation as European Capital of Culture.
You can freely explore the castle's courtyard and exteriors, allowing you to admire all these captivating contrasts.
The castle houses the Upper Austrian State Museum featuring permanent exhibits about the Upper Austria Lander and the city of Linz. An excellent opportunity to learn more about the rich local history.
Depending on the time of year, you'll also find temporary exhibitions on the theme of art or natural sciences. The museum is really interesting and a must-see to discover this part of Austria.
Linz Castle Museum is open every day.


4. Go up to the Postlingberg
Another great activity in Linz is to go up to Postlingberg hill.
To do this, you'll need to take the funicular (the Postlingbergbahn) departing from Hauptplatz. Pretty famous cable-car since it's one of the steepest in Europe. In 20 minutes, you'll be 255 meters higher than where you started from!
The funicular operates every day, with one approximately every 30 minutes, and the round trip costs around €6.
Once at the top of the hill, at 600 meters above sea level, you'll enjoy a spectacular panorama of all of Linz and its surroundings. This is clearly the place to go in Linz if you're looking for the most beautiful view of the city.
If the weather is clear, you can even see the Alps in the distance.
At Postlingberg, you will also find another symbol of Linz, the Basilica of the Seven Sorrows of Mary, whose two bell towers are visible from the heart of the city.
If you've decided to visit Linz with your family, your children will also be delighted to go up to Postlingberg for two reasons:
They can take the little train in the cave (Grottenbahn), which takes them on a journey through a world of elves and fairy tales. A miniature version of Linz has even been recreated there. An animation and light show illustrates and recreates several scenes from famous fairy tales. Open from March to November. Price: €5.50 for adults and €3.30 for children.
Halfway up Postlingberg, you can stop to visit Linz Zoo. More than 600 animals, including llamas, crocodiles, and numerous birds, are present for the delight of the whole family. Open all year. Price: €5.50 for adults and €3.30 for children. Free for children under 5 years old.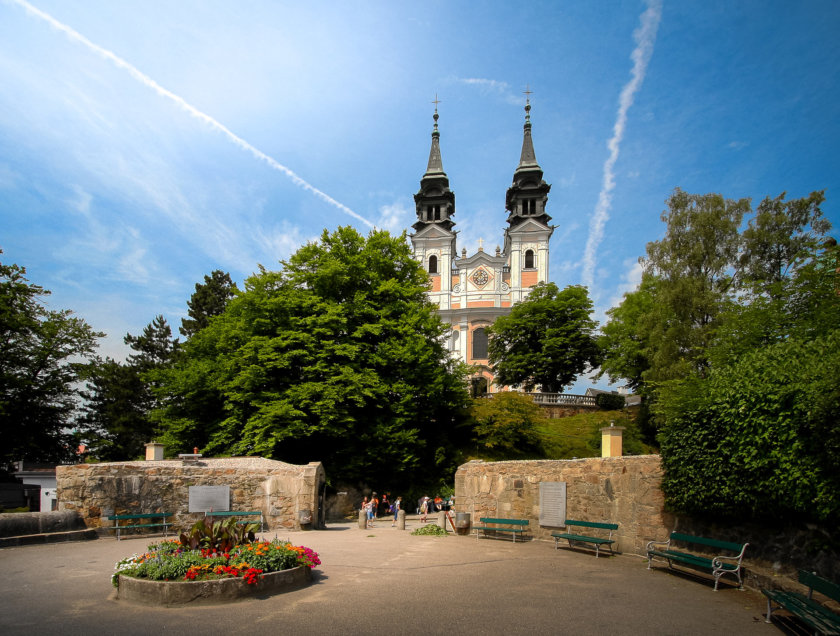 5. The Lentos Museum
Continue your tour of Linz with a bit of cultural sightseeing. Make sure to pay a visit to the Lentos Museum, conveniently situated right on the banks of the Danube.
It's the city's modern art museum and holds significant importance as one of Austria's most prominent cultural institutions.
Spanning over 8,000m², the museum houses an impressive collection of paintings, sculptures, and photographs. Famous Austrian artists such as Klimt and Schiele, as well as Kokoschka, have their works exhibited there.
Don't hesitate to grab a drink on the museum's "café terrace". You'll enjoy a magnificent view of the Danube and Postlingberg.
The museum is open every day except Monday. Admission: €8. Free for children under 7 years old.
Voyage Tips - Advice
And if you're wondering what to do in Linz in the evening, go take a look at the Lentos Museum at night as its facade is illuminated with multiple colors.

6. The ARS Electronica Center
Opposite the Lentos Museum, on the other side of the Danube, is another must-visit museum in Linz: the ARS Electronica Center.
The ARS presents itself as a future-oriented museum dedicated to digital arts and culture. It's very interactive and engaging.
You'll find permanent exhibitions on art, technology, and the society of tomorrow. It's particularly focused on biotechnology and robotics.
It also has a massive projection room for immersing yourself in fantastic imaginary places. You'll also find several workshops for hands-on experiences.
The museum is open every day except Monday. Admission: €9.5.
Just like the Lentos, you can take a stroll there at night, as it is also adorned with a self-illuminated LED facade.
Voyage Tips - Advice
On the top floor of the Ars Electronica Center, you'll find the CUBUS restaurant which offers an exceptional view of the Danube, the Old Town, and Lentos.
Voyage Tips - Advice
You're going to Linz?
You probably know it: the hardest part of planning your trip is to find an hotel offering a good value for money!
The closer you get to your travel dates, the harder it will be to get a good deal. Lots of people will be visiting Linz on the same dates as you, so you can be sure that the best deals are booked extremely quickly!
Hopefully, there is a pretty simple solution to this problem: do like me and book your hotel as early as possible!
So, my best advice is to take 5 minutes (now) to have a look at the list of travelers' favorite hotels in Linz.
And if you see a good offer, book it!
Most hotels offer free cancellation, so it's quick, easy, and you will avoid the the inconvenience of finding nothing but mediocre rooms at exorbitant prices.
To check the current best deals for your hotel in Linz, simply click on the green button below 😎:
Once you've booked your hotel, it will be time to continue reading this guide and find out more about the best things to do in Linz!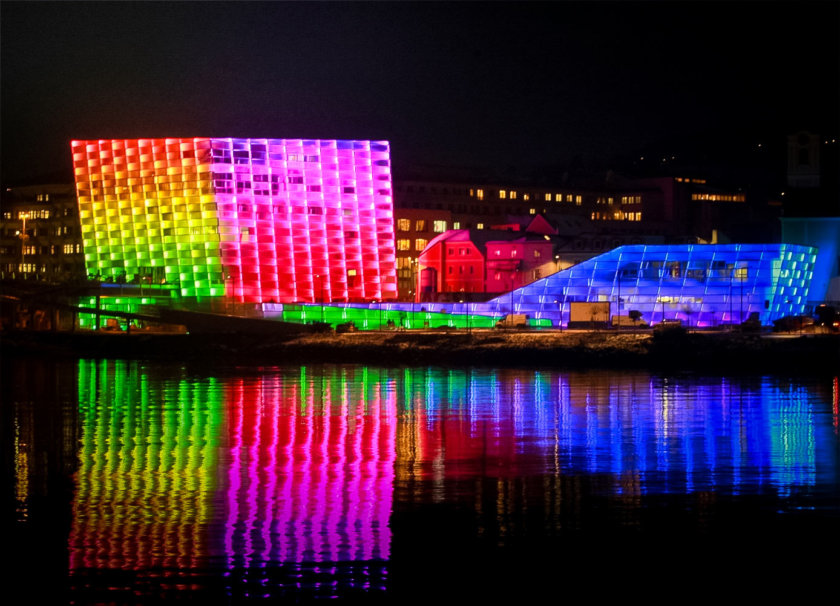 7. Take a cruise on the Danube
As you must have noticed, I've mentioned the Danube a lot, so why not take advantage of your trip to Linz to go on a cruise?
It's one of the main tourist activities to do in Linz, thanks to the city's ideal location.
You'll get to choose between several cruise companies and various cruise durations.
Some offer just a tour of Linz while others take you to explore the landscapes of the Danube Valley or the Wachau for half a day or a full day, and some even all the way to Vienna!
If you choose the Linz tour, you'll be able to admire the Mural Harbor an open-air art gallery. In Linz's harbor, more than a hundred graffiti works have been created on industrial buildings.
You can book this Linz cruise by clicking directly on the following link!
For a more authentic experience you'll have to go for a cruise on the paddle steamer Schönbrunn, the oldest steamboat in Europe!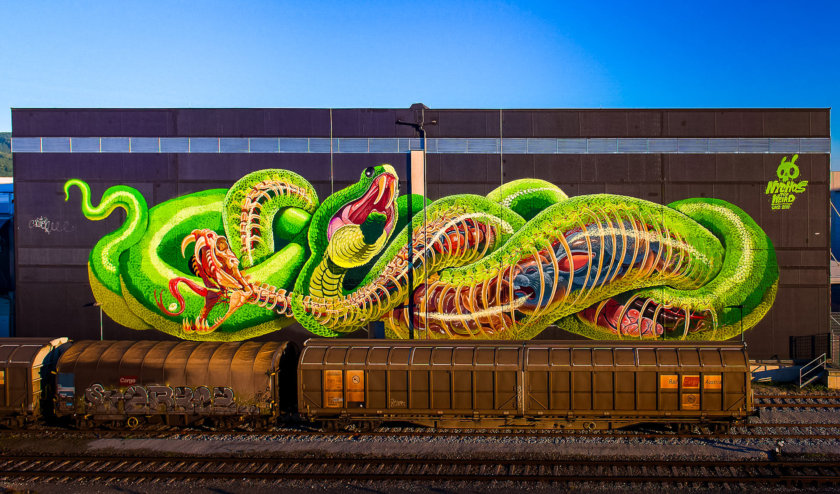 8. Linz Botanical Garden
For flora enthusiasts, let's continue this Linz tourist guide with a little visit to the Linz Botanical Garden.
On about 4 hectares (10 acres), you will find around 10,000 plants and, most notably, the largest cactus collection in Europe. Make sure you don't miss the tropical greenhouse, the Japanese garden, the rose garden, and the area dedicated to the typical Alpine vegetation.
The place is truly lovely for a bucolic stroll.
Open all year round and every day. Admission: €3.
Voyage Tips - Advice
To reach the botanical garden from downtown Linz, take bus No. 27 to the "Botanischer Garten" stop. You could also walk for about half an hour to get there.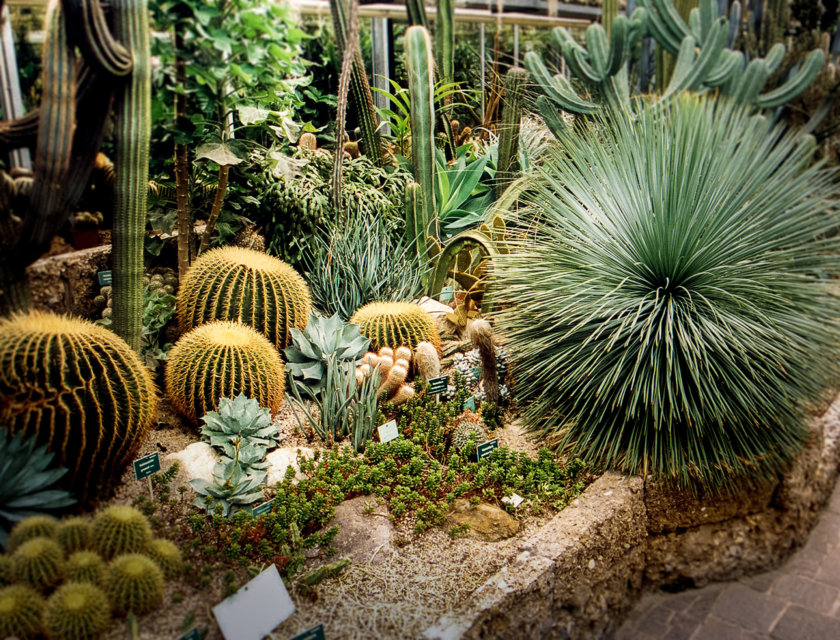 9. Hohenrausch
If you've decided to visit Linz between May and October, there's one thing you must absolutely try: the Hohenrausch exhibition.
The event takes place annually, following the same concept but with unique themes each year.
The exhibition consists of walking along various walkways set up between the monuments and on the rooftops of the city. As you progress, you climb higher and higher in the city, and the views are stunning.
Throughout the tour, you will encounter a myriad of artworks and installations crafted by renowned artists, each one carefully designed to complement the event's unique theme. In 2016, the exhibition was dedicated to angels. In 2018, water.
A truly original way to discover Linz.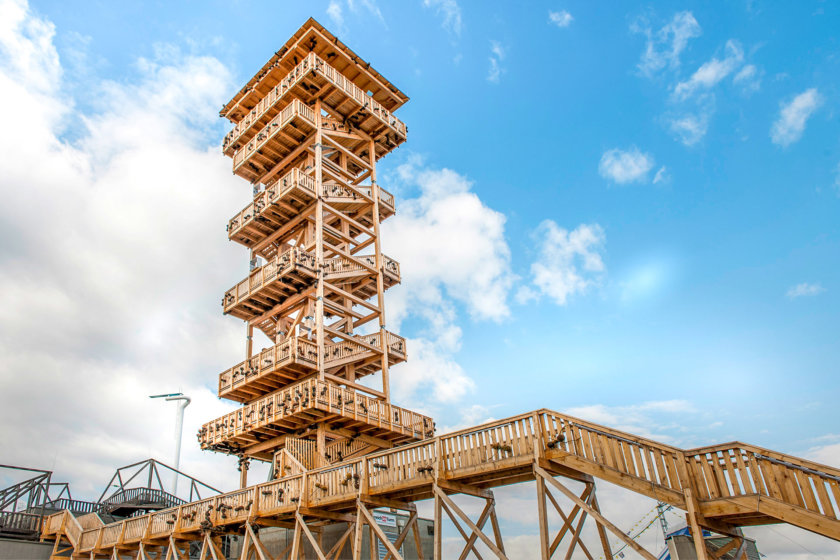 10. Taste a Linzertorte
Visiting Linz without indulging in a slice of Linzertorte is like visiting Canada and not trying poutine, or visiting Sicily and not savoring a cannoli – it's just not proper!
You must include a tasting stop during your Linz tour just for this culinary specialty. Consider yourselves warned.
The Linzertorte is a blueberry jam tart topped with lattice-patterned pastry.
The people of Linz are particularly proud of it, so much so that the tourist office has adopted the Linzertorte as its official logo. It is said to be the oldest known tart in the world, with a recipe even found in a book dating back 350 years!
Of course, as with quiche Lorraine or carbonara, everyone has it's opinion on what is the original recipe. They all agree on one point though: the Linzertorte must be baked in a metal tart pan, filled with blueberry jam, and have a lattice pattern on top!
Now that you know all this, all that's left is to find the best place in Linz to taste it. There are differing opinions here as well, so I'll recommend two places:
At Jindrak, a highly reputed tea room that gets quite busy during teatime
At K.U.K Hofbackerei Cafe, the oldest pastry shop and bakery in Linz
The only way to settle the debate is, of course, to taste both!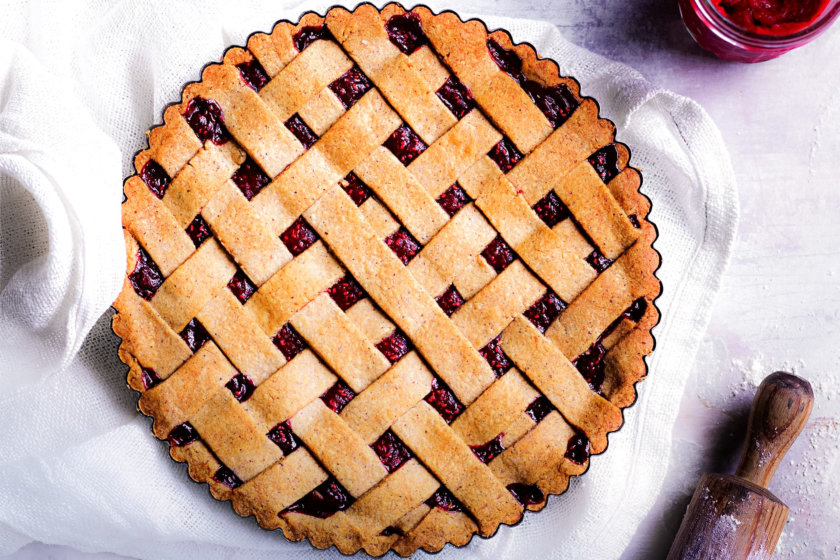 The best things to do around Linz
Now you know what to do in Linz! It's time to continue your trip in Austria by exploring the surroundings.
I have prepared my selection of the best things to do in the surroundings of Linz for you.
11. Salzburg
Salzburg is one of the main cities to visit around Linz. It is only a 1 hour and 20-minute drive away by car.
If you plan on visiting Salzburg, here's a list of my recommendations for must-see places:
Hohensalzburg Fortress
Nonnberg Abbey
Salzburg St. Rupert cathedral
The DomQuartier
Mozart's birthplace
You'll find my article dedicated to the city by clicking here: Best things to do and see in Salzburg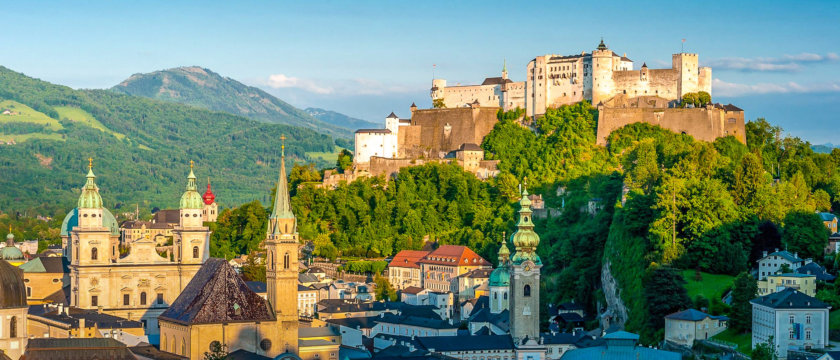 12. Vienna
Another must-visit city near Linz is Vienna. It's located about 2 hours away by car.
Here are the best things to do during your stay in Vienna:
Schönbrunn Palace
Hofburg Imperial Palace
Belvedere Palace
The Staatsoper, Vienna State Opera
Spanish Riding School of Vienna
The Albertina museum.
If you are planning on visiting Vienna during your Austria tour, you'll find my article dedicated to the city by clicking here: Best things to do and see in Vienna
How many days to spend in Linz?
To visit Linz, 1 day is enough.
The historic center can be easily explored on foot and the only slightly remote visit from the center is accessible by bus in 15 minutes.
Of course, if you'd rather take your time or go on a Danube cruise for a day then you should spend 2 days in Linz.
If you want to visit museums, you can get the Linz Card for €16 for one day. You'll get free access to the Lentos, ARS, and castle museum which are part of our top 12 things to do in Linz.
You'll also get discounts for the Grottenbahn, the zoo, the Botanical Garden and Danube cruises. You can purchase it directly at the Linz Tourist Office located on Hauptplatz.
Visiting Linz in 1 day
Here's my itinerary for a day in Linz:
Walk through the historic center of Linz to admire the city's architecture
Discover Linz Castle
Choice of visit: Lentos Museum for art lovers or ARS Electronica if you're more into new technology
Lunch break
Funicular ride to Postlingberg
Taste the Linzertorte
Pass by Mariendom
End the day at the Botanical Garden or on a Danube cruise.
Where to stay in Linz
To help you prepare your stay, I have selected for you the best accommodations in Linz according to your budget.


Where to eat in Linz
Fischerhaeusl: Located on Flusgasse street. The restaurant offers dishes made from fresh ingredients and a slightly modernized version of Austrian cuisine. Everything is delicious and the value for money is excellent.
Rauner: Located on Kraussstrasse street. Excellent cuisine with some quite original dishes. Pleasant and cozy atmosphere. You can even watch the chefs prepare the dishes through the glass separating the kitchen from the dining area.
Wirtshaus Keintzel: Located on Rathausgasse street. Traditional Austrian dishes, generous portions, everything at a low price! Friendly service and a pleasant atmosphere in a beautiful courtyard.
How to get to Linz?
From Vienna:
By car: 2h
By train: 1h15
You should check the train schedules and fares before leaving and book your tickets here:
From Graz:
By car: 2h35
By train: 4h30
By bus: 5h30
From Salzburg:
By car: 1h20
By train: 1h10
Linz Tourist Map
To help you visualize the city a bit better, I've created a tourist map of Linz listing the places to visit that I talk about in this top 12 things to do. You can display the map legend by clicking on the button with a small arrow in the top left corner.

And you? Are you planning to visit Linz during your tour in Austria?
Book your trip now and save money!
You're traveling in Austria? These articles will help you!
Discover all my articles about Austria: All my articles to help you plan your trip to Austria are listed there.
You're using Pinterest? Here is the picture to pin!