Things to do in Hallstatt: The 6 Best Places to Visit and Highlights
You're planning to visit Hallstatt during your next trip to Austria? You're looking for the best things to do in Hallstatt?
You're at the right place!
Regarded as one of the most beautiful villages in Europe and listed as a UNESCO World Heritage Site, Hallstatt and its surroundings are a must-see that you can discover in a single day during your stay in Austria.
In order to help you plan your stay, I have prepared for you this guide of the 6 best places to visit in Hallstatt, with all points of interest and must-see attractions.
In addition to this list of things to do and activities, I will also give you itineraries to visit Hallstatt in 1 or 2 days as well as my selection of the best accommodations depending on your budget.
And as always, this travel guide contains all my best tips to make the most of your stay.
So, what are the best things to do in Hallstatt? Where to stay?
Visiting Hallstatt: 6 Must-See Attractions
1. Discovering the village of Hallstatt
As soon as you get there, I recommend that you start your Hallstatt tour by strolling around the village. I can assure you there is no way you could get lost!
Wander through the pretty little streets, go through the market square, wonder at the old houses with their wooden balconies, step into the cute little shops and take your time to relax in this adorable village from another timeline.
Make sure you go up the many stairs everywhere around the village to get a bit of perspective and discover amazing viewpoints.
You should also check out the Catholic Church overlooking the city and its cemetery. Despite popular belief, a cemetery is not always a gloomy place. The graves are well ornamented and flowered and it even features a pleasant view of the lake.
You'll find a chapel on this little cemetery that hosts one of Hallstatt's most famous places of interest, its ossuary. Here you will find hundreds of skulls both painted and decorated with various patterns, each with its own meaning. The name and date of death are also painted on the skulls.
The deceased lie in their graves for about ten years before having their skulls removed, decorated and displayed in the ossuary.
This tradition is still carried on in the village for those among the inhabitants who make the request. A rather impressive and atypical place with an entrance fee of just €1.5.
If you're looking for a more fun and less traditional feel to your Hallstatt visit, you can also go on a clue hunt and solve riddles to unlock a quest. You'll find all the details you need by clicking here!
Voyage Tips - Advice
If you want to visit Hallstatt and learn about its history, you should book a 2 hour guided tour. The cool thing is that the guide is a photographer and he will also take pictures of you facing the most beautiful spots.
The fee includes the printing of about ten pictures.
Book your Hallstatt tour with a photographer by clicking the button below:
Voyage Tips - Advice
A lot of Chinese travellers visit Hallstatt every year. The village is so popular that they actually built a replica in south China, Guangdong province.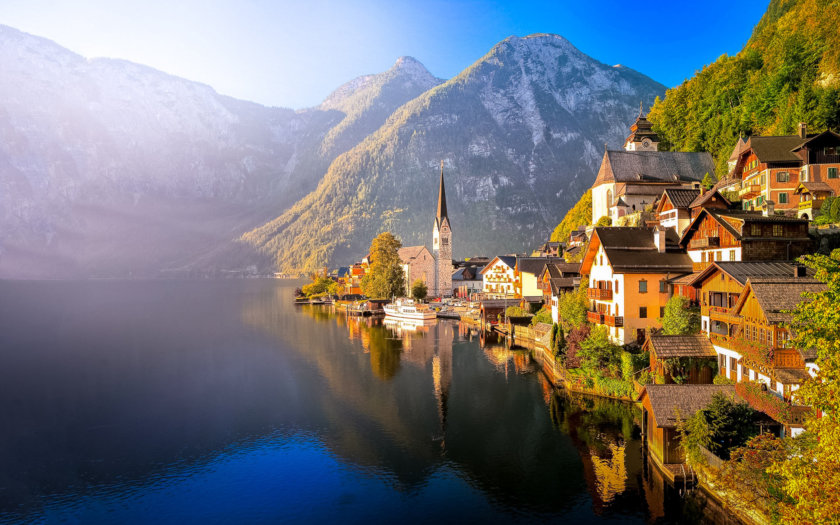 2. Hallstatt Skywalk / Welterbeblick
To enjoy one of the best views of Hallstatt, you'll have to gain some elevation and head to the Hallstatt Skywalk (Welterbeblick).
To do this, you have two options:
Ride the funicular. Fast, convenient and obviously not free (€22 per person).
Or ride your feet! By far the most inexpensive option :). You'll find several trails leading to the platform and although they're uphill, they're not too challenging. It takes about 1 hour to get there.
Once you reach the top, you will have access to the viewing platform overlooking the entire village of Hallstatt and the lake. The view up there is breathtaking!
Right next to the Hallstatt Skywalk, you'll also find a nice restaurant/cafe in the likely event that the hike has opened your appetite.
Voyage Tips - Advice
You should check the weather forecast before going up to the Skywalk, it would be a shame to spend €22 to see only clouds! An activity for good weather days only.

3. Visit the salt mines of Hallstatt
Right next to the Welterbeblick (remember, it's the German name of the Skywalk) you will find one of Hallstatt's main tourist attractions: the salt mines.
Indeed, the picturesque village is home to the oldest salt mine in the world. Originally, salt was transported from Hallstatt to the Baltic Sea and the Mediterranean Sea.
Now that the mines are no longer exploited, they are still used as tourist attractions.
After dressing up in your nice miner's outfit, you will be able to enter the mines and discover their history and that of the region, thanks to a number of nicely made videos.
A sound and light show on an underground lake, two slides down the mine's tunnels and a little train ride supplement the tour.
The guide speaks German and English.
Expect to spend approximately 2 hours on the tour. The fee is about €40 per person and includes the round trip by funicular.
If you're wondering what to do in Hallstatt with your family this is a very cool activity!

4. Making the most of Hallstatt Lake
It would be a pity to visit Hallstatt and not benefit from its lake!
The lakefront is well landscaped and you can have a nice walk all along. It's also the ideal place to go cycling.
Also, you should definitely take a boat ride on the lake. You have the option to rent a small electric boat or go for a mini-cruise. An excellent and relaxing opportunity to discover Hallstatt from a lower angle.

The best things to do around Hallstatt
5. The ice caves of the Dachstein Massif
After the lake trip, you should then go to Obertraun. Just a ten minute drive from Hallstatt, it's the perfect follow-up.
The village (Obertraun) is the starting point for visiting the Dachstein ice caves, another must-see tourist spot in the region.
From Obertraun, take the cable car. It will take you to the caves entrance (make sure to stop at the first landing).
The "Rieseneishöhle" (giant ice cave) is truly impressive. During the 50-minute tour, you'll be able to check out the "King Arthur's Cathedral" or the "Ice Palace", two gigantic ice halls.
Also worth seeing: a 9 meters high ice cone and the famous Ice Bell and its light show.
Right next to the ice cave, you can also take a look at the Mammoth Cave (Mammuthöhle). Actually, if you plan on checking the ice caves out you should buy a combined ticket to visit the 2 caves since it's cheaper this way.
It's one of the largest in Europe. The visit lasts about 1 hour, enough time for you to go through the many hallways and rooms.
Access and pricing information can be found at the official website.
Voyage Tips - Advice
In some places, you will be walking on over 25 meters of ice!

6. The 5 Fingers
After your tour of the caves, take the cable car again to get to the second level, there you will find The 5 Fingers.
The 5 Fingers is a sightseeing platform replicating the shape of a hand (now you get the name!) and providing a spectacular view over the mountains and Lake Hallstattersee below.
The platform is suspended off a 400 meters high cliff. From up there you will get the best possible viewpoint of the place, but I hope you're not afraid of heights like me! One of the five "fingers" is made of transparent glass floor. Gulp.
The 5 Fingers is definitely one of the most daunting platforms in the Alps. To reach it from the cable car you'll have to walk about twenty minutes.
It truly is a must-do experience in the Hallstatt area.

How many days to spend in Hallstatt?
For most people, one day is enough to visit Hallstatt and the places of interest I recommend.
If you're visiting with kids, or like to take your time and wander around, you can spend 2 days in Hallstatt.
1 day in Hallstatt
Itinerary to visit Hallstatt in 1 day:
Stroll through the village and discover the ossuary in the chapel
Climb to the Hallstatt Skywalk
Lunch break
Visit of the salt mines
Low-key afternoon by the lake or IN the lake 😁.
If you fancy a slightly more upbeat afternoon, you should then visit the ice cave from Obertraun and eventually get to The 5 Fingers to wrap things up.
2 Days in Hallstatt
If you're lucky enough to stay 2 days in Hallstatt, you can vsit the ice cave and The 5 Fingers on your 2nd day.
Where to stay in Hallstatt
Hallstatt being a tiny village means that there is not much accommodation and that the prices are fairly high… although not as high as the 5 Fingers 😋.
If you plan on visiting the place you should book your accommodation in Hallstatt now!
Where to stay in Obertraun
If you are on a tight budget or if the hotels in Hallstatt are full, you should stay in Obertraun, a pretty village also located on the lake and just a 10 minute drive from Hallstatt.
Super conveniently, from Obertraun, you can also take the lake shuttle to Hallstatt. Fast, cheap and you'll even get to enjoy a boat ride on the lake!
Where to eat in Hallstatt
I know I'm repeating myself somewhat, but with Hallstatt being a highly touristy place, you'll only find… touristy restaurants! Not exactly the place to enjoy typical Austrian cuisine.
Prices are rather steep and the quality not always up to par. In addition, you will most likely have to wait to be serviced. In short, for lunch, you should definitely to go for a sandwich in my opinion!
How to get to Hallstatt?
The nearest major Austrian city to Hallstatt is Salzburg. It's also (relatively) simple to get to Hallstatt from Vienna, if you so desire.
From Salzbourg
By car: a 1 hour and 15 minutes drive, by far the fastest and most practical way. In addition to that you get the benefit of the beautiful scenery which is great for pictures!
By bus: 2 1/2 hour trip. You will then have to take the ferry to Hallstatt.
By train: about a 2 1/2 hour journey. Be aware that the connection is not direct, you will have to go from Salzburg to Attnang Puchheim (Salzburg-Vienna line) and catch another train to Hallstatt. Here again, you will have to take the ferry.
You should check the train schedules and fares before leaving and book your tickets here:
From Salzburg, you can also get to Hallstatt on an organized tour that includes the round trip.
Book here:
If you're planning on visiting Salzburg during your Austrian trip, you should read my article: Best things to do in Salzburg.
From Vienna
By car: 3-hour and 20-minute ride
By train: 4h journey. Take the train from Vienna to Attnang Puchheim and then grab a train to Hallstatt.
You should check the train schedules and fares before leaving and book your tickets here:
From Vienna, you can also visit Hallstatt on an organized tour that includes transportation, guide and even a boat ride on the lake:
Itinerary in Austria with a stay in Hallstatt
To visit Hallstatt and Austria in 7 days, you should take a look at my detailed itinerary: A Week in Austria.
It lets you discover Vienna, Salzburg, Hallstatt and Graz. You'll find all the best things to do on a daily basis and my selection of the best hotels.
How about you? Do you plan on visiting Hallstatt during your stay in Austria? 
Book your trip now and save money!
You're traveling in Austria? These articles will help you!
Discover all my articles about Austria: All my articles to help you plan your trip to Austria are listed there.
You're using Pinterest? Here is the picture to pin!