Rome in May: Weather, Best Things to Do, Itineraries and Tips
You're planning to visit Rome in May and you're wondering if it's a good time of the year?
You're looking for info about the weather in May, the best places to visit, and itineraries to visit Rome and make the most of your stay?
You're at the right place!
May is an excellent time to explore the Eternal City, thanks to its pleasant weather (it's spring!) and the numerous events taking places during this month.

In order to help you plan your visit, I have compiled in this guide all the information you need to plan your trip:
First, I will quickly tell you more about the weather in Rome in May. Then, I will talk about the best things to do in Rome, including all must attractions + some hidden gems and secret spots of Rome known only by locals and savvy travelers.
I will also give you suggested itineraries, day trip ideas, tips for visiting with kids, and advice on what to pack and wear.
Plus, you'll get a taste of Rome's incredible food scene and get my list of the best places to stay in Rome depending on your budget.
Ready to plan your trip to Rome in May?
Let's get started!
Weather in Rome in May
Rome's weather in May is typically warm and pleasant, making it an excellent time to visit the Eternal City.
Spring is in full swing, with beautiful flowers blooming throughout the city, adding a touch of color to the already stunning Italian capital.
During the first half of May, you can expect average daytime temperatures of around 22°C (72°F), while nighttime temperatures can drop to approximately 11°C (52°F).
In the second half of May, the weather tends to warm up a bit more, with daytime temperatures reaching 25°C (77°F) and nighttime temperatures around 14°C (57°F).
As you stroll through Rome's charming streets and explore its historical sites, you'll appreciate the comfortable temperatures and the vibrant atmosphere that May has to offer.
The best things to do in Rome in May 2023
As you probably know, Rome has a rich history and features some of the best archaeological and cultural sites in Europe.

And May is the prefect time of the year to enjoy them!
Here are some of the best things to do during your trip to Rome in May 2023:
1. The Colosseum
For sure, you can't go to Rome without visiting the Colosseum, one of the most iconic monuments in the world.
This ancient amphitheater, with a capacity of more than 80 000 spectators was once the site of gladiator battles and other public spectacles. It's a testament to the grandeur of the Roman Empire!
When you visit the Colosseum, you will step back in time and feel the excitement that filled the air during those epic events.
To visit the Colosseum, you need to buy your skip the line tickets in advance. Almost no tickets are sold at the ticket office, and there is often a 2-hour long or more waiting line!
As there are many different tickets available, I have made short summary for you here. Simply click on the orange links for more info and to book:
3 important things:
All Colosseum tickets and guided visits include entrance to the Colosseum + Roman Forum + Palatine Hill
All tickets and guided visits bought online have priority entrance (no need to go to the ticket office again).
Not all tickets are always available. For a given date, there is a limited number of tickets of each type available. During high season, many of them are sold out a month in advance!
So if you know your travel dates, book quickly to ensure you can visit the monument. Here is the link to book all the Colosseum tickets. If there is no availability, you can also check that website.

To learn more about the fascinating history of the Colosseum, you can opt for a guided tour. It will even allow you to explore the underground chambers where gladiators and wild animals once awaited their turn to enter the arena.
Voyage Tips - Advice
To make the most of your visit to Rome and its numerous attractions, your should purchase the Rome Tourist Card.
Here is what's included:
Colosseum ticket with audio guide + Roman Forum + Palatine Hill
Ticket for St. Peter's Basilica with audio guide and dome access!
Visit to the Vatican Museum and Sistine Chapel
10% discount on museums (Castel Sant'Angelo, Borghese Gallery), guided tours (Guided tour to the catacombs, Rome by bike) and excursions in Rome's surroundings, in case you plan to continue your trip to Rome and visit another major Italian city (Florence, Pisa, Venice…).
To purchase your Rome Tourist Card, simply click on the button below: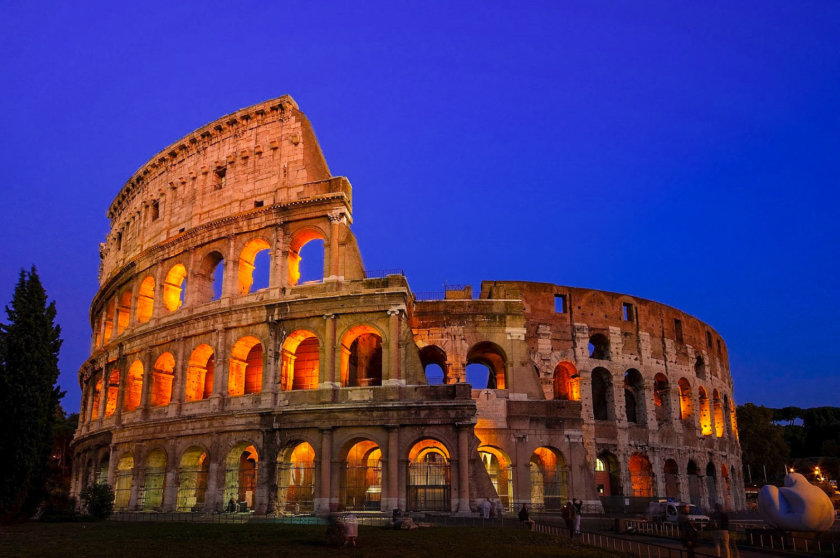 2. Roman Forum
The Roman Forum is another must-see attraction, offering a glimpse into the political, religious, and social center of ancient Rome.
You can wander through the ruins of ancient temples, basilicas, and government buildings, imagining how the area once bustled with activity.
And May is the perfect month to discover this outdoor site!
Voyage Tips - Advice
As I mentioned above, your ticket to the Colosseum also includes entry to the Roman Forum and Palatine Hill, so make sure to visit all 3 sites on the same day to make the most of your ticket.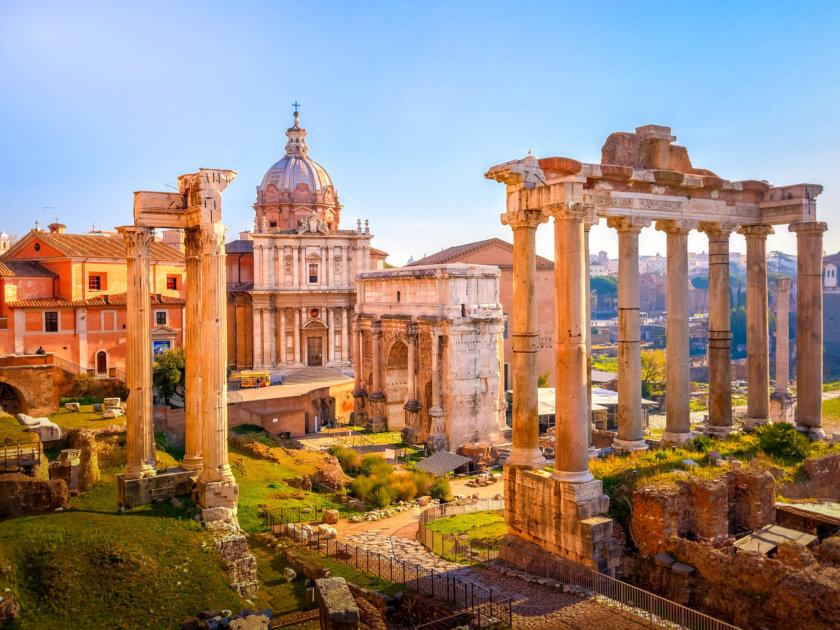 3. Vatican Museums and Sistine Chapel
While in Rome, you should definitely visit the Vatican Museums and Sistine Chapel, home to some of the most extraordinary art collections in the world.
The Vatican Museums house thousands of priceless artworks, including masterpieces by Raphael, Caravaggio, and Leonardo da Vinci.
Of course, the highlight of any visit to the Vatican is the Sistine Chapel, where you can marvel at Michelangelo's iconic frescoes, including "The Creation of Adam" and "The Last Judgment."
To avoid long queues and make the most of your time, you need to book skip-the-line tickets in advance or a guided tour.
To book your skip the line tickets to the Vatican Museums and Sistine Chapel, simply click on the green button below:
And if you prefer to opt for a guided tour (which also gives you priority entrance), you need to click here.
Access to the Vatican Museums and Sistine Chapel is included in the Rome Tourist Card or the Omnia Card.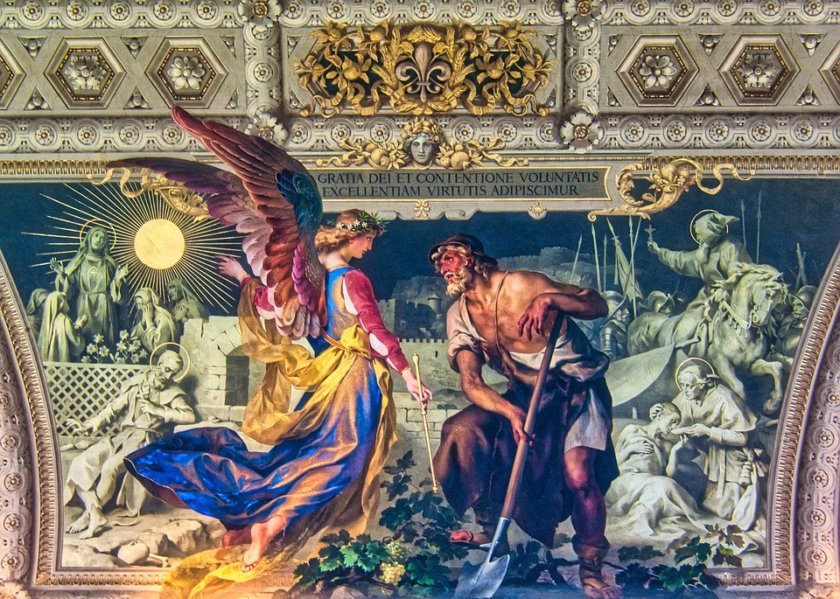 4. St. Peter's Basilica
As the world's largest church, St. Peter's Basilica is a must-see when visiting Rome.
You can explore its impressive interior and marvel at the stunning architecture, sculptures, and mosaics. Don't miss the opportunity to climb to the top of the dome for a panoramic view of Rome (for a fee, but it's included in the Rome Tourist Card.)
Voyage Tips - Advice
Entry to St. Peter's Basilica is free of charge, but there is always a huge (2-hour +) waiting line to enter.
To avoid this hassle, you have 2 options: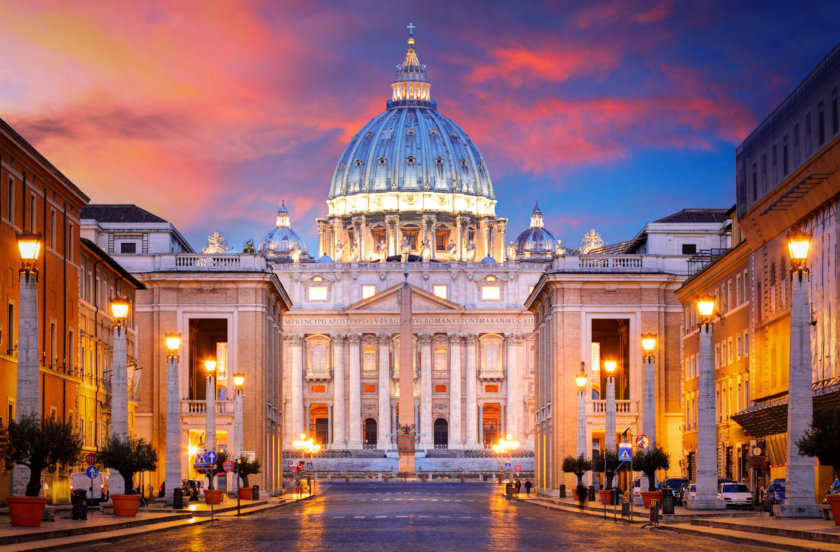 5. Trevi Fountain
The Trevi Fountain is one of Rome's most famous monument.
This Baroque masterpiece, designed by Nicola Salvi, is not only one of the most famous fountains in the world, but also the largest in the city.
The Trevi Fountain's intricate sculptures depict various mythological figures, including Neptune, the god of the sea, who stands at the center of the ensemble, surrounded by tritons and seahorses.
As you admire the breathtaking beauty of the Trevi Fountain, you should participate in the tradition of tossing a coin into the water.
According to the legend, tossing a coin with your right hand over your left shoulder ensures a return to Rome in the future. Many visitors also toss 2 more coins, symbolizing the hope for love and marriage.
To avoid the crowds and enjoy a more peaceful experience, you should visit the Trevi Fountain early in the morning or late at night.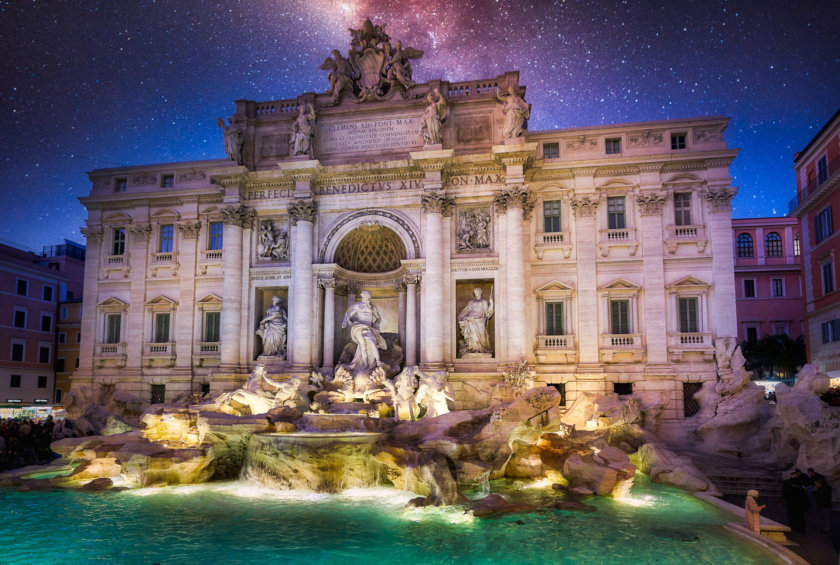 6. Pantheon
The Pantheon is another iconic Roman attraction you shouldn't miss.
This ancient temple, now a church, boasts a massive concrete dome with a central opening, known as the oculus.
It can get crowded, so consider arriving early or visiting during off-peak hours.
Since July 2023, access to the Pantheon has been subject to a charge and requires an admission ticket (cost: €5). To visit, you should book your ticket on the official website.
If you wish to, you can purchase an audio guide (with a fast track ticket included!) to learn more about the monument or join a guided tour.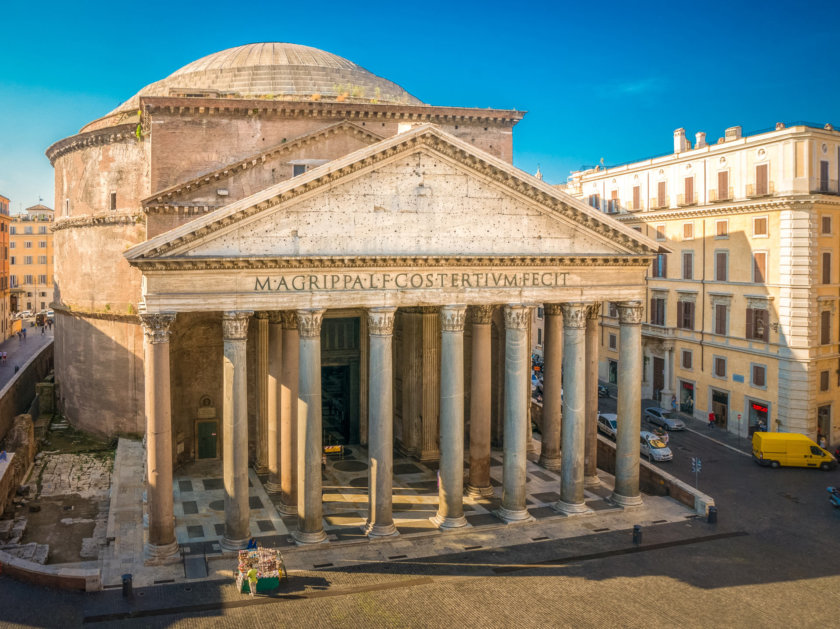 7. Spanish Steps
Climb the famous Spanish Steps to enjoy a beautiful view of Rome from the top.
This staircase connects 2 famous squares: the Piazza di Spagna at the base and Piazza Trinità dei Monti, at the top.
The steps are a popular gathering spot for locals and tourists alike, making them a lively place to watch the street performers, relax, or enjoy a good gelato!
In May, the Spanish steps are particularly stunning thanks to the beautiful floral arrangements.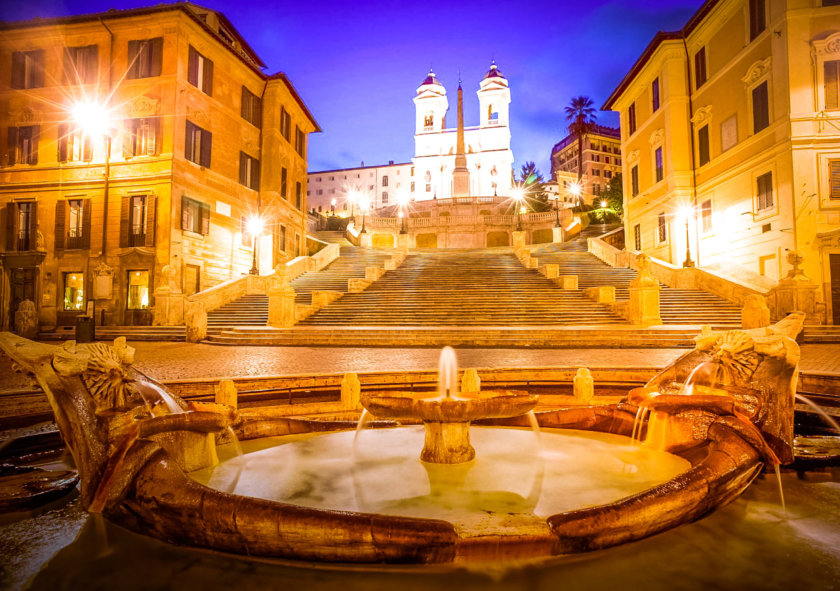 During your trip to Rome in May, you should really visit Piazza Navona, a picturesque square known for its fountains, architecture, and lively atmosphere.
You can stroll around the square, admiring the stunning Fountain of the Four Rivers and the Church of Sant'Agnese in Agone, or simply relax at a café and soak up the ambiance.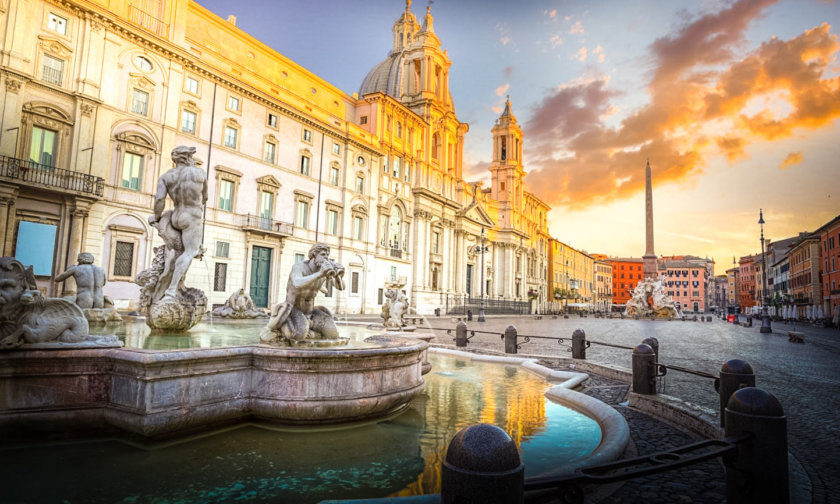 9. Castel Sant'Angelo
Explore the historic Castel Sant'Angelo, a fortress originally built as a mausoleum for Emperor Hadrian.
Today, you can discover its fascinating history, enjoy beautiful views of Rome from its terrace, and even stroll along the ancient Passetto di Borgo, a secret passageway connecting the castle to the Vatican.
To visit the castle, you need to buy your skip the line tickets in advance here:
Voyage Tips - Advice
To make the most of your visit to Castel Sant'Angelo, you should consider taking a guided tour.
Not only will you learn about its intriguing past, but you'll also gain access to areas usually closed to the public. You need to click here to book your tour.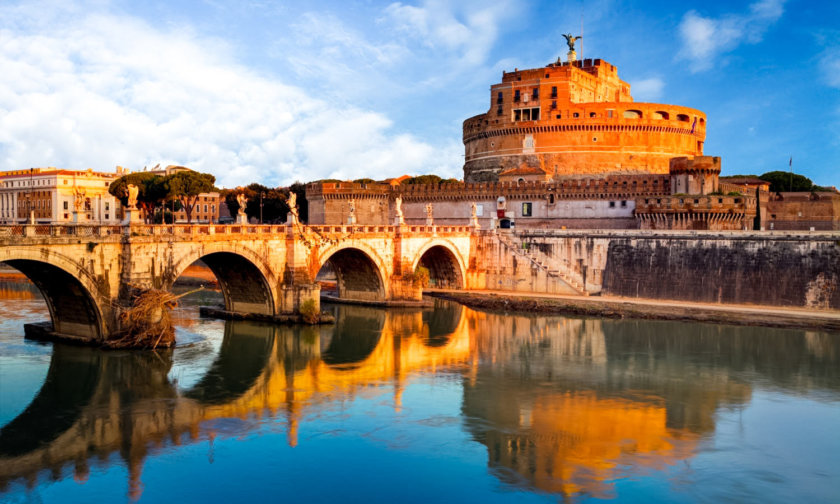 10. Villa Borghese
In May, the weather is perfect for a visit to Villa Borghese, Rome's largest public park.
You can stroll through its lush gardens, rent a bike or a rowboat, or visit the Borghese Gallery, which houses an impressive collection of art, including works by Bernini, Caravaggio, and Raphael.
To visit the Gallery, you need to book your tickets here: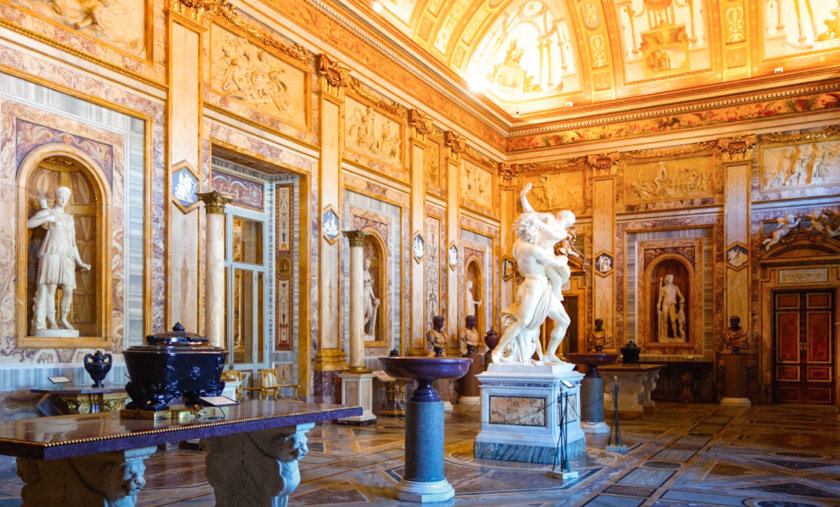 11. Capitoline Museums
While in Rome, you should really dedicate some time to exploring the Capitoline Museums, one of the best museums in Rome.
There, you'll find an extensive collection of ancient sculptures, frescoes, and artifacts, as well as the famous bronze statue of Emperor Marcus Aurelius on horseback.
The Capitoline Museums really offer a comprehensive overview of Rome's rich history!
Voyage Tips - Advice
The ticket to visit the Capitoline museums also include access to Centrale Montemartini, a unique museum in Rome that combines ancient Roman art with industrial architecture.
You need to buy your combined ticket "Capitoline museums + Centrale Montemartini" here:
To learn more about the best places to visit in Rome, you should read my dedicated article: The 27 Best Things to Do in Rome.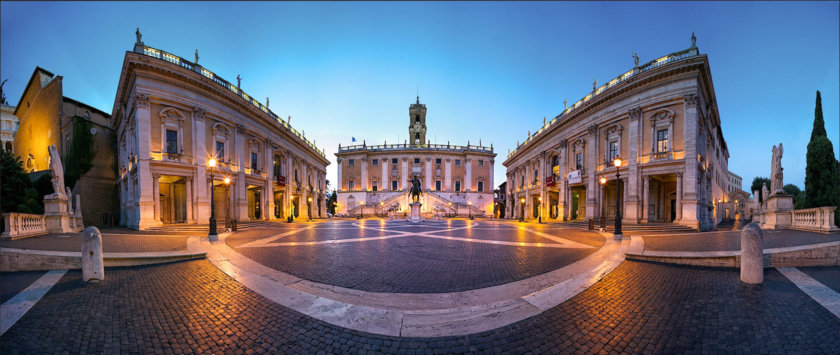 5 Hidden Gems in Rome to Visit in May
While Rome is famous for its iconic attractions like the Colosseum, the Vatican, and the Trevi Fountain, the Eternal City also has plenty of lesser-known, yet equally fascinating spots to discover.
Let's now talk about 5 hidden gems in Rome that you should visit during your trip in May.
These secret spots of Rome will for sure make your trip truly unforgettable!
1. Trastevere
Located on the west bank of the Tiber River, Trastevere is a charming neighborhood with narrow cobblestone streets, lively squares, and a unique atmosphere.
It's the perfect place to escape the tourist crowds and experience the authentic Roman lifestyle.
During your visit, you can stroll through the picturesque streets lined with colorful houses adorned with ivy and flowers.
Make sure to stop by the Basilica of Santa Maria in Trastevere, one of Rome's oldest churches, known for its stunning mosaics and rich history.
Trastevere is also an excellent destination for foodies, as the area is packed with traditional Roman restaurants and trattorias.
Don't miss the opportunity to try some local dishes such as pasta alla carbonara or cacio e pepe.
And to end your day in style, enjoy a drink in one of the lively bars or piazzas where locals gather to socialize and relax.
Voyage Tips - Advice
To make the most of your Trastevere experience, you should join a walking tour or a food tour led by a local guide.
This way, you'll discover the best-hidden spots, learn about the neighborhood's history, and taste some delicious Roman specialties.
The best Tastevere food tour needs to be booked here: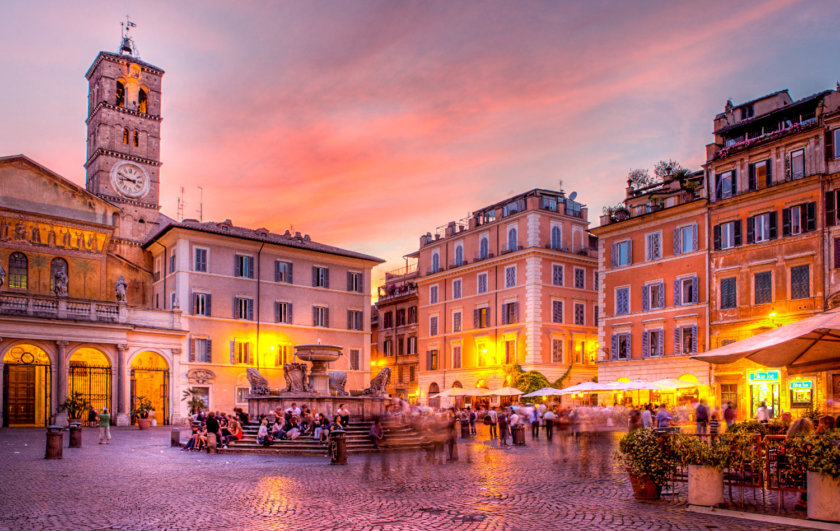 2. The Appian Way
The Appian Way, or Via Appia Antica, is one of the oldest and most important Roman roads.
Built in 312 BC, this crucial artery was connecting Rome to the southern parts of Italy. Today, the Appian Way is a serene and picturesque area, perfect for a peaceful escape from the bustling city center.
As you walk along the ancient road, you'll be surrounded by lush greenery, archaeological sites, and historical monuments.
Some must-visit sites along the Appian Way include the Catacombs of San Callisto, the Circus of Maxentius, and the Tomb of Cecilia Metella.
Visiting the Appian Way in May is an excellent choice, as the weather is pleasant, and the area is adorned with blooming flowers.
You can rent a bike or walk along the cobblestone road, soaking in the beauty and history that surrounds you.
Voyage Tips - Advice
In my opinion, the best ways to discover the Appian Way is with a guided E-bike tour.
This will allow you to learn about the fascinating history of this ancient Roman road, and it's a lot of fun!
The best tour also includes an authentic Italian-style picnic lunch, with local products and wine.
To book your 4h e-bike guide tour to the Appian Way, simply click on the button below:
And if you want to enjoy a longer experience (6h), which also includes a guided visit to the Catacombs of St. Callixtus, you should book that one: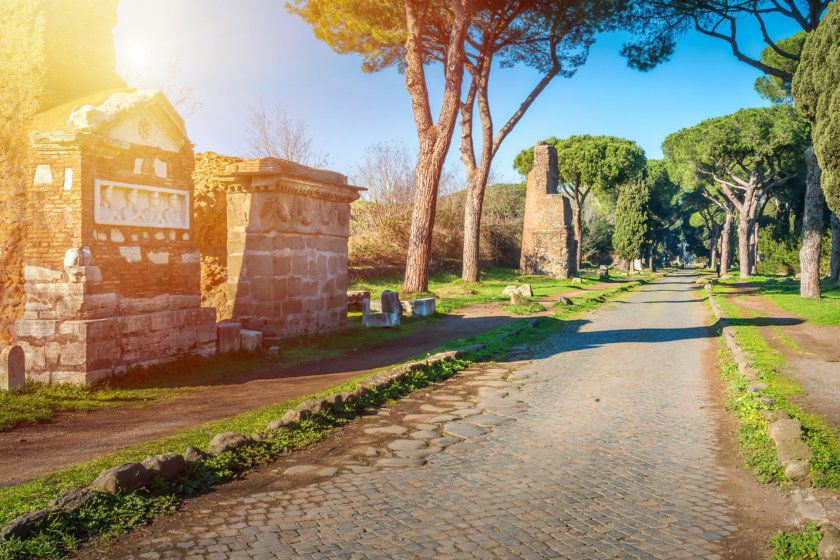 3. Baths of Caracalla
The Baths of Caracalla, built between 212 and 216 AD, were one of the largest and most luxurious public baths in ancient Rome.
Today, you can explore the impressive ruins of this complex, which once accommodated over 1,600 bathers at a time.
As you wander through the remains of the baths, you'll be able to admire the impressive architecture, intricate mosaics, and colossal statues that once decorated this opulent leisure center.
The Baths of Caracalla also offer a glimpse into the daily life and social customs of ancient Romans, making it a fascinating destination for history lovers.
Visiting the Baths of Caracalla during your trip to Rome in May is ideal, as the mild temperatures and blooming flowers create a perfect atmosphere for exploring these magnificent ruins.
To visit the Baths of Caracalla, you need to book your ticket here:
Voyage Tips - Advice
For your visit to the Baths of Caracalla, you can rent an augmented reality headset on site.
This will allow you to see how the complex looked in Roman times!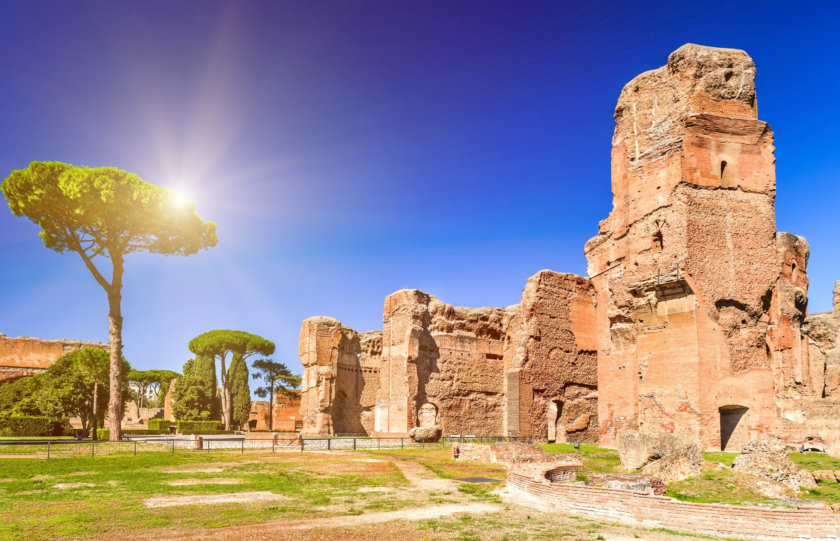 4. Villa Doria Pamphilj
Villa Doria Pamphilj is an off-the-beaten-path visit that will allow you to get away from the busy streets of the city.
This public park, once a private estate, is home to beautiful gardens, fountains, and a stunning 17th-century villa.
During your visit, you can take a leisurely stroll through the lush gardens, admire the beautiful landscaping, enjoy a good picnic made of Italian fresh produces or simply relax for a bit.
As you can imagine, May is probably the best month to visit Villa Doria Pamphilj, as the gardens are in full bloom. So it's even more beautiful than usual!
Voyage Tips - Advice
The park also occasionally hosts concerts and cultural events, so be sure to check the schedule on the official website before your visit.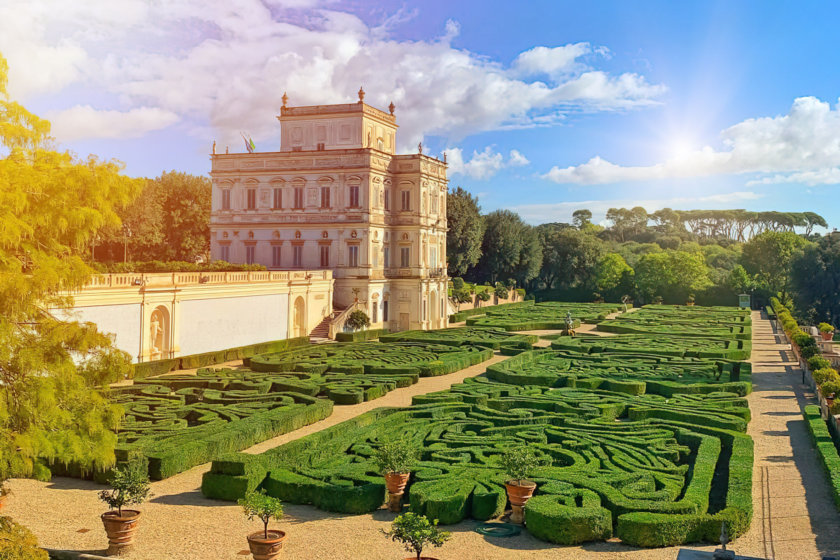 5. Capuchin Crypt and the Catacombs of Rome
If you enjoy exploring unusual and mysterious places, you should really visit the Capuchin Crypt and the Catacombs of Rome during your trip.
These unique underground sites offer a fascinating glimpse into Rome's ancient past and the city's relationship with death and burial rituals.
The Capuchin Crypt is a series of small chapels beneath the Church of Santa Maria della Concezione dei Cappuccini.
The crypt is decorated with the bones of over 4,000 Capuchin friars, arranged in intricate patterns and designs. Although it may seem macabre, the crypt is in fact a destination that encourages reflection on life and death.
The Catacombs of Rome are a vast network of underground burial chambers dating back to the 2nd century AD.
Some of the most famous catacombs include the Catacombs of St. Callixtus, Domitilla, and Priscilla.
As you explore these ancient tombs, you'll discover early Christian art, frescoes, and inscriptions that provide insight into Rome's early Christian communities.
To discover the Capuchin Crypt and other catacombs of Rome, you need to book a guided tour.
I took the one below and it was just awesome!

Voyage Tips - Advice
When planning your visit to the Capuchin Crypt and the Catacombs of Rome, keep in mind that the sites have specific visiting hours and rules to follow.
For example, the Capuchin Crypt requires modest attire, and photography is not allowed.
You want to learn more about the secret spots of Rome? Then you should read my article: 17 Epic Hidden Gems in Rome.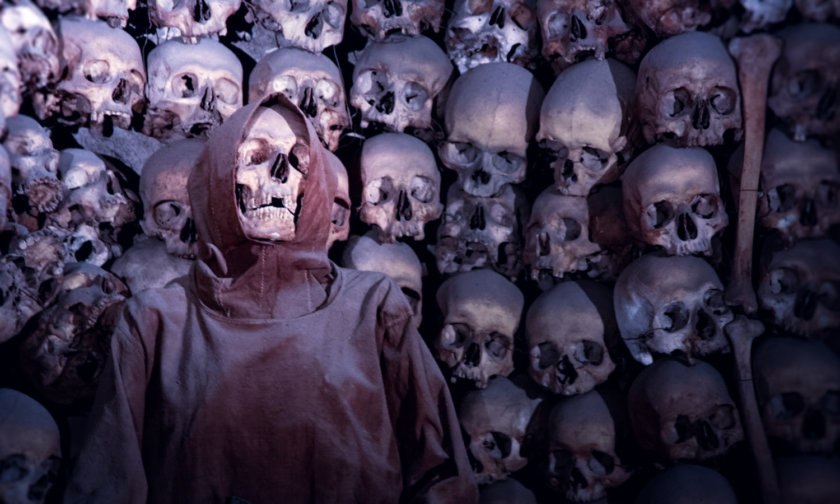 Itineraries to visit Rome in May
Whether you're planning a short weekend getaway or a week-long trip, Rome has plenty to offer!
To make the most of your stay, here are my suggested itineraries for your visit to Rome in May (simply click on the orange links to read the guides):
They will allow you to plan your trip very easily!
And if you have any question, don't hesitate to ask me in the comments section, at the end of the corresponding article. I will be glad to help you plan your stay in Rome.
The Best Day Trips from Rome to Do in May
Looking to explore beyond the bustling city of Rome during your trip?
You're in luck!
There are plenty of amazing day trips from Rome that you can enjoy in May, with charming towns, historical sites, and beautiful landscapes just a short distance away.
Here are 5 of the best day trips from Rome to add to your itinerary:
1. Tivoli
My first suggestion is to go to Tivoli, a picturesque hilltop town located just a 30 minutes train ride away from Rome.
The main attractions of Tivoli are its stunning villas and gardens, which are perfect to explore in the pleasant May weather.
You should especially visit 2 of them:
The Villa d'Este, a magnificent Renaissance palace featuring expansive gardens filled with fountains, grottoes, and terraces. You will for sure love the famous Fontana dell'Ovato and the hundred of fountains.
The second one is Villa Adriana, once belonging to Emperor Hadrian. There, you can explore ancient ruins, thermal baths, and even a reconstructed maritime theater.
Voyage Tips - Advice
To make the most of your day trip to Tivoli, you should book a guided tour that includes transport and entrance fees to both Villa d'Este and Villa Adriana.
It's for sure the most convenient way to discover these 2 masterpieces!
You need to book your day trip here: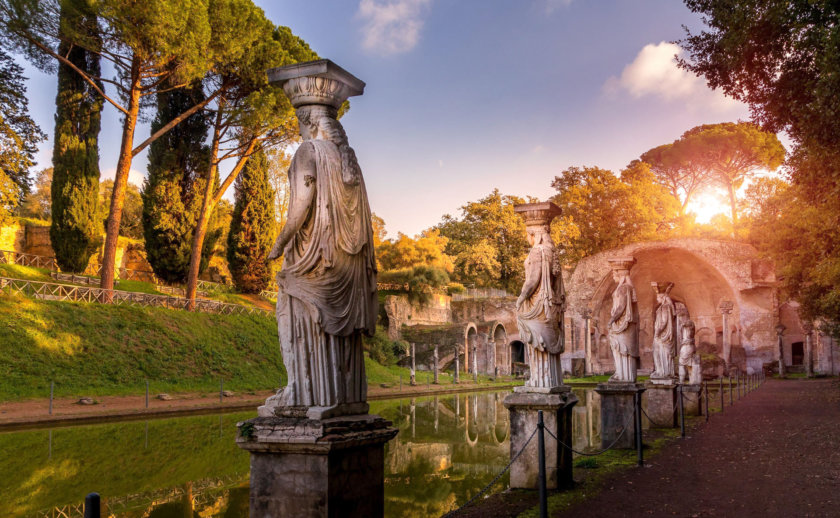 2. Orvieto
Nestled atop a volcanic rock in the heart of Umbria, Orvieto is a charming medieval town with a rich history and beautiful architecture.
And May is the perfect time to visit, as the surrounding countryside is really beautiful at that time of the year. It's also very easy to get there by train from Rome.
In Orvieto, you will discover:
Orvieto Cathedral, a masterpiece of Italian Gothic architecture. Don't miss the Chapel of San Brizio, which houses magnificent frescoes by Luca Signorelli.
The Pozzo di San Patrizio, a deep, spiraling well that was built to provide the city with a reliable water supply during times of siege.
Orvieto Underground, a labyrinth of tunnels and caves that dates back to Etruscan times.
The best day trip combines a visit to Orvieto + Assisi in one day. You need to book it here:
Voyage Tips - Advice
While in Orvieto, don't forget to taste the local wine, Orvieto Classico, at one of the many wine bars and restaurants in town.
It's the perfect way to unwind after a day of sightseeing.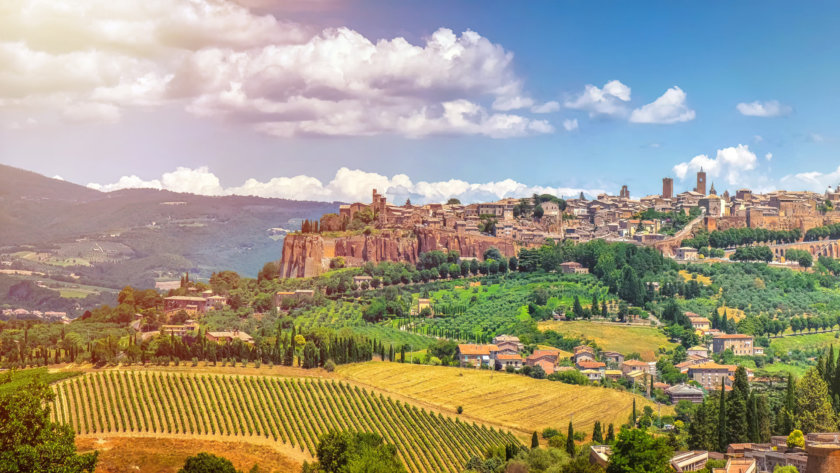 3. Ostia Antica
If you're fascinated by ancient Roman history, you should really go on a day trip to Ostia Antica!
Located just a short train ride from Rome, this well-preserved archaeological site was once the bustling port city of ancient Rome and is now an open-air museum.
As you wander through the ruins, you'll be able to explore the remains of ancient buildings, such as the Theater of Ostia, the Baths of Neptune, and the Forum.
You'll also find beautifully preserved mosaics and frescoes, which offer a glimpse into the daily life of the city's inhabitants.
In addition, don't miss the House of Diana, a well-preserved Roman apartment building, and the Temple of Hercules, which dates back to the 2nd century AD.
Voyage Tips - Advice
To make the most of your visit to Ostia Antica, you should opt for a guided tour with transportation included from Rome.

It's the hassle free solution!
It will also allow you to learn more about the fascinating history behind the ruins.
To book your guided tour to Ostia Antica, simply click here:
Don't forget to bring sun protection, water, and comfortable shoes, as the site is quite large and exposed to the elements. At the end of May, it can get pretty hot there in the middle of the day!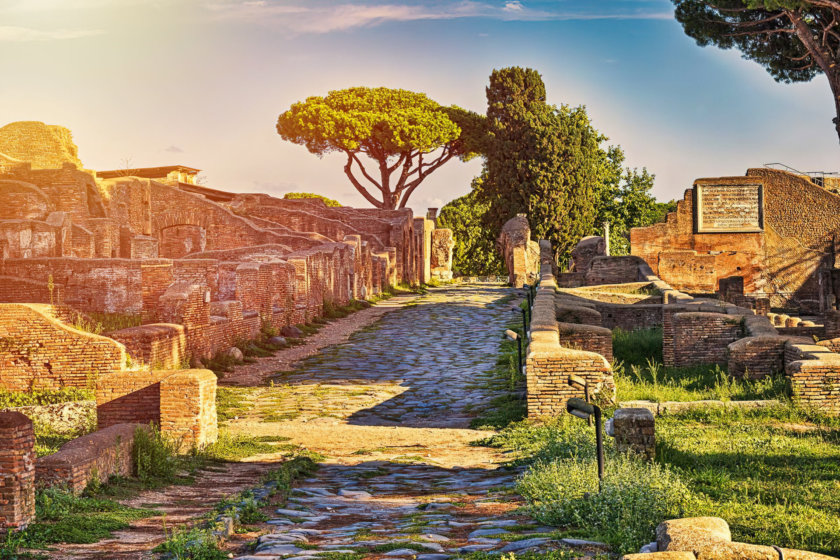 4. Castelli Romani
A visit to the Castelli Romani is the perfect day trip from Rome for those looking to escape the city and enjoy some fresh air and beautiful landscapes.
This picturesque region is home to several charming hilltop towns, lakes, and lush forests, making it an ideal destination for a relaxing day out in May.
Some of the must-see towns in the Castelli Romani include Frascati, famous for its wine, and Castel Gandolfo, the summer residence of the Pope.
Don't miss the opportunity to take in the stunning views of Lake Albano and Lake Nemi, which are surrounded by lush greenery and offer a peaceful retreat.
Voyage Tips - Advice
For a truly memorable day trip, consider booking a wine tasting tour in the Castelli Romani region.
You'll have the chance to taste some of the area's finest wines while enjoying the stunning countryside.
You can book it by clicking here.
An if you want to do something really different and original, you should opt for this kayaking day trip from Rome.
You will be kayaking on the lake located near Castel Gandolfo while enjoying the stunning landscape. It's in my opinion a great choice for a gift if you want to surprise your travel companion!
Even if it's your first time kayaking, no problem, your guide, Stephano, will make sure to teach you everything needed to enjoy the tour.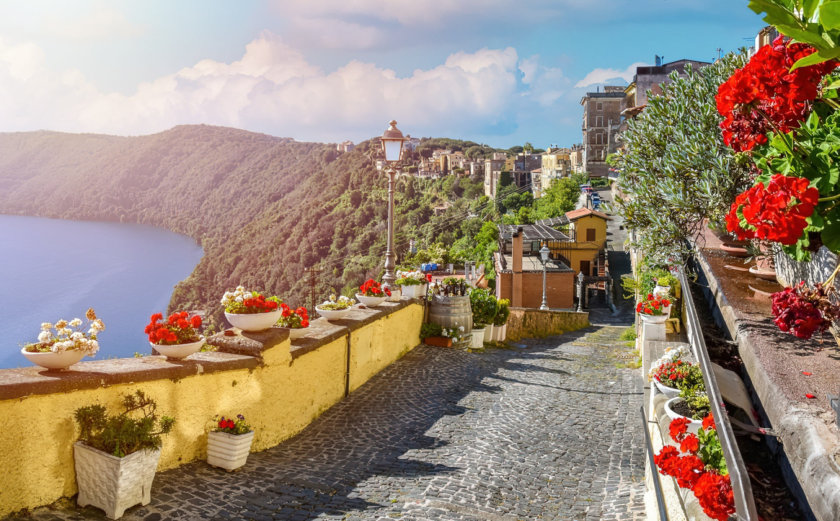 5. Pompeii + Naples or Mount Vesuvius or Amalfi coast
A day trip to Pompeii and Naples is a fantastic opportunity to discover two of Italy's most iconic destinations.
While it's a longer journey from Rome, the fascinating history and breathtaking sights make it well worth the effort.
Start your day with a visit to the ancient city of Pompeii, which was buried under volcanic ash in 79 AD.
As you explore the well-preserved ruins, you'll be able to see the remains of homes, shops, and public buildings, as well as strikingly realistic casts of the city's residents.
Afterwards, head to Naples to explore its vibrant streets, stunning architecture, and rich cultural heritage.
Be sure to visit the Naples National Archaeological Museum, which houses an incredible collection of artifacts from Pompeii and Herculaneum.
And, of course, don't miss the opportunity to sample some of the city's famous pizza – after all, Naples is the birthplace of this delicious dish!
If you don't want to visit Naples, after your visit to Pompeii, instead of going to Naples, you have 2 other options:
Visit Mount Vesuvius, and climb to the crater of the volcano!
Go to the Amalfi Coast and get a glimpse of this superb seaside region.
Voyage Tips - Advice
As it's a pretty long trip, it's really best to opt for an organized day trip to visit Pompeii.
My 2 favourite ones are the following:
Pompeii + Mount Vesuvius:
Pompeii + Amalfi Coast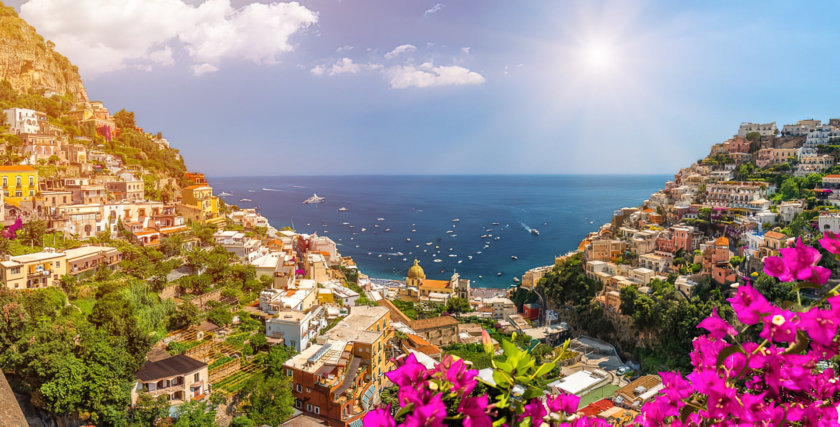 Events in May in Rome
In May, Rome offers numerous events and celebrations that you can enjoy during your visit:
1. Rome's Roseto (rose garden)
Immerse yourself in a sea of color and fragrance at the Rome Rose Garden located on the Aventine Hill.
With over 1000 rose varieties, you can visit this enchanting garden during its spring bloom in late April to May, or in October for the autumn flowering.
Rome rose garden is also the perfect place to enjoy breathtaking views of the Circus Maximus located nearby.
2. The Vatican Museums Late-Night Opening
During May, you can take advantage of the Vatican Museums' late-night openings on Fridays.
You'll be able to visit the museums and the Sistine Chapel until 11 pm, providing a unique and less crowded experience.
3. La Notte dei Musei (Museum Night)
On a designated night in May, many of Rome's museums and cultural institutions stay open late and offer free entry.
You can enjoy special exhibitions, performances, and guided tours during this annual event.
4. Open House Roma
For one weekend in May, Open House Roma grants the public access to many buildings and sites typically closed to visitors.
You can explore private palaces, historical residences, and modern architectural marvels during this unique event!
5. Pilgrimage of the Seven Churches
Discover the spiritual side of Rome on the Pilgrimage of the Seven Churches in May.
Walk 20 km through the city, visiting its most sacred sites like St. Peter's Basilica and Santa Maria Maggiore.
Follow in the footsteps of St. Philip Neri and embark on this enlightening journey, connecting with Rome's rich religious heritage.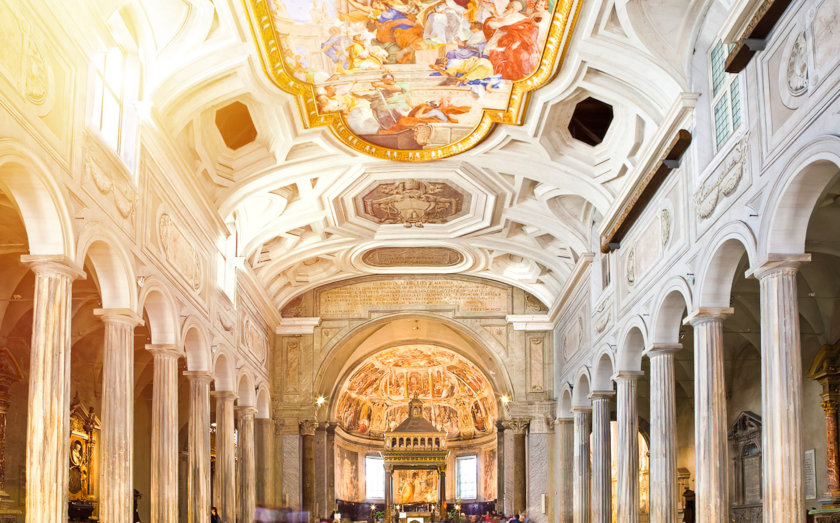 Where to stay in Rome
Now that you know how to plan your trip to Rome in May, let's talk about another important point: where to stay in Rome?
In Rome, finding accommodation at a good price isn't that easy. In order to help you out, I have selected for you the best hotels depending on your budget.
One last advice: Book now if you can, there is a lot of demand in Rome, so the best hotels rooms are sold out very quickly!
If you want to save a bit of money, you can find an accommodation around Rome. I recommend you the bungalows of Camping Village Rome, located at only 15 minutes by car from the Vatican city.
The price starts at only 30€ per night! It's the best "budget" solution if you don't mind not being in the city center. It's also a great choice for families, with the swimming pool!
Visiting Rome in May with kids
Rome is a family-friendly destination with plenty of attractions and activities suitable for children.
In May, the pleasant weather makes outdoor activities even more enjoyable. Here are some suggestions for visiting Rome with kids:
The Gladiator School: For me the best activity to do in Rome with kids! An experience they will for sure remember forever. It must be booked in advance here.
BioParco di Roma: Rome's zoological garden, featuring over 200 animal species and lush green spaces for picnicking and relaxing.
Parks and playgrounds: Enjoy Rome's beautiful parks, such as Villa Borghese, Villa Ada or Villa Doria Pamphilj, which often have playgrounds and family-friendly activities.
Explora Children's Museum: An interactive museum designed for children aged 3-11, where they can learn through play and hands-on activities.
You can find even more family activities in Rome here: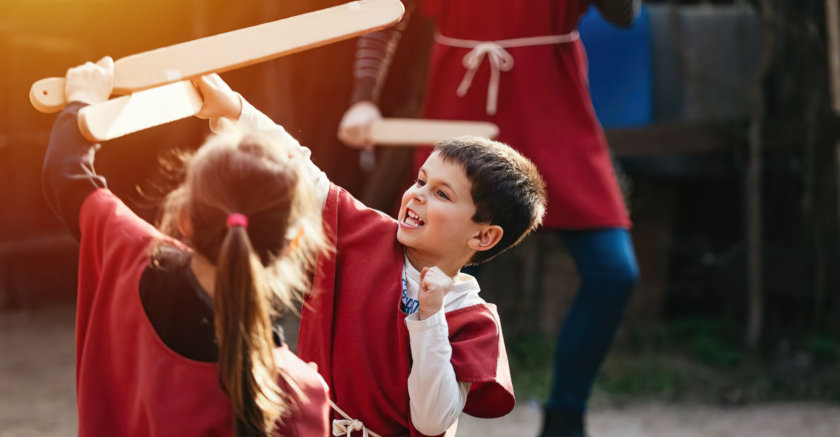 Rome in May: Best things to do if it rains
Although May in Rome is generally sunny, you might encounter some rainy days.
No worries, there are plenty of activities to do in Rome when it rains!
Here are a few suggestions:
Visit museums, such as the Vatican Museums, Capitoline Museums, or the National Roman Museum.
Explore Rome's historic churches, like St. Peter's Basilica, Santa Maria Maggiore, or San Giovanni in Laterano.
Go shopping in covered areas like Galleria Alberto Sordi or La Rinascente.
Relax in a cozy café and enjoy a cappuccino, espresso, hot chocolate or a delicious Tiramisu!
Any good food I should try during my trip to Rome in May?
Rome is a food lover's paradise, offering a variety of traditional dishes, sweet treats, and unique culinary experiences.
Here are some suggestions for your visit:
Traditional Roman dishes
During your trip, you should try local specialties like carbonara, cacio e pepe, amatriciana, and supplì (fried rice balls with mozzarella and tomato sauce).
Best gelato spots
It's getting warmer in May, so treat yourself to Rome's famous gelato at renowned establishments like Giolitti, Gelateria Valentino (near the Trevi Fountain) Fata Morgana, or Frigo.
Local food markets
Experience Rome's vibrant food markets, such as Campo de' Fiori, Testaccio Market, or Piazza Vittorio Market, where you can sample fresh produce, cheeses, and cured meats.
Rome food tours
Join a guided food tour to discover Rome's culinary secrets and hidden gems.
You can sample traditional dishes, visit local markets, and learn about Rome's food culture from knowledgeable guides.
This food tour with a local guide will allow you to discover some of Rome's best food spots in the Trastevere district or in the Jewish quarter (depending on the option you opt for).
And if you want to discover amazing Italian wines, that food tour with wine tasting can also be a very good option.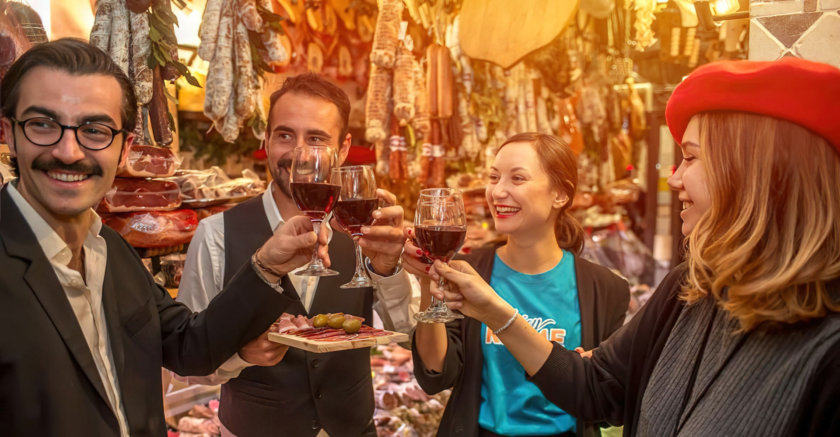 What to wear in Rome in May?
In May, Rome experiences mild to warm temperatures, so you should dress in layers to accommodate the changing weather.
Opt for lightweight clothing, such as short-sleeve shirts, shorts, skirts, and dresses. Bring a sweater or light jacket for cooler evenings.
Don't forget comfortable walking shoes, as you'll likely be exploring the city on foot.
When visiting religious sites, be sure to dress modestly by covering your shoulders and knees.
What should I pack for my trip to Rome in May?
When packing for visiting Rome in May, consider bringing the following:
Lightweight clothing for warm days
A sweater or light jacket for cooler evenings
Comfortable walking shoes
A compact umbrella and a light rain jacket in case of rain
A hat, sunglasses, and sunscreen for sun protection
A reusable water bottle to stay hydrated
A travel adapter for charging your devices
My Best Tips to Visit Rome in May
To make the most of your trip to Rome in May, don't forget to:
Book priority tickets to popular attractions like the Colosseum, Vatican Museums or St Peter's Basilica in advance to avoid long queues. Or even better, get a Rome Tourist Card!
Book your accomodation as early as possible: May is a popular time to visit Rome, so reserve your hotel or vacation rental early to secure the best options and prices.
Use public transportation: Make use of  Rome's metro, buses, and trams to save time and energy while exploring the city. Purchase a Roma Pass or an ATAC ticket for unlimited travel on public transportation.
Be aware of your surroundings, especially in crowded tourist areas where pickpocketing can occur. Keep your valuables secure and avoid displaying expensive items.
And above all, enjoy your stay in Rome!

Is May a good time to visit Rome?
Yes, May is an excellent time to visit Rome, I would even say it's one of the best time of the year!
The mild temperatures and pleasant weather make exploring the city enjoyable, and you can take advantage of outdoor activities, events, and attractions.
While May can be a popular time for tourists, planning your trip strategically will help you avoid crowds and long lines at popular sites.
Alternatives to visiting Rome in May
If you're unable to visit Rome in May or prefer a different time of year, consider the following alternatives:
April: As the weather begins to warm up, April offers comfortable temperatures and, in general, fewer crowds than May. However, keep in mind that Holy Week and Easter can be busy times for tourism.
September: September is another excellent option, with warm temperatures and the summer crowds starting to dwindle. This month is also ideal for food lovers, as many food festivals take place.
October: With mild temperatures and fewer tourists, October allows you to enjoy Rome's attractions at a more leisurely pace.
Here are also some other really nice places to visit in May:
Conclusion
To conclude, visiting Rome in May offers a fantastic combination of beautiful weather, exciting events, and must-see attractions.
By carefully planning your itineraries and following the tips provided in this guide, you will for sure enjoy a memorable Roman holiday!
So, have fun while exploring Rome's rich history, vibrant culture, and delicious cuisine during this ideal time of year.
I wish you a good trip!
Book your trip now and save money!
Italy travel Guides
You're traveling in Italy? These articles will help you!
Discover all my articles about Italy: All my articles to help you plan your trip to Italy are listed there.
Where to stay in Rome? – The definitive guide of the best areas!
You're using Pinterest? Here is the picture to pin!