Things to Do in Catania: All Highlights and Best Places to Visit

You have chosen to visit the east coast of Sicily during your next trip?
You will then certainly land at Catania airport. Most people then choose to go directly to Taormina or Syracuse, but if you have time, Catania is worth at least a day of your time!
In order to help you plan your stay in town, I have written this guide of the best things to do in Catania and around. At the end of the article, you will also find a list of my favorite accommodations, depending on your budget.
So, what are the best points of interests? Let's plan your trip!
Visit Catania: The 12 Must-See attractions!
If you have rented a car at the airport and want to visit the city, you will first have to solve the parking problem. Finding a parking place in the largest Sicilian cities is often a real challenge. And the same goes for getting used to the Sicilian driving style! It's part of the local folklore x)
Your best choice here is to spend a night in a hotel with a parking service.
Once you're parked, Catania can be entirely visited on foot.
1. Piazza del Duomo
Start by going to piazza del Duomo, which is (as everywhere in Sicily) the heart of the city.
Standing in the center of the square, you can admire the city's emblem: The Elephant's Fountain (fontana dell' elefante in Italian). This fountain depicts an elephant carved in black lava, topped by an Egyptian obelisk. Legend has it that this statue holds the power to appease Etna's volcano anger.
On this square, you can also see Catania's Palazzo Municipio.
It's good to know that Piazza del Duomo is the starting point for city tours by bus or tourist train.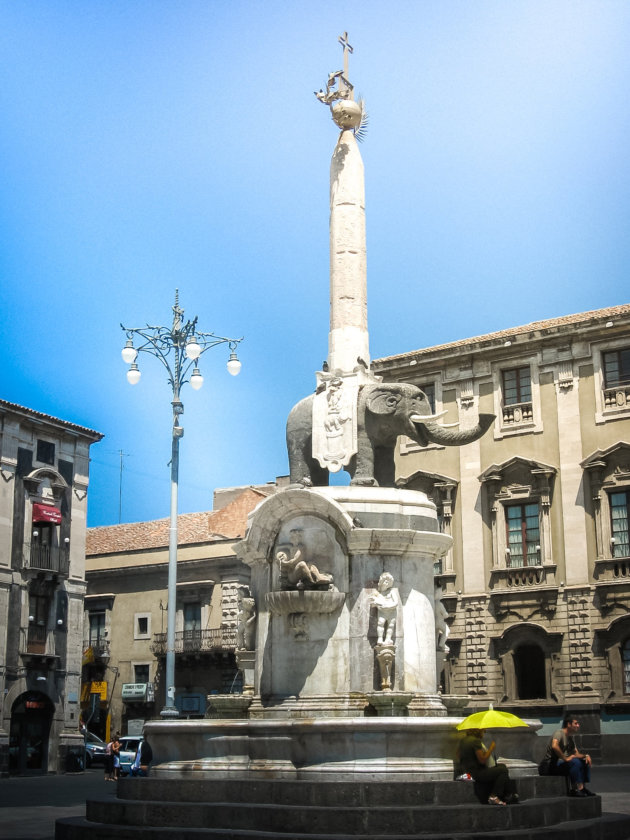 2. Duomo Di Catania
Behind the fountain, there is Catania Cathedral, which can be visited free of charge every day of the week. Its exterior facade is very beautiful, all in white marble and the interior is dedicated to Saint Agatha, a young virgin tortured after refusing the amorous advances of a Roman prefect.
This Christian martyr became the patron saint of the city, celebrated every 5th of February during the Feast of Sant'Agata. Its relics are located inside the cathedral.
In the cathedral, you can also see the tomb of Vincenzo Bellini, the famous classical composer. Born in Catania in 1801, he is the author of numerous operas, including the "Norma", his masterpiece.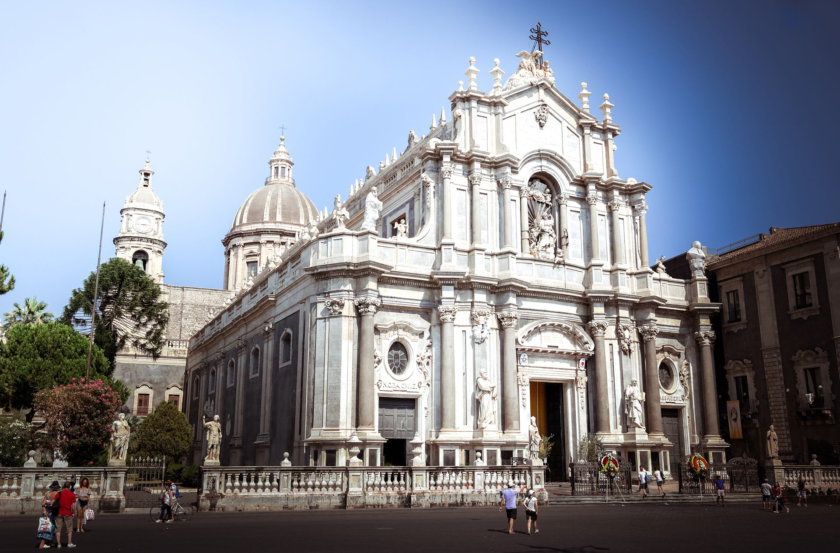 3. La pescheria
Just behind the piazza del Duomo, go for a walk in the fish market, the Pescheria. But beware it's a real authentic market! You will stroll among decapitated swordfish, live lobsters, sardines and anchovies. Fishes are emptied in front of your eyes and you may have to wade around a little bit in water and blood.
Adjacent to La pescheria is a more classic market, renowned for its vast choice of cheeses but also, and this is less appealing, for selling carcasses of animals and sheep's heads, horns included!
The markets are held every morning on weekdays.
4. Via Etnea
From piazza del duomo, take Via Etnea, the main street of Catania. You guessed it, this street's name comes from the view you will have there. At the end of the road, if the weather is clear, you will be able to see the silhouette of the famous volcano that many tourists from all over the world come to admire: the Etna.
While you're here, you can do some shopping in Via Etnea's many shops, or drink a coffee and enjoy a pastry!
5. Piazza dell'Universita
At the southern end of Via Etnea, there is the Piazza dell'Universita.
This square is surrounded by two magnificent palaces facing each other: The Palazzo dell'Universita which houses the old university and the Palazzo San Giuliano. Both palaces have beautiful facades and nice inner courtyards. Don't hesitate to enter the university to admire them.
To see: The four lampposts, each symbolizing a mythical episode of Catania.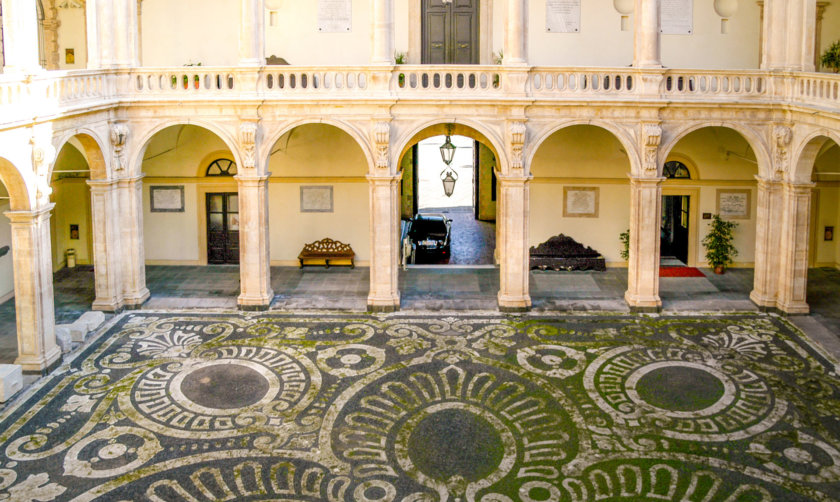 6. Villa Bellini
You should definitely go to the gardens of Villa Bellini, they are ideal to enjoy a bit of freshness, take a rest or picnic. This park, located Via Etnea, is open until 10 pm. You can stroll around the large trees and many fountains or simply sit on a bench in the shade. The place is very pleasant, with a children playground (in case you have kids!). Festivities, such as concerts, are regularly organized there.
You can also take advantage of the opportunity to visit the Villa Bellini (if you are lucky enough to have it open).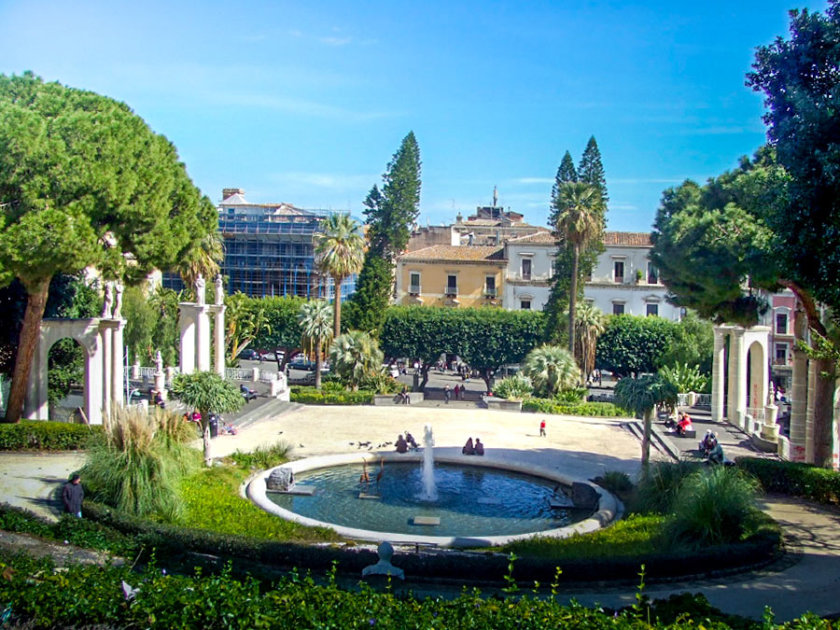 7. Via Crociferi
Via Crociferi is the 2nd street to walk along during your visit to Catania. It could be nicknamed "the Church Street" as you can admire not less than 4 churches along the street.
Here are the churches you can visit there:
The  San Francesco Church: to be seen for its giant candelabra
San Benedetto, said to have been built in one night
San Benedetto Church, dedicated to Saint Benedict
San Giuliano Church
San Nicolo all' Arena Church: certainly not the most beautiful, as the construction was never finished.
If you want to visit the churches, you should note that most of them are only open in the morning.
The must-see attraction of Via Corciferi is certainly the former Benedictine Monastery of San Nicolò l'Arena, which now houses a part of the university. It's the 2nd largest in Europe, and you can visit it freely or with a guide.
Guided visits are only in Italian, but you can follow them thanks to the explanatory leaflet written in English.
And if you would like to visit a magnificent place, totally unknown by tourists, I strongly recommend you to go to the "Biblioteca Ursino Recupero", located next to the Monastery. The visit takes around 1h
You can read more about the schedules and entrance fee on the monastery official website.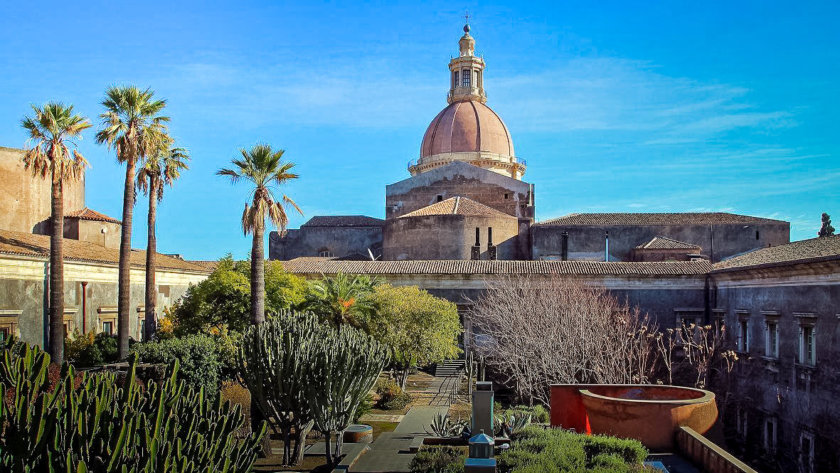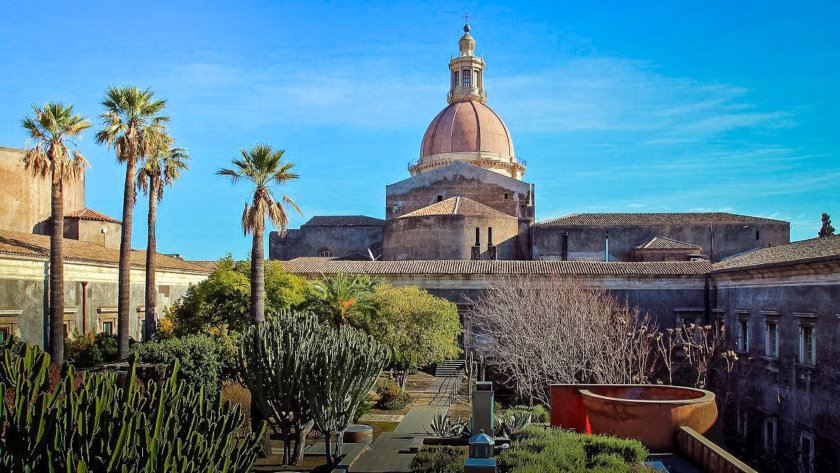 8. Catania Roman Theatre
There's not much left of it today, but if you have time, go have a look at the Roman Theatre, next to Piazza del Duomo. You will be surprised by its architecture and vaults. Seeing it there, standing in the middle of modern buildings is quite surprising!
9. Ursino Castle
Ursino Castle is an ancient Norman fortress that now houses the Municipal Museum (free visit).
Originally, this castle located at the top of a hill was built on a cliff, overlooking the sea. It's really hard to imagine, as it's today about 1km inland!
Many earthquakes and the huge volcanic eruption of Etna in 1669 completely changed the landscape of the area. Hopefully, the lava flows surrounded the castle without damaging it.
The castle museum houses an important archaeological collection consisting of ceramic vases, sculptures and numerous paintings.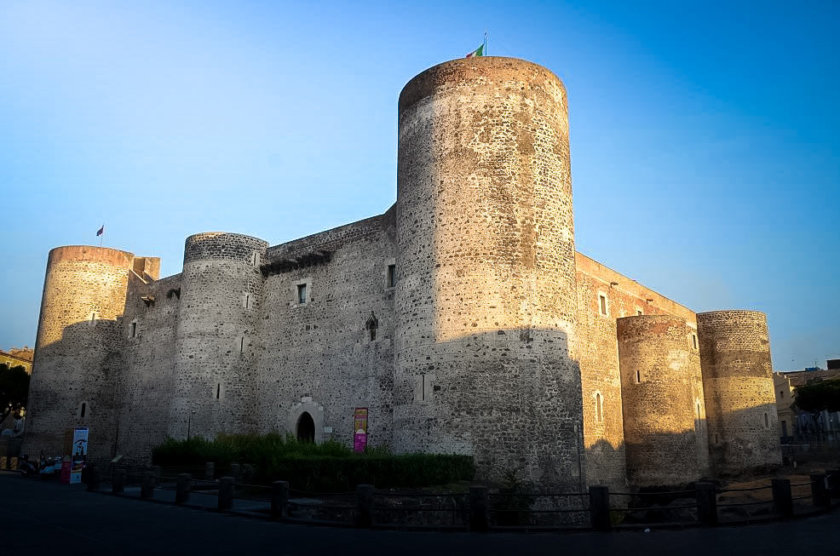 10. Acireale
A few kilometres from Catania, you can visit the small baroque town of Acireale. The city is famous for its numerous churches: There are about 100 for only 60,000 inhabitants!
You guessed it, the main ones are of course located around piazza del Duomo. It's worth a visit, as it's on the road between Catania and Taormina.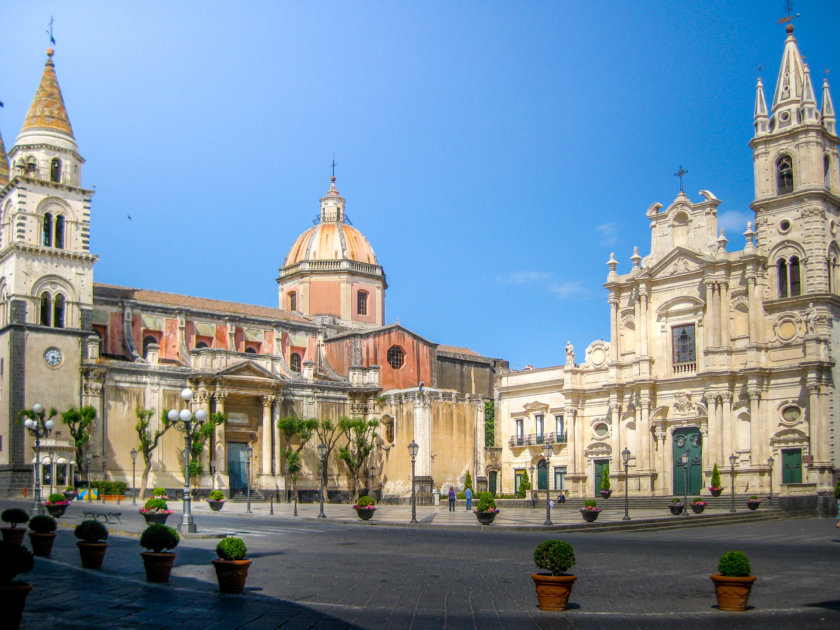 11. Aci Trezza
The main attraction of Aci Trezza, a small seaside resort, are the farraglioni or "Rocks of Cyclops". The Legend has it that theses 8 basalt rocks would have been thrown by Polypheme the giant from Etna on Ulysses to prevent him from fleeing the island. The town itself isn't anything special, but it's good enough to enjoy the sea and sun with its many bars and restaurants.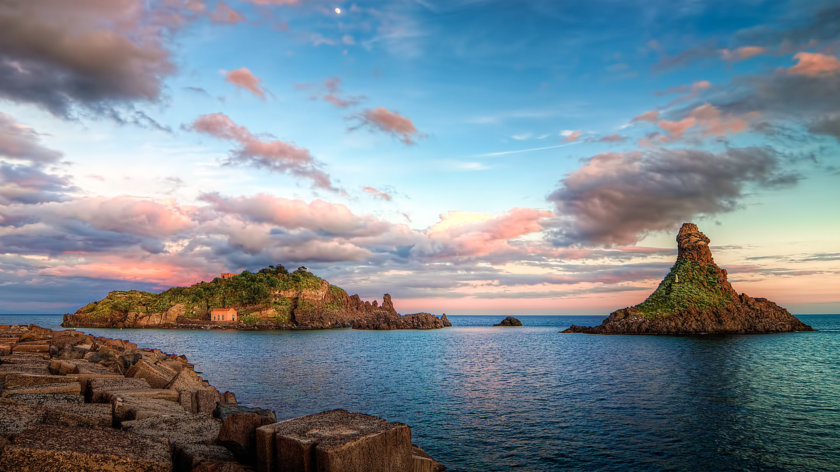 12. Etna
From Catania, many tours companies offer day trips to Etna. They will take you to the foot of the volcano, provide a guide and equipment, and organize the 4 Wheel-drive ride to the crater. Probably the best option in terms of safety!
You can also take a bus (daily departure around 8am for the Sapienza refuge at 5.60€ for a round trip) or go there by car, Etna is about 20 kilometers from Catania.
However, keep in mind that you will only be able to reach the 1st level of Mount Etna on your own. To reach the crater, the climb to the second level must be done in a guided minibus.
If you want to go to the Etna Volcano during your stay in Catania, I highly suggest you to book your tour with Getyourguide. It's simple, they have the best English speaking guides! And the price is very good too.
Click on the following button for more info about the trip to Etna volcano: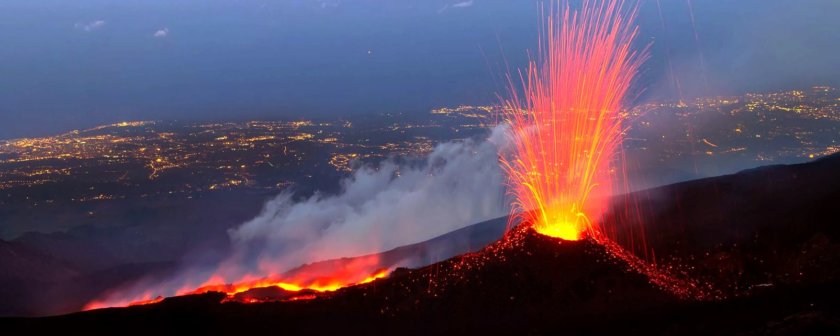 Where to stay in Catania?
Where to eat in Catania?
Canni & Pisci-Meat & Fish : Seafood and fish restaurant, nicely furnished in a vaulted room. Very quiet. Typical Sicilian cuisine. Menu at 25€ or 30€, very copious and very good dishes. Reservation recommended.
Eat Pizzeria : Very good pizzeria. Wide selection of excellent and copious pizzas. Very good value for money. Friendly atmosphere, welcoming staff..
Feelin' Good : Restaurant specializing in salads and burgers. You can make your own salad. Fresh produce. Good burgers for a reasonable price. Suitable for vegans.
How to go to Catania ?
By plane, most airlines fly to Catania from the major cities, Easyjet company often being the cheapest. If you book early enough, the round trip can cost you 60€ (without checked baggage). The airport is about 7km from the city center, and there are many buses doing the transfer (1€, every 30 minutes).
You can also rent a car when you arrive, the prices are not very high but be careful when choosing your rental company and the insurances offered. make sure to double read your contract! Prefer agencies that offer you to return the car with full tank (to do it yourself before returning), as else they will automatically charge you full double fare!
When you pick up the car, note the slightest scratch or impact and when you return, insist on going around with the rental company. The most frequent scam, when your flight is outside of the rental agency's opening hours, is to tell you to drop the keys in the mailbox and the agency will take care of the returned car check.
Once back home, you will be debited 300 à 900€ for fake damages! (Yep, it happened to me also).
It's unfortunately a common scam in Sicily, and that's why you must take an insurance when booking your car in order to get a refund. Remember to keep all the documents given by the car rental agency, they will be asked during the refund procedure.
Do you plan to visit Catania during your trip to Sicily?
Sicily travel Guides
You're traveling in Sicily? These articles will help you!
Discover all my articles about Sicily: All my articles to help you plan your trip to Sicily are listed there.
You're using Pinterest? Here is the picture to pin!