Things to Do in Syracuse: All Highlights and Best Places to Visit

If you are planning a trip on the east coast of Sicily, one of the must-see is the city of Syracuse (Siracusa in Italian).
This beautiful coastal city is well known for its remarkable historical heritage and its charming old town: Ortigia Island. It's the perfect place to spend a few days during your travel in Sicily!
In order to help you plan your stay in Syracuse, I have written a guide of the 18 best things to do in and around the city.
In addition to this list of must-see attractions, you will also find itineraries to visit Syracuse in 1, 2, 3, 4 or 5 days and a list of the best accommodations in the city, so you will know where to stay in Syracuse, Sicily!
As always, I will also give you my best tips, so you will make the most out of you stay.
Now, let's plan your trip!
1. Ortigia island

Ortigia island is Syracuse old town and certainly the most attractive district.
Once you cross the bridge that connects Ortigia to the city, you will be surprised by the calm that reigns there. In order to preserve this charming ambience, the island is mostly pedestrian only, and some parking spaces are reserved for residents only.
But don't worry, you will find several paid car parks during the day and you will soon realize that the parking rules in Sicily are not really respected.
After 2 days in Syracuse, you will probably adopt the local behavior and park your car in the first parking space you find, authorized or not.
Voyage Tips - Advice
You can't visit Ortigia island by car, but you can do it by Segway! If you plan to visit the island and want to enjoy an original activity, you should thus book a Segway tour.
This 3 hours segway tour will allow you to discover the main sights of Ortigia, but also those of Syracuse. It needs to be booked using the button below: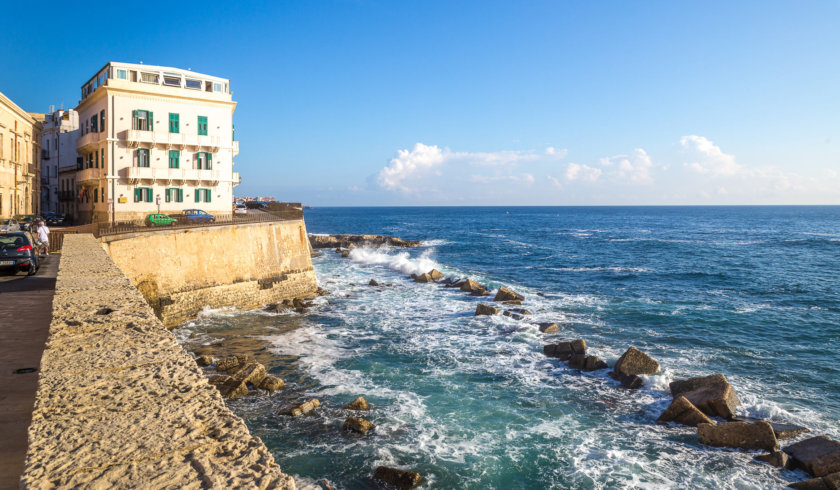 2. Temple of Apollo and Syracuse market

Once the parking problem has been solved, start your day in Syracuse by having a look at the Apollo temple at the entrance of Ortigia Island.
Nearby, you will find Syracuse market, which is held every morning. Attracted by colors and smells, it's the right moment to plan a good picnic with sausages and Sicilian cheese!
Voyage Tips - Advice
And if you feel like discovering the typical small restaurants and tasting excellent local products, you should take a gastronomic tour.
Your guide will give you all the best addresses in the city. During the tour, you will enjoy seafood, fish, bruschetta, arancini, foccacia, cheese, cannoli and wine tasting.
You need to book this food tour by clicking on the button below:
3. Syracuse harbour
Located close to the market, Syracuse harbour is the ideal place to discover Sicilian life scenes, especially the fishermen and their boats that takes you a hundred year in the past. It is the port that joins the city of Syracuse and Ortigia island.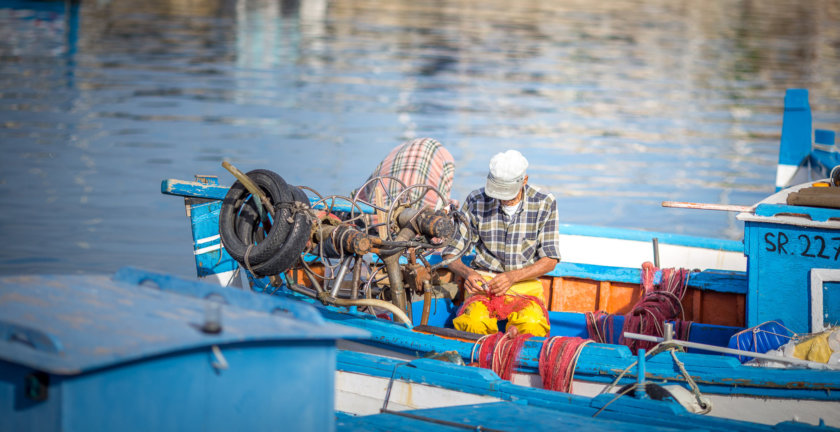 4. Castello Maniace
Afterwards, you can visit Castello Maniace, at the tip of Ortigia Island, which is only open in the morning.
With a €2 entrance fee, the visit will take about an hour, and the castle is especially interesting for its view. There are also a few mini museum rooms to visit.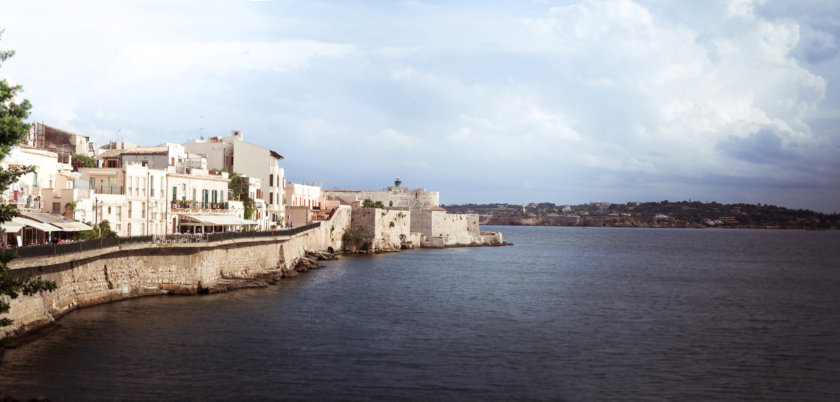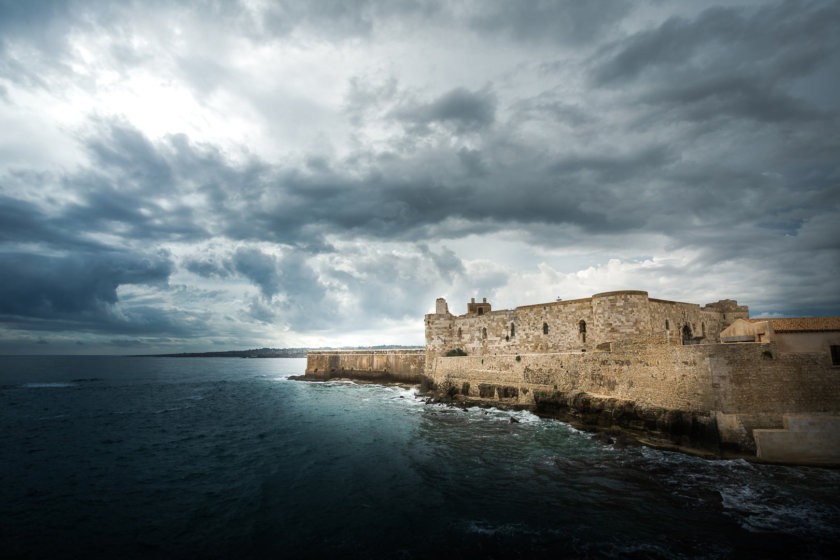 5. Arethusa fountain

Take a stroll through the many narrow and quiet alleys. There is no risk of getting lost, Ortigia Island is very small and no matter which way you go, you will always find the seaside.
About seaside, a nice idea is to follow it and have a walk around the island. In addition to the beautiful panoramas, you will also discover the Arethusa fountain (on the west coast of Ortigia) with its mythological origins.
At the end of the afternoon it is the ideal place to admire the sunset which is simply amazing!
Voyage Tips - Advice
You're going to Syracuse?
You probably know it: the hardest part of planning your trip is to find an hotel offering a good value for money!
The closer you get to your travel dates, the harder it will be to get a good deal. Lots of people will be visiting Syracuse on the same dates as you, so you can be sure that the best deals are booked extremely quickly!
Hopefully, there is a pretty simple solution to this problem: do like me and book your hotel as early as possible!
So, my best advice is to take 5 minutes (now) to have a look at the list of travelers' favorite hotels in Syracuse.
And if you see a good offer, book it!
Most hotels offer free cancellation, so it's quick, easy, and you will avoid the the inconvenience of finding nothing but mediocre rooms at exorbitant prices.
To check the current best deals for your hotel in Syracuse, simply click on the green button below 😎:
Once you've booked your hotel, it will be time to continue reading this guide and find out more about the best things to do in Syracuse!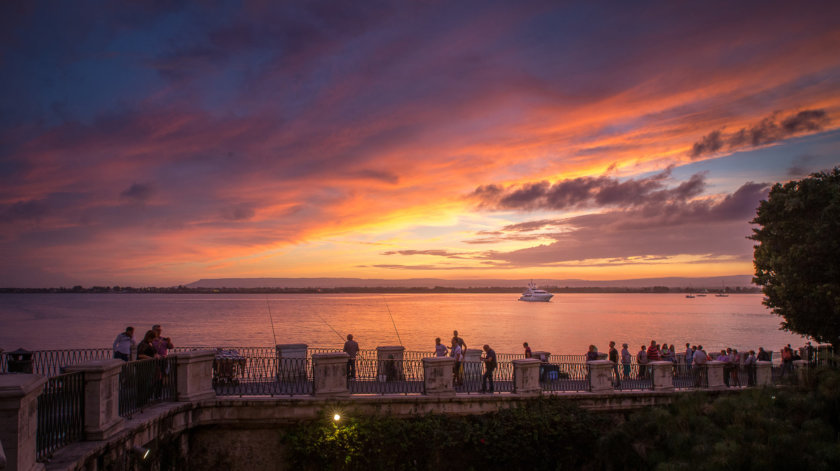 6. Piazza del duomo
Another must-see in Syracuse is the Piazza del Duomo, the island's main square.
This big pedestrian only area is surrounded by many white stone buildings that will dazzle you, and not only because the sun reflects very strongly on them! Their architecture is magnificent and they are very well preserved.
You can admire the cathedral of Syracuse ("Duomo di Siracusa"), the palazzo Beneventano, the town hall and the Archbishop's Palace ("Arcivescovile palazzo") as well as the church "Chiesa di Santa Lucia alla Badia".
It is also the time to enjoy a drink on one of the many restaurant's terraces on the piazza or enjoy a homemade ice cream on the steps of the cathedral. In the evening the square lights up and it's even more beautiful.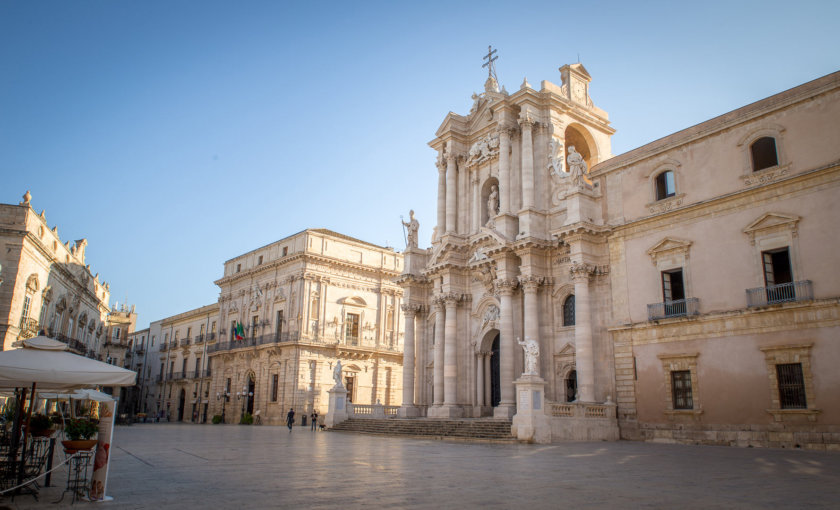 7. Fountain of Diana
Located on the Piazza Archimede, it is a beautiful fountain located just next to Piazza Duomo. It's also called "Fontana di Diana" or "Fontana di Artemide" in italian.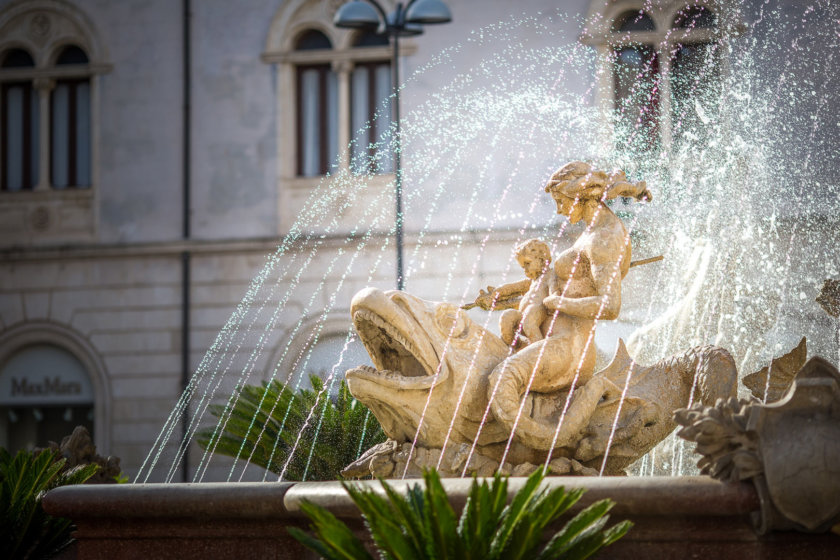 8. Take a stroll down the alleys of Ortigia Island

Wandering in the small streets of Syracuse old town is a great way to discover the charms of Italian lifestyle. In 3 days in Syracuse, we have discovered new alleys in Ortigia every day!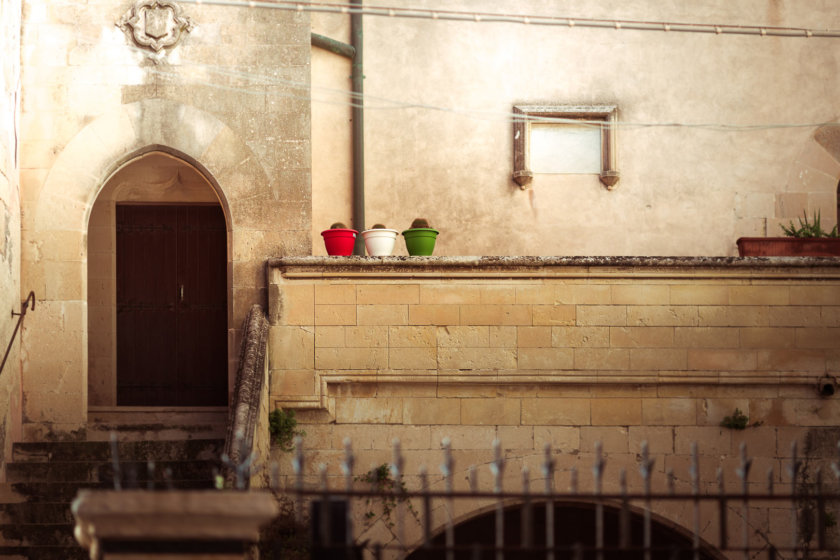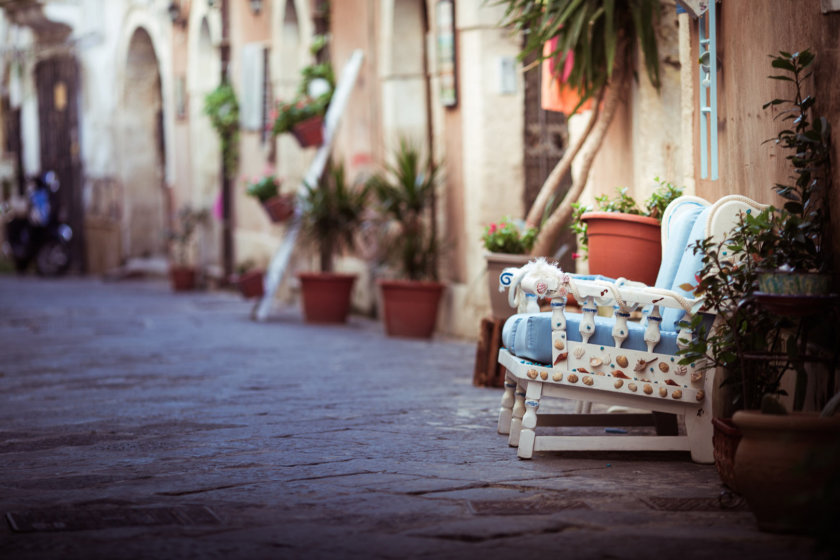 9. Piste cyclable de Syracuse
When taking the bridge to leave Ortigia Island, turn right and walk along the seaside until you reach the Piazzale dei Cappuccini, departure of Syracuse bike path.
Ideal for a good bike ride, your daily jogging or simply walking. You will be able to enjoy many viewpoints on the island of Ortigia and the surrounding cliffs.
10. Neapolis archaeological park

The Neapolis Archaeological Park is located on the northern side of Syracuse modern city, on the Viale Paradiso.
There are plenty of free parking spaces available along the road, so you won't have any trouble parking. Except of course in the middle of July and August when it's best to arrive at the opening hours (at 9 o' clock).
The ticket office is not located at the entrance of the park but on the left, far back in front of the souvenir shops and refreshment stands. Admission is 10€ and free every first Sunday of the month.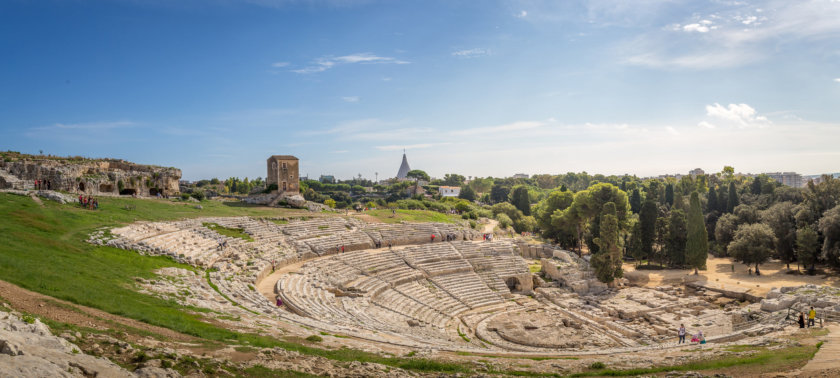 Once inside, you can admire:
A Roman amphitheatre, almost completely carved out of the rock. In the past, it was hosting wild beasts and gladiator fights.
A huge Greek theatre that can hold up to 20,000 people
The altar of Hieron II, dedicated to Zeus and used for animal sacrifices
The Ear of Dionysius (Orecchio di Dionisio in italian). It is a old limestone quarry of more than 20 meters high. Its name comes from the entrance shape, which looks like the inside of a giant ear. Legend has it that Denys the tyrant of Syracuse was there to listen to the conversations of his prisoners. Inside, the echo is impressive.
It's a pleasant site to visit and it doesn't present any particular difficulties if you are equipped with hats and sunscreen because it's really very hot. The visit takes around 2 hours.
Voyage Tips Advice
You want to know everything about the archaeological park? In this case, the best is to opt for a guided visit!
The one on Getyourguide is great, and it also includes the guided visit of Ortigia.
To book it, it's simple, you just have to click on the button below:
If you're interested in history and love archaeological sites, you can also visit the necropolis of Pantalica. It's located 1 hour away from Syracuse.
This UNESCO World Heritage site features 5000 tombs dug into the rock.
The best way to visit the Necropolis of Pantalica is to opt for a guided tour. You will learn everything about the archaeological site during this amazing day!
You need to click here to book the guided tour.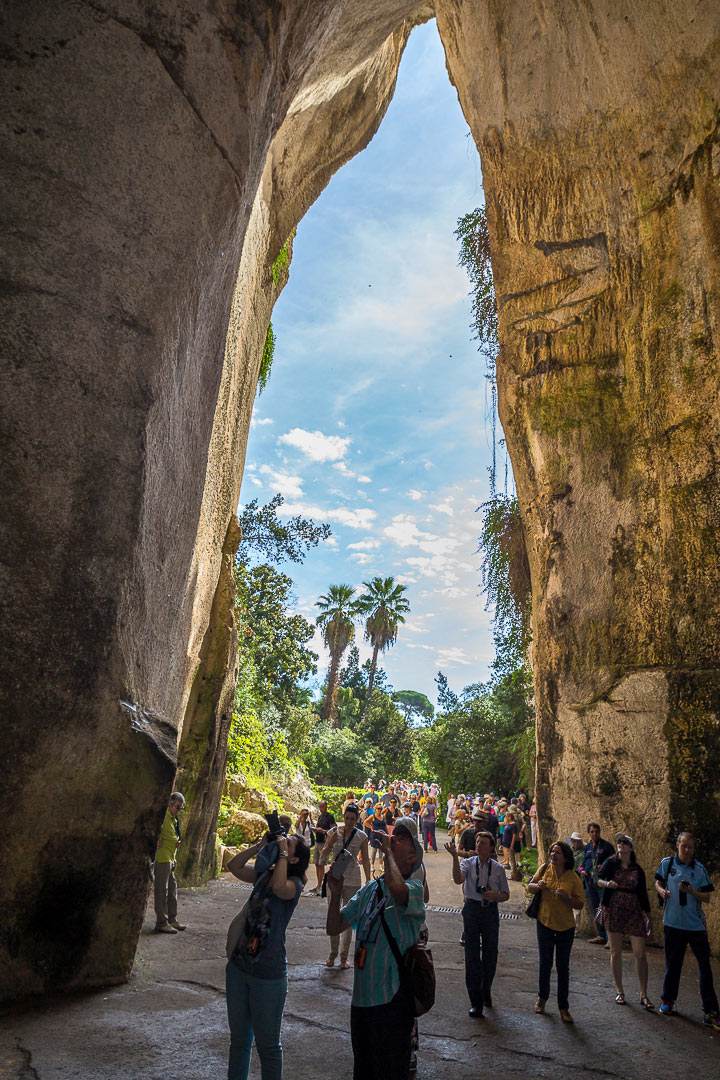 11. Santuario Madonna delle Lacrime
This shrine dominates the city of Syracuse and can be seen from afar. Worth to go see it especially for its uncommon exterior architecture! You should go see the Santuario Madonna delle Lacrime when going back to Ortigia on foot from the Neapolis archeological Park.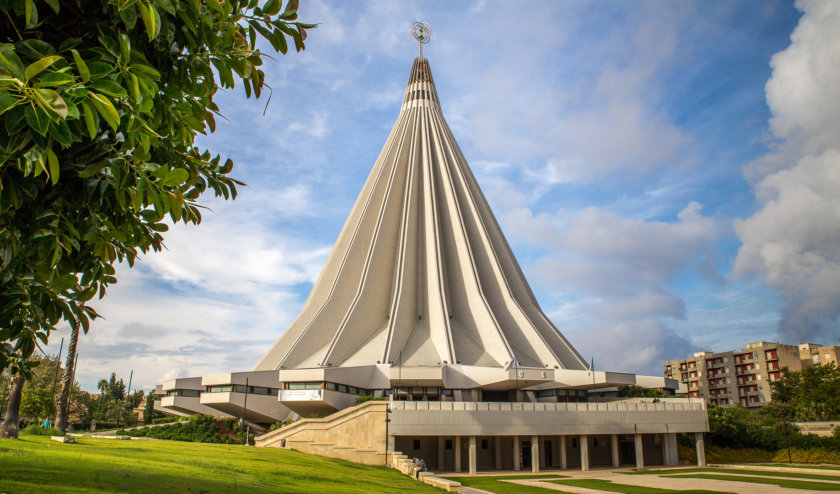 12. Archaeological Museum Paolo Orsi
Situated 500 meters from the Neapolis Archaeological Park, it is the ideal place to complete your visit to the park. Remember to take a combined park + museum ticket at 13.5€, you will save a little. Otherwise, the entrance fee for the museum only is 8€. It's closed on Mondays.
The Paolo Orsi archaeological museum  ("Museo archeologico regionale Paolo Orsi" in Italian) houses a collection of statues, sculptures, ceramics and various objects ranging from the period of Sicilian prehistory to Greek colonization.
13. San Giovanni catacombs

Also in close to the Neapolis Archaeological Park are San Giovanni catacombs ("Chiesa di San Giovanni alle Catacombe" in Italian). Not very well known to tourists, it's, in my opinion, a must-see in Syracuse!
These catacombs of Greek origin are located under the church of San Giovanni. It's possible to take a guided tour in Italian or English. The visit is really worth it!
The 5 best things to do around Syracuse
14. Beaches around Syracuse
For many of you, travelling to Sicily also means going to the beach! Here is my selection of the best beaches around Syracuse:
Ortigia Beach: It is possible to swim without leaving the city of Syracuse, on Ortigia island. In addition to the beach, you can find several pontoons for easy access to the sea.
Vendicari beach: Situated in the nature reserve of the same name, you will be able to observe pink flamingos in addition to swimming and sunbathing.
Calamosche Beach: The beauty of the place and its crystal clear beaches make it one of the most popular beaches around Syracuse!
Fontane Bianche: Apart from Ortigia, it is the closest large beach to Syracuse.
Avola beaches: the sandy beaches of Avola, of which "Gallina" is the most famous, are ideal if you travel with children, because the water is very shallow over a long distance. Perfect for playing in water!
Parco Marino del Plemmirio: To finish, my favourite place to swim in the area! Several beautiful small coves very close to Syracuse. Off-season, it's a very quiet spot!
Voyage Tips - Advice
To explore the most beautiful beaches and bays around Syracuse and to discover Ortigia from the sea, you should opt for a kayak tour.
This activity takes about 4 hours. Your guide will take you along the coast of Syracuse and show you the most beautiful landscapes of the area.
Book your guided kayak tour in Syracuse by clicking on the button below: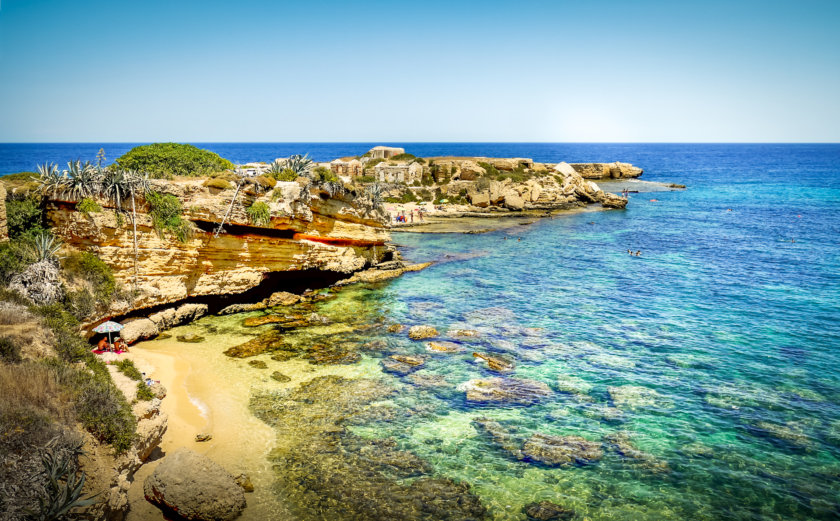 15. Riserva Naturale Orientata Cavagrande del Cassibile
It's the nature getaway not to be missed near Syracuse! The nature reserve Orientata Cavagrande del Cassibile is about an hour's drive from the city.
From the car park, count 30 minutes of descent on foot to reach the gorges. The ascent will take 45 minutes / 1 hour. The panorama is magnificent, with a beautiful view of the canyon. It is also possible to see Etna in the distance! It is an ideal place for walking, picnic and swimming.
Some tips for your visit:
Plan to bring drinks and good shoes preferably, because it's pretty steep!
In summer, go early in the morning to avoid crowds.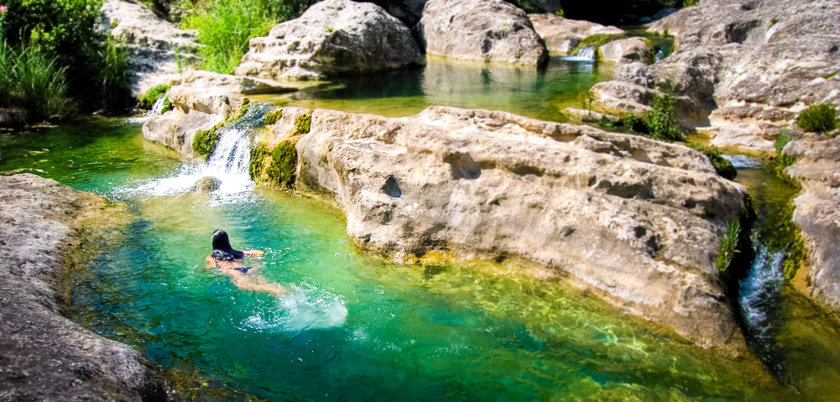 16. Catania
Catania is the biggest city around Syracuse. It will probably be the starting point for your trip to Sicily as Catania airport is the only international airport located on the east coast of the island.
A day is enough to visit the city on foot and discover the main historical buildings. If you want to visit the Etna, you can however spend a bit more time there, Catania being a great starting point to visit the Volcano as a day trip.
ou can find detailed information about Catania in my article: The 14 best things to do in Catania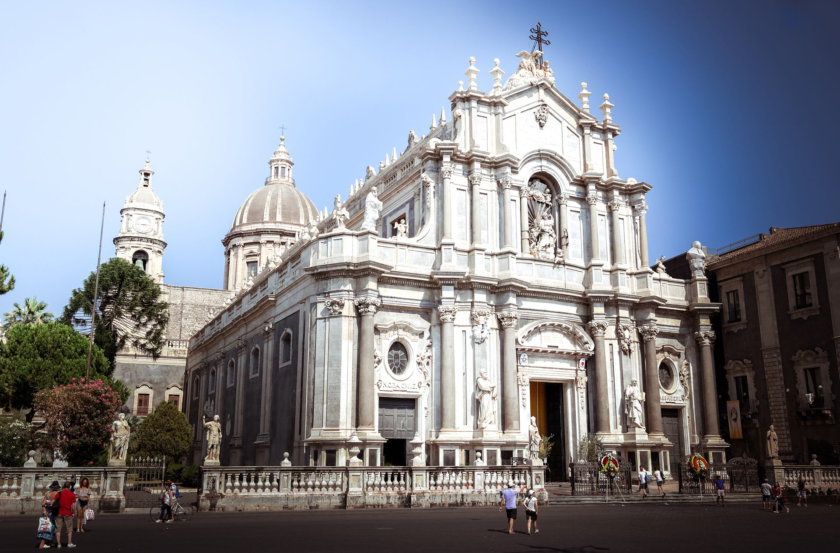 17. Taormina
Still around Syracuse, on the east coast of Sicily, you can also head to Taormina.
With its small streets lined with restaurants, its Greek theatre and its breathtaking views over the Etna Volcano, the place is really worth a visit!
And while you're in Taormina, don't forget to also go to Isola Bella, a beautiful beach with crystal clear waters located at the foot of the city.
You will find every information you need to visit Taormina in my article: The 10 best things to do in Taormina.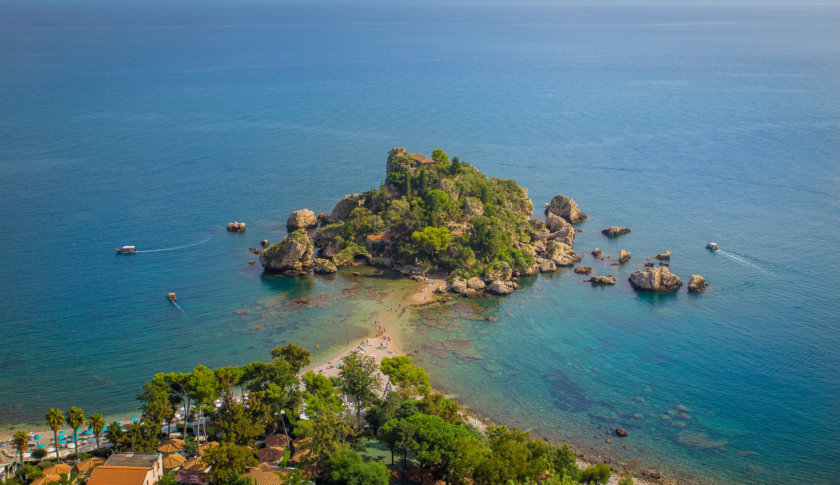 18. Noto, Modica and Ragusa baroque towns
While you're in Syracuse, you should definitely go visit Noto Modica and Ragusa baroque town.
These 3 Sicilian towns are listed as UNESCO World Heritage Sites for their magnificent Baroque churches and palaces.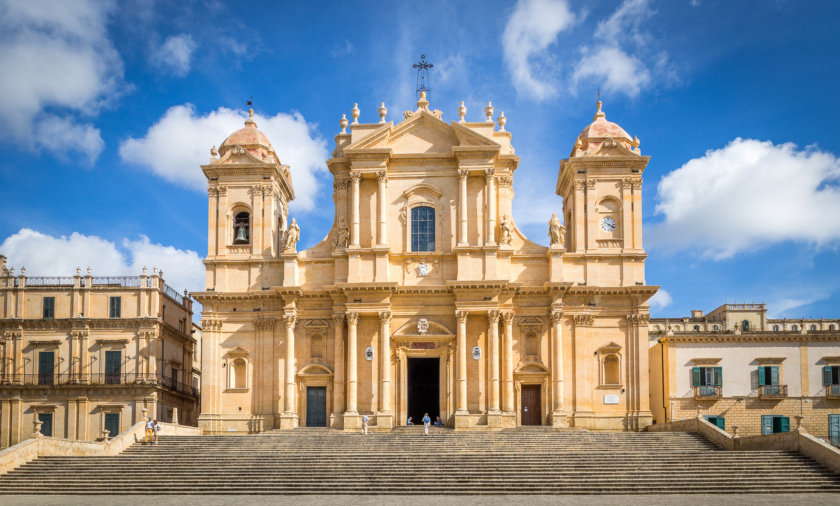 How many days in Syracuse, Sicily?
In my opinion, it's a good idea to stay at least 2 days in Syracuse. It's the time it will take you to visit all the must-see attractions of the city.
Syracuse is also a great starting point for day trips. here are some of my favorites!
Visit the Baroque Cities of Noto, Ragusa et Modica (you can do all 3 in a day)
Go to the Parco Marino del Plemmirio to enjoy the sea!

Spend half a day at the nature reserve Orientata Cavagrande del Cassibile
1 day in Syracuse
If you have only 1 day in Syracuse, the best is to focus on Ortigia island, by far the most beautiful part of the city. The visit is entirely on foot. Here is a suggested itinerary, so you will not miss any points of interest.
Start with the piazza del duomo
Then go down to the temple of Apollo and the food market. On your way, you will see the Fountain of Diana
Take a look around the fishermen's harbour
You will certainly want to go back to the market to eat something!
Then go sputh along the coast to Castello Maniace and make the visit.
Stroll through the alleys of Ortigia Island, have a drink on the terrace of a café and enjoy the Italian dolce vita!
Then go to the Fountain of Arethusa to enjoy the sunset
End your day with an ice cream on the piazza del duomo
2 days in Syracuse
If you have 2 days in Syracuse, take the itinerary of the 1st day I mentioned above and use this second day to visit the other main-attraction of the city, after Ortigia island. This day can also be done on foot.
Start your day with a walk along the Syracuse bike path, which offers a beautiful view of Ortigia Island and the sea.
Lunch break
Then head to the archaeological park of Neapolis for the first part of the afternoon.
after, you should really go to San Giovanni Catacombs, before going back to your hotel on Ortigia Island.
If you have followed our advice and are staying on Ortigia Island, you will go through the Santuario Madonna delle Lacrime.
3 days in Syracuse
In 3 days in Syracuse, you will have time to do a day trip outside the city. You have several options:
Visit Noto, Ragusa and Modica, 3 beautiful baroque towns in the surroundings of Syracuse. It's the cultural option.
Enjoy the beaches close to Syracuse, for example at the Parco Marino del Plemmirio.
Why not do half beach and half nature, and go to the nature reserve Orientata Cavagrande del Cassibile in the morning?
For this day, or if you spend 4 or 5 days in Syracuse, you can also:
Head to Taormina, visit the old town and enjoy Isola Bella beach
Visit Catania
Where to stay in Syracuse ?
A piece of advice: in most cases, it's better to sleep on Ortigia Island rather than in Syracuse itself, the prices are not necessarily higher and the environment is much more pleasant.
TRE Archi B&B: Located at 50 meters from the piazza del duomo, quiet. Colorful and authentic room. Free Wifi. Double room from 50€, breakfast included.
II Duomo: Located on the Piazza del Duomo, you can't dream of a better location. Large room with classic decoration. View on the garden or the square. Free Wifi and possibility of paid parking. Double room from 80€, breakfast included.
Alla Giudecca: Located at 5 minutes on foot from the Piazza del Duomo. Large and bright double room starting at 120€ per night, breakfast included. Strong points: The beautiful view from the terrace, the location, the good breakfast.
Caportigia Boutique Hotel: Located at 1km from Neapolis archaeological Park (not on Ortigia Island). Beautiful modern double room starting at 200€ per night, breakfast included. Strong points: The amazing breakfast, the staff, the jacuzzi on the terrace. If you want something modern, it's the place you need to book! It's the best for a luxury stay in Syracuse.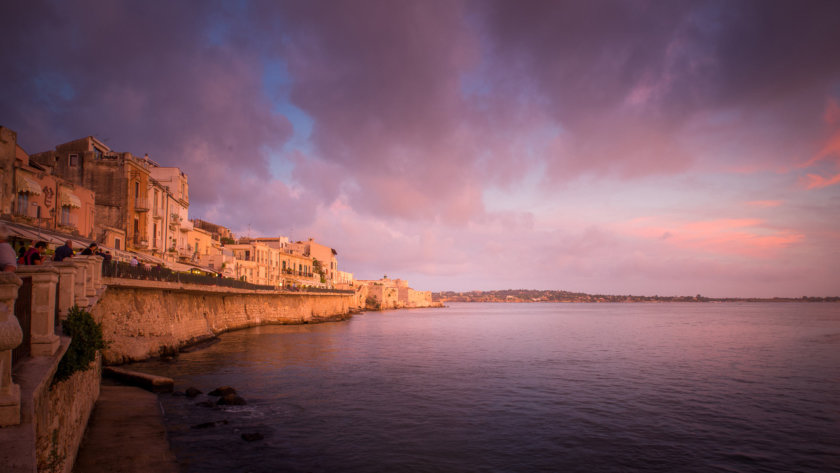 Where to eat in Syracuse, Sicily ?
Caseificio Borderi: Located at the end of the Ortigia island market. Watch the chef prepares a HUGE sandwich according to his inspiration of the moment. Each sandwich is unique and their elaboration is a real spectacle. All this for only 5€ for 2 people, the sandwiches are so big that only one is enough for 2. Plan to go early because the waiting line is impressive.
Sicilia in tavola: Nice place and friendly welcome, it is the perfect trattoria for your meal. Pizzas, homemade pasta, fish, large choice of dishes for a moderate price. Don't miss the tiramisu dessert. It's best to book.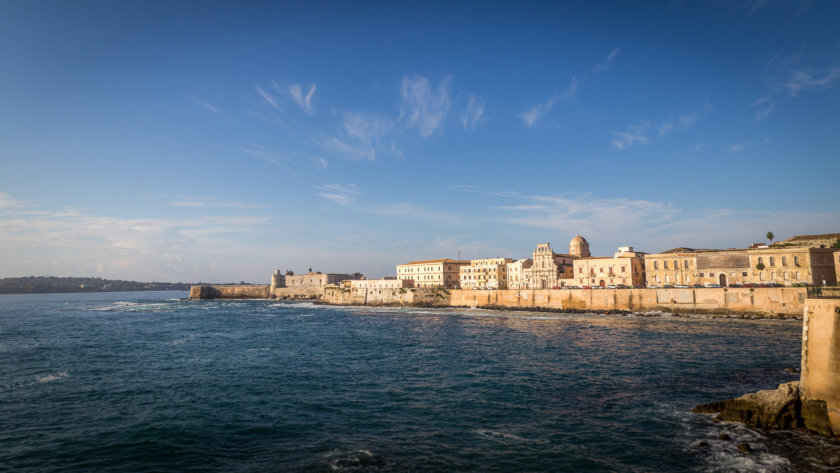 Renting a boat in Siracusa
If you want to rent a boat for a nice day at sea during your trip to Siracusa, you should book it with Samboat.
Motorboats, sailboats, yachts, small boats without a license, with or without a skipper: they simply have the most complete offer for boat rental.
So, what are you waiting for to book your boat trip in Sicily? 😊
How to go to Syracuse?
From Catania airport:

By car: 1 hour of highway by E45 et SS114
By bus: A bus every hour from monday to saturday.  6 buses on Sunday. 1h15; 5.70€
By train: There are many trains, but they are a bit slow ; 2h ; 6€
I hope this article will help you to visit Syracuse! If you have suggestions of other things to do in Syracuse, don't hesitate to let me know in the comments.
Book your trip now and save money!
Sicily travel Guides
You're traveling in Sicily? These articles will help you!
Discover all my articles about Sicily: All my articles to help you plan your trip to Sicily are listed there.
You're using Pinterest? Here is the picture to pin!