Things to Do in Malaga: The 15 Best Places to Visit (All Highlights)
You're planning to visit Malaga during your trip to Andalucia and you're looking for the best places to visit?
Perfect!
In order to help you plan your stay, i have prepared this guide of the best things to do in Malaga and its surroundings. In addition to the must-see attractions and points of interest, I will also give you all my best tips as well as my list of the best accommodations in town depending on your budget.
Let's plan your trip!
Visit Malaga: the 15 Must-See attractions
1. The Alcazaba of Malaga
The Alcazaba is probably the most well-known tourist attraction in Malaga.
Built in the 11th century by the Moors, this palace was both the home of Muslim rulers and a fortress to protect and defend the city from the Catholics.
The site is very well preserved and maintained. During your visit you'll discover the courtyards, patios, fountains and sumptuous gardens. As it's built on a hill overlooking Malaga, it offers a lovely view over the sea and port.
There's also a small archaeological museum showcasing Moorish pottery and ceramics.
If you want to know more about the history of the place, you should book a 1h30 guided tour of the Alcazaba. It even includes the Roman theater ruins (see below). You can book it here.
Voyage Tips Advice
You can get a combined ticket at 5.50€ to visit both the Alcazaba and Gibralfaro castle.
Good to know: Entrance to the Alcazaba is free every Sunday after 14:00.
Voyage Tips - The Culture Spot
The root of the word "Alcazaba" comes from the Arabic word "al-qasbash" meaning "fortress". That's why you find Alcazabas in various cities in Andalucia. There is also one in Granada for example.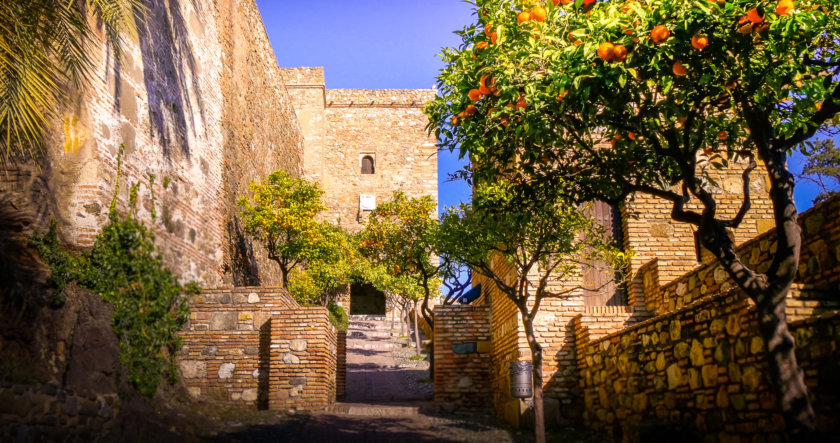 2. Gibralfaro castle
Another place you must visit in Malaga is Gibralfaro castle.
From the Alcazaba, you can go to the castle on foot via a path offering great views over the city. It is however a bit steep, so if you prefer, you can take the bus #35 from the Avenida de Cervantes to go there.
The castle was built in the 14th century to protect the Alcazaba. It had a barrack to house soldiers, as well as a lighthouse. That's actually where the castle got its name from: Gibralfaro means "mountain of light".
There is a building right at the entrance to learn more about the history of the castle, but the visit is mainly worth it for the view over Malaga and the sea from the ramparts. On clear days it's even possible to see the Strait of Gibraltar.
It's the best scenic view over the Malaga, and it's also very nice at night with all the city lights.
3. Malaga Roman theater
Another great thing to do in Malaga is to visit the Roman theater located at the bottom of the Alcazaba.
It's the oldest site in Malaga: it was built in the first century AD by Augustus and was used as a theater during the 2nd century. Then, it was converted into a cemetery to finally be abandoned. Some of the rocks from this site were used to build the Alcazaba.
The Roman theater ruins were only discovered in 1951, when the building that was built on top was destroyed.
Nowadays, many outdoor performances are taking place there.
Entrance is free.
Don't forget that if you book a guided tour of the Alcazaba here, it also includes a guided visit to the Roman theatre.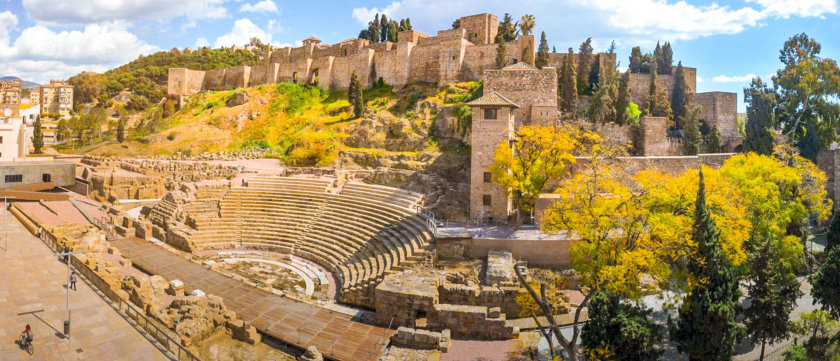 4. The Malaga Cathedral
The cathedral is one of the best places to visit in Malaga.
It's one of the tallest in Andalucia, you can see it from far away! Construction work started in the 16th century, on the foundations of the city's old mosque.
Construction lasted for 200 years, and got suddenly halted because of a lack of funding. As a result, the cathedral was never completely finished, and has only one bell tower (whereas 2 were planned to be build). Locals even call it "La Manquita" (meaning the armless one).
You can climb the 200 steps to go up the 87 meters high tower: you'll be able to enjoy a 360° scenic view over the whole city, the Alcazaba and Gibralfaro castle.
Don't miss out on the interiors either to see the decorated ceiling, the beautiful stained-glass windows, the chapels or even the 4000 pipes organ.
For more information about prices and opening hours, you can have a look at the official website (in Spanish).
Voyage Tips - Advice
You're going to Malaga?
You probably know it: the hardest part of planning your trip is to find an hotel offering a good value for money!
And that's even worse in big touristic cities like Malaga 😅.
The closer you get to your travel dates, the harder it will be to get a good deal. Lots of people will be visiting Malaga on the same dates as you, so you can be sure that the best deals are booked extremely quickly!
Hopefully, there is a pretty simple solution to this problem: do like me and book your hotel as early as possible!
So, my best advice is to take 5 minutes (now) to have a look at the list of travelers' favorite hotels in Malaga.
And if you see a good offer, book it!
Most hotels offer free cancellation, so it's quick, easy, and you will avoid the the inconvenience of finding nothing but mediocre rooms at exorbitant prices.
To check the current best deals for your hotel in Malaga, simply click on the green button below 😎:
Once you've booked your hotel, it will be time to continue reading this guide and find out more about the best things to do in Malaga!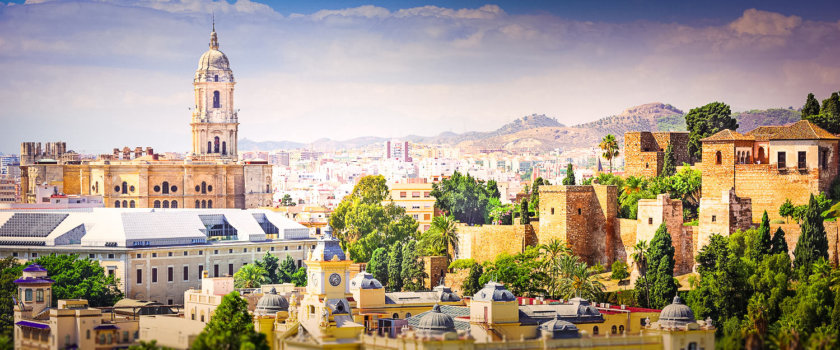 5. Museums to visit in Malaga
You may not know about it, but there are a lot of museums in Malaga. Actually, with almost 30 museums, the city has proudly become the cultural capital of Andalucia.
Here is a list of museums to visit during your trip to Malaga (depending on your tastes and interests):
Picasso Birthplace Museum (get you tickets here): where he was born in 1881. You'll learn more about his life and will see some of his personal belongings on display.
Picasso Museum with more than 200 artworks from the artist
Carmen Thyssen Museum with its extensive collection of Spanish and Andalusian paintings
Pompidou Centre Malaga, is a branch of the famous Pompidou Centre in Paris
Russian Art Museum offers a collection of Russian art pieces in an old tobacco factory
Museo de Malaga with an archaeology section, a Moorish section and a Spanish paintings section.
Flamenco Art Museum dedicated to the traditional Spanish dance.
Museum of Glass and Crystal to see the private collection of an Andalusian aristocrat
Malaga Centre for Contemporary Art dedicated to 20th and 21th century art
Automobile Museum Malaga and its 85 perfectly renovated vintage cars.
National Museum of Airports and Air Transport
Museum of Arts and Popular Traditions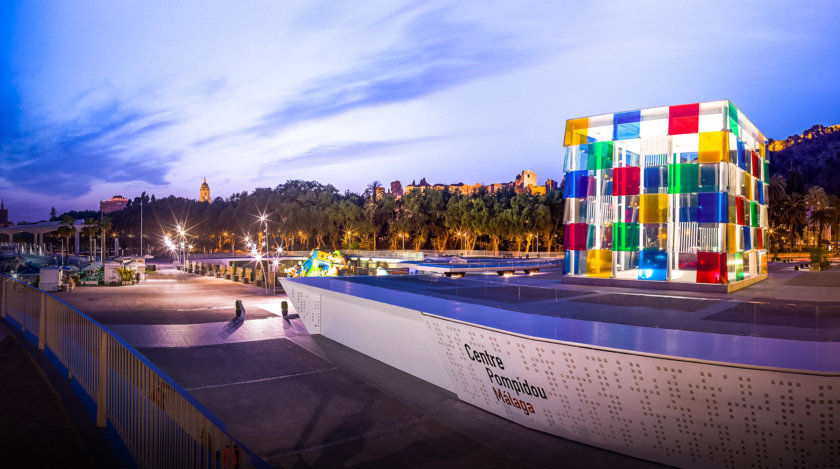 6. Malaga beaches
During your trip to Malaga, it would be a shame not to enjoy the beaches close by. They are perfect to relax a bit!
Here is a selection of the best beaches around Malaga:

Malagueta beach located next to the port, it's the closest from the city center
Pedregalejo beach, located a bit East of Malagueta
La Caleta beach, very crowded during summertime
El Palo beach, a family-friendly beach located in the fishermen neighborhood
La Misericordia beach, a large sandy beach, one of the most popular in Malaga
El Campo de Golf beach very popular among kite-surfers
San Andrés beach, another popular beach, there is also a grassy areas and a playground
Penon del Cuervo beach: young people love it, it's a great place to party and have a barbecue!
Voyage Tips Advice
Everywhere along the beaches, you'll find small food stalls called Chiringuitos, where you can eat fish and seafood dishes. In Malaga, the local speciality is grilled sardines ("espetos de sardinas") served on skewers!


7. La Concepción Historical Botanical Gardens
Malaga botanical garden is located in the Northern part of the city.
You can take the bus #2 to go there from the city center, get off at the last stop and walk for another 15min to reach the garden entrance.
It's one of the largest tropical and subtropical garden in Spain and even Europe. You'll see there more than 2000 species of trees and plants spread over about 250 000 m². Malaga botanical garden is the perfect spot for escaping the hustle and bustle of the city!
It's clearly one must see attractions in Malaga.
For more information, you can visit the official website. Guided tours are also available: you can choose between 3 types of themed tours, lasting from 1 to 4 hours.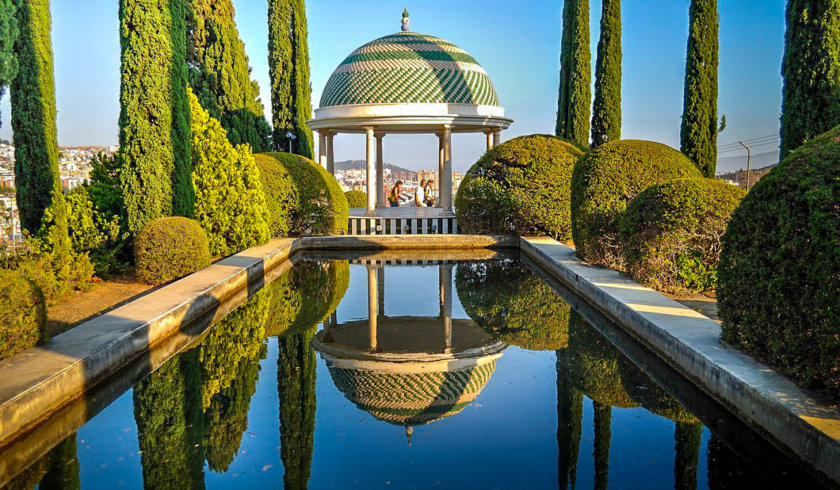 8. The Atarazanas market
Let's continue this guide of Malaga with Atarazanas market.
When you travel somewhere, whether it's in Spain, Sicilia or even Greece, the market is always the best place to get some delicious local products. In Malaga, I recommend going to the Atrazanas market.
This covered market is located in a stunning 19th century building with colorful stained-glass windows. It's a very vibrant place with plenty of fresh produces stalls, Spanish cured meat and cheese.
You'll also find tapas bars close to the main entrance, a nice way to try all these fresh and tasty products!
The market is open Monday to Saturday, from 8:00 to 14:00. It is closed on Sunday.

9. Soho neighborhood
Running out of ideas about what to do in Malaga? You should go for a walk in Soho district!
Once a decaying neighborhood, it has been totally transformed and renovated by street artists. Some buildings and facades are today completely covered with street art, the biggest painting being a few stories tall! The area is also called the art district.
Most art works are located close to the Contemporary Art Centre of Malaga, along the banks of the Guadalmedina river and in nearby streets. Wandering in this part of the town is really pleasant.
In this neighborhood you'll also find handicraft shops, art galleries, restaurants serving world cuisine and a few trendy bars.

10. Montes de Malaga Natural Park
During your stay in Malaga, you should really go to Montes Natural Park. It's really the perfect place to enjoy some fresh air not too far from the city!
Considered as "Malaga's green lung", it's located about 25km up North from the city center.
The park is 5000 hectares wide, with marked paths for hiking. Most of the hiking paths suit all levels and are not very long, so you can easily combine a few during a day.
It's also possible to rent mountain bikes and ride along the 2 mountain bike trails. You can choose between a 7km or a 14km itinerary.
The park is well equipped with picnic areas and even a few restaurants serving "plato de los montes". This mountain dish is a local speciality: it's made of pork loin, sausages, blood sausage and eggs, with a side dish of potatoes and fried bell peppers. Needless to say it should satisfy your hunger!
You can also go see the ecomuseum located in the visitor center, explaining how wine, bread or olive oil are made.
All the necessary information to plan your trip to Montes de Malaga Natural Park is on the official website.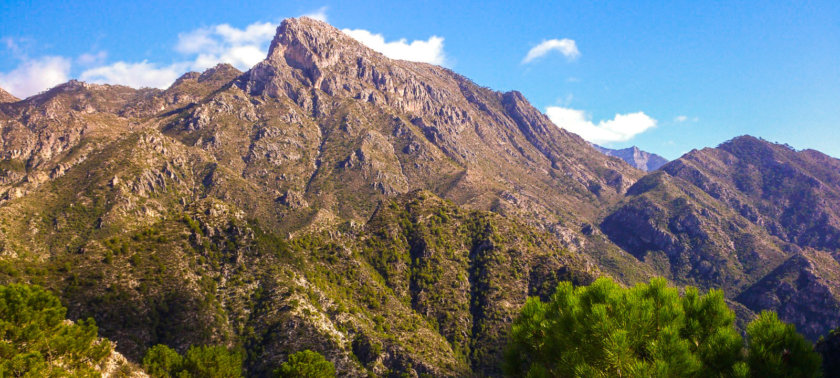 The 5 best things to do around Malaga?
If you're done exploring Malaga itself, you should go visit its surroundings. Here are my favorite places to visit around Malaga.
11. Caminito del Rey
The caminito del Rey is located about 1h driving from Malaga.
It's a very spectacular hiking path, once considered the most dangerous one in the world. But don't worry, it has been completely secured and rearranged so it's 100% safe now.
However, as the path is more than 100 meters above the ground, it's still very impressive!
Beware if you're afraid of heights: once you've started the hike, you can't go back. The path is only one way so you must finish it.
If you want, you can book a guided tour to the Caminito del Rey. The guide will be with you during the whole hike and will give you information about the site's history. These kind of tours are often fully booked weeks in advance, so you must book it in advance here.
And if you also want to have transportation from Malaga to the Caminito, you can book a day-tour. Fare includes transportation by minibus from Malaga to the Caminito del Rey, entrance ticket and hiking with a guide. It needs to be booked there.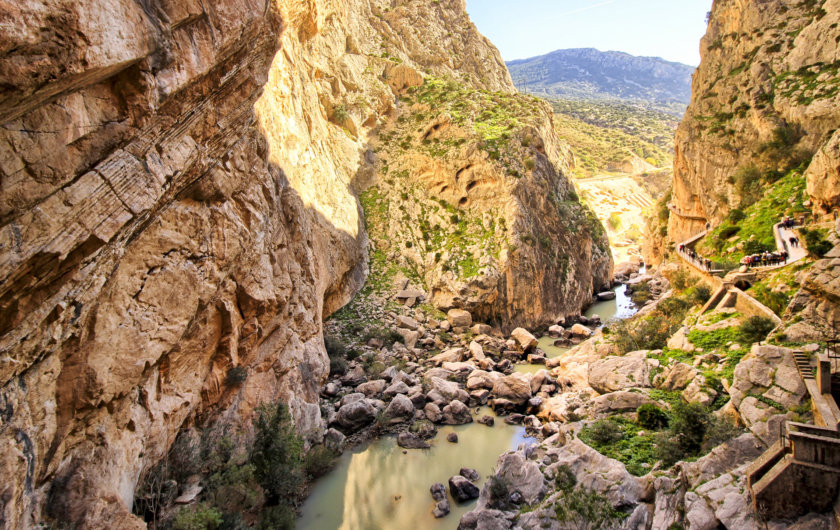 12. Nerja caves
Around Malaga, you can also go to Nerja, about 50min away by car.
Going to see Nerja caves can be a great family excursion to do in the area! The caves were discovered by chance in 1959, and are home to one of the widest and tallest column in the world.
A regular visit (without a guide) lasts about 45min. There are audioguides available to learn more about the history of the caves and their discovery. There are many steps and it's quite cold, so remember to wear warm clothes and comfortable shoes
You need to book your tickets to visit the caves of Nerja in advance by clicking here!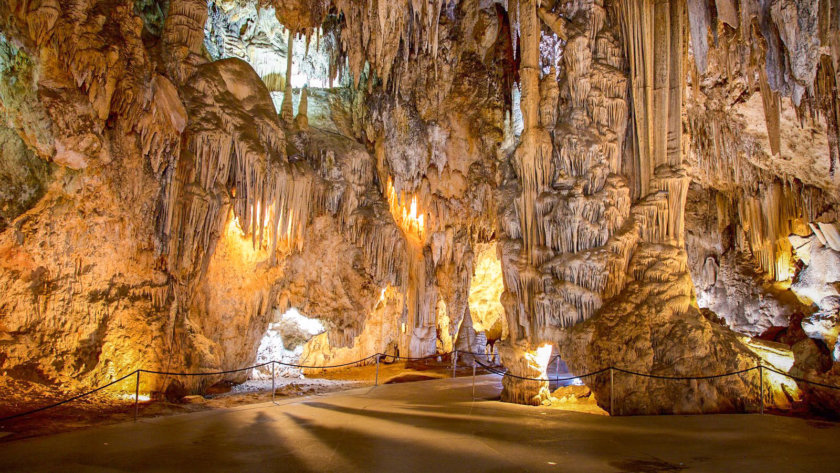 13. Marbella
Marbella is located 1 hour driving from Malaga.
It's the most chic and trendy costal resort of the Costa del Sol, in Andalucia. There, you will find plenty of luxury shops, VIP bars and clubs along with 20km of beach to relax all day long.
If you like to party, Marbella is the best place to go to near Malaga!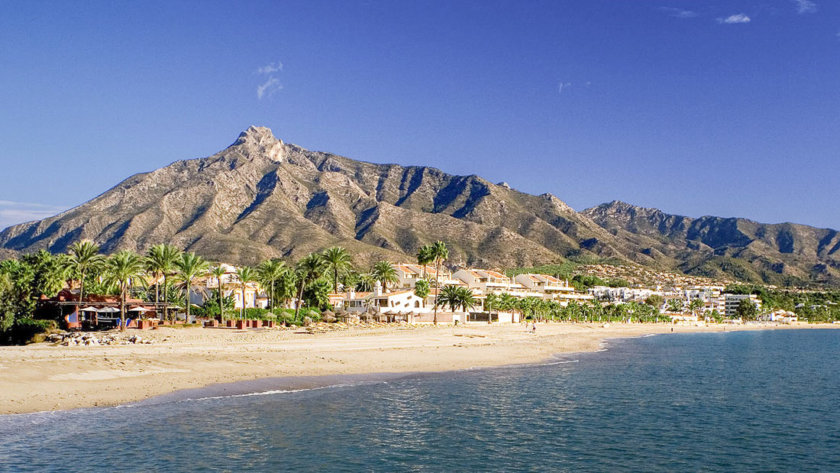 14. Ronda
Ronda is another great place to visit around Malaga, at only about 1.5 hours driving.
This lovely village located on the top of a hill is mostly famous for the bridge that connects the old and the new parts of the village. It's featured on all the postcards you can find in the area!
To access the best viewpoints, you will need to go to Plaza Maria Auxiliadora, then go down the path. You can take a perfect photo of the village and the bridge from there.
In Ronda, you can also go for a walk in the narrow streets and visit the bullfighting arena, Mondragon palace or La Casa Del Rey Moro.
If you'd like to go to Ronda on a guided tour, you can book one that will start from Malaga.
Transportation, guided tour of Ronda, the arena and visit of a wine cellar are included in the price of the tour. You can book it here.
Fore more information about Ronda, you should read my detailed guide about the village: The 10 best things to do in Ronda

15. Granada
Granada, one of the most famous city in Andalucia is located only 1h40 away from Malaga.
The city is known all over the world for its famous Alhambra. It's the most visited tourist site in Spain.
It would be a shame not to go spend at least 1 day in Granada while you're in Malaga!
Besides the Alhambra, you can also visit:
The Albaicin neighborhood
The Sacromonte
Granada cathedral
The Basilica of San Juan de Dios
La Cartuja monestary
If you're in Marbella and don't want to rent a car, you should book a day-tour to Granada.
The price includes transportation, entrance tickets for the Alhambra and the Nasrid palaces as well as a visit of the Albaicin neigborhood. It needs to be booked here.
For more information about Granada, you should read my detailed guide: The 15 best things to do in Granada.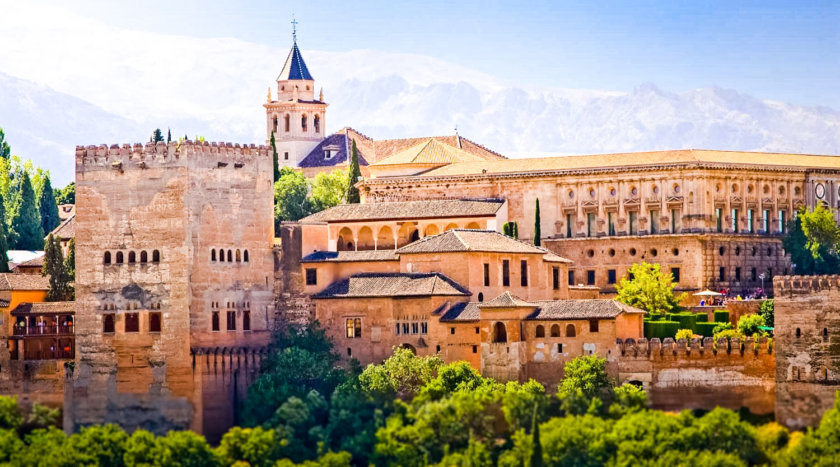 How many days to visit Malaga?
If you just want to visit the city itself, 2 days are enough to visit Malaga. You'll have enough time to see most of the places I talk about in this guide.
If you want to visit several museums or explore the city's surroundings, you can of course stay for 3 or 4 days in Malaga.
1 day in Malaga
If you're in Malaga only for one day, here is my recommended itinerary:
Start with Gibralfaro castle
Then go down to the Alcazaba
Stop by the Roman theater
Lunch break
Visit the Picasso museum or another museum depending on your tastes
Go see Malaga Cathedral
End the day at the beach
If you don't want to walk too much but still want to see as many tourist sites as possible within a day, you should opt for the hop-on hop-off bus. You need to book it here.

During your booking you can also choose the "Malaga Experience Card" option: it includes the bus ticket, but also free entrance to most museums in the city, a 1 hour boat tour and a ticket to see a flamenco show.
2 days in Malaga
For 2 days in Malaga, add the following activities to the 1 day itinerary above:
Visit Carmen Thyssen museum or the Pompidou Centre

Go explore Atarazanas market
Lunch break in one of the market's tapas bar
Go for a stroll in Soho neighborhood
By the end of the day, head to the botanical garden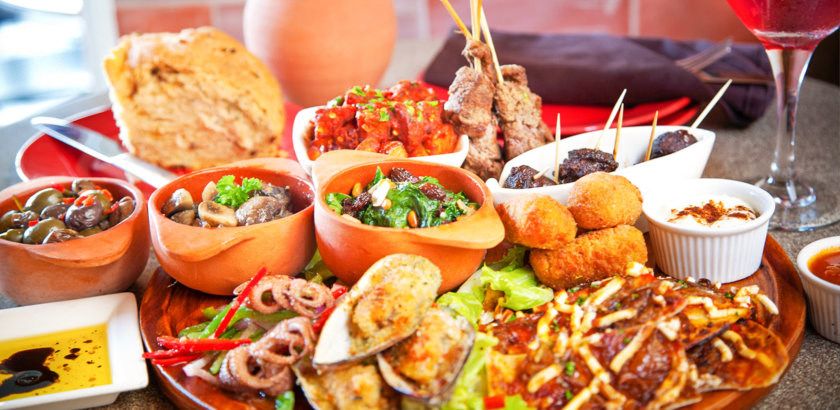 3 days in Malaga
You're planning to visit Malaga in 3 days? Great!
I recommend following the 2 days itinerary above.
On the 3rd day, rent a car to go to Montes Natural Park. You'll be able to go on a few short hikes there and enjoy the surrounding nature.
In the afternoon on your way back, stop by one of the beaches such as Pedregalejo or del Palo beach.
Voyage Tips Advice
To rent a car, I recommend using Rentalcars.com.
It's super easy to compare prices between rental agencies in Malaga, and modifying or cancelling your booking is free of charge.
4 days in Malaga
If you're lucky enough to spend 4 days in Malaga, you can go explore the city's surroundings.
If you have children, you can visit Nerja caves, they will love it!
If you like thrill, a day trip to the Caminito del Rey will be perfect for you.
In the mood for a day at the beach and party? Head to Marbella.
If you don't plan to stay in other cities in Andalucia, you can also opt for a day trip to Ronda or Granada. You will love these cities!

Of course, you can stay 5- 6 days or even a week in Malaga and visit absolutely eveything I talk about in this article, with day trips to the Caminito del Rey, Ronda and Granada.
Where to stay in Malaga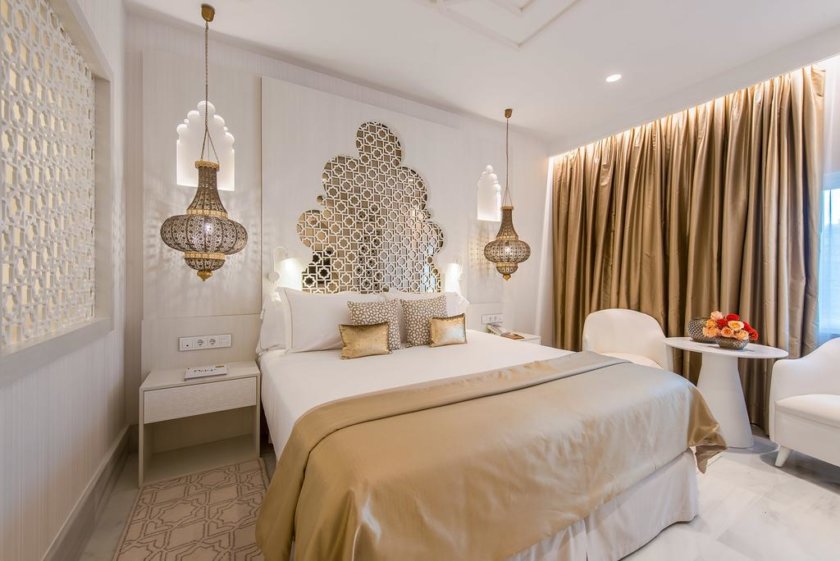 Where to eat in Malaga
Buenavista Gastrobar & Tapas: located next to the plaza de la Merced. This restaurant serves delicious and unique tapas. The paella is also very tasty and the staff is very friendly. You can be sure to have a good time there, just remember to book a table in advance!
La Proa de Teatinos: If you're looking for an authentic restaurant that is the opposite of a tourist trap, go eat at the Proa de Teatinos. The food is tasty and the value for money is excellent. The paella is delicious.
Pampa Grill Restaurante Argentino: The best restaurant in Malaga for meat lovers. The meat is super tender, tasty and perfectly cooked. It's located close to the plaza Spinola, not far from the cathedral.
Renting a boat in Malaga
If you want to rent a boat for a nice day at sea during your stay in Malaga, you should book it with Samboat.
Motorboats, sailboats, yachts, small boats without a license, with or without a skipper: they simply have the most complete offer for boat rental!
So, what are you waiting for to book your sea trip in Malaga? 😊
How to go to Malaga?
The first option is to directly fly there, as there is an international airport in Malaga.

In Andalucia, there are 2 international airports: Seville and Malaga. Granada, Jerez and Almeria airports are only for domestic flights.
You should check fares now with our flights price comparator. It's a fast and easy way to get the best deal!
When you get the results, don't hesitate to look at several websites to make sure there are no added fees.
Malaga tourist map
I have created for you a tourist map of Malaga, listing all the must see attractions and points of interest I have talked about in this article. You can display the map legend by clicking on the top left button, the one with a little arrow on it.
And you, what do you plan to visit during your trip to Malaga?
Book your trip now and save money!
Andalusia travel Guides
You're traveling to Andalusia? These articles will help you!
Discover all my articles about Spain: All my articles to help you plan your trip to Spain are listed there.
The 20 Best Things to Do in Andalucia: The ultimate bucket list!
You're using Pinterest? Here is the picture to pin!