How to spend 4 Days in London: The Best Itinerary + Where to Stay
You're planning to spend 4 days in London and you're looking for the best things to do?

You're at the right place!
In order to help you plan your stay, I have prepared for you this 4-day itinerary in London.
During your trip, you will discover all must-see attractions of the city such as Big Ben, Westminster Abbey, Buckingham Palace, Soho, Camden Town and a lot more!

In addition to the best places to visit and activities for each stage of your itinerary, I will also give you all my best tips and accommodation suggestions depending on your budget.
So, what are the best places to visit in London in 4 days? Where to stay?

Let's find out!
How to avoid waiting in line (and save a lot of time!) at London's tourist attractions
Since London is one of the most popular tourist destinations in the world, it's really useful to know how to avoid queuing for hours to see the iconic landmarks of England's capital.
Every day, thousands of visitors flock to the Tower of London or Westminster Abbey.
You probably agree that there's nothing more irritating than seeing your plans for your 4 days in London shattered because you lost 3 hours waiting around!
Fortunately, there are 2 very simple solutions to avoid the inconvenience and not miss any of the must-see sites during your 4 days in London.
Here are the details:
1. The London Pass
To save as much time (and money!) as possible during your 4-day itinerary in London, the first option is to buy the London Pass.
This type of city pass exists for all the most touristic cities around the word.
The London Pass will give you direct access to the most famous sites without having to queue to get your tickets first.
The great thing is that it's a digital pass, so you can download your London Pass directly on your smartphone and scan it at the entrance of each attractions included in the pass.
Valid for between 1 and 10 days (depending on the option you choose), the London Pass works by giving you tourist credits. They are deducted each time you visit a tourist site in London:
For example the 4-day London Pass comes with 515 credits, which corresponds to 515€ in entrance fees even though the pass costs only 147€ to buy!!
It's undoubtedly the most comprehensive pass if you're spending 4 days in London!
What's included in the London Pass:
Entry to the main must-see attractions of my itinerary: Westminster Abbey, Tower of London, Tower Bridge… It's quite simple: the 80 best attractions in London are included!
A trip on the hop-on hop-off tourist bus, which is a great way to see London without wearing yourself out, especially if you've decided to visit London with your kids or don't want to walk too much.
Discounts in certain souvenir shops

A tourist guide to the city, including opening hours and how to get to each attraction.

To buy your London City Pass, you simply need to click on the button below:
As an alternative, there's also the London Go City Explorer Pass which works a bit differently.
You will need to purchase a pass based on the number of attractions you want to see. So you can buy a pass for 2, 3, 4, 5 or 7 attractions.
You can book it by clicking here!
2. Fast track tickets for London's best tourist attractions
To visit London in 4 days, you can also buy skip the line tickets individually.
Just like the London Pass, they will allow you to access the monuments and tourist attractions without queuing.

There's a really long list of fast track tickets available for the main historic landmarks and activities you can do in London during your 4-day trip.
For your convenience, I have listed a few of them below. You'll also find them mentioned throughout this article.
To book, simply click on the attractions names (in orange) or on the green buttons you will find in this guide.
4 days in London: the ultimate itinerary
Now let's see what you can do during your 4-day itinerary in London
For each day of your stay, I will give you all the details you need to organize your visits, as well as a map showing the attractions of the day.
I assume that you'll be spending 4 full days in London and that you've already purchased your London Pass or your fast track tickets.
This way, you won't waste time waiting in line to buy tickets and will be able to see as many places as possible during your 4 day stay.
And if you have any questions once you've read this article or just need help planning your holiday, don't hesitate to ask me in the comments section located at the end of this article.
So, what should you see during your 4 days in London?
First day – the historic centre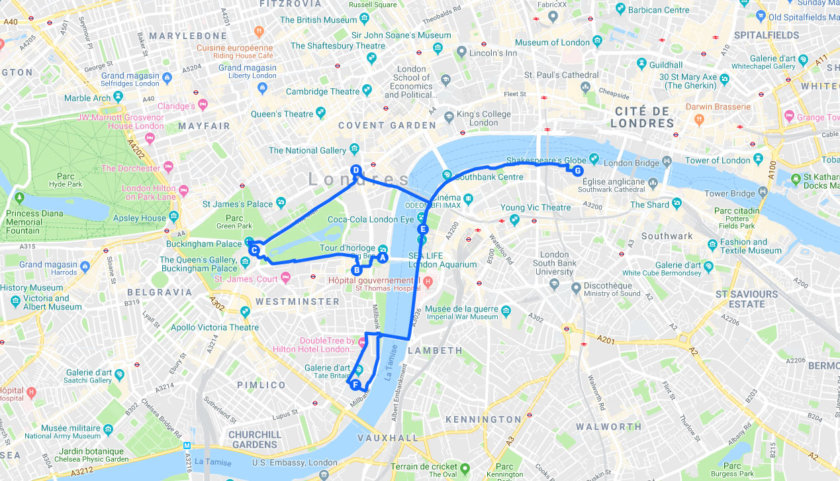 Day 1 tourist attractions:
A. Big Ben
B. Westminster Abbey
C. Buckingham Palace
D. Trafalgar Square
E. London Eye
F. Tate Britain and/or Tate Modern
A. Big Ben
The best way to start your 4 days in London is for sure to go admire the city's most iconic landmark.
So first, let's head to the famous Big Ben, located in London's historic centre.
Built on the banks of the Thames in 1858, the 106 metres high Elizabeth Tower (Big Ben is actually the name of the bell inside the tower!) features 4 clocks located on each faces of the tower. Each clock is 7 metres in diameter!
Big Ben is part of the Palace of Westminster, perhaps better known as the Houses of Parliament.
If you were thinking of going to the top of the Elizabeth Tower and admiring the view from up high, it's sadly not that simple: to get to the top of Big Ben, you have to submit an official request.
There's a few months waiting list and, in addition, you have to be a UK resident.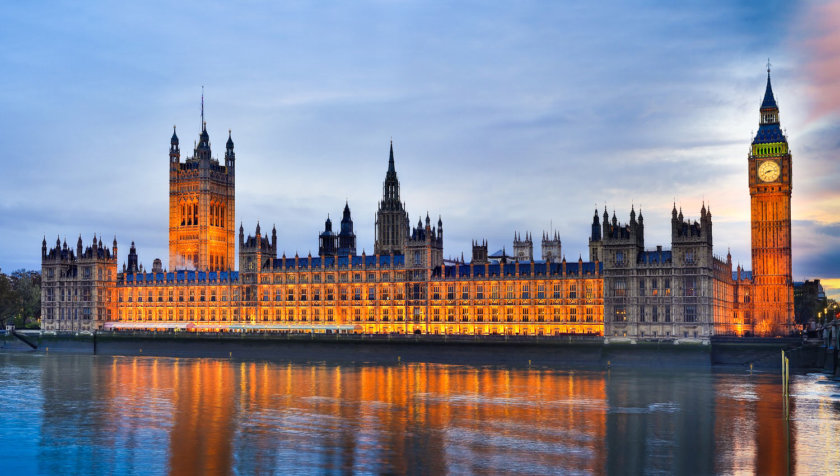 B. Westminster Abbey
Continue your visit on foot by heading to Westminster Abbey, located right next to Big Ben.
This historic landmark is the place where many kings and queens have been crowned, including the current monarch Queen Elizabeth II.
Inside the abbey, you can see the tombs of many past kings and queens, including the one of the famous Mary, Queen of Scots.
If you want to learn more about the history of the abbey, you should take an audio guide at the entrance.
The audio guide can be configured to do one of the several tours offered: a short 30 minutes tour, the standard 1 hour tour or the "more fun" tour for families with children.
If you're visiting Westminster Abbey during your 4 days in London, you really need to buy your fast track ticket if you want to avoid queuing for 2 hours at the entrance!
If you've bought the London Pass, entrance is included. Otherwise, you'll need to buy a fast track ticket by clicking on the button below:
Voyage Tips - Advice
Given your itinerary for the day, you should get to the abbey at the opening (9.30 am on weekdays, 9.00 am on Saturdays and closed on Sundays).
C. Buckingham Palace
Let's now head to Buckingham Palace.
The royal residence is another historic landmark you must see during your 4 days in London!
Situated about 1km from Westminster Abbey, it will only take you around 15 minutes to get there on foot.
For a more immersive experience, you should go in the morning so that you can watch the Changing of the Guard ceremony. It takes place on Mondays, Wednesdays, Fridays and Sundays.
It's an impressive show that follows the rhythm of the band, and that will delight young and old alike.
The Changing of the Guard begins at 11.00 am and lasts for around 40 minutes, but you should get to Buckingham early to secure a good spot. The ceremony attracts thousands of spectators every day, so you won't be alone!
The Changing of the Guard ceremony is cancelled if it rains. You can check whether it's taking place on the online calendar.
Voyage Tips - Advice
You can only visit the interior of Buckingham Palace during 2 months of the year, generally in August and September. As the places are very limited, you will need to book as early as possible.
You have a choice between 3 different tickets (click on the orange links):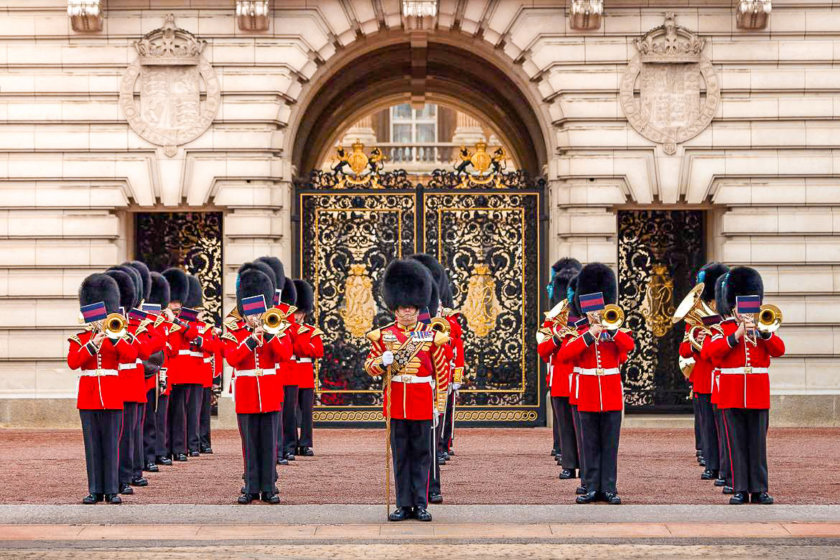 D. Trafalgar Square/the National Gallery
Once you've enjoyed watching the Queen's soldiers parade to the sound of the band, continue your 4-day trip to London by heading to Trafalgar Square.
It's a 15-20-minute walk to get there through St James's Park, a public park with lovely flowerbeds just opposite the Palace.
You'll probably recognise this famous square with its 4 big statues of black lions. It's a lively spot where you can watch street performances and enjoy a bite to eat.
While you're at Trafalgar Square, you should visit the National Gallery.
Like all the national museums in London, entrance is free of charge. So you have no excuse to miss one of the city's most beautiful museums, founded in 1824 and renowned throughout the world.
Here, you'll discover a rich collection of European paintings, including original works by Van Gogh, Monet, Cézanne, Rembrandt, Picasso, Leonardo da Vinci and more.
You can grab and audio guide at the entrance, and then opt for one of the several itinerary options to see the museum (including a 1-hour tour designed with children in mind).
Opening times can be found on the official website.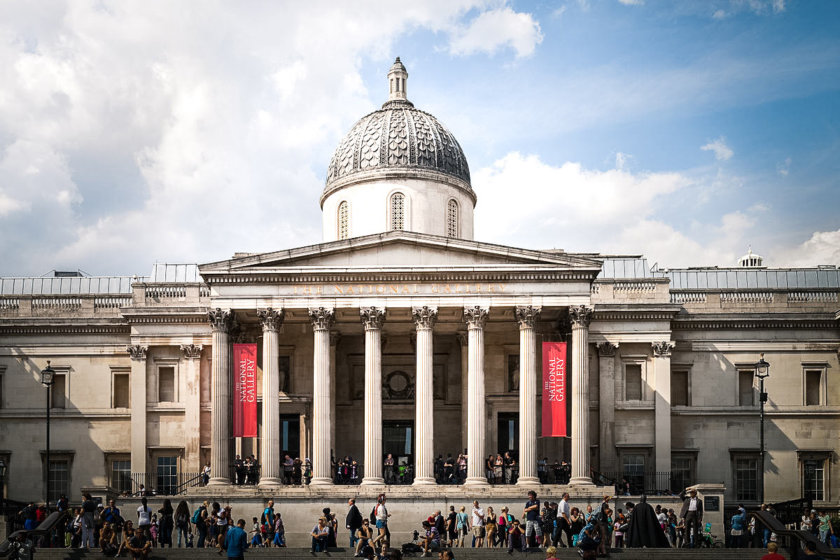 E. London Eye
After this culture break, let's continue your 4-day stay in London by returning to the historic centre (a 15 to 20-minute walk – or you can of course take the bus).
The London Eye is located on the banks of the Thames, very close to Big Ben. You have probably already spotted during the morning!
While you're in London, you shouldn't miss the opportunity of a ride on the London Eye: the biggest Ferris wheel in Europe allows you to enjoy an incredible panoramic view over the whole of London.
Get ready to ascend to more than 130 metres high in spacious enclosed capsules that can accommodate up to 25 people. As the wheel turns very slowly, the full ride takes 30 minutes.
You need to book your ticket for the London Eye in advance by clicking on the button below:
If you prefer, you can opt for a combined ticket which offers a great value for money: London Eye + Thames Cruise + Hop-on Hop-off Bus.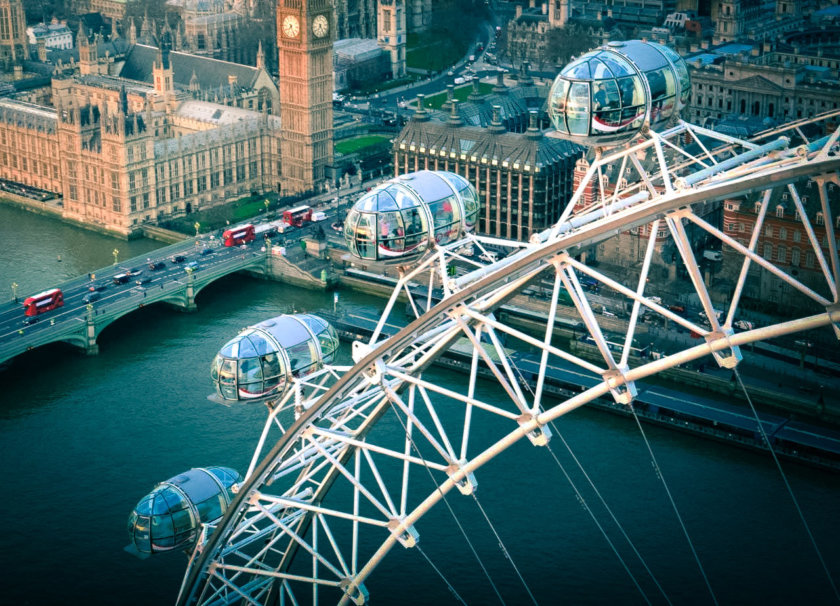 F. Tate Britain and/or Tate Modern museum
To end your first day in London on a cultural touch, you can visit 2 more must-see London museums.
The Tate Britain and Tate Modern museums are both located by the Thames, one on the north bank and the other on the south bank.
A river bus operates between the two galleries every 30 minutes, so you can easily visit them one after the other if you wish to.

Opened in 1897, the Tate Britain houses a magnificent collection dedicated to classical British art. You can appreciate works by Turner, Hogarth and William Blake in particular.
The Tate Modern is dedicated to modern art.
Entry to the two museums is free of charge, and the opening hours can be found on the official website.
Voyage Tips - Advice
If you want to see London by night, you can switch the Tate museums with the London Eye and do the Ferris wheel at the end of the day.
Once you leave the National Gallery, head for Embankment Pier, located on the Thames. Take the river bus to Millbank Pier, it will drop you at the entrance to the Tate Britain. For the Tate Modern, get off at Bankside Pier.
After visiting the museums, take the river bus in the opposite direction to reach the London Eye. If you time it right, you'll be there for the sunset!
2nd day: Things to do and see in London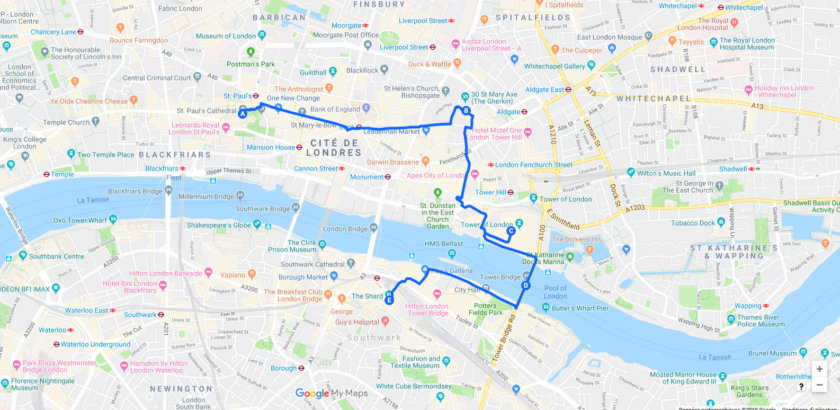 Day 2 tourist attractions:
A. St Paul's Paul's Cathedral
B. The City of London
C. The Tower of London
D. Tower Bridge
E. The Shard
A. Saint Paul's Cathedral
Located in the City of London business district, St Paul's Cathedral is a must-see landmark if you have the chance to spend 4 days in London.
This baroque-style cathedral was built in the 17th century to replace the old church that was destroyed by fire in 1666.
In St Paul's Cathedral, you can discover:
The wonderful nave
The mysterious Whispering Gallery and its incredible acoustics
The Stone Gallery
The Golden Gallery and its fantastic panoramic view over the city
The crypt, featuring tombs of several famous British figures, including the Duke of Wellington and Sir Christopher Wren, the architect of St Paul's Cathedral.
Entry to St Paul's cathedral is included in the London Pass.
If you don't have the City Pass, you can book fast track tickets by clicking on the button below: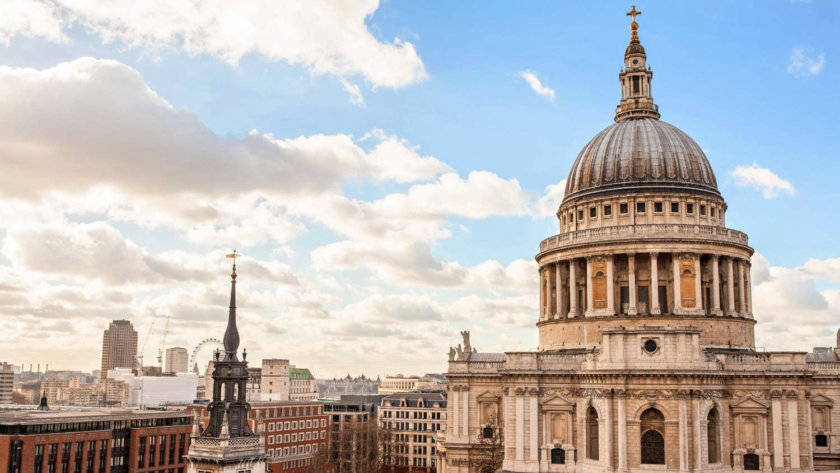 B. The City
After visiting the cathedral, you will stay a bit more in the City of London district.
London's business district, which is also its geographical centre, is well worth spending some time in.
Take a stroll through the streets and admire the area's most iconic landmark: nicknamed The Gherkin, this unusually shaped skyscraper is also sometimes called "The suppository"!😆
Voyage Tips - Advice
If you book your place in advance on the Sky Garden website, you can also enjoy a fantastic and free 360° panoramic view over London from the city's highest public garden.
This 155-metre high skyscraper, nicknamed the "Walkie-Talkie", is situated at 20 Fenchurch Street, in the heart of the City of London.
There are limited spaces available each day and you can only book 3 weeks to 1 month in advance.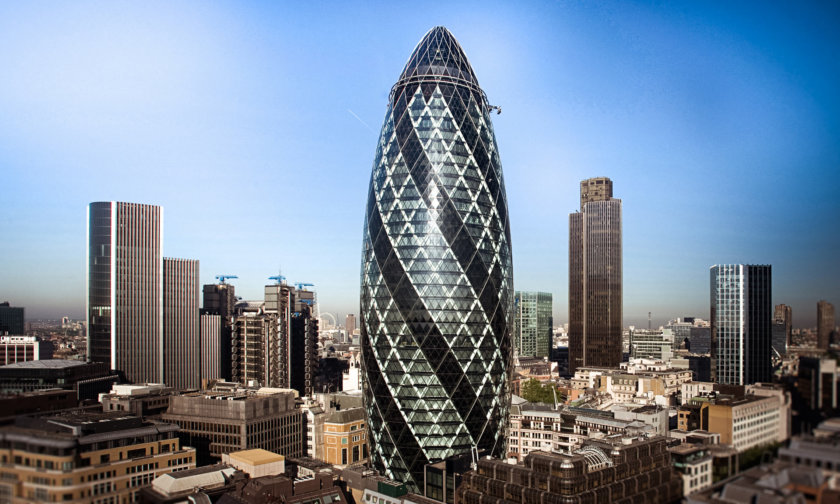 C. The Tower of London
The City district is also home to the famous Tower of London.
The fortress siting on the banks of the Thames (not far from Tower Bridge, your next stop) is just a 15-minute walk from The Gherkin.
Built in 1066 and designated a UNESCO World Heritage Site, the Tower of London was once a royal residence, but has also served as a prison and place of execution.
Today, it's a museum dedicated to medieval history, and focuses in particular on the macabre aspects.
Tales of execution told by guides in period costume, a tour of the torture chamber and other gory details immerse you in one of the darkest chapters in London's history.
All in good fun, of course, and with a touch of British humour! The visit is totally suitable for children.
Everyday, hordes of visitors come to see the top attraction of the Tower: The Crown Jewels. You can see the crowns of several kings and queens, including Queen Elizabeth II.
And don't miss taking a look at the beautiful gardens outside the Tower.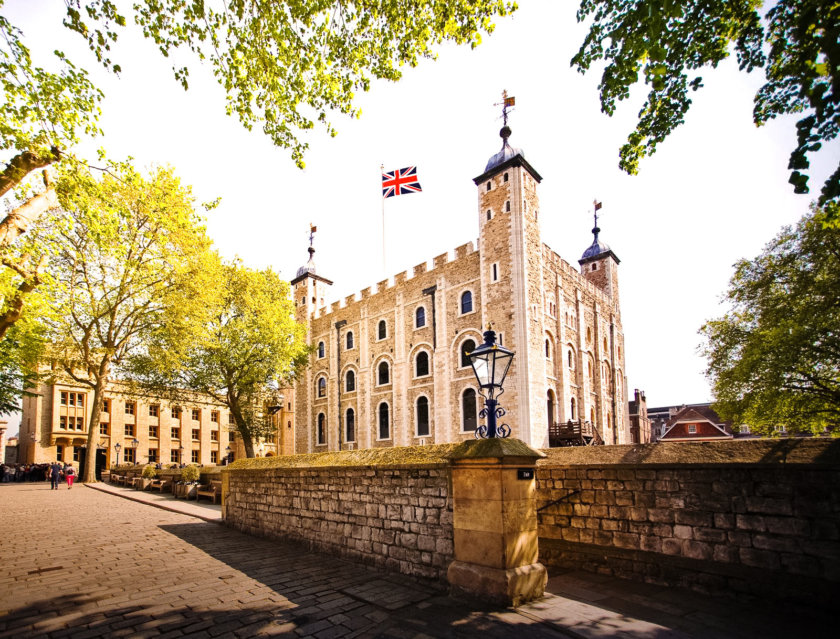 D. Tower Bridge
The Tower Bridge, the next stop on your 4-day trip to London is located close to the Tower of London.
With its 2 huge towers and sky blue ironwork, you will instantly recognise this landmark of the city!

Built over the Thames in the 19th century, this impressive Gothic-style bridge connects the north and south banks of London. It's a bascule bridge, that means it will open up to let big boats through!
When it was built, Tower Bridge was the most sophisticated bascule bridge in the world.
Take your time to admire Tower Bridge from the banks of the Thames over a snack or a drink (there's plenty of shops around), or simply enjoy the moment.
You can also walk across the bridge and even visit the old engine rooms located inside one of the towers.
If you go up to the highest level, you can walk across the glass walkway and get the feeling you're floating above the Thames.
Entry to Tower Bridge is included in the London Pass.
Voyage Tips - Advice
At the foot of the Tower Bridge, the charming little marina of St Katharine Docks is a lovely place to take a stroll and enjoy something to eat in one of the many restaurants overlooking the Thames.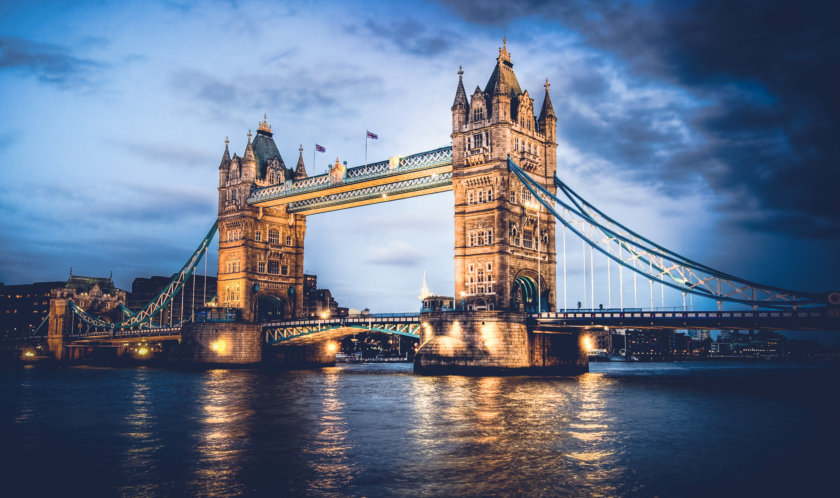 E. The Shard
To end your second day in style, you should go to the top of The Shard to enjoy panoramic views.
The Shard is the name of London's newest landmark, a skyscraper standing over 300 metres high located a 10-minute walk from Tower Bridge.
It's also the highest viewing platform in Western Europe, allowing you to enjoy an incredible 360° view across the whole city.
In addition to the spectacular panorama, you can also learn more about London through multimedia displays within the building.
The Shard is well worth a visit, and you need to book your tickets by clicking on the button below:
3rd day in London: The best places to visit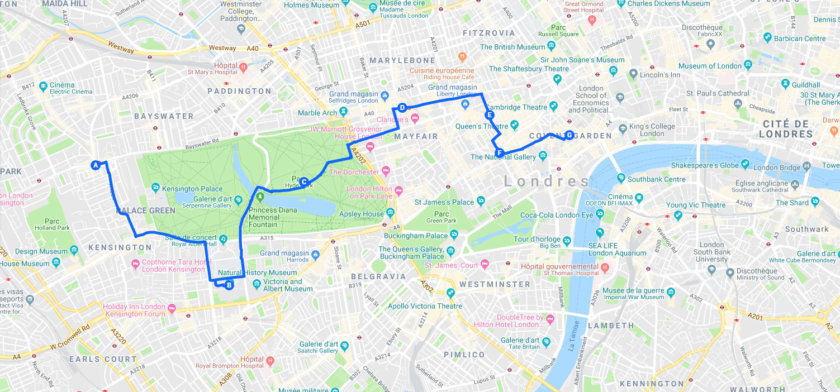 Day 3 tourist attractions:
A. Notting Hill
B. The Natural History Museum
C. Hyde Park
D. Oxford Street
E. Soho
F. Piccadilly Circus
G. Covent Garden
A. Notting Hill
For your 3rd day in London, you will head to Notting Hill district, located in the western part of the city.
This fashionable part of London, made famous by the film of the same name – "Notting Hill" has more the feel of a quiet and elegant village. If you're a fan of the movie, you'll for sure recognise a number of the locations where it was shot!
There, you can admire beautiful houses featuring pastel-coloured façades and take a stroll to Portobello Road Market (open every morning).
This market is actually the main attraction of the area, and is always busy. You will find Second-hand clothes, vintage items, antiques, diverse accessories and even culinary specialties. You will see, it's lovely place to stroll around!
If you have the chance to spend 4 days in London in August, don't miss the major annual event held here in the last weekend of the month: Notting Hill Carnival, a festive parade of over 5 km to the sounds of Caribbean music.
Voyage Tips - Advice
To get to Notting Hill, you can take the metro to Notting Hill Gate underground station.
And if you want to be certain you don't miss anything, you should book this guided tour:


B. The Natural History Museum
Following your morning in Notting Hill, let's continue your day with a visit to London Natural History Museum, one of the biggest and most beautiful museums in the city.
It will take you around 20 minutes by bus to get there.
This museum is literally huge, and attracts over 5 million visitors each year. It's the most visited natural history museum in Europe!
The Gothic building housing the displays is as magnificent from the outside as it is on the inside. During your visit, you'll discover exceptional exhibits and learn all about zoology, botany, volcanology, archaeology, the dinosaurs, and much more besides.
You can't actually see everything in one go unless you spend the whole day there. There are also lots of fun activities for kids.
You should spend a maximum of 2 hours in the museum so you have enough time left for the rest of your day's visits.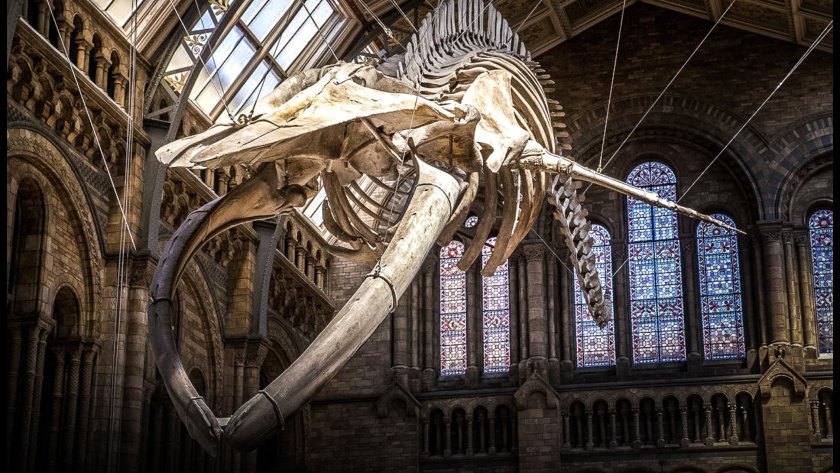 C. Hyde Park
Visiting London in 4 days on foot also gives you time to take in some fresh air.
So now, why not enjoy a little greenery in London biggest park: Hyde Park.
It's one of the most beautiful city parks in the world, the perfect place to enjoy a picnic, have lunch on a terrace or simply take a walk.
And in the north-east corner of the park, you can see a little London oddity: The Speakers' Corner. Every Sunday, anonymous speakers give a speech to passers-by, often with a touch of humour.
If you're in London towards the end of the year, you can explore Hyde Park's huge Christmas Market. There's also a Winter Wonderland fair and the biggest outdoor skating rink in the United Kingdom.
If your stay in London happens to be during the summer, you can also enjoy the festivals and concerts that are held in the park each year.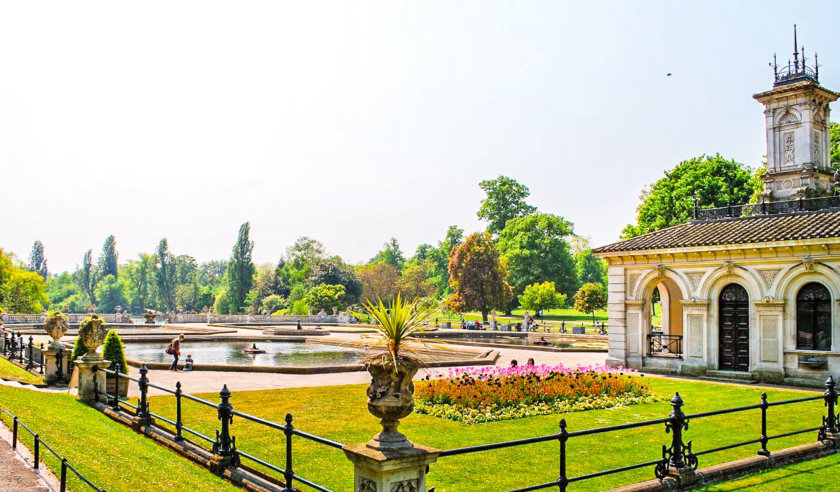 D. Oxford Street
After this short break in Hyde Park, you should head to Oxford Street, a continuation of the north-east entrance to the park (Marble Arch).
This 2.5 km long commercial avenue attracts hordes of tourists, and can be likened to Paris' Champs-Élysées.
This is your chance for a bit of shopping or window-shopping in the 600 stores that line the street, including the big British names like Marks & Spencer, TopShop, Mush, Primark, Urban Outfitters and more.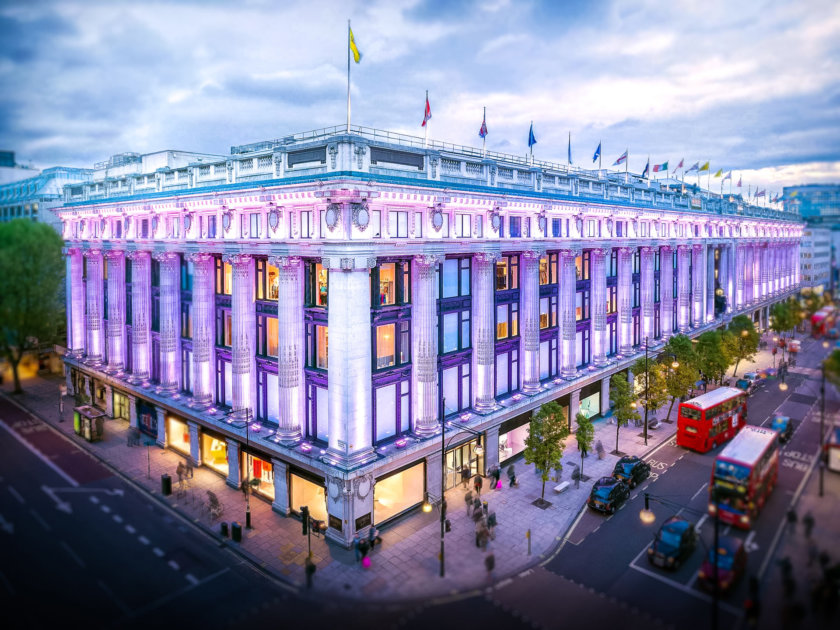 E. Soho
If you continue along Oxford Street, you'll arrive in Soho.
This is the most vibrant part of London, and the favourite place for Londoners and tourists to come to party!
It's a small area, but it's home to an impressive concentration of pubs, theatres, restaurants, cinemas and clubs. It's the perfect place for a good night out and to enjoy the party atmosphere on any day of the week.
You can even watch a musical in one of the many theatres in the area, an unmissable experience during your 4 days in London!
If you want to see the famous musical "Les Misérables" at the Sondheim Theatre in London, make sure you buy your tickets in advance here.
And if you prefer to see the no less famous "Phantom of the Opera", you need to book by clicking there!
Voyage Tips - Advice
If you want an original experience in Soho, you really should opt for the Harry Potter-themed guided tour.
Your guide will take you to the cult locations from the films including Diagon Alley, Gringotts, platform 9 3/4, Knockturn Alley and much more besides. The guide is brilliant and the tour is really well put together.
This tour is so good that it's labelled "GetYourGuide Originals". It means that if you're not 100% satisfied of your guided visit, you can ask for a full refund!
To book your Harry Potter guided tour, simply click on the button below:


F. Piccadilly Circus
Your walk in Soho will inevitably lead you to Piccadilly Circus, the famous London square recognisable from its gigantic advertising screens.
It can be considered as the Times Square of London. Here too, there's always a lively party atmosphere.
G. Covent Garden
Continue walking east until you reach Covent Garden (a 10-minute walk from Piccadilly Circus).
Covent Garden was once the site of London's covered market, before it was relocated in the 1970s.
Fortunately, the very beautiful glass roof was kept and the building now houses several shops, restaurants, artists' studios as well as the brilliant London Transport Museum.
The area attracts crowds of tourists, and you can watch lots of street performances making it the perfect way to end the day.
4th day – Walk around London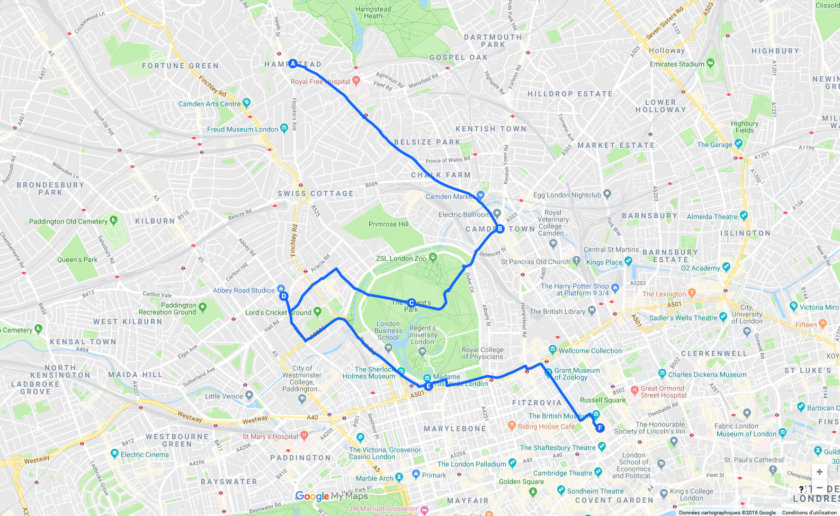 Day 4 tourist attractions:
A. Hampstead Village
B. Camden Town
C. Regent's Park
D. Abbey Road (optional)
E. Madame Tussauds or the British Museum
A. Hampstead Village
To conclude your 4-day itinerary in London, you should explore the north of the city.
Start with a stroll in Hampstead Village, a delightfully green and quiet area sat on a hill above London. Hampstead is actually an old village that has retained all its charm.
It's an integral part of London today, but you really feel like you've left the city when you're there.
As quaint and peaceful as a provincial village, it's full of flower-filled gardens, beautiful Victorian houses, shops, restaurants and cafés. You will see, Hampstead Village is really a calm and relaxed place to take a stroll.
Just 20 minutes by metro from central London, Hampstead Village is a great place to get away from the hustle and bustle of the city.
B. Camden Town
Continue exploring the north of the UK's capital with a tour around Camden Town.
This very trendy area of London is home to alternative cultures and alter-globalisation. It's a blend of punk, Gothic, hip-hop and hippie cultures all in a condensed array of shapes, colours and eccentric shops.
It's one of the busiest and liveliest areas of the city, especially thanks to Camden Lock Market which is open every day from 10.00 am to 6.00 pm.
There are all sorts of stalls, unusual clothes and accessories, live music, plus stands selling street food from all over the world.
You can grab something to eat and go by Regent's Canal, where there's always a really friendly atmosphere.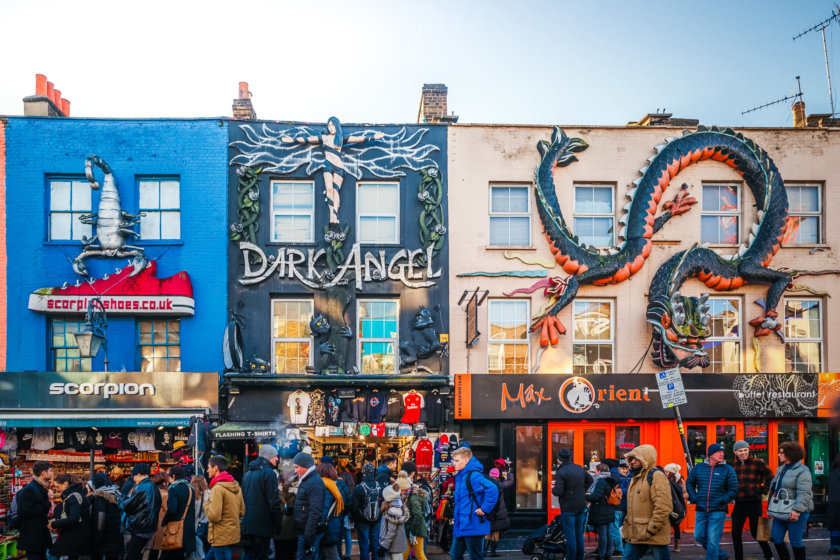 C. Regent's park
Walk south from Camden Town for 10 minutes and you'll arrive in Regent's Park.
Of all the parks in London, Regent's Park boasts the finest flower beds. Covering 166 hectares, this park once belonged to the royal family and was originally (in 1811) intended to accommodate several lavish properties, including a palace.
A lack of funds meant the project was never completed, but not before several neo-classical residences had been built around the park by the architect Josh Nash.
Today, Regent's Park is one of the most beautiful public green spaces in the city.
A lot of Londoners come here for their daily or weekly running session or to play other sports in the landscaped grounds.
It's also the perfect place for couples or families to hire a rowing boat or a pedalo, enjoy a picnic or simply stroll through the greenery.
There are also children playground for the little ones, a magnificent rose garden (Queen Mary's Gardens – not to be missed in the summer!), cafés and restaurants.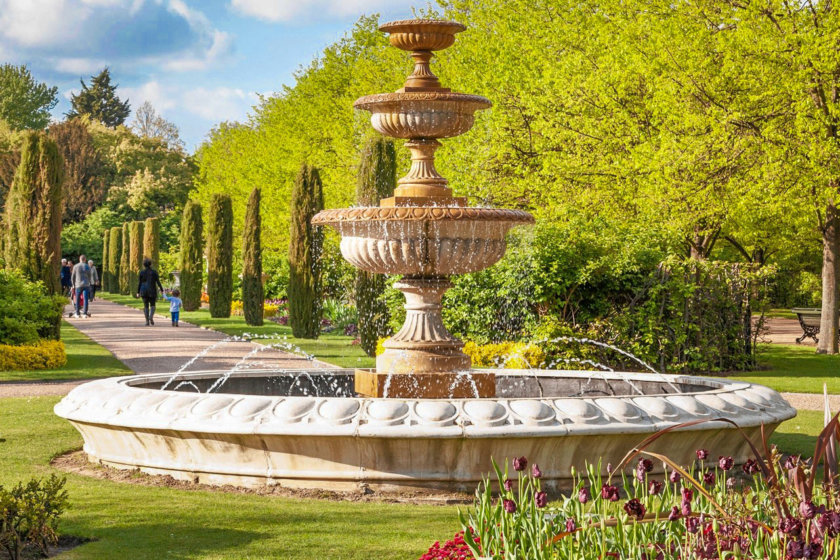 D. Abbey Road (optional)
If you're a Beatles fan, you'll have been waiting for this moment to come!
Abbey Road and its legendary pedestrian crossing is less than 2 km to the west of Regent's Park. Follow in the footsteps of countless fans, and take a photo on the pedestrian crossing, just like on the famous cover of the group's Abbey Road album.
You may well face a crowd, and risk annoying drivers who often have problems driving on this very busy street. Opposite the pedestrian crossing, you can see the studios where The Beatles recorded the album as well as a souvenir shop.
E. Madame Tussauds or the British Museum
So here you are at the final stop of your 4-day itinerary in London.
To end your visit of the city, you can choose one of these two museums:
Madame Tussauds: 20 minutes by bus from Abbey Road, and one of the most visited museums in London.
It's a bit like Paris' Grévin Museum, but fancier and on a bigger scale!
You'll need 2 to 3 hours here, the idea being to get photographed with the top celebrities…or rather with their wax lookalikes. Most of them are incredibly realistic!
You need to book your tickets in advance by clicking on the green button below:
The British Museum: if you're more interested in culture and history, this museum located 20 minutes by metro from Regent's Park is the perfect way to end to your holidays.
Entry is free of charge and you'll learn about the history of civilizations, in particular through the many archaeological relics (including the famous Rosetta Stone).
The museum has one of the richest collections in the world with more than 7 million exhibits on display.
Don't hesitate to book a guided visit (click here) to discover the best of the main exhibitions in 2 hours!
You now have all the information and tips you need to see London in 4 days!
Where to stay in London
Now you know what to do in London in 4 days, but there's one crucial question to answer: where to stay for these few days?
I'm not going to lie, the cost of accommodation in London is pretty high and it's not easy to find affordable hotels, especially in central London. The best deals are always booked months in advance.
That's why you really do need to book as early as possible to get the best rates!
If you already know your travel dates, you should thus really book your accommodation now.
Here is my selection of the best hotels in London depending on your budget:
If you'd prefer an hotel in London that isn't too expensive, you should check out the "Z Hotel" chain. You can find them in lots of different areas of London, and prices start of 60€ per night. They're the best bet for budget accommodation in London.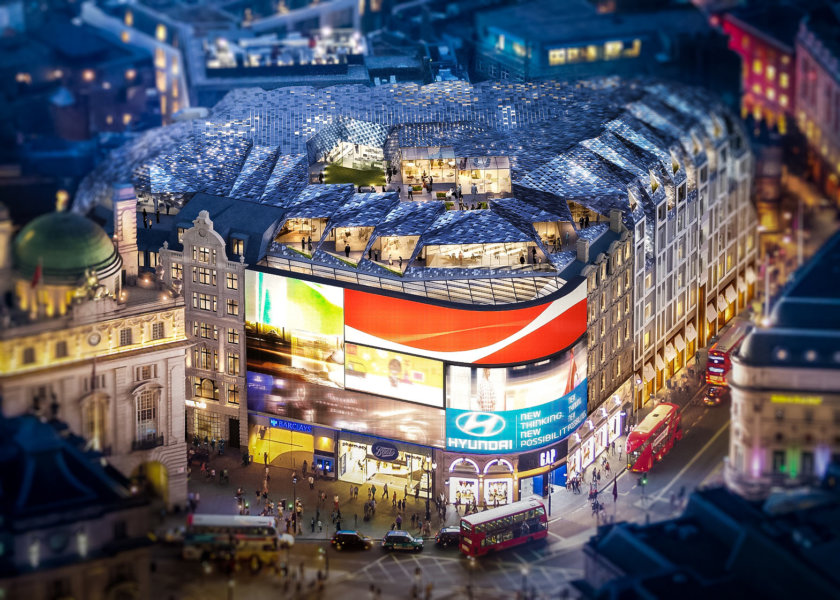 London in 4 days with kids
If you plan to spend 4 days in London with your children, you can be assured they won't get bored, and they'll really love most of attractions. You may however need to adjust the itinerary slightly to suit their age and interests.
Here are a few ideas for a 4-day stay in London with kids:
Spend a bit less time in the museums and more time in the parks (if the weather permits). Nevertheless, you can visit the majority of London's museums with your youngsters because most of them offer short, fun tours for children.
The Tower of London, with its medieval ambience, is one of the attractions children love the most
A ride on the London Eye will make them feel like they're on a giant merry-go-round.
The Changing of the Guard on the forecourt of Buckingham Palace will put a sparkle in their eyes
An evening seeing a family musical in Soho is also a lovely way to spend time together
Travel by red double-decker bus and sit upstairs, and right at the front if you can! For kids, this sort of journey is a real adventure in itself. Book this double-decker hop-on hop-off bus tour by clicking here!
You also have a choice of several theme parks: the Shrek Adventure Tour at Dreamworks, Legoland or Kidzania.
Voyage Tips - Advice
If you or your kids are Harry Potter fans, you can also spend a day at Harry Potter Studios, located a bit outside the city.
It's really a magical experience!
The best tour include the entrance ticket to Harry Potter Studios as well as the transportation from your hotel.
You need to book this tour by clicking on the button below: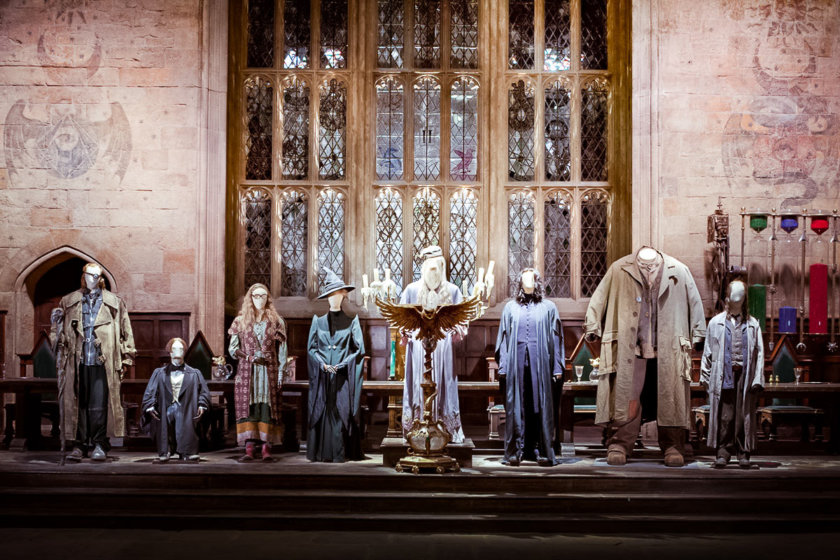 More things to do during your 4 days in London
If you've followed my itinerary for 4 days in London and still want to explore more, you should read my guide of the 20 best places to visit in London.
You can read it here: The 20 Best Things to do in London.
It might even leave you wanting to stay longer in London! Why not spend 5 days, or even a whole week there?
Map of your 4-day itinerary in London
To help you visualize your daily itineraries during your 4 days in London, I have created this map with all the places to visit day by day. You can view the legend of the map by clicking on the top left button, the one with a little arrow.
You can thus see the suggested itineraries for each day.
Find the best flight prices for your 4 days in London
As always, you should book your plane tickets as early as possible to get the best prices.
To check the rates and schedules for flights to London, you can use our flight comparator, in partnership with Skyscanner:

If after reading this guide you still need help to plan your 4-day trip to London, don't hesitate to ask me your questions in the comments section below.
Book your trip now and save money!
You're traveling to England? These articles will help you !
Discover all my articles about London: All my articles to help you plan your trip to England are listed there.
You're using Pinterest? Here is the picture to pin!