Things to Do in Glasgow: The 20 Best Places to Visit (All Highlights)
You're going to Scotland and you plan to visit Glasgow during your trip?
Great idea!
You will for sure love Glasgow, one of the most dynamic and modern city of the United Kingdom. It even has recently been awarded "City of Culture", "City of Architecture and Design", and "City of Sport".
In order to help you plan your stay, I have created this guide of the 20 best things to do in Glasgow, with all points of interest and must-see attractions.
In addition to this list of things to do and activities, I will also give you itineraries to visit Glasgow in 1, 2, or 3 days as well as my selection of the best accommodations depending on your budget.
And as always, this travel guide contains all my best tips to make the most of your stay.
So, what to do in Glasgow? Where to stay?

Visit Glasgow: All Must-See attractions
1. George Square
George Square is the heart of Glasgow and the main square of the city.
Located in the city center, this pedestrian square was named after King Georges III. There ,you can admire beautiful statues of historical characters, enjoy a coffee, stroll around or just take a rest on the bench or on the grass.
On George Square, you will also find Glasgow City Hall (Glasgow City chambers), famous for its Renaissance architecture.
You will see, both the exterior and the interior of the buildings are magnificent! The great news is that you can visit them during one of the free guided tours organized during the week.
George Square is one of the most touristic places in Glasgow and it's really a great starting point to visit the city.
Voyage Tips - Advice
While you are in George Square, you should go to the tourist office in order to grab a map of the city's main points of interest.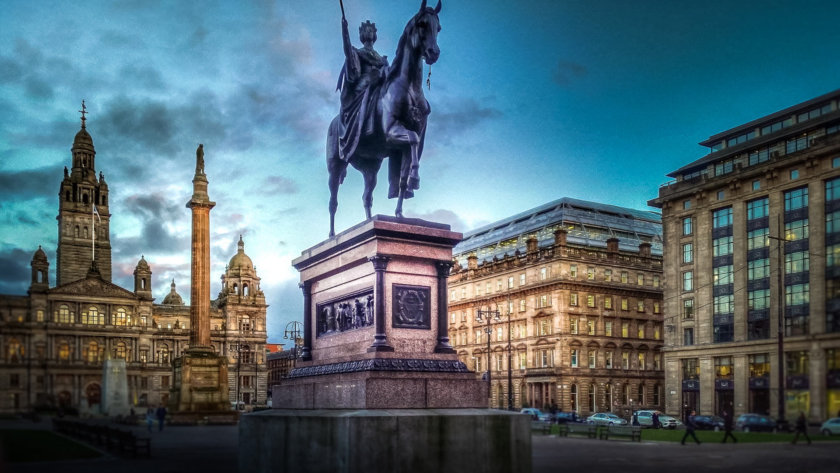 2. Glasgow Cathedral
Glasgow cathedral, located on a hill in the East End district is the most famous monument of the city.
Also called St Mungo's Cathedral or High Kirk of Glasgow, this large Gothic Cathedral built during the 12 and 13th century will for sure impress you! Personally, I really love its architecture.
Inside (free entrance), you can admire beautiful stained glass windows and go to the crypt, where the tomb of St Mungo, the city's patron saint, is located.
If needed, you will find the opening times and more info about the Cathedral on the official website.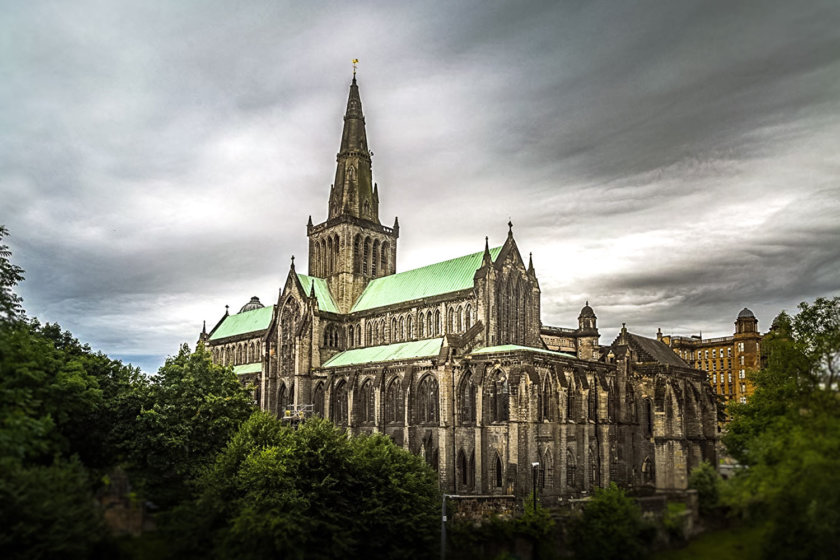 3. The Necropolis
The Necropolis is a small Victorian cemetery located on the top of a hill, close to St Mungo's Cathedral.
There, you can see about 3500 monumental tombs and mausoleums dating from the Victorian era. In addition to discovering the typical architecture, you will also enjoy a beautiful view over the whole city.
Necropolis cemetery is open everyday from 7am until dusk.
It's one of the most original places to visit in Glasgow!
Voyage Tips - Advice
The Necropolis cemetery is the best place to take a nice picture of Glasgow Cathedral.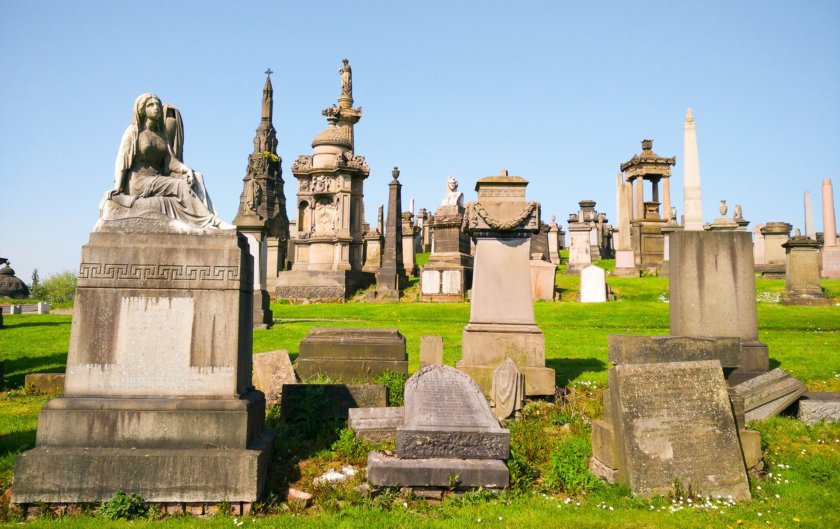 4. Buchanan Street
If you want to go shopping, or simply go for a stroll in one of the liveliest streets of Glasgow, you should head to Buchanan Street.
This beautiful pedestrian street is lined with shops for every budget and features a charming mix of Victorian and modern buildings.
And if you're looking for a mall, you should head to Princes Square Shopping Centre.
Voyage Tips - Advice
You're going to Glasgow?
You probably know it: the hardest part of planning your trip is to find an hotel offering a good value for money!
The closer you get to your travel dates, the harder it will be to get a good deal. Lots of people will be visiting Glasgow on the same dates as you, so you can be sure that the best deals are booked extremely quickly!
Hopefully, there is a pretty simple solution to this problem: do like me and book your hotel as early as possible!
So, my best advice is to take 5 minutes (now) to have a look at the list of travelers' favorite hotels in Glasgow.
And if you see a good offer, book it!
Most hotels offer free cancellation, so it's quick, easy, and you will avoid the the inconvenience of finding nothing but mediocre rooms at exorbitant prices.
To check the current best deals for your hotel in Glasgow, simply click on the green button below 😎:
Once you've booked your hotel, it will be time to continue reading this guide and find out more about the best things to do in Glasgow!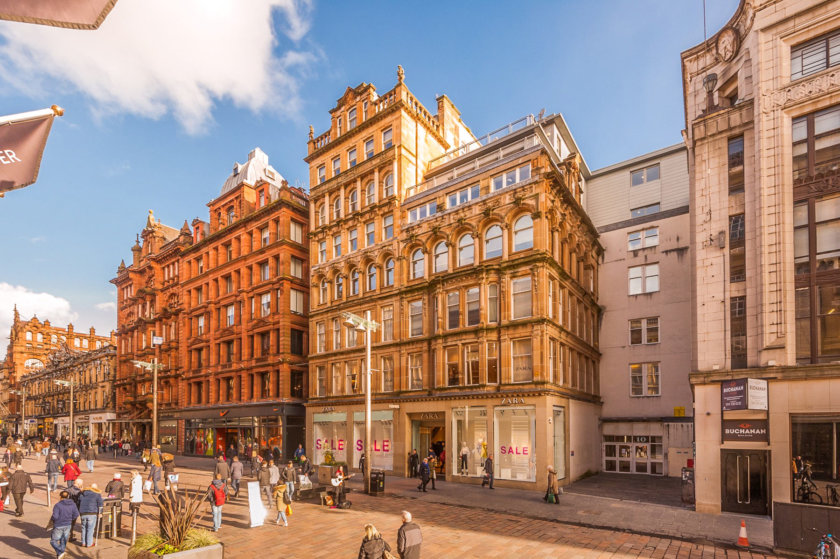 5. The GoMA, the modern art gallery
Located on Buchanan Street, the GoMA is Glasgow's museum of modern art. A perfect stop if you enjoy cultural tourism!
The building hosting the museum served successively as a residence, a library and then as a museum from 1996. Many works by local and international artists can be discovered there.
As with most museums in Glasgow, admission is free.
Outside, just in front of the entrance to the GoMA, don't miss the statue of Duke of Wellington topped with a traffic cone. For the record, this cone was placed there by jokers who put it back in place every time the municipality removed it. The city then decided to leave it there.
The Duke of Wellington statue and its beloved traffic cone hat then became one of Glasgow's most famous symbols!
Opening hours are on the official website.
Voyage Tips - Advice
If you're in Glasgow during Christmas season, you'll be lucky enough to be able to admire the beautiful decorations in Royal Exchange Square, all around the GoMA.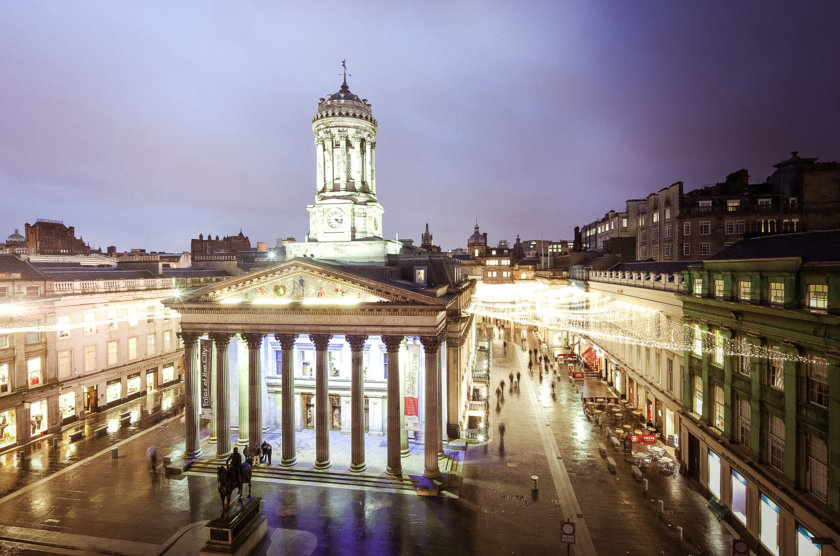 6. The Riverside Museum
Built on a former shipyard and opened in 2011, the Riverside Museum is Scotland's transport museum.
The building itself, designed by contemporary architect Zaha Hadid (who also designed Guangzhou Opera House in China, for example), is very original and worth seeing.
In this free museum, you will learn more about the history of the transport industry in Scotland and around the world. During your visit, you will be able to admire many original vehicles as well as replicas and enjoy the interactive displays.
The visit is really interesting, and it's impressive to see in the same location the first bicycles of the 19th century along with F1 cars, trams, steam trains or even… skateboards!
Outside, you can also visit the Tall Ship, a 19th century sailboat moored along the River Clyde.
More info to organize your visit can be found on the official website.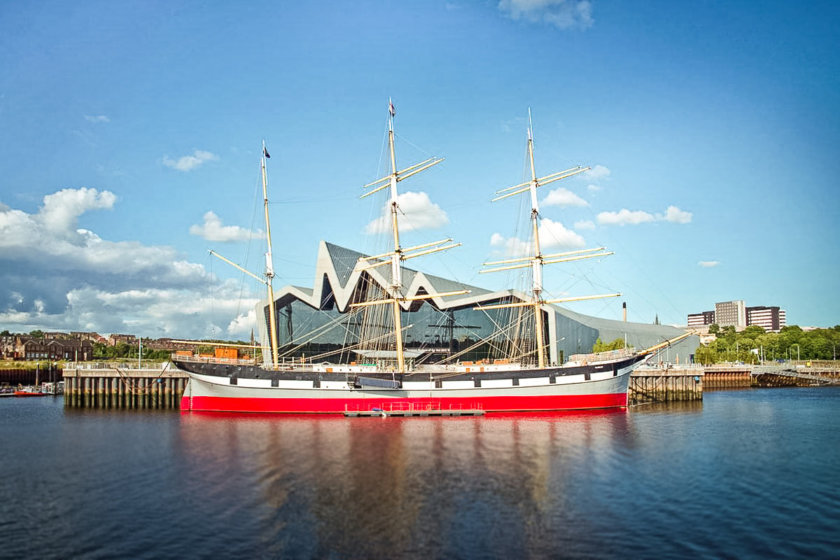 7. Kelvingrove Park
Where to go in Glasgow to enjoy some greenery?
In Kelvingrove park of course!
In Glasgow, there are a lot of museums to discover, but also a few large public parks where you can enjoy some fresh air.

Kelvingrove Park, a wooded park crossed by the Kelvin River, is the perfect place to take a stroll and enjoy a superb view over the university. Children can also have fun in the playgrounds provided for this purpose.
From the park, you can walk along the river on the "Kelvin Walkway" to reach Glasgow Botanic Garden (#15 of this guide).
8. Kelvingrove Art Museum
If you want to visit only one museum in Glasgow, you should go to Kelvingrove Art Gallery and Museum, one of the most important museums in Scotland.
It's located in Kelvingrove Park and the entrance is free.
In this museum, you will find a rich collection of paintings, sculptures, Art Nouveau items and furniture. There are a total of 22 thematic galleries, from natural history to medieval weapons. A little bit of everything!

Kelvingrove Art Gallery and Museum is really well done and educational, so you it's definitely a great ideas for a family outing if you're visiting Glasgow with your kids.
A joyful mix of culture in a remarkable building, as beautiful outside as inside.
You can find the opening hours on the official website.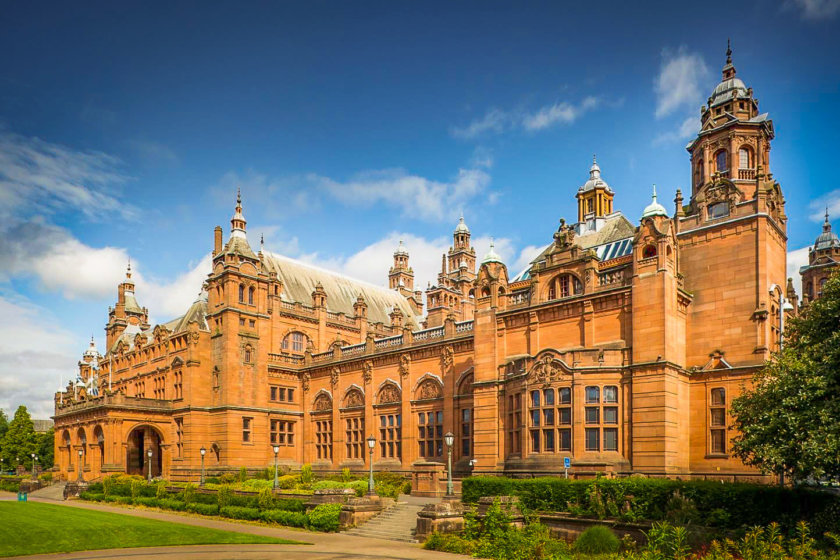 9. Glasgow Science Centre
As I told you in the introduction of this guide, Glasgow is really the city of culture, with many world class museums.
Built on the south bank of the River Clyde, Glasgow Science Centre opened in 2001 and is a great place to visit if you're traveling with children. This science museum features many interactive exhibitions, a bit like the "Cité des Sciences",  in Paris.
During your visit, the interactive workshops will allow you to learn more about all areas of science while having fun.
On the site, there is also a planetarium, a 3D cinema as well as the Glasgow Tower, a panoramic platform featuring a great view over the city.
Unlike other Glasgow museums, this one isn't free. You can check the entrance fee and opening hours on the official website.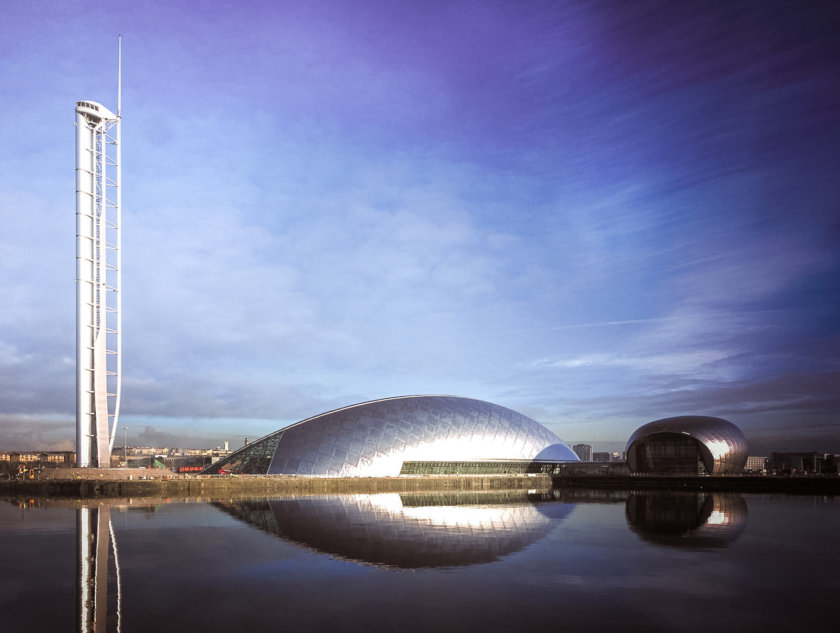 10. The Lighthouse
Glasgow was elected "city of design and architecture" and opened The Lighthouse, the national center for design and architecture, in 1999.
Located on Buchanan Street, right next to the GoMA, The Lighthouse is dedicated to both arts and more particularly to Charles Rennie Mackintosh, a famous Scottish architect who designed many buildings in Glasgow.
Inside, you can also climb to the top of the tower to enjoy a 360° view of the city center.
The visit is free, so you should really go there during your stay in Glasgow, even if it's just to enjoy the panorama!
To find out more about The Lighthouse, you can have a look at the official website.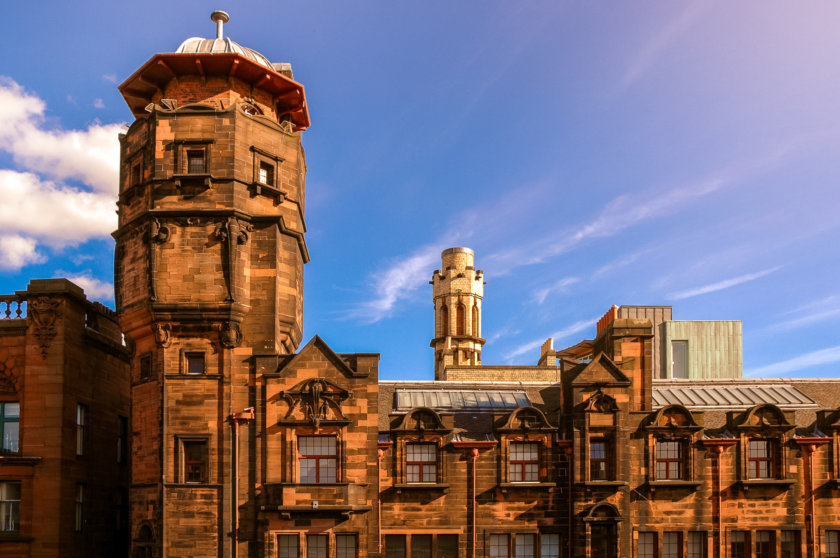 11. Glasgow Green
Glasgow Green is another major public park in Glasgow, located on the north bank of the River Clyde, not far from the city center.
Dating from the 15th century, Glasgow Green is the oldest park of the city. It hosted the first football matches in the 19th century!
It's a great place to take a walk, have a rest and admire the beautiful statues and monuments located in the park. In summer, you can even attend bagpipe concerts.
In Glasgow Green park, you can also visit the People's Palace Museum. I'll tell you more about it below.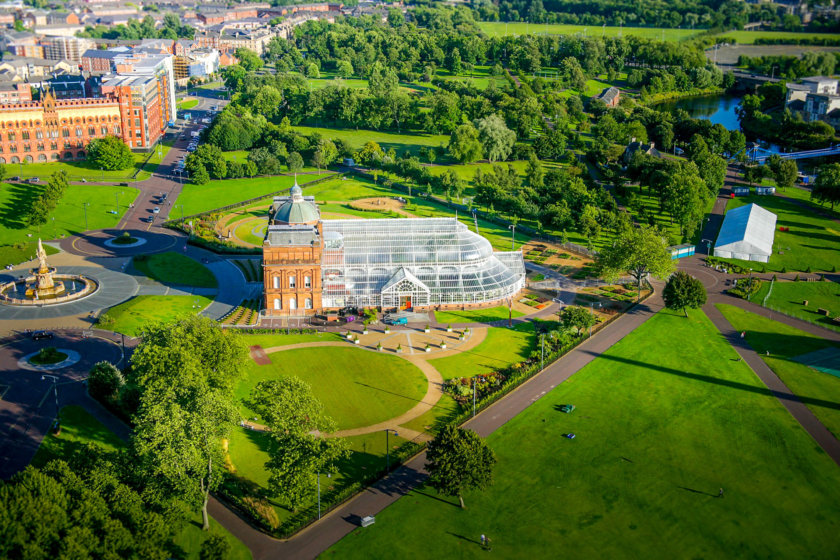 12. The People's Palace
In Glasgow Green park, you will find the People's Palace and Winter Gardens.
This free museum will allow you to learn more about the history of Glasgow's inhabitants and their living conditions through the centuries.
The People's Palaces museum is located inside a very beautiful building, in front of which you will find the Doulton Fountain.
This superb terracotta fountain representing the former colonies of the United Kingdom such as South Africa or Australia is the largest fountain of its kind in the world.
As you leave the palace, don't miss the former carpet factory located next to the museum: its multi-coloured facade is really nice, especially on a sunny day!
Outside the museum, you can take a stroll through the winter gardens, the beautiful tropical greenhouses featuring palm trees and other exotic plants. Here, you can also enjoy a coffee or lunch in an unusual setting.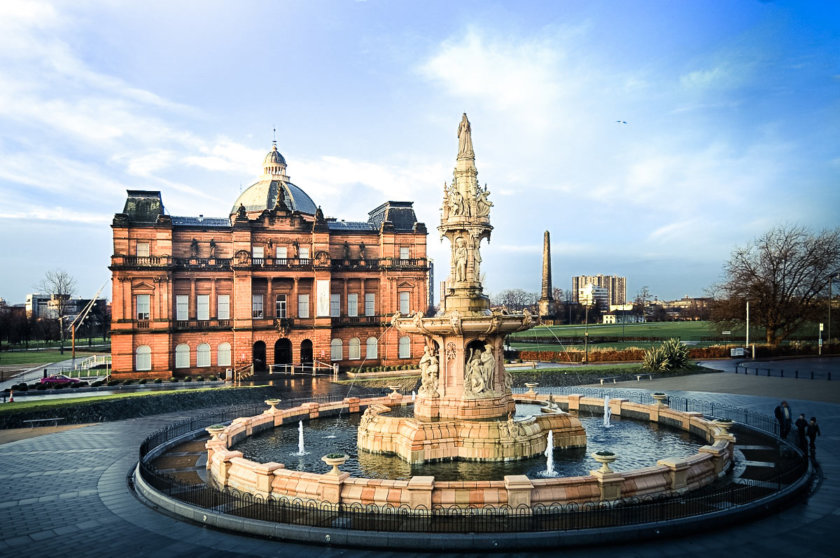 13. The University of Glasgow
Let's continue this guide of the best things to do in Glasgow with the University of Glasgow.
Considered as one of the most beautiful and prestigious universities in the world, it's really a must-see during your stay.
You will for sure be amazed by its stunning Gothic architecture that inspired JK Rowling to design the Hogwarts School of Witchcraft and Wizardry. Harry Potter atmosphere guaranteed!
This university is a true architectural masterpiece and the neo-gothic buildings take us back several centuries.
You can freely visit some of the buildings, the inner courtyards as well as a few small museums (Hunterian Museum, Hunterian Art Gallery, Mackintosh House and Hunterian Zoology Museum).
And if you want to know every detail of the history of the place and have access to more rooms, you can also opt for a guided tour (to be booked on site).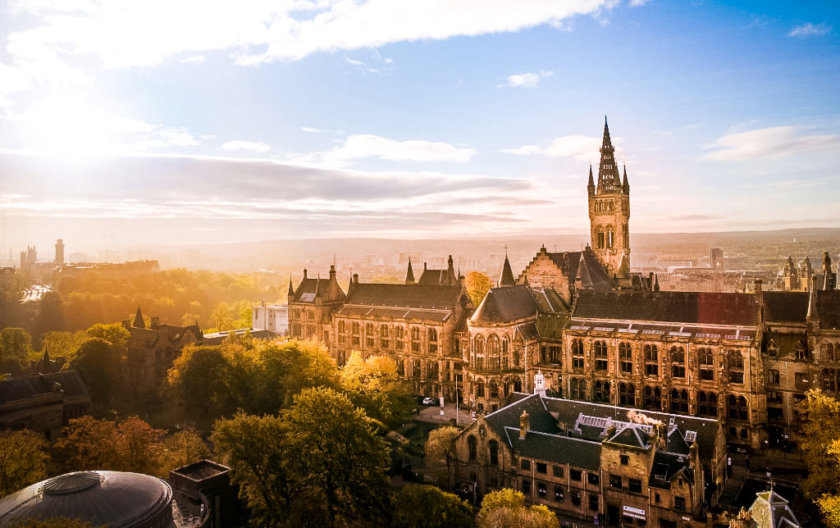 14. The Hunterian Museum and Art Gallery
In Glasgow, you can also visit the Hunterian Museum I told you about in the section above.
Divided into two distinct parts, this museum consists of an art gallery and a science museum, both located on the university campus.
The Hunterian Museum displays an impressive collection of objects relating to natural history, anatomy and medicine. It is the oldest public museum in the country, opened in 1807 thanks to a donation from William Hunter, a famous anatomist and former university student.
Organs in formaldehyde jars, skeletons, deformed animals, the collection is quite unusual and you will feel a bit like visiting a school of wizards. The architecture of the museum alone is worth the visit.
The art gallery is located across the street, next to the university library. In a completely different style, it displays the university's art collection, including works by Rembrandt, Rubens, Chardin, Whistler and Stubbs.
You can find more details about the Hunterian Museum on the official website.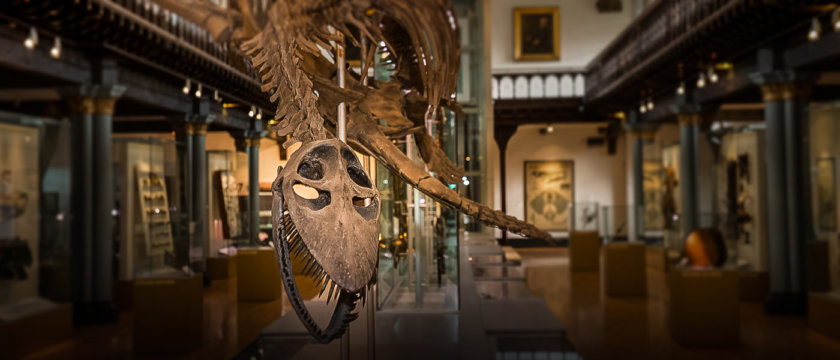 15. Glasgow Botanic Garden
While you will be in town, why not go visit Glasgow Botanic Garden?
Located close to the university, this beautiful garden will allow you to spend a few hours strolling among the flowers, or  visiting the magnificent Victorian-inspired tropical greenhouses.
During cold or rainy weather, it's especially comforting to visit the covered and heated greenhouses!
16. Pollok Park
With its 146 hectares, Pollok Park is the largest green space in Glasgow
Located south of the city center, it's easily accessible by train from Queen Street station.
It's the ideal place to enjoy peace and quiet in the Scottish countryside, just a few minutes away from the city. There, you can do pleasant strolls through the meadows, the undergrowth, and the flowered gardens.
And if your traveling with your kids, they can enjoy the playgrounds, ride a bike and discover the famous "Highland cows"!
In the park, you can also visit Pollok House, the family home of the former owners of the park. Lovers of English classical novels will enjoy visiting this picturesque house and the different living areas.
Inside, don't miss the Burrel Collection, featuring more than 8000 works of art from all over the world.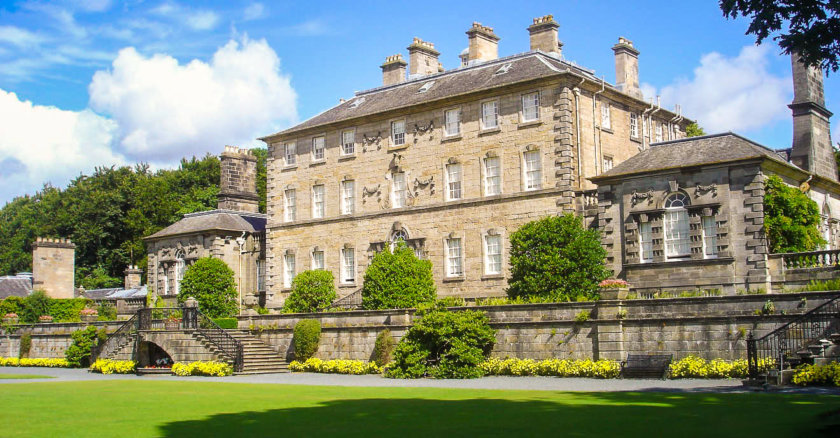 17. Stroll along Forth and Clyde Canal
For a bike ride, a jog, a nature photo session or simply for a pleasant walk, the trail along the Forth and Clyde Canal is the ideal place in Glasgow.
One of the starting points of the walk is in Maryhill district. You can get there from Kelvingrove Park by following the river.
The canal connects the River Forth in the east with the River Clyde in the west. If you feel like it, you can follow the cycle route from Glasgow to Edinburgh (105 km!), or you can reach the village of Bowling from Glasgow (15 km).
A great way to do a bit of sports during your stay in Glasgow!
Voyage Tips - Advice
You can rent bikes for around £15 a day near Kelvingrove Park, at "Gear Bikes", on Gibson Street.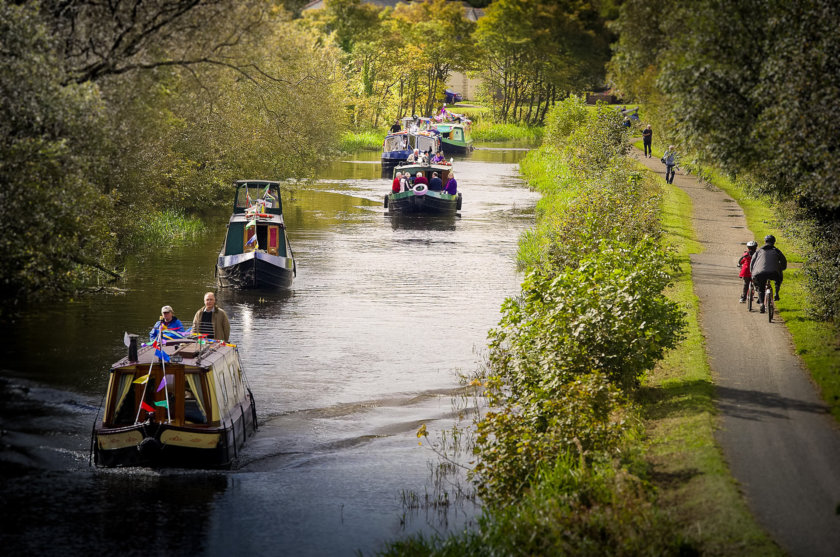 18. Hampden Park and Celtic Park
You're a fan of football?
Then maybe you should visit Hampden Park or Celtic park stadiums!

Hampden park is Scotland's national sports stadium. It's also the home of Queen's Park FC, the oldest football club in the country.
Inside the stadium, you can also visit the Scottish Football Museum, a great place to learn more about the history of football in the country. It has a collection of 2,500 exhibits, including the Scottish Cup, the oldest national trophy in the world.
To book your visit to Hampden Park and the Football Museum, simply click on the button below:
In Glasgow, you can also visit a second stadium: Celtic Park, where Celtic Football Club plays.
It's one of the largest football stadiums in Europe. You can take a guided tour of the stadium and have access to the players' board room, dressing rooms and the field.
You need to book it in advance by clicking here!
19. Enjoy Glasgow's lively nightlife
If you are lucky enough to be in Glasgow for a few days, don't return to your hotel at nightfall and enjoy a few more hours of the city's unique atmosphere!
Famous for its lively nightlife, Glasgow is the perfect city to go out at night and party. Whether it's for dinner, concerts, street entertainment or fun in the pubs and clubs, Glasgow's nightlife is something you need to experience.
Here are a few things to do at night in Glasgow:
Stroll on Ashton Lane: this charming cobbled street is full of bars, pubs and restaurants. There is also a small cinema.
Discover Finnestion district and its very good restaurants
Have fun in the Merchant City area with its trendy wine bars, restaurants, pubs and clubs
Go see a live concert at the SSE Hydro, the Royal Concert Hall or the King Tut's Wah Wah Hut.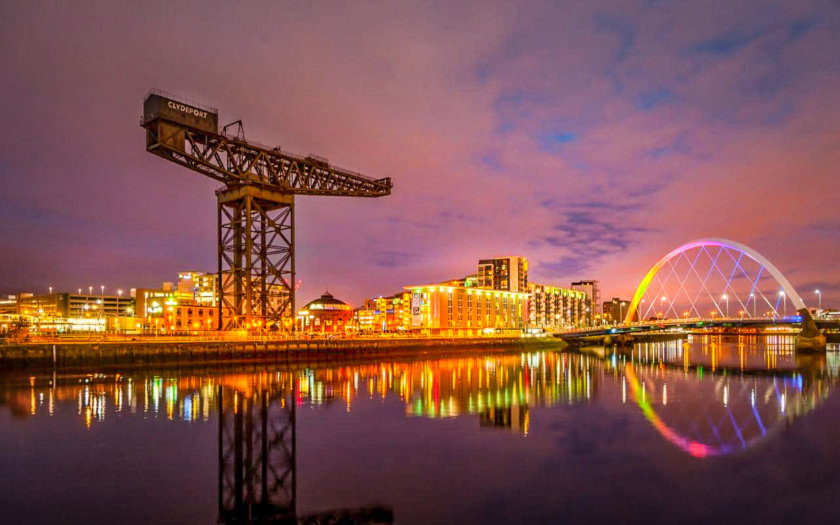 20. Do a "Subcrawl" with friends
Did you know that the Glasgow metro is the third oldest in Europe, after London and Budapest?
Rather small and following a circular shape, it doesn't allow you to travel any further than the West End, but it's perfectly suited for a Pub Crawl. There is even a specific term for it: the Subcrawl!
As you might have guessed it, the name "Subcrawl" is a mix of 2 words: it's simply going on a Pub Crawl while taking the subway.
In case you have never heard about it, a Pub Crawl is an Anglo-Saxon tradition consisting in drinking in multiple pubs or bars in a single night.
So if you're visiting Glasgow with friends, it's the opportunity to spend a fun evening, full of discoveries and encounters!
You will find here the list of all the best pubs located close to the metro stops.
Voyage Tips - Advice
If you want to discover the best Scotch whiskies with a wonderful guide, you should book this guided tour of Glasgow's best whisky bars. It of course includes whisky tastings!
And if you prefer beer than Whisky, this walking tour with local beers tastings (click here) is equally amazing!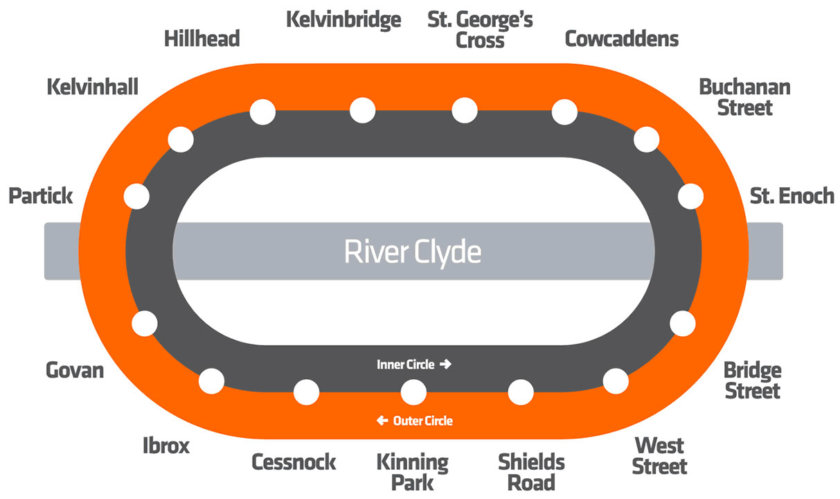 The Best things to do around Glasgow
If you're planning to spend some time in Glasgow, you should definitely visit the surroundings.
Here are some of my favorite places to visit located less than 2 hours from the city:
Loch Lomond and the Trossachs National Park
Even if Scotland's two major cities (Glasgow and Edinburgh) are beautiful to visit, people mostly go to Scotland to enjoy its magnificent countryside and natural landscapes.

Loch Lomond (Scotland's largest lake) and the Trossachs National Park are located just a few kilometers north of Glasgow and are well worth a visit.
For example, you can go to the small town of Balloch, located on the shores of Loch Lomond, in the heart of Trossachs National Park. From Glasgow, you will be able to get there in only 50 minutes by car.
There, you can go for beautiful hikes along the loch, discover the ruins of a castle or even do a bit of shopping at Loch Lomond Shores mall.
If you don't want to rent a car, you can also visit Loch Lomond and the Trossachs National Park with a guided the tour.  The best one needs to be booked here.
The day also includes the possibility of a one-hour cruise on the loch and a visit to Stirling Castle
The Isle of Arran
About 2 hours drive from Glasgow, the Isle of Arran is a great place to spend a weekend or more far from the other tourists on a very authentic Scottish island.
To get there, you will need to go to the small port of Ardrossan to take the ferry to the Isle of Arran (you can take it with your rental car.)
The island is easy to visit by car: you can drive around the whole island in 2 hours and cross it from east to west in only 20 minutes.
Here are a few places to visit on the Isle of Arran, close to Glasgow:
Brodick Castle
Arran Historical Museum
The ruins of Lochranza Castle
Lochranza village
The Arran Distillery.
On the island, you can also do many sports activities: hiking, climbing, kayaking, diving…
3 other places to visit near Glasgow
Stirling: A medieval town steeped in history with beautiful cobbled streets, a castle and a tower-museum. You can spend a few hours in Stirling and return to Glasgow on the same day as the city is only 50 minutes away by car.
New Lanark: This beautiful village located 4km from Glasgow is listed as a UNESCO World heritage site. You can get there in 40 minutes by car. In New Lanark, you can visit a 18th century cotton mill and walk through the beautiful forest around the village.
Edinburgh: Of course if you're in Glasgow and haven't visited the capital yet, be sure to spend a day or two in Edinburgh, located only an hour away from Glasgow. To plan your visit to the Scottish capital, you can have a look at my detailed guide: Top 20 things to do in Edinburgh.
The best 2 or 3 day organized tours from Glasgow
If you don't want to rent a car, I have selected for you the 3 best organized tours from Glasgow.
For more details on these tours and to book them, you simply need to click on the orange links below: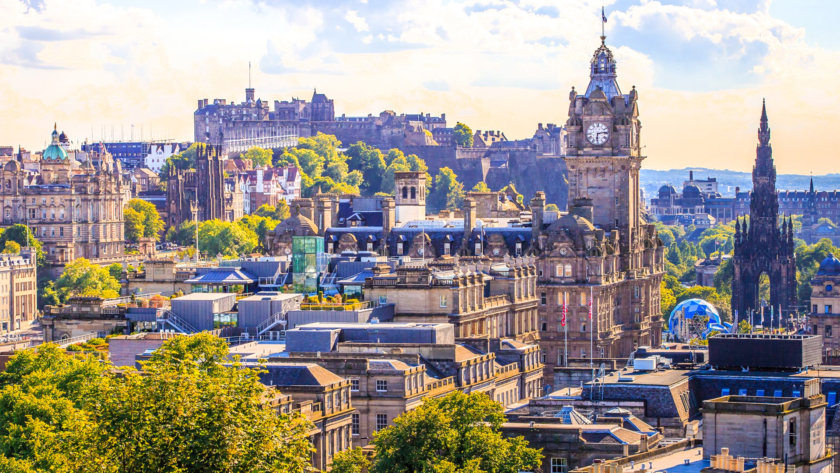 What do you do in Glasgow when it rains?
Scotland and rain, it's a real love story!
And Glasgow is of course not spared with an average of 200 rainy days a year! 😱
But don't panic, no matter if it rains only for a bit of time or all day long, you will have plenty of things to do to keep you busy and enjoy the city.
They are so many cultural places that you will always have the opportunity to enter the nearest museum or monument while waiting for the rain to stop.
With its countless free museums, Glasgow is definitely a city where you'll find plenty to do when it rains!
And if you're bored of museums, you can always go shopping or warm up in a tea house or pub.
Visit Glasgow with your family
As we have seen, Glasgow is primarily a cultural city.
So young children will not necessarily be thrilled by all the museums and might get bored. On the other hand, most museums are free, so if they are old enough to enjoy these kinds of visits, you will be able to discover a lot of things together without breaking the budget!
Here are some ideas to do in Glasgow as a family:
The numerous art museums may not appeal to everyone, but if you're visiting Glasgow as a family, don't miss the Glasgow Science Centre, the most instructive museum of the city.
Apart from cultural visits, you can spend some time in the city's green spaces. You should especially go to Pollok Country Park, a place everyone in the family will enjoy!
A visit to Glasgow university is also an great thing to do with your kids. It will delight the young Harry Potter fans!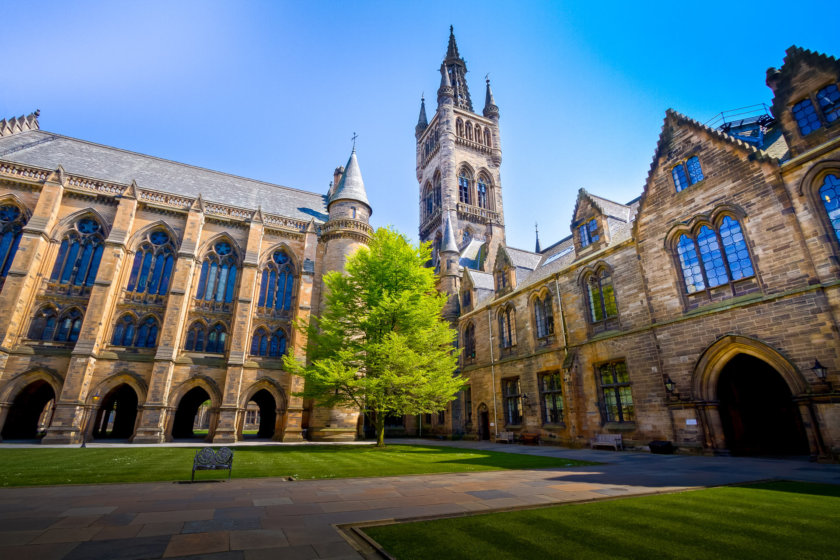 How to visit Glasgow on foot?
You can easily visit Glasgow city center on foot in 1 day.
In order to help you plan your visit, here is the best itinerary to visit Glasgow on foot in 1 day and get a good overview of the city.
If you are spending more than one day in Glasgow, you can extend this itinerary and spread it over 2 or 3 days. I'll tell you more about this a bit below.
For your itinerary:
Start with a walk in Glasgow Green Park, where you can visit the People's Palace and the Winter Gardens.
Then, head to the famous St Mungo's Cathedral and its Victorian cemetery, the Necropolis.
Reach the city center via George Square (about 15 minutes walk from the cathedral). Don't miss the magnificent Glasgow City Chambers (The city hall)!
You can then walk past the GoMA and climb to the top of the Lighthouse for a nice view over Glasgow.
Wander down Buchanan Street for a bit of shopping.
Head west to Kelvingrove Park, where you'll find the Kelvingrove Art Gallery and Museum and then head to the University of Glasgow.
At the end of the day, you should go to the charming and picturesque Ashton Lane (just 500 meters from the university), where you can spend a pleasant evening.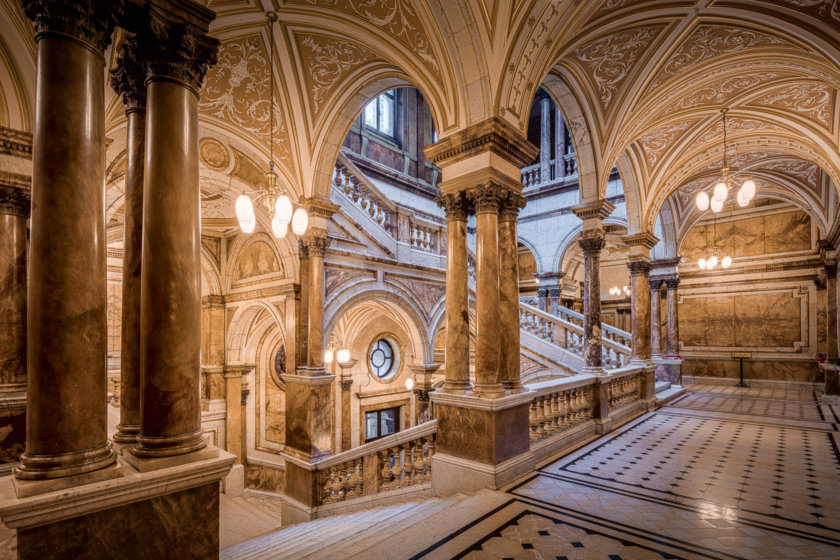 How many days to visit Glasgow
As I told you above, Glasgow's main points of interest are quite close to each other and you can get a good grasp of the city on foot in a day.
However, if you love art and culture and want to soak up the atmosphere of the city, you should plan a whole weekend or even 3 days.
In my opinion, 2 or 3 days in Glasgow is the ideal duration to make the most of all that Glasgow has to offer.
1 day in Glasgow
If you only have one day to visit Glasgow, here is the best itinerary:

Walk to Glasgow Green Park where you can visit The People's Palace and the Winter Gardens
Visit Saint Mungo's Cathedral
Head to the Necropolis cemetary, located close to the cathedral

Pass by George Square and the Glasgow City Chambers
Lunch time!
Visit the GoMA
Go to The Lighthouse
A bit of shopping on Buchanan Street
Evening in Merchant City district
If you don't want to visit the museum nor the inside of the buildings, and prefer to stroll around the city, you should rather do the "How to visit Glasgow on foot" itinerary I gave you above.
And iff you don't feel like walking, the best way to discover most of Glasgow in a day is to take the sightseeing tourist bus. Simply click on the button below to book it:
2 days in Glasgow
To visit Glasgow in 2 days, take the previous itinerary for your first day and add the following for your 2nd day:
Visit the Riverside Museum or the Glasgow Science Center if you have children
Take a walk in Kelvingrove Park
Visit the Kelvingrove Art Gallery and Museum
Go to the University of Glasgow
Visit the Hunterian Art Gallery
Stroll in Glasgow Botanic Garden
Spend the evening on Ashton Lane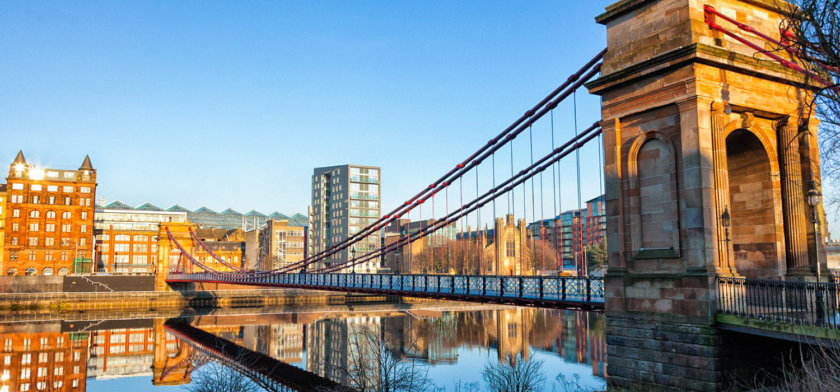 3 days in Glasgow
If you are lucky enough to spend 3 full days in Glasgow, in addition to the 2 days above, you can add:
The Pollok Country Park, to enjoy the Scottish countryside and admire the Burrel Collection
A visit to the football museum in Hampden Park or Celtic Park
A long walk or a bike ride along Forth and Clyde Canal
And why not go for a Subway pub crawl or a Whisky Tasting tour with an amazing guide in the evening?

If you prefer, you can also choose to visit Glasgow's surroundings for your 3rd day and visit Loch Lomond, Trossachs National Park, Stirling, the Isle of Arran or even Edinburgh!
If you didn't rent a car, you should for an organized day trip, with driver and guide.
Here are the best day trips from Glasgow (click on the orange links for more info):
Where to stay in Glasgow
Where to eat in Glasgow
Number 16: located close to Kelvingrove Park and the University. This excellent restaurant offers typical local cuisine as well as international cuisine. There isn't much choice on the menu, which is a good sign! The food is really delicious and homemade. Don't forget to book!
Wee Lochan: a small and pleasant restaurant that serves delicious local dishes in a friendly atmosphere. The food is original, tastes good, the location is nice and the prices are correct, what more can you ask for?
Obsession of India: for Indian cuisine lovers, and if you want a change from Scottish cuisine, this restaurant will delight your taste buds. It's located in the lively Merchant City district (on High Street at number 25). The service is perfect, and the prices are reasonable with a rather original principle: if you don't like the dish, you don't pay.
Voyage Tips - Advice
The
Hard Rock Café
is an institution in Glasgow! You should really plan to eat there during your trip to Scotland.
The only problem is the long waiting line at the entrance…
But that was before 😉.
Because yes, nowadays it's possible to book your place in advance by paying for a menu. You will have the privilege to pass in front of all the other customers, with a big smile! (All those who haven't read this travel tips from Voyage Tips and are standing in line! 😃)
Click on the following button to reserve your seat:
What's the best time to visit Glasgow?
If you're planning to go to Scotland but don't have decided on your travel dates yet, you might be wondering: what is the best time to visit Glasgow?
As you probably know, winter in Glasgow (and in Scotland in general) is often very cold, so not really recommended for tourism.
Summer is the high season, but it's rather wet, with heavy rains interspersed with beautiful sunny days.
So if you can avoid it and want to visit Glasgow in the best conditions, the best is actually to go there in spring, ideally between April and June. It's less rainy that during summer and you will avoid the crowds of tourists!
September is also a good option, just a bit more rainy than spring, but visiting Scotland while enjoying the colours of autumn is quite nice too!
Glasgow Tourist Map
To help you visualize the city a bit better, I have made a Glasgow tourist map listing all the places to visit I'm talking about in this top 20 things to do in Glasgow. You can display the map legend by clicking on the button with a small arrow located in the top left corner.
And you, what do you plan to visit during your stay in Glasgow?
Book your trip now and save money!
Scotland travel Guides
You're traveling to Scotland? These articles will help you!
Discover all my articles about Scotland: All my articles to help you plan your trip to Scotland are listed there.
You're using Pinterest? Here is the picture to pin!