How to spend 10 days in Malta?
You're planning to go on a trip to Malta? Great idea!
In order to help you plan your stay, I have prepared for you this detailed itinerary for 10 days in Malta. It's the ideal duration to discover all the best places to visit of one of the smallest European countries.
Your trip will take you to Valletta, Mdina, Gozo, Comino, the beast beaches of Malta and a lot more!
And to make the most out of your stay, I will also give you all my best tips to visit Malta in 9, 10 or 11 days as well as my selection of the best accommodations depending on your budget.
So, what are the best things to do in Malta in 10 days? Let's find out!
1) Valletta (2 days)
Ready for your 10 days trip to Malta? So let's start with Valletta, the capital:

Malta international airport is only a few kilometers away from the city. There are different options to get there:

By car but you shouldn't necessarily rent one right away. It's very easy to visit Valletta on foot and it's hard to find parking inside the city unless you choose a hotel with a private parking lot. However, you should definitely rent a car later on for your Malta trip, because buses are often crowded, rarely on time and the bus routes aren't very convenient for sightseeing.
By bus, it's the cheapest option. A one way ticket is only 1.50€ during low season and 2€ during summertime. The X4 bus goes from the airport to Valletta in 25min and leaves every 30min.
By taxi. The official taxis (the white ones) are the most expensive. Taxify and eCabs are available in Malta and offer better fares.
Most hotels in Valletta also offer shuttle services, don't hesitate to ask for price details.
So, what to do in Valletta during this first day of your 10 days itinerary in Malta?
The best is to start with one of the city's must-see attraction: St. John's Co-Cathedral. While the outside isn't particularly remarkable, the interior is truly stunning with its pillars and walls covered with gold. There are also 8 chapels and the tombs of the Knights of the Order.
The visit takes about 1 hour.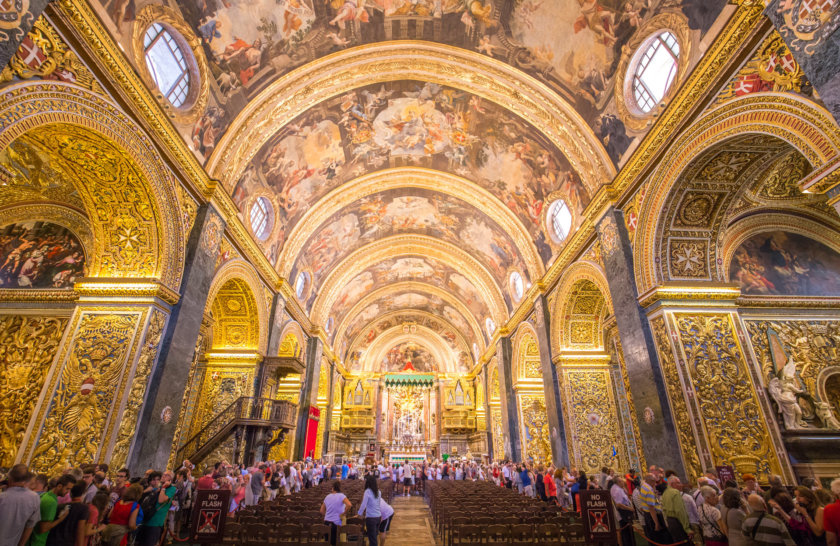 After the visit of the Cathedral, you should head to the Grand Master palace. There, you can visit the states rooms and the impressive knights armoury, with all the weapons and armours which belonged to the Order of Malta.
Then, let's go to Lower Barraka Garden, a great place to enjoy the view on the sea and Valletta's harbour. There is also a very photogenic monument there: The Siege Bell War Monument.
After the Lower, it's time to go to the Upper Barraka Garden, offering an amazing view on the Three cities, located on the other side of Valletta's harbour. A must-see during your 9, 10 or 11 days trip to Malta!
As you have admired the Three Cities from afar, let's go get a closer look and walk around these towns. To go there, it's super simple, you just have to take the lift from Uper Barraka Garden, cross the road and turn left to reach the piers.
There, you'll find the shuttle boat. A roundtrip ticket is 2.80€ per person and the trip lasts just 10min. Once you've arrived, the best way to discover the Three Cities is simply by wandering around on foot in the narrow streets and enjoy the numerous views over Valletta.
If you don't want to walk, you can also opt for the little tourist train (departure next to the shuttle boat arrival).
At the end of the afternoon, take the shuttle back and end your day in Valletta on Republic and Merchant streets, with all their shops, bars and restaurants.
Spend your night in Valletta.
Voyage Tips - Advice
To learn more about the history of Valletta, there is nothing better than a guided walk with a super interesting guide! Book here:
Visit also possible as private guided tour (to book here!) or especially dedicated to the time of the Second World War (to book there!).
For the 3 towns, guided walks are also possible, which even include a tasting of the local wines !
Finally, you can also take a quiet moment to take a trip on a traditional Maltese boat, a Luzzu, and to admire Valletta from the sea Click here for details!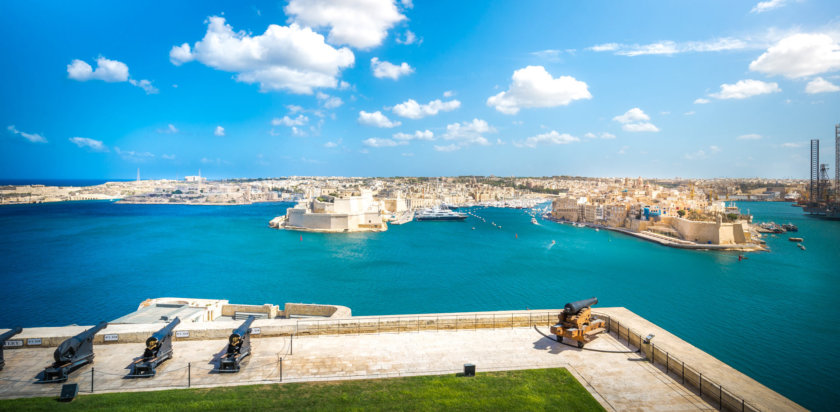 For this second day of your 10 days itinerary, let's continue exploring Valletta.
In the morning, go to Casa Roca Piccola. Close to 9 generations from the same family lived in this palace. It's actually the last palace in Valletta that is still inhabited. They offer guided tours to learn more about the lifestyle of an aristocratic Maltese family.
You'll visit a dozen of rooms filled with antique everyday items. 
Then go to Fort Saint Elmo, home to the National War Museum offering great explanations about the history of Malta, the construction of the Fort, and the various wars that happened on the island.
In the afternoon, I recommend taking a shuttle boat again, but heading to Sliema this time. From there you can go on a nice walk along the sea. There are also plenty of shops and malls, making it the perfect spot to go shopping in Malta.
Sleep in Valletta again.
For more information about Valletta, you should read my article: The 10 best things to do in Valletta.
Voyage Tips Advice
If you want to rent a car upon arrival but your hotel doesn't have a private parking lot, you can park the car at the MCP parking lot. Prices are decent and it's only 5min walking distance from Valletta's city center. 
Where to stay in Valletta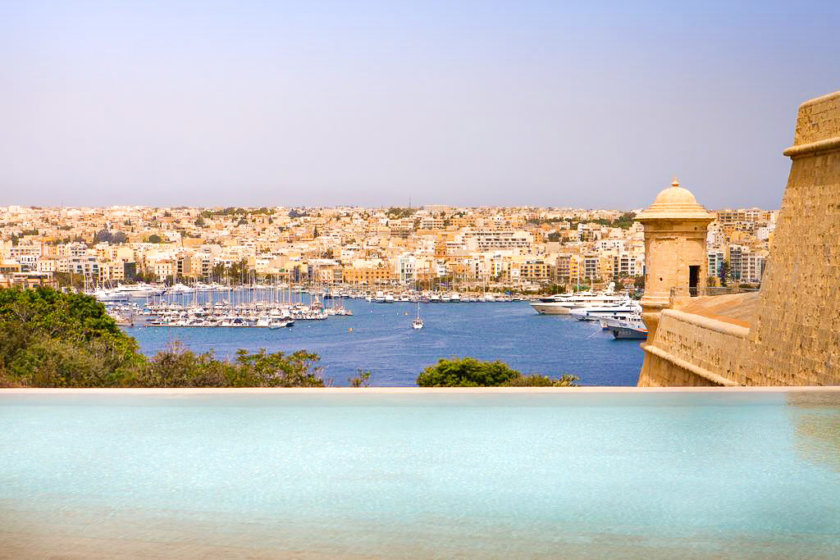 2) Mellieha (3 days)
It's now time to leave Valletta and head North. 
At this point of your 9-10 days itinerary in Malta, renting a car is quite essential for you to enjoy your vacation to the fullest.
When I need to rent a car, I always use Rentalcars.com. It's, in my opinion, the best website to easily compare prices of car rentals agencies in Malta. Another great thing is that you can quickly see customers reviews.
They also offer a "full protection" insurance (don't forget to check the box when booking): in case of damage or even if your car gets stolen, you'll get a full refund of the costs. Tested and approved!
If you already know your travel dates, I advise you to book your rental car now to get the best prices. Click on the button below to compare rental cars prices in Malta:
It's best to pick it up directly at the airport so you can drop it back there at the end of your 10 days road trip in Malta.
Once you have your rental car, I recommend going first to Mdina. This lovely fortified city was the first capital of Malta, before being moved to Valletta. When Knights arrived in Malta, they preferred Valletta because of its strategic location next to the sea.
Go on a stroll inside the ramparts and make sure to visit St. Paul's Cathedral and Vilhena Palace.
Here too, history lovers can opt for a guided tour of Mdina :
When exiting Mdina, pass by Mdina Gate (the bridge over the moats) and cross the large square to go to Rabat, the neighbouring city.
Rabat is where Paul the Apostle sought refuge after his ship sank next to Malta, and many people come there to pray in the church or cave dedicated to him. If you aren't religious, it's worth going there to walk around the city's narrow streets. 
After visiting this small city, go back to your car and drive to Mosta. The city is famous for its monumental church inspired by the Pantheon in Rome.
Your journey up North will end in Mellieha, your stopover city for the next 3 nights.
In Mellieha, there is a large sandy beach with shallow water. It's the ideal spot to end the day and take your first dip in Maltese water!
The beach is well equipped with sun beds, umbrellas, a few bars and public bathrooms. It's also a great place to try some water sports such as windsurf, stand up paddle or fun activities like banana boat.
Spend the night in Mellieha.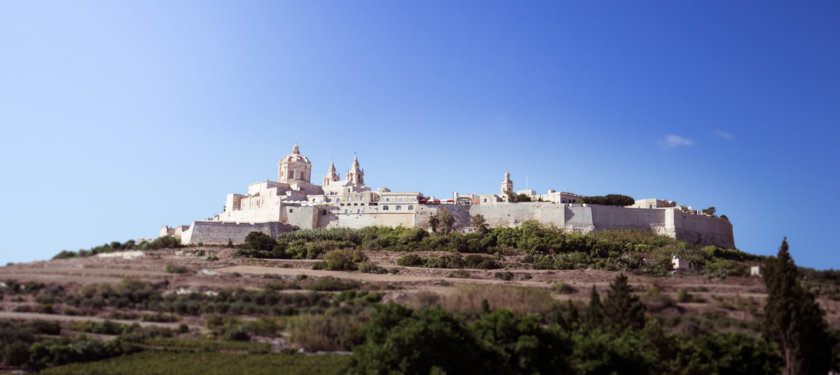 During your 9-10-11 days itinerary in Malta, you should also have some relax holidays! So let's have a chill day.
Mellieha is very close to 2 of the most beautiful sandy beaches in Malta: Gnejna Bay and Ghajn Tuffieha Bay. 
It would be a shame to miss them! As they're next to each other, it's very convenient to visit both during the day. I've to admit, I can't really decide which one is my favorite, so go have a look at both and choose where you'd like to spend the day.
You can also spend the morning at one beach and the afternoon at the other one.
Either way, both are located in a pretty natural setting and are really nice. You can also rent sun beds and umbrellas, and there's a bar/restaurant on each beach for your lunch break.
They both offer parking facilities but you'll have to give a few coins to the guy guarding them.
Spend a second night in Mellieha.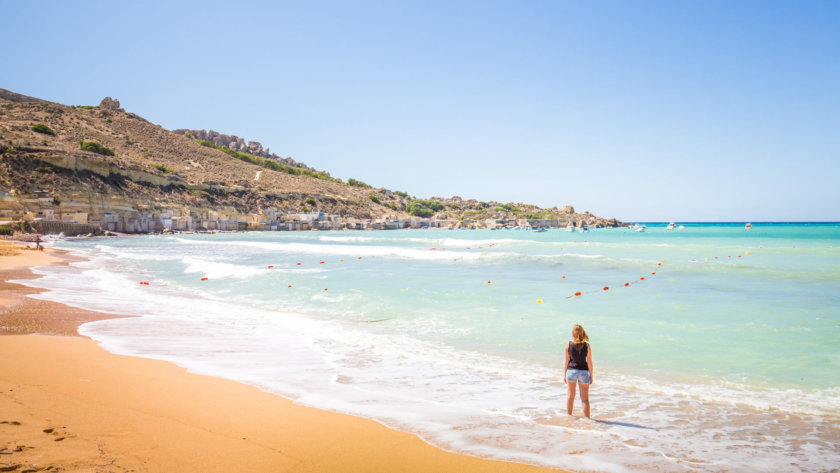 The day after, go to one of Malta's main tourist attraction: Comino island. You can't come to Malta and not go to Comino!
It's probably the most touristic spot in Malta, and you may have already heard of Comino's Blue lagoon crystal clear water. You should definitely go check it out and take a dip.
To go there from Mellieha, simply go to Marfa or Cirkewwa (10min driving away). You can take a small shuttle boat to Comino from these two locations. Roundtrip tickets are 10€ and it lasts 25min. There is a departure every 30min.
It's the best option if you want to be free to come and go from Comino as you please.
You also have the option to book a day tour on a big boat, with a lunch buffet included. Tickets are about 20€ per person.
You must book these tours here in advance:
One thing you need to know: don't expect a quiet moment at the beach! The Blue Lagoon is always crowded and quite noisy, especially because of the loud music coming from the boats. It's quite a young vibe there.
Hopefully, the rest of the island is quieter.
After your mandatory swim session in the Blue Lagoon, I suggest that you go for a walk along Comino island. Go see the Comino tower there and enjoy all the amazing viewpoints.

On the island, there is also another (less crowded) beach. It's called Santa Marija bay and it's located next to the only hotel of Comino.

Getting hungry? No problem, get a sandwich and a drink at the food trucks around! They are very affordable and tasty despite what one could expect in such a touristy area.
After this day in Comino, go back to Mellieha for one last night. 
Voyage Tips Advice
Try to go to Comino in the early morning, when it's less crowded. The spot is even more beautiful. Ideally, try to be there around 9 am if possible.
If you want to be trendy in Comino, order a cocktail served in a pineapple! You'll see what I mean when you'll be there.
Where to stay in Mellieha
Pergola Hotel & Spa: located in Mellieha with a view over the bay, the village, Gozo and Comino. Studio apartment with kitchen amenities starting from 80€/night, breakfast for an additional 8€. Best features: kitchen amenities, view, excellent service, 3 swimming pools.
Maritim Antonine Hotel & spa: located in Mellieha, 1km away from a vast sand beach. Very spacious and elegent double room starting from 140€/night, breakfast included. Best features: rooftop swimming pool with a scenic view over the bay, heated pool and hot tubs, good buffet with many options, next to bus stops going to Valletta or to the beach. It's the best value for money in Mellieha.

Radisson Blu Resort & Spa, Malta Golden Sands: located in Golden Bay and 2min walking distance to a lovely beach. Big double room with balcony (sea view or countryside view) starting from 150€/night, breakfast for an additional 20€. Best feature: direct access to the beach, view, delicious breakfast, during summertime you can get complimentary sun bed and umbrella on the beach.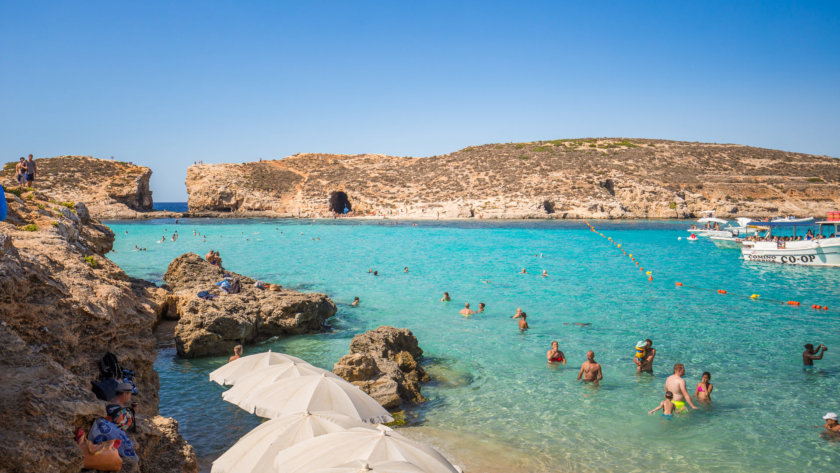 3) Gozo (3 days)
It's now time to go explore new areas: during your 10 days holidays in Malta, you can't miss Gozo island, Malta's little sister.
This island, wilder and more rural, was my favorite place during my trip to Malta.
To go to Gozo, go first to Cirkewwa. From there, the ferry will take you to Gozo in 20min. You can board the ferry with your rental car.
Don't get confused, you don't have to pay anything on the way to Gozo. You'll only pay for the roundtrip on your way back to Malta. I'll tell you more about it below.
Once you're in Gozo island, the main city, Victoria (or Rabat in Maltese) is only 10min away. You should first go visit Victoria's Citadella, the fortified place overlooking the city.
It has been entirely renovated, and you can visit the old prisons and the cathedral. You'll also enjoy it for its 360° scenic view over Gozo.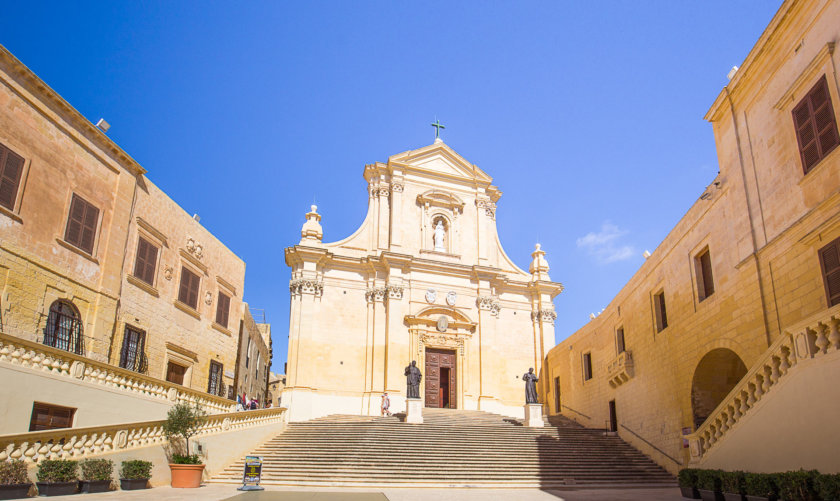 For your lunch break, there are several restaurants on the square down the Citadella and along Triq Repubblika (the city's main street). You'll also find gift shops selling local products like cheese, honey and olive oil. There're also a few clothing stores if you want to do some shopping.
In the afternoon, head to the Northwestern part of the island, to Dwejra. That's where Gozo's most touristic place, the Azure Window, was located. Unfortunately, the arch collapsed in 2017 but the site is still worth seeing.
In Dwejra, there's also the Blue Hole (famous diving site), the Inland Sea and the Fungus Rock. You can also take boat tours from the Inland Sea.
On the way back to Victoria, stop by Ta'Pinu Basilica and its breathtaking dimensions and architecture. You'll be impressed for sure by this very photogenic place! In front of the basilica, you can go up the footpath leading to the top of a hill and offering a nice view.
Spend the night in Gozo.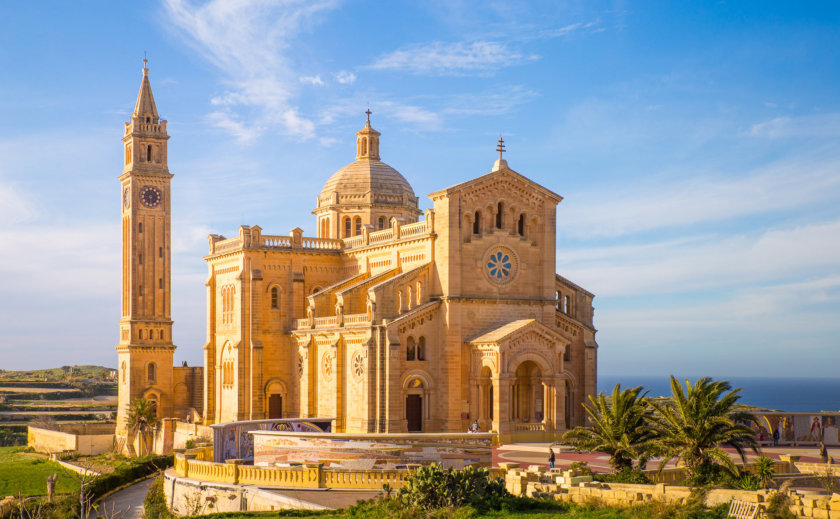 For your second day in Gozo, I recommend starting with a nice stroll to Marslaforn salt pans. It's one of my favorite spot on the island!
Walk until you reach Wied il Gashri: this small fjord carved by the sea is a nice swimming spot (just make sure there is no jellyfish!). It's also a famous diving site.
In the afternoon, enjoy Gozo's largest sandy beach: Ramla Bay. Don't forget to go up on the path located right off the beach to reach Tal Mixta cave. The view over the beach is very beautiful.
And if you fancy a little more action this afternoon in Gozo, I recommend you try one of the many water activities:
End your day with a beautiful sunset over Ta Cenc cliffs.
Spend a second night in Gozo.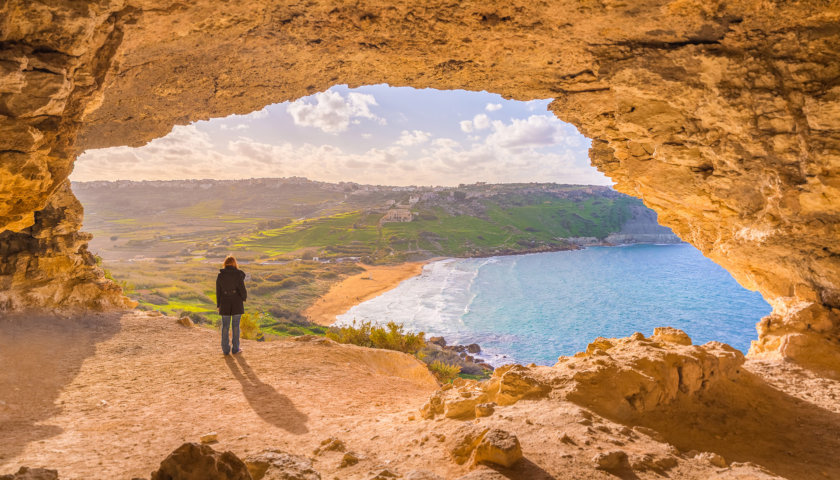 Continue your 10 days itinerary in Malta with one last day in Gozo.
There are several very pleasant hikes to do. Discovering the island on foot and walking along the sea is amazing! The short hikes are easy, but don't forget to wear hiking shoes or sneakers. It would be a very bad idea to do them in flip flops!
You can choose one hike to do in the morning. Paths are not marked, so you should check this website to plan your itinerary. You'll find a dozen of detailed hiking paths with things to see on the way.
And if you would like to take advantage of these trips to learn more about the island, the local flora and fauna, I advise you to book a trip with a Gozo based guide.
You have the choice of a 2-hour or a full day hike:
In the afternoon, here is a great activity to do in Gozo: ATV quad biking! It allows you to discover the island from a different angle and to access spots you can't reach with a car.
You can rent a quad bike right at the ferry departure/arrival location, in Mgarr. There is another rental agency a bit further, here is its website.
It's better to book in advance because it's a very popular activity. Please note that you must have your driving license to rent a quad bike.
Spend one last night Gozo.
If you want more information about Gozo island, you can read my article: The 10 best places to visit in Gozo.
Voyage Tips - Advice
If you don't feel like taking your car, there are many ways to visit Gozo:
Where to stay in Gozo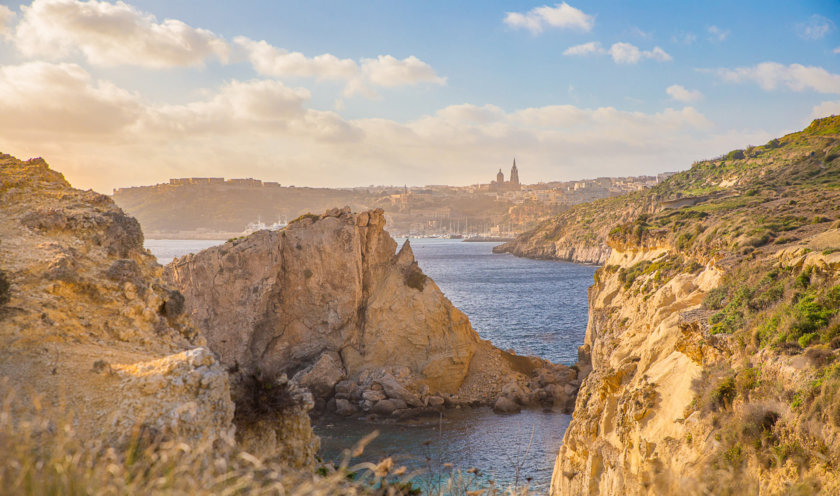 4) Marsaxlokk (1 day)
For the last part of your 9, 10 or 11 days itinerary in Malta, you will go to the South of the island.
First, take the ferry back to Malta. You'll have to pay for your roundtrip, about 20€ for 2 people and one car.
On that day, I recommend going to Marsaxlokk. It's a very practical location for a last day in Malta because the city is only 15min away from the airport. 
There are a few places worth stopping by on your way from North to South. I recommend you to visit the following:
Popeye Village where the movie "Popeye" (with Robin Williams) was shot. The set was kept and turned into a small amusement park. It's not really worth paying to get into the park, but the view of all the colored houses from the cliff nearby is worth it. It's a very photogenic spot.
Dingli cliffs, the highest point in Malta, with a nice scenic view.
The Blue Grotto, famous for the color of the water there. You can see it from a belvedere located right at the exit of Zurrieq village, or you can also go on a 30min boat tour. Departures take place at 2 min drive from the belvedere, in a small port.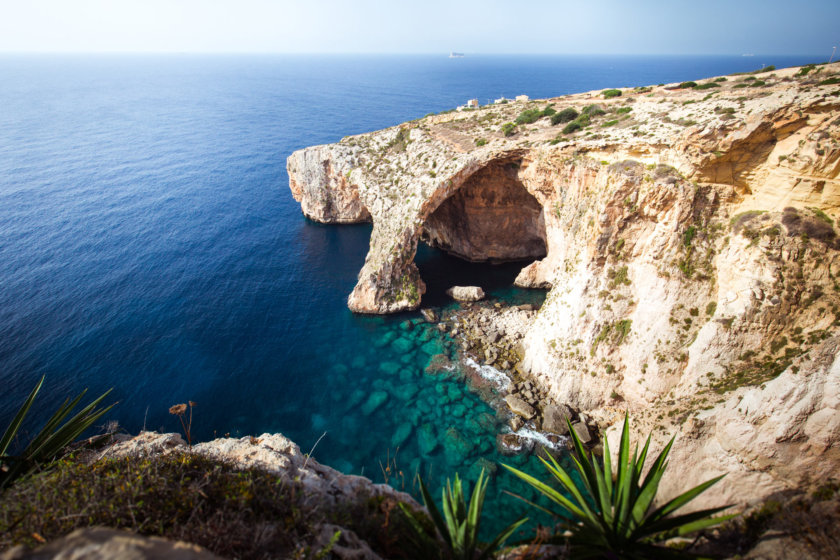 Once you arrive in Marsaxlokk and if it's a Sunday, there will be a big market next to the port. You'll find all kind of products there, including souvenirs.
Have a nice lunch next to the sea in one of the many fish restaurants. 
After your meal, go visit one of your last tourist attraction: St Peter's Pool. It's not really far away, only 10min driving from Marsaxlokk and it's easy to find, there are signs along the road.
Park your car at one of the 2 free parking lots and continue on foot. You'll reach a wide natural pool where people jump into the water.
If jumping is too adventurous for your taste, go on the path to the right and you'll find a few natural hot tubs next to the sea.
If you still have time, you can finish your day at Marsaskala's lovely beachfront.
Sleep around Marsaxlokk.
On the next day, it will sadly be the end of your 10 days trip to Malta and time to fly back home.
Voyage Tips Advice
If you're in Malta for 9 days only, don't do the beach day in Mellieha, or do only 2 days in Gozo.
On the other hand, if you're lucky enough to spend 11 days in Malta, you can add an extra day in Gozo. Do another hike, enjoy the beach or go scuba diving. There are many companies in Gozo offering scuba diving initiations.
Where to stay in Marsaxlokk
Port View Guesthouse: Guesthouse located in Marsaxlokk, a lovely fishermen village with a popular Sunday market. Modern and comfortable double room starting from 70€/night, breakfast included. Best features: next to the sea, good breakfast and excellent service.
Harbour Lodge: Located right next to the fishing port. Quiet and comfortable double room starting from 85€/night, breakfast included. Best features: quiet location, free parking lot, free shuttle to the airport.
Other ideas of activities for your 10 day trip to Malta
You want to enjoy more activities during your 10 day trip to Malta?
Great idea!
Here is the complete list of all the best activities to do in Malta. Enjoy!
For more information about these activities and to book them, simply click on the following links:
Just click on the links to access the details and make your reservations:
The 3 best activities to do in Malta

It's your first trip to Malta and you want to focus on the best activities and excursions?
In that case, I have selected for you the 3 activities and excursions you can't miss during your trip to Malta.
So, here are my 3 favorites!
1) Going on a boat trip to Comino Blue Lagoon
2) Visiting Gozo by Quad bike or Jeep
VIP full day quad bike tour in Gozo (top!) – Visit the island of Gozo with the best local guide and take a lunch in an amazing restaurant with countryside view. Small groups + discover more than 2 times more places than with other quad tours (including a few hidden gems!)
Full day Quad bike tour in Gozo, with departure from Malta (transport included). Return by boat via Comino and the Blue Lagoon! Definitely one of the best activities in Malta!
Gozo: Jeep tour – Pick up at your hotel in Malta included. A great way to discover Gozo if you don't want to drive!
3) Diving in Malta and Gozo
In addition to the 3 amazing activities mentioned above, here is the complete list, with all other activities you can do in Malta:
1) The best activities in Malta (and from Malta)

Boat trips to the Blue Lagoon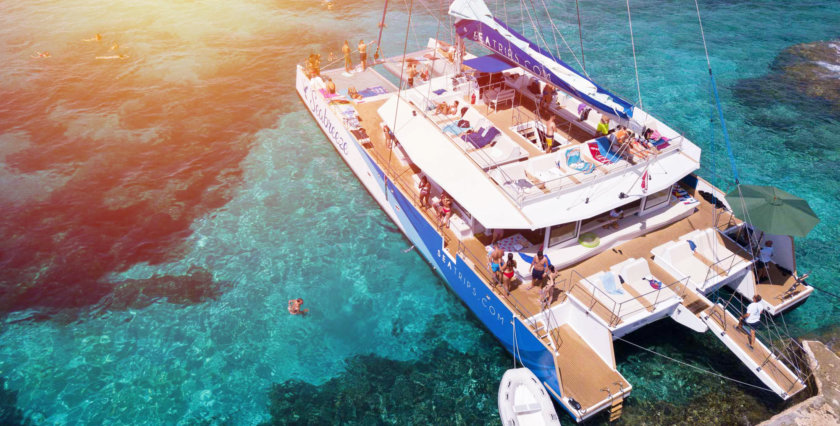 Visiting Gozo from Malta
Guided visits and excursions in Malta
Other activities to enjoy in Malta
Partying in Malta

If you want to take advantage of your stay in Malta to party (on your last evening or maybe even on several evenings during your stay !), you should:
Go on a pub crawl and make friends from all other the world – Click here!
Dance all night long in one of Paceville nightclubs
Opt for a boat party with an open bar.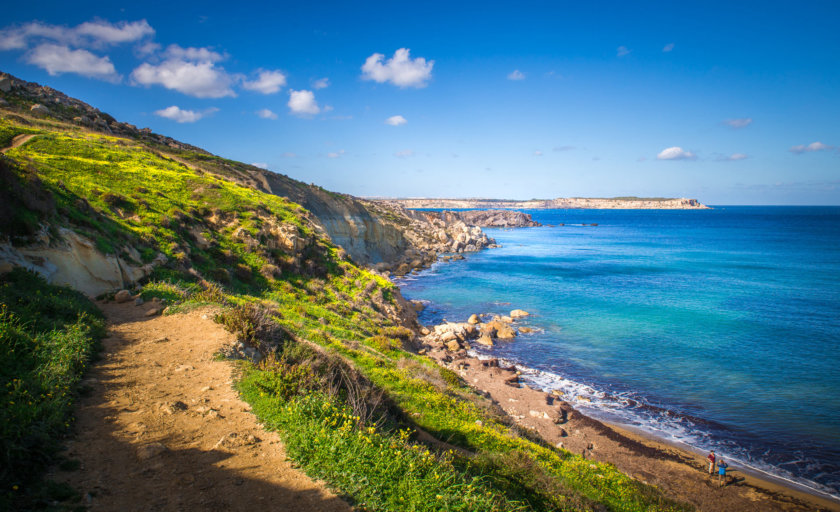 2) The best activities in Gozo
Boat trips
Other activities / Guided tours
Nautical activities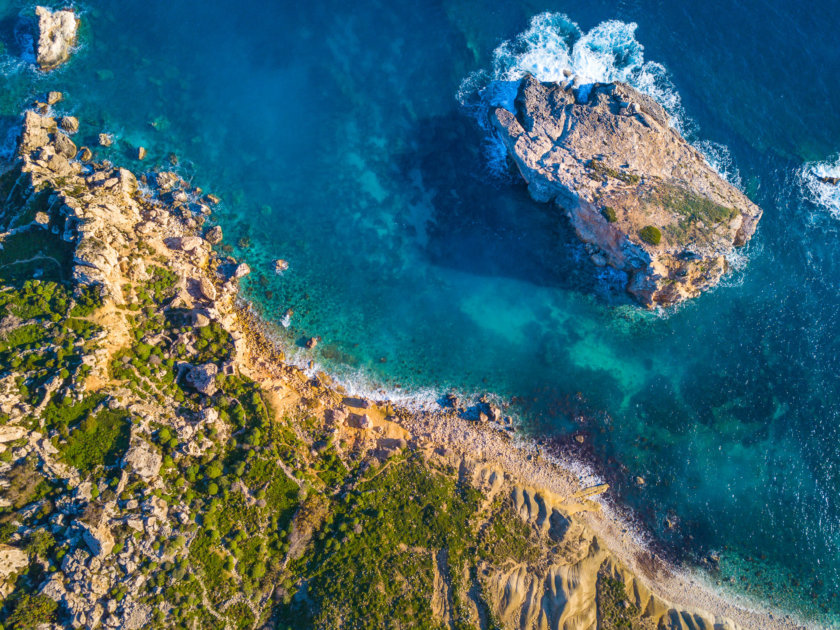 Renting a boat in Malta
If you want to rent a boat for a nice day at sea during your itinerary in Malta, you should book it with Samboat.
Motorboats, sailboats, yachts, small boats without a license, with or without a skipper: they simply have the most complete offer for boat rental.
So, what are you waiting for to book your boat trip in Malta? 😊
You're going to visit Malta in 10 days and have questions? Don't hesitate to ask me in the comments section of this article.
2 weeks in Malta: the best Itinerary
You want to visit Malta in 2 weeks? You're wondering if it's too long?
Well, it's not! You can do the 10 days itinerary I suggest in this article and add a lot of awesome activities.
During a 14-15 days trip to Malta, you can take your time to visit everything, and even go off the beaten track.
In addition to the visits, you can enjoy the beaches and do a bit of hiking! Gozo island is the best place for this.
There is a walking trail offering amazing viewpoints going around the island. If you can't do the full loop in a day, it's very convenient as you can split it in a few short 1-2 hours strolls.
Spending 2 weeks in Malta will also allow you to enjoy water sports such as:
Jet ski
Paddle
Water Skiing
Parasailing
Tubing
Kayaking trips are also very popular, especially around Comino. It's perfect to enjoy the crystal clear water!
Another great way to discover Malta or Gozo is to rent a boat for a day.
Malta is also recognized for having some of the best Mediterranean diving sites. Numerous diving schools offer diving sessions for all levels, from beginner to experienced divers. During your 2 weeks itinerary, you can even take a 3 days diving course to get a certification.
Now you know more about the best things to do in Malta in 2 weeks. If you need help to plan your 14, 15 or 16 days trip to Malta, don't hesitate to ask me in the comments.
Book your trip now and save money!
Malta travel Guides
You're traveling in Malta? These articles will help you!
Discover all my articles about Malta: All my articles to help you plan your trip to Malta are listed there.
You're using Pinterest? Here is the picture to pin!