The 10 Best Things to Do in Gozo (All Highlights)
You're planning to visit Gozo during your next trip to Malta? You want to know everything about the island's must-see attractions?
You're at the right place!
You will for sure love Gozo, the more rural, more authentic, little sister of Malta. Here no big cities, no traffic jams, just nature and calm.
In order to help you plan your stay, I have created this guide of the 10 best things to in Gozo.
And to make it even easier for you, you can directly book all the best acitivities directly from this guide! You will see, it's very simple: you just have to click on the orange links and green buttons you will find in this article.
In addition to the list of the best places to visit, points of interest and activities, I will give you itineraries to visit Gozo in 1, 2 or 3 days as well as my selection of the best places to stay on the island, depending on your budget.
Let's plan your trip!
Voyage Tips - Advice
The best way to visit the island of Gozo is for sure to rent a quad bike.
It's a lot of fun and it will allow you to discover most points of interest of the island in a day!
Personally, I rented with "Quad Bikes Gozo". They have the best quads bikes, and with the rental, they will give you a GPS map of Gozo, with all the best places to visit. It's really super convenient!
To make the most of your visit to Gozo and rent a quad bike, simply click on the green button below:
Or if you prefer, you can opt for a guided quad tour of Gozo, with transport from Malta included.
Enjoy!
Visit Gozo: The 10 Best Places to Visit and Must-See Attractions
If you're in a hurry and just want to discover and book the best activities, you can directly go to the "Best activities in Gozo" section of this guide by clicking here.
1. Victoria and the Citadella
Let's start your trip to Gozo with Victoria (also called Rabat in Maltese), the capital city located in the center of the island.
The Citadella is for sure the main attraction in Victoria. This fortified city was recently fully renovated, and offers a great 360° view over the surrounding countryside, villages, the sea and up to Malta. The view from the ramparts is really worth it!
There is no entrance fee to the Citadella, and you'll be able to enjoy its streets freely. You can also visit the baroque Cathedral of the Assumption for a small fee.

In addition, there are several museums inside the Citadella:
The Cathedral Museum has a nice collection of religious items used by the Church like crucifixes and chalices
The Museum of Archeology will take you on a historical journey from the ancient civilizations living on Gozo until the time of the Order of Malta
The Folklore Museum, to learn more about the local lifestyle and traditions
The Nature Museum, about local nature and wildlife
The Old Prison, where you can visit old prison cells
After visiting the Citadella, stop by Independence Square to wander through the daily market, and go to St. George's Basilica. As the outside is entirely covered by marble, it was nicknamed the Marble Basilica. The inside is also worth a look, with some wonderful paintings on the ceiling.
Once you're done, take a walk in the city center's narrow streets. You'll find there plenty of gift shops, coffee shops and restaurants.
If you're looking for more shopping options, go the Republic street, the city's main street. There you can find the 2 shopping malls of the island!
You will probably need a break after all this shopping. The best place for this is for sure the Villa Rundle public park. Just sit and relax, while enjoying one of the few shaded areas in Gozo.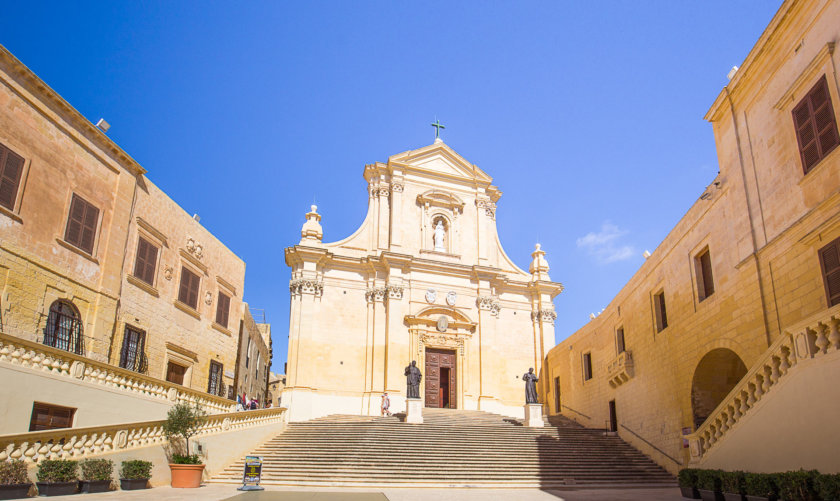 2. Dwejra and the Azure Window
On the North-Western part of Gozo is Dwejra, home of the Azure Window. So yes, I know, it -unfortunately- collapsed in 2017, but that doesn't mean there is nothing left to see there!
Here is a list of other natural wonders to see in the area:
The Fungus Rock is located at the entrance of Dwejra bay. The legend says Knights Hospitaller discovered a special kind of fungus on this rock. Believed to have incredible medicinal properties, only nobles could benefit from the fungus. It was said to cure infections, dysentery, ulcers and more. Such a precious plant had to be protected, so access to the rock was restricted and even watched by a guard! Later on, modern medicine showed that the plant wasn't in fact that incredible…
The Inland Sea is a seawater lagoon linked to the sea by a 80 meters long tunnel going under high cliffs. It's the perfect spot to go swimming with children, as the water is calm and warmer than in other places.
The Blue Hole is a famous diving site in Gozo. You dive in the hole and then reach the sea through a 7 meters underwater arch. I will tell you more about this place below, in the scuba diving section.
Voyage Tips - Anecdote
For the TV junkies out there, Some scenes from
Game of Thrones season 1
were shot here.
If you like this TV show, you should definitely book the Game of Thrones filming locations guided tour.
Your guides for the day will be Malcolm and his team: they all have been participating to the filming and will be able to tell you many anecdotes about your favorite show!
You can book it right here: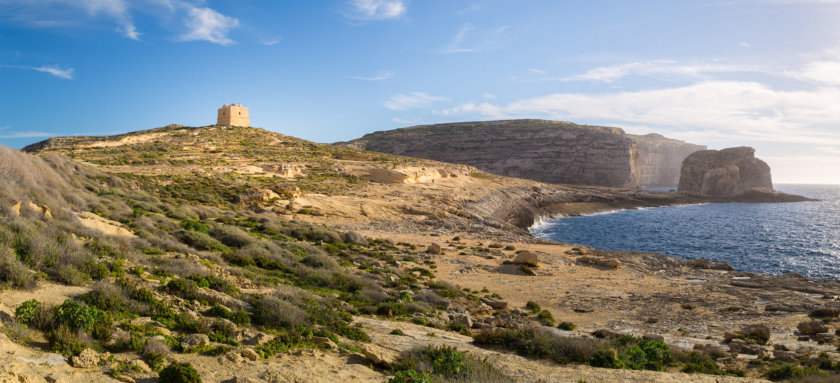 3. Ta'Pinu Basilica
Not far from Dwejra bay, you can find another must see attraction in Gozo: Ta'Pinu Basilica.
There's no place like it! This impressive construction is located in the middle of nowhere, lost in an ocean of hills with the sea in background. The esplanade with its mosaic and statutes combined with the landscape around is perfect for a great souvenir photo!
The basilica is also an important pilgrimage site for Maltese people. It all started in 1883, when a woman from the village heard the voice of the Virgin Mary coming from what was then just a chapel. Several miracles followed, so the villagers decided to build a bigger church to honor the Virgin Mary.
Ta'Pinu Basilica was completed in 1931. Both Popes John Paul II and Benedict XVI came there to pray. You can also see the original chapel, located just behind the basilica.
Even if simpler than other Maltese churches, the inside of Ta'Pinu Basilica is a pure architectural masterpiece. The marble canopy, mosaics, stained-glass windows and stunning Maltese stone sculptures are definitely worth a look.
You'll also be able to visit the ex-voto gallery: all the letters, portraits and various objects left by people to honor the Virgin Mary miracles are kept there.

In addition to the visit of this architectural masterpiece, you can enjoy a short walk with a marked path in front of the basilica. It features numerous statutes along the way symbolizing the Stations of the Cross.
Once you have reached the top of a hill, you can enjoy the amazing view over Gozo and its surroundings.
Voyage Tips - Anecdote
It's said that Gozitans' prayers stopped the plague from reaching the island.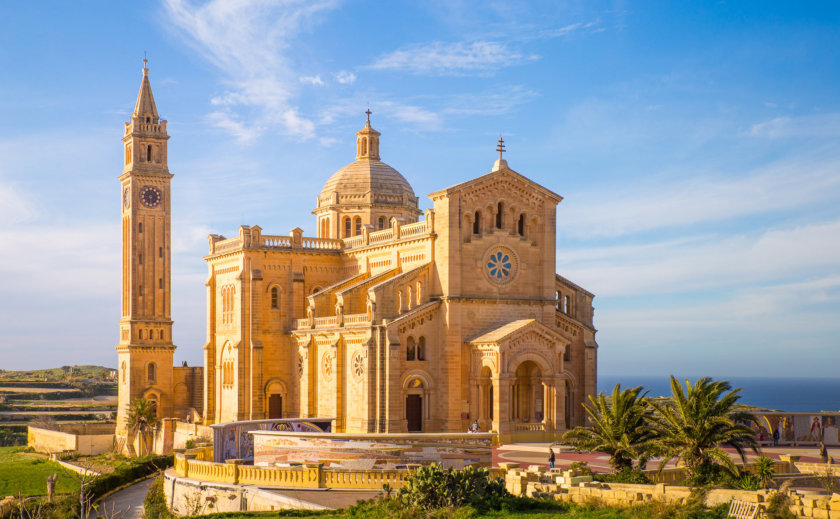 4. Marsalforn salt pans
Marsalforn salt pans is my favorite spot in Gozo, I highly recommend adding it to your itinerary.
To reach the salt pans, you'll have to pass by Marsalforn. During summertime, this is a top beach town destination for both locals and tourists. Let's be honest, I don't personally find this city very interesting: there are nicer places in Gozo to swim or stay at!
However, if you keep going West of Marsalforn you'll reach the 350 years old salt pans. It's a wonderful promenade area spreading over 3km.
The salt pans are still exploited today by several families, specifically between May and September, when salt is harvested. During high season, you can purchase some from vendors on the side of the road.
Voyage Tips - Advice
If you keep walking West along the salt pans, you'll reach
Wied II Gashri
,
a small cove
in between cliffs.
The only way to get into the water is to go down the stairs carved into the cliff. Once you get there, you'll find yourself in crystal clear water. It's a very special swimming spot, also popular for scuba diving.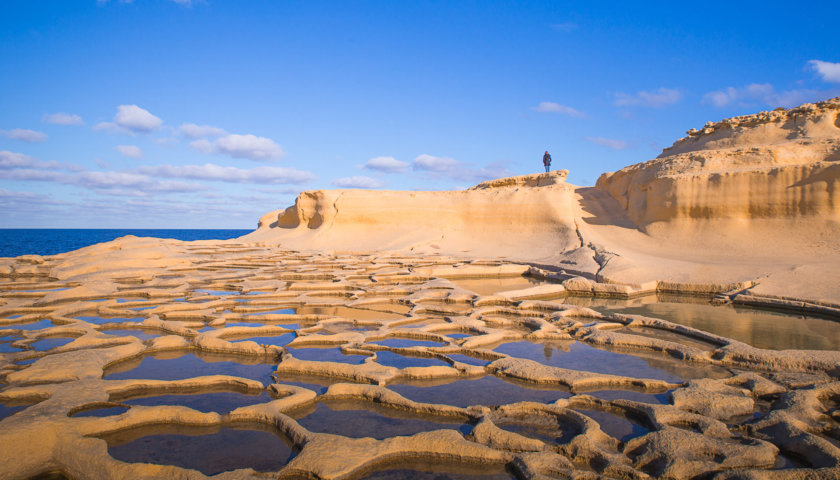 5. Ramla Bay and other beaches in Gozo
Ramla Bay is the largest and most beautiful sandy beach in Gozo thanks to its red sand. Some people even consider it's the best beach in Malta! No need to say it's quite crowded during summer.
It's very easy to get there, you can park next to the beach on the free parking. In addition, water's depth is very gradual and it's guarded, making it the perfect beach if you have children.
The beach also has various amenities: a restaurant, a coffe shop, ice-cream vendors and public bathrooms. You can also rent sunbeds and umbrellas.
However, if you're looking for less touristy options, I recommend you these 3 beaches in Gozo:
San Blas Bay: a small bay located close to Nadur village. It's a lovely spot with ocher sand and big rocks. Water is shallow and very clear. You can only access it on foot. Beware of the way back, it's quite tough!
Dahlet Qorrot: also close to Nadur, Dahlet Qorrot is at pebbles beach, very popular among locals.
Hondoq Ir Rummien: a small beach in front of Comino. You can reach it from Qala village.
Voyage Tips - Advice
While in Ramla Bay, I recommend going up to the right to Tal Mixta cave (You can see it from the beach). You can enjoy a great view over the beach and the surrounding landscapes from there!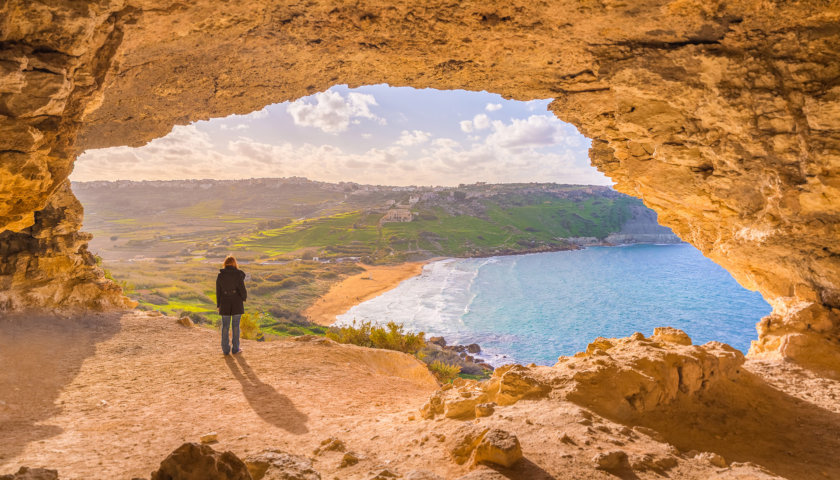 6. Hiking in Gozo
Gozo is a great place to hike. There are several paths along the coast, almost all around the island. They're pretty easy hiking trails, totally suitable for beginners.
Some parts, especially along the cliffs, can be a bit dangerous though, so always be careful. Don't forget to wear hiking or comfortable shoes as you'll probably walk through rocky areas.
The best hiking season is from fall to spring, when the hills are green and flowers are blooming. Avoid July and August because it's too hot, there is no shade and the landscape is pretty dry.
Paths aren't marked so I recommend getting the 10 detailed hikingtrails books collection. You can download them here for free (PDF format).
You'll also find the Gozo Coastal Walk PDF: it suggests an itinerary around Gozo via the coastal paths, with all the information you may need to plan your hikes (distance, duration, difficulty level).
Voyage Tips - Advice
To discover the most beautiful secret sights of Gozo, you should opt for a hike with a local guide.
Paul, your guide, will show you his favorite places while telling you more about the local culture. He is super friendly, so you will for sure have an amazing day!
To book it, it's simple, you just have to click on the button below, you will have the choice between:

2h hike in Gozo
Full day hike in Gozo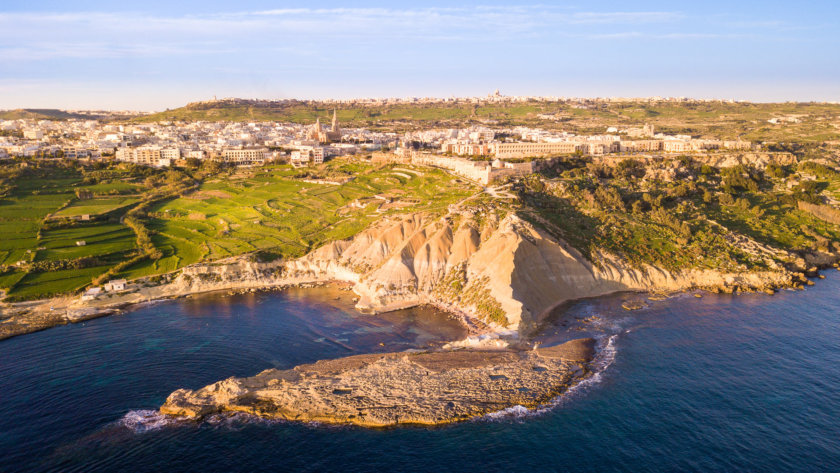 7. Ggantija temples
Ggantija megalithic temple complex is located in Xaghra, East of Victoria. This Unesco World Heritage site is older than the Egyptian pyramids and Stonehenge!
"Ggantija" means "giant" in Maltese. Gozitan people were conviced that only giants could have been able to carry and put together such massive rocks. Some of them weigh more than 5 tons and are 5 meters long.
Even today, no one really knows for sure how did the rocks get there, so I'm inclined to believe the giants theory, it's the coolest one!
The site is made of 2 temples: the South and the North one. Both form a vast 40 meters long and 6 meters high complex. It's the biggest megalithic complex you'll find in Malta.
There is also a small museum with additional information about the site and artefacts found there.
Voyage Tips - Advice
You're going to Gozo?
You probably know it: the hardest part of planning your trip is to find an hotel offering a good value for money!
The closer you get to your travel dates, the harder it will be to get a good deal. Lots of people will be visiting Gozo on the same dates as you, so you can be sure that the best deals are booked extremely quickly!
Hopefully, there is a pretty simple solution to this problem: do like me and book your hotel as early as possible!
So, my best advice is to take 5 minutes (now) to have a look at the list of travelers' favorite hotels in Gozo.
And if you see a good offer, book it!
Most hotels offer free cancellation, so it's quick, easy, and you will avoid the the inconvenience of finding nothing but mediocre rooms at exorbitant prices.
To check the current best deals for your hotel in Gozo, simply click on the green button below 😎:
Once you've booked your hotel, it will be time to continue reading this guide and find out more about the best things to do in Gozo!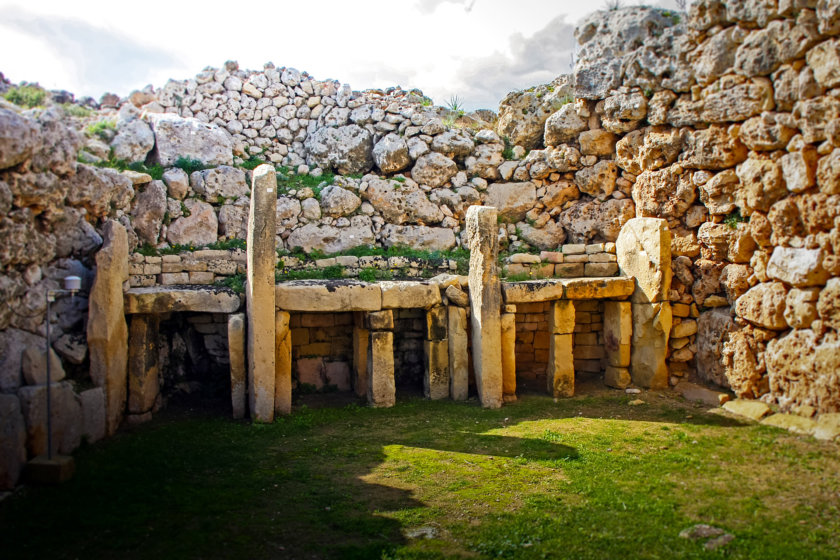 8. Ta'Cenc cliffs
Ta'Cenc cliffs are located South of Victoria, in Sannat.
As it's not very easy to find, let me tell you the best way to get there:
First, go to Sannat Square
Then, follow the signs to Ta'Cenc Hotel.
From there, take the road on the left of the entrance to get to the edge of Ta'Cenc Cliffs.
You'll find on the right a nice walking path along the cliffs, 130 meters above sea level. It's quite impressive! Definitely one of the best places to visit in Gozo during your holidays.
Voyage Tips Advice
You should go to Ta'Cenc cliffs around sunset time, it's amazing.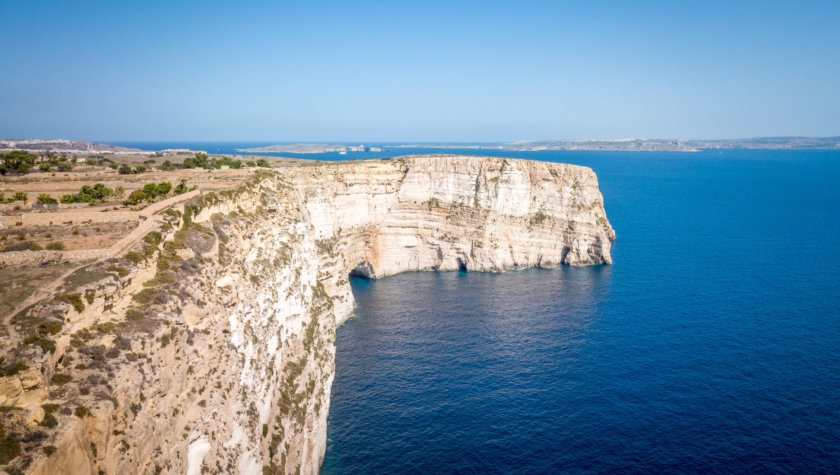 9. Diving in Gozo
Thanks to its reefs and caves, Gozo is a renowned island for scuba diving. Diving conditions are optimal all year long, with a generally calm sea, crystal clear and warm water. With many diving options, Gozo is great both for beginners and experienced divers.
The best diving sites in Gozo :
Blue Hole: go deep underwater via a big vertical chimney and reach the sea by passing under a arch. There is also a large cave. Suitable for all levels.
Crocodile Rock: is home to a lot of fish species. groupers, tunas and barracudas. Suitable for all levels.
Fungus Rock: not much sea life there but a beautiful landscape with a cave, gullys and vertical walls. Suitable for all levels.
Inland Sea: a 80 meters long underwater tunnel.
Reqqa Point: the top of the reef is home to groupers, scorpion fish and the Shrimps Cave. Suitable for all levels.
Fessej Rock: ideal for deep-sea diving
Wreck of the MV Karwela: this ferry was sunk for diving purposes
San Dimitri Point: good chances of seeing huge shoals of fish there
Wied Il Gashri, the best place to sea seahorses
Double Arch Reef: a rock cut into 2 arches, where you can see cuttlefish, octopus and sea urchins.
If you have never dived, you should really do a try dive in Gozo! It's only 60 euros at the best diving school of the island.
To book it, you just have to click the button below:
And if you're motivated to learn diving, you can opt for a 4 days PADI Open Water course. You can book it by clicking here.
If you already have some diving experience and want to discover Gozo's best diving sites, the 2 following options are the perfect choices you: "day – 2 dives" (click here) and "2 days – 4 dives" (click there).
During your dives, you will discover amazing sites such as the famous "Blue Hole" or Mv Karwela ferry shipwreck with a professional instructor.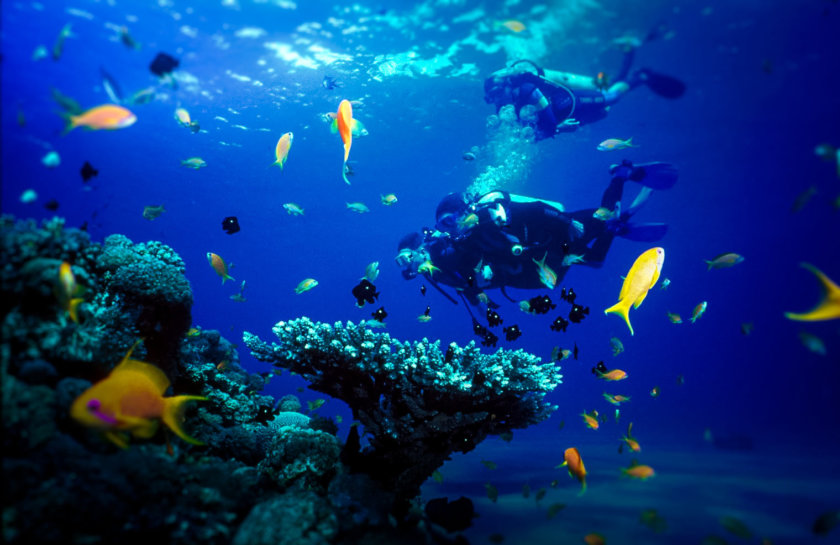 10. Visit Comino
From Gozo, you should also go to Comino, malta's smallest populated island, with only 4 all year long inhabitants.
The main attraction in Comino is the Blue Lagoon. This beautiful turquoise water lagoon is a great place to swim, however it's really crowded during summertime.
There, you can find a few food trucks for your lunch, along with public bathrooms and one hotel. The hotel is a bit further away from the Blue Lagoon: it's located next to Santa Maria bay, a quieter sandy beach. A very lovely spot!
The island is so small that everything is reachable on foot. For example, you can go up Saint Mary's tower and enjoy the view. Quick tip: You can visit the tower only if the flag is raised.
As a lot of tourists are visiting Comino each day, I strongly recommend you to buy your boat tickets in advance.
There are several ways to go to Comino, simply click on the orange links to book the one that suits you the best.
From Malta
1) Boat trip to the Blue Lagoon: the classic day trip to the Blue Lagoon, they can organize the transportation from most cities of Malta of you after booking for an extra fee.
2) Catamaran boat trip to the Blue Lagoon: same as above, but on a huge Catamaran! A great choice for a nice day at sea. Same as above, transport can be organized after booking.
3) Sailboat trip to the Blue Lagoon and other bays: want to discover more than just the Blue Lagoon? Choose this one! Snacks, wine and lunch + Free transportation from Malta included.
4) Private VIP boat trip to Comino and Gozo (3h30): Simply the best private boat tour to Comino and the Blue Lagoon. Josef, your skipper, will make sure you will have an amazing moment at sea.
During your boat trip, you will stop at the Blue Lagoon and Crystal Lagoon for a swim (snorkeling equipment included!) and visit the beautiful Comino sea caves.
In addition to the half day boat trip, Josef also offers a full day boat tour (7h).
And you know the best?
It's actually not much more expensive than the 3h30 boat trip, so if you have time to spend a full day at sea, you should opt for this one!
As Josef is doing only 1 boat trip per day, you should really book your full day private boat trip to Comino in advance by clicking on the button below:
5) Private boat trip to the Blue Lagoon from Valletta: You can also do a private boat trip to Comino Blue Lagoon from Valletta! It's a great was to discover the capital and Malta's coast line from the sea.
6) Private sailboat trip to Comino Blue Lagoon: Same as above, but on a sailboat with skipper! As it's also a privat tour, you will decide of the day's program. Enjoy!😎
And if you don't want to do a boat trip, you can also take the boat shuttle from Marfa or Cirkewwa (in the North of Malta) to Comino.
From Gozo

7) Josef's private boat trip to the Blue Lagoon can also start from Gozo.
You will have the choice between 2 boat trips (simply click on the links to book them)
8) Take the boat from Mgarr harbour.
9) Take the speed boat from Hondoq Ir Rummien (high season only). You will discover the magnificent Hondoq bay and its small beach. From there you can also enjoy amazing nautical activities! Book your ticket now here.

From Hondoq, in addition to the direct Comino transfer, you can also opt for a "Comino shuttle + Santa Maria caves" visit. It's the perfect way to discover these beautiful sea caves and the coast of Comino! Simply click here to book it.
Voyage Tips - The Culture Spot
Comino island got its name from a plant found everywhere there during spring: cumin. Now you can amaze your guests at the next dinner party with this very important fact!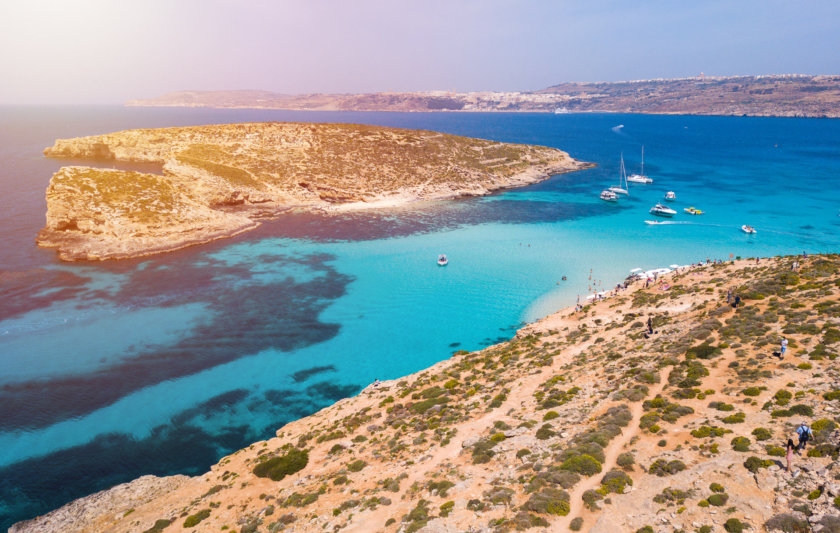 The best water sports in Gozo and Comino
You like water sports? Well, in Gozo, you will for sure find a lot to enjoy!
Let's start with the list of the best water sports with instructor/guide, and then I tell you everything about all the activities and rentals you can find on the island.

As always, you will just have to click on the orange links or green buttons to book them. It's very convenient!
Water sports with instructor/guide
Stand Up Paddle
For Stand up Paddle (SUP), the best tours are organized by Mamo and Pier. Same as for the kayak, it doesn't matter if you're a beginner or if you have already tried SUP, you will enjoy it a lot!
And if you're looking for the ultimate paddle experience in Gozo, you should really opt for their "Day and Night Experience".
You will start with a 3 hours SUP tour at the end of the day, from Hondoq bay. Your guide will take you to a secret beach to do a BBQ, a bonfire and camp for the night!
The next day, you will return to Hondoq bay on your stand up paddle at sunset.
It's a unique experience you should try at least once in your life!
You will need to click there to book it: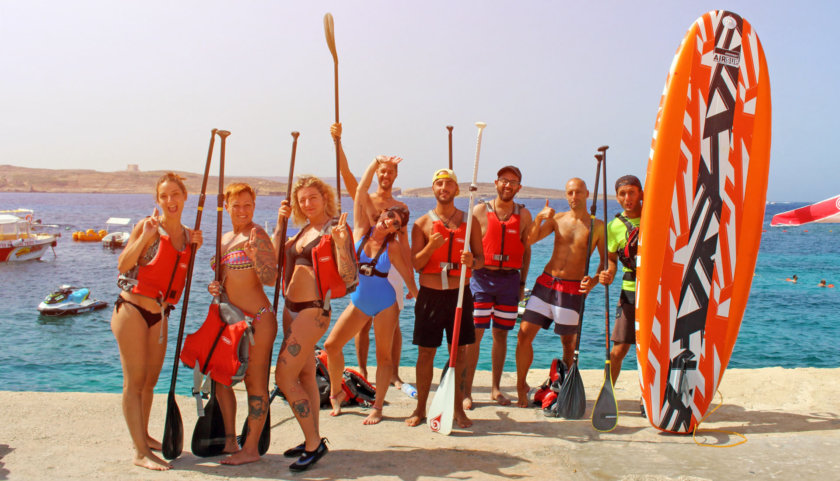 Subwing
Subwing is the new trending water sport!
Discover how it feels to "fly" underwater with this new activity. Once you will have seen the video below, no doubt you will want to book your tour 😊 (like I did!)
To book it, you just have to click on the link below:

Jet Ski Safari
And why not enjoy a Jetski ride while you're in Gozo?
You can do 1h Jetski guided tour, in one of the most beautiful place in Malta: the south of Gozo island, near Comino!
Call me at +356 7920 1451 (phone or whatsapp) and I will book the activity for you!

Snorkeling in Gozo
While you're in Gozo, you should really go snorkeling!
The best way to enjoy it is to book a snorkeling tour with Sam (the same local guide who also does the hiking and Segway tours). He is really friendly and knows all the secret spots of the island!
To book your snorkeling tour, simply click on the button below:
If it's not available, you can also choose this snorkeling tour which is just as good by clicking on the following link: Snorkelling trip around Gozo of 2h30.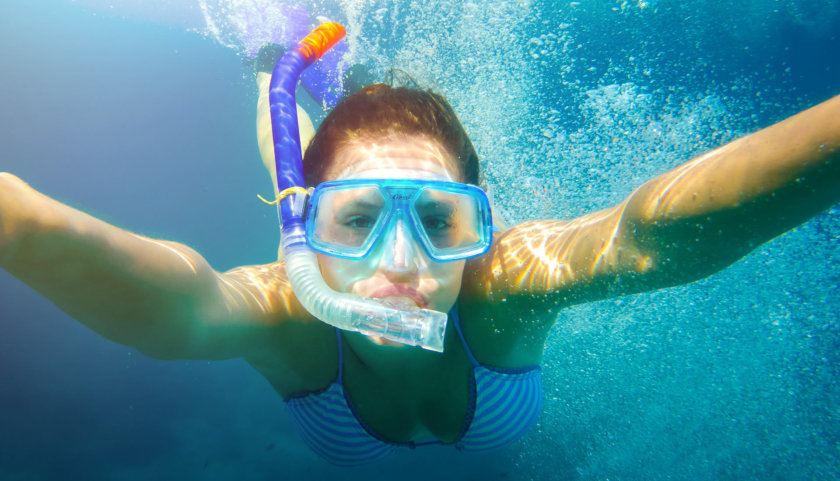 Water sports and rentals in Gozo
In addition to the guided tours i mentionned above, you can rent jetskis, kayaks, stand up paddles etc… and enjoy other activities such as tubing, parasailing and more!
And the best is that you will enjoy these activities in Malta's most beautiful place: south of Gozo island, near Comino!
To make everything simple for you, here is the list of all the water sports you can do in Gozo. Simply click on the activity name to book it.
Go on a boat trip in Gozo and Comino
You want to discover Malta from the sea? Then, the best is to go on a boat trip around the most beautiful parts of the coast!
These are private tours (there will be only your group) and everything is included in the price (the boat skipper too, of course!)

Here are the best boat tours from Gozo.
As always, simply click on the tour name to book it at the best price:
Rent a boat in Gozo
You want to rent a boat to explore Gozo and Comino? You can do that too!
In Malta, the great thing is that you can rent a boat up to 90HP without boat license.
For those who have a boat licence, there are also boats with over 90HP.
To hire a boat in Gozo, you just need to call me at +356 7920 1451 (phone or WhatsApp).
The best land activities to do in Gozo
There are many ways to discover the most beautiful sights of Gozo while having fun.
So here are the best activities to do on the island for a memorable stay!
And as always, it's easy, just click on the buttons and links to book the activities.
Quad Bike tour in Gozo
A quad bike tour is the perfect way to discover Gozo while doing a fun activity! It's also not very expensive compared to other places in Europe.
Quad bike tour from Malta
There are 2 types of excursions: 1/2 day or full day. In both cases, you can start from Malta or Gozo, as you wish!
During your quad bike guided visit of Gozo, you will discover some of the best places to visit of the island such as Ramla bay, Dwejra (where the famous Azure Window used to stand), the Inland Sea, the Blue Hole or Marsalforn Salt Pans.
There is no previous quad biking experience needed, your instructor/guide will teach you the basics and will adapt to your driving pace.
And you know the best? This day trip also includes the return from Gozo with a private boat! You will pass by the Blue Lagoon and Comino caves.
You need to book your full day quad bike tour (lunch + boat trip from Malta included) by clicking here:
And for the 1/2 day tour, you need to click there.
Segway tour in Gozo

An all road Segway tour is also a great way to visit Gozo.
It will show you the best natural sights of Gozo such as Marsalforn salt pans, Ta'Cenc cliffs or even super secret places!
You will see, a Segway tour is really the perfect family activity to do in Gozo.
Visiting Gozo with a full day trip (From Malta or Gozo)
If you didn't rent a car or prefer to visit Gozo with a guide, you can opt for an organized day trip.
The great thing is that they all offer a departure from Malta or Gozo!

Here are the 4 options you have for your guided visit of Gozo:
1) Visit Gozo by bus

Let's start with the classic day tour: Gozo by bus.
The bus will pick you up in the morning at your hotel in Malta and will then take you to Gozo.
During the day, you will discover the best places to visit of the island, such at the Citadella, Dwejra bay ( where the inland sea and the "blue hole" are located) or even the stunning Ta'Pinu basilica.
2) Quad bike tour in Gozo

I told you a bit before about these quad bike tours, but as they can also be done from Malta, I am putting them again in this section:
If you want to visit Gozo in 1 day while having a lot of fun, you can opt for this quad bike full day trip!
And you know the best? The lunch + a private boat trip back to Malta are also included!
To book it, simply click here:
And for the 1/2 day tour, you need to click there.
3) Jeep tour in Gozo

If quad bike isn't your thing, you should maybe opt for a Jeep full day tour. Similarly to the quad bike tour, this one also includes the lunch and boat trip to Malta.
It's extremely popular, so you really need to book it in advance!

This Jeep tour also exists in "private" version: the jeep will be just for your group, not shared with other people! You need to click there to book it:
4) Discovering Gozo with a private driver

If you don't want to rent a car but still want to discover the best of Gozo in 1 day, you can also hire a private driver.
The best tours are organized by Darren, from Gozo Taxi Service. He will be very happy to create you an unforgettable tour!
During your day, you will visit most of the sights I talk about in this article, including Victoria town, the Citadella and Ggantija temples.
Darren offers several tours, depending on what you want to visit. Simply click on the orange links to book them:

How to get around Gozo?
Gozo is a very small island (it takes around 30 minutes by car to go from one side to the other), so you will have a few options to get from one point of interest to the other.
Here are the 5 ways to get around Gozo:

Renting a car

A car is for sure the fastest way to go from one place to the other on the island. Moreover, there are no traffic jam in Gozo!
However, you should drive carefully as roads aren't in very good conditions.
To compare rental cars prices in Gozo and Malta, simply click the button below:
Renting a scooter or a motorbike
If you don't want to rent a car, you can opt for a scooter or a motorbike. You should really book it in advance, because there aren't many available!
The best place to rent a scooter/motorbike is Charlotte's garage. It's simply the best scooter rental agency on the island.
And you know the best? She can deliver your scooter or motorbike to your hotel in Gozo or at the harbor, so you can get it directly when arriving in Gozo with the ferry!
If you want, she can also deliver your vehicle at Cirkewwa harbor, in Malta. This would allow you to get a scooter/motorbike from a reliable company for your stay on the main island!
In any case, simply choose where you want your vehicle to be delivered at the time of booking:
Public bus

In Gozo, the main villages and points of interests can be reached by bus.
However, you will very often need to get back to Victoria (Gozo's capital) to change bus line, so you will waste a lot of time. In addition, I prefer to warn you: buses aren't always on time and are often full during high season!
Hop-on Hop-off tourist bus

The Hop-on Hop-off tourist bus is a good option if you don't have much time and don't want to drive. These buses are stopping at all the best sights of the island.
You can get out of the bus (and back inside!) when you want, so it's really convenient to visit only the places you're interested in.
Opt for a guided tour

As I told you earlier, you can also visit Gozo with an organized day tour.
Departures are from both Malta and Gozo (your choice!), so it's very convenient. You can go to the guided visit section of this guide by clicking here.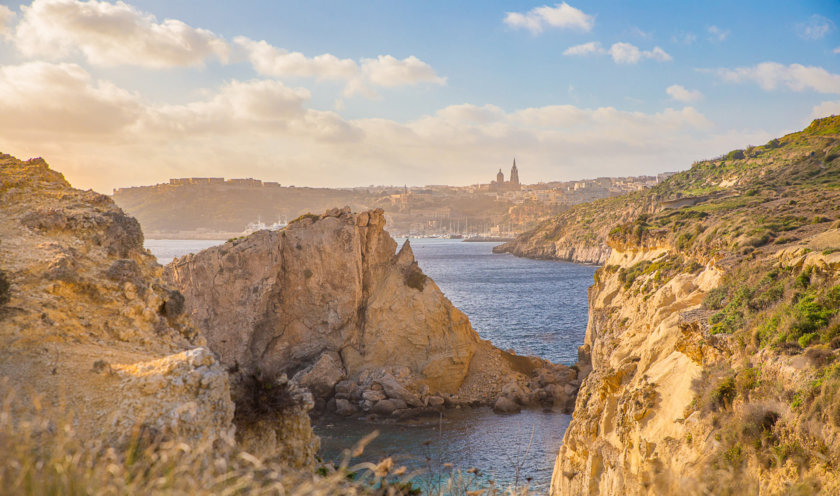 How many days to visit Gozo ?
At least 2 days are needed to get around Gozo. And if you want to really explore the island, you should stay there 3 full days.
Follow my itineraries below to make the most out of your stay!
Visit Gozo in 1 day
Here is the best way to visit Gozo in one day:
Explore Victora and the Citadella
Lunch break
Head to the Dwerja to see the Azure Window area, Fungus Rock, Inland Sea et the Blue Hole
Visit the impressive Ta'Pinu Basilica
Take a walk on the Stations of the Cross in front of the basilica and enjoy the 360° view over Gozo
Visit Gozo in 2 days
For 2 days in Gozo, refer to my 1 day guide above and add for the 2nd day:
A nice walk along the salt pans in Marsalforn
Explore Wied Il Gashri cove
Lunch break
Go for a swim in Ramla Bay, the most beautiful sandy beach in Malta. You can also go to San Blas bay, a smaller but equally enjoyable beach
Watch the sunset at Ta'Cenc cliffs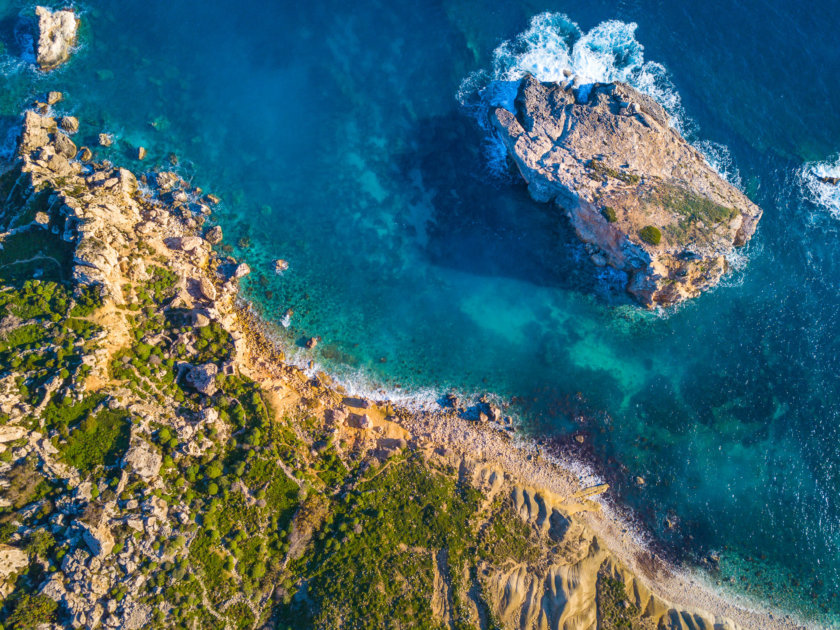 Visit Gozo in 3 days
If you plan to spend 3 days in Gozo, do the following for your 3rd day on the island:
Spend the morning in Comino and go to the Blue Lagoon
Lunch break
In the afternoon, enjoy some relaxing beach time or go for a hike on one of the many hiking trails on the island.
Where to stay in Gozo
And if you prefer to stay in an apartment during trip to Gozo, you should book at The Holiday Hub Gozo.
Located in a typical Maltese building, this modern fully equipped penthouse features 3 bedrooms + 2 bathrooms and can comfortably host up to 6 people.

It's the perfect accommodation for a trip with your friends or your family!
It also features 2 large terraces (75m²), ideal to enjoy a breakfast outside or an aperitif.
Last but not least: you will also have access to the 150m² rooftop featuring a Jacuzzi (hot tub), plunge pool and BBQ.
A great way to relax after a good day of sightseeing!
Strong points: the calm, the perfect location to visit Gozo, the rooftop and its superb view + the really friendly owners.
Our favorite in Gozo, you should book it really in advance!
To book your stay at The Holiday Hub, simply click the button below: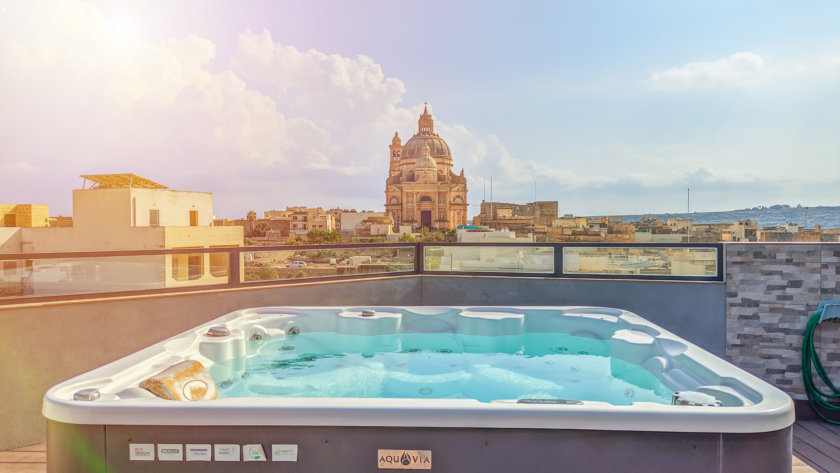 Where to eat in Gozo
Mekren Bakery : located in Nadur, this bakery is famous for its pizzas and ftiras (Maltese pizza). We tried the Maltese sausage and Gozo goat cheese ftira, so yummy! One ftira costs between 5€ and 8€ and can feed up to 4 people. They only do takeway. Don't look for a real store, you order directly in the bakehouse.
Country Terrace: located in Mgarr, above the port. The terrace has a great view over Comino and Malta. The best dishes are the fish dishes (very fresh) and the wine is very good. Good portions at affordable prices.
Oleander: Located in Xaghra, right in front of the church. The restaurants offers tasty local cuisine, made with fresh produce. Dishes are generous and well presented. Excellent value for money.
How to get to Gozo
To get to Gozo, it's very simple, you have 2 options:
1) Take the ferry from Cirkewwa (north of Malta) to Gozo
From Malta, you need to go to Cirkewwa harbour, at the very North of the island. Gozo ferry departs from there!
You can go there with your rental car and bring it to Gozo in the ferry (it's allowed). And if you don't have a car, bus X1 from the airport goes to Cirkewwa.
As the bus isn't very fast (it takes around 1h30 with a lot of detours and stops), your other option is to take a taxi. In that case, you should contact Darren, from Gozo Taxi Service. It's simply the best taxi service of the island!

From the airport to the ferry: 30 to 40 minutes for 30€
From the airport to your hotel in Gozo: 55€
The driver will be waiting for you at the arrival hall, with your name on a sign. Get in the car, and he will take you to the ferry pier.
To book it, you just have to click here:

Once you get to the ferry pier, just go with the flow. Boarding is very fast and well organized (as is getting off in Gozo). You don't have to pay anything on the way to Gozo. You'll only pay for the trip on your way back.
It costs 20€ for 2 people and 1 vehicle. The price for just one person is around 5€.
The ferry leaves every 30min and the trip takes about 20min. Go on the deck to enjoy the view!
Inside the ferry, you'll find a cafetaria and a shop selling magazines and souvenirs. There's also free wifi and bathrooms on board.
Once you arrive in Gozo, don't wait to get to your car as you might get in the way of other cars trying to get out.
2) Take the fast ferry from Vallette to Gozo
The ferry departs from Valletta Grand Harbor and will take you to Gozo in 45 minutes.
This boat only takes passengers and no cars. You will disembark at the same place as the other ferry, at Gozo Mgarr harbor.
For prices and schedules, you can find all the information on the official website.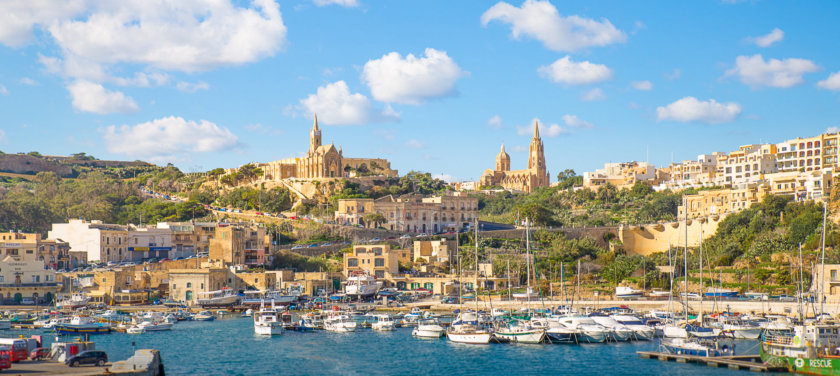 Book your trip to Malta in 1 click
In this guide, I gave you all my best tips to plan your trip to Malta by yourself.
To make your life even easier, I am now offering you to book your trip to Malta in 1 click on "Autotour by Voyage Tips"!
No need to worry about organization: Hotels, car rental and activities, everything will be booked by our team of travel professionals who will create a personalized roadbook for you!
To book your tour to Malta and Gozo now, it's very simple:

Select the duration of your trip by clicking here or on the button below
Select the hotel category of your choice on the tour page (budget, premium or luxury)
Choose your other options and book your trip in 1 click!
You will see, organizing your trip has never been so easy 😎
My impressions of Gozo
I loved Gozo island because of its rural and authentic vibe. It's also very peaceful and locals are friendly, a real no-stress zone.
Nature is pretty untouched and really stunning. My personal favorites are the salt pans in Marsalforn and Dwerja bay, where Fungus Rock and Azure Window (RIP) are located.
It's also a great destination if, like me, you enjoy hiking along the sea.
Gozo Tourist map
To help you get a better idea of where are the best places to visit in Gozo, I have made a tourist map of Gozo. You can display the map legend by clicking on the top left button, the one with a little arrow on it.
And you, what do you plan to visit in Gozo?
Book your trip now and save money!
Malta travel Guides
You're traveling in Malta? These articles will help you!
Discover all my articles about Malta: All my articles to help you plan your trip to Malta are listed there.
The 20 Best Things to Do in Malta: The ultimate bucket list!
You're using Pinterest? Here is the picture to pin!