Itinerary: How to Spend 2 or 3 Days in Malta
You want to visit Malta and you're looking for the best 2-3 days itinerary?
Then look no further!
In order to help you plan your stay, I have prepared this detailed itinerary. During your trip, you will be able to visit Valletta, the capital, as well as Mdina, Rabat, the Dingli cliffs or even some of the nicest beaches in Malta and Comino.
And in order to make your trip to Malta truly unforgettable, I will also give you my best tips as well as a list of the best accommodations on the island depending on your budget.
So, how to visit Malta in 2 or 3 days?
2-3 Days in Malta: What to Do and See?
Day 1: Valletta / The 3 Cities
If you only have 2 or 3 days in Malta, there is no time to waste. So let's start your itinerary with Valletta, the capital!
You won't need to rent a car for this first day in Malta. There are 2 ways to reach Valletta from the airport:
Take the X4 bus, there is 1 leaving the airport every 30min. The trip lasts about 25min and costs 1.50€ (2€ during summertime). It's the cheapest option.
Take a taxi. The 15min ride costs about 15€. Fares are fixed, so don't hesitate to insist if you are offered a more expensive fare.
Drop your luggage at the hotel and start to explore Valletta's must see attractions. The city is quite small so it's very easy to visit everything on foot in one day. You'll have, of course, a busy schedule but you won't have to run from one site to the other.
The best way to visit Valletta in 1 day is to start with St. John's Co-Cathedral, the city's iconic monument. If you want to visit only one historical site in Valletta, I strongly recommend this one. It's the most touristic one but also the most beautiful!
A quick tip for you: if you want to avoid waiting in line, you should visit early in the morning or around 12:30 during lunch break.
It's hard to imagine how sumptuous the cathedral interior is by just looking at its exterior. Inside, everything is covered with gold and painted in a stunning composition. It's not huge, but it's for sure one of the most beautiful cathedral I have ever seen.
Under the marble floor lay the tombs of 375 the Knights of the Order: they were burried in the cathedral. There are also 8 chapels dedicated to each of the Order languages.
Make sure you wear an appropriate outfit. If you come wearing shorts, a t-shirt or a sleeveless dress, you'll have to cover yourself with a shawl (provided at the entrance of the cathedral).
You can find more information to visit St. Jhon's Co-cathedral on the official website.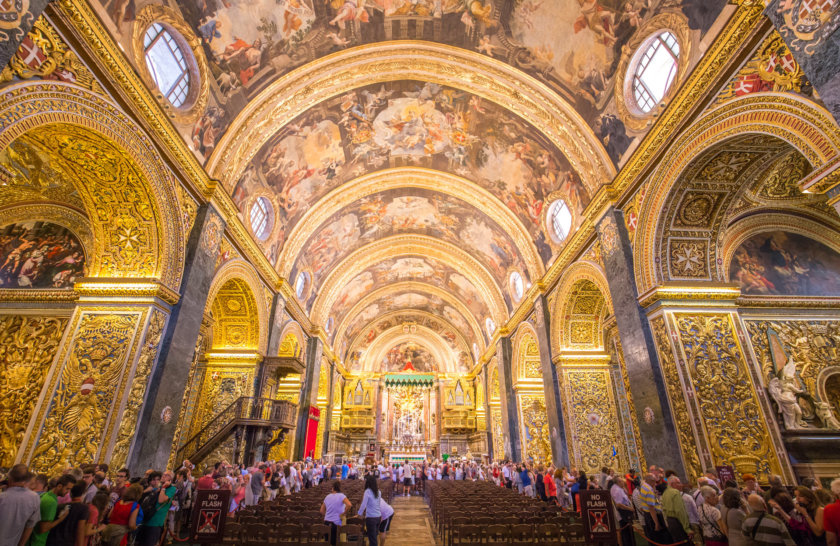 Let's continue this 2-3 days trip to Malta with another Valletta attraction, the Grand Master's Palace. This is where the Grand Masters of the Order of Malta used to live.
You'll be able to visit the State rooms and the armory: it has an impressive collection of weapons and armors, once belonging to the Knights. The palace is today home to the office of the President of Malta and her cabinet.
After you exit the palace, head to Lower Barrakka Garden. From there you'll enjoy a nice view over the harbor.
Continue your visit of Valletta by the sea to then reach Upper Barrakka Garden, another famous spot to enjoy a scenic view over the 3 Cities. It's also famous for the saluting battery, a cannon shot ceremony held every day at 12:00 and 16:00. Cannons were originally shot to greet foreign vessels arriving at the port.
The 3 Cities is your next destination, and it's very easy to go there:
Take the panoramic lift located in Upper Barrakka Garden
Once out, cross the street and go left to reach the piers.
There is a shuttle boat that will take you on the the 3 Cities in just 10min. A roundtrip ticket is 2.80€.
The shuttle boat will drop you at Vittoriosa, one of the 3 Cities. The two others are Cospicua and Senglosa. They are well known for their beautiful views over Valletta. It's really a great spot to go on a nice stroll on foot, or with the tourist train if you're tired.
To visit the Three Cities, you can also opt for a guided tour. This tour even includes a tasting of local wines!
At the end of the afternoon, take the shuttle back and finish your day on Republic Street and Merchant Street. Those are the main commercial streets in Valletta, a great place to do some shopping and buy souvenirs.
There are also plenty of coffee shops and restaurants there, perfect to have drinks and enjoy a good traditional Maltese meal.
Looking for more places to visit in Valletta during your weekend in Malta? You can check out my article about the city:  The 10 best things to do in Valletta.
Where to stay in Valletta
For your 2-3 days trip to Malta, it's best to sleep in Valletta. It's by far the most practical option for a short stay!
Here is a selection of the best places to stay in Valletta, for all budgets. In Malta, the best hotels are fully booked very quickly, so if you know your travel dates, you should book your accommodation as soon as possible.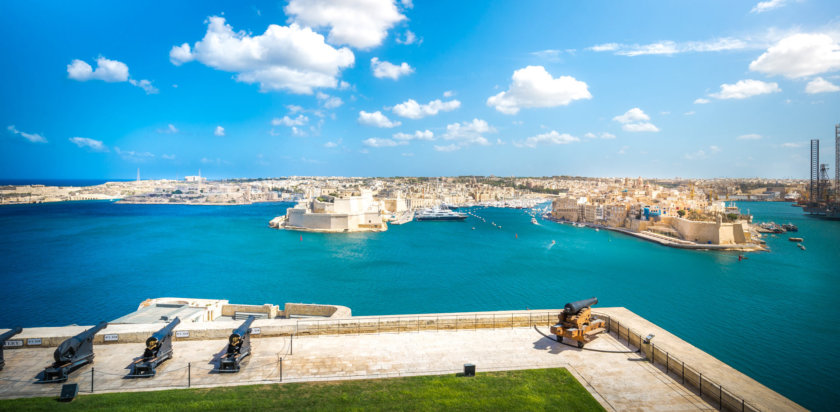 Day 2 : Mdina / Rabat / Dingli Cliffs/ Ghajn Tuffieha Bay
For this second day of your 2-3 days itinerary in Malta, it's a good idea to rent a car. As you don't have much time on the island, you shouldn't waste your time with public transportation. The schedules aren't respected and the bus routes are not very convenient for sightseeing, making you waste a lot of time.
We always use Rentalcars.com to rent cars.
Why? Here are the 3 reasons:
It allows you to compare prices between all rental agencies. Super easy to find the cheapest one.
No cancellation fees, pretty convenient if you need to modify or cancel your booking
They offer a full protection insurance covering accidents and damages, with very fast reimbursement (tested and approved!)
If you already know your trip dates, you can compare prices and rent a car now by clicking here.
Once you got your car, drive to Mdina, about 25min away from Valletta. Mdina is Malta's former capital before it was abandoned by the Knights of the Order. They wanted to be close to their ships in case of an attack, so Valletta was the best location for the new capital.
Mdina is a lovely fortified city with charming narrow streets. Cars are not allowed at all (there is a free parking at the entrance however), so you'll be able to walk around freely in a peaceful atmosphere. Here are the main attractions in Mdina:
St Paul's cathedral and its museum
Vilhena Palace
Falson Street
Villegaignon Street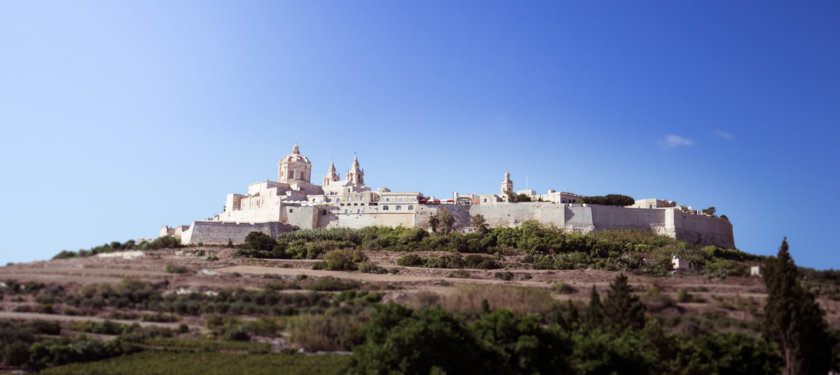 After visiting Mdina, just cross the big public square to arrive in Rabat, the neighbouring town. There, you will be able to visit the church, cave and catacombs dedicated to Paul the Apostle. According to the legend, he took refuge in Rabat when his ship sank near the Maltese coasts.
Once you will have visited these 2 towns, go back to your car and head to Dingli cliffs. It's Malta's highest point, located only 15min driving from Mdina. Go for a walk on the top of the cliffs and enjoy the beautiful viewpoints. A must-see during your 2 or 3 days itinerary in Malta!
To chill for an afternoon and enjoy one of Malta's best beach, head North and stop by Ghajn Tuffieha Bay. The ochre sand is very beautiful! On the beach, there is a small café where you can rent sun beds and umbrellas. There is also a public bathroom.
In addition to enjoying the sea and sun, you should also really walk on the path starting from the stairs. It goes to the big rock formation on the left side of the beach. There, the view is stunning: you can see Gnejna Bay located a little bit down on the left.
After this busy second day, it's time to go back to your hotel in Valletta for a good night's sleep.
Voyage Tips Advice
You will need to have some change for the parking lot at the beach. It's "guarded" by an old man who will help you park (even if there is only 2 cars parked) for a coin or two.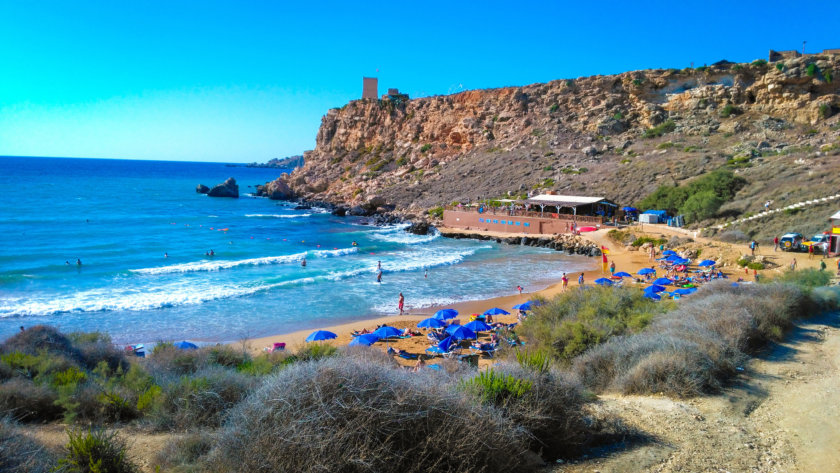 Day 3: Comino
If you're lucky enough to visit Malta in 3 days, you should go to Malta's smallest yet very touristic island: Comino and its famous Blue Lagoon.
There are 2 ways to go to Comino from Valletta:
1) Go up North by car or by bus.
You have 2 departures points for Comino: one is in Cirkewwa, where you can also take the ferry to Gozo – Malta's second island. The other one is in Marfa Bay, right next to Cirkewwa.
In both places, you'll find taxi boats to go to Comino in 20-25min. A roundtrip ticket costs 10€.
There is 1 boat per hour, a bit more during high season, and you can come back to Malta whenever you want to.
2) Your second option is to go to Comino from Sliema, a town located next to Valletta.
You will have less flexibility time-wise as only day tours are available from there: you will leave in the early morning and come back to Sliema around 17:30.
The full day costs around 30€ per person, drinks and lunch buffet included.
Either way, once you arrive in Comino you will be blown away by the Blue Lagoon! The lagoon is known for its crystal clear turquoise water and its fine white sand. Despite the lack of coconut palms, it really feels like you're in Mauritius. No one can resist going for a swim there.
In addition to enjoying the blue lagoon, you should also go for a walk around the island. The must-see attraction here is the Comino tower, it takes around 15 minutes to get there. This short walk along the sea is super beautiful!
A quick tip: If you see a flag at the top of the tower, it means you're allowed to visit it and access it's rooftop. It offers a fantastic 360° scenic view over Comino island, Gozo and Malta. There is no fixed entrance price, it's "pay what you want" for the visit.

In terms of amenities, in Comino, you will find several food trucks to eat at, one hotel and public bathrooms. While you're there, don't forget to drink a cocktail served in pineapple and take a selfie with it, it's apparently very trendy these days 😛.
You will see, visiting Comino is really a great way to end your 2 or 3 days Malta itinerary!
If you go to Comino with the shuttle, try to get there in the early morning (before 10:00, ideally around 9:00) to enjoy the site in the best conditions possible.
After this time, hordes of tourists start arriving and the place don't really feel the same. I'm not kidding, this is the most touristic site in Malta. I had never seen so many people gathered in such a small piece of land.
Voyage Tips Advice
If you only have 2 days to visit Malta, here is what you can do:
Option 1: Follow our day 1 and day 2 itinerary, so you will visit Valletta in 1 day + Mdina / Rabat / Dingli Cliffs/ Ghajn Tuffehia Bay during your second day in Malta.

Option 2: Spend one day in Valletta et go to Comino on the second day of your weekend in Malta.
Are you ready to visit Malta in 2-3days? If you have any question to plan your itinerary, don't hesitate to ask me in the comments of this travel guide.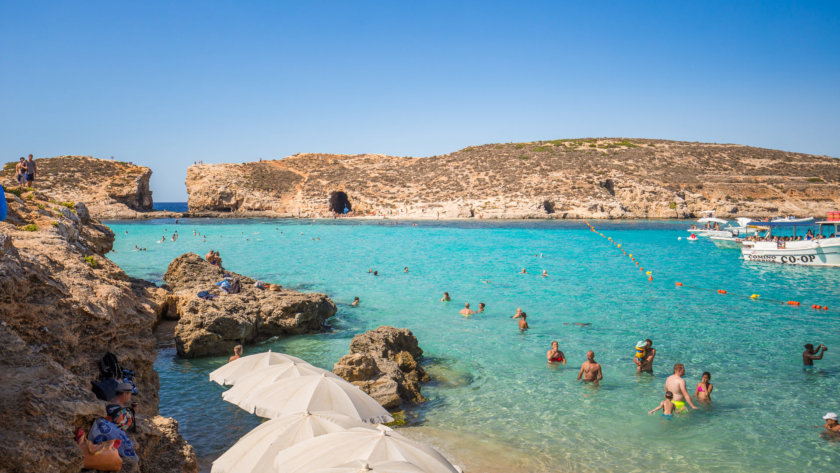 Book your trip now and save money!
Malta travel Guides
You're traveling in Malta? These articles will help you!
Discover all my articles about Malta: All my articles to help you plan your trip to Malta are listed there.
You're using Pinterest? Here is the picture to pin!