Itinerary: How to Spend 4 or 5 Days in Malta
You're planning to spend 4 or 5 days in Malta for your next holidays?
Great!
In order to help you plan your stay, I have prepared a detailed itinerary to visit Malta in 4-5 days and see all the must see attractions of this little Mediterranean island.
I addition to the best places to visit each day, I also give you my best tips as well as a list of the best places to stay in Malta depending on your budget.
So, what are the best things to do during your 4-5 days trip to Malta?
4-5 Days in Malta: What to Do and See?
Day 1: Valletta / The 3 Cities
You can't go 4 or 5 days Malta without spending at least one day in Valletta, Malta's capital. The city isn't too spread out so it's totally possible to explore it on foot in just one day. It will be quite a busy schedule to be able to see everything, so let's get started!
To visit Valletta in 1 day, I recommend you to start by Valletta's must-see attraction, St. John's Co-Cathedral. It's a very touristic site, so you should visit it as early as possible in the morning to avoid waiting in line.
It's also a great way to start your trip to Malta as the cathedral is truly splendid.
Pillars and walls are covered with gold and the 8 chapels dedicated to each of the Order's languages are beautifully decorated. The ceiling is covered with frescoes and under the floor made of marble tiles lies the tombs of the Knights of the Order. It's so beautiful you won't even know where to look at first!
You will need to wear appropriate clothes to visit the St. John's Co-Cathedral: you will have to cover your legs and shoulders with a shawl distributed at the entrance and high heels are not allowed. This is serious, as they could damage the floor.
Find all the information about your visit on the cathedral's official website.
Let's continue with another must see historical attraction, the Grand Master's Palace, once home to the Grand Masters of the Order of Malta.
Nowadays, the building houses the office of the president of Malta and her cabinet. It's however still open to visitors. You can visit the State Rooms (the Council Chamber and the Official Dinning Room are especially impressive) and the armory where you can see armors and weapons worn by knights. When they died, all their gear was returned to to the Order.
When you're done with the Grand Masters Palace, head to Lower Barrakka Garden to go see the "Siege Bell War Monument" and enjoy the view over the harbor.
Then go to Upper Barrakka Garden to attend the traditional 12pm cannon shooting ceremony! It comes from an old Valletta tradition: foreign vessels would be greeted by a cannon shot from the saluting battery. The garden is mostly worth it for its amazing view over the 3 Cities, located on the other side of the harbor.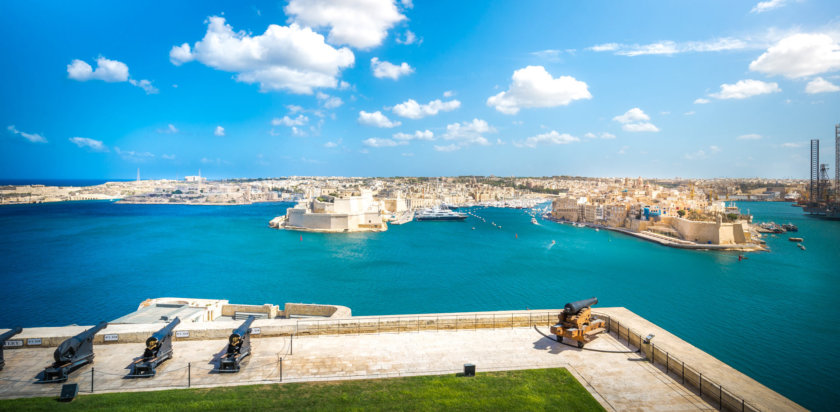 After your lunch break, it's time to go to the Three Cities to continue your 4-5 days trip to Malta.
To reach the 3 Cities, take the panoramic lift located in Upper Barrakka Garden. Right after you exit the lift, cross the street and go on the left to reach the piers. From there you can take the Valletta – 3 cities shuttle. A round trip ticket costs 2.80€ and the ride lasts 10min.
The 3 Cities are the following towns: Cospicua, Senglosa and Vittoriosa. The boat takes you to Vittoriosa pier. From there you can explore all 3 cities on foot as you please, or go on a ride on a small tourist train. In the 3 cities, you can enjoy several nice views over Valletta.
Towards the end of the afternoon, take the shuttle back and finish the day on Merchant and Republic street. Those are the 2 main commercial streets in Valletta, with lots of stores and gift shops.
If you need more info about Valletta's main points of interests, you can read my article: The 10 best things to do in Valletta.

Voyage
For your 4-5 days trip to Malta, You should
rent a car
. You won't need it in Valletta, but it will be very useful for the following days.
With a car, you won't waste time with public transportation. In Malta, schedules are a bit random and bus routes aren't very optimized for sightseeing. With a car, you will be able to see a lot more things.
When I travel, I always use Rentalcars.com to rent a car. It's the best price comparison website! Most of the time, there is no cancellation fee so I would recommend that you book your car rental now if you already have your travel dates. It's the best way to get the best prices.
To compare car rental prices in Malta, click here (you should bookmark this website for future trips too!)
Where to stay in Valletta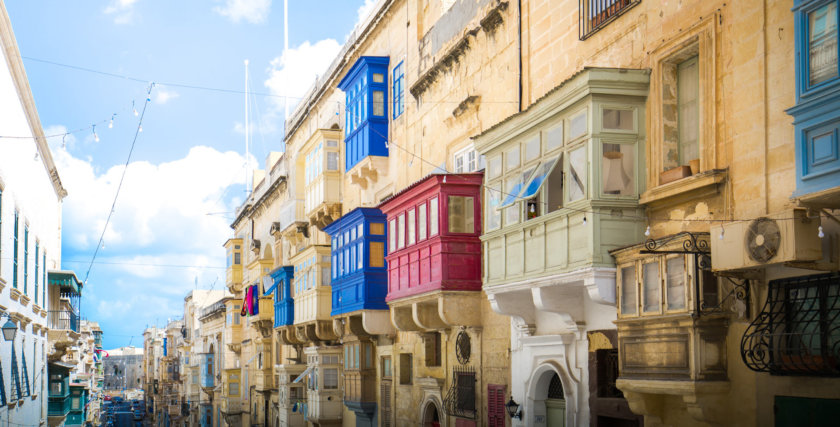 Day 2 : Mdina / Rabat /Dingli Cliffs / Ghajn Tuffieha Bay
For the second day of your 4 or 5 days Malta itinerary, start by visiting Mdina. The city is located about 20-25min by car from Valletta.
Former capital of Malta, Mdina was then replaced by Valletta, because the knights wanted to be closer to their ships.
During my trip, I really liked Mdina. This fortified city is very charming with all its narrow streets.
Things to see in Mdina:
St Paul's Cathedral and its museum
Vilhena Palace
Falson Palace
Villegaignon Street
Walk around the old moats turned into a garden.
You can then easily go visit Rabat from Mdina. No need to take your car, you just have to exit Mdina through the bridge, cross a square and that's it, you're in Rabat. The two cities are right next to each other.
Rabat is famous for being the place where Paul the Apostle sought refuge after his ship sank in Malta. Several monuments are dedicated to him, including a church, a cave and catacombs. You can visit them all.
Then head back to Mdina, get your car back and go to Dingli cliffs, only 15 minutes away. Located 250m above sea level, those cliffs are Malta's highest point. You can go for a walk and enjoy the beautiful view.
In the afternoon, you should go to the beach in Ghajn Tuffieha Bay. It is, in my opinion, one of Malta's most beautiful beach.
Located in the wild, this sandy beach with shallow water is the perfect place to swim. It's also possible to rent sun beds if you want to be more comfortable. Be careful of jellyfish, there were plenty of them when we were there.
Voyage Tips Advice
I recommend spending the night in Mellieha: you will be closer to Gozo island (the next step of your itinerary) from there than from Valletta.
Where to stay in Mellieha
Pergola Hotel & Spa: located in Mellieha with a view over the bay, the village, Gozo and Comino. Studio apartment with kitchen amenities starting from 80€/night, breakfast for an additional 8€. Best features: kitchen amenities, view, excellent service, 3 swimming pools.
Maritim Antonine Hotel & spa: located in Mellieha, 1km away from a vast sand beach. Very spacious and elegent double room starting from 140€/night, breakfast included. Best features: rooftop swimming pool with a scenic view over the bay, heated pool and hot tubs, good buffet with many options, next to bus stops going to Valletta or to the beach. It's the best value for money in Mellieha.

Radisson Blu Resort & Spa, Malta Golden Sands: located in Golden Bay and 2min walking distance to a lovely beach. Big double room with balcony (sea view or countryside view) starting from 150€/night, breakfast for an additional 20€. Best feature: direct access to the beach, view, delicious breakfast, during summertime you can get complimentary sun bed and umbrella on the private beach.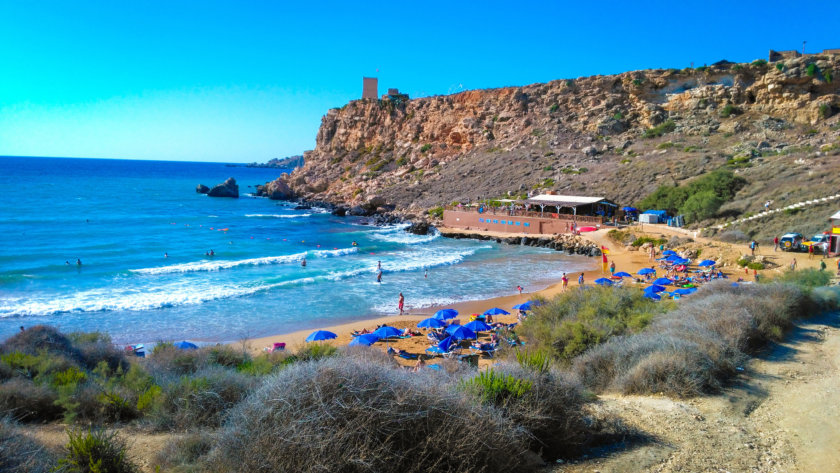 Day 3 : Gozo
For this third day, you will explore Gozo Island, Malta's more rural little sister.
From Mellieha, go to the Cirkewwa ferry departure point, about 10min away by car.
You won't have to pay anything on the way to Gozo island, you will only pay on the way back (20€ for one car and two people). The trip lasts about 20mins and there are ferries all day long. Everything is very well organized and boarding/debarkation is quick.
Inside the ferry, there is a convenience shop and a cafeteria if you want to eat something.
The first thing you should do once in Gozo is to go to Victoria, the biggest city on the island. You will be able to visit the Citadella, located on the top of a hill. It offers a nice scenic view over Gozo.
After the Citadella, wander in the city center lovely streets, you will find plenty of gift shops there. There are also many coffee shops and restaurants on Repubblika and Fortunati Mizzi streets. That's perfect for your lunch break!
In the afternoon, head to the Northwest of Gozo, in Dwejra. As it's where the famous Azure Window (which collapsed) used to be located, it's a very touristic spot.
Even if the Azure Window is no more, there are many other things to see there, such as the Inland Sea, the Deep Blue Hole and Fungus Rock.
Dwejra is also a famous location among Game of Thrones lovers: some scenes from the TV show were shot there. Another good reason to visit it during your 4-5 days itinerary in Malta!
On your way back, stop by Ta'Pinu Basilica, one of the most stunning church in Gozo. The basilica is sumptuous, surrounded by fields and nature. I really loved that place!
Voyage Tips Advice
Looking for a cheap and quick lunch? Go to Rizzles Caffé
. You will find various food options: pastizzis, pies, pizzas and sandwiches at a very affordable price. For dessert, you can get a big slice of cake for only 1.50€! You can eat there or order to take away.
Address: St Francis Square in Victoria.
Where to stay in Gozo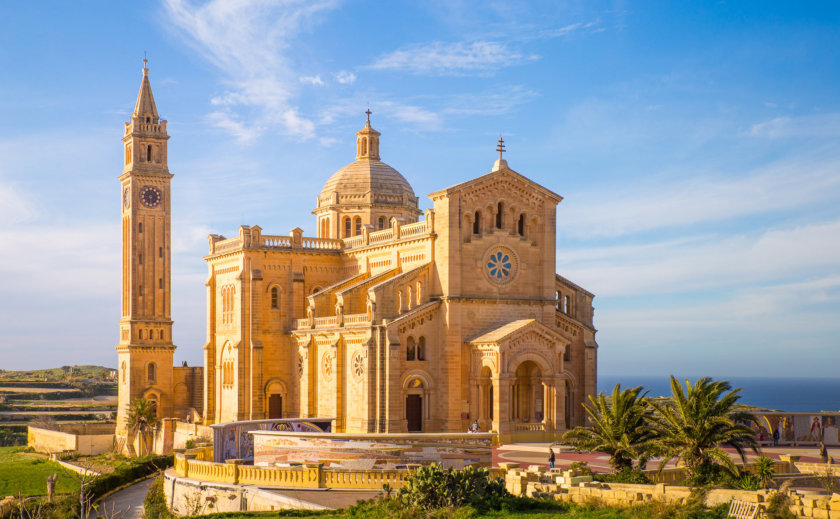 Day 4 : Comino / Gozo
For this fourth day in your Malta itinerary, go visit Comino, Malta's smallest island.
From Gozo, you need to take a small shuttle boat to Comino. The trip lasts about 20-25min and costs 10€. There is a boat leaving every hour (even a bit more during high season). The boat departure point is close to the Mgarr ferry departure.
The boat will drop you off at Comino's main attraction, the Blue Lagoon. With its fine sand and crystal clear water, it's a real paradise!
But there is one downside to this paradise: it's very crowded! It won't feel like a desert island, that's for sure.
There are many day trips coming from Malta, they are bringing tourists all day long. It spoils a little bit the whole experience but one needs to share the fun!
Nevertheless, it's still a great spot to take a dip, relax and enjoy the sun.
If you're looking for a calmer spot, there are 2 other beaches in Comino (2 small sandy beaches). They are located next to the only hotel of the island. If you want a quieter spot to swim, you should definitely go there.
In Comino, you will also find public bathrooms and food trucks to get something to eat. I was positively surprised by the quality and affordability of the food despite the lack of competition around.
You can spend half a day to one full day in Comino, it's up to you.
If you prefer to stay for half a day, it's then time to take the boat back to Gozo.
In the afternoon, you should go to one of my favorite place in Gozo: Marsalforn salt pans. Park your car and take a stroll along the salt pans and the sea. You can even walk a bit further and reach Wied Il Gashri, a small fjord where you can take a dip.
Looking for more things to do in Gozo? Check out my article: The 10 best places to visit in Gozo.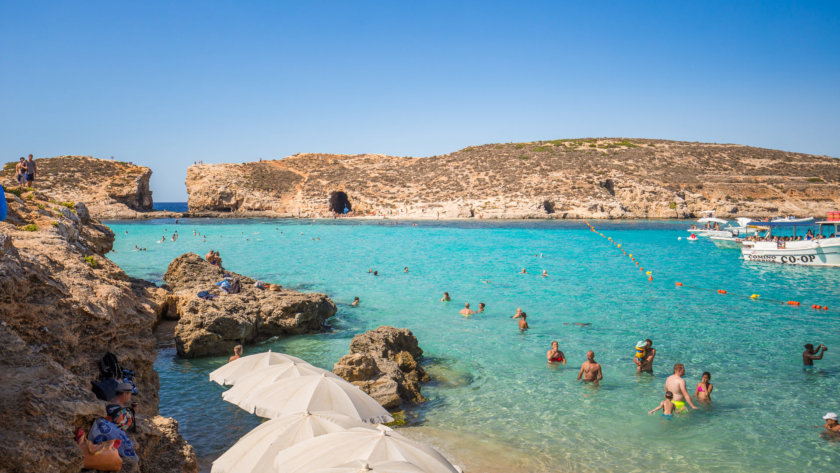 Day 5 : Popeye Village / Blue Grotto / Marsaxlokk / St Peter's Pool
To finish your 4-5 days itinerary in Malta, you will need to go back on the main island.
After you exit the ferry, stop by Popeye Village located only 5-10min away from the harbor.
The whole village was built to serve as a set for the movie"Popeye" with Robin Williams. Today, it's a small amusement park to discover the world of this famous character. You don't have to go inside (especially if you don't like spinach!) but the village with its colorful houses is very photogenic.
Then, let's head to the Blue Grotto. It's a famous Malta attraction thanks to its intense blue water. Enjoy the view from the belvedere or opt for one of the boat tours to get inside. Tours last about 30min and leave from Wied Il Zurrieq (only 2min drive from the belvedere).
Continue to Marsaxlokk fishermen village and more precisely the small fishing port with its traditional colorful boats. This charming village is a must see during your trip to Malta.
If you are there on a Sunday, you will also have the opportunity to shop at Marsaxlokk market for the cheapest souvenirs in Malta.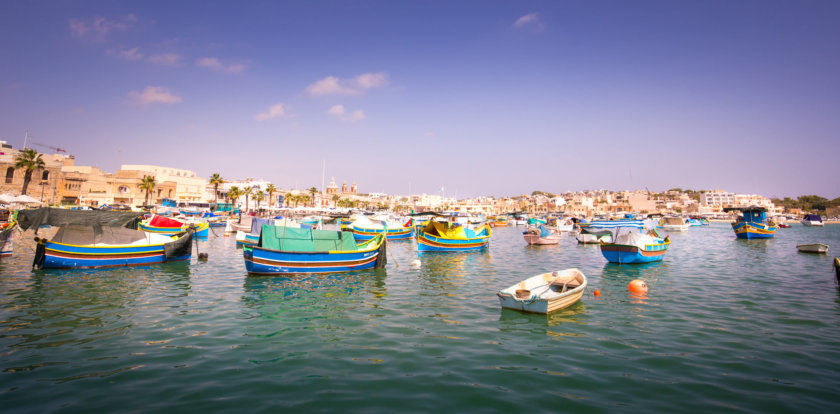 In the afternoon, go to St Peter's pool located 10 minutes driving from Marsaxlokk.
St Peter's pool is a natural pool where you can jump directly from the rocks. It's a famous spot, especially among young people. However, I wouldn't recommend going there if you are with young children, because you can only access the water by jumping or going down a ladder.
On the right of St Peter's Pool, you will find rocks shaped like hot tubs next to the water. It's a quiet place to take a dip.
It's a good idea to spend the last night of your 4 or 5 days holidays in Marsaxlokk, because it's located just 15min driving from the airport. Very practical!
Voyage Tips Advice
If you're only in Malta for
4 days
, here is my
recommended itinerary
:
Day 1: Valletta / The 3 Cities
Day 2: Mdina / Rabat / Dingli Cliffs/ Ghajn Tuffieha Bay
Day 3:

Option 1: full day in Gozo, similar to the 5 days itinerary (sleep in Gozo or in Mellieha)
Option 2: full day in Comino (sleep in Mellieha)
Option 3: morning in Gozo + afternoon in Comino (sleep in Gozo)

Day 4: Popeye Village / Blue Grotto / Marsaxlokk / St Peter's Pool
Where to stay in Marsaxlokk
Port View Guesthouse: Guesthouse located in Marsaxlokk, a lovely fishermen village with a popular Sunday market. Modern and comfortable double room starting from 70€/night, breakfast included. Best features: next to the sea, good breakfast and excellent service.
Harbour Lodge : Located right next to the fishing port. Quiet and comfortable double room starting from 85€/night, breakfast included. Best features: quiet location, free parking lot, free shuttle to the airport.
You're going to visit Malta in 4 or 5 days and have questions? Ask me anything about your trip in the comments section below.
Going to Malta: Flight prices
Flight prices to Malta vary widely, so it is a good idea to compare them as soon as possible. To do this, you can use our flight comparator, in partnership with Skyscanner. It's the best way to pay the best price!
When you get the results, don't hesitate to check out multiple website to make sure there is no hidden fee.
Book your trip now and save money!
Malta travel Guides
You're traveling in Malta? These articles will help you!
Discover all my articles about Malta: All my articles to help you plan your trip to Malta are listed there.
You're using Pinterest? Here is the picture to pin!