Things to Do in Ajaccio: The 20 Best Places to Visit (All Highlights)
You want to visit Ajaccio during your trip to Corsica (France)?
Great idea!
In order to help you plan your stay, I have prepared this guide of the 20 best things to do in Ajaccio, with all points of interest and must-see attractions as well the best beaches around.
In addition to this list of things to do and activities, I will also give you itineraries to visit Ajaccio in 1, 2, 3, 4, 5 days (or even 1 week!) as well as my selection of the best accommodations depending on your budget.
So, what are the best things to do in Ajaccio? Where to stay?

Let's find out!
Visit Ajaccio: All Must-See attractions
1. The National Museum of the Bonaparte Residence
During your stay in Ajaccio, you will notice that many places are named after Bonaparte. That's not a surprise, as the emblematic French Emperor was born there!
That's why I wanted to start this Ajaccio's travel guide with the birth house of Napoleon Bonaparte.
Born on August 15, 1769, he spent a part of his childhood there. The last time he visited this house was in 1799, when he came home after his successful military campaign in Egypt.
The house is now a museum dedicated to the Bonaparte family. When walking through the different rooms (bedrooms, living room, dining room, boudoir), you will discover some of the original furniture, but also the Bonaparte's family history and family tree.
You will find all the useful information to plan your visit on the official website.
Voyage Tips - Advice
If you're visiting Corsica and Ajaccio in August, don't miss the Napoleonic Days, organized as a tribute to the Emperor.
During these 3 days,  you will enjoy military parades in costumes, Historical reenactment, exhibitions and concerts.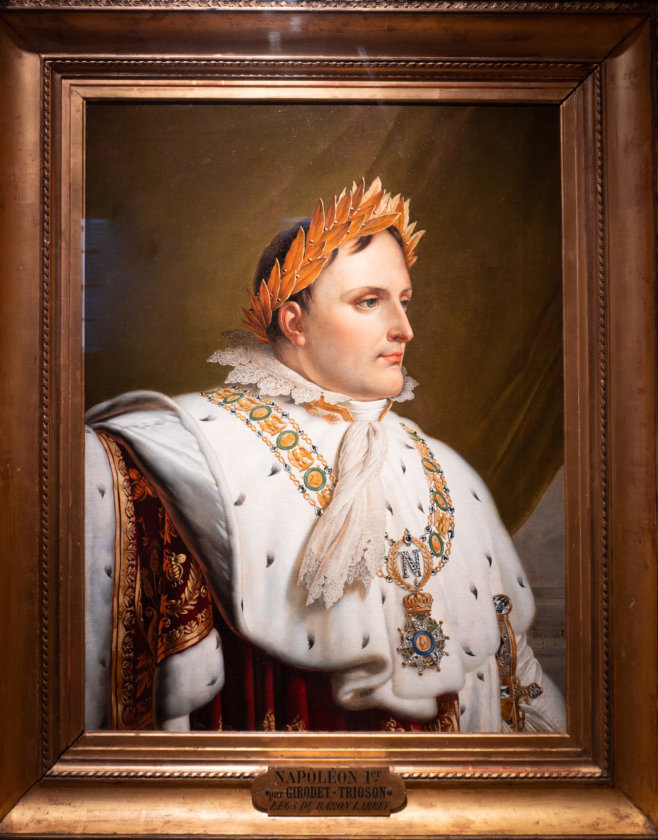 2. The Fesch Palace / Ajaccio's fine art museum
If you're an art lover, then you should definitely visit the Fesch Palace during your stay in Ajaccio.
It was built by Napoleon's maternal uncle, Cardinal Joseph Fesch, to create an art-dedicated place in Corsica. He also wanted to encourage the artistic and intellectual training of the island's young people.
Nowadays, the Palace has kept his original purpose, as it houses Ajaccio's Fine Arts Museum.
During your visit, you will enjoy masterpieces by great Italian painters such as Poussin, Botticelli or Titian. The museum hosts one of France's largest collections, right after the Louvre Museum in Paris.
You can also discover a whole section dedicated to the Bonaparte family, with several portraits and another one presenting Corsican paintings.
And if you want to know more about the rates and schedules, you can visit the official website.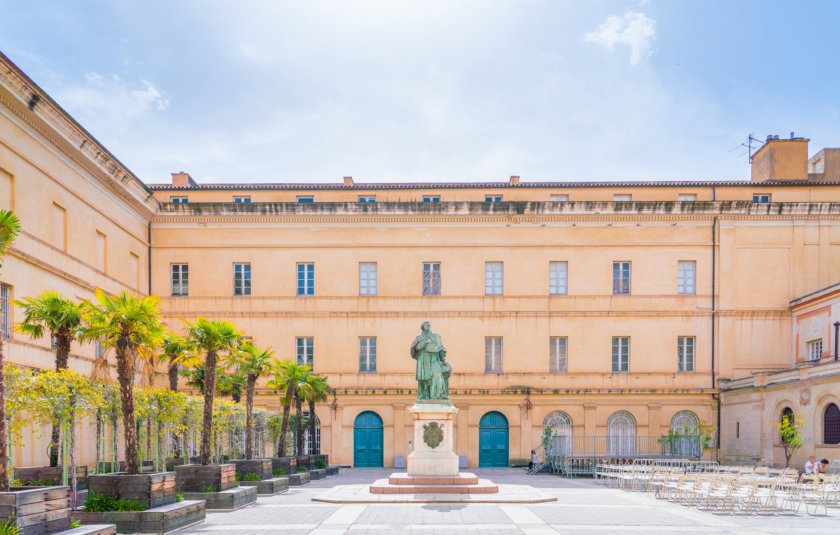 3. The Imperial Chapel
The Fine Arts Museum's entrance ticket allows you to discover another tourist attraction of Ajaccio: the Imperial Chapel.
Built in 1857 by Napoleon III, this historical monument is located right next to the museum's South wing.
The chapel hosts the tombs of a few imperial family members, including Napoleon's parents, Charles and Letizia Bonaparte.
You can also choose visit the Imperial Chapel without going to the Fesch museum before.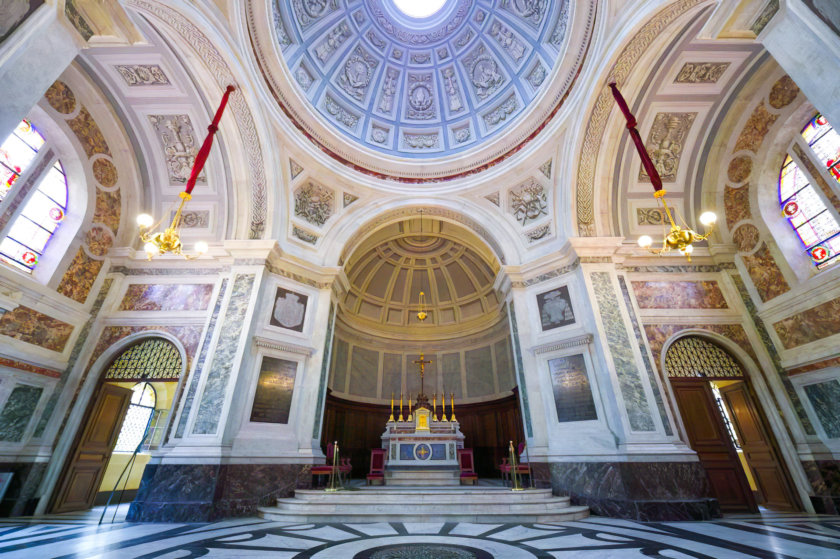 4. The Ajaccio market
During your holidays in Corsica, you should definitely take some time to taste the best local specialties.
In Ajaccio, the best place to do so is the market located on the Foch square. There, you will find all the best local products: delicatessen, regional cheeses, wines, or jams.
It's perfect to prepare a good picnic or to find the best products to bring back from your trip to Ajaccio!
You can enjoy the Ajaccio market every morning from April to October. Note that it closes on Mondays from November to March.
Voyage Tips - Advice
If you've rented an apartment in Ajaccio and have the opportunity to cook, don't hesitate to go to the fish market locted close to the City Hall. There, you can buy fresh fishes caught in the morning!

5. Ajaccio Cathedral
While walking in Ajaccio, you will discover the city's Cathedral.
In fact, don't expect a huge building. The Cathedral is a rather small church located between the houses, recognizable by its bright orange facade. It was built at the end of the 16th century and is dedicated to Our-Lady-of-the-Assumption, Ajaccio's patron saint, who saved the town from a plague epidemic.
If you're lucky enough to get inside the Cathedral (as it has quite random visiting hours), don't miss the "Vierge du Sacré-Coeur" (The Virgin of the Sacred Heart) painting by Eugène Delacroix. You will also discover beautiful frescoes.
And for the anecdote, Napoleon Bonaparte was baptized here in 1771.
Voyage Tips - Advice
You're going to Ajaccio?
You probably know it: the hardest part of planning your trip is to find an hotel offering a good value for money!
The closer you get to your travel dates, the harder it will be to get a good deal. Lots of people will be visiting Ajaccio on the same dates as you, so you can be sure that the best deals are booked extremely quickly!
Hopefully, there is a pretty simple solution to this problem: do like me and book your hotel as early as possible!
So, my best advice is to take 5 minutes (now) to have a look at the list of travelers' favorite hotels in Ajaccio.
And if you see a good offer, book it!
Most hotels offer free cancellation, so it's quick, easy, and you will avoid the the inconvenience of finding nothing but mediocre rooms at exorbitant prices.
To check the current best deals for your hotel in Ajaccio, simply click on the green button below 😎:
Once you've booked your hotel, it will be time to continue reading this guide and find out more about the best things to do in Ajaccio!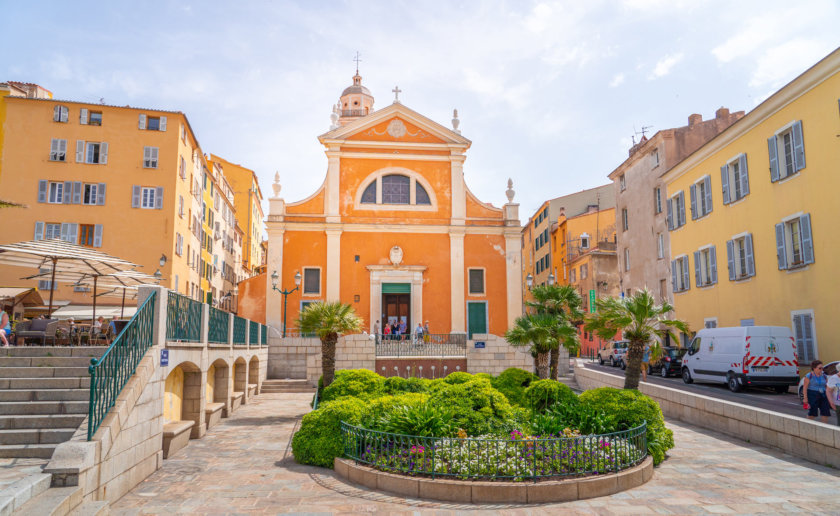 6. Place de Gaulle
The Place de Gaulle is a large square, considered as the boundary between Ajaccio's old town and the new districts.
There, you will find a statue of Napoleon (again!) surrounded by his 4 brothers, as well as a monument commemorating the liberation of Ajaccio by General de Gaulle, during World War 2.
The square is directly overlooking the sea. It's also the starting point of the small shopping streets, where you will find many bars and restaurants.
The place often hosts animations and concerts in summer, as well as the Christmas Market in winter. The locals are often playing "Petanque" here, while their children are riding bicycles and scooters.
Voyage Tips - Advice
If you need to park your car, there is a large underground car park under the square.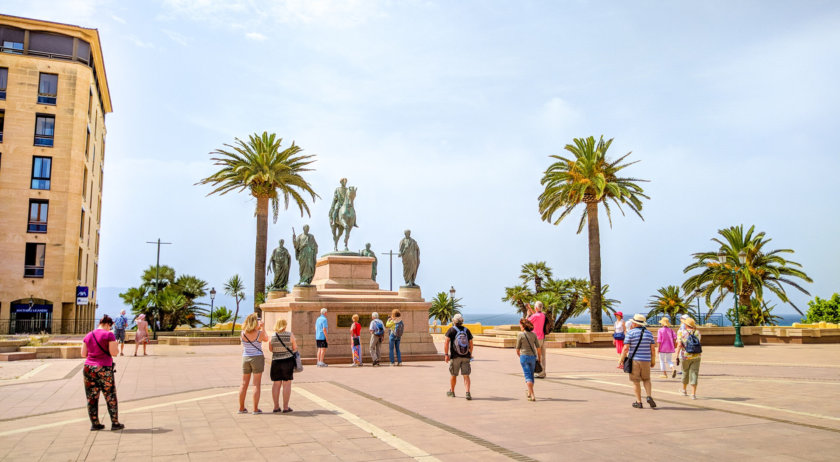 7. Bonaparte's cave and Place d'Austerlitz
The Place d'Austerlitz is another tourist site of Ajaccio referring to Napoleon.
This vast square is dominated by a large statue of Bonaparte with is famous cocked hat. This statue is the exact replica of the one exhibited at the Invalides, in Paris.
The monument is completed by 2 eagles statues and a commemorative stone retracing all his victories and battles.
Right next to the monument, you can also go to Bonaparte's cave. It is said that as a child, he often came here to contemplate the sea from these rocks.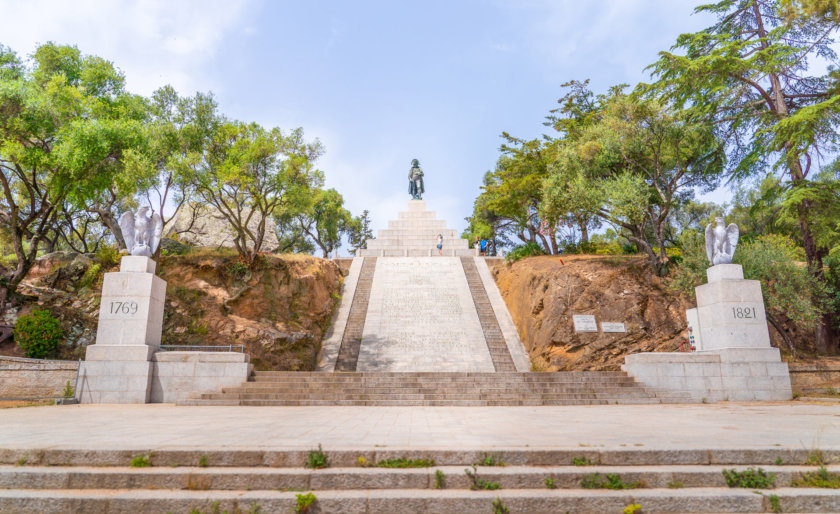 8. The Foreigners' district
The surroundings of Cours Grandval, connecting Place de Gaulle and Place d'Austerlitz, are also known as the Foreigner's district.
This neighborhood was built in the middle of the 19th century to welcome the English and German tourists looking for nice weather. During your stroll along the Cours Grandval, you will admire several beautiful buildings, including:
The Grand Hotel
Castle Conti
Cyrnos Palace 
The Anglican church
Germania Hotel.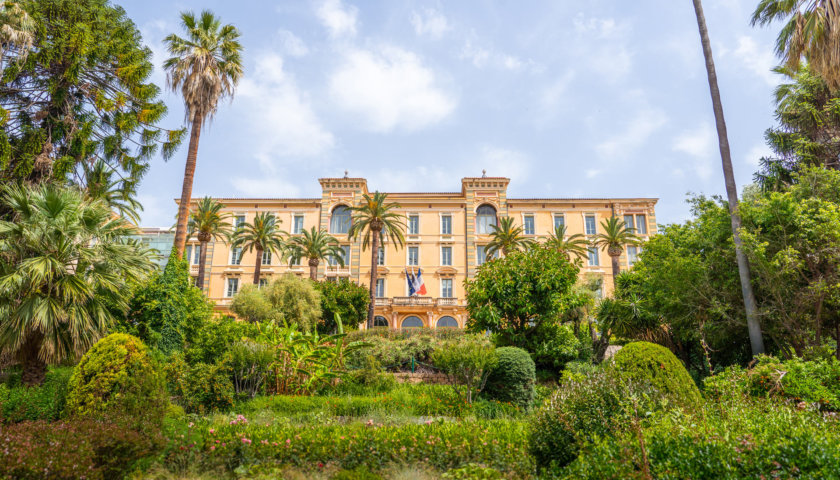 9. The Little Train, Ajaccio's tourist train
The small tourist train is often ranked among Ajaccio's best tourist attractions. If you don't feel like walking, it's clearly the best way to discover the city!
The tours are starting from Place Foch (where the market is located) every 45 minutes. You will have the choice between 2 itineraries:
The first one, the "Sanguinaire itinerary", lasts around 1h30 and takes you to:

Place de Gaulle
The Anglican Church
Bonaparte's Cave with a 15-minute photo stop
The Chapel of the Greeks
The beaches
Sanguinaires Islands, with a 10 minutes stop
Ajaccio's Cathedral
The citadel (I don't mention it in this guide because it belongs to the army and thus can't be visited)
The Bonaparte Residence
The second one is a 45-minutes long city tour that only focuses on the old town. During this tour, you will discover the historical center and its monuments.
You will find every information you need about the rates and schedules on the official website.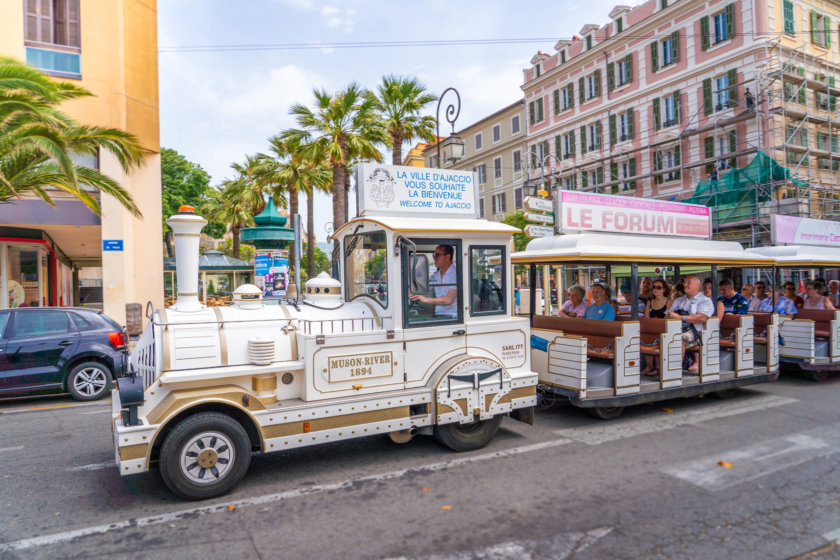 10. Ajaccio's best beaches
What are the best places if you want to go swimming next to Ajaccio?
Here is a list of the closest beaches to Ajaccio:
Saint-François beach is the closest to the city center. Located next to the port and the citadel, it's easily accessible by foot. This beach is often very busy!
Trottel beach, a sandy beach on the roadside, only a few steps away from the city center.
Barbicaja beach: a small sandy bay with big rocks next to the sea. There, you can enjoy restaurants and nautical activities.
Ariadne beach: a sandy beach located on the road to the Sanguinaires Islands. You can even have lunch in Ajaccio's oldest beach restaurant!
Marinella beach: a beautiful beach with turquoise water. You can rent deckchairs and there are a few restaurants nearby.
The beach of Terre Sacrée: in my opinion, it's the prettiest beach near Ajaccio, with its many small sandy coves and large rocks at the water's edge. You will also see a commemorative monument honoring Corsican people who died for France during the first world war.
Ricanto beach: a 3-km long sandy beach located between the city center and Ajaccio airport.


11. Parata point
During your holidays in Ajaccio, you should definitely discover the magnificent natural site of Parata point.
This beautiful peninsula, and the 4 Sanguinaires Islands facing it, are labelled as a "Grand site de France" (a label awarding France's most beautiful natural sites).
As the site is only accessible by foot, you will have to leave your car in one of the paid parkings lots located nearby, or to find a parking space along the road.
At the entrance, you will find an information point describing Parata point's 3 marked trails.
The first path goes around the Parata peninsula, then climbs to the tower located on top. This tower is one of the 90 Genoese towers built to defend Corsica from barbarian attacks. At the end of the peninsula, you will enjoy the best panorama over the Sanguinaires Islands. It takes around 1 hour to do the round trip.
The second 40-minutes long path climbs the hills of Parata Point to reach a belvedere, offering a beautiful panoramic view of the Sanguinaires Islands.
The last one is the scent trail, a 1 hour round trip to discover Parata point's beautiful flora.
The best time to admire the Sanguinaires Islands from Parata point is at sunset!
If you're looking for more information about Parata point, you can visit the official website.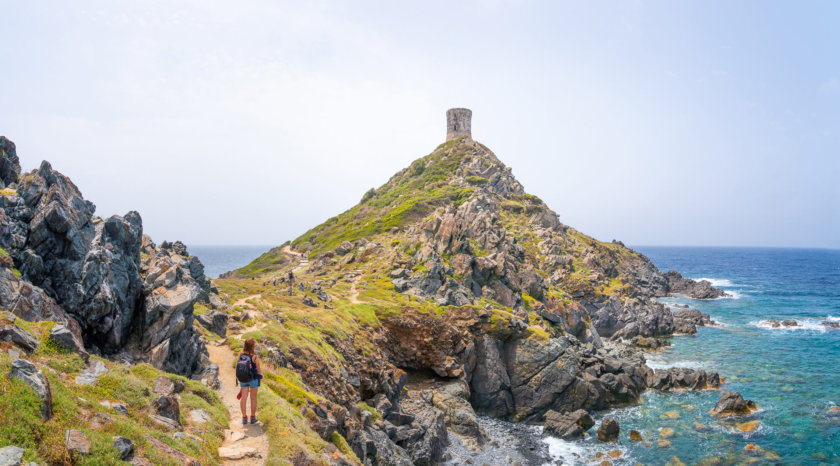 12.The Sanguinaires Islands
The Sanguinaires islands are only accessible by boat. There are many boat excursions leaving from Parata point (close to the car park), or directly from the port of Ajaccio. Most of the cruises also allow you to take a stroll on the biggest island.
The most famous excursion lasts about 3 hours, including a 1-hour stop on Mezzu Mare, the largest island of the Sanguinaires archipelago. There, walk to the Alphonse Daudet lighthouse, or go swimming in one of the island's many beaches and coves!
You can book your cruise directly by clicking the button below:
You can also opt for a cruise in the evening, especially made to admire the magnificent sunset over the Sanguinaires Islands. You won't stop on the island as on the daily cruises, but you will enjoy a Corsican wine tasting and a buffet with local products, accompanied by Corsican traditional songs!
Click the button below to book this boat trip at sunset:
Voyage Tips - Advice
If you're looking for a small group boat trip to the Sanguinaires Islands (maximum of 12 people), you can also opt for the 2h30 speedboat trip.
You will depart from the port of Ajaccio and first go to the largest island of the Sanguinaires archipelago, where you will have one hour to walk or swim.
You will then come back on board and be served an aperitif while you admire the sun setting over the islands.
This small group sunset boat trip needs to be booked by clicking on the button below:
13. Capo di Feno
You've already visited Ajaccio's city centre, and also discovered the Sanguinaires Islands? If you don't know what to do next, you should go to Capo di Feno.
This beautiful natural site is mostly renowned for its 2 very beautiful beaches:
Grand Capo beach, a large and wild sandy beach. Even if it's quite popular among surfers, remember to always check the flag color before swimming, as the currents can be very strong!
Petit Capo beach or Sevani beach, only separated from Grand Capo by a field.
The 2 beaches are easily accessible by car, as there are car parks located close to each of them.
And if you like hiking, go to Parata Point and take the customs officers' path. This beautiful walk along the entire coast offers you breathtaking views of the Genoese Tower and the Sanguinaires Islands!
The round trip from Parata Point to Capo di Feno takes around 3 hours. Of course, it will takes more if you choose to enjoy the beach!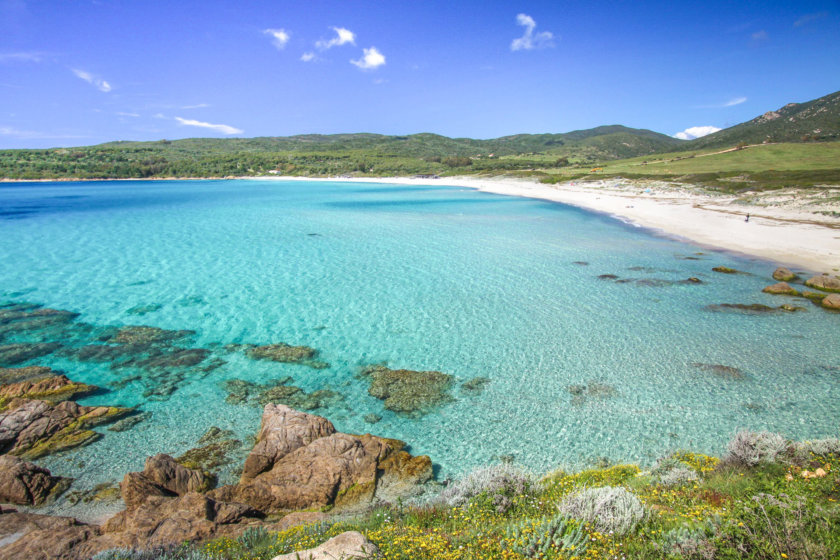 14. Boat trips from Ajaccio
Boat trips are clearly among the best things to do during your stay in Corsica. It allows you to discover remote places otherwise inaccessible, and magnificent natural landscapes.
I've already described above the cruise to the Sanguinaires Islands, but you can also choose between several other boat trips:
These boats tours are often crowded, so you should really book yours in advance by clicking the button below:
The same excursion is also available in a semi-rigid speedboat for a maximum of 12 people. You need to click here to book it!
A full-day trip to Bonifacio: you will admire this incredible city perched on the cliffs and its magnificent rock formations. You will discover the city from the sea, but also have 4 hours of free time to walk in the city.
If you want to book your boat trip to Bonifacio from Ajaccio, just click the button below:
A boat trip to Bonifacio and the Lavezzi Islands –  On a semi rigid boat, in small group
During this boat trip, you will stop for a swim at Roccapina beach and at the Lavezzi islands. You will also discover the lagoon of Piantarella and get some free time to visit Bonifacio.
To book this wonderful boat trip, it's here:
Voyage Tips - Advice
You prefer to enjoy a VIP experience that will allow you to discover Ajaccio's surroundings by boat, away from the other tourists?
I have got what you need!

The best way to make the most of your day at sea in Ajaccio is for sure to opt for a private boat trip.
You will rent a boat with an experienced skipper that will take care of showing you the most beautiful places around Ajaccio.

Motorboat, sailboat, catamaran or even yacht: choose the boat you want to spend a dream day!
As you can imagine, this type of VIP day at sea is extremely popular, so you should rent your boat with skipper as soon as possible. It would be a shame to miss this day because all boats are already rented!
You can find all boats with skipper in Bonifacio by clicking on the button below: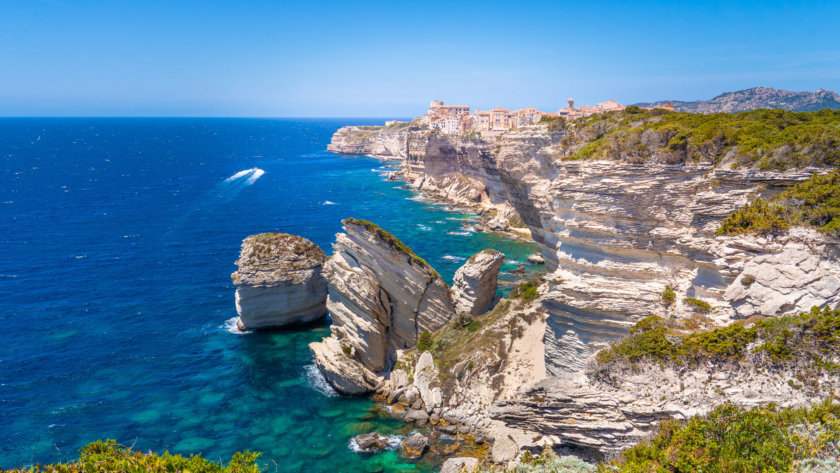 15. The best outdoor activities to do around Ajaccio
If you're staying in Ajaccio for a few days or a week, you will have plenty of time to discover many great outdoor activities. Click on the links to get more details about each activity!
Travel Tips
You're experiencing a bad weather day during your stay in Ajaccio? Don't worry, I've got the solution!
The Corsica Arena complex features a bowling alley, a virtual reality room where you can fight zombies, and a playing area with trampolines and obstacle courses. It's the perfect thing to do in Ajaccio when it rains!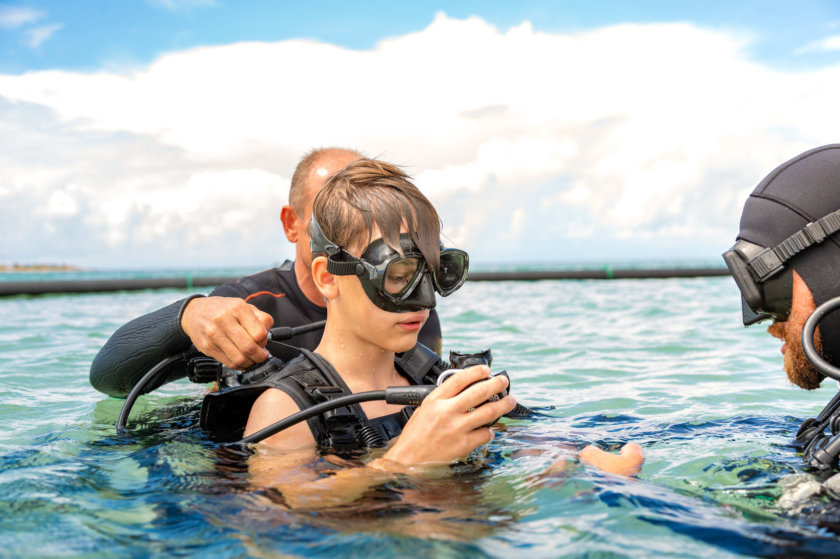 16. A Cupulatta turtle sanctuary
Located 20km away from Ajaccio, on the road to Bastia, the "A Cupulatta" turtle sanctuary is a great place to discover if you're traveling with children.
It's the largest park in Europe dedicated to turtles. It hosts more than 170 different species from all continents. You will discover species coming from Africa, Asia, America and of course Europe.
During your visit of this 2.5 hectares park, you will also learn more about the life of turtles from all over the world while observing them in a quiet environment.
For more information about the rates and schedules, you can visit the official website.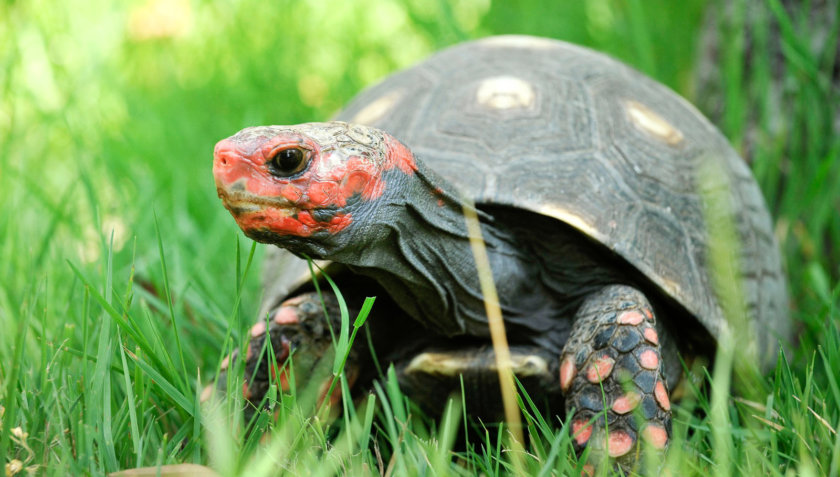 The 5 best things to do around Ajaccio
When you will have visited everything Ajaccio, you should continue your road trip in Corsica and visit the city's surroundings.
Here is a list of the best things to do around Ajaccio!
17. Visit Ajaccio's surroundings typical villages
If you chose to rent a car for your stay, it's now time to explore the most beautiful villages close to Ajaccio.
The best places to visit are:
Villanova, located only 20 minutes by car from the center of Ajaccio: you will love this pretty village with its typical stone houses overlooking the Gulf of Lava. From there, several marked trails are taking you to the seaside.
Alata, renowned for its beautiful view of the city and the Gulf of Ajaccio.
Appietto and its medieval tower in the center of the village.
Bocognano:  from there, you can walk to the "Cascade du Voile de la Mariée" (literally "Bridal Veil Waterfall").
Sarrola Carcopino, the starting point of a beautiful hike reaching one of the highest peaks in the surroundings of Ajaccio.
Tavaco, a great place if you want to enjoy a refreshing swim in a river!
Cuttoli Corticchiato where you will find many hiking trails.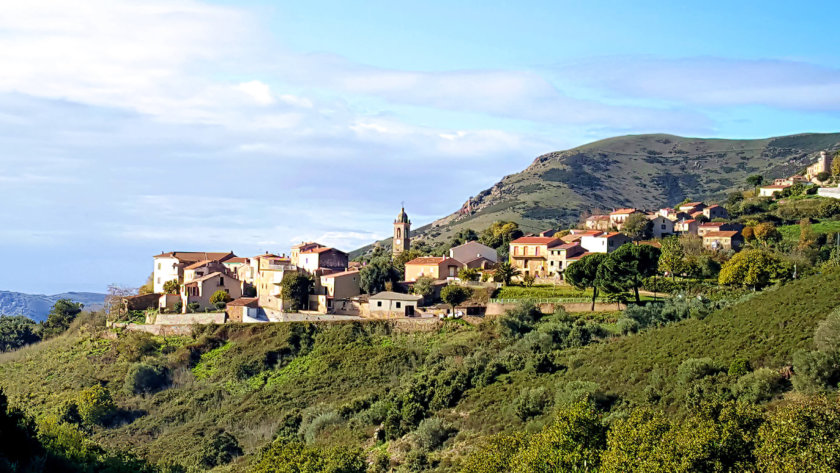 18. Porticcio
Porticcio is the closest seaside resort to Ajaccio.
There, you will discover a very lively town full of hotels, camping sites and tourist shops on its waterfront.
In Porticcio, you can enjoy the typical summer holidays, with several beach shops, a market on Tuesdays and Fridays, sports and music events, and many nautical activities!
From Isolella peninsula, you can for example do a 3h kayak guided tour of the whole southern coast of Porticcio. More information and reservation by clicking here.
From Porticcio, you can also do boat trips to the Scandola Nature reserve, Bonifacio or the Sanguinaires Islands. These trips are the same as those starting from Ajaccio.
And if you are looking for a family activity, you can take Porticcio's little tourist train. The tour lasts 2 hours and allows you to discover some of the most beautiful beaches of the surroundings: Agosta beach, Ruppione beach, the "Plage d'Argent" (Silver beach) and Mare e Sole beach.
It also includes a stop at the old penitentiary of Coti-Chiavari and a tasting of Corsican specialties.
You need to book your coastal train tour by clicking on the button below:
There are also shuttle boats between Ajaccio and Porticcio. It takes only 20 minutes and avoid the traffic jams!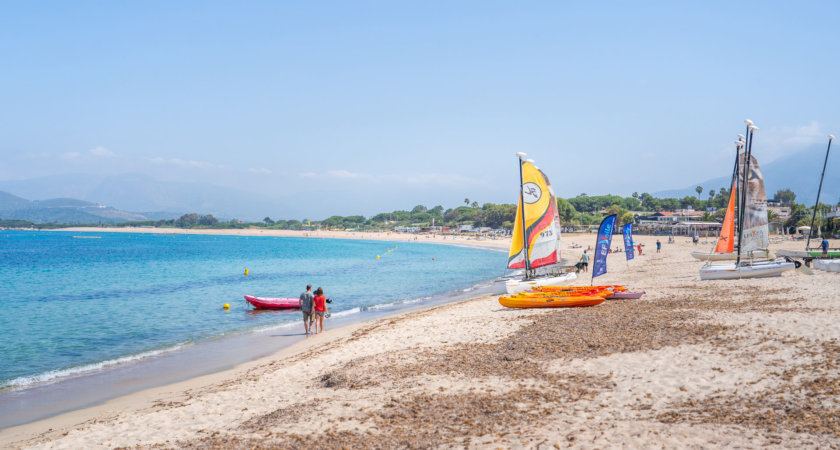 19. Cargèse
From Ajaccio, drive for about 1h10 to reach the village of Cargese.
Even if it's a very small village, it has an interesting history and is therefore worth a visit!
Cargese was built in the 18th century to welcome Greek immigrants. They even built their own Byzantine church, and it's the only one in Corsica!
The village's most famous postcard is the one of its 2 Latin and Byzantine churches facing each other.
From Cargese, you can also access beautiful beaches, or do a boat trip to the Scandola nature reserve.
And if you're looking for great outdoor activities, you can choose between horse riding, diving or snorkeling.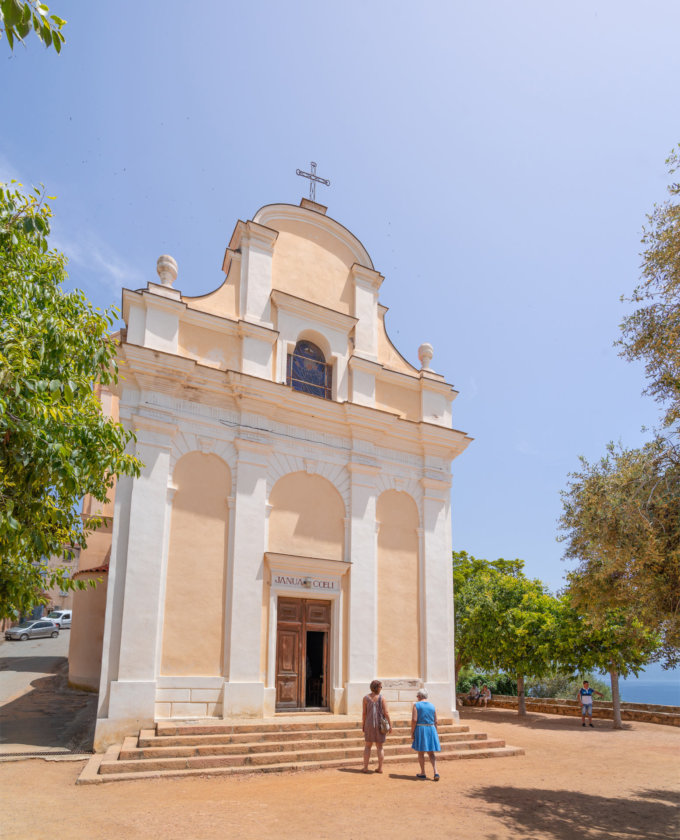 20. The most beautiful beaches around Ajaccio
If you've already discovered all the best beaches close to Ajaccio, it's now time to go a little bit further.
Here is a list of the most beautiful beaches in Ajaccio's surroundings:
South of Ajaccio (after Porticcio)
Agosta beach: a long sandy beach, quieter than the one in Porticcio, even if it's located only a 5 minutes drive away.  There, you can enjoy many nautical activities or experience your first dive!
Ruppione beach: a pretty sandy beach with rocks at the water's edge. It's a great place to enjoy outdoor activities, such as surfing, paddle or kayaking. it's easy to access, with many parking spaces.
Mare e Sole beach or Silver beach: a very beautiful and large white sandy beach. There, you can hire pedal boats. Easily accessible by car, as there is a large parking lot close to the beach.
North of Ajaccio (towards Cargèse)
Stagnone, the closest white sand beach North of Ajaccio.
Liamone beach: a large and wild sandy beach.
Castellu cove, close to Sagone beach: a quite nice cove with big rocks in the water
Sagone: a seaside resort with a sandy beach
Capizzolu beach: beautiful white sand beach, only accessible by foot. One of the quietest beaches North of Ajaccio!
Menasina beach: a beautiful and quiet sandy beach with crystal clear water, ideal for snorkeling. Walk around 10 minutes from the road to get there.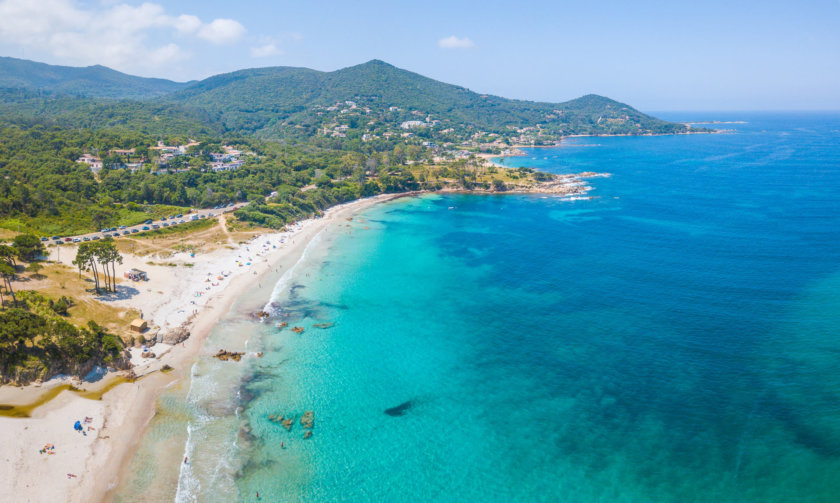 21. Lake Tolla
Lake Tolla is located 30 km away from Ajaccio.
This beautiful artificial lake is the perfect place to spend a summer afternoon. There, you can enjoy many nautical activities and rent kayaks and pedal boats. You can also walk around the lake or go fishing.
On the road from Ajaccio to Lake Tolla, you will also admire beautiful panoramas, discover typical villages and drive through the Prunelli Gorge.
If you want to try something different than the beaches, it's clearly a great place to visit in Ajaccio's surroundings!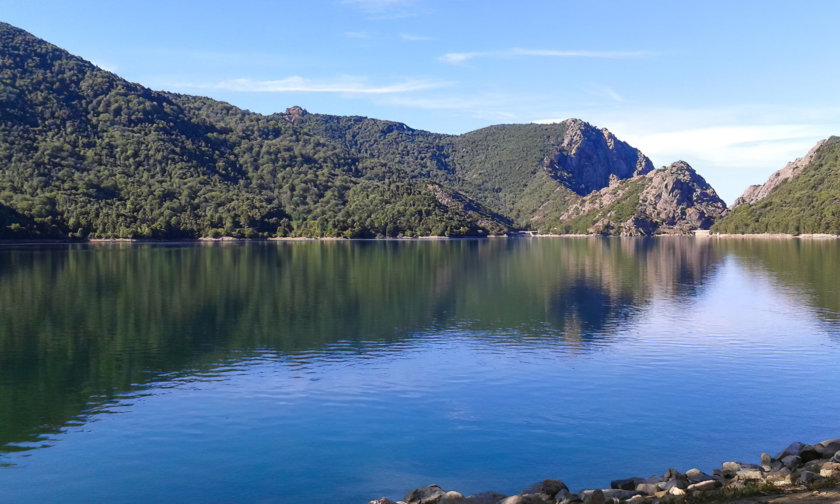 How many days to visit Ajaccio?
As Ajaccio is a rather small city, if you only want to discover its main places of interest, you won't need more than one day.
Of course, if you want to go a bit further and visit the city's surroundings, you should spend at least 3 days there.
And if you're looking for quiet holidays with plenty of time to relax at the beach and enjoy outdoor activities, you can even spend a full week in Ajaccio.
Visit Ajaccio in 1 day
If you plan to spend only 1 day in Ajaccio during your trip to Corsica, don't worry! It's enough to visit the city and even the Sanguinaires Islands.
Here is the best itinerary to visit Ajaccio in one day:
If you're an art lover, start your day with a visit to Ajaccio's Fine Art Museum, the Fesch Palace
Discover the imperial chapel, located right next to the museum
Walk to Foch square to enjoy the Ajaccio market – If you don't feel like walking, you can take the small tourist train to visit the city.
Then, visit the National Museum of Bonaparte Residence
Make a short stop at Ajaccio Cathedral
Continue your stroll through Place de Gaulle
Go to Cours Grandval and discover the foreigners' district
Finish your walk at Place d'Austerlitz and visit Bonaparte's cave
In the afternoon, you can choose between:

A road trip to Parata Point. There, take a stroll around the peninsula to enjoy its magnificent views over the Sanguinaires Islands! And if you feel motivated, you can opt for a 3-hour hike to discover the Capo di Feno Beach.
A boat trip to Sanguinaires Islands with a stop on the main island
A mix of the 2: a stroll at Parata Point in the afternoon, and a beautiful sunset cruise to Sanguinaires Islands.
Visit Ajaccio and its surroundings in 2 days
If you have 2 days in Ajaccio, in addition to the first day described above, you can add:
Or
And if you can't decide between these 2 beautiful boat trips, how about choosing one for your 1st day and the second for the next day?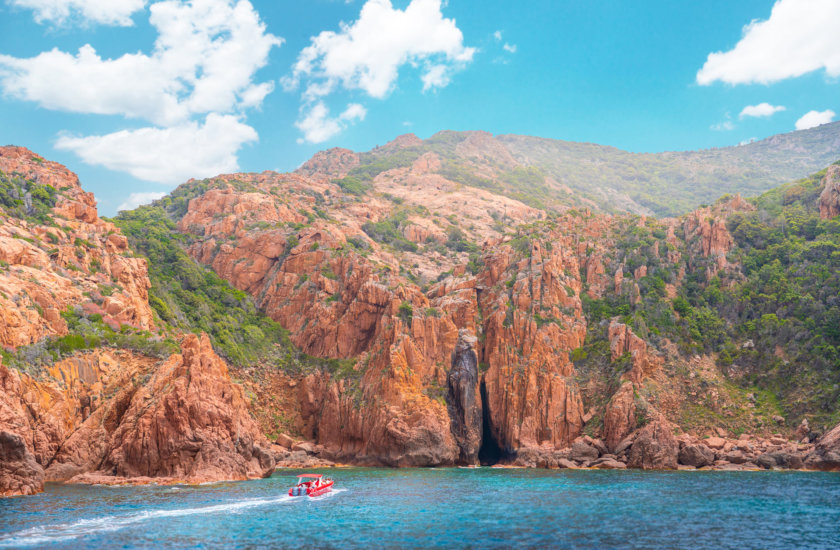 Visit Ajaccio in 3 days
If you spend 3 days in Ajaccio, in addition of the 2 days above, you can take your car and enjoy Ajaccio's surroundings:
Discover the beautiful typical villages around Ajaccio
Take a stroll on the many marked trails starting from these villages
Spend the rest of the day at the beach, in Ajaccio or in its surroundings.
Visit Ajaccio in 4, 5 days or 1 week
If you plan to spend 4, 5 days or even a week in Ajaccio, you can also:
Spend a quiet day at Lake Tolla
Discover many other beautiful beaches, for example those around Porticcio
Visit A Capulatta Turtle Sanctuary. It's a great idea for a family trip in Corsica!
Enjoy many outdoor activities: tree climbing, canyoning, diving… You can find the complete list in #14 of the article.
Where to stay in Ajaccio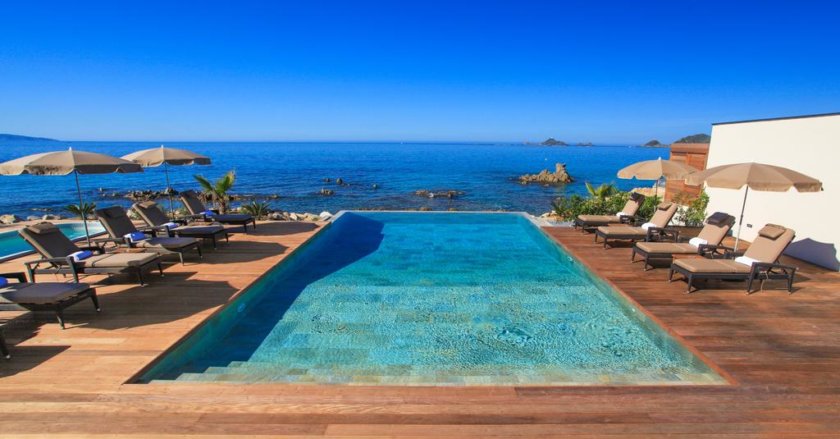 Where to eat in Ajaccio
The 20123: located rue du Roi de Rome, only a few steps from the Place de Gaulle. Inside, you will discover an atypical decor, recreating a village atmosphere with its water fountain and shops. The restaurant offers a unique menu based on Corsican specialties with 2 starters, a main course, cheese and dessert for less than 40€ per person. It's delicious and very copious! You should book your table in advance, as the restaurant is often full.
Le Bistrot Gourmand: located Rue Pigliesi, next to Trottel beach. This restaurant is serving copious and well-presented dishes. Everything is homemade with fresh products! It's clearly one of the best places where to eat in Ajaccio!
L'Ailleurs Café: located Rue du Général Fiorella, in front of the Place de Gaulle. There, you won't find any typical specialties from Corsica, but cuisine from all over the world. Everything is well-prepared and tasty. Don't forget to save space for a dessert, they are also delicious!
How to get to Ajaccio?
By plane
The plane is the fastest option to get to Ajaccio, as the airport is only 7 km away from the city centre.
As always, you should book your plane tickets as early as possible, as the flight prices to Corsica can vary a lot throughout the year!
Check the rates and schedules, with our flight comparator, in partnership with Skyscanner. It's a great way to get the best flight prices!

If you want to visit Ajaccio and its surroundings, you should really rent a car. It's the only way to access the most beautiful beaches or remote mountain villages!
To get the best price for your car rental, you should use Rentalcars.com website. It will allow you to compare prices between all the car rental companies in Ajaccio.
Click the button below to check rental cars prices in Ajaccio now:
By ferry boat
You can access Ajaccio by ferry boat from Marseille and Toulon, as well as  from Sardinia and Italy.
Renting a boat in Ajaccio
If you want to rent a boat for a nice day at sea during stay in Ajaccio, you should book it with Samboat.
Motorboats, sailboats, yachts, small boats without a license, with or without a skipper: they simply have the most complete offer for boat rental!
So, what are you waiting for to book your boat trip in Corsica? 😊
Tourist map of Ajaccio
I have created for you a tourist map of Ajaccio and Corsica, listing all the must see attractions and points of interest I have talked about in this article. You can display the map legend by clicking on the top left button, the one with a small arrow.
And you, what do you plan to visit during your stay in Ajaccio?
Book your trip now and save money!
You're traveling to Corsica? These articles will help you !
Discover all my articles about Corsica: All my articles to help you plan your trip to Corsica are listed there.
You're using Pinterest? Here is the picture to pin!