The 25 Best Things to Do in Sardinia (Bucket List)
You're planning to visit Sardinia during your next trip? You want to know more about the best places to visit?
You're at the right place!
In order to help you plan your stay, i have prepared this guide of the 25 best things to do in Sardinia, with all the must-see attractions of the island.

Discover Cagliari, the Costa Smeralda, the Gulf of Orosei, Alghero and many more amazing places to visit during your trip.
So, where to go in Sardinia? What are the best points of interest?
Let's find out!
Visit Sardinia: The 25 Best Places to Visit and Must-See Attractions
Voyage Tips - Advice
In order to help you plan your stay in Sardinia, I have prepared detailed itineraries depending on your trip duration. You should read them after reading this article.
You can find them here, simply click on the orange links to read the articles:
They will allow you to plan your trip very easily!
And if you have any question, don't hesitate to ask me in the comments section, at the end of the article. I would be glad to help you plan your stay.
1. Cagliari
Let's start this guide of Sardinia with Cagliari, the capital.

If the modern part of the city isn't very interesting, the historical center however is worth a visit.
If you're visiting Sardinia, you're likely to start or end your trip at Cagliari airport, so why not stay around for a bit and go for a stroll in the old town.
Here are the best places to see in Cagliari:
Il Castello: uptown traditional district where most of the tourist attractions are located
Cagliari Cathedral: you should go have a look at the Aragonese chapels and the Martyrs crypt
Palazzo di Citta: located next to the cathedral, this small museum displays Sardinian paintings and textiles
The National Archaeological Museum and its collection of objects and artifacts from the Nuragic civilization. It's one of the main museums of Sardinia
Bastion of Saint Remy and the Umberto I terrace with its incredible view over Cagliari
San Benedetto market to try out all the Sardinian delicacies
Poetto beach: this 7km long beach is one of the longest in Italy and the closest to the city center.
Looking for more things to do in Cagliari? Read my detailed article: The 10 Best things to do in Cagliari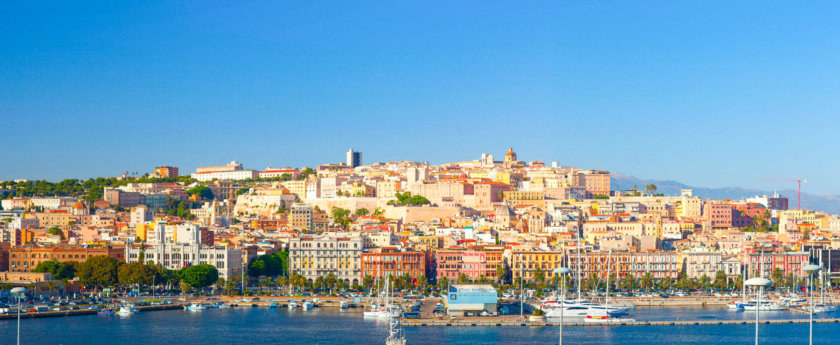 2. The scenic SP71 road from Porto Teulada to Chia
Another must see in Sardinia is the scenic road ("Strada Panoramica" in Italian) from Porto Teulada to Chia.
The SP71 road is one of the most beautiful of the island.
It goes along the South-East coastline with amazing panoramic views. Also called Strada Panoramica della Costa del Sud, the road passes by several beaches with crystal clear water.
There are so many of them, just pick one and take a dip!
Here is the list of my favorite spots along the road: 
Spiaggia di Cala Piscinni, you can park right next to the entrance, very kid-friendly!
Torre di Pixinni beach is a pebble beach and one of my favorites from my trip to Sardinia. We were totally alone when we went there!
Tuerredda beach and its turquoise water
Su Giudeu beach is so huge that you'll always find a free spot there
Cipolla beach is another nice sandy beach with nice rock formations around and super clear water. It's my favorite beach of the Strada Panoramica! 
The Capo Spartivento lighthouse: take the path from Cala Cipolla to get there. The view over the entire coastline is breathtaking!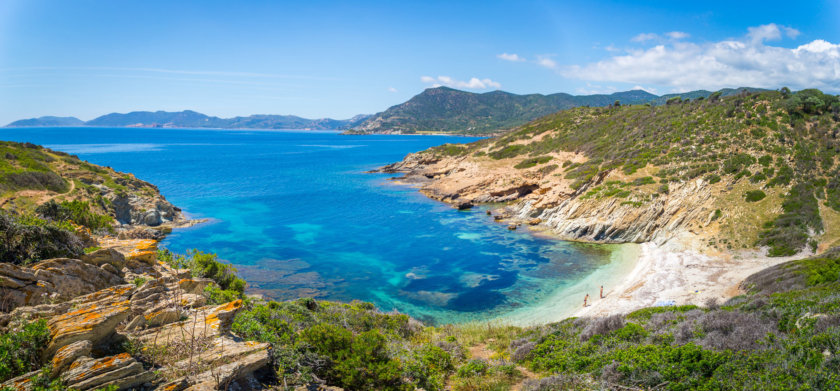 3. Sant'Antioco island
If you're looking for the best places to visit in South Sardinia, then you should stop by Sant'Antioco island. It's the 4th biggest island in Italy after Sicily, Sardinia and Elba.
A bridge connects the island to the mainland, so no need to take a ferry to get there.
What to see in Sant'Antioco, Sardinia:
Sant'Antioco city: the island's main city. You can walk around the port and the beachfront, visit the Sant'Antioco basilica, go to the archeological museum, the Forte Su Piso or even the Villagio Ipogeo and see troglodyte houses
Maladroxia, a small beach town with lots of hotels and restaurants
Coa Quaddus beach, unsupervised beach with a nice view over Torre Canai
Cala Sapone beach: small beach with bars and restaurants around. You can also rent pedal boats and kayaks
Cala Lunga beach: the most beautiful beach in Sant'Antico! A great sand beach with clear shallow water
Voyage Tips Advice
Go up the path located on the left side of Cala Lunga to get a nice view over the beach.


4. San Pietro island
Right next to Sant'Antioco, San Pietro is another worthy place to visit in Sardinia.
Must see attractions on San Pietro island:
Carloforte: where most of the hotels, shops, restaurants and cafés are located. There isn't much to see, but it gets very lively by the end of the day, so stop there and get a drink!
Bobba beach: a very trendy beach in San Pietro. There is a big parking lot, a bar and you can rent kayaks. If you want to snap great shots of the surrounding rock formations, go for a walk on the path to the right side.
Conca coastline: from there you have some nice views of the cliffs
Spiagga Spalmatore (Caletta beach), the most famous beach
Capo Sandalo, for sure the most beautiful spot on the island! From there you have a 180° view of the surroundings.
Voyage Tips Advice
To go to San Pietro from Sant'Antioco, take the ferry leaving from Calasseta.
There is one every hour and it's a 30min trip.
Tickets are around 35€ for 2 people + 1 vehicle.
No need to book in advance, just come early and get your tickets there.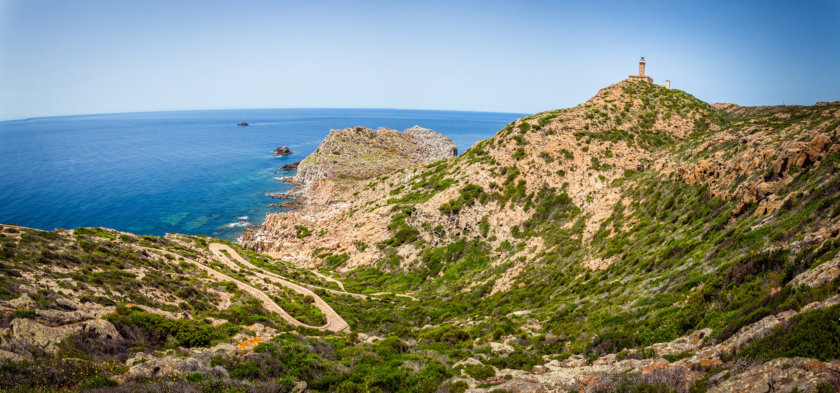 5. The nuraghes
If you travel to Sardinia, you need to go see at least one nuraghe, they're everywhere on the island!
But first, what is a nuraghe?
If you have never heard about them, no worries: it was the same for me before going to Sardinia.
Basically, nuraghes are rock structures from the Bronze age and the Nuragic civilization. We don't know exactly what they were used for, but studies say they were used as observation towers and for sacred rituals.
At first they were just made of one simple tower, but some nuraghes turned into fortified multiple towers complexes.
The most visited in Sardinia is Su Nuraxi Nuraghe. It's a large complex located in Barumini and the only one listed as a UNESCO world heritage site.
It's made of one central tower with a bastion, 4 side towers, a yard and a well. Fortifications and more towers were added to it over time. A small Nuragic village with about 50 houses was also built around it.
Only guided tours are available.
Other noteworthy nuraghes are the Arrubiu, Di Palmavera and Santu Antine Nuraghe.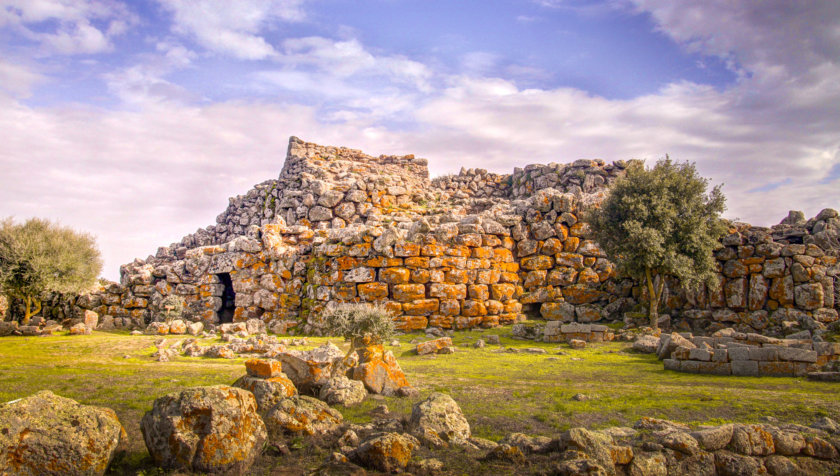 6. The Iglesiente Coast
You're going to Sardinia? Then, the Iglesiente Coast is another place you shouldn't miss.
The SP 83 coastal road along the Iglesiente is famous for its breathtaking views over the sea and the mountains.
It also goes through ancient mining towns, an important feature of this part of Sardinia. This region used to hold the majority of the island's resources such as lead and silver.
Today, this mountainous region is characterized by wild preserved landscapes.
Here are the must-see attractions along the Iglesiente coast, Sardinia:
Fontanamare beach: a long sandy beach popular among surfers
The Pan di Zucchero rock was named after the one in Rio de Janeiro, Brazil. With an height of 133 meters, it's one of the tallest faraglioni of Sardinia.
Nebida and its viewpoint on the Pan di Zucchero
Masua and its beach, the scenic view over the Pan di Zucchero from there is very beautiful
Porto Flavia mine: the cliff was dug in for almost 600 meters to allow ore transportation. You can only visit it with a guided tour, it needs to be booked at the Iglesias tourist office.
Cala Domestica, a small beach surrounded by limestone cliffs
Buggerru, a former mining village
Portixeddu beach, a 3 km long sandy beach surrounded by pine trees


7. Tharros and the Sinis peninsula
Let's continue exploring Sardinia by going to the Sinis Peninsula.
This area is located in the Center-Western part of Sardinia, close to the Gulf of Oristano. You'll find there several beaches among the most beautiful of Sardinia, the most famous being for sure Is Aruttas and Putzu Idu.
The peninsula is also home to a major archeological site of the island: Tharros archeological site.
This former trading post was founded by the Phoenicians and quickly became a major trade hub, thanks to its strategic location.
It was completely abandoned in 1070 and only ruins remain today.
The site is open every day and the entrance fee is 5€.
Voyage Tips Advice
Right after Tharros, you can go for
a lovely walk on Capo San Marco
.
Go up the San Giovanni tower to enjoy a scenic view over the archeological site and nearby beaches. The view is really stunning!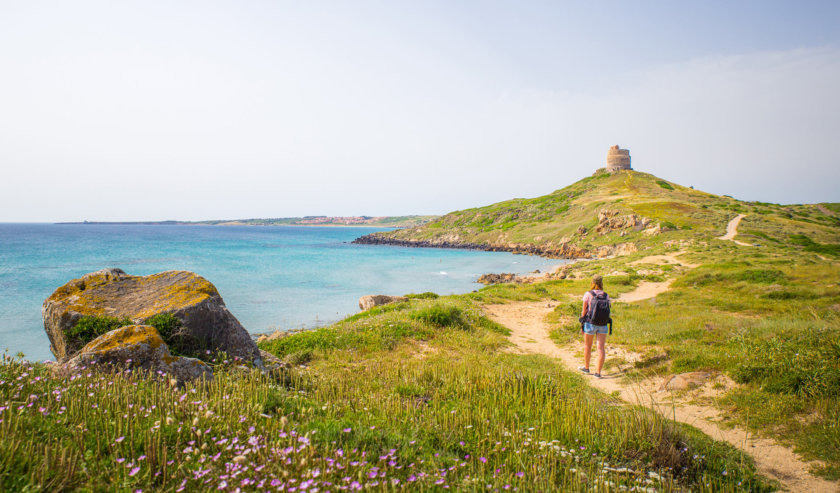 8. Oristano
Another great place to visit in Sardinia is the city of Oristano, on the Western part of the island.
Oristano is a very pleasant city, perfect to walk around for about an hour in the historic center. It's very small but it's super lovely, and you'll find plenty of restaurants and coffee shops there. There's also a commercial street to do some shopping.
Visit Oristano, in Sardinia:
Start by going to the Piazza del Duomo and admire the Santa Maria Assunta Cathedral
Continue with the Church of San Francesco
Then go to the Piazza Eleonora d'Arborea. It pays tribute to the Judge of Oristano, who drafted the Carta de Logu, known to be one of the first civil codes in Europe.
Finish with the Piazza Roma where the Tower of Mariano II is located. During the medieval period, Oristano used to be a fortified city, and this is one of the 2 remaining towers.
Voyage Tips Advice
Don't leave Oristano without having an
ice cream at Barbagelato
, located on Piazza Rima.
 Let me get straight to the point: it's fore sure the best ice cream I had in Sardinia, and probably the best I have ever had in my life!
They're so delicious, especially the Veleno and Dolce Latte flavors!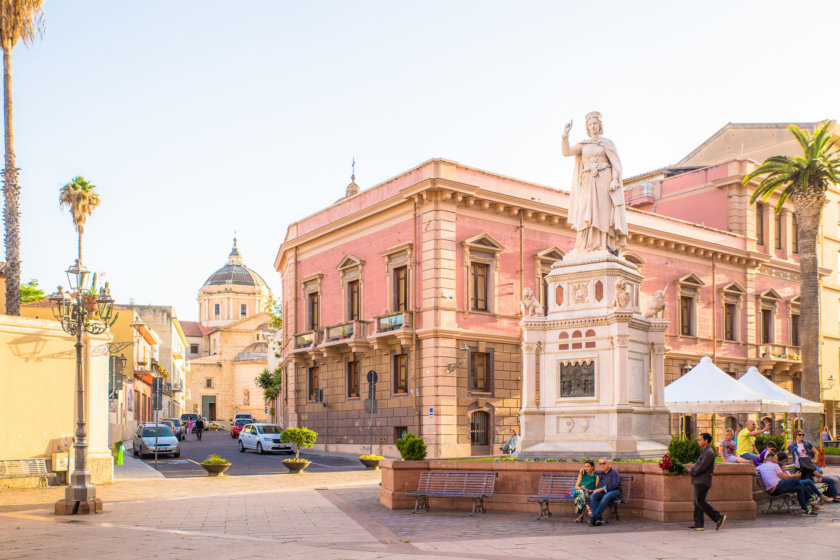 9. Bosa
If you're looking for things to do in Sardinia, then you should go visit the lovely town of Bosa.
Bosa is a cute small town with pastel colored houses, located next to a river. With its castle up the hill, it's in my opinion one of the most beautiful villages in Sardinia.
The best viewpoint to take pictures of Bosa is located on the road, a few minutes before entering the town.
Here are the main tourist attractions in Bosa:
The ponte Vecchio ("old bridge") to acces the old town
The Corso Vittorio Emanuel, the main avenue of the city, with many restaurants and gift shops
Bosa Cathedral
The Museum Casa Deriu to have a look at the lace and embroidery artwork – Very popular in Bosa
The Castle of Serravalle: overlooking the whole city, you should definitely go upstairs to enjoy the view of the sea and mountains. You can also visit the castle, mainly famous for its chapel and ancient frescos.
A few kilometers away from Bosa there is also the Bosa Marina coastal resort.
The place isn't very beautiful, so if you want to take a beach break after visiting Bosa, you should rather go to the beaches located North of the city, such as Compultittu or de S'abba Drucche beach.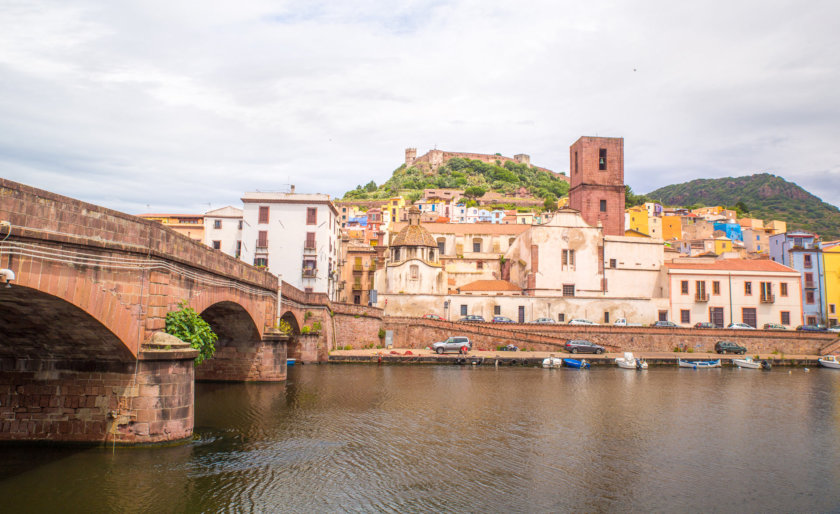 10. Asinara island
During your trip to Sardinia, why not go to Asinara island?
Located at the North-Western tip of the island, the place has quite a unique history: from World War I to December 1997, it was housing prisoners of war and even prisoners from the mafia!
In 1997, the prison closed and Asinara island was established as a National Park, thanks to its rich flora (many endemic species) and Fauna.
Nowadays, cars are not allowed on Asinara island except, of course, for tourist excursions.
To visit the island, you first need to take a boat in Stintino.
The trip takes about 30min and there's usually only one departure per day, around 9:00. You definitely need to book it in advance!
There are 3 ways to discover the island:
You can go on a jeep tour with a guide, hop on the tourist mini-train or rent a bike (the only autonomous way to visit the island). Everything gets booked very quickly, so don't forget to book your excursion in advance.
In any case, be on time! Because if you miss the boat, there is no other solution to get there (or come back to Sardinia – you don't want to sleep in the prison, right? 😅)

Once on the island, you can visit the prison, picnic in a cove and see the famous albino dwarf donkeys of Asinara.
As it's a protected area, you won't really be able to take a dip there. Swimming is prohibited in most beaches.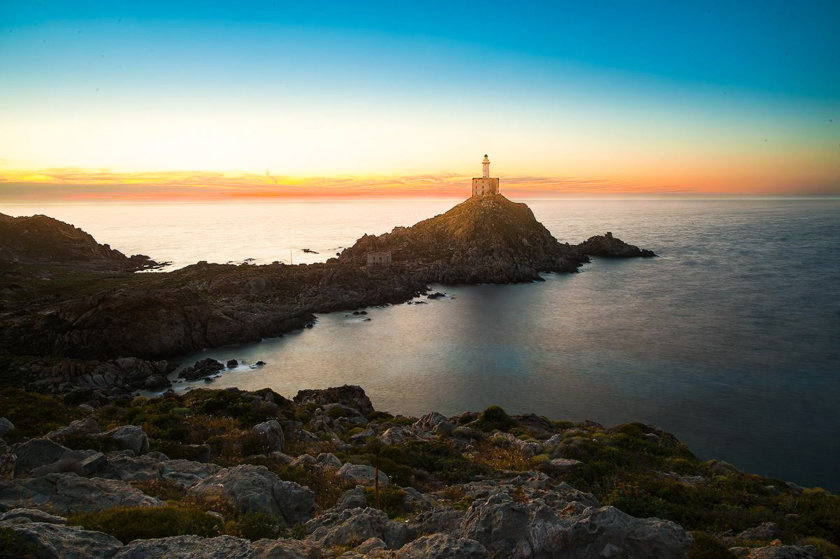 11. Alghero
Alghero is another town that's worth a visit in Sardinia
Located on the North-Western coast, the city is famous for its historical center and paved alleys, full of monuments to check out.
For sure, Alghero is a very nice town, but let's be honest, it's also very touristy!
You will find gift shops, restaurants and coffee shops everywhere. There are also many stores selling coral jewelry, the specialty of the region.
So, what are the best things to do in Alghero, Sardinia ?
Take a walk on the ramparts, they have been recently renovated so it's really nice
Wander in the old city and its narrow streets
Go for a stroll along the Lungomare promenade
Discover Alghero cathedral
Go up the cathedral bell tower and enjoy the view
Have a drink on Piazza Civica, the main square in Alghero
Visit the Coral Museum, to discover local craft
Book a tour to the Neptune caves (more details below)
For more information about Alghero, you can read my detailed article about the city: The 6 Best things to do in Alghero
And if you chose Alghero as your base during your stay in Sardinia, you should definitely read my itinerary to visit Alghero and its surroundings in one week:  North West of Sardinia in a week
Voyage Tips Advice
Park your car in one of the parking lots next to the sea, before arriving in the historical center.


12. The Neptune caves
The Neptune caves are a another must-see during a trip to Sardinia.
Located close to Alghero, there are several ways to go to the Neptune caves:
By boat from Alghero. The boat drops you off at the entrance and pick you up after your visit. You should book your tickets in advance.
By boat from the pier in Porto Conte, the last village before the caves.
On foot! You'll have to go down the 654 steps carved in the cliff, it's quite impressive. Don't forget that you'll also have to climb them back later! It's the most exhausting option but it's the "safest" one in a way: when the sea is a bit rough, boats can't disembark passengers and have to go back to the port.
The caves are 4km long but only a part of it is open to the public. During your visit, you will see numerous stalactites and stalagmites and even an inland lake.
Only guided tours are available, they start every hour from 9:00 to 19:00. So keep in mind that if you come to the cave at 09:10, you'll have to wait for the 10:00 tour.
The tour takes about 45min and costs 13€ per person (7€ for children).
Voyage Tips Advice
If you
don't want to do the caves guided tour
because you think it's too expensive or too crowded, you should still
go down there on foot
.
You will be able to have a look at one of the cave halls and take a few pics before going back up!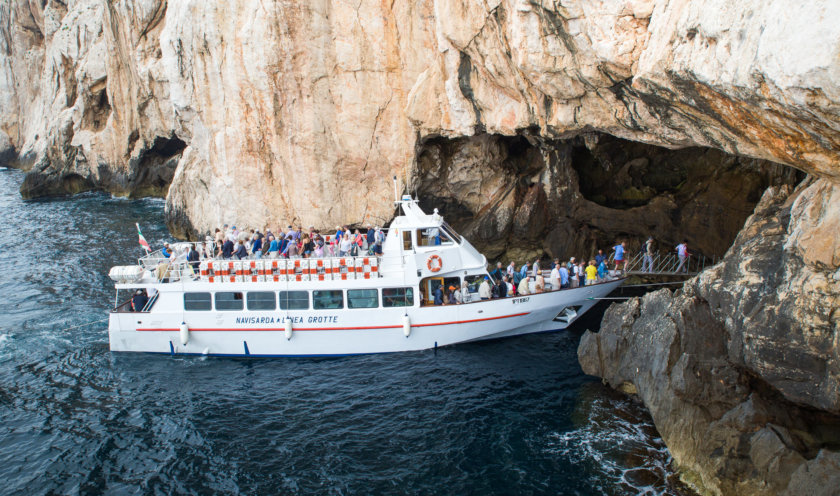 13. Castelsardo
Looking for the best places to visit in Sardinia?
Then Castelsardo, a lovely medieval village located in Sassari province is a great choice for a few hours stop.
And if I say medieval village, you say… castles and ramparts! Castelsardo will not disappoint you on that.
You can go on a nice walk in the village, discover the cathedral, the bell tower, the chiesa di Santa Maria and the castle. You'll find inside a museum dedicated to the famous local craft: basketry.
You'll even be able to see on the streets a few old ladies still practicing this art. They'll be delighted to give you a demonstration!
Castelsardo is a popular stop for tours, so you'll also find there the usual gift shops and local craft shops, along with many bars and restaurants. Allow about 1 or 2 hours for the whole visit.
Speaking of Castelsardo, don't forget to also stop by the Elephant Rock located nearby.
As its name suggest, this rock, the most famous of Sardinia, has the shape of an elephant. There are also two neolithic tombs inside.
You must stop there to take a few pics!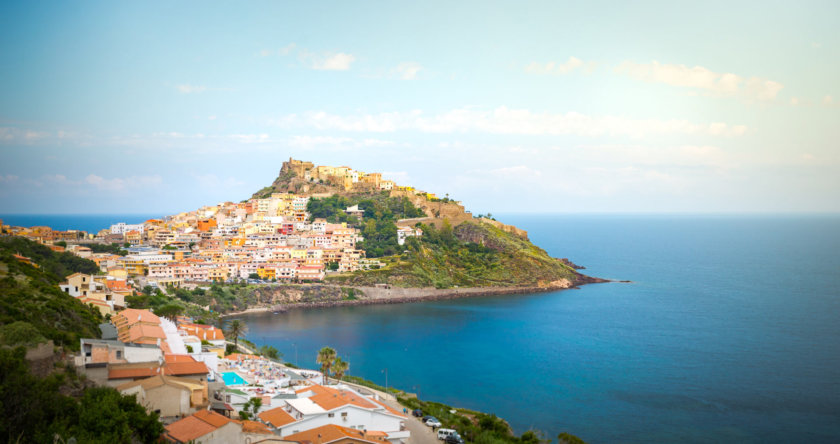 14. Costa Paradiso
I can't talk about the best things to do in Sardinia without mentioning the Costa Paradiso, a stunning coast with many coves. It's really a place you should visit during your trip to Sardinia.
Usually, on your way to the coast and the village, you have to go through a gated road with a guard. I say "usually" because, when we went there, the gate was open and there was no guard in sight.
After that, the road goes down towards the sea and goes through many holiday homes more or less hidden in the surrounding nature.
Even if it overall looks very nice, you'll quickly understand that you've arrived in the super touristy part of Sardinia, with its big holiday resorts and higher prices.
In a way it's like the French Riviera of Sardinia!
The most popular cove in Costa Paradiso is Li Cossi. You can get there following a very beautiful (and easy) path for about 10min on foot from the parking lot.
The cove is magnificent but quite small, so it's always a bit crowded. It makes sense given how many houses are located close to it.
On the beach, You will find a bar and you can also rent paddle boats and kayaks.
You should really do this kind of activities there: with the pink granite rock and the turquoise water, the landscape is splendid!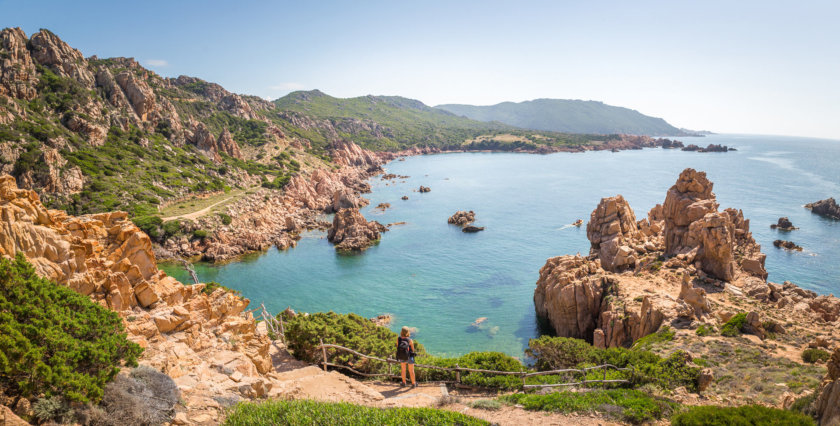 15. Capo Testa
The Capo Testa was one of my favorite place during my trip to Sardinia.
Capo Testa was used during Roman times as a granite carry and is now a long stretch of giant rock formations with surprising shapes! This phenomenon is due to erosion in this area located right next to the sea.
It's really an amazing place, you can walk around the site at your own pace and take pictures of all these giant rocks.
There is also a few beautiful beaches in Capo Testa:
Spiaggia Zia Culumba with its big rocks and crystal clear water
Cala Spinosa, turquoise water and nice rock formations!
Cala Francese, accessible via a path from Capo Testa lighthouse
Ponente beach and Rena di Levante beach, 2 large fine sandy beaches.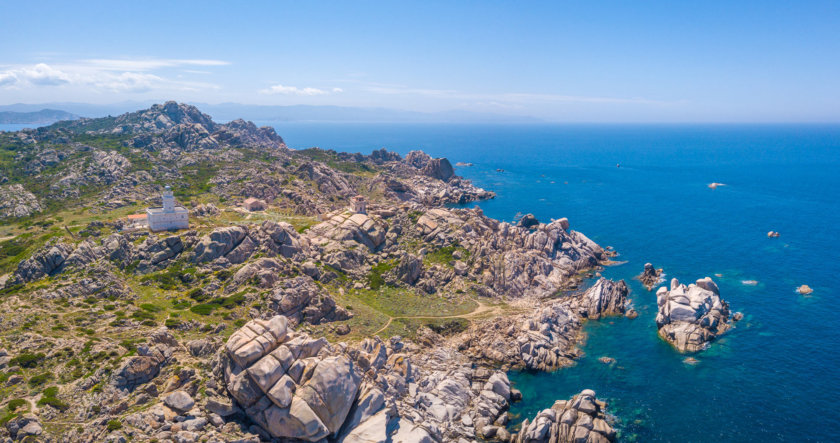 16. La Maddalena Island
The Maddalena Island is for sure one of the best places to visit in Sardinia.
The island is part of the Arcipelago di La Maddalena National Park, made of 7 islands.
The 2 biggest, La Maddalena and La Caprera (more info about it below), are the only ones you can visit by car. The other smaller islands can only by explored by boat.
To go to Maddalena Island, there are ferries leaving from Palau.
The trip lasts about 20min and costs 40€ roundtrip for 2 people and a car. Several companies offer this trip every day.
The main attraction in La Maddalena is, without a doubt, the beaches. There is no city or specific villages to visit.
You should rent a car and drive along the panoramic road going around the island to enjoy the views. You should of course take beach breaks whenever you feel like it.
Here are the best spots to take a dip on Maddalena island:
Bassa Trinita: white sand and clear water are waiting for you there. It's also a very popular beach so there's often a lot of people
Spiaggia di Monte di Rena: a large sandy beach, also quite popular
Spiaggia del Cardellino: a quieter beach located right after Monte di Rena. It's a beautiful spot to enjoy the sea in Sardinia
Spalmatore beach, one of the most touristy on the Island
Testa del Polpo beach or Capocchia du Purpu, meaning "octopus head". You must stop there, it's in my opinion the best beach of La Maddalena. Turquoise shallow water, big rocks, it looks just like the Seychelles!
If you also want to visit the other islands only accessible by boat (such as Budelli or Spargi), you should book your day trip now (click here).
This full day trip will take you around the islands with several beach breaks or visits. It also includes the lunch.
For more details about the Maddalena, you should read my article: How to visit the Maddalena archipelago?
Voyage Tips Advice
During your
boat trip from Palau to reach la Maddalena
, you can see in the distance on your left the famous
Roccia del Orso, a rock shaped like a bear.
It's possible to visit the site, but you have to pay for both the parking and the entrance to the site, that's a lot just to look at a rock.
The view from the boat is stunning, so don't forget to take a picture!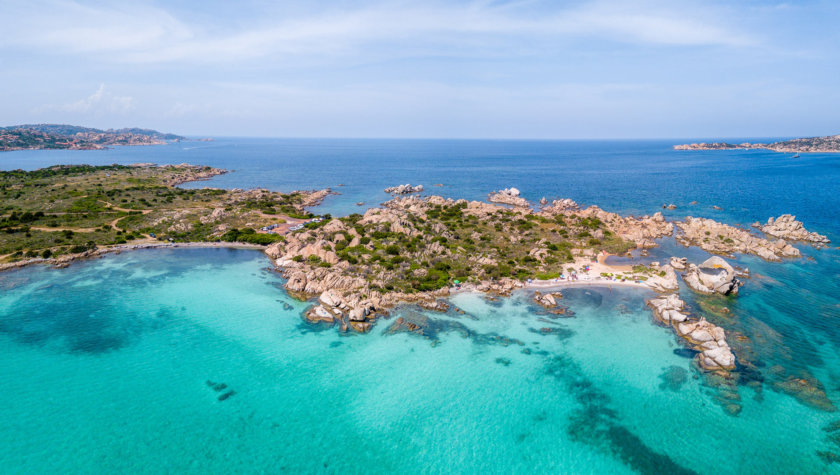 17. Caprera Island
La Caprera is the 2nd biggest island of the Maddalena archipelago. It's super easy to go there, you just have to cross the bridge connecting it with its neighbor, La Maddalena island.
There too, you'll find many amazing beaches:
Cala Serena: easily a accessible on foot (10min away from Garibaldi beach) it is, in my humble opinion, the most beautiful beach of La Caprera
Cala Caprarese: located at the mouth of a river, it looks like you're in a small fjord
Cala Napoletana: the most popular beach, with many boats moored close by
The isolated beaches: Cala Brigantina and Cala Coticcio. You'll need to walk a bit more to reach them.
After the beach, go to the Teialone tower viewpoint. A staircase leads to the highest point of the island, at 212 metres above sea level.
Of course, don't forget to go the house of Giuseppe Garibaldi, the Compendio Garibaldino.
You may not know it, but the Italian patriot bought the island and made it his home when he retired. Nowadays, you can go on a guided tour of his home.
The best way to finish your visit of La Caprera is to go to the Batteria Poggio Rasu Superiore.
This former military battery offers the most beautiful view over the whole island and its surroundings. You may even spot wild goats there!
You'll find more information about visiting Caprera island in my article: The best things to do in La Maddalena archipelago.
Voyage Tips Advice
For your
lunch break
on Caprera island, you shouold go to
"I Mille"
.
This kiosk is in a great location, with tons of shade, tables and hammocks. Their sandwiches, made from local cheese and cured meat are big and delicious!


18. Costa Smeralda and Porto Cervo
The Costa Smeralda is very popular in Sardinia among the jet set and other wealthy people.
It's really the place to be and to be seen for all the billionaires with their yachts.
Porto Cervo port, the "capital" of Costa Smeralda, is filled with luxury boats. You'll also find there many luxury boutiques, perfect to get the latest trendy bag. A few celebrities like Harrison Ford or Sting own big properties there.
The beaches around Porto Cervo are in the same vibe: no free parking lots, most of the beaches are private with sun beds everywhere. Nevertheless, they are still really beautiful. Just don't go there if you want to be alone 😋.
Where to take a dip on the Costa Smeralda:
Pevero beach, located 3km away from Porto Cervo, this beach is very popular and often crowded. When we were there, we even saw a 100 meters long yacht in the bay
Principe beach: also very popular (and very nice) beach
Romazzino beach
Capriccioli beach
Ruja beach: an upscale private beach, well equipped.
If you plan to go to Costa Smeralda during your trip to Sardinia, You should read my detailed Costa Smeralda guide: How to visit the Costa Smeralda?
Voyage Tips Advice
It was the
Aga Khan
who decided to buy that land in 1962, and create the
Costa Smeralda consortium
.
His goal was to turn this region into a renowned holiday resort.
I think he succeeded!


19. Orgosolo
When you visit Sardinia, you can also discover beautiful mountain villages such as Orgosolo.
Orgosolo is famous for its "murals", paintings and frescos painted directly on the houses facades.
Most of them have some kind of political message or are related to major international events such as 9/11 for example. There are more than 200 murals in Orgosolo.
Most frescoes are located along the Corso Repubblica and the adjacent streets.
If you want to know the story behind the murals, you should rent an audioguide with a map (5€/person), or just the map for 3€ if you prefer.
Of course, you can also simply wander in the streets for free!
This place is quite popular, so you'll find many tourist shops selling murals-related products: mousepads, coasters, t-shirts, and even postcards.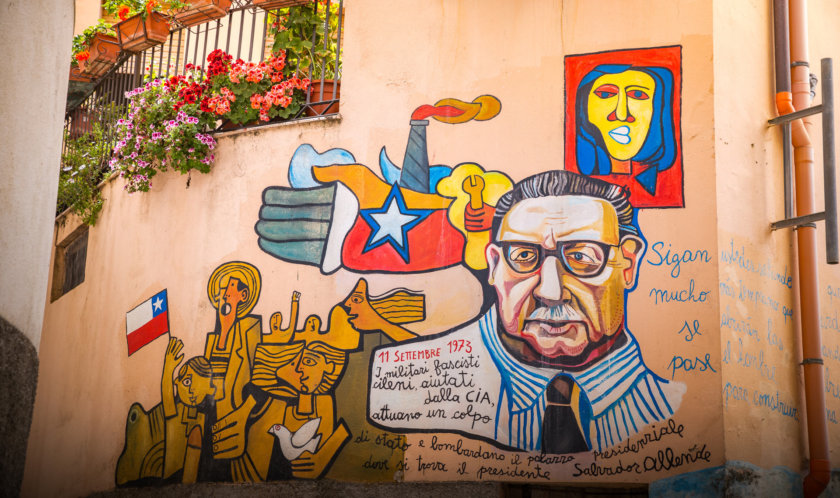 20. Gulf of Orosei
The main tourist attraction in the Gulf of Orosei are the cruises, taking you to coves that are only accessible by boat.
Most boats leave from Cala Gonone, a small coastal town.
There are many cruises agencies to choose from, they are located in the city center and on the pier. Overall, they all offer the same kind of trips, for the same price.
However, as the place is very famous, you should really book your cruise at least a day in advance.
There are 3 ways to discover the Gulf of Orosei by boat:
A sailboat cruise: it's a full-day tour, about 90€ per person, including lunch and several beach breaks.
A zodiac cruise with a skipper driving the boat. You will do several stops in coves and it costs about 40€ per person. Departure at 9:30 and return at 17:30.
Renting a zodiac that you can drive yourself even without a boat license. It costs around 120€ for the boat and gas. It's the option I have choosen during my trip, as I am not a big fan of strict schedule. I really prefer to go where I want, when I want! At the end of the day if you're at least 4 people, it's even cheaper than a cruise. Besides, it's super fun (and not too complicated) to drive the boat.
Whatever way you choose, here are the best coves of the Gulf of Orosei:
Cala Luna
Cala Sisine
Cala Biriola
Cala Mariolu
Cala Gabbiani
Cala Goloritzé
This cruise is one of the best activity you can do in Sardinia!
For more information, check out my detailed article: How to visit the Gulf of Orosei and Supramonte.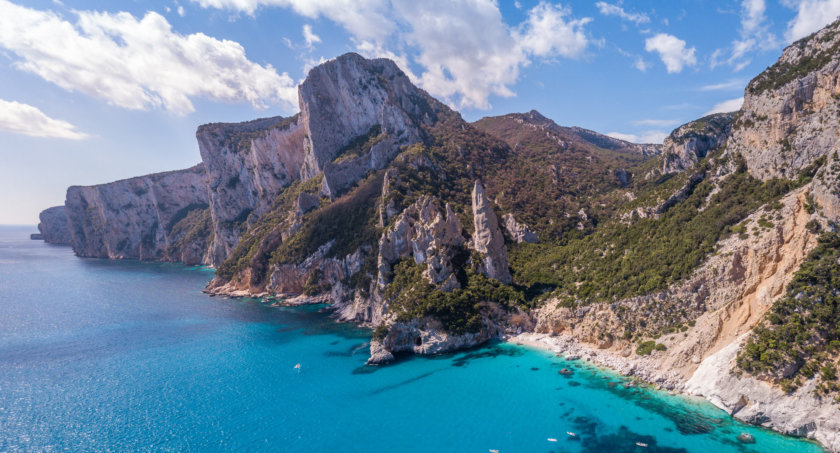 21. Bue Marino Caves
Located in the Gulf of Orosei, not far from the coves, the Bue Marino caves are a major point of interest in this part of Sardinia.
They're named after the monk seal, called, "bue marino" in Italian. These caves were its last shelter before it went extinct.
You need to go there by boat, and departures are only from Cala Gonone.
There are 2 types of tours to visit the caves:
A full day cruise including stops at the coves and the cave (40€ + 9€ entrance fee to the cave)
A shuttle boat to the cave (about 25€ roundtrip with entrance fee to the cave included).
Some tour agencies also offer a visit to the cave with a beach break in Cala Luna. It's up to you, depending on how long you plan to stay there.
There are only guided tours of the caves, starting every hour, and lasting about one hour. You'll discover a large and beautiful limestone cave, including the candelabra hall and the mirrors hall.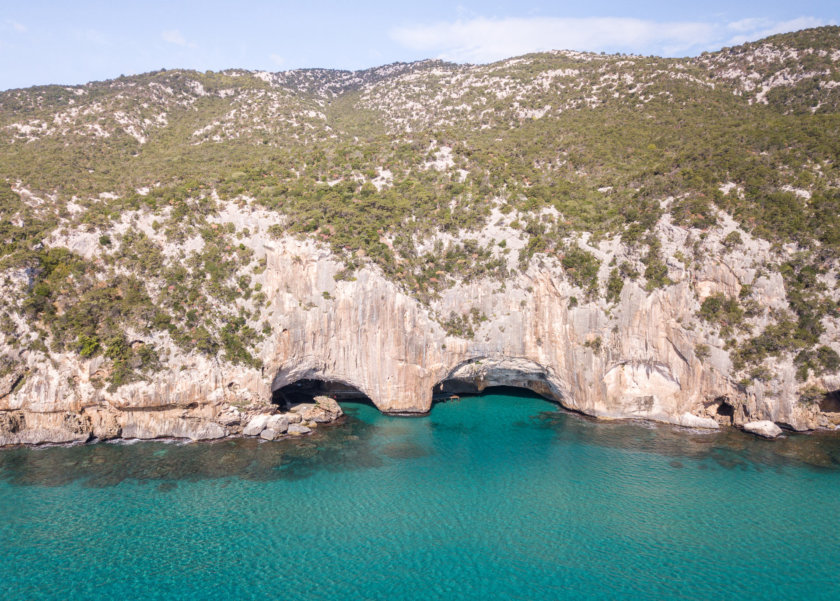 22. Gorropu Gorge and the SS 125 road
Do you want to do a bit of hiking during your trip to Sardinia?
Then you should go to the Gorropu gorge. This gorge, one of the deeepest in Europe, is one of the most beautiful hiking spots in Sardinia!
It's located not far from the Gulf of Orosei, and it's accessible via the Dorgali-Arbatax road, also named SS125. This scenic road will allow you to enjoy beautiful views of the mountains along the way.
There are several hike departure points to go to the gorge.
One starts from the parking located close to the Silana Hotel, km 183 on the SS125 road.
Another is located on the Ponte Sa Barva, 15km away from Dorgali.
Either way, it's at least a 4-5 hours hike.
Once you reach the entrance of the gorge, you'll have to pay 5€ to get in. Then, you'll be able to walk around and explore the canyon, with its huge limestone cliffs.
The last part of the canyon (the red path) is only allowed if you're with a guide. Wear comfortable shoes and bring a lot of water with you!
For the way back, if you're too tired, you can hop on a Jeep that will take you back to the parking lot for about 15€.
Remember though that it takes about one hour walking to get to the Jeeps.


23. Sardinia beaches
Where to go in Sardinia to see magnificent beaches?
The answer is simple: everywhere!
Indeed, when you're in Sardinia, you can take a beach break anytime and it won't take you long to find the perfect beach. From small isolated coves to long sandy beaches filled with sun beds, there's something for everyone.
I already mentioned plenty of beaches in this article, so here's a recap of the most beautiful and popular beaches in Sardinia:
Su Giudeu beach on the Costa del Sud
Cala Lunga on Sant'Antioco island
Pelosa beach in Stintino
Li Cossi beach on the Costa Paradiso
Capocchia du Purpu beach on Maddalena island
Spiaggia del Principe (Prince's beach) on the Costa Smeralda
All the beaches in the Gulf of Orosei
Of course there are hundreds of others beaches in Sardinia, so it would be impossible to give you a complete list… But I'll soon share with you a full guide of the best beaches in Sardinia!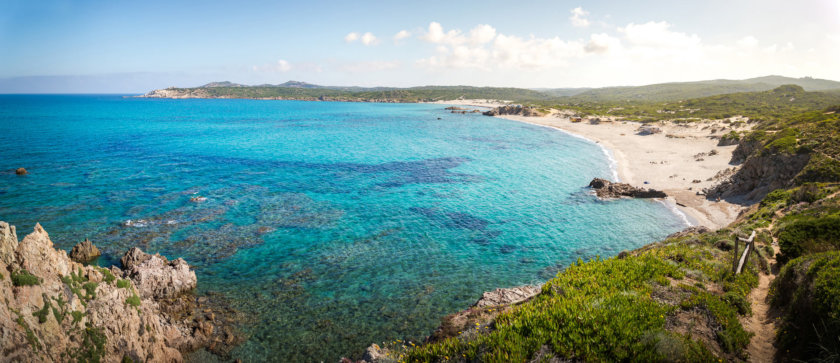 24. Visiting caves in Sardinia
Tired of the beach and looking for alternative activities in Sardinia?
Why not cool down a bit and go visit cave?
Besides the Neptune caves and Bue Marino caves I talked about earlier, there are other interesting caves to visit in Sardinia.
Which caves to visit in Sardinia?
Su Marmuri cave: located close to Ulassai and Tortoli, the cave is 1km long and up to 50 meters high. It's for sure one of the most impressive caves in Sardinia. The visit last about 1 hour and you'll see many rock formations, some with surprising shapes. I loved it!
Ispinigoli cave: located in the area of Dorgali, close to the Gulf of Orosei. It's worth going there to see the giant stalagmite, it's more than 38 meters tall! You can only visit with a 45 minutes guided tour.
Is Zuddas cave: located 6km away from Santadi, it's a beautiful cave with amazing crystals in the last hall. Allow about 1h for the guided tour.
Su Mannau cave: located close to Fluminimaggiore. The visit last 1 hour and you'll see several indoor lakes.
San Giovanni cave: located 4 km away from Domusnovas, this small cave with stalactites and stalagmites is free to visit.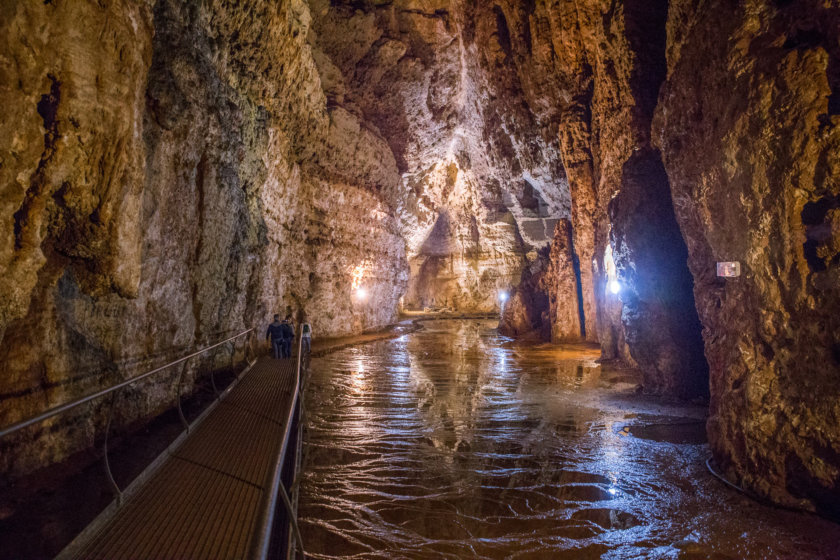 25. Discover Sardinian cuisine
If you're going to Sardinia, you should at least once eat at an agriturismo (a kind of farm stay), it's the best place to taste authentic Sardinian cuisine!
A typical agriturismo menu includes:
Some antispati: a plate filled with cheese, cured meat + roasted and marinated vegetables such as eggplant or artichoke.
A primo piatto: usually a pasta dish. Some popular Sardinian specialties are the gnochetti (shell shaped pasta) and the culurgiones (a kind of cheese stuffed ravioli served with tomato sauce).
A secondo piatto: it can be meat or fish, served with a salad and vegetables. One Sardinian specialty is porceddu, a roasted suckling pig.
A dessert: the sebadas are the most common desserts. These are fried ricotta puff pastries topped with honey. It's so delicious!
A digestive: It will often be a "mirto", the most famous one.
Menus in agriturismos have fixed price, usually between 25€ and 30€ per person, drinks included (water + wine).
I can guarantee that you're getting a great value for your money, because the portion are ultra generous! It's hard to get to the end of the meal.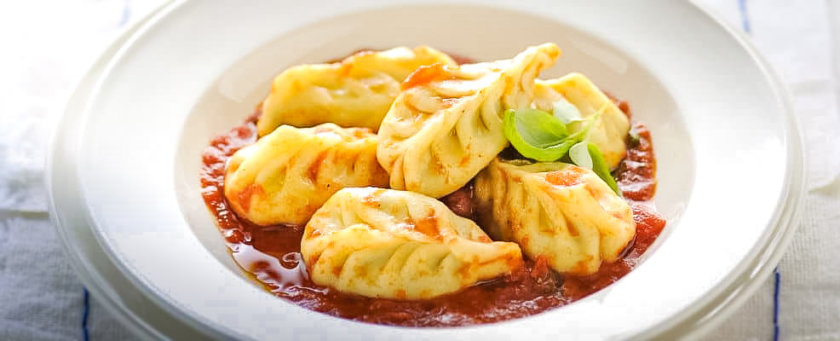 Renting a boat in Sardinia
If you want to rent a boat for a nice day at sea during your trip to Sardinia, you should book it with Samboat.
Motorboats, sailboats, yachts, small boats without a license, with or without a skipper: they simply have the most complete offer for boat rental.
So, what are you waiting for to book your boat trip in Sardinia? 😊
And you, what do you plan to visit during your trip to Sardinia?

Book your trip now and save money!
Sardinia travel Guides
You're traveling in Sardinia? These articles will help you!
Discover all my articles about Sardinia: All my articles to help you plan your trip to Sardinia are listed here.
You're using Pinterest? Here is the picture to pin!