The 27 Best Things to Do in Malta (+ Activities)
You want to visit Malta for your next trip?
Great choice!
In order to help you plan your stay, I have create this guide of the best things to do in Malta, but also in Gozo and Comino, the 2 smaller islands of the country.
In this guide, you will discover all the activities, must see attractions and points of interest of this beautiful small Mediterranean country.
To make everything even easier for you, you can book all the best activities to do in Malta, Gozo and Comino directly in this guide. It's very easy, you just have to click on the green buttons and orange links you will find throughout the article.
So, what are the best places to visit in Malta? Where to stay?
Let's find out!
Visit Malta: The 27 Best Places to Visit and Must-See Attractions
1. Valletta
Let's start this list of the best things to do in Malta with Valletta, the capital. Walk around this lovely city and look at the beautiful architecture, historical museums and amazing views over the sea and neighbor cities.
Here are the best places to visit in Valletta:
The Saint John's Co-Cathedral might not look very interesting from the outside, but wait until you see what's inside! It's full of gold and magnificent paintings from Caravaggio.
Below the marbled floor lay the tombs of the Grand Masters of the Order of Malta and other nobles. Close to 400 of them are buried there, it's a must see for history lovers in Malta!
Grandmaster's Palace was once their home. While the Supreme Council Hall and the Ambassador's Room are worth the visit, the most impressive room is for sure the armory.
It houses a collection of more than 5,000 armors and weapons, once belonging to the knights and grand masters.
Republic Street and Merchant Street are the main commercial streets in Valletta, with numerous stores and restaurants.
The Manoel Theatre, one of the oldest in Europe.
The Fort Saint Elmo, also housing the National War Museum.
At the National Museum of Fine Arts, you will find a collection of objects, sculptures and paintings which belonged to the Order of Malta.
The Barraka Gardens, also called Upper Barraka Garden and Lower Barraka Garden. The lower garden is quite small but has a very photogenic temple.
The upper one is bigger, with nice colonnades and a wonderful view over the 3 cities. Below you can see the Saluting Battery: an artillery battery used in the past to salute foreign vessels. It's still functioning nowadays and fires everyday at noon.
Voyage Tips Advice
If you're going to Valletta,
park your car in the MCP parking lot,
right next to the old town entrance. It's affordable (we have paid 6€ for 7 hours) and very well located (only 5min walking distance from the city center).
If you want to learn everything about Valletta, you should really opt for a guided visit on foot. The guides are really amazing, you will have a great time!
This guided visit needs to be booked here:
This guided visit also exists in "private" version (only for your group – book it here) and as an historical version "Valletta during World War 2", which needs to be booked there (also a private tour).
And if you want to discover Valletta from the sea, there is another great activity: The "2 harbours tour" on board a "Luzzu", a traditional Maltese boat.
Simply click the button below to book it:
Looking for more information about what to do in Valletta? Check out our article and suggested itineraries to visit the city in 1, 2 or 3 days: The 10 best places to visit in Valletta.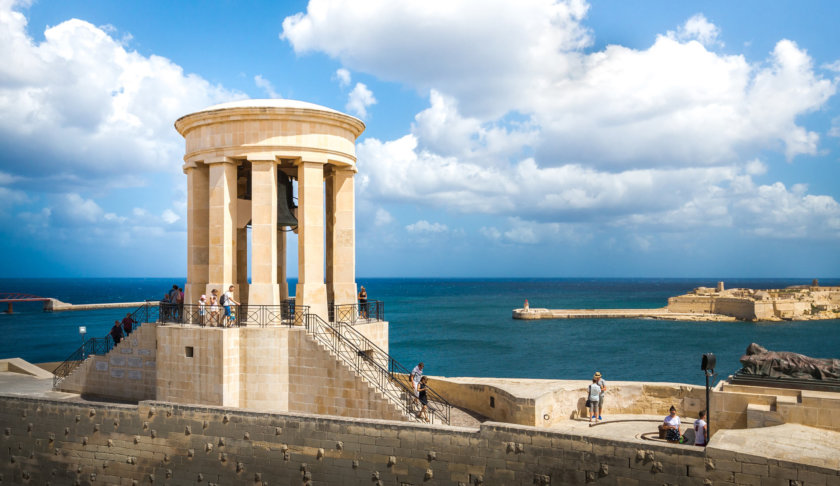 2. The Three Cities
From Valletta, you can easily reach the Three Cities. Go to Upper Barrakka Garden and take the panoramic elevator (Barrakka Lift) to go downstairs. Then, cross the street and continue to the left to reach the boat departure point.
Tickets are sold inside the boat. Round trip tickets are 2.80€ per person and it's a 10min trip.
It will drop you off in the city of Birgu, the biggest of the 3 cities (the 2 others are Senglea and Cospicua). They all have their unique features but they do have one thing in common; the views over Valletta. The best way to explore the 3 cities is just to wander around on foot!
Birgu points of interest include Fort St. Angelo, the Inquisitor's Palace and the Malta Maritime Museum
In Senglea, go to the Safe Haven Gardens at the edge of the city; it has one of the best view over Valletta.
To visit the 3 Cities, you can also opt for a guided visit. The best one also includes a part about Maltese wine history and free wine tasting!
Voyage Tips Advice
Keep your 3 Cities boat ticket!
The Barrakka Lift is always free when going down. However, you usually have to pay a small fee when going up, except in one case: when you come from the 3 Cities.
So just show your boat ticket at the ticket office to get a free ride.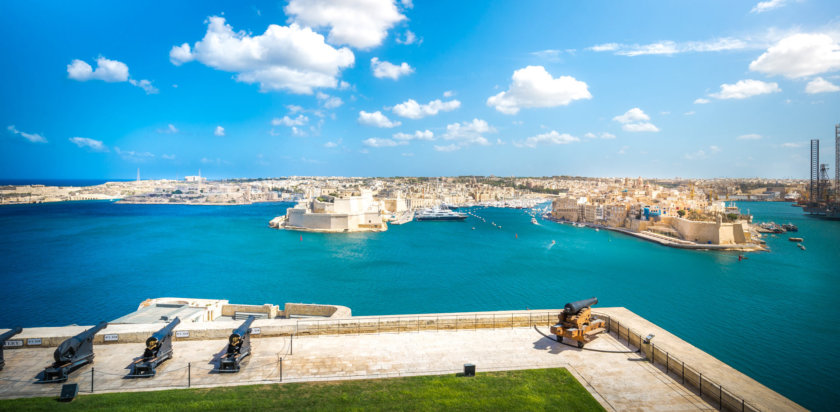 3. Mdina
Mdina is the former capital of Malta. During the Middle-Ages (before the Order of Malta), the government and other administrations were located there.
It was called "Citta Notabile", the noble city. When the Order arrived, knights decided that they needed to be close to their ships and Valletta became the new capital.
Also called "the Silent City", Mdina is a fortified city loved by tourists for its charm and quiet streets. The city is home to many historical monuments:
St. Paul's Cathedral (the oldest cathedral in Malta) and its museum
the 18th century Vilhena Palace
other palaces on Villegaignon Street, such as the Palazzo Falson.
After exploring the city, you can go down to see the old moat which have been turned into a garden. From there you'll be able to see the impressive ramparts from the bottom.
Voyage Tips Advice
We went to
Mdina
early in the morning and it was a good idea! Starting from 10am, buses loaded with tourist started to flow in the city.
Try to come before 9:30am
if you want to avoid all the tourists.
To learn everything about Mdina history, a guided visit is your best option!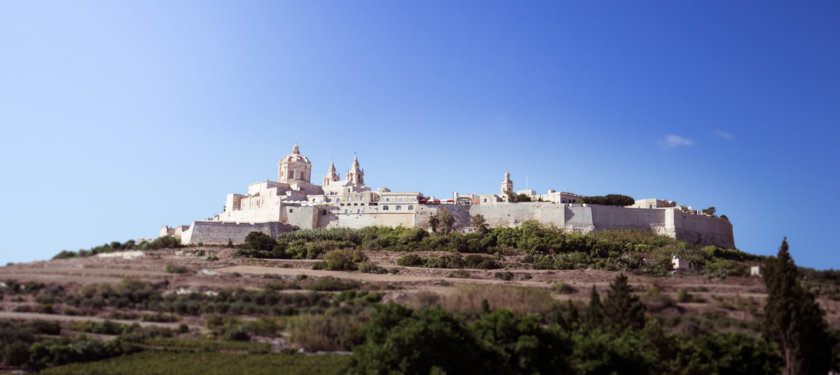 4. Rabat
Rabat is another place to visit during your holidays in Malta. It's located right next to Mdina: once you exit the fortified city you are already in Rabat!
The best things to see in Rabat:
St. Paul's Church and Grotto, where Paul the Apostle sought refuge after their boat sank on the island
St. Paul's Catacombs, the city's necropolis for 500 years
Sy. Agatha's Catacombs, where Saint Agatha hid during her exile from Sicily
Domvs Romana, a Roman-era house turned into a museum.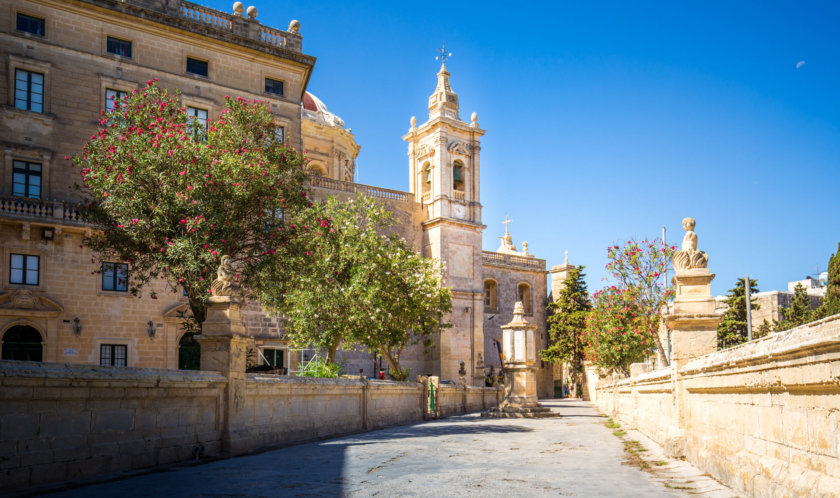 5. Sliema and St Julian's
Sliema and St Julian's are the main touristic cities in Malta.
You'll find there plenty of hotels, restaurants, clubs, casinos and shopping malls. They are perfect destinations if you like busy cities and to party. If you enjoy quiet places however, that might not be the best places for you to go.
In Sliema, you can enjoy a good meal in the numerous seafront restaurants offering unique views over Valletta.
There is also a nice promenade going from St Julian's to Sliema and even Valletta along the sea. It's probably the most crowded area of the island, especially during summer nights.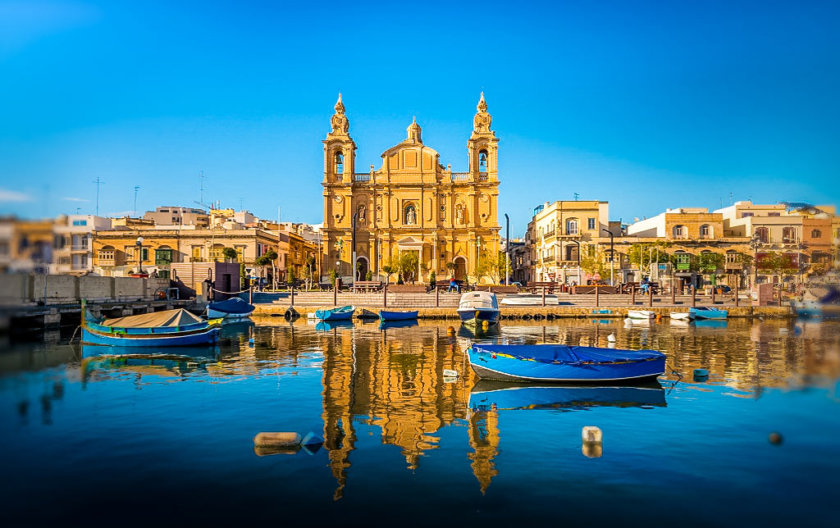 6. Marsaxlokk
The best thing to do in Malta on a Sunday is, without a doubt, going to the fish market in Marsaxlokk.
Marsaxlokk is an authentic fishing port, with colored fishing boats called luzzu. Every Sunday takes place a traditional fish market. Don't be fooled by the name though, you will find more things than just fish at that market, like souvenirs for example.
This market is huge and usually crowded, probably because souvenirs are cheaper there than in Valletta.
You'll find many bars and restaurants along the port, perfect for lunch break. Most of them serve fish but you can also find pizzas and sandwiches. As always in Malta, the price is very decent.
Voyage Tips Advice
If you're coming to Marsaxlokk on market day by car
, don't get too close to the port: streets are very narrow and it's virtually impossible to find parking.
It's better to park further away
and walk a bit.
If you don't have a car, you can also go on an organized day trip to Marsaxlokk. It includes transportation from your hotel, a guide and a visit to the Blue Grotto (If you want to go inside, you will need to purchase an additionnal boat trip to enter the cave)
You need to book this tour here: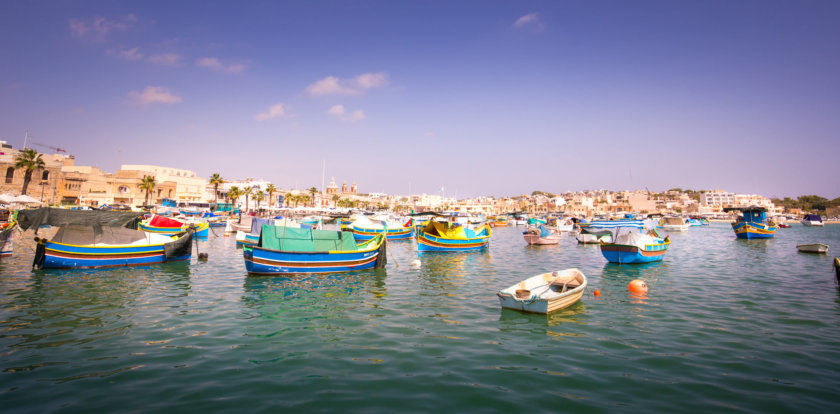 7. St Peter's Pool
Close to Marsaxlokk, St Peter's Pool is another must-see attraction in Malta.
Dug by erosion, this natural pool is a great swimming spot.
Kids in particular love this beach, they challenge themselves to jump from the small cliff rather than actually swim. In fact, the only ways to get in the water is by jumping or using ladders.
Please also note that there is very limited shaded areas, so it might not be a good place to go with young children.
If you keep walking past St Peter's Pool to the right, you'll get to a flatter area with more natural pools carved into the rocks. Another great spot to take a dip.
St Peter's Pool is 10min driving away from Marsaxlokk. It's easy to find and there are 2 free parking lots.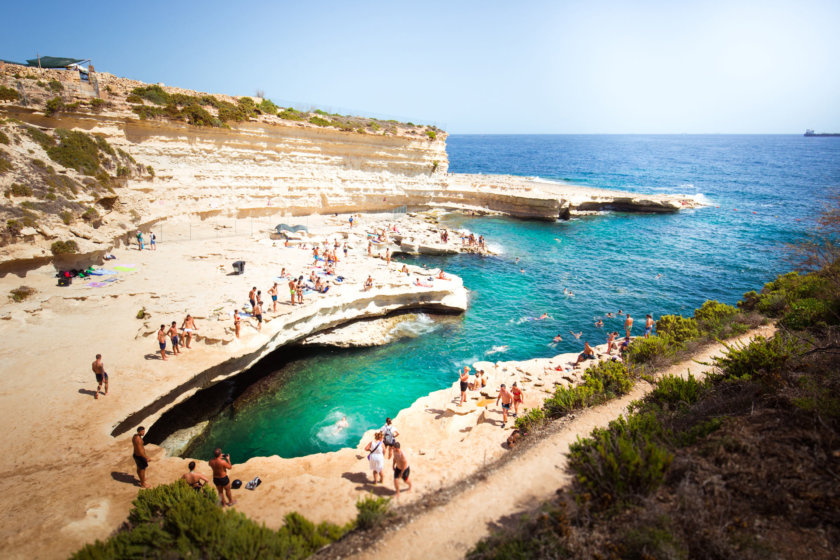 8. Mosta
Mosta is famous for its monumental church, whose design was inspired by the Pantheon of Rome.
It was built in 1833 thanks to funds raised by the residents, and is one of the most beautiful church in Malta.
It's said that the dome is one of the biggest in Europe, whether it's the 3rd or the 4th biggest dome is still a matter of debate. It's so big that you can see it from many places on the island.
The church is also famous for what happened there in 1942: a German bomb was dropped over it, pierced the dome and fell in the church during the mass, without detonating. Some even says it was a miracle!
As i told you in the paragraph about Mdina, the visit to the monumental church of Mosta is included in this night tour of Malta.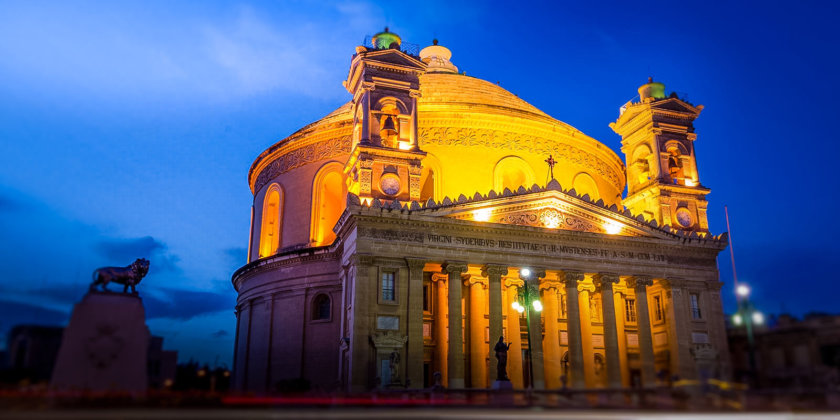 9. Blue Grotto
Blue Grotto is located 2km away from Zurrieq town.
It got its name and reputation from the intense blue color of the water in the cave.
You can see it from above at a sightseeing location just outside the city. You can also go to the small Wied Iz Zurrieq port, 2min further away by car, and take a 30 min boat tour.
Remember to check the weather conditions beforehand, there won't be any tour if the sea is too stormy.
Wied Iz Zurrieq also has bars and restaurants, as well as a spot to go swimming.
Voyage Tips Advice
To get the best light, you should go to Blue Grotto in the morning: that's when the sun shines into it.
If you don't have a car and don't want to bother with the public transports, don't forget that the visit to the Blue Grotto is included in this day trip to Marsaxlokk.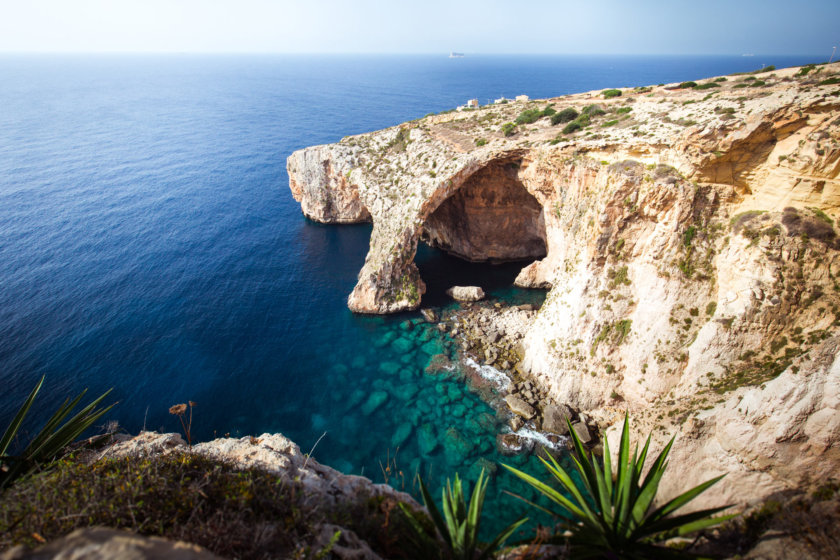 10. Dingli cliffs
North off Blue Grotto, the Dingli cliffs are worth stopping by.
Located 250m above sea level, Dingli is the highest point in Malta. It's a nice place to walk around (be careful not to get to close to the cliff) and enjoy the views. Sunsets there are a photographer's dream!
Voyage Tips - Advice
If you don't have a lot of time and want
to discover the best of Malta in a day
, you should opt for a private tour around the island!
There are 2 kinds of tours, and you can personnalize them in order to organize the excursion that suits you!
First, there is the Malta private guided tour. You can book it here:
The 2nd possibility is to do a private day trip around Malta with a driver, but without a guide (thus more affordable):
In both cases, the team in charge of the organization will help you to organize an unforgettable day!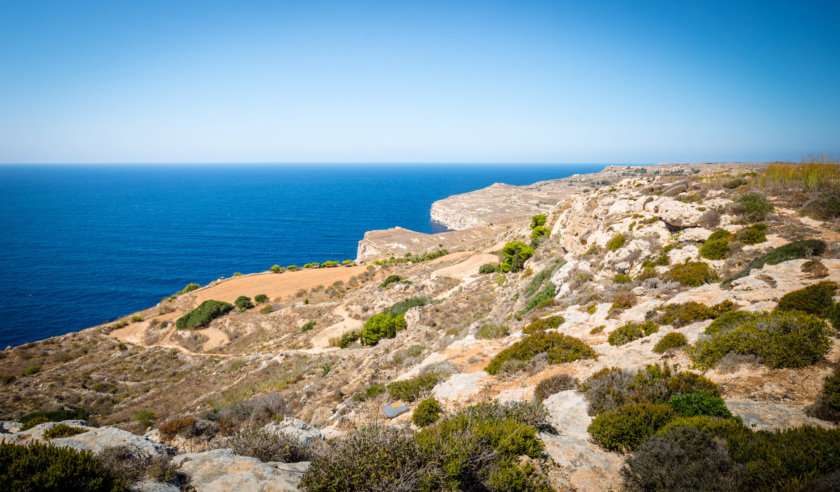 11. The Red Tower
The Red Tower, or Saint Agatha's Tower is located in Marfa, 5min driving from Mellieha.
Built in 1649 among other towers between Valletta and Gozo, it was used to watch the coasts and protect merchants from pirates' attacks. It could host up to fifty soldiers and had 5 cannons. It's named after the color of its walls.
You can visit the Red Tower for 2€. It's small, but the tour is worth it thanks to the amazing view from the top of the tower. From there, you can see the White Tower, Saint Mary's Tower (on Comino island) and Lippija Tower.
Voyage Tips Advice
When you exit the tower, go to the right for a nice stroll along the cliffs.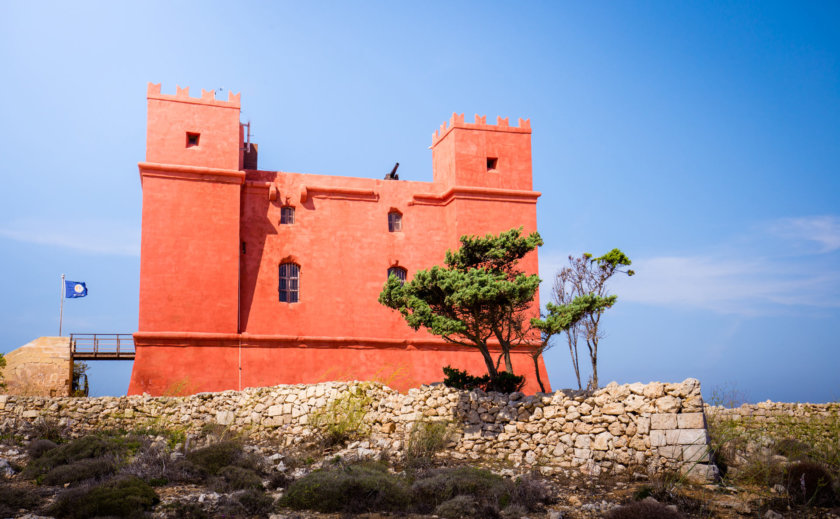 12. The Megalithic Temples of Malta
Several megalithic temples can be found in Malta and Gozo, some of them even being UNESCO World Heritage Sites. They were all built between the 4th and 3th century BCE.
Here is a list of temples to visit:
Tarxien temples located in the city of Tarxien
Hagar Qim temples, next to the city of Qrendi, in South Malta
Mnajdra temples, only 500m away from Hagar Qim
Ggantija temples on Gozo island
If you plan to visit Malta's Megalithic Temples and want to learn more about their history, you can opt for the guided visit!
It includes transportation from your hotel as well as the visit of 3 sites: Ghar Dalam Cave and its museum, Hagar Qim and Mnajdra Temples.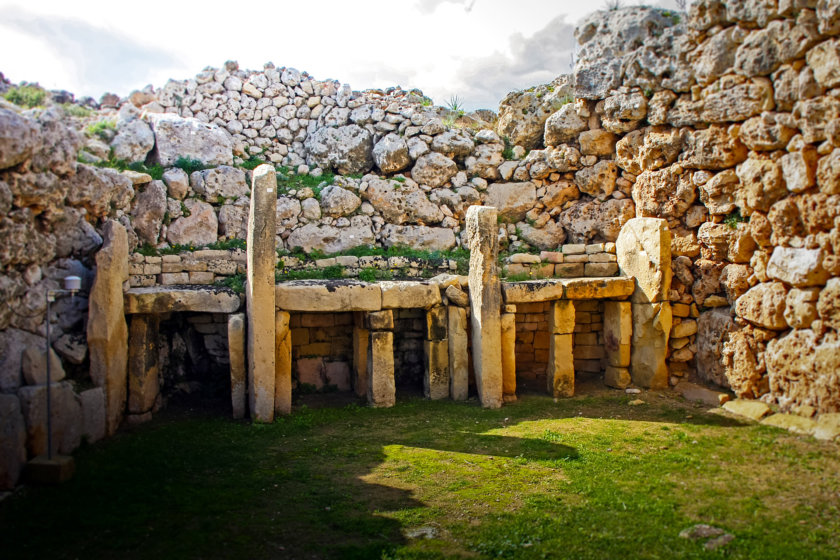 13. Doing sports and fun activities in Malta
Here are the best activities to do in Malta

Quad bike: you can find all the details just below, #14 of this guide

Cross country Segway: the best Segway tours are organized by Sam, on Gozo island. You need to book them here.

Horse riding
Hiking: I tell you more about it at the #19 of this guide

Climbing: There are 300+ spots spread over 12 breathtaking sites on Gozo island
14. Enjoy a quad bike ride in Malta
Quad bike is for sure a must-do activity during your trip to Malta!
You may not know it, but quad bike tours in fact take place on Gozo island. The transport from your hotel Malta is however included!
During your quad bike guided visit of Gozo, you will discover some of the best places to visit of the island such as Ramla bay, Dwejra (where the famous Azure Window used to stand), the Inland Sea, the Blue Hole or Marsalforn Salt Pans.
There is no previous quad biking experience needed, your instructor/guide will teach you the basics and will adapt to your driving pace.
And you know the best? This day trip also includes the return from Gozo with a private boat! You will pass by the Blue Lagoon and Comino caves.
Your 1 day quad bike guided visit of Gozo from Malta needs to be booked here:
If you don't have a lot of time, this tour also exists as an half day trip: book it there.
Voyage Tips - Advice
If you have the time, you should really opt for the full day tour. It's such an amazing experience that you will regret it if you only book for half a day!
15. Malta, Gozo and Comino best beaches

No Malta holidays can be complete without a good beach day! Malta, Gozo or Comino islands all features some nice beaches and coves:
Mellieha Bay: shallow water and wide stretch of sand, great for families
Pretty Bay: a real kids' paradise with its shallow water and playgrounds
Paradise Bay: close to the Gozo ferry, it's a nice beach but quite touristy
Golden Bay: a vast beach, very touristy, lots of water sports options there
Ghajn Tuffieha Bay: Go down the stairs to reach this very beautiful spot. Don't miss the surprising rock formations on the left side of the beach
Gejna Bay: a decent size sand beach, it's especially nice to walk along the sea there
Ramla Bay in Gozo, a vast beach with ocher sand, the ultimate family beach
San Blas Bay in Gozo, a lovely sandy cove, though only reachable on foot. Going back will be your little workout of the day!
Blue Lagoon and Santa Maria Bay in Comino, more details about it below.
Voyage Tips - Advice
If you enjoy swimming, you can go on a snorkeling session with Pepo and Andrea during your stay.
They will show you one of the best spots of the island, hidden from the usual tourist spots!
They offer 2 snorkeling tours, and I really recommand you the "Half day snorkeling and visit". You can book it here:
If you don't have much time, they also offer a 2 hours snorkeling experience for beginners. It needs to be booked there.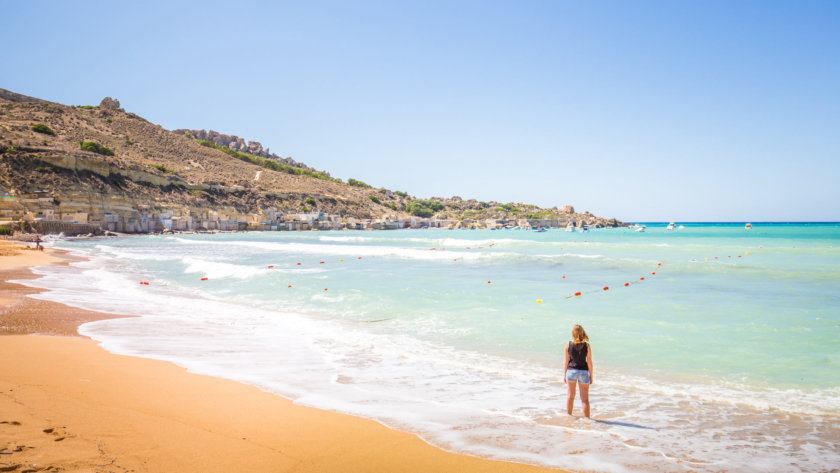 16. Scuba diving in Malta

Scuba divers will love Malta as it's one of the best diving spot in the Mediterranean region.
Scuba diving in Malta is a unique experience, you will go on an underwater adventure and discover marine wildlife, wrecks and caves! On the plus side: water is warm and it's always sunny (Malta has the most days of sunshine in Europe).
Prices are pretty affordable, the sites are beautiful and there are options for both beginners and experienced divers.
The best dive sites Malta:
Blue Grotto and its diverse wildlife
In Valletta, under Fort Saint Elmo, to see the wreck of the HMS Maori, a destroyer which sank in 1942
The wreck of the Um El Faroud oil tanker
The wreck of MV Rozi in Cirkewwa
The blue hole in Gozo
Santa Maria Caves in Comino
The best diving center in Malta is located on Gozo Island. They are very professional and friendly! Whether you are a beginner or an experienced diver, you can go there with your eyes closed.
Moreover, the prices are very attractive:
You can for example do a try dive in Gozo for only 50 euros per person!

To book it, you just have to click the button below:
And if you're motivated to learn diving, you can opt for a 4 days PADI Open Water course. You can book it by clicking here.
If you already have some diving experience and want to discover Gozo's best diving sites, the 2 following options are the perfect choices you: "day – 2 dives" (click here) and "2 days – 4 dives" (click there).
During your dives, you will discover amazing sites such as the famous "Blue Hole" or Mv Karwela ferry shipwreck with a professional instructor.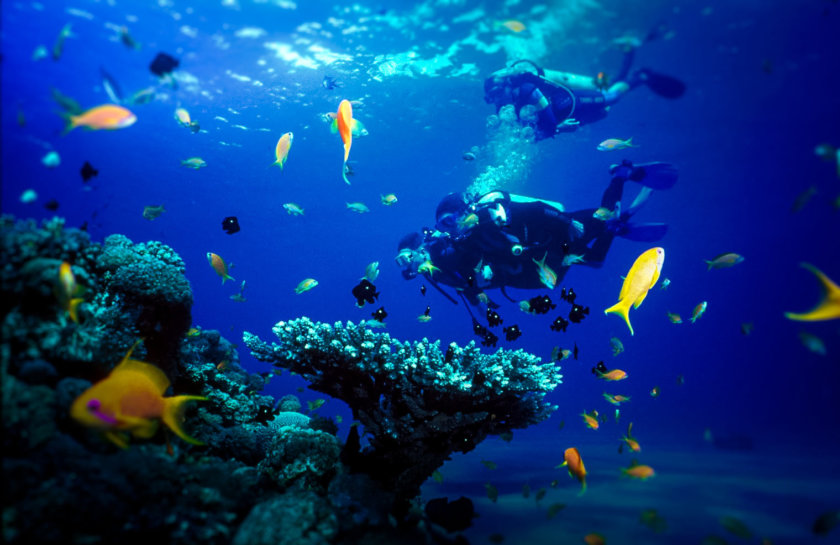 17. Water sports and activities in Malta
Malta is the perfect place to enjoy water sports and activities at reasonable prices.
Here are the best ones:

Jet ski
Paddle
Water Skiing
Wakeboarding
Parasailing
Tubing
Voyage Tips - Advice
In my opinion, the best is to enjoy all these activities in Gozo. It's where the scenery is the most beautiful!
You can read more about it in my Gozo travel guide(click here)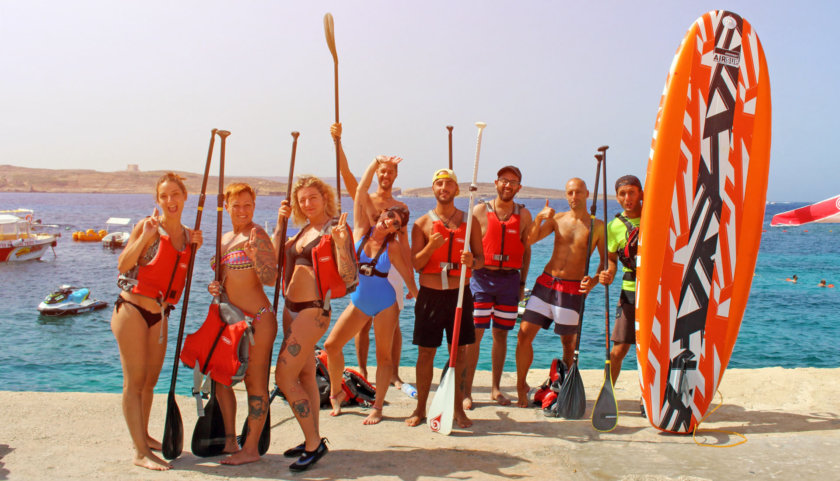 18. Renting a boat in Malta
Renting a boat is a great way to discover the Maltese coast from another point of view!

The best is to rent it in Gozo (where the coast is the most beautifl!). You can then easily go explore around Gozo and Comino islands.
In Malta, the great thing is that you can rent a boat up to 90HP without boat license.
Simply click on the links to see the available boats:
19. Hiking in Malta
To discover best secret spots of Malta, you should go hiking with a local guide!
These hiking tours are organized by Pepo and Andrea (yes, the same people doing the snorkeling!) will allow you to discover Malta's countryside, far away from other tourists.
To book it, you just have to click one of the links below: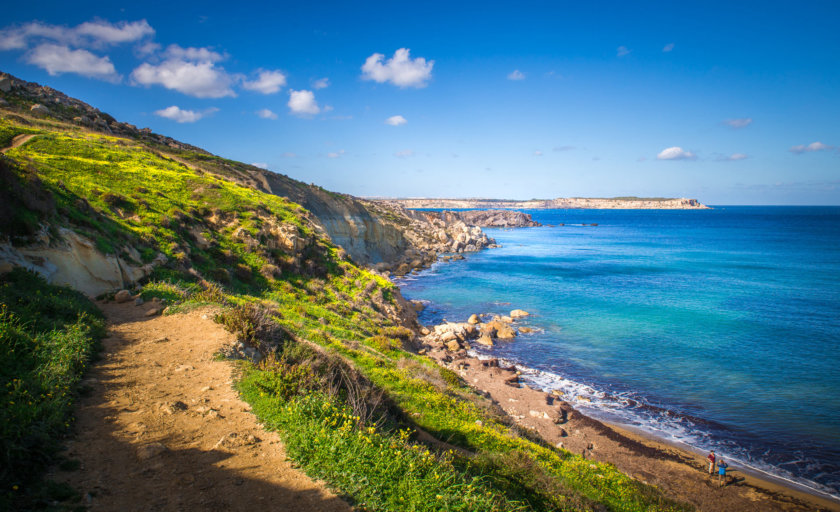 20. Do a Game of Thrones tour!
You may no know it, but Malta was the filming location for several key events of the Game of Thrones TV show!
So if you like this TV show, you should definitely book the Game of Thrones filming locations guided tour.
Your guides for the day will be Malcolm and his team: they all have been participating to the filming and will be able to tell you many anecdotes about your favorite show!
You can book it right here:
21. Gozo
Gozo is the second largest island in Malta. It's more rural and quiet with wonderful landscapes and nice beaches and coves. There are really many things to do in Gozo.
To get there, take the Gozo Channel Line ferry, from Cirkewwa on Malta island. The trip lasts about 20min and you can board with a vehicle. Boarding is fast and well organized.
In the ferry, you can find a cafetaria and a convenience store selling food, magazines and souvenirs.
Ticket Fare: we paid 25€ for 3 people and one vehicle.
Useful tip: you only have to pay on your way back.
Once you arrive in Gozo, these are the best places to visit:
Victoria, also called Rabat by the locals, is the main city in Gozo. It's a great place for shopping and food, but the main attraction is for sure the Cittadella, the fortified part of the city. Located on a hill, it's home to the Cathedral, the old prison, archaeological sites and of course, amazing views over Gozo from the ramparts.
Djewra region in the North-West, famous for the Azur Window (unfortunately it collapsed in 2017), Fungus Rock, the Inland Sea and the Deep Blue Hole
Marsalforn is a popular beach town during summertime, the main attraction being the 3km long salt pans on the edge of the city.
Ta'Pinu shrine is a dazzling church. Built on a small hill, you can see it from far away.
Ta'Cenc cliffs, 130m high, offer a lovely scenic view. If you have a drone, this is the place to use it!
Ggantija temples, among the most impressive and best preserved temples on the island
Ramla Bay beach, the biggest sand beach in Gozo. A perfect beach for families with plenty of space for kids to play.
If you want to visit Gozo as a day trip or with a guided visit, you will have the choice between the following tours: (you can click on the links for more info and to book the one that suits you the best!)
Here is the list of guided visits of Gozo from Malta:
And here are the guided visits of Gozo starting in Gozo harbour (you will need to go to Gozo by yourself, by ferry boat)
And last solution, you can take the Hop-on Hop-off tourist bus to visit Gozo.
You can find more details about all the best places to visit in Gozo in my article: The 10 best things to do in Gozo.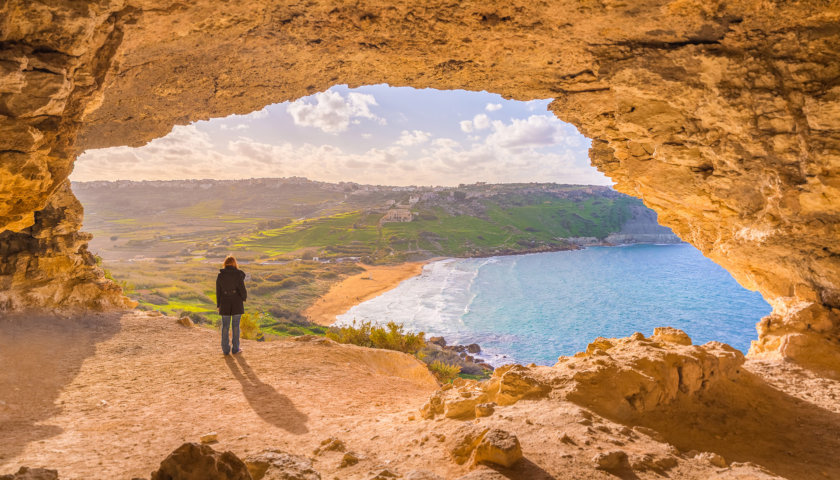 22. Blue Lagoon and Comino island
Comino is a tiny island located between Malta and Gozo island. Tiny in terms of size, but not in terms of reputation! That's where the Blue Lagoon is, a stunning lagoon with turquoise water.
Every day, shuttle boats come and go from Malta/Gozo to Comino to bring tourists to swim in the lagoon.
Fore sure, unless you go off season, don't go there if you're looking for a peaceful and quiet beach!
As a lot of tourists are visiting Comino each day, I strongly recommend you to buy your boat tickets in advance.
There are 5 ways to go to Comino, simply click on the orange links to book the one that suits you the best.
From Malta:
1) Opt for a day trip from Bugibba (Hotel pickup possible from Valletta, St Julian's etc..), or if you prefer, you can choose the Sunset Comino trip. They also offer a 3rd version: Comino + 3 hours on Gozo. It's clearly the most convenient if you don't have a car or don't want to drive north of Malta!
2) Choose a luxury day trip from Valletta, with on board lunch included.
3) Take the speed boat from Marfa, north of Malta.

From Gozo:
4) Take the boat from Mgarr harbour.
5) Take the speed boat from Hondoq Ir Rummien (high season only). You will discover the magnificent Hondoq bay and its small beach. From there you can also enjoy amazing nautical activities! Book your ticket now here.

From Hondoq, in addition to the direct Comino transfer, you can also opt for a "Comino shuttle + Santa Maria caves" visit. It's the perfect way to discover these beautiful sea caves and the coast of Comino! Simply click here to book it.
Besides the lagoon, you should also walk around the island, enjoy the beautiful landscape and the quieter areas of Comino. A nice thing to do is to go on top of Saint Mary's Tower for a unique scenic view.
A quick tip: you can only go up the tower if the flag is raised. Entrance fee is donation based.
There is another beach on Comino island: Santa Maria Bay, with a hotel, restaurants and public bathroom. It's a lot less crowded than the Blue Lagoon.
Voyage Tips Advice
For a more peaceful Comino experience, it's best to go before 10am or after 4pm.
Voyage Tips - The Culture Spot
Comino island got its name from a plant found everywhere there during spring: cumin. Now you can amaze your guests at the next dinner party with this fact 😋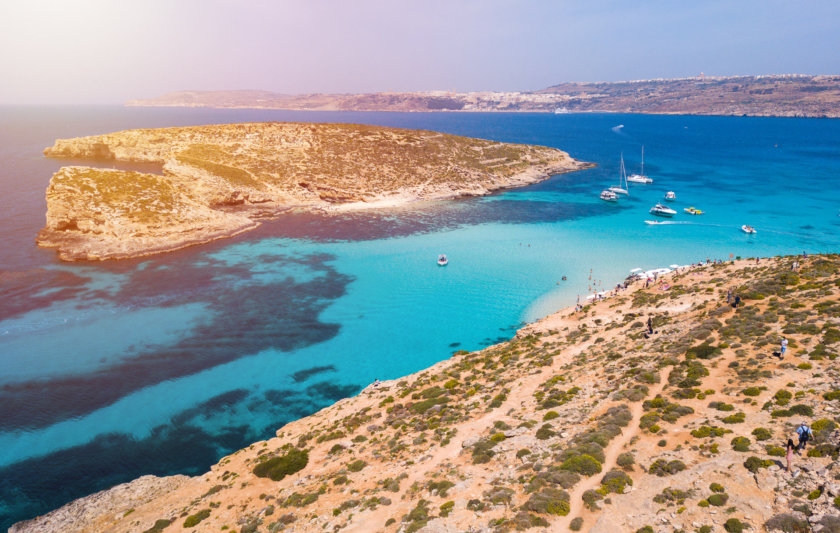 23. The best of Malta's Nightlife
You're going on a trip to Malta and you like to party?
Perfect!
Between the famous "Boat Parties" (I'll tell you more about them below) and the great bars and clubs, you will for sure find great places to party in Malta.
As I want you to make the most of the Maltese nightlife, here is the list of the best bars and nightclubs on the island.
Best bars in Malta:
You want to have a drink? You should head there!

Best nightclubs in Malta
The most famous nightclubs of Malta are all located in Paceville, one of St Julian's district.
The Havana Club, one of the biggest Nightclubs in Malta. Free entrance!
The Footloose, located close to the Havana
The Bar Native a very popular place, you should go there if you enjoy latino music.
Another place I would recommend you is the Café del Mar. This outdoor club is located in Qawra, by the sea, close to Malta Aquarium.
During the day, you can rent a sunbed and enjoy the swimming pool, café and restaurant. In the evening, their pool parties are amazing!

Voyage Tips - Advice
To discover the best of Malta's nightlife
with people from around the world who love to party, you should really
do a Pub Crawl!
The best one is organized by Lucca, and you will see, you will have a crazy night!
You need to book it right here: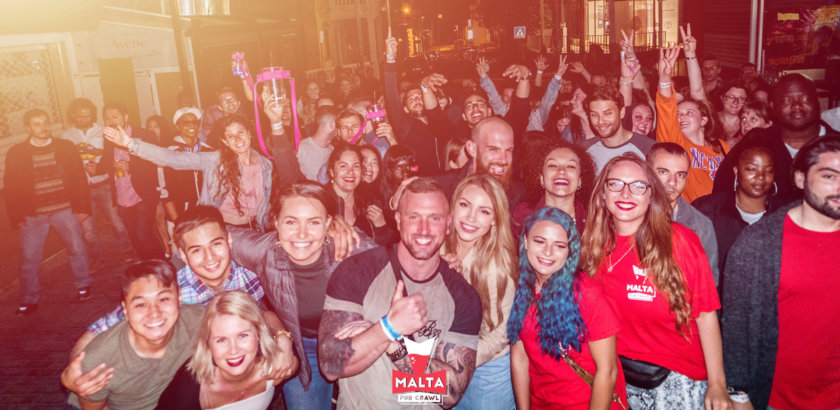 24. Go to a "Boat Party"!
In Malta, you will have the opportunity to party on a boat at a "Boat Party"
The concept is simple:
You leave the port of Sliema at 7pm towards the north of the island for the sunset, then enjoy an open bar evening (whisky, vodka, rum, tequila, gin, beer and soft drinks) with 200 other party lovers from all over the world!
You need to book this epic party here:
The 3 best things to do in Malta with children

Are you visiting Malta with children and they're getting tired of museums and city strolls? Here are 3 kids-friendly alternative activities:
25. Popeye village
Popeye Village is located in the North-Western part of Malta, close to Mellieha.
This village was entirely built to serve as a set for the movie "Popeye", shot in 1980 with Robin Williams as the lead actor.
To built this gigantic set, trees were imported from Canada to build the houses, a road to the bay was created, along with a breakwater to protect the set. Once the shooting was over, they decided to keep everything intact.
Nowadays, it's an amusement park. Kids will be able to discover characters from the movie and even act in a custom made one! The park also features boat rides, stores, trampolines and restaurants.
For more information about Popeye Village, you can visit the Official website.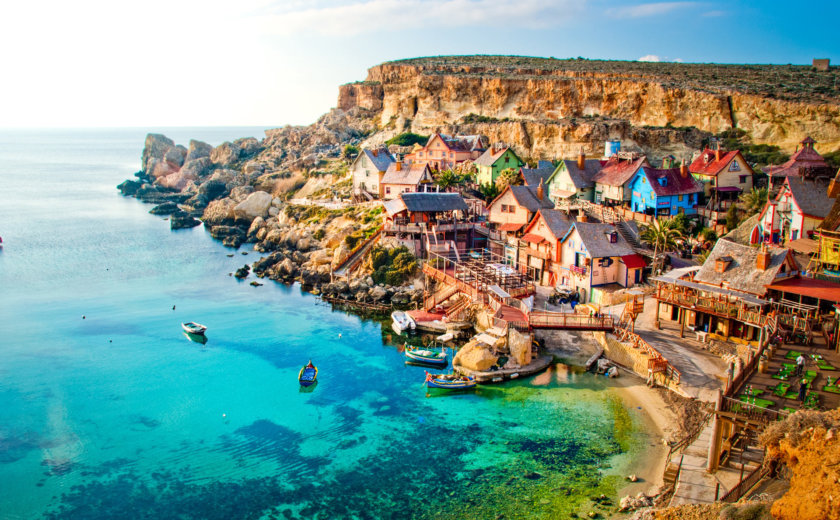 26. Visit Malta National Aquarium
While you're on the island, why not show your children what's around them by going to the Malta National Aquarium?
Built in 2013, it's located right next to Saint Paul's Bay, in the city of Qawra.
The visit is great and very lively. You will discover all kind of sea animals from the Mediterranean and Malta region, as well as fish from the Pacific and Indian Oceans. The best part is probably the underwater tunnel with sharks and rays swimming above you. There is also an area with reptiles and amphibians.
More details are available on the Aquarium official website.
Voyage Tips Advice
Many places (hotels, gift shops, tourism offices) offer 3€ discount coupons for the Aquarium. It would be a shame not to use them!


27. Playmobil Fun Park
It's a very unknown fact, but one of the first Playmobil manufacturing factory was actually in Malta, and it's still running today.
The Playmobil Fun Park features a vast outdoor playground with Playmobil statutes, and an indoor area with all the Playmobil you can imagine to play with. Thousands of these tiny figurines are available for your kids.
You can also visit the factory and see the manufacturing process, but check the visiting hours beforehand because it's fairly limited. The place is open to all children aged 5 years old and up.
There is also, of course, a Playmobile shop. If you're a collector, the "Maltese Knight" Playmobil is only sold in this store!
For more information about tickets and how to get there, click here.
Itineraries to visit Malta

In order to help you plan your trip, I have prepared these detailed itineraries, optimized according to the length of your stay in Malta:
Malta tourist map
Below is the most complete tourist map of Malta. I recommend you to download it on your phone and keep it with you at all time. You can also get a paper version at the tourist information offices.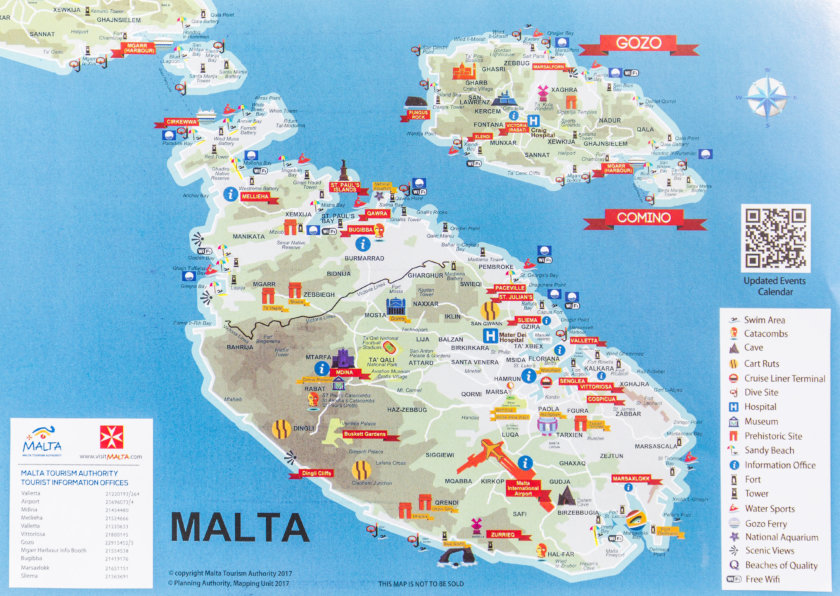 So, what do you plan to visit during your trip to Malta?
You're traveling in Malta? These articles will help you!
Discover all my articles about Malta: All my articles to help you plan your trip to Malta are listed there.
You're using Pinterest? Here is the picture to pin!