Things to Do in Andros: The 7 Best Places to Visit (All Highlights)
You're planning to visit Andros during your next trip to Greece? You want to know everything about the best things to do in Andros?
You're at the right place!
Authentic and peaceful, protected from mass tourism, the second largest island in the Cyclades is also the most fertile and greenest thanks to its many springs and streams. It's a real paradise for hikers.
In order to help you plan your stay, I have prepared for you this guide of the 7 best places to visit in Andros, with all points of interest and must-see attractions.
In addition to this list of things to do and activities, I will also give you itineraries to visit Andros in 1, 2, 3 days or more as well as my selection of the best accommodations depending on your budget.
And as always, this travel guide contains all my best tips to make the most of your stay.
So, what to do in Andros? Where to stay?
Visit Andros: the 7 Must-See attractions
1. Gavrio
Gavrio is the 1st place you will see during your stay in Andros. If you take the ferry from Athens or from another Greek Island, you'll arrive in Gavrio, as it's the island's main port.
When visiting this typical small Cycladic port, you will find many restaurants and taverns, souvenir shops, banks, car rental agencies and even a supermarket.
Gavrio is a really pleasant and calm village, even if it gets busier every time a ferry boat arrives!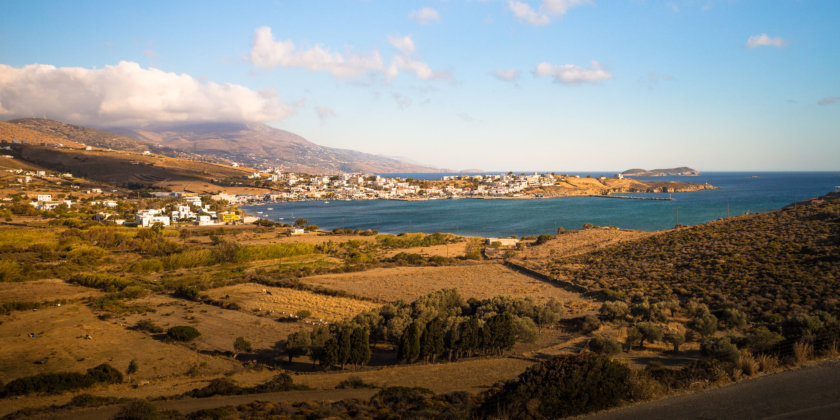 2. Batsi
Batsi is the most popular tourist destination in Andros.
This seaside resort is located 7km South of Gavrio, on the slopes of a hill and above a pretty bay. As most Andros' tourists are staying in Batsi, you will find here many restaurants, shops and hotels.
You should really take a stroll on Batsi's beautiful waterfront: you will for love this charming fishing port.
Right next to the village, you will find a nice sand beach. There, you can rent deckchairs and umbrellas. It's a great place to take a dip after a day exploring the island!
Voyage Tips - Advice
From the Batsi, drive along the coastal road to Paleopolis (an ancient Acropolis from the Neolithic Era). This road offers splendid views of the Aegean Sea.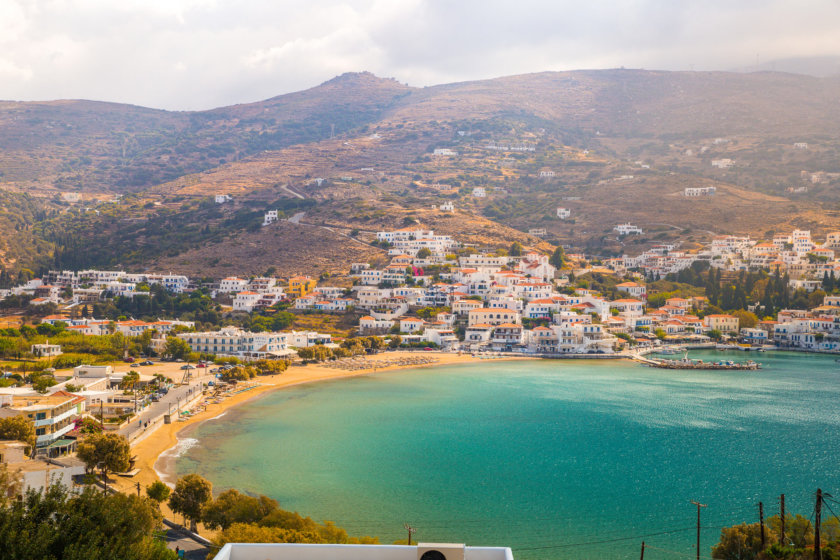 3. Andros or Hora
Hora (also named "Andros", like the island) is the island's capital. It's clearly the village you have to visit in Andros!
Unlike in most Cycladic villages, you won't find here the typical white washed houses with blue shutters. In Hora, most houses were built in a neoclassical architecture with red tiles roofs. These mansions were owned by rich Greek shipowners who came to Andros for its calm.
When visiting Hora, wander in the main street, starting from the upper city. On this pedestrian street paved with marble, you will enjoy many shops and typical Greek taverns. Don't miss Kairi Square, a nice shaded square with a large marble fountain from the Ottoman period. It's a great place to have a drink on a terrace.
Follow the main street to arrive at the seaside. There, you will see the remains of an ancient Venetian Castle from the 13th century, built on a small rock. With its small broken stone bridge, it's a lovely place to take pictures.
In Hora, you can also visit 2 great museums:
The Archaeological Museum, and its collection of ancient objects discovered on the island, mostly in Zagora and Paleopolis.
The Museum of Contemporary Arts, or MOCA: there, you will enjoy modern sculptures from famous Greek artists, and great painting exhibits.
Voyage Tips - Advice
You're going to Andros?
You probably know it: the hardest part of planning your trip is to find an hotel offering a good value for money!
The closer you get to your travel dates, the harder it will be to get a good deal. Lots of people will be visiting Andros on the same dates as you, so you can be sure that the best deals are booked extremely quickly!
Hopefully, there is a pretty simple solution to this problem: do like me and book your hotel as early as possible!
So, my best advice is to take 5 minutes (now) to have a look at the list of travelers' favorite hotels in Andros.
And if you see a good offer, book it!
Most hotels offer free cancellation, so it's quick, easy, and you will avoid the the inconvenience of finding nothing but mediocre rooms at exorbitant prices.
To check the current best deals for your hotel in Andros, simply click on the green button below 😎:
Once you've booked your hotel, it will be time to continue reading this guide and find out more about the best things to do in Andros!


4. The best beaches in Andros
What are the best places if you want to take a dip during your trip to Andros?
Here is a list of Andros' best beaches:
There are numerous beautiful sand beaches between Gavrio and Batsi. There, you can enjoy the calm and rent deckchairs and umbrellas. The best ones are Agios Petros, Chrissi Ammos, Kipri or Agios Kyprianos.
Batsi Beach, in the village's bay
Tis Grias to Pidima and its 15-meter high rock, creating a unique scenery
Piso Giala, a nice beach between Hora and Stenies. Quite popular, with many taverns.
Fellos, a large pebble beach between the rocks. Very quiet and lovely!
Neimporio Beach, close to Hora
Paraporti: you can see this beach from the road, right before arriving in Hora.
An important note: some of Andros' best beaches are only accessible by 4WD, on foot or by boat. For example, the beaches of Achla, Vori, Vitali or Zorkos, located North East of Hora, can't be reached by car.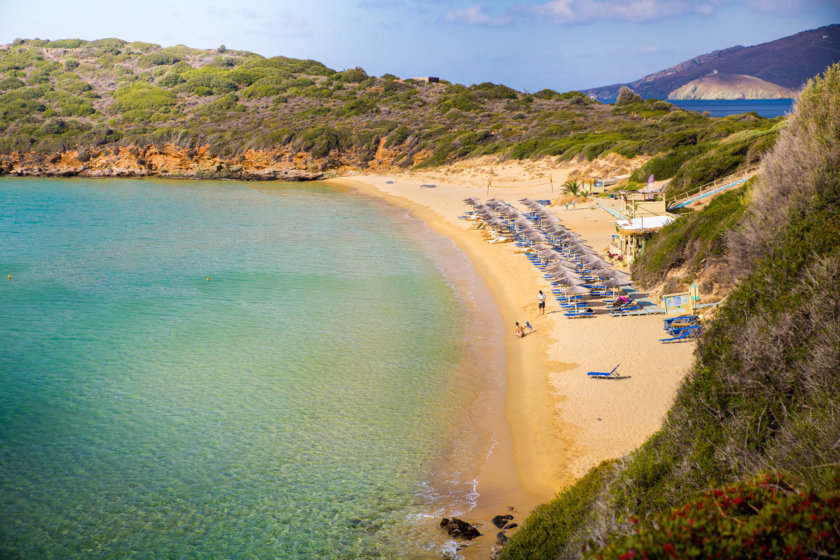 5. Hiking in Andros
If you're a hiking lover, then Andros is the perfect island for you.
There are 18 marked trails on the island, for more than 100 km of paths. Andros was awarded as a "Leading quality Trails – Best of Europe" destination, meaning that it's one of the best places to hike in Europe.
You can walk on many trails of various lengths (from 30 minutes to 6 hours) and difficulty level (easy or moderate, most of the time). Everything is well indicated on the website and on the signs during your walks.
There are numerous itineraries you can follow during your hikes in Andros. Here are some of the island's best hikes:
Hora – Lamyria – Menites – Monastery of Panachrantos: during this hike, you will discover one of the island's most beautiful monasteries.
Hora – Apikia – Vourkoti – A 6.8 km-long walk, lasting around 2h30.
Hora – Sineti – Dipotama – Kohylou – Korthi: enjoy the lush vegetation of the Dipotama gorges!
Vourkoti – Moni Agios Nikolaos – Achla Beach, a splendid hike: you will see a beautiful monastery and end your walk at one of Andros' best beaches.
Gavrio – Ano Agios Petros – Pyrgos – Agios Petros Beach, a nice trail to go to the beach directly from the port of Gavrio.
If you want a detailed list of Andros' walking trails, you can check Andros Route website. There, you will find all the detailed itineraries with their length and duration.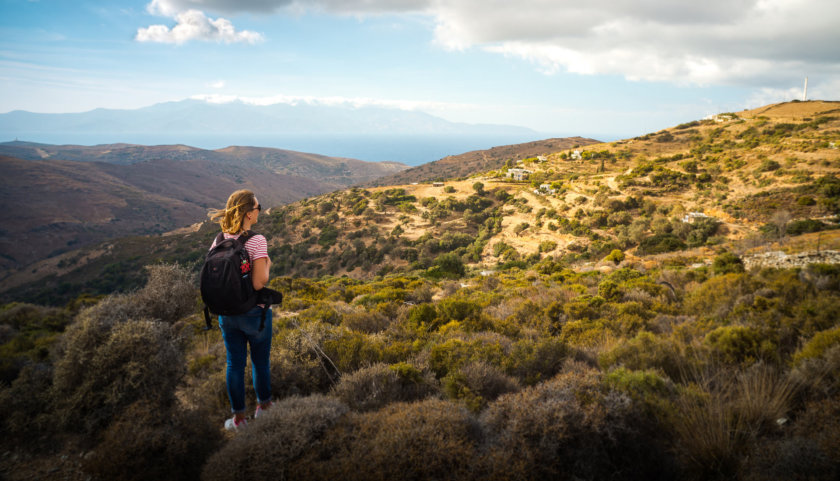 6. The other best villages to see in Andros
The island offers many other points of interest. During your trip, you can for example visit some of Andros' most beautiful villages. Here are my favorites:

Stenies, close to Hora. There, you will admire many neoclassical houses.
Apikia: where Sariza spring (Andros mineral water, sold all around the island) is located.
Mesaria, a lovely medieval village
Livadia
Menites, a mountain village, famous for its springs
Korthi (Ormos Korthiou), and its view of Mylos' Bay. The village is renowned for its windsurf competitions.
Aidonia, built on a rock
Sineti, at the end of Dipotama gorges. Don't miss the many watermills!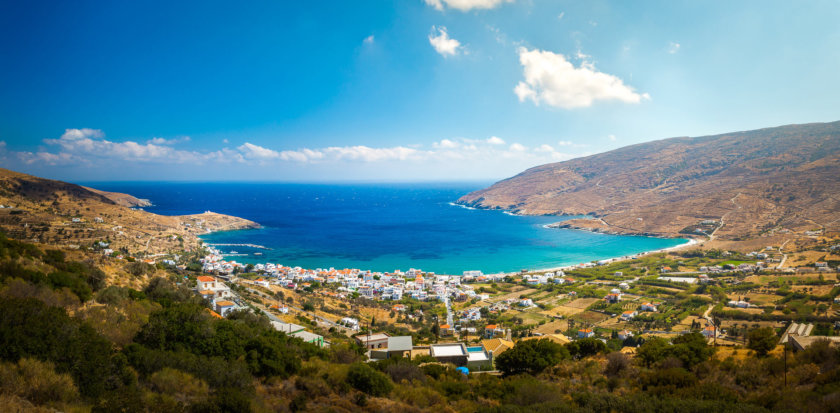 7. Boat trip around Andros
Boat trips are for sure one of the best things to do during your holidays in Andros.
Most cruises are starting from Batsi, and lasts between 2 to 4h. It's clearly the best way to access remote beaches you can't reach by car, go snorkeling and enjoy the island's beautiful landscape!
Lunch and soft drinks are also included in the price.
During this cruises, you can discover the island and its many beaches. You can also choose a 2-hours cruise at sunset, to admire it from the boat.
Andros cruises costs between 20€ and 60€ per person, depending on the one you will choose.
And if you want more information you can check this website, or this one.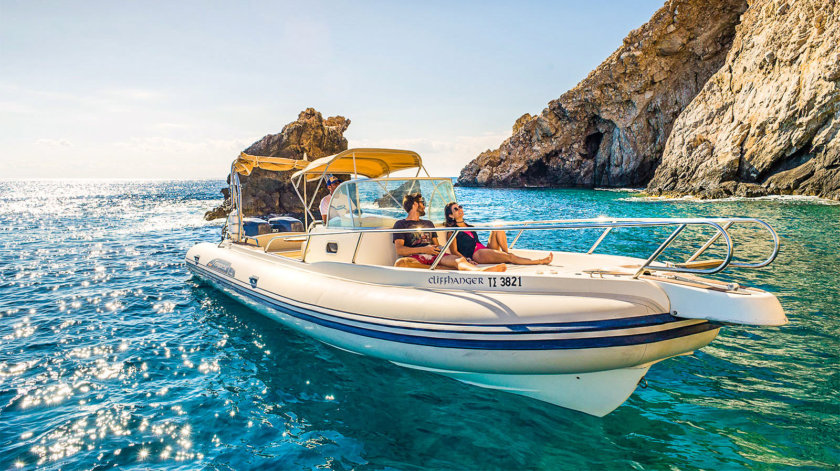 The other best islands to visit around Andros
You've spent some time in Andros, and you want to discover the other Cyclades Islands? You want to do a Cyclades itinerary?
Here are the best islands located nearby:
Tinos is the closest island to Andros. The place is less touristic than Mykonos or Santorini, and is still authentic with many picturesque villages.
Syros, one of the smallest Greek Islands, but also the most populated.
Naxos, a great place if you want to discover nice beaches and remote mountain villages.
Mykonos, if you want to party with the best DJs in the world!
You will find every information you need to discover Greek islands in my article: The 15 best Cyclades Islands.
You can also plan your ferry trips between Andros and the other islands on Ferries in Greece website.
How many days to visit Andros?
If you just want to see Andros' main points of interest and have a road trip around the island, then 2 days in Andros would be enough.
But, if you're coming to Andros to hike and want to enjoy its many marked trails, you can of course stay longer!
1 day in Andros
If you want to enjoy the best of Andros in 1 day, here is my recommended itinerary (you will need a car):
Start your day in Gavrio or in Batsi, depending on where you're staying
Drive along the costal road between Batsi and Paleopolis, to enjoy the many viewpoints
Discover the villages of Menites, Messaria and Livada.
Visit Hora, the island's capital town
Then, follow the road to reach Stenies
End your day with a visit to Apikia and Vourkoti, then go back to Batsi.
2 days in Andros
If you have 2 days on the island, in addition to the 1st day described above, you can:
Hike on one of the island's many trails
Spend the rest of the day relaxing at the beach, or do a boat trip.
3 days or more in Andros
If you have 3 days or more in Andros, you will have plenty of time to hike and discover the island's many marked trails!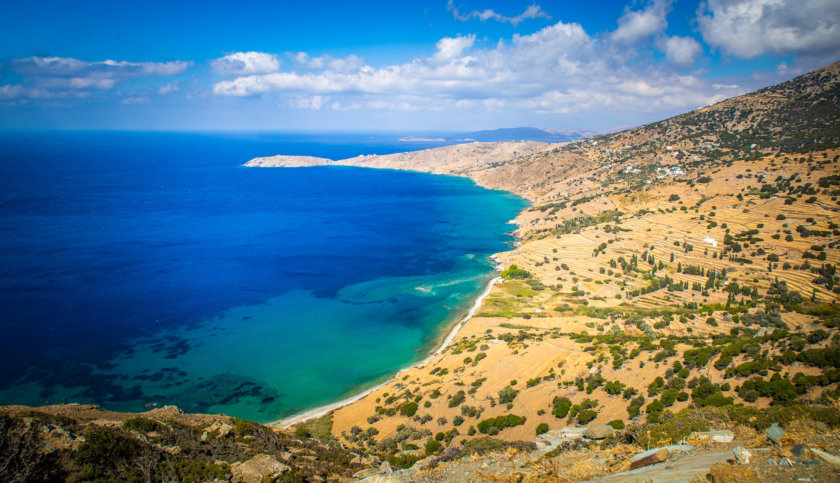 Where to stay in Andros
If you're looking for a place to stay in Andros, you will have the choice between 3 villages:
Gavrio, the island's main port. It's the most convenient if you're arriving late or leaving early in the morning.
Batsi: you will love this lively seaside resort.
Hora, the capital. There, you can find many shops and restaurants.
Here is a selection of the best places to stay in Andros:
Best hotels in Gavrio
Ostria Hotel & Apartments: located 300m away from the port. The double rooms or apartments with balcony and sea view are starting from 40€ per night, with a 7€ breakfast. Strong points: the kind staff, the location close to the port, the large rooms.
Kymothoi Rooms & Pool Bar: located 1 km above the port. You will love the bright and spacious double rooms starting from 45€ per night including breakfast. Strong points: the pool, the view of the bay, the private parking.
Villa Maniati Studios: Located 1 minute from the beach and 2 km from the port. The studio flats, with a small kitchen and a sea view are starting from 80€, breakfast included. What I loved: the location right next to the beach, the private parking. An excellent choice for a romantic gateway in Andros. The value for money is exceptional!
Best hotels in Batsi
Best hotels in Hora
Camara Homes Apartment: Located in the heart of the village. The studio flats or cosy apartments, with living room and a small kitchen are starting from 65€ per night. Strong points: the location, the owner's advice, the brand new equipment!
Paradise Art Hotel: Located 800 m away from Hora's city centre. The pleasant and comfortable double rooms are starting from 80€ per night, including breakfast. What I loved: the pool and the garden, the copious breakfast, the sea view. This is the best choice in Hora for its exceptional value for money!
Micra Anglia: This 5-star hotel is located in the centre of Hora, only a 5-minute walk from the beach. This luxury hotel offers elegant and well-decorated double rooms starting from 140€ per night, breakfast included. What I loved: the pool, the comfort, the great breakfast and restaurant, the charm of the place. It's my recommendation for a luxury stay in Andros!
How to get to Andros ?
If you want to visit Andros, you won't have the choice: you have to take the ferry!
Unlike some other Greek Islands, such as Naxos, Paros or Santorini, Andros has no airport.
From Athens, the ferry links the Port of Rafina and Andros in around 2 hours. There are regular bus connections between Athens' airport and the port.
If you're already in the Greek Islands, there are ferry connections between Andros and Kea, Kythnos, Mykonos, Naxos, Syros and Tinos. It takes only 1h30 to reach Andros from Tinos, the closest island.
If you want to plan your Greek islands itinerary, you should check the schedules and book your ferry tickets online.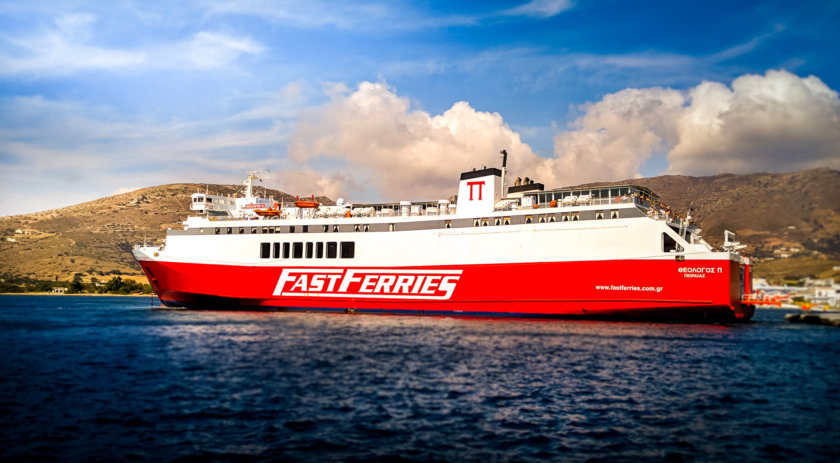 Renting a car in Andros
If you want to visit Andros, you should rent a car. It's the best way to explore every corner of the island. I would even say that it's necessary, as Andros is a quite big island.
I'm always using the Rentalcars.com website when I'm renting a car abroad, but there are no affiliated car rental companies in Andros.
You can rent your car directly in the port of Gavrio. I rented mine at "Tsaos Rent a Car", and they were really nice!
It costs at least 25€ per day.
Andros and Greece Tours
On Voyagetips.com, I give you all my best tips and itineraries to plan your trip to Santorini and Greece by yourself. (Click here to read all my articles about Greece)

However, if you prefer to book a Greece tour with a travel agency, I recommend you to check the 10 best Greece tours by clicking the button below:
Renting a boat in Andros
If you want to rent a boat for a nice day at sea during your trip to the Greek islands, you should book it with Samboat.
Motorboats, sailboats, yachts, small boats without a license, with or without a skipper: they simply have the most complete offer for boat rental.
So, what are you waiting for to book your boat trip in Greece? 😊
Tourist map of Andros
I have made a tourist map of Andros for you, to help you picture what the island looks like and where the best places to visit are located. You can display the map legend by clicking on the top left button (the one with a little arrow).
And you, what do you plan to visit in Andros?
Book your trip now and save money!
Greece travel guides
You're traveling to Greece ? These articles will help you !
Discover all my articles about Greece: All my articles to help you plan your trip to Greece are listed there.
Cyclades (Greek islands)
Dodecanese
You're using Pinterest? Here is the picture to pin!