The 3 best road trip itineraries to visit Mallorca by car
You're planning to do a road trip in Mallorca?
Great idea!
Visiting Mallorca by car is the only way to reach all its stunning beaches and coves. A road trip around Mallorca is the perfect way to make the most of your visits and effortlessly uncover the island's must-see spots.
In order to help you plan your stay, I have prepared this travel guide with the 3 best road trips itineraries in Mallorca depending on the duration of your stay (4, 5, 7, 8 and 10 days). For each duration, I will give you a summary of the itinerary as well as the link to read the detailed itinerary article.
And at the end of this guide, I will also give you my list of the best accommodations in Mallorca depending on your budget as well as my best tips to enjoy the perfect road trip.
Let's plan your road trip!
Which airport should you choose to kick off your road trip in Mallorca?
Mallorca boasts just one airport. It's located in the southern part of the island, a mere 10 km from the historic center of Palma de Mallorca.
Thus, Palma is the ideal starting point for exploring Mallorca by car. That's why I've chosen to commence all of my Mallorca routes from there.
Flight prices to Palma de Mallorca can vary enormously, so it's a smart idea to start comparing them as early as possible. To do this, you can use our flight comparator, in partnership with Skyscanner. It's the guarantee of getting the best price.
Which port should you choose to start your road trip in Mallorca?
Instead of flying, you might also opt to take the ferry to Mallorca.
You can sail to Mallorca from other islands in the Balearic archipelago: Menorca, Ibiza, and Formentera.
You can also get to Mallorca by ferry from certain cities on mainland Spain. It's a bit of a long haul, but if that floats your boat, here are the details you'll need:
Palma is served by ferries coming from Barcelona. Do bear in mind that the crossing takes about 7 hours on average.
You can also sail to Palma de Mallorca from Valencia. The crossing takes between 7 and 8 hours, depending on the company.
In addition to the port of Palma, Mallorca also has a second port up north, in Alcudia.
It welcomes boats from Menorca (1h15 journey from Ciutadella or 3h30 journey from Mahon) and Barcelona (a 6-hour crossing).
Another option to reach Mallorca is by sailing from France, specifically from Toulon. Corsica Ferries operates this route, but keep in mind that the journey takes approximately 18 hours.
Renting a car for a road trip in Mallorca
Planning a road trip without discussing cars would be nonsense! As I mentioned, to truly experience Mallorca, you should definitely get a car. Without it, reaching all the beautiful coves is practically mission impossible.
If you plan on coming to Mallorca with your own vehicle from Toulon or Barcelona, you can skip straight to the next section.
Otherwise, whether you arrive by boat or plane, make sure you rent a car upon arrival, near the port or directly at the airport. If you've used this blog for trip planning before, you know I always vouch for Rentalcars.com.
So, to keep things consistent, I suggest you book through them for your Mallorca journey as well. I've relied on them for all my trips, whether to Greece, Sicily, Crete or even Thailand.
I find it super handy because with one click, you can compare all the car rental rates in Mallorca (both local and international). You'll quickly notice car rental options that include unlimited mileage or the option to add a second driver.
Rentalcars also offers its own insurance, cheaper and far more comprehensive than what local rental agencies might suggest. The complete protection insurance from Rentalcars covers the full refund of costs incurred in the event of an accident or theft.
If this option isn't already included in your credit card insurance, you can add it at the time of your booking.
The site also allows (under certain conditions) for free modifications or cancellations.
Given the high tourist activity on the island during the peak season, you should definitely book your car in advance to have the widest possible choice and get the best rate.
Click the button below to compare the prices of car rentals in Mallorca right now: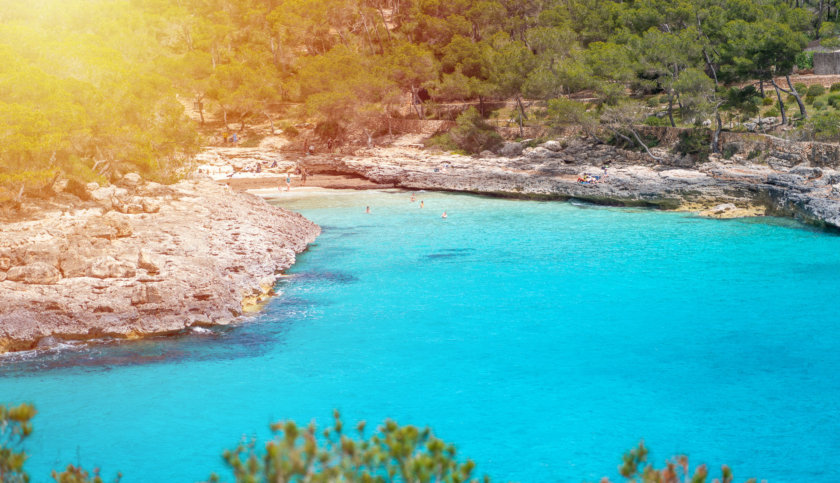 Road Trip in Mallorca: 4 or 5 days
If you've chosen a brief getaway to Mallorca because you only have a few days' holiday, I'd recommend you stick around Palma to explore the surroundings with day-long mini road trips.
If you want to explore Mallorca by car, this location is perfect for getting around with ease.
I've put together all the details and my top tips for planning your 4 or 5-day itinerary in Mallorca in my dedicated article.
There, you'll find all my visit recommendations for each day, so you won't miss out on any must-see attractions and my selection of the best hotels to stay in during your Mallorca holiday.
To read this complete guide, all you need to do is click on the following link (in orange): Recommended itinerary for a brief getaway to Mallorca.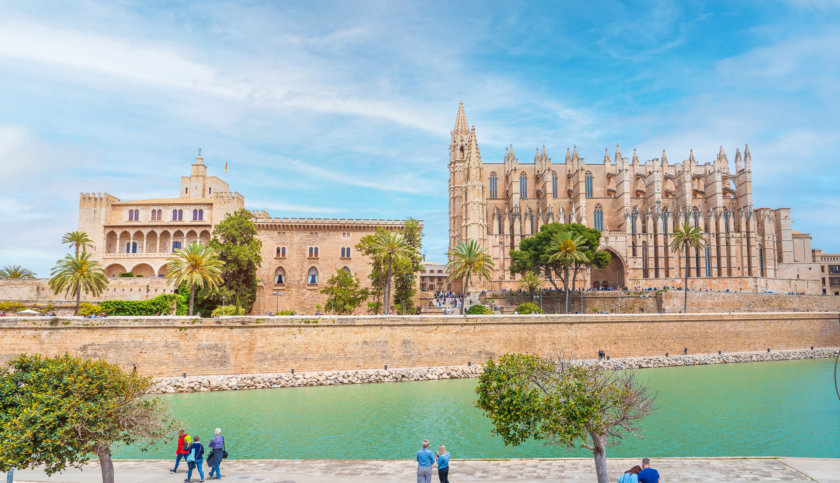 Road Trip in Mallorca: One-week itinerary
Here, I'm suggesting a sample road trip starting from Palma to explore Mallorca by car for a week.
On the agenda for this 1-week road trip in Mallorca:
Palma de Mallorca (1 day)
The beaches of the south (1 day)
Sineu, the famous caves and the beaches (1 day)
The most beautiful coves of the southeast (1 day)
Serra de Tramontana (1 day)
Cap de Formentor (1 day)
The beaches of the northeast (1 day)
First day – Exploring the city of Palma de Mallorca on foot
The covered market
The shopping streets of the historic centre
The plaça Major and the Plaça Cort
Parc de la Mar
If you're eager to explore Palma in just one day and want a detailed sightseeing itinerary, look no further! My article has got you covered with all the info you need: Visit Palma de Mallorca.
Second day – Relaxing on the most beautiful beaches in the south of Mallorca, including:
The beaches of Cap de Ses Salines: El Caragol beach and Cala en Tugores
Es Trenc beach, a must-see during a week's road trip in Mallorca!
Dolç beach
Can Curt beach
Es Carbo beach
Ses Roquetes beach


Third day of this 7-day road trip in Mallorca:
Visit the Sineu market before exploring one of the 2 most famous caves in Mallorca, each housing a subterranean lake and offering a small concert on the water: the Hams caves and the Drach caves.
To book your tickets in advance for the Coves dels Hams, just click on the button below:
You can then go on a hike of the 4 coves or enjoy the wonderful coves of the Cala d'Or resort.
On day four, dedicate your time to discovering the stunning coves in the southeastern part of the island:
Calo del Moro, which is in my opinion one of the most charming coves you'll get to see on this 7-day road trip in Mallorca
Cala S'Almunia
Cala Llombards
Cala Santanyi
The 3 coves of Mondrago Natural Park.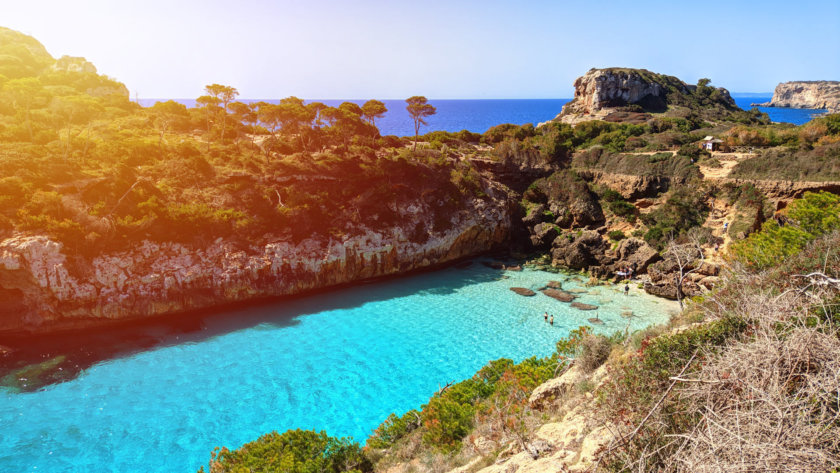 On the fifth day, set a course for the north of the island by taking the road that crosses the quaint, traditional villages of the Serra de Tramontana:
Valdemossa
Deia
Sóller
Fornalutx
Lluc and its monastery
Pollença: a must-see during your road trip in Mallorca!
For day six, take the scenic drive along Cap de Formentor and soak in the incredible views of the cliffs.
Stop for a swim at the Formentor beach or Cala Figuera cove before heading to the old town of Alcudia for a stroll among its ramparts.
End the day on the very long sandy beach of Alcudia: Muro beach.
On the seventh day, set off for a hike in the natural park of the Peninsula de Llevant.
Then, have your last swim at one of the stunning beaches of the northeastern coast:
Cala Mesquida
Cala Torta
Cala Mitjana
Cala Estreta
Cala Es Matzoc
Cala Gat
Cala Agulla
Eighth day – End of the holidays, it's off to Palma de Mallorca airport for the return trip.
Voyage Tips - Advice
Fancy a one-week road trip in Mallorca? Go take a look at my dedicated article: One-week itinerary in Mallorca.
Very handy, you'll also find plenty of top tips and hotels to sleep in in Mallorca. It's the best way to easily prepare for your trip!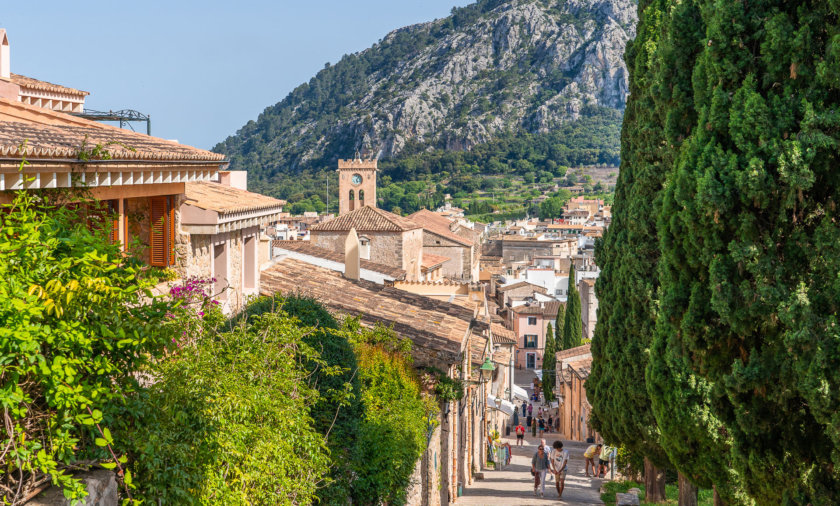 Road Trip in Mallorca: 10 days
For this new adventure, I propose a 10-day road trip to discover Mallorca by car.
This itinerary starts from Palma but if you're arriving at the port of Alcudia, you can, of course, reverse the stages. This well-rounded itinerary combines sightseeing, beach relaxation, and exciting activities to ensure you experience all the must-visit destinations on the island.
On the agenda for this 10-day road trip in Mallorca:
Palma de Mallorca
The beaches of the south
Sineu
The caves
The coves of the southeast
The island of Sa Dragonera
The Serra de Tramontana
Cap de Formentor
Alcudia
Llevant Peninsula Natural Park
The northeastern coves
I've summarized the main stages of this road trip below, but you can find all the details by clicking on this link: 10-day itinerary in Mallorca.
1) South Mallorca (6 days)
To begin this 10-day Mallorca road trip, let's explore the southern region of the island and kick things off with a visit to the vibrant city of Palma de Mallorca.
The historical center isn't that vast, so a single day is enough to discover the main tourist attractions.
First day – Best things to see in Palma:
The market
The old town: the cute alleyways lined with shops and the main squares
Parc de la Mar
And to wrap up this first day, you should absolutely try this fantastic catamaran excursion with dinner included. All the info and bookings can be found by clicking the button below:
Stay the night in Palma. To plan your stroll around Palma, check out my article: 20 Things to do in Palma de Mallorca.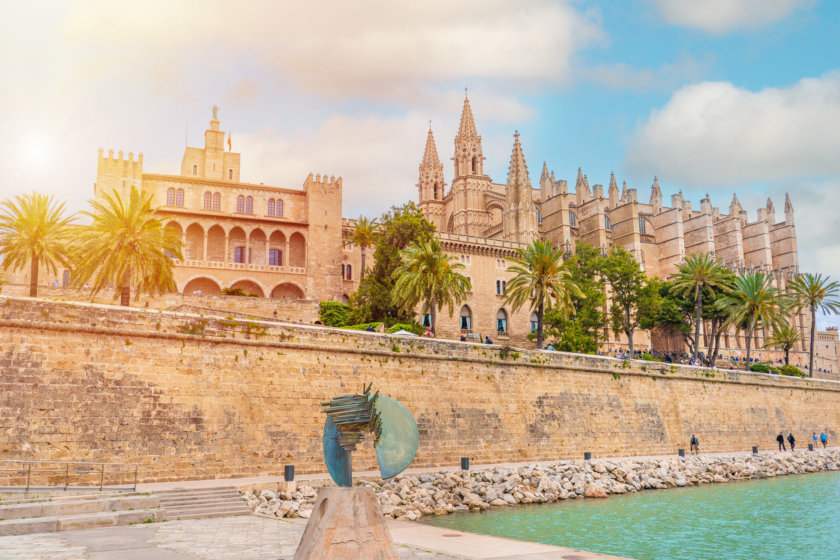 On the second day, continue your 10-day Mallorca road trip by heading to Cap de Ses Salines where, provided you're willing to walk a bit, you can laze around on the completely wild beaches of El Caragol and Cala En Tugores.
And if you prefer easier-to-access beaches, head to Colonia de Sant Jordi where you can set your towel down on the stunning turquoise water beach of Es Trenc.
In the area, you've also got the beaches of Es Dolç, Can Curt, Es Carbo and Ses Roquetes which are really pretty.
Spend a second night in Palma.
For the third day, I suggest a trip to Sineu market and then moving on to Porto Cristo to visit one of the two caves you should see on your road trip around Mallorca:
Those who enjoy a good walk might then choose the hike of the 4 coves (Cala Bota, Cala Virgili, Cala Pilota and Cala Magraner).
Others might prefer the relaxation option at one of the coves of Cala D'Or. I recommend, for instance: Cala Esmeralda, Cala Gran, Cala Petita and Calo d'es Pou.
Spend another night in Palma de Mallorca.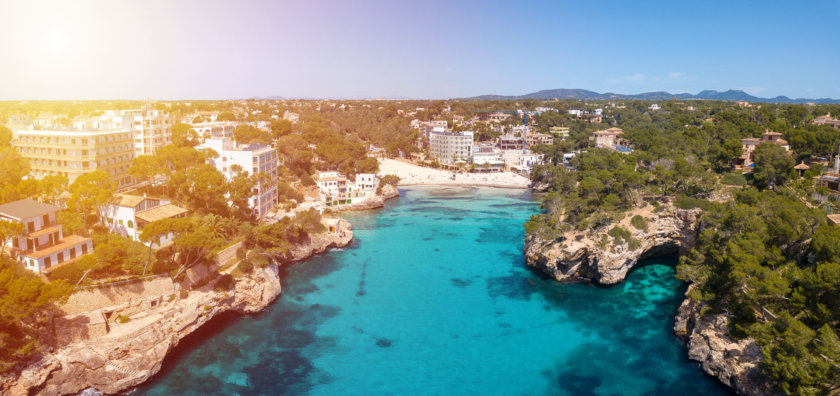 Fourth day: head to one of the coves on the southeast of the island for a chill-out day. You can totally check out several coves in just one day.
Among the best-known and prettiest ones in the area, I suggest:
Calo de Moro: it's one of the most popular inlets on the whole island and it truly is a stunning place
Cala Llombards: for a more family-friendly beach if you've opted for a family road trip around Mallorca
Cala Santanyi
Also, don't miss out on a visit to the Mondrago Natural Park where you can enjoy 3 more beautiful coves: S'Aramador beach, Cala Mondrago and Calo des Borgit.
Spend another night in Palma.
On the fifth day, I suggest you go and explore the island of Sa Dragonera, that you'll find in the southwest of Mallorca. You can reach it by boat from Sant Elm, which is a 50-minute drive from Palma.
After Sa Dragonera and on your way back to Palma, you can:
Stop by the popular resort town of Magaluf known for its expansive sandy beach.
Take a walk around the marina of Portals Nous, to admire the yachts
Explore the Pilar and Joan Miró Foundation, a remarkable institution dedicated to the painter and sculptor of the same name.
Visit the Bellver Castle located on the heights of Palma.
Spend another night in Palma de Mallorca.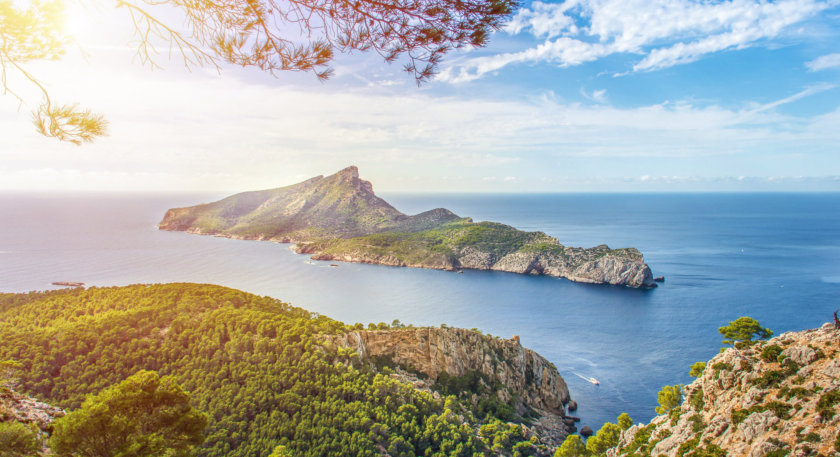 On the sixth day, I'm leaving the choice up to you, with a few different activities to consider:
Spend a last night in Palma.
2) North Mallorca (4 days)
On the seventh day of your road trip around Mallorca, it's time to leave Palma and continue your exploration in the north of the island.
The plan for the day: take the Serra de Tramontana road that goes through the whole island from south to north, making some stops:
In the pretty villages with traditional stone houses such as Valldemossa, Deià, Soller and Fornalutx
At Sa Calobra to see the Torrent de Pareis, a superb canyon with a cute little beach
At the Lluc Monastery, that you can visit if you feel like it
In the lovely traditional village of Pollença: it's one of my favorite spots on this 10-day road trip around Mallorca!
Spend the night in Alcudia.
On the eighth day, I suggest you drive around the Cap de Formentor and make several stops at different viewpoints to admire the scenery. You could also take a dip at Formentor beach or the cove of Cala Figuera.
Next, head to the old town of Alcudia where you can take a walk around the city walls.
Finish the day on Muro beach, which stretches along the bay of Alcudia for several kilometers.
Spend another night in Alcudia.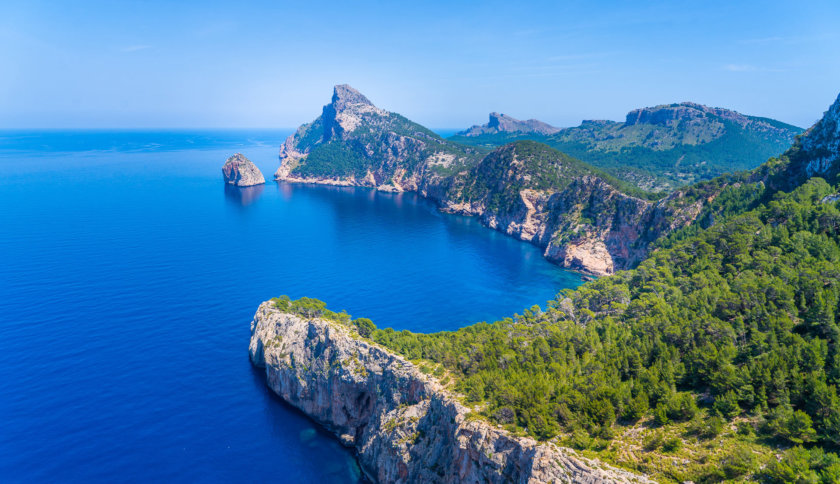 On the ninth and penultimate day of your 10-day tour of Mallorca, put on your hiking boots and hit one of the 13 trails of the Llevant Peninsula Natural Park.
In the afternoon, head to the most beautiful beaches in the north-east. You'll be spoiled for choice between:
Cala Mesquida
Cala Torta
Cala Mitjana
Cala Gat
Cala Agulla 
Spend your last night in Alcudia.
On the tenth and final day, it's time to wrap up this amazing road trip around Mallorca!
Voyage Tips - Advice
If you want more details on this 10-day road trip around Mallorca, feel free to check out my detailed article: 10-day itinerary in Mallorca.
You'll also find my pick of the best accommodations for each stage of your road-trip. You'll see, planning your 9-10 day trip to Mallorca is going to be quick and very easy!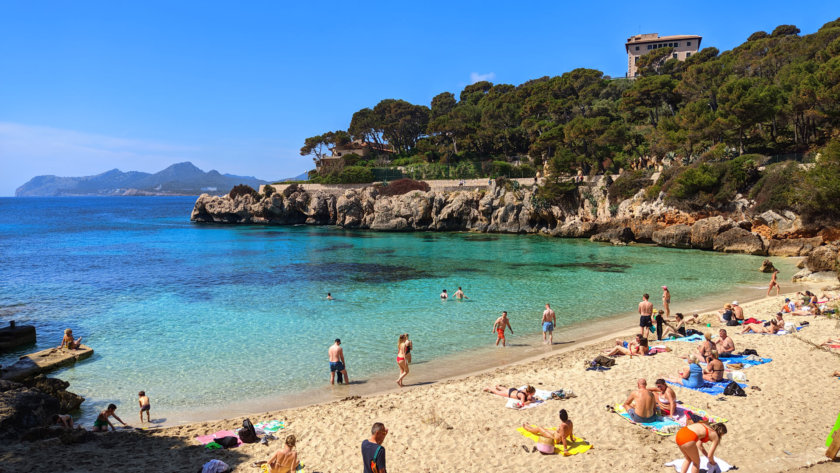 Where to stay during your Mallorca road trip?
Alright, now you know where to head and what to do and see during your Mallorca road trip! The last piece of the puzzle I've got to share with you are my top tips on where to sleep at each stop.
So, I've handpicked the best accommodations for you to rest in Mallorca for the two key stages: south and north.
There's something for every budget, and all of them are already featured in the articles I've just mentioned, outlining the possible routes depending on the length of your vacation.
But I'll put them here for you again. Feel free to click on the name of the hotel to get more details.
Best hotels in south Mallorca – Near Palma de Mallorca
Here is my selection of the best places to stay in Palma de Mallorca, tailored to suit your budget.
You need to click on the orange name of the hotels for more information and to make your booking.
And if you can't find what you're looking for, don't hesitate to ask for advice in the comments, indicating your travel dates and preferences. I would be more than happy to assist you in finding the perfect hotel!
And if you're looking for the best 5-star hotels in Palma de Mallorca, you should have a look at the following hotels:
Hotel Victoria Gran Meliá: located right in front of Palma's harbor. Double room starting at €270, breakfast for €29. Strong points: the great location, the sea view, and the amazing staff.
Nixe Palace:: located right next to Cala Major beach, this 5* hotel offers cozy double rooms with a balcony and sea view from €300 per night, breakfast for €24. Strong points: the setting with the stunning sea view, the excellent breakfast and the direct access to the beach. My recommendation for a high-end stay in Palma!
Hotel Antigua Palma – Casa Noble: this superb luxury hotel is located in the heart of the old town, just 100 meters from the cathedral. Stay in sumptuous, elegantly decorated rooms, from €450 per night, breakfast included. Strong points: The amazing spa with hammam and indoor pool, the tranquility, the particularly attentive staff and the rooftop. The best hotel in Palma for a luxury stay!
Best hotels in north Mallorca – Near Alcudia

When's the best time to embark on a Mallorca road trip?
To hit the road in Mallorca, I highly recommend the months of May – June – July – August – September, and early October.
This is when you can max out on all the island's attractions under a glorious sun: the beaches and coves, hiking trails, boat tours and the breathtaking natural landscapes.
About July and August, I'm sure I'm not telling you anything new by saying these two months coincide with the island's peak tourist season. It's therefore absolutely essential to book your hotels, car rental, and activities in advance, if you've decided to do your road trip in Mallorca in summer.
The best time to tour Mallorca by car is in September.
The weather is still warm and sunny, and with summer holidays winding down, you can expect fewer crowds. Indeed, September is hands down the best month to explore Mallorca on a road trip!
Please note, from late October until Easter holidays, many restaurants and hotels close. Most activities, including boat outings, don't run, and the water's too chilly for swimming.
So, a winter road trip in Mallorca isn't really advisable.
Other activity ideas for a Mallorca road trip
If you're looking to add more activities to your Mallorca road trip, I've selected a few that are really worth your time.
You need to click on the orange links below to check the details and make your reservations:
1) Top activities for the southern half of Mallorca (Palma and its surroundings)
Outdoor adventures
In Mallorca, you can also opt for an absolutely stunning activity: a hot air balloon ride!! I've put the link in the button below for bookings (it's a must):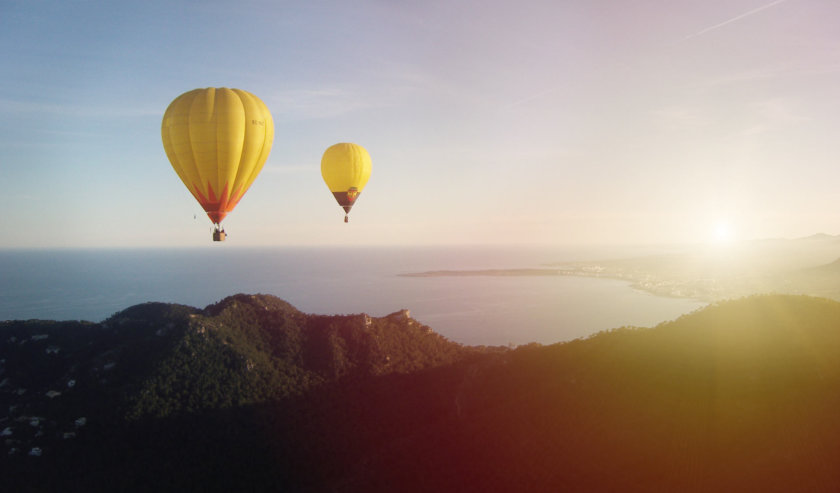 Boat trips
Water Activities

2) Activities in the north of Mallorca (Alcudia and surroundings)
Boat trips
Outdoor adventures
And how about you? What do you plan to see during your road trip in Mallorca?
Book your trip now and save money!
You're traveling to Mallorca? These articles will help you !
Discover all my articles about Mallorca and the Balearic islands: All my articles to help you plan your trip to Mallorca are listed there.
Mallorca
Menorca
You're using Pinterest? Here is the picture to pin!