The 23 Best Things to Do in Mallorca (Bucket List)
You're planning to visit Mallorca during your next trip? You want to know more about the best places to visit?
You're at the right place!
In order to help you plan your stay, I have prepared this guide of the 23 best things to do in Mallorca, with all the must-see attractions of the island.

Discover Palma de Mallorca, the cap de Formentor, the beautiful villages of Serra de Tramuntana and many more amazing places to visit during your trip.
Of course, I will also tell you everything about the best beaches of the island!
So, where to go in Mallorca? What are the best points of interest?
Let's find out!
Visit Mallorca: The 23 Best Places to Visit and Must-See Attractions
1. Palma de Mallorca
Let's kick off this Mallorca travel guide with the island's capital: Palma de Mallorca.
In fact, it's likely that your journey to Mallorca will begin from there, as the international airport is located in Palma, and the majority of ferries arriving from mainland Spain dock there as well.
The city makes for an excellent home base from which to explore the southern region of Mallorca.
Here are some of the top sights to see in Palma de Mallorca:
The Cathedral: an architectural masterpiece, La Seu d'Urgell is the second largest religious structure in Spain, just behind the Cathedral of Saint Mary of the See in Seville.
The Almudaina Palace(tickets with priority access on sale here!): located right next to the cathedral and built in the 14th century. It's the official residence of the King of Spain in Mallorca.
The Parc de la Mar to take the most beautiful pictures of the cathedral and the palace
The Mercat de l'Olivar: the perfect market to stock up on local produce and fruits and vegetables (a favorite spot among the locals).
The Plaça Mayor: a spacious square adorned with terrace cafes and restaurants.
Carrer de Sant Miquel and Passeig d'es Born for a shopping session
Palau March: the former residence of one of the wealthiest families on the island, where you can admire numerous sculptures and paintings by Salvador Dali.
Castell de Bellver: a castle with a unique circular architecture, which houses a fascinating museum on the history of the city.
And if you're wondering what to do in Mallorca with kids, you can take them to Palma Aquarium. Among the highlights are a well-crafted jungle area and a 4D film on humpback whales. Get your tickets here!
For a detailed article on the capital of Mallorca, click on the following link: Best things to do and see in Palma de Mallorca
Voyage Tips - Advice
Particularly impressive both on the exterior and interior, Palma Cathedral is the primary landmark to visit in Mallorca and thus, there is always a long queue waiting to enter.
To avoid any long wait times, you should consider purchasing your skip-the-line ticket for the cathedral in advance by clicking on the button below:
The same goes for the Almudaina Palace: you can avoid wasting time in the queue by booking your tickets in advance here: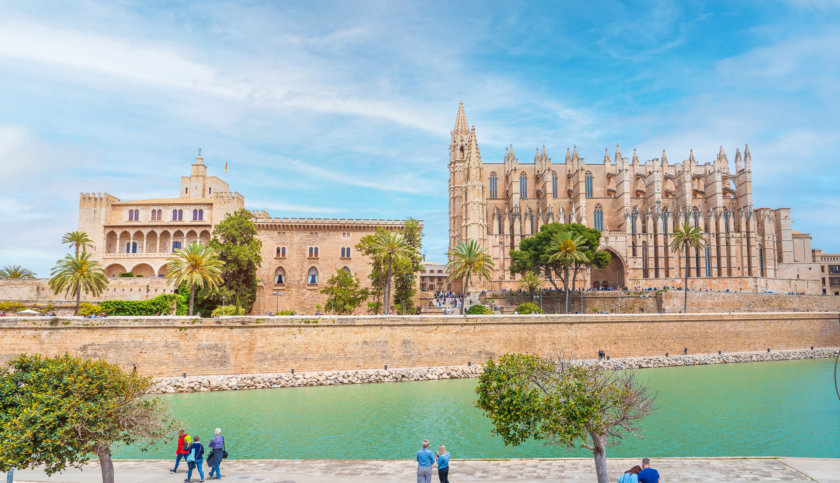 2. The most beautiful beaches in Mallorca.
Spending time at the beach is an essential activity during a stay in Mallorca. It's a must-do!
The island is full of stunning little coves and fine sandy beaches with turquoise waters that will make it impossible for you to resist taking a dip. To give you an idea, the map established by the Mallorca tourism office lists no less than 82 beaches!
I've put together my top picks of the most gorgeous beaches in Mallorca so you can choose the best spots for yourself.
In the southeast of Mallorca, you can find:
Cala del Moro: beautiful cove with turquoise water in a very wild environment. Accessible by foot in 10 minutes.
Cala Llombards: fine sand beach, shallow water, very family friendly
Cala Santanyi: very nice, surrounded by rocky walls.
The coves of the Mondrago Natural Park (which I'll tell you more about later)
The beaches of Cala d'Or: several sandy beaches located in protected bays – Popular with families.
The beaches of Cap de Ses Salines in Colonia de Sant Jordi (which I'll talk about a bit more in the article below)
Es Trenc beach: a very long beach lined by dunes and pine forest
Cala Pi: beautiful little cove with translucent water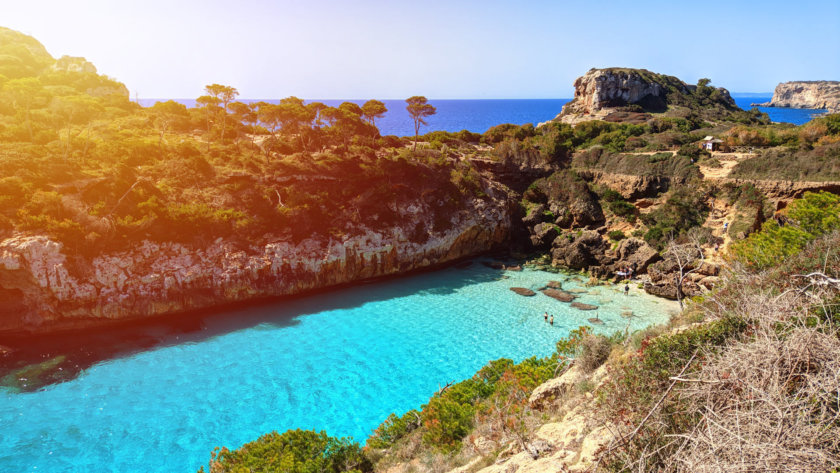 The beaches where to swim in the north of Mallorca:
Cala Gat: another lovely cove with turquoise water.
Cala Agulla: very nice sandy beach bordered by pine forest
Cala Mesquida: a stunning sandy beach that stretches as far as the eye can see.
The beaches of Port d'Alcudia: actually a huge sandy beach stretching over several kilometers, lined with hotels, restaurants, and souvenir shops.
Coll Baix beach: worth seeing from the viewpoint, but not recommended for swimming as the water gets deep very quickly.
S'Illot beach: very pretty and peaceful beach. Ideal for snorkeling.
Formentor beach: a long beach with shallow water, shaded areas, and great for swimming.
Sa Calobra/Torrent de Pareis: a very unusual setting for this beach located in a canyon, accessible on foot through two tunnels carved into the cliffs.
Cala Tuent which you can reach by boat from Sa Calobra
Beaches in Southwest Mallorca
To be honest, these were not my favorite beaches on the island. While there are certainly places that can be nice for a swim, compared to the other beaches and coves, they don't quite measure up.
Some examples include: Cala Major, Cala Illetes, Cala Cap Falco, Cala des Mago, and Cala Fornells.
Finally, there's Magaluf beach, a resort town with a very youthful and lively atmosphere known for its vibrant nightlife (and the excesses that come with it…).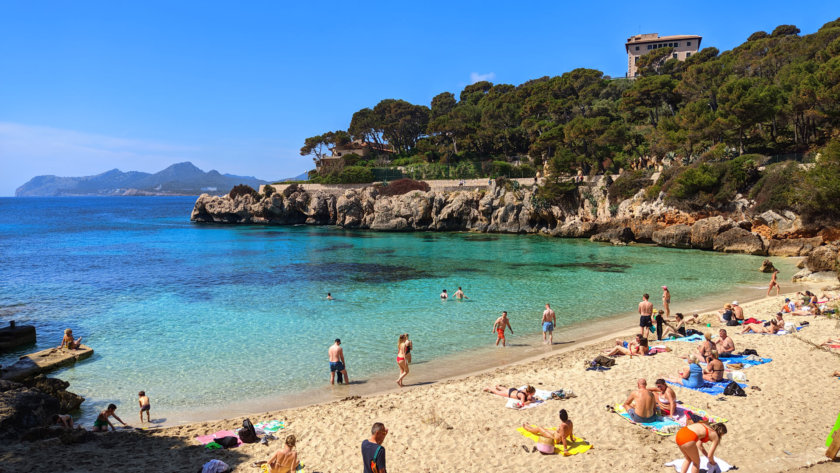 3. Boating excursion in Mallorca
To discover the most beautiful spots in Mallorca and some of its most gorgeous beaches, there's nothing like a boat excursion!
You'll have plenty of options, from catamaran/sailboat/speedboat cruises to sea trips to observe dolphins or even boat parties. As it can be overwhelming to navigate through the dozens of different boat excursions available, I have put together my list of top picks and divided them into these 3 categories.
Booking in advance is highly recommended to ensure availability. To do so, simply click on the orange link or the green button.
The best boat trips in Mallorca:
Half-day VIP catamaran trip with buffet from Palma.
The cruise includes 2 stops for swimming and snorkeling in crystal-clear water, and a delicious and varied on-board buffet lunch prepared on site.
This luxury catamaran excursion in Mallorca is so great that it is GetYourGuide Originals certified. This means that it's satisfaction guaranteed or your money back!
Don't wait any longer and book now by clicking on the button below: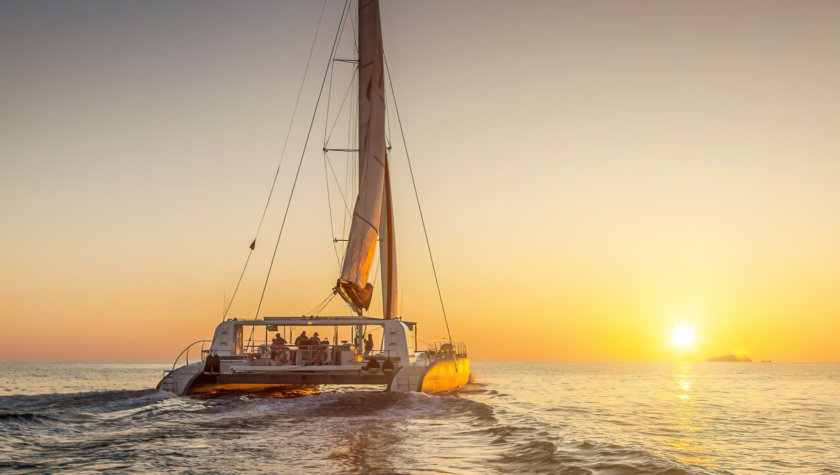 Dolphin watching cruise in Mallorca
Boat party in Mallorca
If you're looking to have a blast and meet new people during your trip to Mallorca, there are several boat parties to choose from that include drinks, food, and of course, a DJ to keep the party going.

4. Cap de Formentor
The Cap de Formentor, located at the northeastern tip of the island, is one of the must-see places in Mallorca.
You'll have the opportunity to admire numerous viewpoints of the sea as well as impressive cliffs by following the winding road that runs along the entire peninsula.
Don't miss out on these sights at Cap de Formentor:
The Es Colomer viewpoint (or "Sa Creuta viewpoint") is the most famous lookout point in Formentor. It allows you to contemplate both sides of the cape and take superb photos.
La Talaia d'Albercutx, an old watchtower with an amazing panoramic view of the entire cape.
Formentor beach is one of the most beautiful beaches in Mallorca. With lots of shade and crystal clear water, it's the perfect spot for a swim.
The Cala Figuera cove: only accessible on foot, it is ideal for snorkeling.
The Formentor Lighthouse, located at the very end of the peninsula.
In case you decide to go to Mallorca in the summer, please note that between June 15th and September 15th, car access to the lighthouse is not allowed.
In theory, the road is blocked from Formentor Beach during this period. I say "in theory" because nothing stops you from passing, but you'll have the pleasant surprise of receiving an €80 fine a few weeks later…
To avoid this, you need to leave your car in the beach's paid parking lot and take the shuttle buses that run between the two. It's also possible to just walk or bike through.
Voyage Tips - Advice
If you don't want to rent a car for your Mallorca vacation, there are two other ways to explore Cap de Formentor:
Bus and boat tour (click here!) with pick-up near your hotel (around Alcudia). The panoramic bus will take you to Es Colomer viewpoint and Formentor Beach, where you'll get 1 hour to swim and relax. After that, you'll embark on a boat for a cruise to Pollensa Bay and then the bus will take you back to your hotel.
Speedboat cruise around the Formentor peninsula with a swim stop.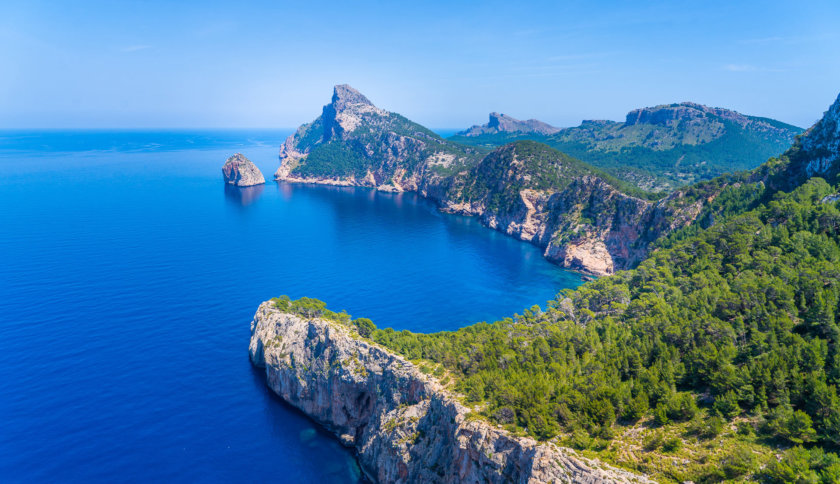 5. The Serra de Tramuntana
If you're planning a road trip in Mallorca, you should absolutely take the road that goes through the Serra de Tramuntana, a mountainous region located in the northwest of the island, classified as a UNESCO World Heritage Site.
Between Pollença and Andratx (or vice versa), the approximately 140 km circuit goes through the hinterland and allows you to check out a bunch of famous villages and places to visit in Mallorca:
The Santuari de Lluc, a monastery and an important pilgrimage site dedicated to the Virgin Mary.
Sa Calobra / Torrent de Pareis / Cala Tuent, which I've already mentioned in the list of beaches.
Fornalutx and its beautiful traditional stone houses.
Sóller with its charming streets filled with shops and restaurants around the church square. You can also take the old tram that goes down to the port of Sóller.
Deià, a traditional Mallorcan village with many typical stone houses.
Valldemossa to visit the Valldemossa Charterhouse where Frédéric Chopin and George Sand once stayed. Maybe you'll find inspiration there for your next art masterpiece!
La Granja d'Esporles: a large typical bourgeois residence whose rooms evoke life in Mallorca in the 18th and 19th centuries. Explore the manor's beautifully preserved rooms and get a glimpse of the past with its impressive display of period furniture and everyday objects. Superb garden. Wine tasting and local products offered at the end of the visit.
Banyalbufar: a village built in terraces.
The Ricardo Roca viewpoint and its panorama of cliffs, sea, and mountains.
If you want to go hiking in Mallorca, you can also check out the visitors center located next to the monastery. You'll find all the maps and descriptions of the trails in the region.
Voyage Tips - Advice
For those of you who do not have a car, the best way to explore Serra de Tramuntana is by joining an organized tour.
The bus will pick you up near your hotel (in the south of the island) and take you through some beautiful places including Valldemossa and Sóller. And to top it all off, you'll get to savor an excellent traditional lunch.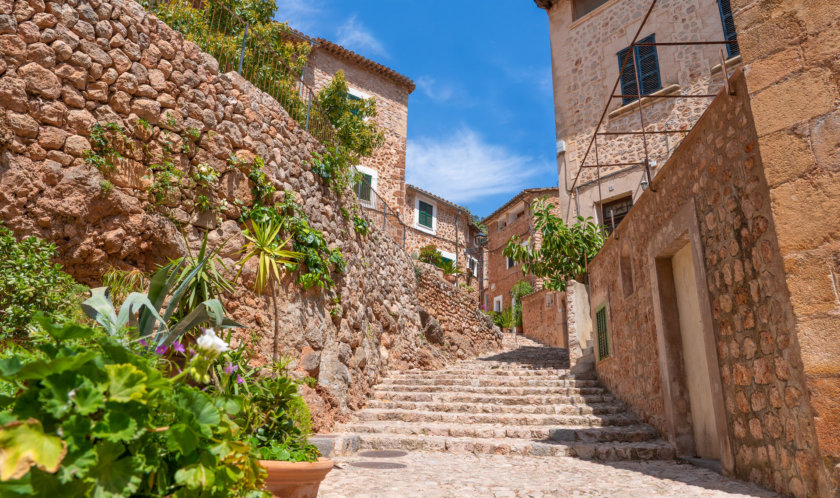 6. Hot air ballooning in Mallorca
Let's continue this Mallorca travel guide with a must-try activity: hot air balloon ride over Mallorca!
The flight lasts only 1 hour and is scheduled at sunrise or sunset for an even more breathtaking experience of the island's landscapes.
The flight lasts for 1 hour and takes place either at sunrise or sunset so that the landscapes are even more spectacular.
As a bonus, a glass of champagne is offered along with photos and videos of your flight.
To book your hot air balloon ride in Mallorca, click the green button below:
If you're looking for couple activities in Mallorca, book a private hot air balloon ride just for you two. Click here!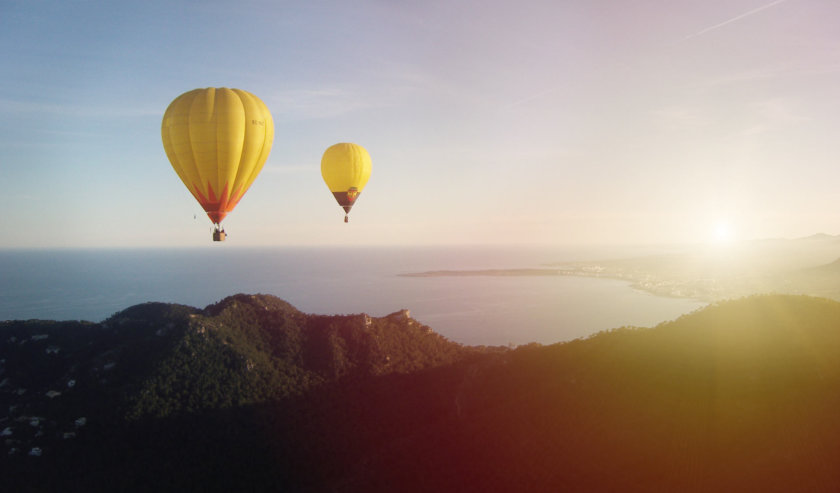 7. The typical villages to visit in Mallorca
Don't miss out on other extremely charming villages in Mallorca besides the stone houses of Serra de Tramuntana:
Sineu, famous for its market every Wednesday morning (more on that below)
Petra for its two old churches and the small square in the center of the village where cyclists stop for a drink
Llucmajor and its nice Plaza de España surrounded by bars and restaurants
Capdepera, a fortified town where you'll find one of the largest castles on the island: Castell de Capdepera.
Arta which features a beautiful historic center with its church and castle to visit.
Manacor where you can visit a pearl jewelry factory and, above all, the famous Rafael Nadal Museum, dedicated to the world-famous tennis player. You can admire the trophies and rackets of the local hero, born in Manacor. Get your tickets here!
Pollença and its beautiful historic center with the Plaza Mayor. For a beautiful view of the town and the church, you should try climbing the "Calvary Steps" that lead to the small chapel.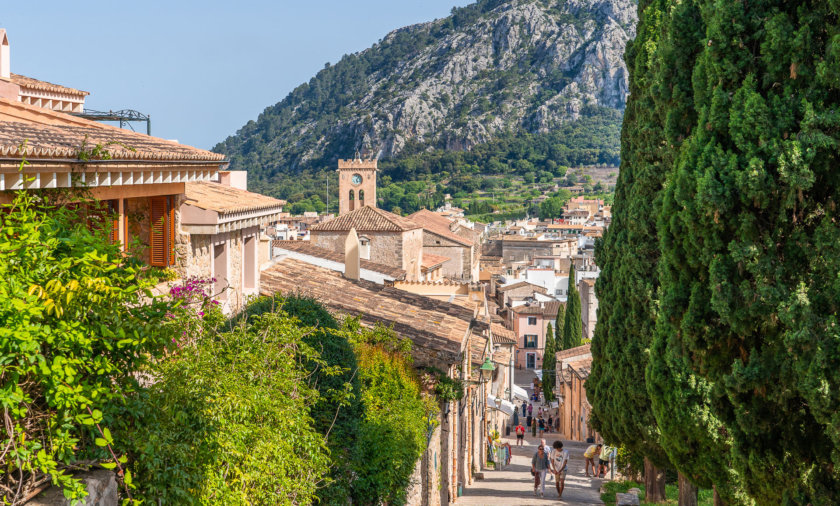 8. Sóller train – Tren de Sóller
If you're looking for a popular tourist attraction in Mallorca, then you can't miss the Sóller train.
It departs from Palma station, located next to Plaza de España, and arrives at the center of Sóller in one hour. On board vintage wooden carriages, you can enjoy the breathtaking views of Serra de Tramuntana and the Mallorcan countryside throughout the journey.
You can find the schedules and fares of the Sóller train on their official website here.
What's also really nice is to combine a train ride with a Sóller tramway trip to Port de Sóller, and a boat trip to Sa Calobra and Torrent de Pareis.
You can book this excursion, with pick-up from most hotels in the south of the island, by clicking on the green button below:

9. The Drach Caves – Coves del Drach
Among the main places of interest in Mallorca, there are many caves, but Coves del Drach are the most famous.
They are located on the east coast of Mallorca, in Porto Cristo.
These caves are known for having Lake Martel, one of the largest underground lakes in the world, and the visit includes a boat tour. You'll also get to attend a classical music concert performed by musicians on the lake!
There is no guided tour, but tours are conducted in groups at fixed hours (10 a.m., 11 a.m., 12 p.m., etc.). The tour lasts about an hour.
You can find all the information on the official website.
Good news for those who don't have a car, you can visit the Coves del Drach through an excursion with pick-up in the south of Mallorca. To book, click here:

10. The Coves dels Hams – "Fishhook Caves"
Another famous place to visit in Mallorca: the Hams Caves, which are also located in Porto Cristo.
Just like the Drach Caves, you'll also enjoy a musical performance on the underground lake and discover impressive stalactites and stalagmites.
The cave is particularly known for housing unique rock formations shaped like hooks, which are called "hams" in Spanish, hence the name!
Tickets to visit the Coves dels Hams in Mallorca can be booked by clicking here:
Voyage Tips - Advice
What to do in Mallorca when it rains?
If you're unlucky enough to experience some rain during your stay, in addition to the Coves del Drach and Coves del Hams, you can also visit other caves: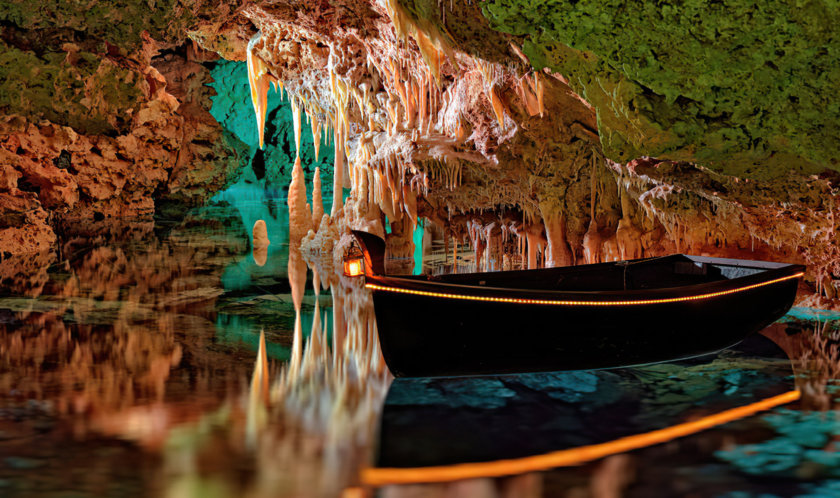 11. Best things to do in Mallorca
I've prepared my selection of the best activities to do in Mallorca for you, which I've divided into 2 categories: land-based sports activities and water sports.
But first, let me start with 2 unusual activities that perfectly blend the two. During your Mallorca trip you should absolutely try:
1) Coasteering: an awesome activity combining abseiling, rock climbing, and cliff jumping. There are only 10 spots per group, so make sure to book well in advance by clicking here!
2) Sea caving: you'll get to swim and explore marine caves and underground lakes in the Cova des Coloms. This is a unique activity in Mallorca that you won't get to do again anytime soon, so go for it!
Book your sea caving adventure by clicking here!
For other activities in Mallorca, I suggest (click on the orange links for more info and to book):
For water sports in Mallorca, consider trying:

12. Parc natural de la Península de Llevant – Hiking in Mallorca
Visiting Mallorca without planning at least a short hike is just not possible.
So, I suggest you go for a walk in the Parc natural de la Península de Llevant, located in the northeastern part of the island. There are 13 different hiking routes ranging from 30 minutes to 1h30 that you can combine if you want to walk longer. All the trails are well-marked.
The landscapes are stunning and offer beautiful views of the sea and mountains.
Along with the Serra de Tramuntana region, the Llevant Peninsula offers the most beautiful hikes in Mallorca.
You can get a trail map at the visitor center, located at the parking lot in S'Alqueria Vella de Baix. If it's closed when you arrive, you'll find a summary board of the walks, also at the parking lot.
Voyage Tips - Advice
To enjoy the park's coastline from the ocean, you can also choose to take a cruise. You'll pass by impressive cliffs, through sea caves, and will also get the chance to swim in small and pretty coves.
The boat trip departs from Alcudia harbor. Find all the information by clicking here!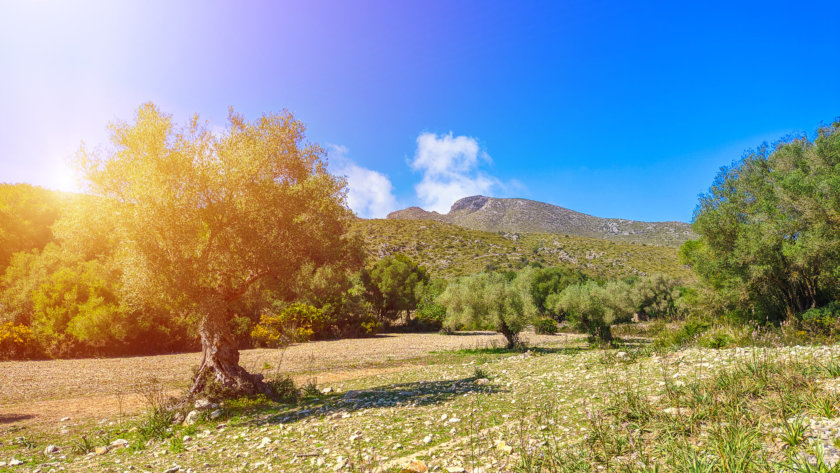 13. Cape Ses Salines and the Lighthouse
To continue with this list of the best things to do in Mallorca, let's head to the Cap de Ses Salines and its lighthouse.
A trail that follows the seaside and starts to the right of the lighthouse gate leads to 2 beaches.
In a 20-minute walk, you'll first reach El Caragol beach, a long wild sandy beach that's perfect for some peace and quiet. An additional 20 minutes and you'll arrive at Cala en Tugores, another peaceful beach, seldom crowded.
Still in Ses Salines, this time starting from Colonia de Sant Jordi, you'll also be able to walk to several lovely white sand beaches surrounded by pine trees:
Dolç beach
Can Curt beach
Es Carbo beach
And finally, Ses Roquetes Beach, the largest one.
Ses Salines is also home to one of Mallorca's most famous beach, Es Trenc Beach, that I've mentioned above.
Voyage Tips - Advice
There isn't a real parking lot at Ses Salines lighthouse, so you'll need to park along the road (about 50 spots available). I recommend not leaving any valuables in your car as when we visited, the ground was littered with glass from broken car windows.
This was the only spot I encountered this issue while visiting Mallorca.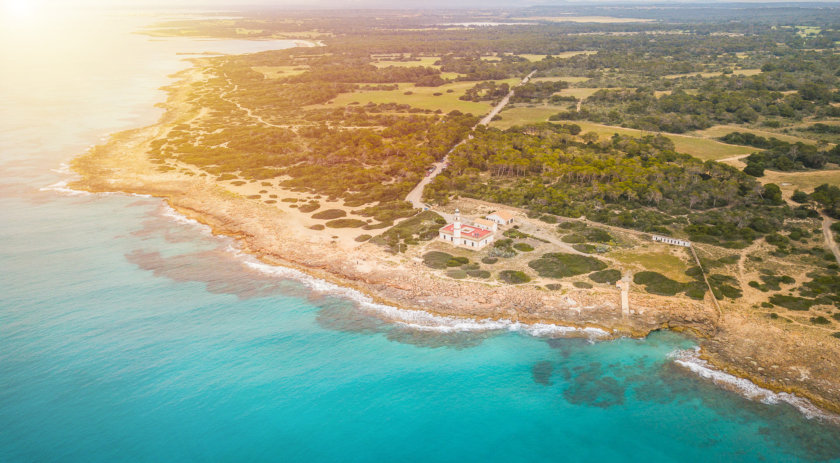 14. The Sineu Market
Let's continue with some tourism in Mallorca by discovering the most popular market on the island, the one in Sineu. It takes place every Wednesday morning.
All around the village's main square, the Sineu market mainly consists of stalls selling clothes, jewelry, and bags. Then head to the church square to find the fruit and vegetable market.
In the middle of all this, you can also indulge in local specialties such as sobrassada, fuet (Catalan cured meat), or some delicious local cheese.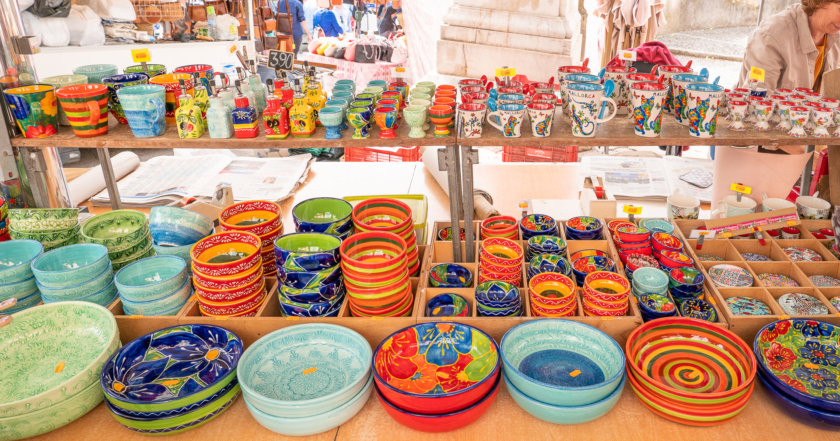 15. Sa Dragonera Island
Sa Dragonera Island is located at the far southwest of Mallorca.
To get there, you'll need to take a boat from the port of Sant Elm or Andratx. In high season (May to early October), there are crossings approximately every 30 minutes, and it takes 20 minutes to reach the island.
But beware, access is regulated and limited to a certain number of people per day.
Sa Dragonera has 4 hiking trails with durations ranging from 30 minutes to 3 hours round trip and all offering stunning views of the surroundings.
However, it's not necessarily the best place to visit in Mallorca if you're afraid of lizards!
Yep, no joke, but the island is home to thousands of these little critters and they're not scared at all. They'll have no problem climbing onto your hand or getting into your belongings.
You've been warned!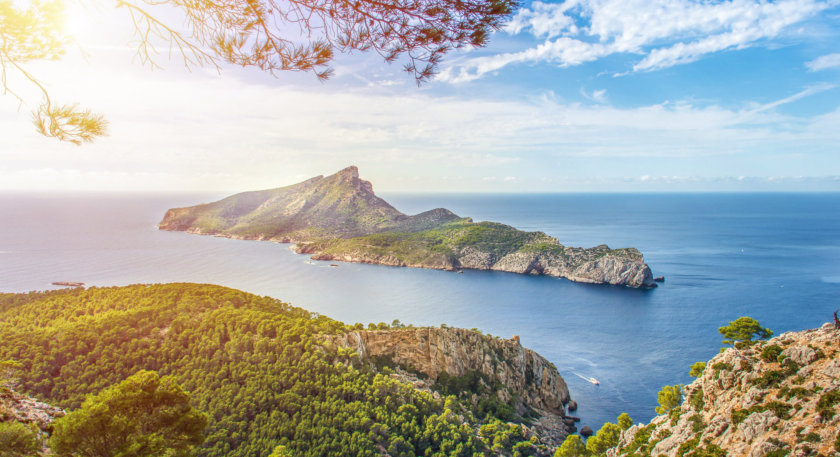 16. Alcudia
If you're planning to visit the north of Mallorca, you should make a stop in Alcudia.
The part of the old town that lies between the ramparts is really super cute and great for strolling.
You'll also find lots of lovely little shops and restaurants there. The most convenient way to visit is to park your car in one of the free parking lots located around the fortifications.
It's also from the port of Alcudia that you can go on a cruise to Cap de Formentor or go dolphin watching.
These boat trips are already on my list of best boat trips in Mallorca, but I'll put the link here again if you want to book:
Voyage Tips - Advice
If you don't have a car and you want to visit Alcudia from the south of Mallorca, you should book this organized tour which includes a visit to the old town, a boat trip to Formentor beach and a bus ride back via the cape.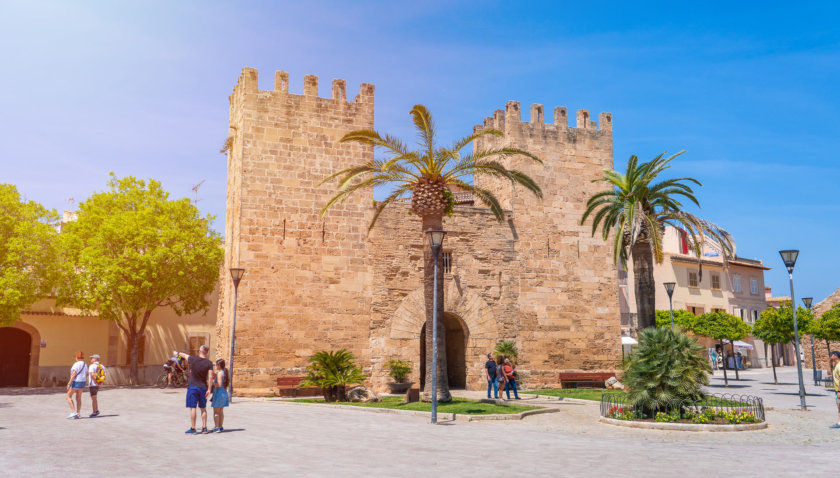 17. Parque natural de Mondragón – Mondrago Natural Park
If you're still wondering what to see in Mallorca, head to Mondrago Natural Park, on the southeastern coast.
You'll need to leave your car in the day parking lot (€6) to reach several coves that can only be accessed on foot (easy access):
The expansive white sand beach of S'Aramador, the most beautiful and picturesque of them all – 10-minute walk
Cala Mondrago, 5 minutes from S'Aramador. Somewhat smaller and less untamed, with a pizzeria and a hotel conveniently located nearby.
Calo des Borgit: by taking the flat and shaded coastal path, it takes 15 minutes from Mondrago to get there.
For me, Mondrago is one of the most beautiful spots in Mallorca. It's so nice to walk through the pine forest to reach the coves and the water is so clear that it's impossible to resist swimming. Why would you?
If you want another great activity in Mallorca, you can try discovering the natural park with a fantastic jet ski excursion.
Click here to book your jet ski excursion at Mondrago Natural Park!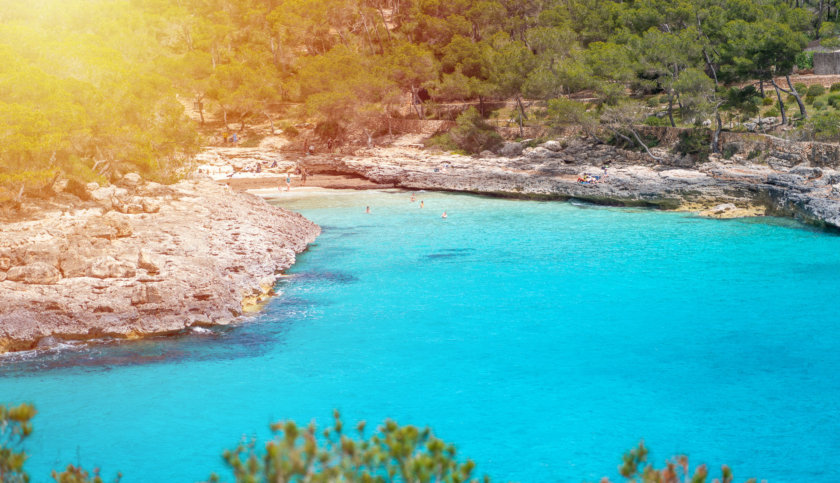 18. Cabrera Island
Cabrera Island is a must-see for tourists visiting Mallorca.
Located in the south of Mallorca and classified as a terrestrial and marine national park, the island is home to many endemic plants of the Balearic Islands as well as various bird species.
Since access is limited to just 200 people per day, it's essential to book a tour in advance to go there.
Most boats take off from Colonia de Sant Jordi, but don't worry if you're staying in Palma – there's a tour from there too! (Click here for more info).
While on Cabrera Island, feel free to check out any of the 9 hiking trails that'll lead you to the gorgeous beaches or the stunning Cabrera Castle, where you'll find an amazing panoramic view.
On the way back, the boat also stops by the Blue Cave, Sa Cova Blava, where the deep blue water reflects on the walls.

19. Jardines de Alfàbia – Alfabia Gardens
Alfabia Gardens are among the most visited tourist sites in Mallorca.
They're located on the road between Palma de Mallorca and Soller, in the heart of the Serra de Tramuntana.
On-site, you can take a lovely stroll through the well-maintained lush gardens, relax on the terrace of the small café by the pond surrounded by tall palm trees, and visit the interior of the stately home.
The setting is truly peaceful and enjoyable.
Entry tickets for Alfabia Gardens are available by clicking here!
At the entrance of the site, you can also scan a QR code to download the gardens' guide.

20. Parc natural de S'Albufera des Grau – S'Albufera Natural Park
When visiting Mallorca, especially the northern part of the island, don't hesitate to stop by S'Albufera Natural Park.
The largest wetland area in the Balearic Islands is home to numerous migratory birds such as the purple heron, the vascon, and the black-winged stilt, making it a perfect spot for birdwatching enthusiasts.
You can only explore the park on foot or by bike, and it features 4 marked trails.
Make sure to swing by the visitor center where you can pick up your free entry ticket and get information on the bird species to look out for depending on the season. You can also borrow binoculars from them.

21. Mallorca's water parks
Wondering what to do with your family in Mallorca or looking for a change of scenery from the beach while staying cool?
Why not enjoy a day at one of the island's awesome water parks!
The largest and most well-known park is Aqualand El Arenal, located on the road past Mallorca's airport. Featuring slides, lazy river rides, a wave pool, and a kids' area, there's fun for everyone to dive into.
To skip the line at the ticket booth, you should book your entry tickets by clicking on the button below:
On the other side of Palma, in Magaluf, you'll also find the popular Western Water Park (grab your tickets here!).
In the north of Mallorca, the only water park is Hidropark Alcudia (tickets available here!).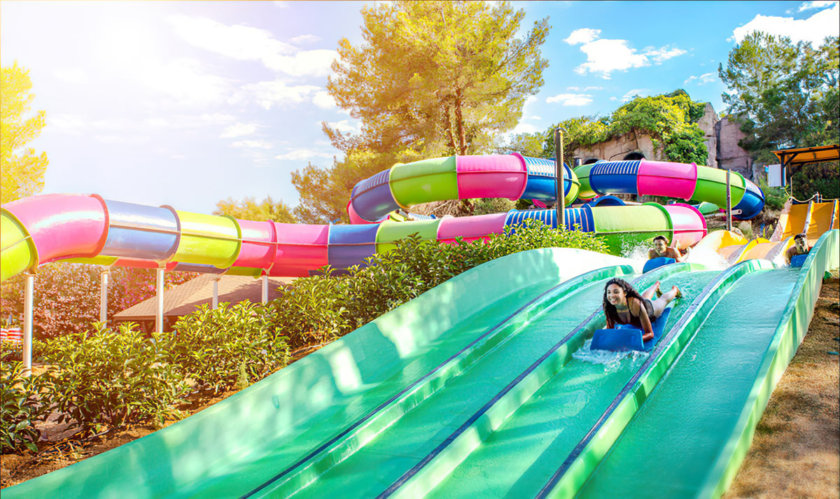 22. Exploring Mallorca by bike
Touring Mallorca by car is cool, but a lot of folks opt for biking around the island instead.
To be honest, it can be a fantastic way to uncover some of Mallorca's most stunning places, provided you have the leg power for it. When you come across cyclists taking on the Serra de Tramuntana, it's hard not to be amazed! 😅
Here are some handy tips for exploring Mallorca by bike:
Many roads have dedicated cycling signs or bike lanes
You'll find bike rental shops all over the island
A number of hotels provide bike storage facilities
I recommend purchasing the map provided by Mallorca Bike, which includes routes and elevation profiles. You can find it at tourist offices and bike rental agencies.

23. Discovering Mallorcan Cuisine
Here are some examples of delicious local dishes you must try in Mallorca:
Sobrassada: a typical Balearic Islands sausage. The spiciness of this pork sausage varies based on the amount of paprika used in the seasoning.
Ensaïmadas: this spiral-shaped pastry sprinkled with powdered sugar is a traditional Mallorcan dessert. You can also find them stuffed with cream or chocolate, or even in a savory version featuring sobrassada.
Empanadas and cocarroi: pastries stuffed with a variety of fillings
Cocas de patata, a specialty from the village of Valldemossa, resembling small buns made with potatoes, eggs, and sugar. Indulge in these delights with a cup of hot chocolate for a truly authentic and scrumptious experience!
Lechona or porcella, a spit-roasted suckling pig
Arros brut: a dish with rice, vegetables, and meat
Arros de peix: the fish-based version
Pa amb oli: bread rubbed with olive oil, tomato, and garlic
Conill amb ceba: a mouthwatering dish of rabbit and onions
Tumbet: fried vegetables (eggplant, zucchini) covered in tomato sauce
Tapas: since we're in Spain, tapas are definitely a must-try!
Voyage Tips - Advice
Wrapping up with a selection of activities related to Mallorcan cuisine that should pique your interest:

Best things to do in Mallorca: the tourist map
To help you get a better idea of the island, I've created a tourist map of Mallorca featuring the places to visit mentioned in this top 23 list of the best things to do in Mallorca. You can display the map legend by clicking the button with a small arrow at the top left corner.
Rent a boat in Mallorca
If you want to rent a boat for a nice day at sea during your stay in Mallorca, you should book it with Samboat.
Motorboats, sailboats, yachts, small boats without a license, with or without a skipper: they simply have the most complete offer for boat rental!
So, what are you waiting for to book your boat trip in Mallorca? 😊
And you, what places of interest are tempting you for your trip in Mallorca?
Book your trip now and save money!
You're traveling to Mallorca? These articles will help you !
Discover all my articles about Mallorca and the Balearic islands: All my articles to help you plan your trip to Mallorca are listed there.
Mallorca
You're using Pinterest? Here is the picture to pin!