The Best Itinerary for 10 days in Mallorca
You're planning to spend 10 days in Mallorca for your next trip?
Great idea!
In order to help you plan your stay, I have prepared for you this 9-10-11 days itinerary in Mallorca.
In this itinerary, you will visit Palma de Mallorca, the Serra de Tramontana, but also Alcudia and the Cap de Formentor.
Of course, you will also discover the most beautiful beaches and coves the island has to offer, so don't forget your swimsuit and sunscreen for a bit of sunbathing at Cala del Moro, Es Trenc beach, or Cala d'Or.
In addition to the must-see attractions for each stage of your itinerary, I will also give you all my best tips and accommodation suggestions depending on your budget.
So, what are the best things to do in Mallorca in 10 days? Where to stay?

Let's find out!
1) Palma de Mallorca and its surroundings (6 days)
Day 1 – Arrival and visit of Palma
To explore Mallorca in 10 days, you'll most likely land at Palma de Mallorca, the main city, located in the south of the island. You can get there by plane or ferry. I'll explain how at the very end of this article, in the "Getting to Mallorca" section.
Car rental is without a doubt the ultimate choice for your 10-day circuit in Mallorca. You should use the great services provided by Rentalcars.com to compare rental rates from a variety of esteemed companies at both the airport and the port of Palma.
If your credit card lacks insurance coverage, to steer clear of costlier on-site options from the rental company, you can select Rentalcars' full protection insurance during the booking process. This will allow you to be reimbursed for expenses in case of problems, accidents or theft.
Once you have your dates locked in for your 10-day getaway in Mallorca, my top recommendation is to secure your car rental without delay to ensure availability and secure the most favorable rate. Remember, you can always modify or cancel your booking later on.
Click the button below to compare prices right away: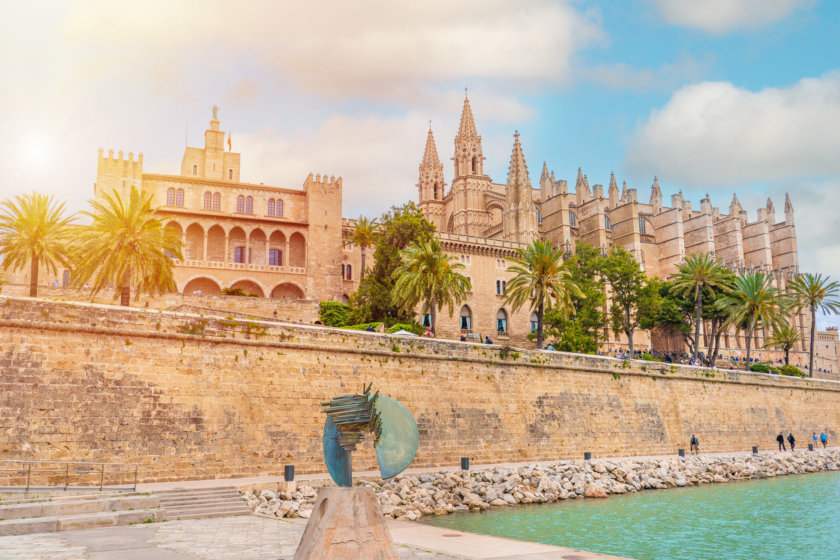 On the first day of your splendid holiday in Mallorca, take a moment to explore this delightful walking route, guiding you through the enchanting historic center of Palma:
1) Start at the covered market of l'Olivar where you'll find stalls offering local Mallorcan products like sobrassada, charcuterie, and many types of cheeses.
Next, make sure to take a leisurely stroll through the vibrant shopping street of Carrer Sant Miquel until you reach the iconic Plaça Mayor. From there, continue your exploration by following Carrer del Colom which will lead you straight to the charming Plaça Cort, where you'll find Palma's city hall.
3) Check out the Santa Eulalia square and its church.
Be sure to include a visit to the magnificent Palma de Mallorca Cathedral during your exploration. This awe-inspiring architectural marvel is one of the largest religious monuments in all of Spain. The interior is also home to the largest Gothic rose window in the world, adding to the cathedral's undeniable allure.
As the cathedral is the most visited monument in Palma, you should buy your skip-the-line ticket in advance by clicking on the button below. It's exactly the same price as at the ticket counter and you won't have to wait in line: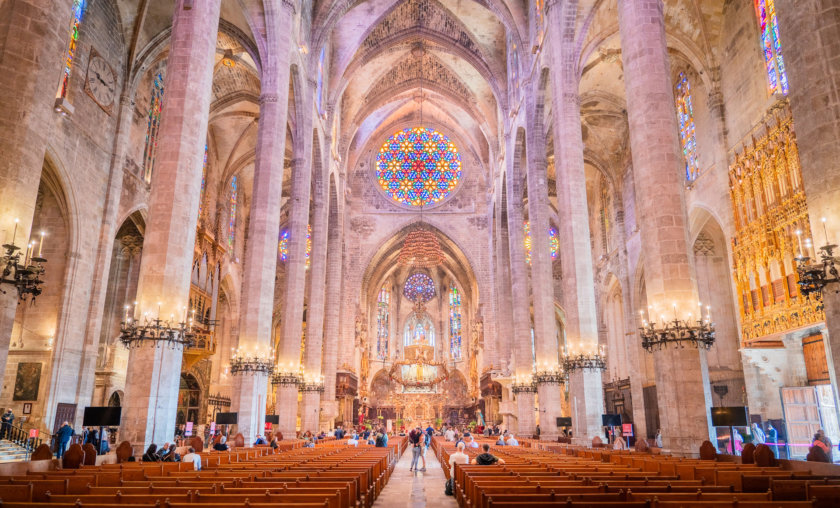 5) Make your way to the awe-inspiring Royal Palace of La Almudaina, which proudly holds the place as the second must-see monument in Palma.
Here too, purchasing a skip-the-line ticket is the best solution to avoid waiting in line:
6) Next, head to the best photo spot in Palma: the Parc de la Mar. Located just below the cathedral and the palace, this is where you can snap the picture you see on the city's postcards.
Just be aware of pickpockets who are quite common in this area!
For more places to explore in Palma de Mallorca, there are several options to suit your interests:
The Mallorca Museum
The Arab Baths (Banys Arabs) 
The Monti-Sion Church (La iglesia de Monti-sion)
St. Francis Basilica (Basilica de Sant Francesc)
You'll soon discover that Palma is truly the picturesque gem of Mallorca, perfect for a 10-day visit. If you're in the mood, take some time to explore the abundance of charming boutiques located in the historic old town, adding a touch of shopping pleasure to your experience.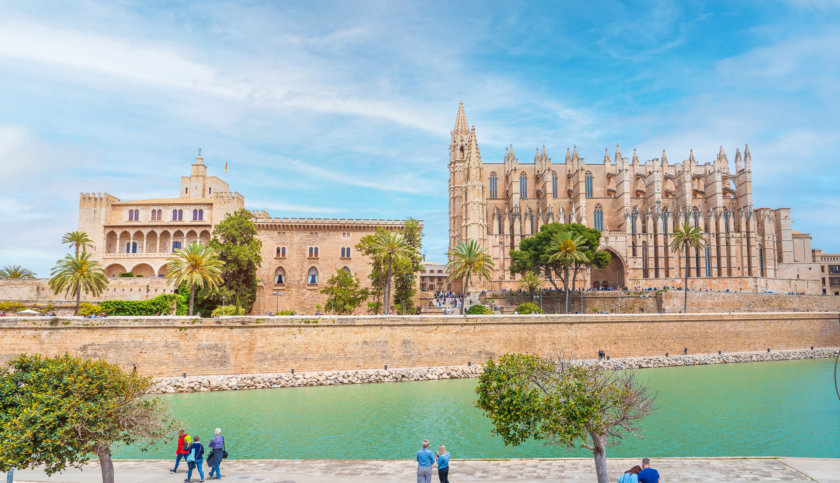 To end your day on an exhilarating high, why not embark on a thrilling boat excursion? This will give you a chance to admire your first sunset on the island from a majestic catamaran.
But that's not all! The program also features a swim stop, buffet dinner, and onboard DJ with music to keep the fun going.
For information and booking your sea ride, click the green button below:
Stay the night in Palma.
For even more details, have a go at my dedicated article: Visiting Palma de Mallorca – The Ultimate Guide.
Voyage Tips - Advice
If you're interested in adding a guided tour of Palma to your itinerary, whether on the first day or later, you should check this link out: (click on the orange link to book):
Where to stay in Palma de Mallorca
Here is my selection of the best places to stay in Palma de Mallorca, tailored to suit your budget.
You need to click on the orange name of the hotels for more information and to make your booking.
And if you can't find what you're looking for, don't hesitate to ask for advice in the comments, indicating your travel dates and preferences. I would be more than happy to assist you in finding the perfect hotel!
And if you're looking for the best 5-star hotels in Palma de Mallorca, you should have a look at the following hotels:
Hotel Victoria Gran Meliá: located right in front of Palma's harbor. Double room starting at €270, breakfast for €29. Strong points: the great location, the sea view, and the amazing staff.
Nixe Palace:: located right next to Cala Major beach, this 5* hotel offers cozy double rooms with a balcony and sea view from €300 per night, breakfast for €24. Strong points: the setting with the stunning sea view, the excellent breakfast and the direct access to the beach. My recommendation for a high-end stay in Palma!
Hotel Antigua Palma – Casa Noble: this superb luxury hotel is located in the heart of the old town, just 100 meters from the cathedral. Stay in sumptuous, elegantly decorated rooms, from €450 per night, breakfast included. Strong points: The amazing spa with hammam and indoor pool, the tranquility, the particularly attentive staff and the rooftop. The best hotel in Palma for a luxury stay!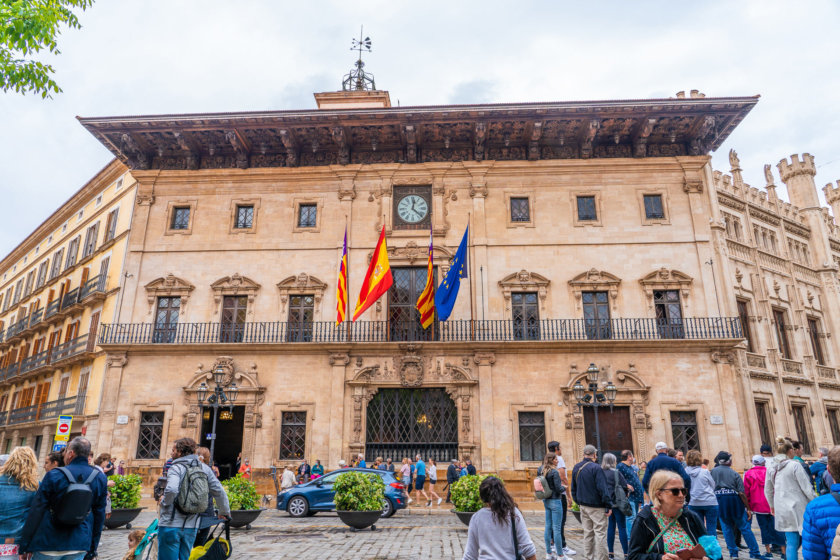 Day 2: The most beautiful beaches in Southern Mallorca
For the second day of your 10-day Mallorca road trip, you'll get to explore some of the most stunning beaches of Mallorca.
The plan's simple: relax, sunbathe on the fine sand, and take a dip in the crystal-clear water! Discover below my compilation of the best beaches and charming coves that are nestled together in the southern region of the island. It's up to you whether you want to visit several throughout the day or stick to just one.
We start with the beaches of Cap de ses Salines, which you can reach by car, an hour from Palma. Head to the Ses Salines lighthouse, where you can park your car along the road and continue on foot by taking the path to the right of the lighthouse.
Following the coastline, you'll reach the long, untamed, and pretty calm beach of El Caragol in 20 minutes. For those seeking an even more tranquil and secluded spot, venture onward for another 20 minutes, and you'll discover the delightful beach known as Cala en Tugores.
Pack everything you'll need for the day (water + picnic) as there are no bars/restaurants, nor restrooms.


If you're more into beaches with a bit more activity and easy access, make your way to the delightful seaside town of Colonia de Sant Jordi, located between Palma and Ses Salines. Here, you'll find the famous Es Trenc beach, a must-visit spot that has made its way into all the guidebooks.
With its crystal-clear turquoise waters and picturesque pine tree-lined shores, there's no doubt that Es Trenc beach is one of the most stunning destinations to explore during your 10-day Mallorca getaway!
Once at Colonia de Sant Jordi, you can also relax on the pretty beaches of: Des Dolç, Can Curt, Es Carbo, and Ses Roquetes.
As the late afternoon sets in, while returning to Palma, make a pit stop at the village of Llucmajor. You'll find a bunch of bars and restaurants around Plaça d'Espanya and throughout the lively pedestrian area.
Then head back to spend another night in Palma.
Voyage Tips - Advice
Access to Ses Salines can only be made by car. However, you can get to Es Trenc beach from Palma by a shuttle (operates only during the tourist season). You can book it by clicking here!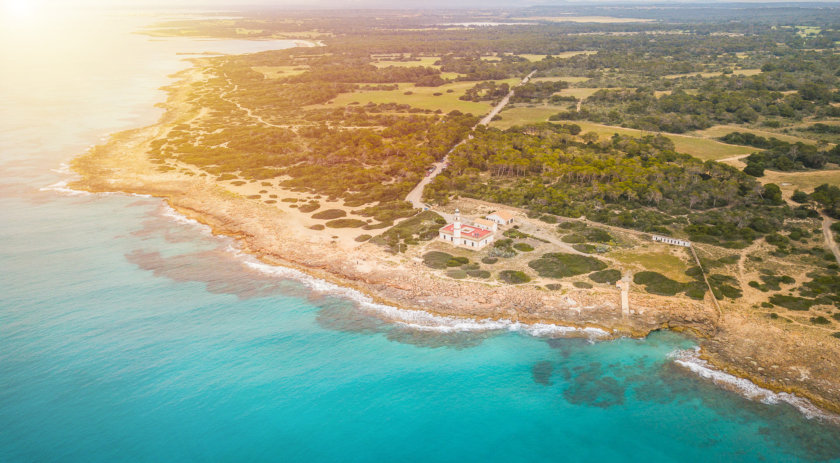 Day 3 – Sineu Market / Famous caves / Beaches and coves
On the following day of your 10-day Mallorca itinerary, I highly recommend paying a visit to the island's most prominent market, which takes place every Wednesday morning* in the village of Sineu, situated just approximately a 40-minute drive away from Palma.
*Of course, if this third day doesn't fall on a Wednesday, you can swap it with any other day.
The market stalls, mostly clustered around the main square, offer a wide range of goods including clothing, bags, jewelry, local crafts, and fruits and vegetables, especially the stalls that are near the church.
After exploring the vibrant Sineu market, make your way to two other iconic destinations that are a must-see during your 10-day Mallorca adventure: the Hams caves and the Drach caves
These are the 2 most famous caves in Mallorca and they're both located in the municipality of Porto Cristo, 40 minutes from Sineu. There's no need to visit both as they're pretty similar. So, the choice is yours!
Whether you opt for the Hams caves or the Drach caves, both offer stunning chambers filled with stalactites and stalagmites. You'll also have the chance to marvel at a vast underground lake and enjoy a mesmerizing concert on the water performed by talented musicians.
To visit the Drack caves, or Coves del Drach, you can click here.
For the Coves dels Hams, you should also book your tickets in advance online, by clicking on the button below:
Voyage Tips - Advice
If renting a car is not your preference, you can still explore the wonders of Mallorca by joining an excursion that includes visits to the Hams caves, the Drach caves, and Porto-Cristo. The excursion includes transportation and the services of a guide.
You can get the information by clicking on the button below: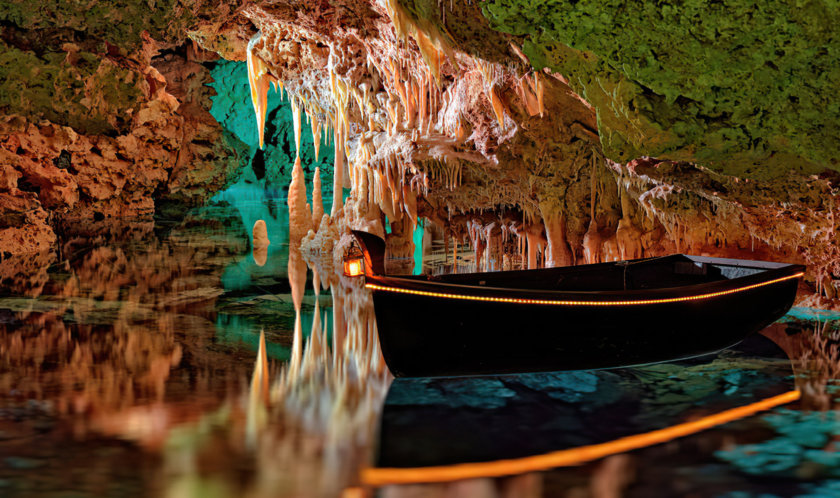 As you move into the afternoon, you'll have 2 options:
For those who enjoy walking in tranquil surroundings and taking refreshing swimming breaks, you should absolutely embark on the 4-cove hike.
The trail starts 15 minutes drive from Porto Cristo, at Finca Can Roig. True to its name, the 4-cove hike takes you on a journey to explore four picturesque coves : Cala Bota, Cala Virgili, Cala Pilota, and Cala Magraner.
I wasn't particularly impressed with Cala Bota, which I found quite ordinary. So, I'd suggest you skip it and head directly to Cala Virgili. It's the prettiest in my opinion.
From Cala Virgili, you can either take the main trail or cut across the rocks (which is what I did), along the coast, to check out Cala Pilota. From there, you can return to the main path and continue towards Cala Magraner, the largest of the four coves.
If you have a fondness for untamed and isolated landscapes, this hike is an excellent option for you. Don't expect extraordinary coves along the way. Despite that, the hike offers a pleasant setting with its picturesque cliffs and crystal-clear waters.
For the second option, if you lean towards well-developed beaches and prefer a more relaxed experience with sun loungers and umbrellas available for rent, Cala d'Or is the perfect destination for you.
Just a 30-minute drive from Porto Cristo, this resort town has some really pretty little sandy beaches with turquoise waters, all nestled in fjord-like inlets. Among my favorites, you'll find: Cala Esmeralda, Cala Gran, Cala Petita, and Calo d'es Pou.
You'll find souvenir shops and restaurants, making it a convenient option to grab dinner before heading back to Palma for a restful night.
Voyage Tips - Advice
On the way between Sineu and Porto Cristo, tennis lovers can make a pit stop at Manacor where they'll find Rafa Nadal Museum Experience. As its name suggests, it's a museum dedicated to the global tennis superstar who was born in this village.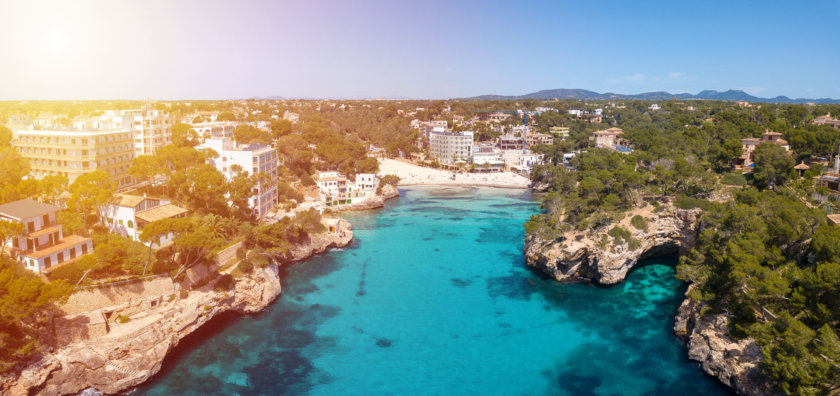 Day 4: Southeast Mallorca and its coves
On this 4th day of your 9-10 day Mallorca trip, I recommend venturing out to explore some of the most breathtaking swimming coves the island has to offer.
Head to the southeastern part of the island and be amazed by the stunning Calo del Moro, a famous cove known for its turquoise water and rocky shores. This picturesque spot has been immortalized on a bunch of postcards found in souvenir shops.
If you don't find pleasure in taking a dip at this remarkable cove, I'm not sure what else will delight you, as the setting is truly magnificent. However, it's more of a rocky beach.
Since you're at Calo del Moro, I also recommend the short walk that leads to Cala S'Almunia and its quaint fishing huts.
Included in the collection of famous coves in the vicinity, you'll also find:
Cala Llombards: a more family-friendly beach with shallow water
Cala Santanyi, which offers a delightful experience with its picturesque setting embraced by towering rocky walls. You can stroll along the left side of the beach.
For lunch, I recommend making your way to Cala Figueras. This charming fishing port is adorned with several restaurants, each with terraces that provide a lovely view of the sea.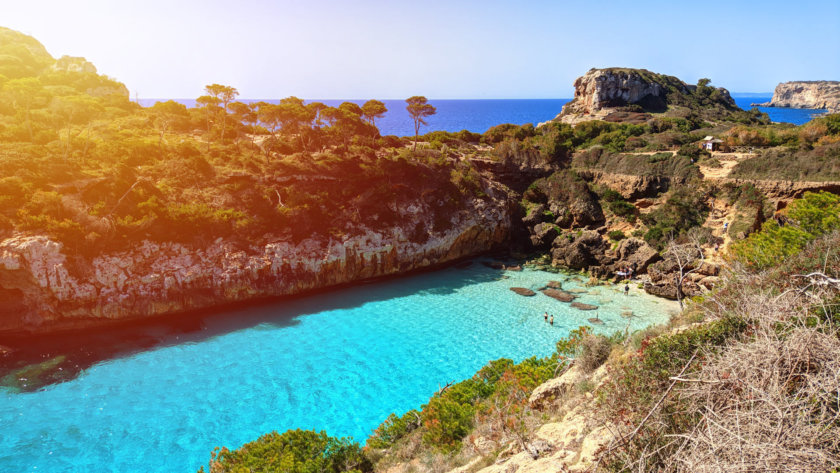 As the afternoon unfolds, we proceed with our exploration of some of the most stunning coves to visit during your 10-day Mallorca itinerary. And here's the perfect part: there are three superb coves, all located in the same place: Mondrago Natural Park.
From Cala Figuera, it's just a 15-minute drive to the park's parking lot (€6 per day).
Follow the trail winding through the pine forest for 10 minutes and you'll reach a stunning sandy beach with crystal clear water: S'Aramador.
I suggest resisting the urge to immediately lay down your towel and jump in the water, and instead first check out the other 2 coves of Mondrago:
Cala Mondrago, where you'll find the stunning turquoise water again! It's just a 5-minute walk from S'Aramador
Calo des Borgit: to reach this tiny cove, take the shaded path along the sea for 15 minutes from Mondrago.
Now it's time to pick your ideal spot to relax and enjoy the rest of your laid-back day.
Then head back to your hotel in Palma de Mallorca.
Voyage Tips - Advice
If you're looking to add some excitement to your day, you should embark on the jet ski tour available at Mondrago Natural Park.
You can find all the details for a reservation by clicking the button below 👇: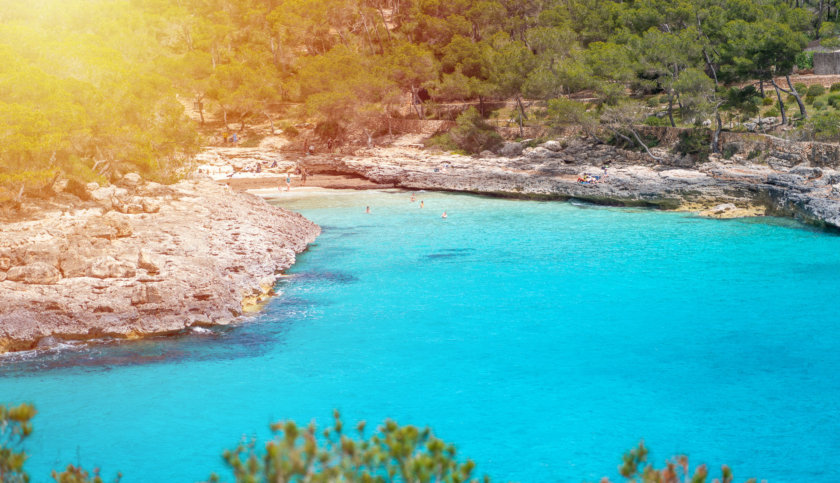 Day 5: Southwest Mallorca
Today's schedule for this 10-day itinerary in Mallorca is focused on exploring the best must-see landmarks in the southwest of Palma.
Head over to Sant Elm, a 50-minute drive from Palma, where you can catch a boat that will take you to Sa Dragonera Island. The crossing only takes 20 minutes and boats depart every 30 minutes.
Due to its status as a natural park, access to the island is restricted to a specific daily quota of visitors. To ensure your visit, you can simply make advance reservations or just be the first there in the morning.
Upon reaching Sa Dragonera, you will have the opportunity to admire breathtaking panoramic views on its four hiking trails. Walking times range from 30 minutes to 3 hours round trip.
During your stroll, you'll soon discover that the island is inhabited by a multitude of fearless lizards that may occasionally find their way into your backpack. Keep that in mind if you're not exactly comfortable with these little critters.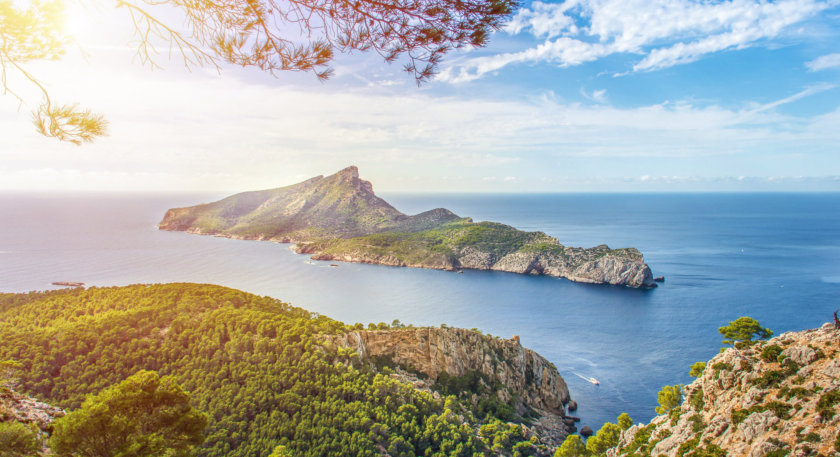 Take your time exploring Sa Dragonera before returning to the boat.
For the rest of the day, you can drive along the coast, passing through Magaluf where there's a large sandy beach and loads of shops, and Portals Nous, a harbor housing lots of yachts and upscale restaurants and boutiques.
Art enthusiasts will love paying a visit to the Pilar and Joan Miro Foundation located in the former home of the famous painter and sculptor, in Cala Major. You can purchase your tickets by clicking here!
To end your day on a high note, don't miss the visit to Bellver Castle perched on the heights of Palma de Mallorca. With its circular shape, the architecture is truly unique.
The interior also houses a museum showcasing the history of Palma, which I found very interesting.
Return to Palma for the night.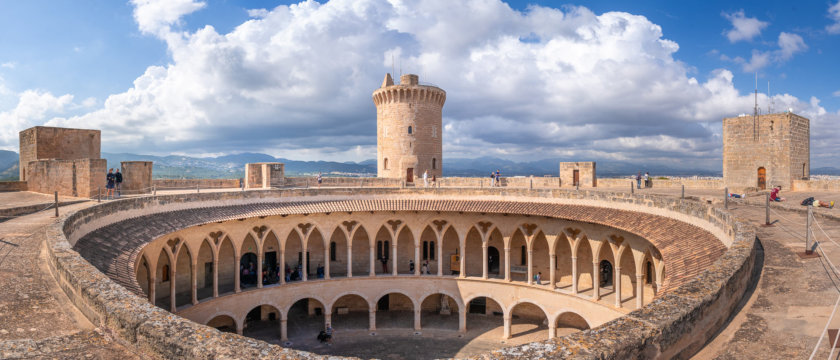 6th Day: Choose Your Own Adventure
For this last day around Palma, you've got plenty of options.
If you're on this 10-day trip to Mallorca with kids (or even without!), for example, you can go visit the Palma Aquarium(skip-the-line tickets available here) or spend the day at Mallorca's largest water park: Aqualand El Arenal.
To skip the line at the ticket booth, you should book your entry tickets by clicking on the button below:
There's also another activity I absolutely loved and I really recommend you: the quad bike tour. I've done quad biking a few times but this trip is tops because you're mostly taking off-road dirt tracks.
The tour, which lasts about 3 hours, is super, and so is the guide.
However, it's mandatory to book in advance. You can find all the details by clicking on the button below:
In the same vein, there are also buggy excursions or sports car tours.
I've listed all the possibilities a bit further down in the article, in the section "Other activities to do in 10 days in Mallorca".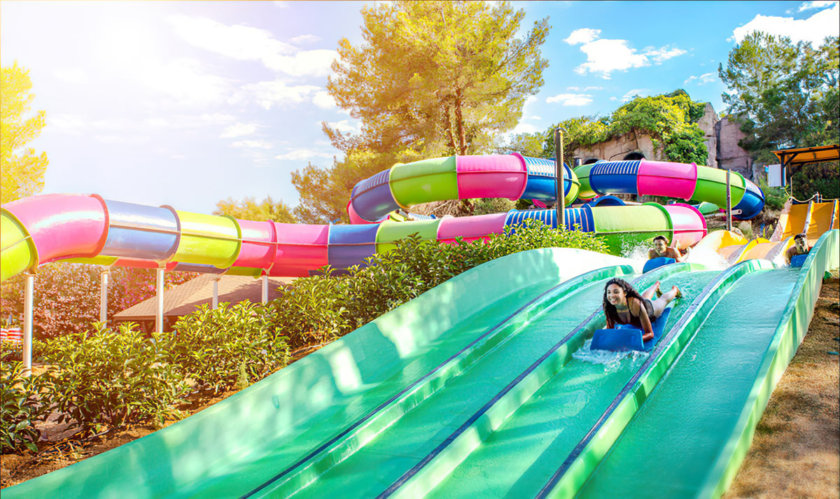 2) Visit northern Mallorca (3 days)
For the second step of this 10-day trip in Mallorca I suggest you head to the north of the island, specifically Alcudia, where you'll spend the next few nights.
7th Day: The Serra de Tramontana
To make your way from Palma to Alcudia, I highly recommend taking the scenic route that winds through the breathtaking Serra de Tramontana, a mountainous region that has been recognized as a UNESCO World Heritage site.
You'll drive drive through quaint, picturesque villages adorned with beautiful traditional stone houses. These are some of the must-visit gems during your 10-day Mallorca adventure: Valldemossa, Deià, Soller, and Fornalutx.
You can wander through the cobbled streets lined with shops and cafes.
From Fornalutx, head next to Sa Calobra where you can discover a rather unusual place: the Torrent de Pareis. This narrow valley at the bottom of a canyon with a small pebble beach is only accessible on foot through two tunnels carved into the mountain.
I recommend checking it out because it's worth the detour, even if you don't feel like swimming.
After Sa Calobra, the Serra de Tramontana road also passes by the Lluc Monastery which you can visit for €5.
Finally, just before arriving in Alcudia, you'll pass through the lovely village of Pollença. Don't hesitate to stop and wander through the historic center and climb the steps leading to the small chapel to enjoy a wonderful panorama of the church and the village.
Spend your first night in Alcudia.
Voyage Tips - Advice
Do remember to bring some change because both the villages parking lots and Sa Calobra have parking fees, and most of them only take coins.
The road that runs through the entire Serra de Tramontana is narrow, winding, and very busy, with both cars and many cyclists. So you need to be extra careful and drive safely. If you're prone to car sickness, I'd also advise you to prepare yourself, as there are quite a few bends! 😅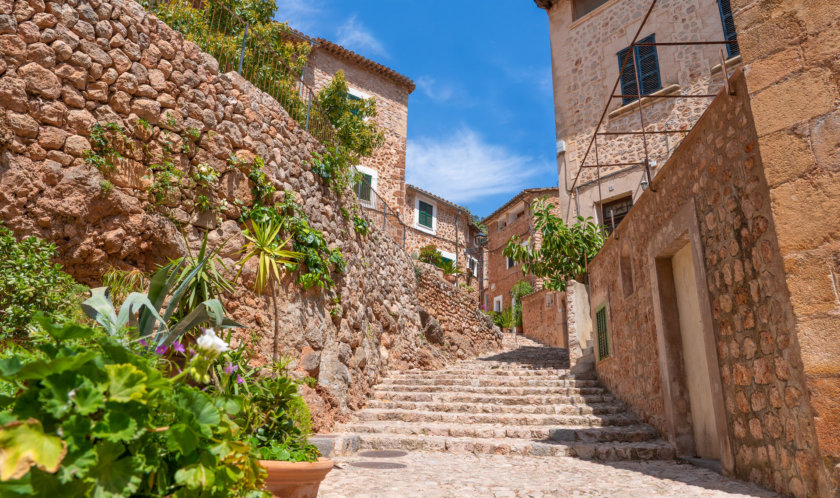 Where to stay in Alcudia?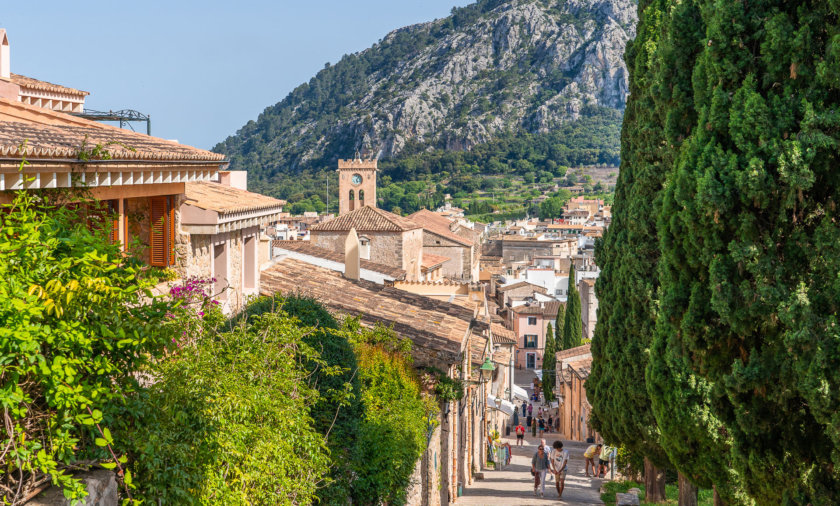 8th day – Tour of Cap de Formentor + Alcudia
Spending 10 days in Mallorca without seeing Cap de Formentor would be a shame! That's my suggestion for how you can make the most of your eighth day of vacation.
From Alcudia, it'll take you about 20 minutes to reach the only road that runs the entire peninsula. It will allow you to admire the numerous (and vertiginous!) views of the steep cliffs and the sea below.
Here's a list of must-visit spots along the road to Cap de Formentor (in chronological order):
El Mirador Es Colomer, the most famous viewpoint that offers a stunning view on both sides of the cape.
La Talaia d'Albercutx, which you must reach on foot. This old watchtower also offers a superb panorama over Formentor
The beach of Formentor, where you can take a swim break
The cove of Cala Figuera, if you're looking for a quieter place to swim. Due to its exclusive pedestrian access, it's way less crowded.
The Formentor lighthouse*, the last place to see as it's at the very end of the road.
*If you've planned to embark on this 10-day road trip in Mallorca during the summer season, specifically between June 15 and September 15, it's important to note that driving up to the lighthouse is not permitted.
The road is theoretically blocked from Formentor beach onwards. I say "theoretically" because in fact nothing prevents you from passing, but if you do so, you'll have the unpleasant surprise of receiving a fine of €80 a few weeks later…
To avoid that, you need to leave your car in the paid parking lot at the beach and take the shuttle buses that run between the two. It's also possible to go on foot or by bike.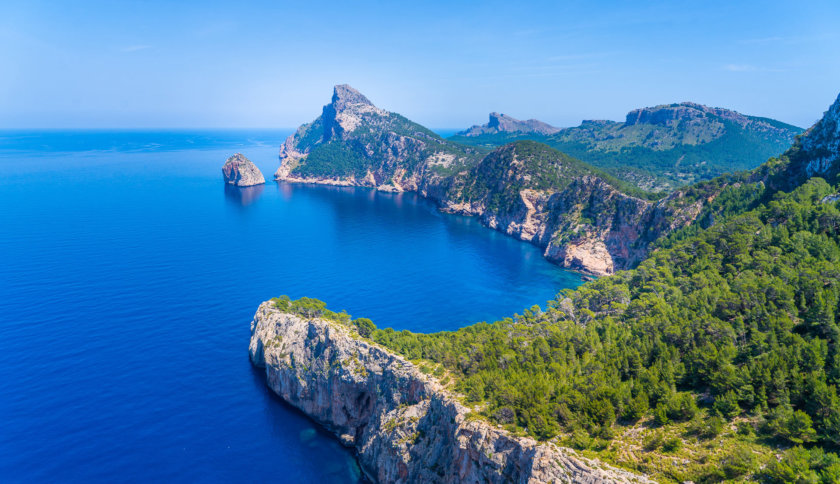 Conclude your trek around Cap de Formentor and make your way back to Alcudia, where I highly recommend you amble around the old town. Enclosed by its antiquated walls, it's just the ticket for a relaxing walk.
And, of course, as any respectable old town does, it's full of cozy cafés and cute little shops.
And for a chill end to the day, let's make a beeline for Muro beach, which you'll have no trouble finding since it runs along the bay for miles on end. It's one of the longest beaches you'll come across on this 10-day tour of Mallorca.
Then spend a second night in Alcudia.
Voyage Tips - Advice
Just a heads-up, the Formentor road is narrow and gets pretty busy (cars + cyclists included). Parking spots fill up quickly and then folks start parking along the road, making crossings near impossible.
Accidents can happen in a blink (we witnessed one during our visit). If you're not comfortable driving your rental car there, you can opt for an excursion departing from Alcudia. You can hop on a scenic bus that takes you around the Cape.
It'll then drop you off at Formentor beach for an hour, and a boat will come to pick you up for a mini-cruise at the foot of the Cape.
All the info you need is available by clicking on the button below/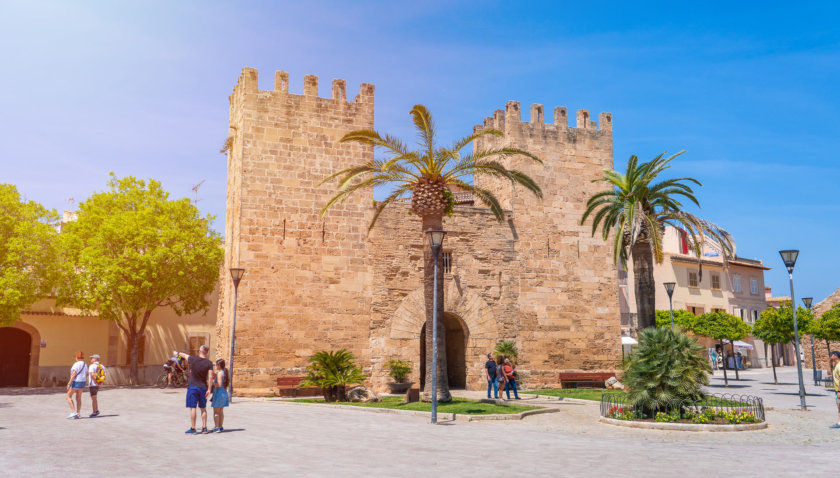 Day 9 – Peninsula de Llevant + The most beautiful beaches in the east
This morning, as you continue your 9-10 day itinerary in Mallorca, I suggest you explore the northeast of the island.
Let's first head to the natural park of the Peninsula de Llevant, located 40 km from Alcudia. Nestled between the sea and the mountains, this park is undeniably one of the most stunning hiking destinations on your 10-day Mallorca adventure.
There are 13 hiking trails, ranging from 30 minutes to 1h30, and you can mix and match to create a longer walk.
The map is displayed on a sign near the parking lot, but you can also find it at the information center, conveniently located next to the parking lot, open from 9am to 4pm.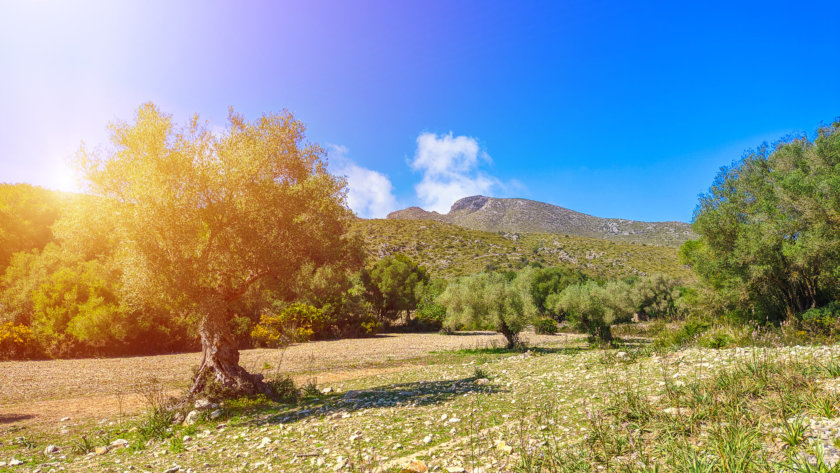 And since the second-to-last day of your 10-day Mallorca getaway wouldn't be complete without an afternoon spent at the beach, here's a curated list of the most breathtaking coves along the northeast coast.
If you're looking for a stunning stretch of beach with wide sandy shores, surrounded by dunes and pine trees, I highly recommend paying a visit to Cala Mesquida.
If you prefer coves, and don't mind a little hike, to the left of Cala Mesquida, you can take the trail leading to four beautiful coves:
Cala Torta, a 25-minute walk
Cala Mitjana: + 15 min from Torta
Cala Estreta: + 5 min from Mitjana
Cala Es Matzoc: + 25 min from Estreta
The first two are real sandy beaches, the other two, are a bit rockier.
South of Cala Mesquida, you can also get to 2 other beaches by car:
Cala Gat: a gorgeous small cove with turquoise waters in the resort town of Cala Ratjada, not far from the Capdepera lighthouse (which you can take advantage of to visit – accessible by car).
Cala Agulla, a really pretty sandy beach surrounded by pine forest.
Spend one more night in Alcudia.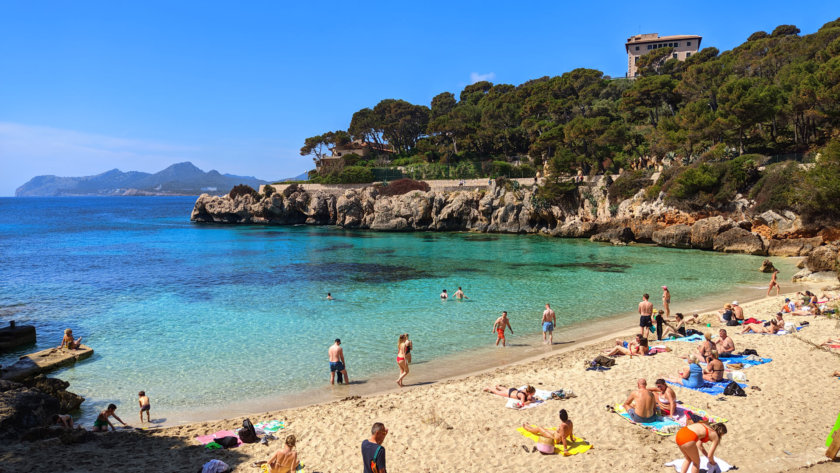 3) Back to Palma (1 day)
And now, we've come to the final day of your 10-day Mallorca road trip.
It's time to head back to Palma's airport, about 50 minutes from Alcudia, to catch your flight home.
Depending on your flight's time, you can plan for one last swim at S'Arenal beach for example, which is the closest to the airport.
Voyage Tips - Advice
For a 9-day getaway to Mallorca, feel free to trim a day off wherever you fancy.
For an 11-day road trip around Mallorca, just plan an additional beach day or activity from the list I've put together for you right below!
Additional activities for your 10-day stay in Mallorca:
If you're itching to add more activities to your 10-day Mallorca adventure, I've cherry-picked some really cool ones for you.
You need to click on the links for more details and to book them:
1) Top activities for the southern half of Mallorca (Palma and its surroundings)
Outdoor adventures
In Mallorca, you can also opt for an absolutely stunning activity: a hot air balloon ride!! I've put the link in the button below for bookings (it's a must):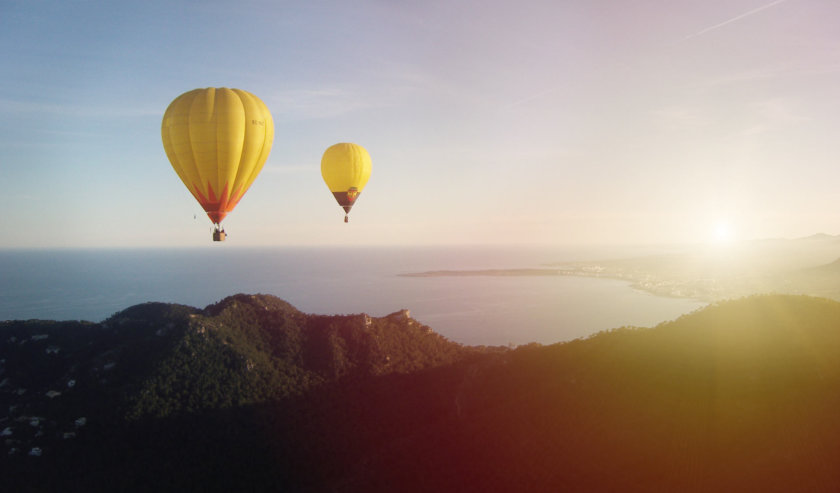 Boat trips
Water Activities
2) Activities in the north of Mallorca (Alcudia and surroundings)
Boat trips
Outdoor adventures
10 days in Mallorca staying at one place
Would you rather spend 10 days in Mallorca staying in one place?
No need to worry!
In that case, you might want to find a place to stay around Palma to make getting around a breeze.
There's more to see and do in the south of the island, and you can plan on making 2 or 3 round trips up north during your stay.
On the flip side, if you stay up north, you'll find yourself driving a lot more each day to get to the south. It's a bit less convenient.
Rent a boat in Mallorca
If you want to rent a boat for a nice day at sea during your stay in Mallorca, you should book it with Samboat.
Motorboats, sailboats, yachts, small boats without a license, with or without a skipper: they simply have the most complete offer for boat rental!
So, what are you waiting for to book your boat trip in Mallorca? 😊
10 days in Mallorca: Flight prices
By plane
To get to Mallorca, the quickest option is to hop on a plane.
The airport in Mallorca is just outside Palma, a mere 10 km from the city centre.
Flight prices to Palma de Mallorca can vary enormously, so it's a smart idea to start comparing them as early as possible. To do this, you can use our flight comparator, in partnership with Skyscanner. It's the guarantee of getting the best price.
By ferry
Mallorca is served by ferrys coming from mainland Spain.
From Barcelona, expect to spend an average of 7 hours for the crossing. Departing from Valencia, the journey to Palma will take you between 7 and 8 hours, depending on the ferry company.
Another option is to sail to Mallorca from other Balearic Islands like Ibiza, Menorca, and Formentera. It's a great way to experience the beauty of the Mediterranean Sea and explore multiple islands during your trip.
I'd love to hear your feedback and suggestions on my 10-day Mallorca itinerary!
If you have any questions about your 10-day visit to Mallorca, feel free to leave your inquiries in the comments, and I'll be more than happy to provide you with helpful tips for your trip.
Book your trip now and save money!
You're traveling to Mallorca? These articles will help you !
Discover all my articles about Mallorca and the Balearic islands: All my articles to help you plan your trip to Mallorca are listed there.
Mallorca
Menorca
You're using Pinterest? Here is the picture to pin!