The 25 Best Things to Do in Thailand (Bucket List)
You're looking for the best places to visit in Thailand?
You're at the right place!
No matter if you prefer to visit cities such as Bangkok, Chiang mai or Chiang Rai, historical sites (Ayutthaya and Sukhotai) or to relax at the beach (Phuket, Koh Lanta, Koh Samui islands and more!), you will find the perfect destinations for your holidays in this article.
In order to help you plan your stay, I have prepared for you this guide of the 25 best things to do in Thailand, with all points of interest and must-see attractions.
And to make thongs even easier for you, I have also written detailed itineraries in Thailand, from 1 week to 1 month. You will find them at the end of this article.
You will see, planning your trip to Thailand will be super easy!
So, where to go in Thailand?
The Best Places to Visit in Thailand
Voyage Tips - Advice
In order to help you plan your stay in Thailand, I have prepared detailed itineraries depending on your trip duration. You should read them after reading this article.
You can find them here, simply click on the orange links to read the articles:
They will allow you to plan your trip very easily!
And if you have any question, don't hesitate to ask me in the comments section, at the end of the article. I would be glad to help you plan your stay.
1. Bangkok
Let's start this Thailand travel guide with Bangkok, the capital city.

When you will arrive in Bangkok, you will directly be struck by the noises, smells, traffic jams and crowds. In other words, you will be immersed in the atmosphere of this very dynamic city!
If you visit the center or the north during your trip to Thailand, there is a good chance you will land in or leave from Bangkok. Take the opportunity to spend 2 or 3 days there, while you recover from jet lag and adjust to Asia.
Even if opinions are mixed about the biggest Thai city, it remains a must-see for a trip to Thailand.
Here are the Best Places to visit in Bangkok:

The Royal Palace (or Grand Palace): an emblematic site, one of the most visited in Bangkok. Inside, you can admire the temple of the Emerald Buddha, a museum and several pavilions with impressive scenery.
Wat Arun: this Buddhist temple is located along the river, on the other side from the Royal Palace. It includes a central Prang (a tower) 82 meters high, entirely covered with small pieces of colored porcelain and statues.
Wat Pho is the third most famous temple in Bangkok. There you can see the famous 45 meters long reclining Buddha statue.
Khao San Road: formerly a backpacker area, Khao San Road is now visited by all categories of tourists. Very lively, there are shops, bars, restaurants and guest houses where you can stay in Bangkok at a low cost.
The Golden Mount: built on a hill, the temple offers a panoramic view of the entire city.
Chinatown: the lively and crowded Chinatown district, with many street stands and shops. There, you shouldn't miss the Wat Traimit, a temple housing the world's biggest golden statue (5.5 tons!).
The weekend market in Chatuchak: with its 15,000 stands, this market is the largest in Thailand and even in all of Asia. And as its name suggests, it only opens on weekends. Divided into several parts, you will find absolutely everything there: clothes, souvenirs, shoes, food, jewellery…
The Siam district features many shopping centers including the MBK Center or Siam Paragon. This is the most famous area for shopping in Bangkok.
If you want more information about Bangkok, you should read my detailed article: The 20 best things to do in Bangkok.
Voyage Tips anecdote
While you're in Bangkok, don't forget to look up a bit so you don't miss the electrical installations. A masterpiece from an artistic point of view! 😆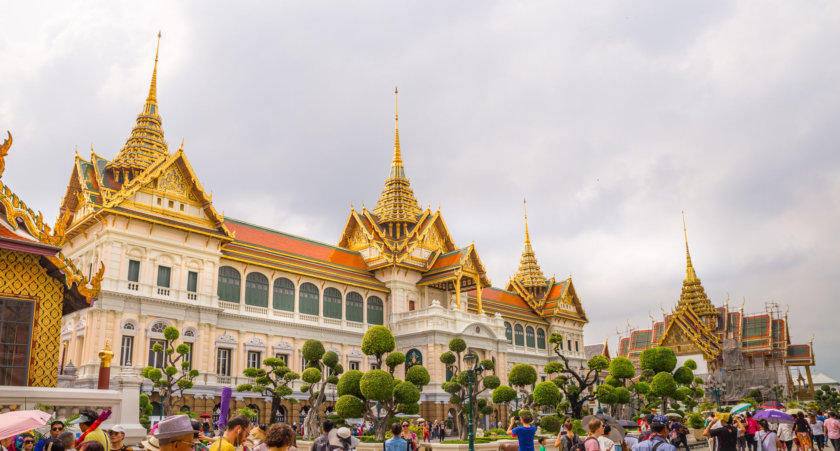 2. Kanchanaburi and the Bridge Over the River Kwai
Kanchanaburi is located 130 km northwest of Bangkok.
Even if you have never heard this name, you have probably heard about the Bridge Over the River Kwai, one of the most important tourist and historical site in Thailand. It's the symbol of the city's tragic past during the Second World War.
In Kanchanaburi, the Japanese army enslaved thousands of prisoners of war to build more than 400 km of railway line between Thailand and Myanmar. Between disease, brutality and malnutrition, more than 16 000 people have died during the construction.

Of the 688 bridges built by the Japanese army, it was the only steel bridge built in Thailand.
If you are interested in history, you should really visit Kanchanaburi and its main points of interests:
The railway museum, about the history of "the death railway" and the harsh living conditions of the prisoners
The Allied Military Cemetery, where the graves of nearly 7,000 soldiers are located
Jeath War Museum, where you can see letters and personal belongings of prisoners
World War II Museum and its view over the famous bridge
And of course don't forget to cross the bridge itself!
In addition to the Bridge Over the River Kwai, there is another (more cheerful) place to visit in the surroundings of Kanchanaburi: Erawan National Park.
Erawan waterfall, a 7-level waterfall, is the main attraction of the park. There, you can take a dip, walk on a botanical trail along the river and see a few caves.
Voyage Tips - Advice
While swimming, be careful with your belongings. There are many monkeys in the park, and they won't hesitate to open your bags in order to grab some food or steal your sunglasses!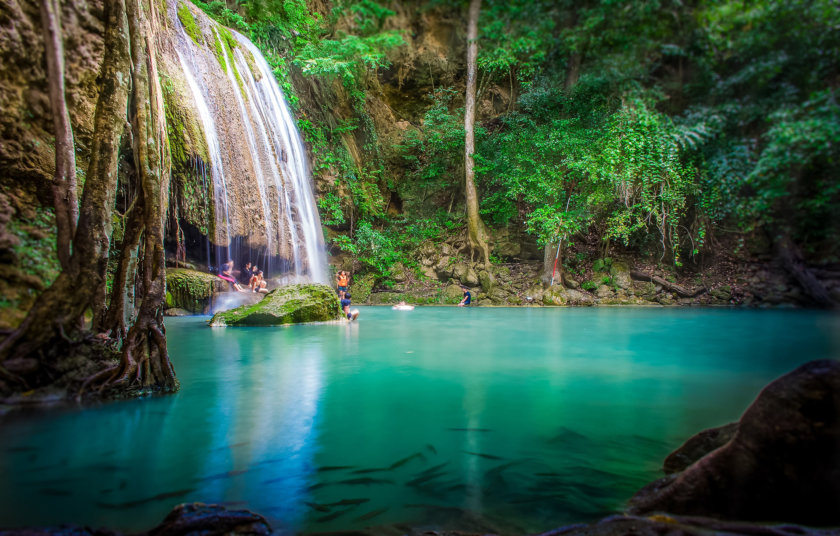 3. Ayutthaya
The Historic City of Ayutthaya is located about 75 km north of Bangkok.
Former capital of the Kingdom of Siam, and for a long time an important economic and commercial centre, this UNESCO World Heritage Site is clearly one of the best places to visit in Thailand!
As Ayutthaya is easily accessible from Bangkok by bus (1h30), train (2 h) or car (45 min), it's the perfect day trip destination.
In Ayutthaya Historical Park, you can discover dozens of ruined temples spread over fifteen sites. It's very large, so it will take you about a full day to visit the 6 main temples.
To visit them, you should buy the 220 Bahts pass, it's the most convenient. However, if you don't want to visit them all, you can also purchase each ticket separately.
Here are the 6 temples included in the pass:
Wat Mahathat: one of the most famous, you have maybe already seen the picture of Buddha's head statue enclosed in the roots of a tree.
Wat Ratchaburana and its very well preserved Trang (tower)
Wat Phra Si Sanphet, in my opinion one of the most beautiful in Ayutthaya
Wat Phra Ram
Wat Maheyong
Wat Chai Watthanaram, to see at sunset
To visit Ayutthaya, you can rent bicycles (50 bahts per day), a motorcycle, or take a tuk-tuk tour. If you come by car, you just have to park your car in the car parks located at the entrance of each temple.
As some temples are really far from each other, I don't recommend walking between the sites.
As several rivers are crossing in Ayutthaya it's also possible to discover some of the temples by boat. The best time to do this is fore sure at sunset!
You will find every information you need to visit Ayutthaya in my article: How to visit Ayutthaya?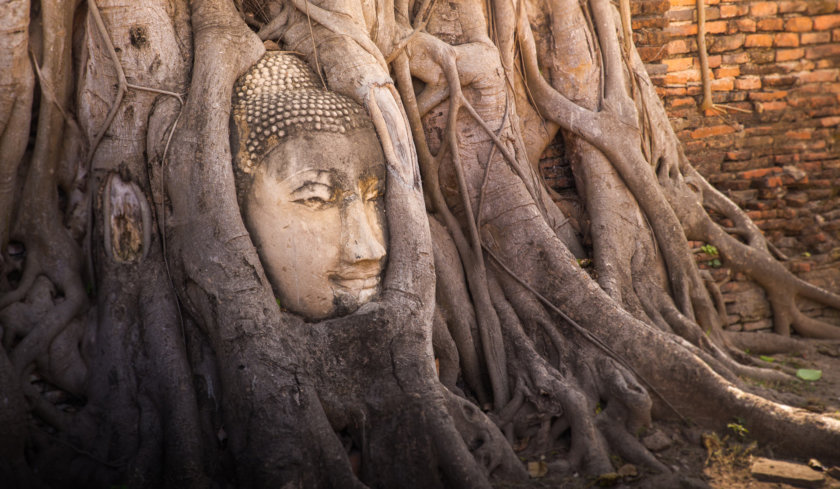 4. Lopburi
If you're wondering about the best things to do in Thailand around Ayutthaya, you can go to Lopburi, an hour's drive away.
Lopburi, one of the oldest cities in the country hosts a few ruined temples. However, they aren't the main attraction there!
Most visitors actually come to see the numerous monkeys who colonized the area. There are literally hundreds of them among the ruins.
The most famous site, both for the monkeys and for its architecture, is Prang Sam Yot
Voyage Tips - Advice
Store your food in your bag and be careful with your hat and sunglasses.
Never forget that monkeys are wild animals! A bite or scratch can happen very quickly and good luck if it gets infected. After seeing the explanatory panels with photos showing the effects of an infected bite, I can assure you that you will be careful. 😅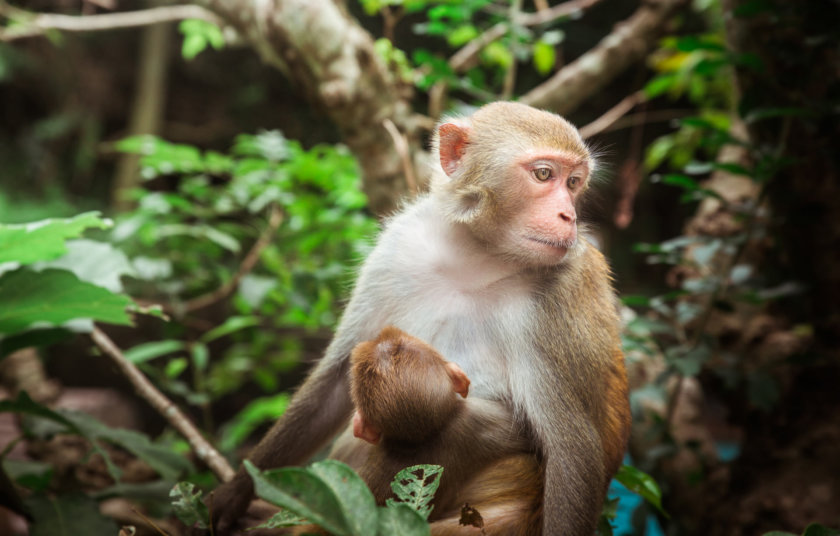 5. Sukhothai
If you want to visit temples during your trip to Thailand, you can also visit Sukhothai.
Sukhothai Historical Park is located in northern Thailand, 400 km from Bangkok, and 280 km from Chiang Mai.
Like Ayutthaya, Sukhothai is a former capital of the Siam kingdom and a UNESCO World Heritage Site.
The site features several ruined temples spread over 3 areas:
The central area (entrance at 100 Baht): it's the most interesting, you will find there the largest and best preserved temples. On foot, allow about 2 hours to visit the temples. You can also rent a bike, but to be honest, it's not very convenient for such short distances.
The North zone (entrance to 100 Baht) mainly includes 2 temples, the most famous being a giant 15 meters high sitting Buddha. To get there from the central area, you will need a bike or a car.
The West zone (entrance at 100 Baht): As the ruins are far from each other, it's best to visit it by car. But, honestly, apart from Wat Saphan Hin and its Buddha statue located on the top of the hill, there isn't much to see.
It will take you about 4 hours to visit the 3 areas by car and a full day by bike. It's really a must see during road trip in Thailand!
You can find detailed information about Sukhotai in my article: How to visit Sukhothai Historical Park?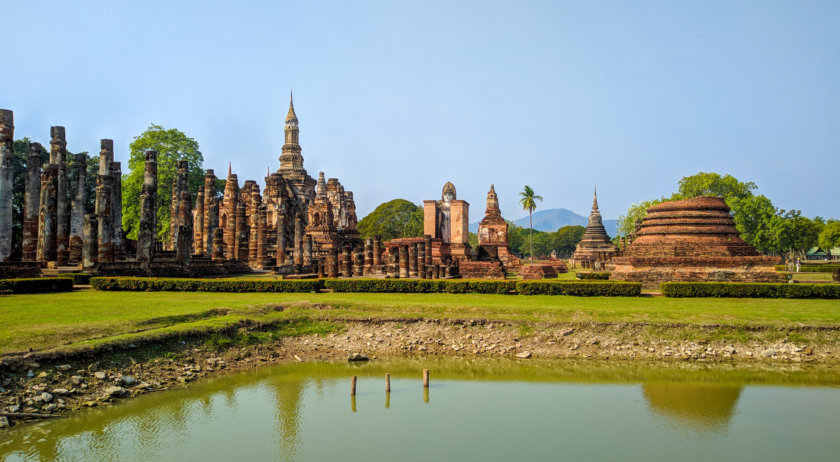 6. Chiang Mai
You want to discover the North of Thailand? Then you should head to Chiang Mai.
As the city has an international airport, you can arrive there directly by plane, usually after a transfer in Bangkok. It's also possible to reach Chiang Mai by bus or train from Bangkok, and of course by car.
Here are the best things to do in Chiang Mai, Thailand
Enjoy a walk in the old town, where most temples are located. This includes the famous Wat Phra Singh and Wat Chiang Man
Take a Thai cooking class: the city is the main destination in Thailand for this activity
Discover the local markets: between Warorot Market, the Night Bazaar and Saturday/Sunday Night Markets, there are enough to keep you busy!
Go to Huay Lake to eat in bamboo huts by the water. It's Thai people's favorite place to go out on weekends
Head to Doi Suthep Temple, located 10 minutes by car from the city, in Doi Suthep National Park.
Visit Bhubing Palace and stroll through the flowered gardens of the Royal Family's winter palace
Going to an elephant sanctuary (without riding them!).
If you want more details about the best things to do in Chiang Mai, you should read my article: Visit Chiang Mai: The definitive guide.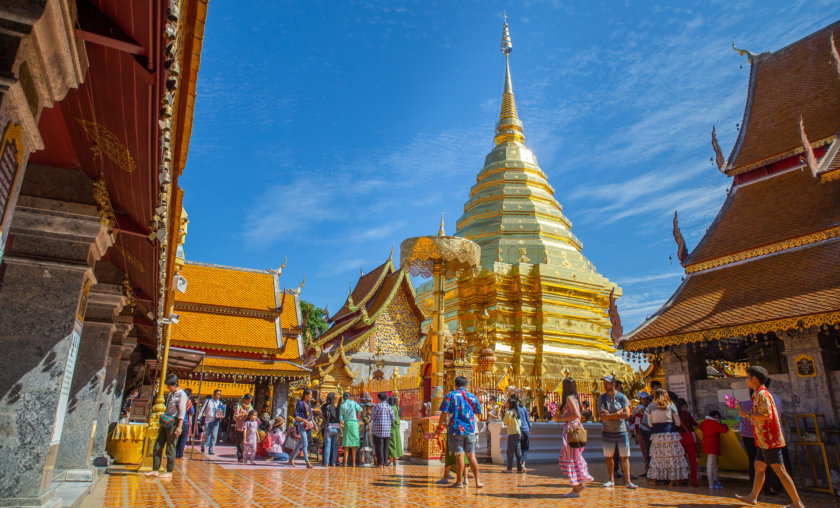 7. Chiang Rai
Chiang Rai is the other major city in northern Thailand.
It's located 200 km northeast of Chiang Mai and has an airport with daily flights to Bangkok or southern islands such as Phuket or Krabi. You can also reach it by bus or car, but there is no railway station (the nearest one is in Chiang Mai).
What to see in Chiang Rai, Northern Thailand

The white temple or Wat Rong Khun: this is undoubtedly one of the main reasons why travelers go to this city. The White Temple is known worldwide and I must admit that its reputation is well deserved. It's truly impressive!
The blue temple or Wat Rong Suea Ten: as you may have guessed, everything here is blue, from the giant statues at the entrance to the Buddha! A very nice site to visit and the entrance is free.
The Night Bazaar: this night market is the perfect place to buy all kinds of souvenirs. It's cheaper than the one in Bangkok and prettier.
Go to Singha Park to take the classical picture of the great golden lion at the entrance. If you continue down the road, you will arrive at a scenic point overlooking a tea plantation. There is also a farm with animals.
The Black House Museum or Baandam Museum: a rather unusual place with small houses decorated with crocodile skins and other objects that are quite "dark" and original.
Khun Korn Waterfall, the largest waterfall in the Chiang Rai area, is easily accessible and can be reached by foot in about 30 minutes from the car park.
The Huai Pla Kang / the Wat Huai Pla Kank / The big pagoda: a group of 3 gigantic and totally different monuments located in the same place. It's impressive to see and very pretty.
The Mae Fah Luang Garden can be found on top of Doi Tung mountain. Stroll through the beautiful flower park and visit the Doi Tung Royal Villa, the residence of the Princess's Mother.
You will find every information you need to visit Chiang Rai in my article: The 17 best things to do in Chiang Rai.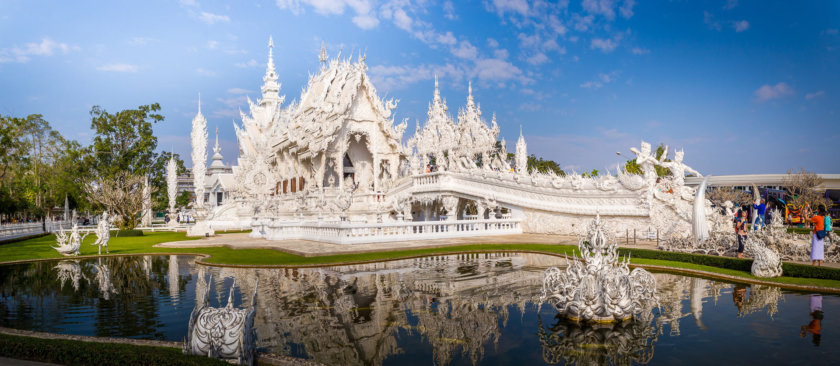 8. Trek in the northern mountains
You should take advantage of your holidays in Northern Thailand to go on a trek. It's the perfect region for these kinds of activities!
Many tour companies offer treks of various lengths and difficulty levels to explore the mountains and meet the region's ethnic groups.
You can visit Akha, Karen (a tribe famous for its "women with long necks", also known as "giraffe women ") or Kahu villages and maybe even sleep in a local house.
These treks are increasingly being organized with an emphasis on ethical and sustainable development (for the most part, at least). The money raised is used to finance health centers or to provide scholarships.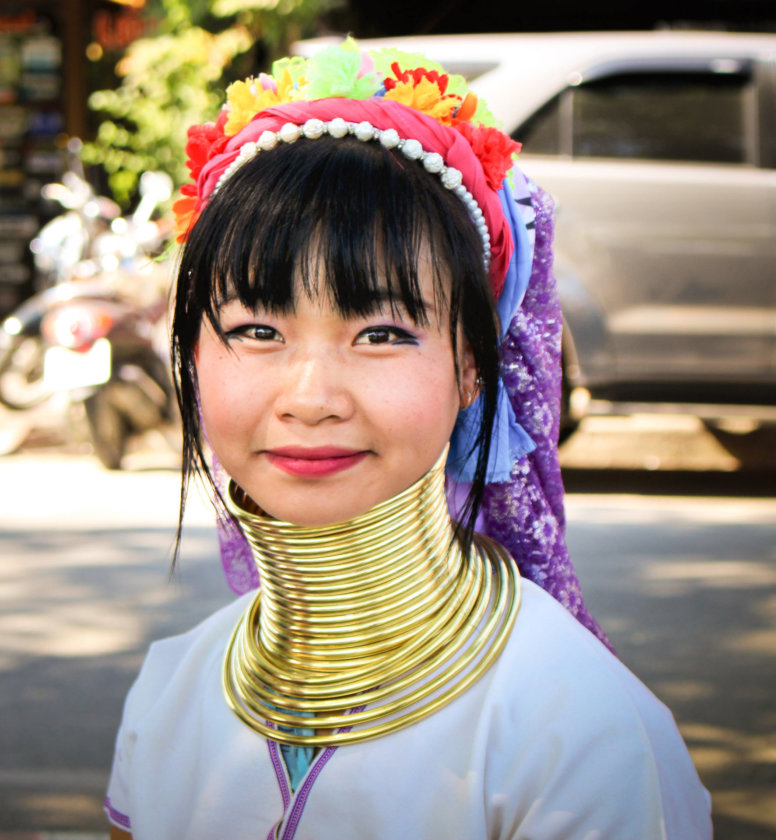 9. Mae Hong Son Province
Mae Hong Son is one of the most isolated province in Thailand. It stands on the border with Burma.
Pai, the best-known city in this region, is located 145 km northwest of Chiang Mai. It's popular with Thai people (who are not afraid to travel all the way from Bangkok!) and tourists.
There are no major tourist attractions there. People simply come to Pai for its unique Hippie and bohemian atmosphere as well as to relax and enjoy the beautiful landscapes of the surrounding area.
And if you want to go out at night to eat or have a drink, you will find plenty of options to choose from.
Last but not least, Pai is also known for its drug trafficking.

Around Pai, you will find several waterfalls, hot springs, a few temples and Pai Canyon, a famous place to admire the sunset.


10. Isan
Isan, a region located northeast of Bangkok, is somewhat overlooked by tourists in Thailand. It's however a great place to visit if you want to get off the beaten track or have already visited Thailand's more popular tourist areas on a previous trip.
There, you will find Khao Yai National Park, considered as one of the most beautiful national parks in the world and listed as a UNESCO World Heritage Site.
This large 2,100 km² area is ideal for hiking and is home to many animals, including tigers, leopards, pythons (a little bit scary, I must admit!) but also gibbons and birds.
The best way to discover Isan is to rent a scooter or a car and go on an adventure through the authentic villages and the magnificent landscapes deserted by tourists.
And while you're in the region, you shouldn't miss The city of Nang Rong and its Khmer temples.

Although they aren't as famous as Angkor temples in Cambodia, they are nevertheless worth a visit.
To admire them, you will need to go to Phanom Rung Historical Park. Built on the top of a volcano, it towers above the surrounding area and is home to several temples.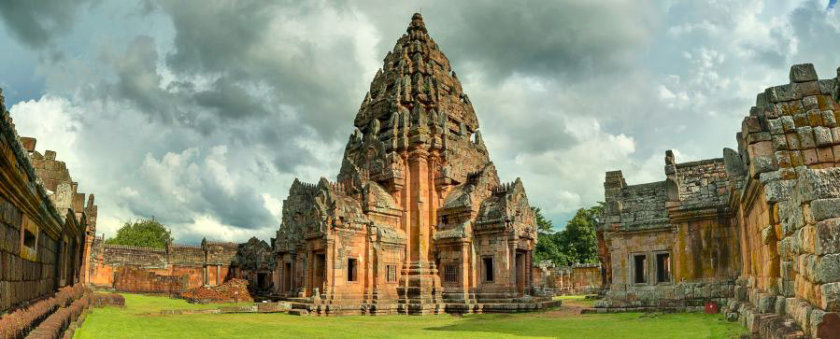 11. Phuket
I can't write a travel guide about Thailand without mentioning Phuket.
Located in the South of the country, in the Andaman Sea, it's the largest island in Thailand and definitely one of the most touristic.

In Phuket, all the activities are concentrated on the West side of the island, specifically near Patong.
If you want to go to the bar or to a nightclub, you should head to Bangla Road. In Patong you will also find a very popular beach, as well as many hotels for every budget, from large resorts to small guesthouses.
If you enjoy entertainment and partying, this is the perfect place!
You prefer to relax and enjoy the calm? No problem, there are also quieter beaches on the island, such as Kata beach or Nai Harn beach. However, don't expect to have the beach all to yourself!

In Phuket, you will also be able to do many activities: rock climbing, kite-surfing, paragliding, inner tubing, four-wheelers, bungie jumping, zip lining, high ropes courses, and scuba diving.
An important tip: always be cautious about the quality of the equipment, and try to inquire about the agency's reliability. Each year, accidents happen because the safety regulations are not always followed.
In Phuket, you can also visit Phuket Town, a pleasant old town with pretty buildings in Chinese-Portuguese style architecture and a main street lined with cafés and trendy boutiques.
From Phuket, you can also go on day-trips to the neighboring islands, such as James Bond Island or Koh Phi Phi (continue reading for more details).
If you want more info about the best things to do in Phuket, you should read my article: Visit Phuket: the definitive guide.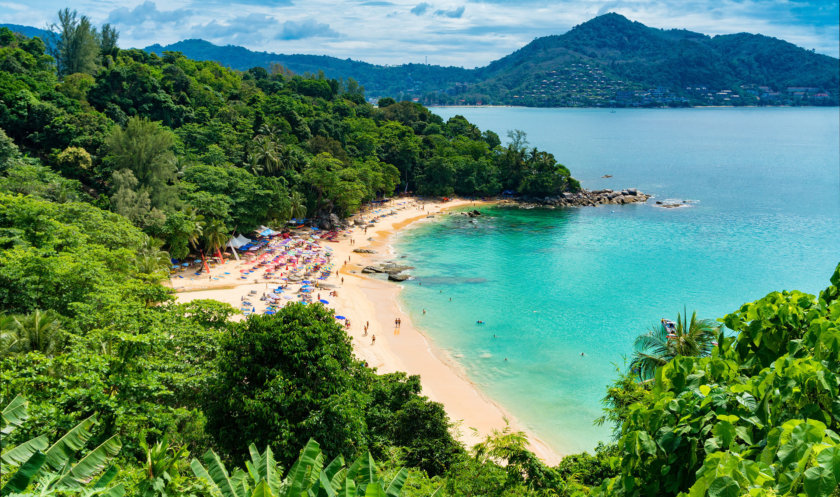 12. Krabi
Krabi is located in front of Phuket, on the other side of the Andaman Sea.
Krabi's claim to fame is the karst formations that border its coast, as they greatly contribute to the spectacular beauty of the landscape.
Things to do in Krabi, Thailand:
Tiger Cave Temple or Wat Tham Suea: Climb the 1,237 steps to reach the top and enjoy the stunning view of the area.
Khao Kanab Nan: These karstic rocks shaped like crab claws are the town's emblem.
Wat Kaew, a white temple found in Krabi Town.
A day trip to the islands – The most popular one is the 4-island tour: Turtle Island, Chicken Island, Tup Island and Mor Island.
The Night Market, for discovering the local cuisine.
The Tab Kak Hang Nak Nature Trail hike: Climb for 4 km and then enjoy the view from the summit.
Emerald Pool: a natural emerald-green pool, perfect to take a dip!
Khao Phanom Bencha National Park for a stroll in the tropical forest.
Eager to know more about Krabi? All the info you need to plan your stay is in my article: Visit Krabi: the definitive guide.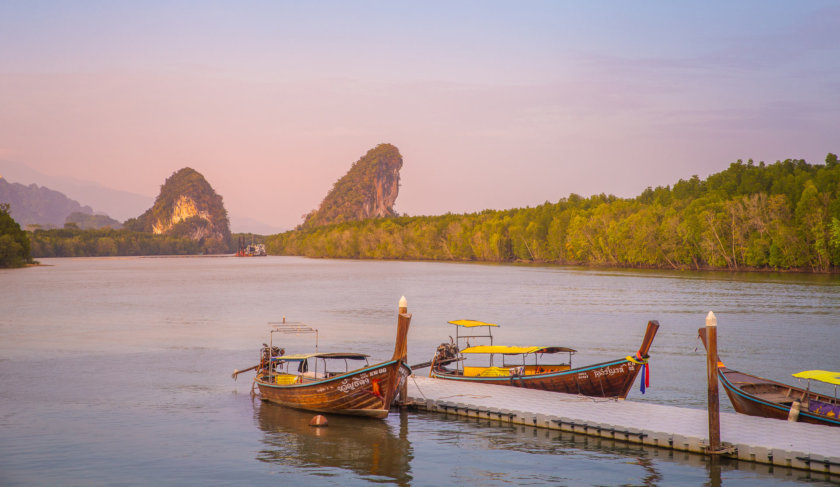 13. Ao Nang / Railay
Ao Nang is located about 20 kilometers from the town of Krabi. If you'd like to go to the beach during your stay in Krabi, it's the closest spot in the area.
In Ao Nang, you will find long beaches of fine sand and clear turquoise waters. Many cafés, restaurants, and tour agencies can be found on the main street bordering the beach. It's also where you will find hotels for any budget.
Along with swimming, you will also be able to enjoy many activities: scuba diving, kayaking through the mangrove, snorkeling, kitesurfing, and biking.
From Ao Nang, you can reach Railay, a large peninsula that can only be reached via long-tail boats. It will take you less than 10 minutes to arrive at Railay West Beach.
This beach, surrounded by huge karstic cliffs, is stunning! Right behind the beach, you will find shops, restaurants and hotels.
While visiting Railay, you should also go to Phra Nang Beach. Often listed amongst the most beautiful beaches in the world, it's truly magnificent, despite being very busy!
Last but not least, Railay is a great destination in Thailand for all rock-climbing lovers. Around 700 paths are available to chose from, with options for both beginners and experts.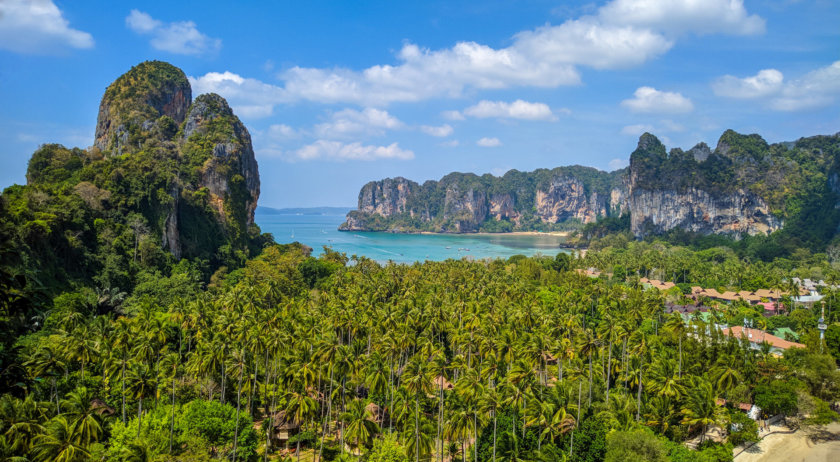 14. Koh Phi Phi
The islands of Koh Phi Phi, located in the Andaman Sea, between Phuket and Koh Lanta, are one of the most beautiful places to visit in Thailand.
These islands are well-known thanks to the movie "The Beach", featuring Leonardo Di Caprio. The famous Maya Bay Beach on Koh Phi Phi Leh has quickly become the place to see during a tour in Southern Thailand.
Over 8 years, nearly 5,000 visitors walked up and down the beach every day.
As you can probably guess, this mass tourism had disastrous consequences for the local ecosystem and the corals. It got so bad that the Thai authorities had to take action, and thus the beach has been closed to the public since 2018.
But don't worry, you can still see the beach from the boat during your day-trip!
There are also some very beautiful beaches on Koh Phi Phi Don, the second island. Here again, you can enjoy many activities: water-skiing, wakeboarding, paddle boarding, scuba diving or snorkeling. Rock climbing is also quite popular.
You will have no difficulty finding accommodation on the island, given the ever-increasing number of hotels or youth hostels.
You will also have no problem finding places to go out and party. Koh Phi Phi is very lively and its nightlife is one of the best in Thailand!
However, if you're looking for peace & quiet, you'd be better off visiting another island in Thailand.

15. Koh Lanta
Koh Lanta is another beautiful island to visit during your trip to Thailand.

Located around 70 km to the south of Krabi, in the Andaman Sea, you can easily reach it by boat from Krabi or Phuket.
If you're looking for a Thai island with dazzling sandy beaches that are not too crowded, it's an excellent choice. The further away from the port you go, the quieter it gets!
The best way to visit Koh Lanta is to rent a scooter for the day and go explore the beaches. Here are my 3 favorites on the island:
Khantiang Beach: A very pretty beach topped by the Diamond Cliff bar/restaurant, one of the best places to admire the sunset.
Khlong Chak Beach: A smaller and more intimate sandy beach.
Bamboo Beach: A large and wild sandy beach, bordering the jungle. It was practically empty when we were there in January (tourism high-season in Thailand).
From Koh Lanta, you should really take the 4-island tour:
In a day, you will visit Koh Chueak, Koh Waen, Koh Muk and Koh Ngai islands. You will leave with the boat in the morning and stop several times for snorkeling and beach-exploring on the four islands, before returning to Koh Lanta around 16h.
From Koh Lanta, you can also go on a day trip to Koh Rok island. The tours offer several snorkeling stops around the island and some time to enjoy the beach.
You plan to visit Koh Lanta during your trip to Thailand? Then you should read my detailed article: The 15 best things to do in Koh Lanta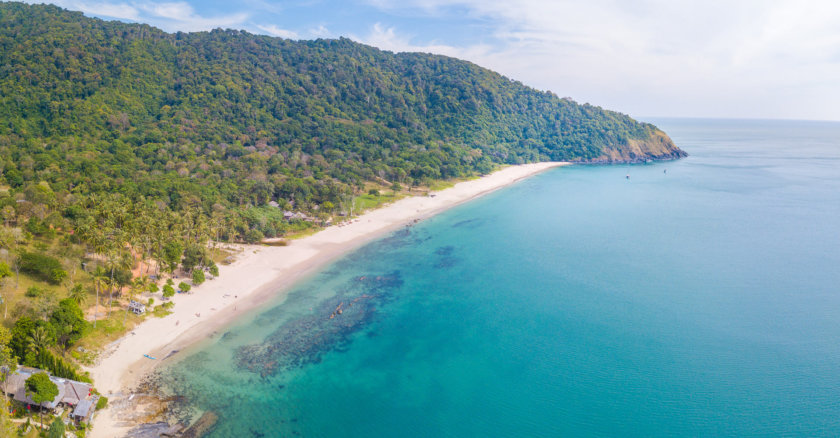 16. Ko Yao Noi
Let's now talk about my favorite island: Ko Yao Noi. I have been really lucky to discover this little paradise during my trip!
It's a bit less known compared to the other islands I told you about. I had never heard about it before organizing my trip to Thailand and stumbled upon it by chance.
Ko Yao Noi (Don't confuse it with its neighbour, Ko Yao Yai!) is located just 30 minutes away from Phuket in speed boat.
It's the perfect island to relax in a bungalow by the seaside during your holidays. The beaches are really nice!
You can easily tour the island on scooter to discover the beaches such as Long Beach or Luild Beach for example.
But you should above all do the boat day excursions to discover the other islands. There are several possible options with different choices of islands to see.
My favorite passed by Monkey Island, Ko Pak Bia, Ko Lao Lading and Ko Hong. The scenery was really stunning, it was for sure one of the best moments of my trip.
Another excursion from Ko Yao Noi takes you to 4 islands + James Bond Island. The scenery is very nice as well, even if James Bond Island is super touristy.
You can find detailed information about Ko Yao Noi in my article: The best things to do in Koh Yao Noi.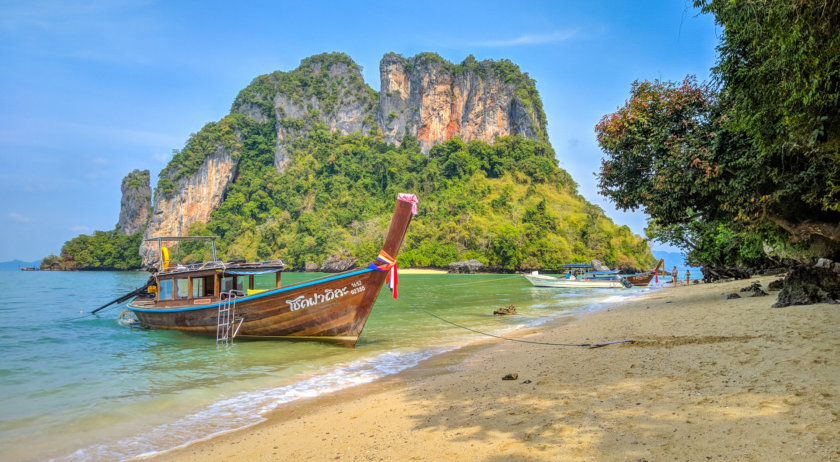 17. Koh Samui
Koh Samui is located in the Gulf of Thailand.
After Phuket, it's the second largest island.
Koh Samui attracts a wealthy clientele who come to enjoy the beaches and the 5-star hotels and luxury spas. The goal? Relaxation and tanning!
And at the end of the day, the island will come alive: Koh Samui is the perfect place to party all night long!
During the day, you shouldn't miss the Big Buddha Temple and Na Muang waterfall, 2 major tourist attractions you can discover on a day trip.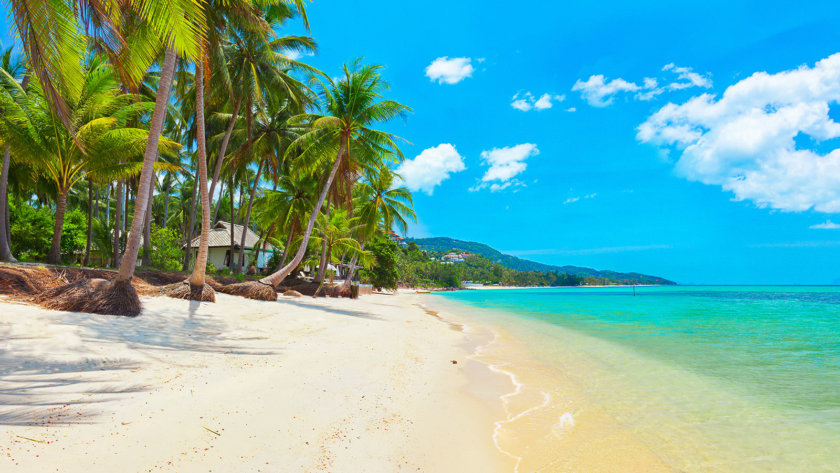 18. Ko Pha Ngan
Ko Pha Ngan is located next to Ko Samui.
The famous Full Moon Party takes place on this island. Every month, on the night of the full moon, a gigantic party attracting thousands of people is held on Haad Rin beach. Music, dancing, games, and of course free-flowing alcohol are on the menu!
And if you want to enjoy the beautiful beaches of the island, you should rather avoid the full moon party dates.
Voyage Tips - Advice
If you plan to go to Ko Pha Ngan for the Full Moon, you should book your accommodation months in advance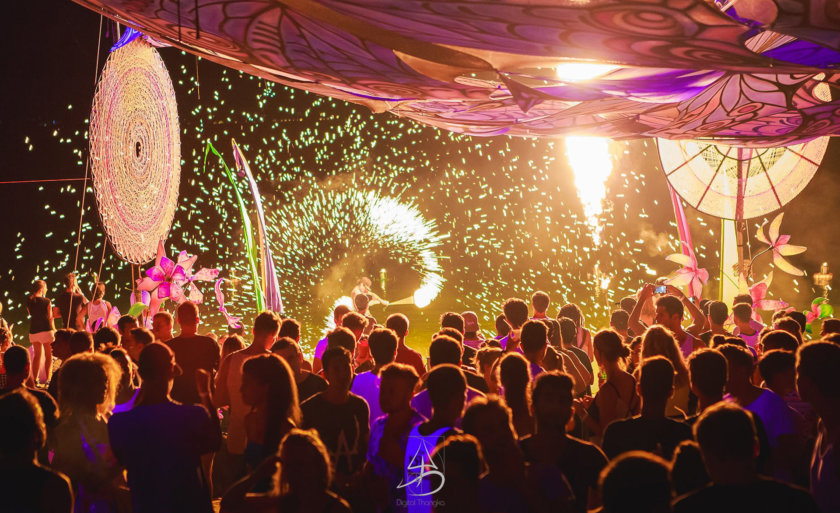 19. The Similan Islands
The Similan Islands are located northwest of Phuket, in the Andaman sea.
This archipelago of 9 islands is a protected zone that makes up the Similan Islands Marine National Park.
It's the ideal place to go diving in Thailand, the Similan Islands being among the 10 most beautiful sites in the world. The water is particularly crystalline and populated by many fish and corals.
To discover the islands and explore the seabed, the easiest way is to opt for a day trip from Phuket or Khao Lak. The tour includes transfers to the port, breakfast, boat trip, lunch and snorkeling in 3 or 4 different places
And of course you can also do "real" scuba diving with air tanks. Dozens of diving centers offer it.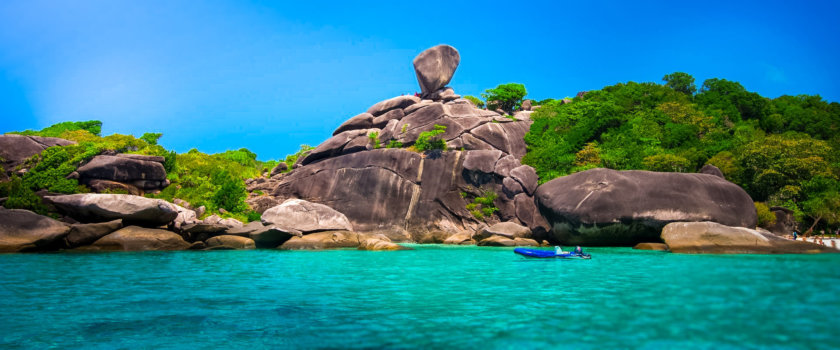 20. The

National parks of Thailand
There are several national parks in Thailand, both lands and sea. They all offer breathtaking landscapes and a perfect opportunity to discover the flora and fauna of the country.
Here is a list of the most beautiful parks to visit in Thailand:
The Similan Islands National Marine Park that I mentioned above.
Khao Yai National Park, a UNESCO World Heritage site located east of Bangkok.

Doi Inthanon National Park in Chiang Mai Province. There, you can find the country's highest mountain, known as "The Roof of Thailand".
Erawan National Park and its many waterfalls
Mu Ko Ang Thong National Marine Park near Ko Samui
Khao Sok National Park in Surat Thani Province, where you can

discover one of the world's oldest tropical rainforests

Doi Suthep National Park, near Chiang Mai
Voyage Tips - Advice
Note that collecting flowers, pebbles, shells or coral as well as feeding fishes is strictly forbidden in all Thai National Parks
It's also prohibited to use drones.
They don't joke with this, so you should really follow these guidelines to avoid being fined or going to jail.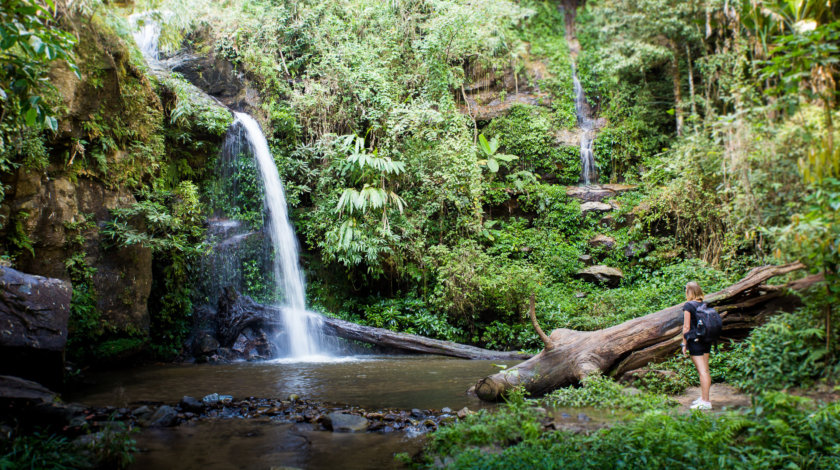 21. Pattaya
Pattaya, located less than 200 km away from Bankgok, is Thailand's main seaside resort.
The city mainly attracts tourists coming to have fun and enjoy the crazy nightlife in gogos-bars or other cabarets featuring shemales. Its reputation is rather sulphurous and prostitution is particularly present.
Here are the 5 best places to visit in Pattaya, Thailand:
Pattaya Walking Street, the pedestrian street, with its trendy shops

and restaurants

The beach
The Sanctuary of Truth, built of wood and adorned with many statues
The Floating Market
The Nong Noon Garden, a beautiful botanical garden
In Pattaya, you will also find many shopping centers and several golf courses.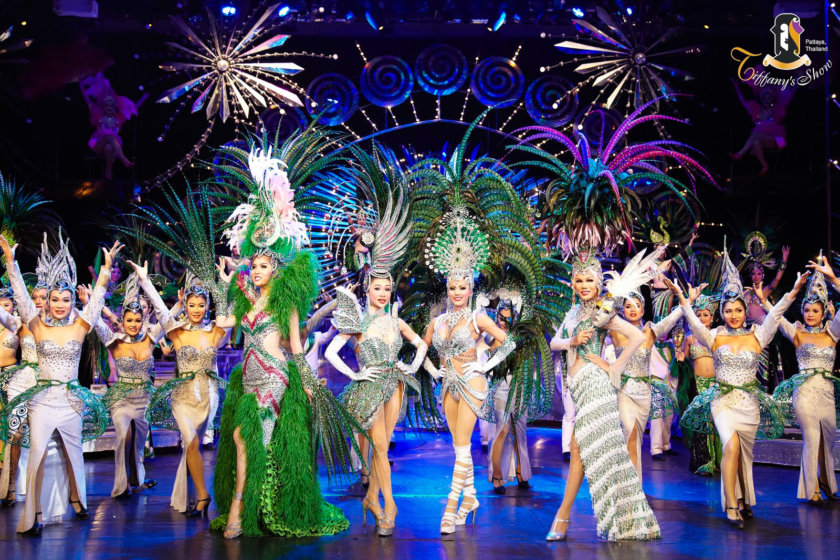 22. Seeing elephants in Thailand
You may have the opportunity to see elephants during your stay in Thailand.
I insist a lot on the word "see", as I don't recommend you to ride elephants for a safari. You probably now how these elephants are treated, So I really don't encourage you to participate.
Please note that an elephant would never naturally agree to carry you on its back, only mistreated elephants do so. So don't listen to what their owners tell you.
Several sanctuaries around the country recover and take care of abused, beaten or abandoned elephants. You could spend half a day or day, helping the staff to feed or wash them.
In Chiang Mai, Elephant Nature Park, is one of the most famous for its ethics. Everything is done to ensure the elephants live in an environment as close as possible to wild conditions.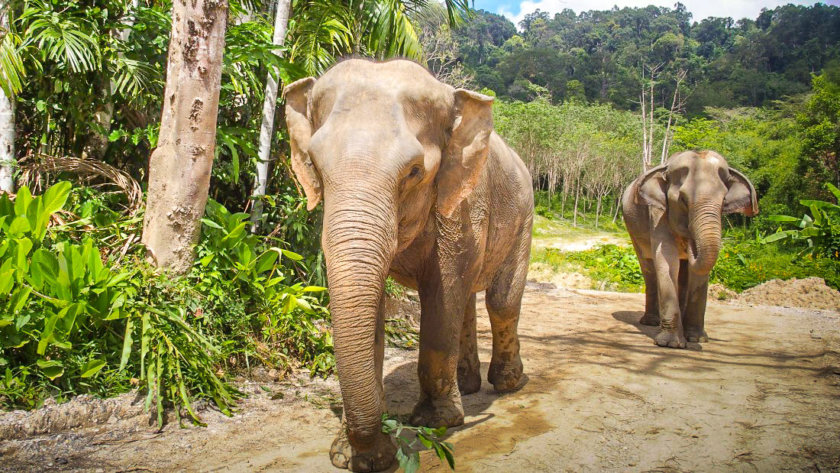 23. Diving in Thailand
If you go to Thailand to dive and snorkel, you will be delighted. The destination offers some of the most beautiful diving spots in the world.
From all the islands, whether Phuket, Ko Samui or Koh Lanta, you can observe the seabed equipped with masks and snorkels or, for the more adventurous, try scuba diving.
Here are the most famous diving places in Thailand:
Ko Tao, about 1h30 from Koh Samui. This island is a world famous place to learn scuba diving.
Similan Islands, west of Phuket and Khao Lak
Ang Thong National Park, also towards Koh Samui
The Surin Islands, near the Similan Islands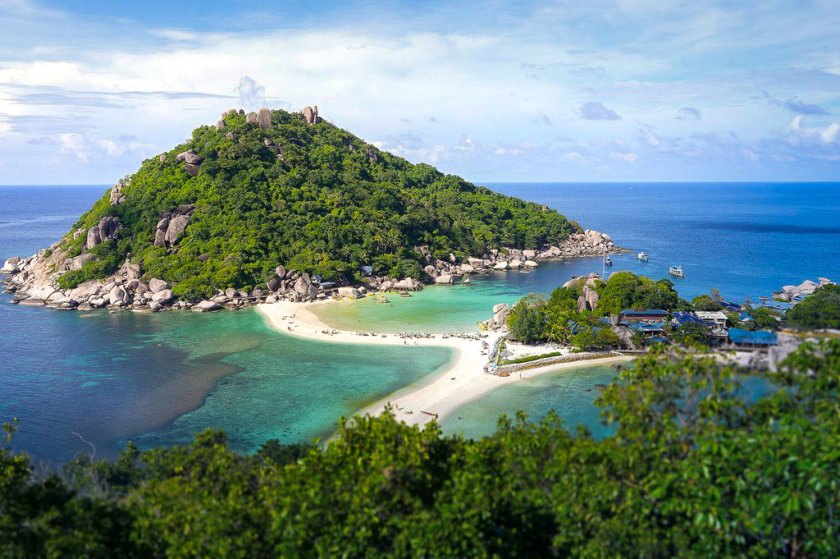 24. Enjoy a Thai massage
After a long day spent visiting, nothing beats a good massage to get back on track for the next day!
In Thailand, you will find many massage parlours and most hotels also offer this service.
Foot, leg and back massage, no matter what you prefer, you will have the choice! The great news is that Thai massages are very affordable: prices start from 250 Bahts (about 7-8 euros) for one hour.
Of course, there are also more luxurious versions: 5-star spas are a great place to get a massage in an idyllic setting, in the middle of lush gardens or by the sea.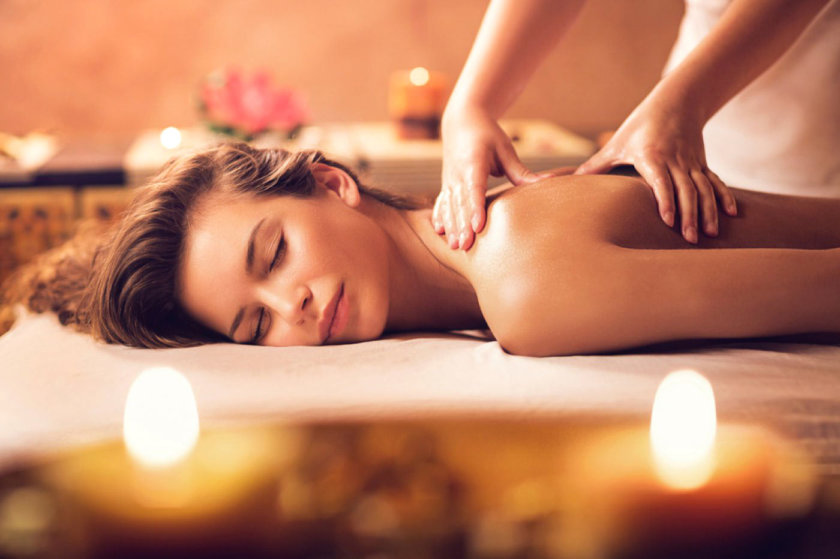 25. Discover Thai cuisine
During your trip to Thailand, you will also have the opportunity to discover local gastronomy
Of course, we have all seen picture of scorpion skewers, grilled crickets or even lively big worms presented on tourist markets. Fortunately, this kind of food is most of the time a tourist attraction and isn't very representative of Thai cuisine.

There is one thing I will tell you right away: Thailand is one of the best travel destination for food lovers!
During the month I spent there, I tested all kind of street food and restaurants. Although most dishes are quite simple, based on meat + rice or noodles, they are always topped with many vegetables and spices and are very tasty!
So here is a brief overview of the dishes you can enjoy in the country:
Fried rice, a sautéed rice with vegetables and meat (choice of chicken, pork, beef or sometimes shrimps)
Pad Thai: generally fried noodles with shrimp, eggs, peanuts and soy sprouts
Pat See You: large noodles sautéed in soy sauce
Pat Krapao: with chicken and basil
Le Lap Mou: minced meat with aromatic herbs, served with rice
Som Tam, a papaya salad with fish, lemon and chili sauce. Tastes great, but you need to like spicy food!
Tom Kha Kai: a chicken soup with coconut milk
Kaeng Phed: a red curry with chicken or pork
Khao Niao Ma Mouang or sticky rice with coconut milk and mango: a dessert you can find everywhere in Thailand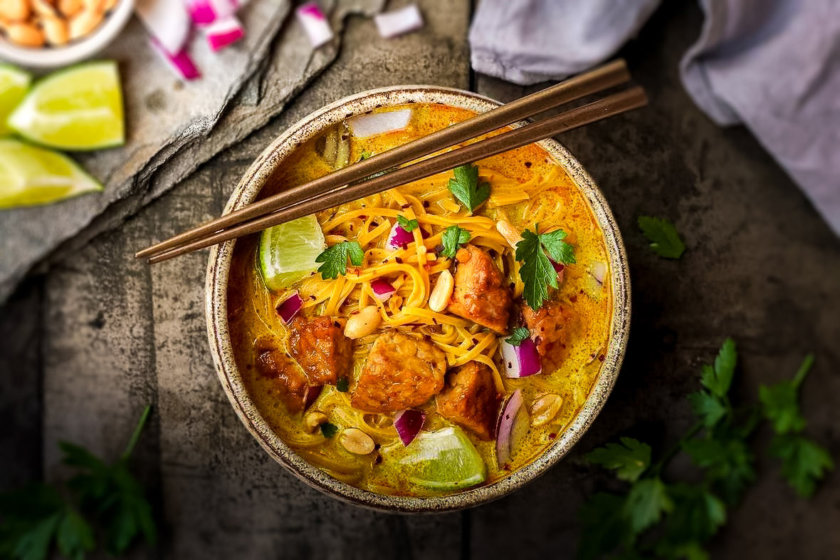 Bonus: Festivals and celebrations in Thailand
Now, you know everything about the best places to visit in Thailand.
However, there are also many festivals and events happening throughout the year!

Here is the list of the most famous festivals in the country:
Songkran: the Thai New Year (in April) is celebrated with giant water battles taking place in the cities.
Krathong Law: the world famous lantern festival, featuring thousands of lanterns illuminating the sky and rivers. It celebrates the end of the rainy season in November.
The Flower Festival takes place in Chiang Mai for 3 days in February.
The international kite festival (in March – All over the country).
The vegetarian festival: In order to purify themselves, participants will not eat meat for 9 days. The ceremonies are particularly impressive, especially when people in trance pierce their skin with various objects.
Chinese New Year usually takes place at the beginning of February. Celebrations are being held in Thailand's major cities.
Lopburi Monkey Festival, a giant banquet is organized to thank the monkeys for attracting so many tourists. Takes place in November.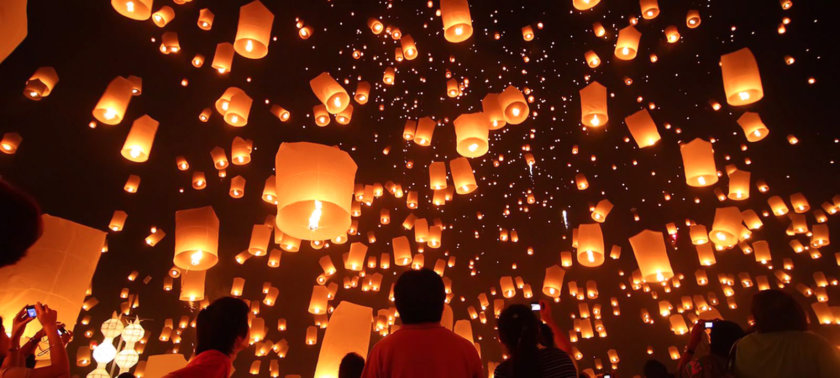 And you, what would you like to visit during your trip to Thailand?
Going to Thailand: Flight prices
Flight prices to Thailand vary widely, so it is a good idea to compare them as soon as possible. To do this, you can use our flight comparator, in partnership with Skyscanner. It's the best way to pay the best price!
When you get the results, don't hesitate to check out multiple website to make sure there is no hidden fee.
Thailand Tours
On Voyagetips.com, I give you all my best tips and itineraries to plan your trip to Thailand by yourself. (All my Thailand travel guides are here)

However, if you prefer to book a Thailand tour with a travel agency, I recommend you to check the 10 best Thailand tours by clicking the button below:
Book your trip now and save money!
Thailand travel Guides
You're traveling to Thailand? These articles will help you!
Discover all my articles about Thailand: All my articles to help you plan your trip to Thailand are listed there.
You're using Pinterest? Here is the picture to pin!