The Perfect Itinerary for One Week in Mallorca
So you're planning to visit Mallorca, one of the Balearic islands?
Great idea!
In order to help you plan your stay, I have prepared for you this 1 week itinerary in Mallorca. It will allow you to make the most out of your stay and visit all the best tourist attractions of the island.
In addition to the best things to do, I will also give you my best tips to visit Mallorca in 6, 7 or 8 days as well as my selection of the best accommodations depending on your budget.
So, how to spend a week in Mallorca? What are the best places to visit?

Let's discover Palma de Mallorca, the Serra de Tramontana, Cap de Formentor and a lot more!
1) Palma de Mallorca (4 days)
When you visit Mallorca for a week, you'll land in Palma de Mallorca, down in the south of the island, either by plane or ferry. I'll dive into the different ways to get to Mallorca towards the end of this post, in the "Getting to Mallorca" section.
For this suggested 7-day itinerary for Mallorca, I'd strongly suggest you rent a car, but you could also go for organized day trips with transport included if that's more your style.
I'll drop mentions of these throughout the article.
When it comes to your car hire in Mallorca, you should compare the rates of all rental companies at the airport (or port), and book your wheels through Rentalcars.com.
It's quick, it's easy, and you can even take advantage of their full protection insurance, which covers you in case of accidents, theft, or damage to your car.
And the cherry on top: modifications or cancellations are usually free, letting you book early to get the best deal.
Click the button below to compare car rental prices for this one-week itinerary in Mallorca right away:
Day 1 – Strolling around Palma de Mallorca
For the first day, I recommend you explore Palma de Mallorca. The historic center isn't sprawling and is easily walkable.
On your roundabout, make sure to drop by:
The Olivar market where you'll get a first taste of the wonderful local produce like cheeses and charcuterie. I highly recommend you try the sobrassada, a spicy sausage that's a Balearic Islands specialty.
Next, head out onto Carrer de Sant Miquel, a street lined with shops, until you reach Plaça Major.
Then, take a stroll down Carrer del Colom all the way to Plaça Cort.
Check out the church of Santa Eulalia located on the square of the same name.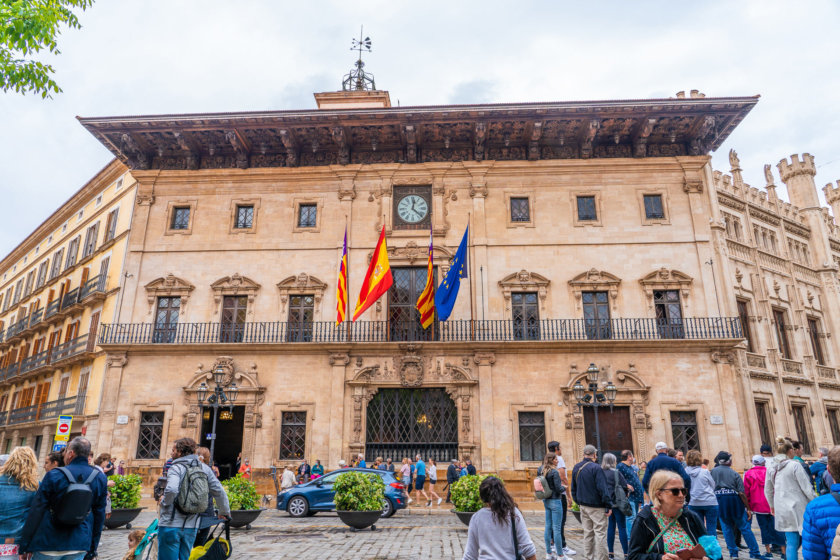 Then, move on to one of the highlight sights of this week-long trip to Mallorca: the Cathedral.
You'll be blown away by the stunning architecture of one of Spain's largest religious buildings, which took over three centuries to complete! It showcases exquisite Neo-Gothic and Renaissance facades.
And don't miss out on a look inside, boasting the world's largest Gothic rose window and a canopy designed by Antoni Gaudi, the renowned architect behind Barcelona's Sagrada Familia.
Voyage Tips - Advice
To visit the Cathedral of Mallorca, the best thing to do is to book your skip-the-line ticket in advance. It doesn't cost more, and you won't have to wait in line, which can often be quite lengthy.
With this ticket, which you'll have on your smartphone, you can walk right through the dedicated entrance.
Book your ticket with priority access to visit Palma Cathedral by clicking the green button below: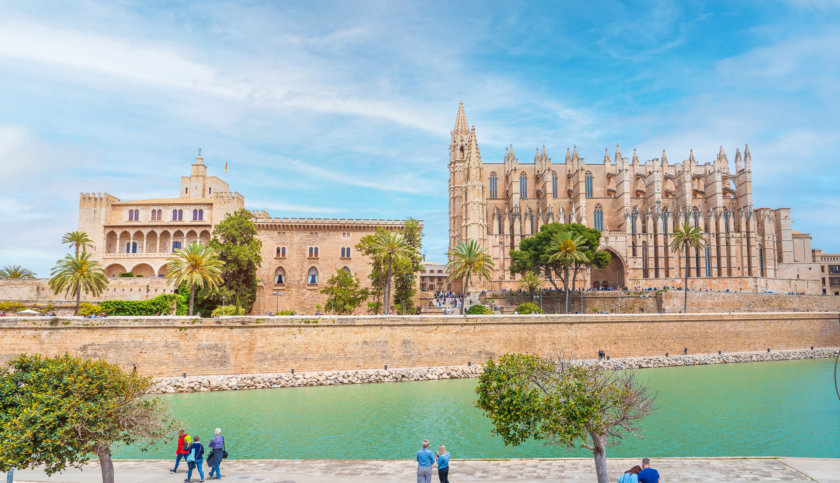 Located just opposite the cathedral, I'd suggest you next visit the Royal Palace of La Almudaina, an old Muslim fortress later transformed into the residence of the King of Mallorca.
While the interior might seem a bit bare, you'll be able to explore the small chapel, the royal apartments, and the grand hall.
And I'll give you the same advice as for the cathedral: consider booking your skip-the-line ticket in advance since folks visiting the cathedral usually visit the palace afterwards (or vice versa), which leads to the same long queue issue.
All you have to do is click on the button below to grab it:
After you leave the palace, you'll find a set of stairs that'll lead you down to the Parc de la Mar. This is your chance to whip out your camera and capture the quintessential shot of Palma's two most impressive buildings!
Just a friendly heads up, keep a close eye on your stuff and backpack around the cathedral, the palace, and Parc de la Mar, since there are a good few pickpockets around. We saw two theft attempts in just 15 minutes.
There are also some cheeky chaps who pretend to be tourists, distracting you with a big map and asking for directions while their accomplices try to dip into your pockets or bag…
Now, let's head back to the old town, where, if you're feeling adventurous, you can make a few quick pit stops:
At the Mallorca Museum
At the Arab Baths (Banys Arabs) 
At the Monti-Sion Church (La iglesia de Monti-sion)
At the Basilica of Saint Francis to check out the cloister.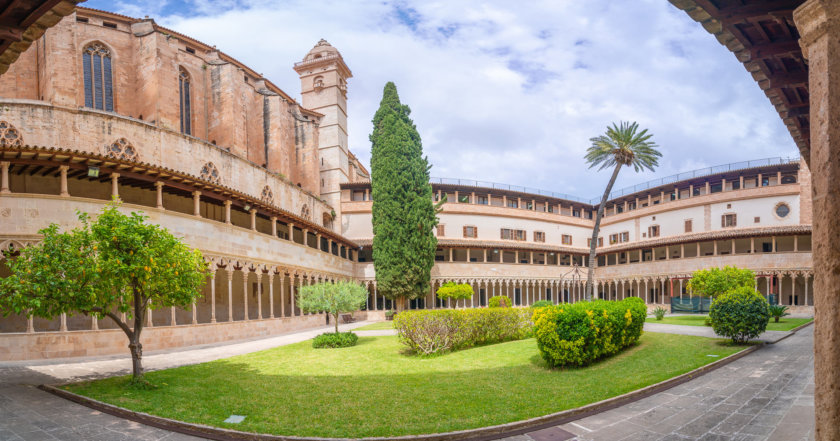 For late afternoon, why not indulge in a little retail therapy in the charming streets of Palma, before hopping on a gorgeous catamaran for a sunset cruise?
You'll be treated to a hearty buffet while you're sailing, plus a live DJ to set the mood. Don't forget your swimwear because there's also a swim stop in the crystal-clear waters!
To book this fabulous sea outing for your week-long trip to Mallorca, just click on the green button below:
Enjoy your first night in Mallorca. For this, I've lined up my top hotel picks further down in the article.
Voyage Tips - Advice
If you want to get more details on all the best things to see in Palma, I'd recommend you check out my complete article by clicking on the following link: Best things to do in Palma de Mallorca
On your first day in Palma, history enthusiasts can delve into the city's captivating past through a choice of guided tours. Don't hesitate to click on the orange link for the one that piques your interest to get more info: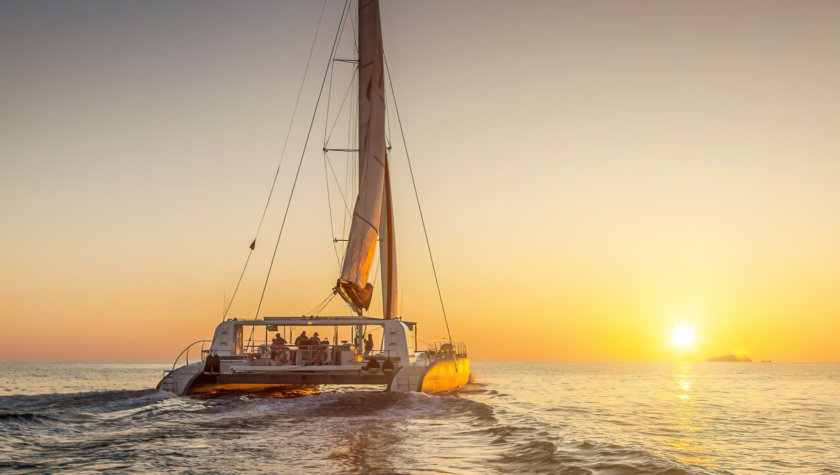 Day 2 – Relaxing on the beaches of southern Mallorca
For your second day in your week-long stay in Mallorca, I suggest a chill-out day on one (or more!) of the incredible beaches that have made this island famous.
For those who fancy a bit of peace and quiet, head towards Cape Ses Salines, about an hour's drive from central Palma, right at the southernmost tip of the island. You can park your car along the road just before you reach the cape and the lighthouse there.
Then, take the trail that starts to the right of the lighthouse, which lets you walk along the seashore for about 20 minutes until you reach El Caragol beach. Here you'll find a long stretch of untouched sandy beach that's usually quite peaceful and uncrowded.
And if you fancy even more solitude, a further twenty-minute walk will take you to Cala en Tugores.
This area is completely devoid of facilities, so don't forget to pack a picnic (maybe with some tasty local goodies from the Olivar market!).


For those of you partial to a beach with a few more creature comforts, and a zero-effort walk to the water's edge (which, let's be honest, comes with a few more people), you'll want to head to Colonia de Sant Jordi. This seaside resort is located between Palma and the Cape of Ses Salines.
It's home to one of the most renowned sandy beaches on Mallorca: Es Trenc Beach. With its turquoise waters, fine sand, and pine groves, let's not kid ourselves; this place is a stunner!
Still in Colonia, there are also other beautiful beaches, lined up like pearls on a necklace:
Dolç beach
Can Curt beach
Es Carbo beach
Ses Roquetes Beach is the last and the largest.
On the road before heading back to Palma, you might want to take a little pitstop at the village of Llucmajor. The Plaza de España is a rather nice spot to grab a drink, and there's a small pedestrian zone with a few shops.
Stay a second night in Palma.
Voyage Tips - Advice
If you're not one for lounging on the same beach for hours, you can totally hit all these spots in a single day if you've rented a car for your week-long Mallorca road trip.
If you don't have a vehicle, you won't be able to get to Cape Ses Salines, but you can get to Colonia de Sant Jordi by public transport. There's even a shuttle (in high season) that departs from Palma and heads straight to Es Trenc Beach. Click on this highlighted link to book it!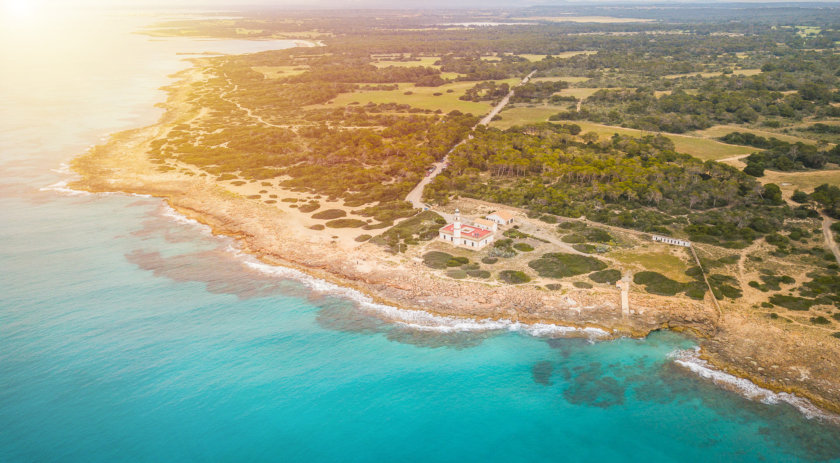 Day 3 – Sineu Market, caves, and beaches
For the third day of your week-long Mallorca adventure, I suggest heading to the Sineu Market.
It's only on Wednesday mornings, but you can arrange the days of your itinerary however you like so it fits right in. Since you'll be staying in Palma for the first few nights, it won't make any difference.
Sineu is just a 40-minute drive from Palma, right in the island's heartland.
The market, which is the largest on Mallorca, consists of loads of stalls, mostly selling clothes, jewelry, and bags around the main square. Heading towards the church, you'll find the fruit and vegetables market.
Mixed in amongst all this, there are a few stalls offering local specialties like sobrassada, cheese, or fuet (a type of thin sausage).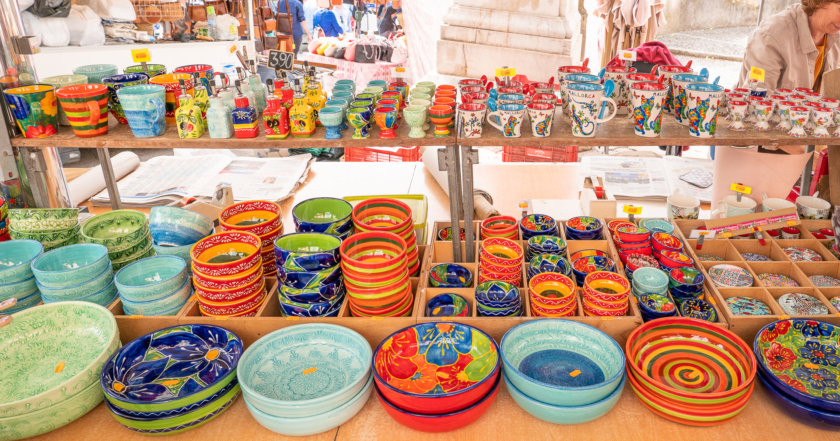 Then, it's back in the car, heading to Porto Cristo, where you'll find the two most famous caves on Mallorca: the Hams Caves and the Drach Caves.
No need to visit both because they're quite similar: each one houses a massive subterranean lake where you can enjoy a concert performed by musicians floating on the water.
And of course, you'll have the chance to admire countless stalactites and stalagmites during the visit.
To buy your tickets for the Coves del Drach, you can click here.
To book your tickets in advance for the Coves dels Hams, just click on the button below: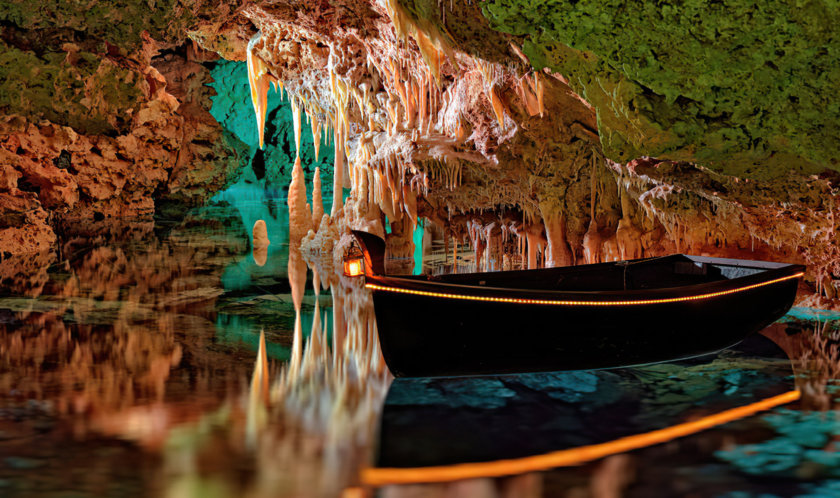 For the rest of the day, you've got a few choices:
1) Do the 4-cove hike that starts from the parking lot of Finca Can Roig (a 15-minute drive south of Porto Cristo).
If you opt to tackle the entire trail, you'll pass by Cala Bota, Cala Virgili, Cala Pilota, and Cala Magraner. Having done it myself, I'd recommend skipping Cala Bota, which is nothing to write home about, and heading straight to Cala Virgili, which, in my book, is the prettiest of the lot.
From there, you can cut through the rocks (instead of getting back on the main trail) to reach Cala Pilota. Then, get back on the main trail to go from Cala Pilota to Cala Magraner, which is the largest of the four coves.
For the return from Cala Magraner to the parking lot, allow about an hour's walk.
I'd recommend this walk if you're into secluded, peaceful spots and wild landscapes. You can also take a dip, even though, to be honest, there are far prettier coves in Mallorca.
Still, it's a pretty awesome place with crystal-clear water and cliffs all around.
2) If you're after a bit more buzz and beaches/coves with amenities like bars and sunbed/umbrella rentals, you should head further south to Cala d'Or (a 30-minute drive from Porto Cristo).
This resort town is dotted with hotels, restaurants, and souvenir shops. It also boasts a number of sandy beaches tucked away at the ends of little fjords, in protected bays with turquoise waters.
You've got, for instance: Cala Esmeralalda, Cala Gran, Cala Petita, and Calo d'es Pou.
Return to Palma for the night.
Voyage Tips - Advice
On the way between Sineu and Porto Cristo, tennis lovers can make a pit stop at Manacor where they'll find Rafa Nadal Museum Experience. As its name suggests, it's a museum dedicated to the global tennis superstar who was born in this village.
You can grab your tickets for the museum by clicking here!
For those without a car, you can visit the Hams Caves, the Drach Caves, and Porto Cristo with a day trip that includes transportation and a guide.
All the details can be accessed by clicking on the button below: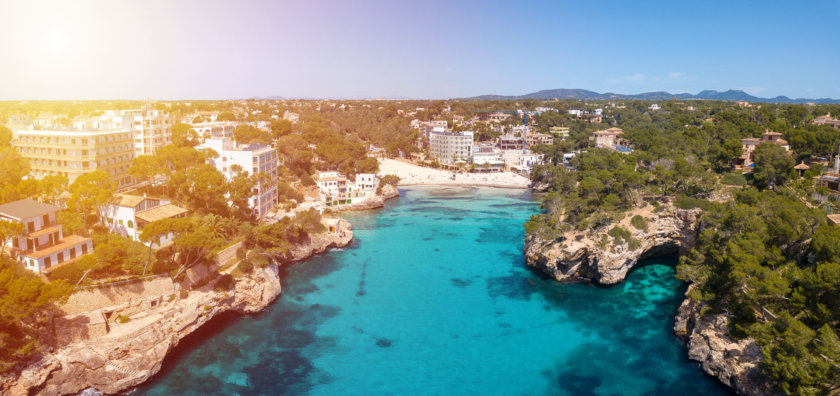 Day 4 – Mallorca's southeastern coves
Next up on this one-week circuit in Mallorca is a day dedicated to the stunning coves on the southeast of the island.
We're kicking off with one of Mallorca's most beautiful coves, the gem that is Cala del Moro. A mere 10-minute stroll away, this spot is truly spectacular, all wild and rugged, with turquoise waters lapping against rocky shores. Swimming is irresistible!
Mind you, there's no proper beach, so you'll be setting up camp on the rocks.
Just a short 5-minute walk away from Cala del Moro, don't miss the opportunity to explore Cala S'almunia, a charming marina adorned with quaint fisherman's huts.
Then, back to the car.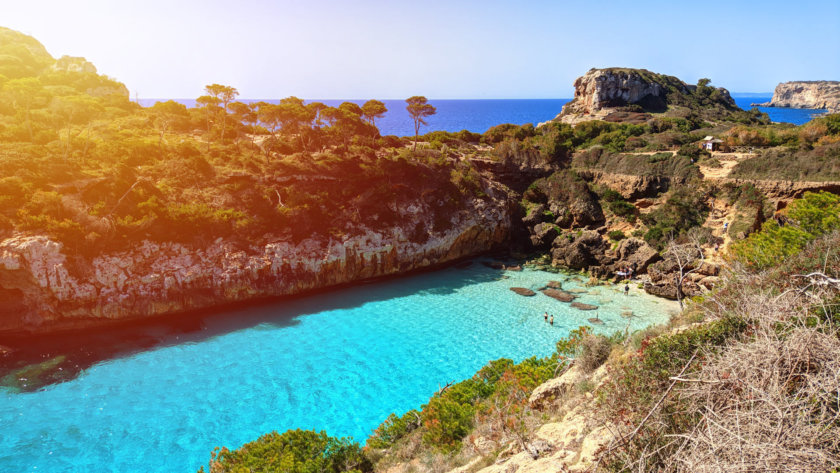 North of Cala del Moro, you'll find 3 more notable spots:
Cala Llombards: a family-friendly sandy beach, with shallow waters – Parking's pretty tight with only 50 spots.
Mirador Es Pontas, where you can take a snap of a rock arch – Worth a look, but nothing to write home about.
Cala Santanyi, a lovely sandy beach flanked by rocky cliffs.
There's a nice footpath to the left.
Feeling peckish? Make a beeline for Cala Figuera, a quaint little fishing port dotted with terraced restaurants overlooking the sea.
Next stop, Mondrago Natural Park.
Park up in the paid parking area for €6 a day. From there, an easy trail will lead you to a number of coves through a pine grove:
S'Amarador, a beautiful white sandy beach with crystal clear waters – 10-minute walk from the parking lot.
Cala Mondrago, smaller and less wild, but the water is still a gorgeous color! A 5-minute walk from S'Amarador
Calo des Borgit, a 15-minute stroll from Mondrago along the flat, shaded seaside trail.
Pick your favorite for the rest of the day!
Then spend the night in Palma.
Voyage Tips - Advice
If you're looking for a top-notch activity in Mallorca during your one-week trip, you should book the jet ski tour in Mondrago Park. You'll even get to take a dip in the turquoise waters.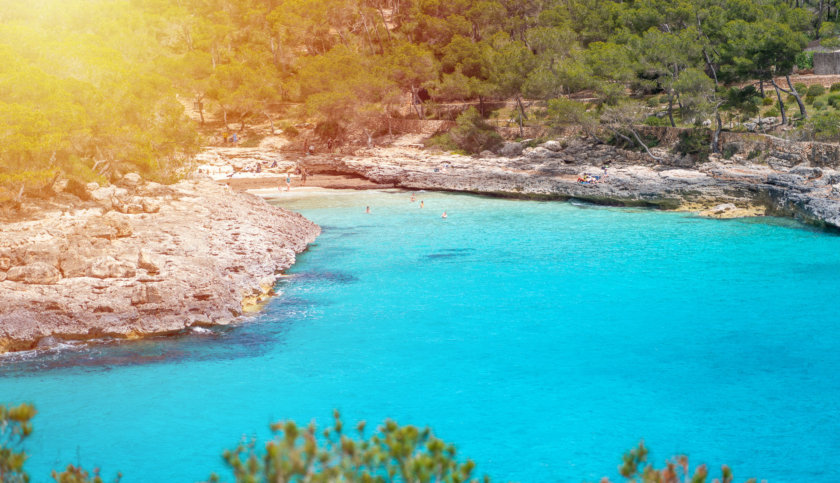 Where to stay in Palma de Mallorca
Here is my selection of the best places to stay in Palma de Mallorca, tailored to suit your budget.
You need to click on the orange name of the hotels for more information and to make your booking.
And if you can't find what you're looking for, don't hesitate to ask for advice in the comments, indicating your travel dates and preferences. I would be more than happy to assist you in finding the perfect hotel!
And if you're looking for the best 5-star hotels in Palma de Mallorca, you should have a look at the following hotels:
Hotel Victoria Gran Meliá: located right in front of Palma's harbor. Double room starting at €270, breakfast for €29. Strong points: the great location, the sea view, and the amazing staff.
Nixe Palace:: located right next to Cala Major beach, this 5* hotel offers cozy double rooms with a balcony and sea view from €300 per night, breakfast for €24. Strong points: the setting with the stunning sea view, the excellent breakfast and the direct access to the beach. My recommendation for a high-end stay in Palma!
Hotel Antigua Palma – Casa Noble: this superb luxury hotel is located in the heart of the old town, just 100 meters from the cathedral. Stay in sumptuous, elegantly decorated rooms, from €450 per night, breakfast included. Strong points: The amazing spa with hammam and indoor pool, the tranquility, the particularly attentive staff and the rooftop. The best hotel in Palma for a luxury stay!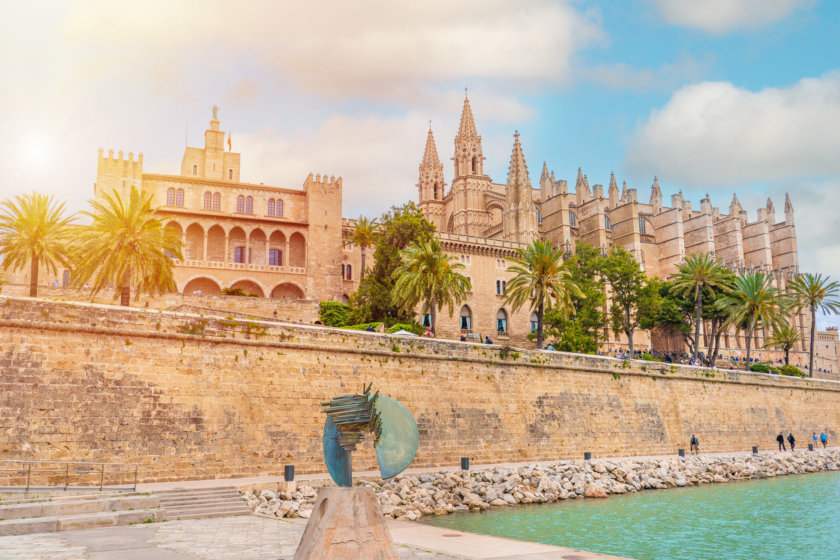 2) Alcudia and northern Mallorca (4 days)
For the second leg of this 1-week Mallorca trip, I suggest exploring the North of the island.
I'd recommend switching hotels to avoid daily back-and-forths. I'll be sharing my selection of the best hotels around Alcudia a bit further down in the article.
But hey, you can totally stay at the same hotel in Palma for the whole week. Just bear in mind that it means a bit more driving.
Day 5 – The Serra de Tramontana
On this fifth day, I recommend hitting the road to explore the Serra de Tramontana.
Honestly, you can't visit Mallorca in 1 week and not plan to drop by the super cute villages of this mountainous region, recognized as a UNESCO World Heritage Site.
Setting out from Palma and heading north to Alcudia, I suggest stopping by Valldemossa, Deià, Soller, and Fornalutx, each boasting lovely traditional stone houses.
You can wander through the cobbled streets lined with cafes and boutiques.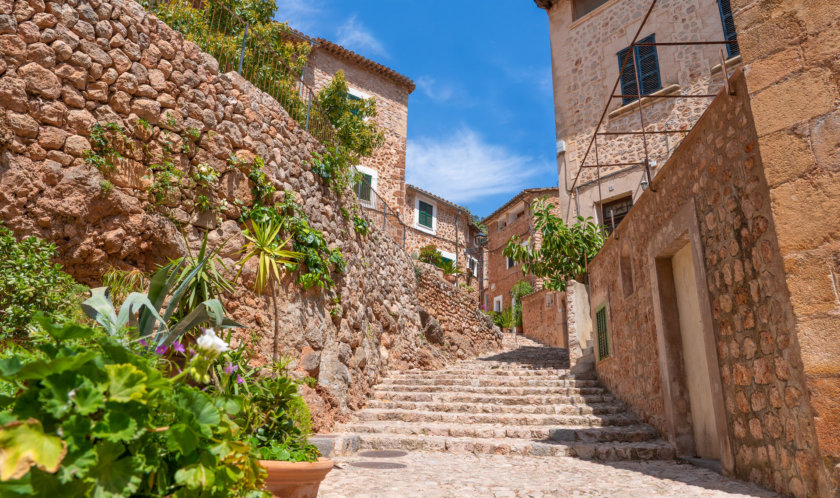 From Fornalutx, take the road leading to Sa Calobra. You'll need to park in the paid lot before heading on foot to the seaside.
Once you hit the restaurant area, keep walking to the right. After passing through two tunnels carved into the mountain, you'll emerge into the Torrent de Pareis, a large, long canyon at the entrance of which lies a small pebble beach.
With its towering cliffs, the gorge is truly awe-inspiring and the spot is just amazing.
Jump back in the car and head to Alcudia, where you'll spend the next 3 nights. Along the way, you could make two more stops:
At Lluc Monastery: for €5, you can stroll through the botanical garden, cloister, museum, and chapel.
In Pollença, with its charming historic center. Don't hesitate to climb the 365 Calvary Steps leading to the little chapel for a stunning view of the village and church.
Spend the night near Alcudia.
Voyage Tips - Advice
The road that runs through the entire Serra de Tramontana is narrow, winding, and very busy, with both cars and many cyclists. So you need to be extra careful and drive safely. If you're prone to car sickness, I'd also advise you to prepare yourself, as there are quite a few bends! 😅
Do remember to bring some change because both the villages parking lots and Sa Calobra have parking fees, and most of them only take coins.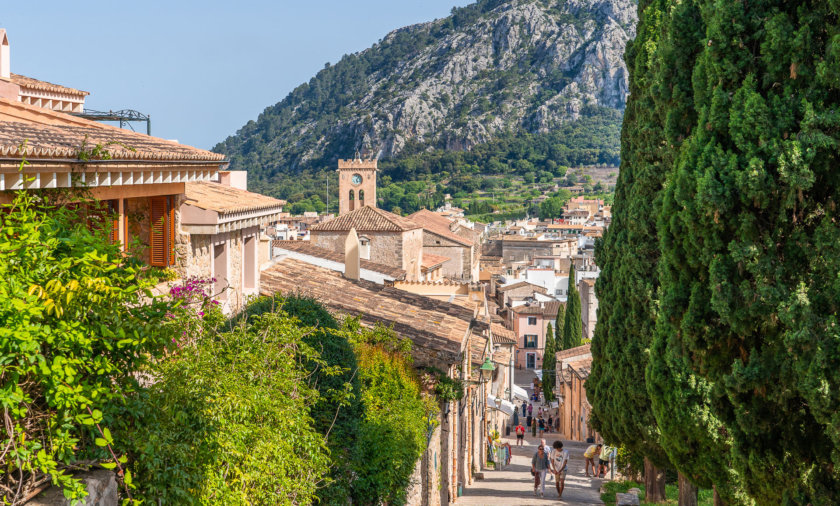 Day 6 – Cap de Formentor
For this sixth day of your one-week Mallorca road trip, you're off to the famous Cap de Formentor, the northernmost tip of the island.
Along the only road running through the peninsula, you'll be treated to stunning views of cliffs and sea below.
Must-sees at Cap de Formentor:
El Mirador Es Colomer, the most famous viewpoint that offers a stunning view on both sides of the cape.
La Talaia d'Albercutx, which you must reach on foot. This old watchtower also offers a superb panorama over Formentor
Formentor Beach, where you can take a welcome swim break on one of the most beautiful beaches to hit in Mallorca during your 1 week road trip!
The cove of Cala Figuera, if you're looking for a quieter place to swim. Due to its exclusive pedestrian access, it's way less crowded.
The Formentor lighthouse*, the last place to see as it's at the very end of the road.
In case you decide to go to Mallorca in the summer, please note that between June 15th and September 15th, car access to the lighthouse is not allowed.
The road is theoretically blocked from Formentor beach onwards. I say "theoretically" because in fact nothing prevents you from passing, but if you do so, you'll have the unpleasant surprise of receiving a fine of €80 a few weeks later…
To avoid that, you need to leave your car in the paid parking lot at the beach and take the shuttle buses that run between the two. It's also possible to go on foot or by bike.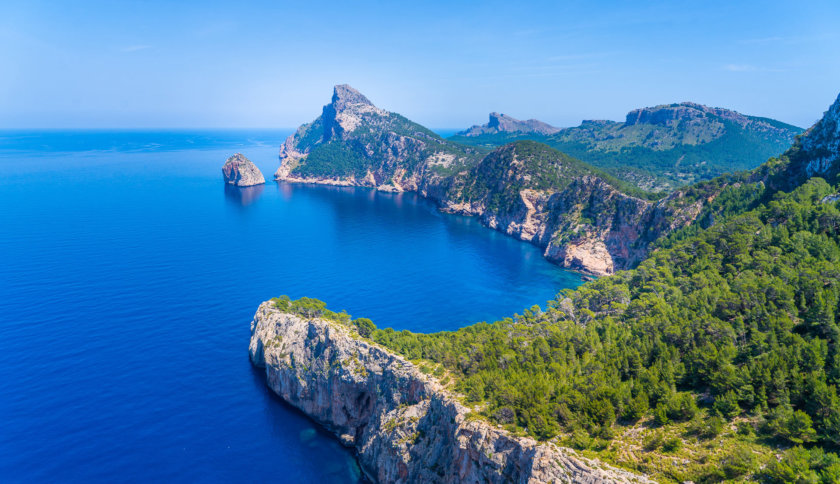 After the cape, you can keep the day rolling with a nice walk around old town Alcudia. The area within the city walls is super cute for a stroll with loads of little shops and restaurants.
Wrap it up with a sunbathing and swimming session on Muro Beach that stretches along Alcudia Bay for several kilometres.
Sleep another night near Alcudia.
Voyage Tips - Advice
The road to Cap de Formentor is narrow and gets packed. Even off-season, parking can be tricky and quickly turns into a proper pickle, especially when folks start parking on the roadside and nobody can pass each other.
Don't worry too much if you're uncomfortable with driving. There are tours available from Alcudia. Experience the beauty of the cape through a panoramic bus tour that also includes a one-hour stop at Formentor Beach. Afterwards, embark on a scenic cruise along the Cap de Formentor by hopping on a boat from the beach.
You'll need to book this tour in advance by clicking on the green button below:
And good news for those who don't have a car and have stayed in Palma, you can also explore Alcudia's historic center, Cap de Formentor, and its beach + have a boat trip thanks to a full-day tour departing from Palma.
All the details are available by clicking on the following link: Visit Northern Mallorca from Palma with transportation included.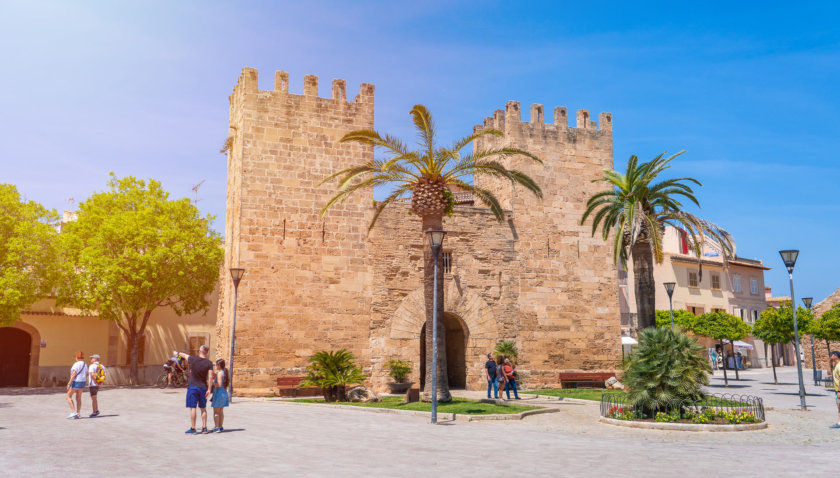 Day 7 – Hiking and northeastern beaches
For the penultimate day of your Mallorca itinerary, why not go for a bit of hiking in the Peninsula de Llevant Natural Park.
It's about 40 km East of Alcudia.
At the park entrance (S'Alqueria Vella de Baix), near the car park, you'll find the information office (open from 9am to 4pm) to get your map of accessible trails.
If it's closed, there's also a large board that lists the different trails: 13 in total, for a duration of 30 minutes to 1h30. You can also easily combine them if you're up for a longer walk.
Featuring gorgeous landscapes, between sea and mountain, the Peninsula de Llevant is one of the most beautiful places to go hiking in Mallorca.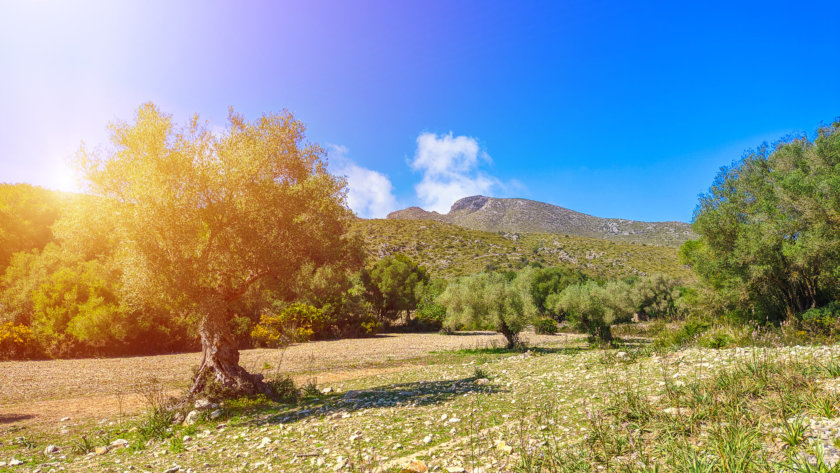 Now, it's certainly time to unwind and rejuvenate. Thus, I would suggest spending the rest of the day on one of the amazing beaches on the northeast coast of the island.
Among my favorites in this area, I highly recommend Cala Mesquida, a large sandy beach with stunning water color bordered by dunes and pine forest.
To the left of the beach, at the end of Carrer Esparrell, if you haven't had your fill of walking, you can also take the path that leads to 4 other coves:
Cala Torta, a 25-minute walk
Cala Mitjana: + 15 min from Torta
Cala Estreta: + 5 min from Mitjana
Cala Es Matzoc: + 25 min from Estreta
The first two are real sandy beaches, the other two, are a bit rockier.
In the same area but south of Cala Mesquida, there are also 2 other beaches that I easily rate among the prettiest on the whole island:
Cala Gat: a gorgeous small cove with turquoise waters in the resort town of Cala Ratjada, not far from the Capdepera lighthouse (which you can take advantage of to visit – accessible by car).
Cala Agulla, a really pretty sandy beach surrounded by pine forest.
Spend one more night in Alcudia.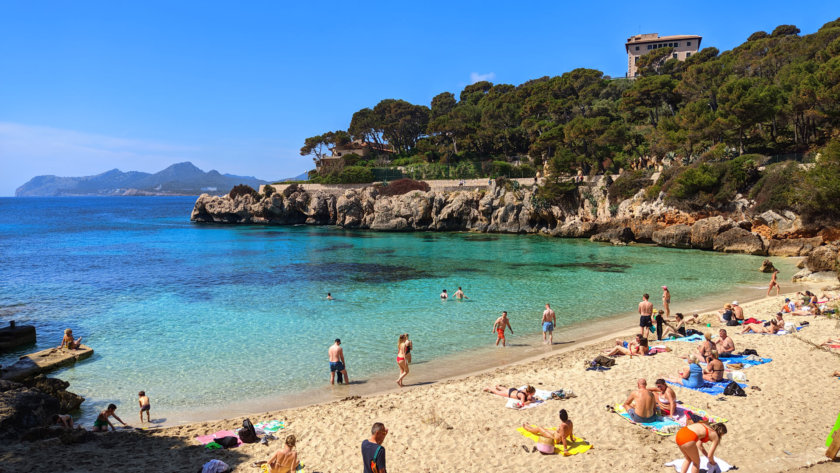 Day 8 – Back to Palma
You're now at the end of this one-week Mallorca holiday. Time to slowly head back down to Palma (unless you're already there if you've opted to spend the week in the same hotel).
Allow 50 minutes by car for the trip from Alcudia to Palma de Mallorca Airport.
Depending on your take-off time, you might fit in one last swim at S'Arenal Beach, for example, which is closest to the airport.
At the same place, there's also the Palma Aquarium (grab your ticket here), the Aqualand water park (click here!), and a tree climbing park (book your ticket here!).
An refreshing way to wrap up this 7-8 day Mallorca itinerary in style!
Voyage Tips - Advice
For a 6-day Mallorca road trip, you can drop any of the days. Depends on what floats your boat.
Same for a 7-day stay in Mallorca.
Where to stay in Alcudia?
Other Activities for a Week in Mallorca
If you want to add more activities to your one-week Mallorca trip, I've handpicked some really cool ones for you.
You need to click on the links for more details and to book them:
1) Top activities for the southern half of Mallorca (Palma and its surroundings)
Outdoor adventures
In Mallorca, you can also opt for an absolutely stunning activity: a hot air balloon ride!! I've put the link in the button below for bookings (it's a must):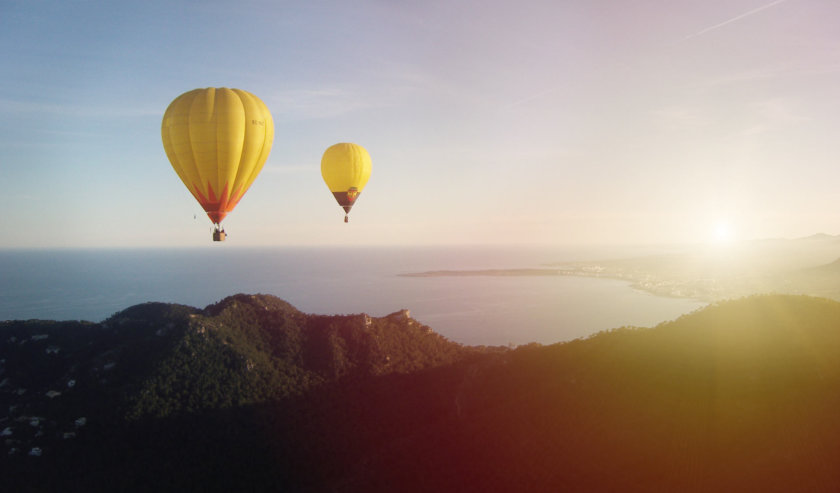 Boat trips
Water Activities
2) Activities in the north of Mallorca (Alcudia and surroundings)
Boat trips
Outdoor adventures
6, 7, 8 days in Mallorca staying at one place
Would you rather spend 6, 7,  or 8 days in Mallorca staying in one place?
No need to worry!
In that case, you might want to find a place to stay around Palma to make getting around a breeze.
There's more to see and do in the south of the island, and you can plan on making 2 or 3 round trips up north during your stay.
On the flip side, if you stay up north, you'll find yourself driving a lot more each day to get to the south. It's a bit less convenient.
Rent a boat in Mallorca
If you want to rent a boat for a nice day at sea during your stay in Mallorca, you should book it with Samboat.
Motorboats, sailboats, yachts, small boats without a license, with or without a skipper: they simply have the most complete offer for boat rental!
So, what are you waiting for to book your boat trip in Mallorca? 😊
One week in Mallorca: Flight prices
By plane
To get to Mallorca, the quickest option is to hop on a plane.
The airport in Mallorca is just outside Palma, a mere 10 km from the city centre.
Flight prices to Palma de Mallorca can vary enormously, so it's a smart idea to start comparing them as early as possible. To do this, you can use our flight comparator, in partnership with Skyscanner. It's the guarantee of getting the best price.
By ferry
Mallorca is served by ferrys coming from mainland Spain.
From Barcelona, expect to spend an average of 7 hours for the crossing. Departing from Valencia, the journey to Palma will take you between 7 and 8 hours, depending on the ferry company.
Another option is to sail to Mallorca from other Balearic Islands like Ibiza, Menorca, and Formentera. It's a great way to experience the beauty of the Mediterranean Sea and explore multiple islands during your trip.
I'd love to hear your feedback and suggestions on my one-week Mallorca itinerary!
If you have any questions about your 10-day visit to Mallorca, feel free to leave your inquiries in the comments, and I'll be more than happy to provide you with helpful tips for your trip.
Book your trip now and save money!
You're traveling to Mallorca? These articles will help you !
Discover all my articles about Mallorca and the Balearic islands: All my articles to help you plan your trip to Mallorca are listed there.
Mallorca
Menorca
You're using Pinterest? Here is the picture to pin!