Things to do in Palma de Mallorca: The 23 Best Places to Visit
You're planning to visit Palma de Mallorca during your next trip? You're looking for the best things to do in Palma de Mallorca?
You're at the right place!
In order to help you plan your stay, I have prepared for you this guide of the 23 best places to visit in Palma de Mallorca, with all points of interest and must-see attractions.
In addition to this list of things to do and activities, I will also give you itineraries to visit Palma de Mallorca in 1, 2, 3, 4, 5 days or even a week as well as my selection of the best accommodations depending on your budget.
And as always, this travel guide contains all my best tips to make the most of your stay.
So, what to do in Palma de Mallorca? Where to stay?
Let's start with the best places to visit!
Visiting Palma de Mallorca: 23 Must-See Attractions
1. Palma de Mallorca Cathedral – La Seu
Let's start this top 20 of the must-see places to visit in Palma de Mallorca with its iconic monument: the Palma Cathedral.
Also called "La Seu" in Spanish, it's the main tourist attraction of Palma de Mallorca. And it's easy to see why when you know that it is the largest religious building in Spain, just after the famous Seville Cathedral in Andalusia.
Its construction began in 1300 and was completed three centuries later, in 1601. Damaged by an earthquake in the 19th century and later restored, the result is an impressive facade blending the original Renaissance style with neo-Gothic elements.
Inside the cathedral, you can discover:
A small museum housing a relic believed to contain thorns from Christ's crown
Magnificent stained glass windows, including the world's largest Gothic rose window, the Oculus Maior, made up of 1,115 panes
The baldachin designed by the famous architect Antoni Gaudí, notably known for designing and starting the construction of the Sagrada Familia in Barcelona
The 18th-century grand organ
The ceramic fresco by Mallorcan artist Miquel Barcelo, located in the Chapel of San Pedro.
The cathedral is open every day except Sunday.
Voyage Tips - Advice
If you plan to explore Palma Cathedral, the island's most popular tourist attraction, you should purchase your skip-the-line ticket ahead of time to save time and avoid the queues.
And since it's the same price as tickets sold on-site, it's definitely worth it! You simply need to present your ticket directly on your phone at the reserved entrance.
Book your ticket with priority access to visit Palma Cathedral by clicking the green button below: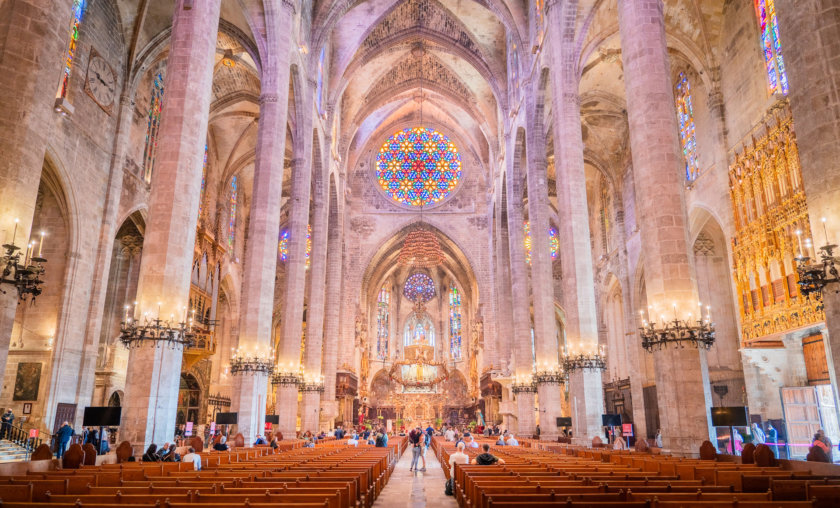 2. Royal Palace of La Almudaina
The other must-see visit in Palma de Mallorca is the Royal Palace of La Almudaina. Located right next to the cathedral, you won't have any difficulty in finding it, especially because it is equally awe-inspiring.
Originally a muslim fortress, the building was converted in the 13th century to serve as the residence of the King of Mallorca. Nowadays, it is only very rarely used by the Spanish royal family for some official ceremonies.
During your visit, you'll get to explore the Queen's Room, the Great Hall, the courtyard, the Royal Apartments, and the small chapel of Santa Anna. Although the palace is impeccably maintained, I personally found the interior a bit bare (some rooms are quite empty).
It is open every day except Monday.
As everyone who visits the cathedral then goes to the palace (or vice versa), I also recommend buying your skip-the-line ticket in advance to avoid waiting in line. Just click on the button below:
Voyage Tips - Advice
Please be cautious with your belongings while walking around the Cathedral, Palace, or Parc de la Mar, as these areas are known to be frequented by pickpockets. During our visit, we witnessed two theft attempts within just 15 minutes (one of which we were able to prevent because we noticed the thief approaching).
Watch out for another common scam: a group of 3 or 4 people will surround you, take photos like regular tourists, and suddenly pull out a large city map that blocks your view and disturbs you, supposedly asking for directions. Meanwhile, their accomplices pick your pockets and search your purse/backpack.

3. Parc de la Mar
Another must-see attraction in Palma de Mallorca is the Parc de la Mar.
It's simply the best place to go for a walk in Palma de Mallorca to enjoy a splendid view of the cathedral and the royal palace. All the photos you see of these two monuments are taken from there.
The park runs along the edge of Palma's old town and the seafront, and features a stunning artificial lake that adds to its charm.
Voyage Tips - Advice
To visit Palma de Mallorca and benefit from historical explanations about various monuments, you have the option of joining one of the several guided tours available. They all pass through the Parc de la Mar to enjoy the stunning view.
To book the Palma guided tour that interests you, simply click on the orange links: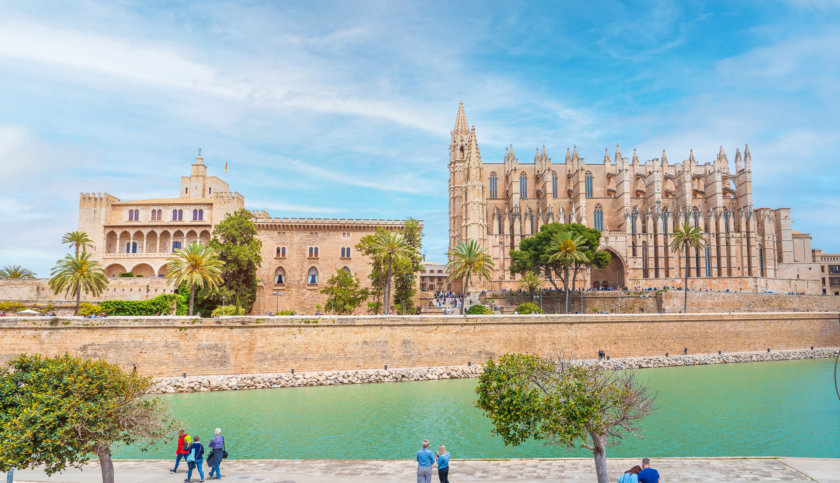 4. The Mercat de l'Olivar
The Mercat de l'Olivar is the main market to visit in Palma de Mallorca if you want to stock up on great local products. A sign of quality: I noticed that many locals come here to shop.
You'll find plenty of fruit and vegetable stalls, fish, cured meats, and all kinds of cheeses.
It's colorful, well-presented, and makes you want to taste everything! I particularly recommend the sobrasada, a spicy pork sausage typical of the Balearic Islands, which you must try during your trip to Palma de Mallorca.
Practical info: the market is open every day from 7 am to 3 pm but closed on Sundays. Go in the morning for more choices.

5. Best boat excursions in Palma de Mallorca
If there's only one activity you absolutely must go for during your stay in Palma de Mallorca, it's a boat excursion.
Whether you choose a catamaran, sailboat, or speedboat, with swimming stops or without, lunch included or not, there's no shortage of options for having an amazing day at sea. To help you make a decision, I've selected the best boat excursions in Palma.
And I'll start with my favorite: a cruise on a beautiful modern catamaran with buffet included.
Pick either the morning trip with a swimming stop at Cala Vella or the late afternoon trip (featuring a swimming stop too) that comes with a DJ on board and lets you take in the sunset over Palma Bay.
This sea trip is also GetYourGuide Originals certified, which means that the services are really top-notch: friendly crew, delicious and plentiful buffet, enough space for everyone.
Book this catamaran cruise in Palma by clicking on the green button right here:
Here are other boat trips from Palma that are also really cool (click on the orange links to book):
If you're looking for an unforgettable night in Palma de Mallorca, let me recommend boat parties complete with drinks, meals, and DJ! Perfect for young adventure-seekers eager to let loose and connect with new friends: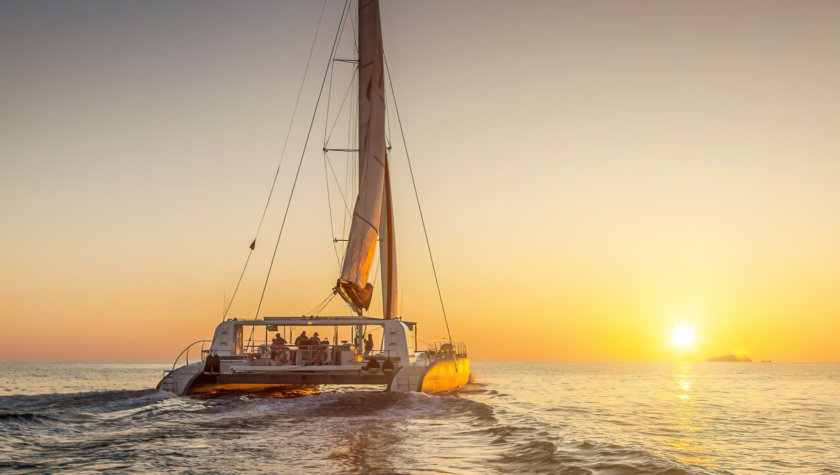 6. The Plaça Mayor
The Plaça Mayor is an absolute must-visit spot in Palma de Mallorca.
Located in the heart of the old town, this large rectangular plaza steeped in history and tradition is full of outdoor cafes and restaurants. A quintessentially Spanish part of Palma that captures the essence of this vibrant country. It is reminiscent of Madrid's Plaza Mayor, with its charming arcades topped by yellow houses with green shutters. While it may not be as grandiose as its Madrid counterpart, the Plaça Mayor is still a lovely sight to behold.
The Plaça Mayor also houses an underground shopping center.
You'll definitely pass through this square at least once during your visit to Palma. And if by some weird chance you didn't, do so.
Voyage Tips - Advice
You're going to Palma?
You probably know it: the hardest part of planning your trip is to find an hotel offering a good value for money!
The closer you get to your travel dates, the harder it will be to get a good deal. Lots of people will be visiting Palma on the same dates as you, so you can be sure that the best deals are booked extremely quickly!
Hopefully, there is a pretty simple solution to this problem: do like me and book your hotel as early as possible!
So, my best advice is to take 5 minutes (now) to have a look at the list of travelers' favorite hotels in Palma.
And if you see a good offer, book it!
Most hotels offer free cancellation, so it's quick, easy, and you will avoid the the inconvenience of finding nothing but mediocre rooms at exorbitant prices.
To check the current best deals for your hotel in Palma, simply click on the green button below 😎:
Once you've booked your hotel, it will be time to continue reading this guide and find out more about the best things to do in Palma!

7. Shopping in Palma de Mallorca
Where to go in Palma de Mallorca for a bit of shopping?
It's in the narrow streets surrounding the Plaça Mayor that you'll find numerous small shops and classic major brands such as Sephora, Stradivarius, Foot Locker…
Make sure you don't miss the chance to explore some of the charming streets in Palma de Mallorca, such as Carrer de Sant Miquel, Carrer del Sindicat, and Carrer del Colom.
You can also splurge in the Passeig del Born, a shaded pedestrian avenue lined with beautiful typical buildings housing some luxury shops on the ground floor. H&M and Zara are also located at the end of the avenue.
You'll also find El Corte Inglés shopping centers near the Passeig del Born, on Avenida de Jaume III, towards Plaza Espana.

8. The Palau March – Bartolomé March Foundation
Continuing with this Palma de Mallorca guide, let's visit the Palau March located next to the cathedral and the Royal Palace of La Almudaina.
This one-time residence of one of Mallorca's wealthiest families now showcases an array of sculptures, featuring works by Rodin, art pieces by Salvador Dali, a collection of 14th and 15th-century maps, and an 18th-century nativity scene with over 1000 figurines.
The museum is closed on Sundays.
Voyage Tips - Advice
The Palma de Mallorca tourist office is a 2-minute walk from the Palau March, on Plaça de la Reina
Be sure to swing by and pick up a map of Palma along with a sheet listing the hours and days when various sites and museums are open during your visit to Palma.

9. The Arab Baths (Banys Arabs)
Another must-see in Palma de Mallorca is the Arab Baths or "banys arabs" in Spanish.
Originating from the 11th century, the Arab Baths now stand as one of the scarce remnants of the Muslim occupation on the island of Mallorca.
I should let you know that the tour is rather brief, but considering the entrance fee is just €3, it's not much of an issue. You'll primarily encounter a beautifully preserved room featuring a dome held up by arches and columns. The place is quite photogenic.
You'll also get to learn about the functioning of the Arab baths through a brief video presentation and informative panels in English, which explain the process of heating and distributing water throughout the rooms.
Voyage Tips - Advice
For a more modern take on Arab baths, I recommend heading to Hammam Al Andalus. You can enjoy baths, hammam and even a massage for the duration of your choice.
To book this relaxing experience during your visit to Palma de Mallorca, click here:

10. Must-visit museums in Palma de Mallorca
Here's a list of museums to check out in Palma de Mallorca:
The Juan March Foundation Museum exhibits a superb collection of 20th-century Spanish art. No need to pay a dime for the entrance, and the museum is nestled within a gorgeous 17th-century building.
The Museum of Mallorca to discover the island's history through a collection of objects from prehistory to the 19th century
The Diocese Museum of Mallorca focuses on religious art
Es Baluard, Palma's modern and contemporary art museum, features works by international and local artists such as Miro and Picasso
Pelaires contemporary cultural center with contemporary art exhibitions, located in the art galleries district.

11. Basilica de Sant Francesc
The St. Francis Basilica or Basilica de Sant Francesc is another popular tourist attraction in Palma.
Dating back to 1281, the basilica stands as one of Palma's most ancient treasures. It's a beautiful church with lovely stained-glass windows and an impressive organ, but it also has 2 unique features:
A stunning multi-level Gothic cloister with elegant columns
The chapel housing the tomb of Ramon Llull, a very famous writer, philosopher, and poet born in Palma. He is considered the initiator of Catalan literature.
The basilica is closed on Sundays.
In addition, there are more churches worth exploring in Palma de Mallorca:
Santa Eulalia Church, Palma's oldest church. You can climb to the top of the bell tower, 50 meters high, for a great view of Palma and the cathedral.
The church of Monti-Sion, or Església de Monti Sion, worth seeing for its facade.
The Church of Sant Miquel
The Church of Sant Jaume
The Church of Santa Magdalena.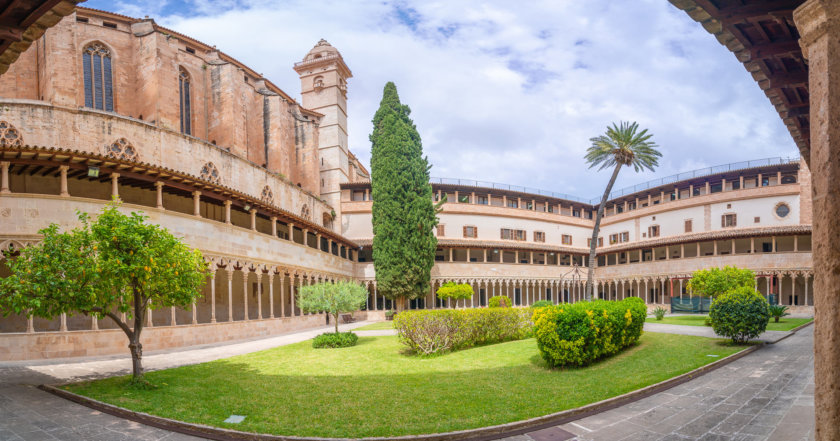 12. Other plazas to discover in Palma
If you're wondering what else to visit in Palma de Mallorca, you can stroll around the city's various squares.
In addition to Plaça Mayor, which I already mentioned, you'll likely come across:
Plaça de Cort, dominated by the Ajuntament (City Hall in English). Definitely don't miss: the iconic olive tree, more than 800 years old, standing as the square's symbol.
Plaza de Santa Eulalia, where you'll find the charming Santa Eulalia Church
Plaza de España, marking the junction between the old town and modern Palma. Boasting numerous restaurants, it's also the central hub for public transportation, with buses, trains, and the metro arriving and departing from this lively square.
Voyage Tips - Advice
If you've decided to rent a car for a Mallorca road trip before your walking tour of Palma, I recommend parking in the underground car park at Plaça d'Espanya.
It's super well-located and costs €2/hour.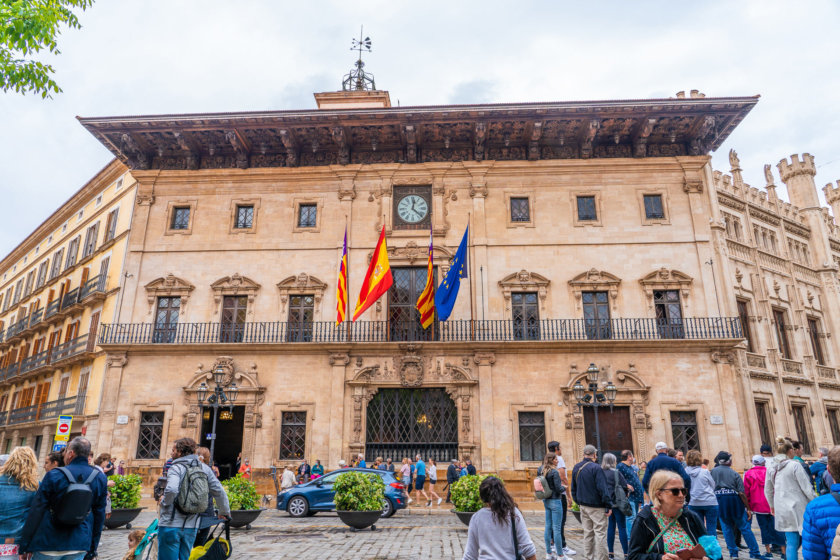 13. Bellver Castle – Castell de Bellver
In the list of places to see in Palma de Mallorca, I suggest you head to Bellver Castle.
Located on the hills to the west of the city, it's reachable by car (free parking), by bus (though the bus drops you off at the bottom of the hill, so you'll have to walk up for about 15 minutes) or the Hop-On Hop-Off bus that stops at several points of interest in Palma, including the castle.
To book your ticket for the Palma Hop-On Hop-Off bus, you can click the button below:
Bellver Castle features very unusual architecture, unique in Spain, as it is round in shape. Built in the 14th century, what was originally supposed to be a royal residence was actually used as a prison.
Nowadays, the castle houses a fascinating museum that tells the entire history of Palma de Mallorca in detail.
You can also access the ramparts to enjoy the panoramic view of the city and the bay. Practical info: the castle is open every day, and admission is free on Sundays.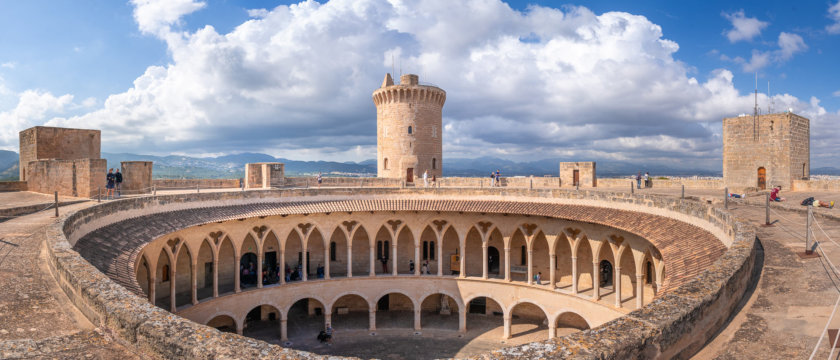 14. Fundació Pilar i Joan Miró
Continuing our cultural sightseeing in Palma de Mallorca, let's visit the Pilar & Joan Miro foundation.
Just like the castle, the foundation is located a few kilometers west of the old town, in the seaside resort of Cala Major.
The museum is housed in the very buildings where famous painter and sculptor Joan Miro lived and worked. You'll find numerous paintings and even some of his sculptures displayed in the garden.
You'll also have the chance to visit his workshop, preserved almost as it was, with some of his unfinished works still there.
The foundation is closed on Mondays.
Tickets are available online by clicking here:

15. Palma de Mallorca Aquarium
If you're visiting Palma de Mallorca with your kids, take them to the aquarium, located east of the city, right next to the airport.
Kids can marvel at rays, sharks, and jellyfish, as well as various fish from the Mediterranean Sea and tropical waters. The visit also features entry to the mediterranean garden and the "Jungle", an awesome area that recreates the ambience of the Amazon rainforest, complete with a waterfall.
They'll also be able to watch a short 3D film about whales in the Aqua Dome Cinema.
To avoid waiting in line, you should buy your tickets for Palma Aquarium by clicking on this link here!
From Palma, you can also book a transfer to the aquarium (+ entrance tickets) by clicking here!

16. More activities in Palma de Mallorca
If you're still wondering what activities to enjoy in Palma de Mallorca, I've prepared my selection for you right here (click the orange links for details and to book in advance to ensure availability):
If you're up for some water or aquatic activities in Palma de Mallorca, here are some recommendations:

Best things to do around Palma de Mallorca
If you're spending some time in Palma de Mallorca and have already explored the city, you should visit the surrounding areas next. You'll find numerous sites, villages, and beaches in close proximity.
To get around, renting a car is a must, as it's the most convenient way to visit all the different places. If you want to do a road trip in Mallorca, you can compare car rental prices and book on Rentalcars.com (click here).
You can also rent scooters for the day. Find all the information by clicking here!
Palma offers the convenience of organized excursions with transportation included.
I'll mention some options below:
17. Beaches near Palma de Mallorca
Palma being a seaside town, you'll find several beaches in its surroundings.
The closest ones to Palma aren't necessarily the prettiest in my opinion, as they are often surrounded by buildings and not wild at all, but if you just want to cool off, they'll do the trick.
In that case, Can Pere Antoni beach is located just past Parc de la Mar, in the Bay of Palma. To the west of Palma, you also have the beaches of: Cala Major, Illetes, Cala Illetes, and the beaches of Magaluf.
There are also 2 small, cute coves: Cala Cap Falco and Cala des Mago.
To the east of Palma, the closest beach you can find is S'Arenal beach, located past the airport. It's lined with hotels, bars, and restaurants.
For a truly untamed experience, head to Colonia de Sant Jordi and Ses Salines, where you'll discover gorgeous white sandy beaches nestled within pine forests, including Es Trenc, Platja Estanys, Dolç Beach, Platja Es Carbo, Platja de Ses Roquetes, and El Caragol.
If you don't have a car, you can take advantage of a shuttle service from Palma to Es Trenc beach. Click on this link to book it!


18. Soller train – Tren de Sóller
The Soller train is a great idea for an excursion to do around Palma de Mallorca.
And it's not just any train, as this one consists of authentic vintage wooden carriages.
The departure is from Plaza de Espana, where Palma's train station is located.
Once you're on board, the train will whisk you away to the charming village of Soller in approximately one hour. As you journey through the picturesque Mallorcan countryside, take in breathtaking views of the Serra de Tramontana mountains.
Once you arrive in Soller, you'll find the church square surrounded by restaurants and quaint streets with shops. Don't miss the opportunity to visit the seaside by hopping on the historic tram that travels down to the port of Soller. It's a great way to take in the stunning coastal scenery.
The train schedule to go to Soller from Palma can be found on the official website.
Voyage Tips - Advice
To make your day even more unforgettable, consider combining the Soller train and streetcar ride with a boat excursion. The sea walk will take you to Sa Calobra and the torrent of Pareis, a rather atypical place that you should absolutely check out.
If you're interested in this organized tour that offers pick-up service from hotels located in the south of Mallorca, simply click the button below to book your spot:

19. The Serra de Tramontana
Let's keep the ball rolling with the must-see spots near Palma de Mallorca, with a day devoted to a road trip through the Serra de Tramontana.
This breathtaking mountain region spans from Andratx to Pollença in the northwest of the island and has been recognized as a UNESCO World Heritage site for its many quaint, picturesque villages dotted with traditional stone houses.
By driving along the long, narrow, and winding route that covers 140 km in total, you can stop and see:
Banyalbufar
Valdemossa
Deia
Soller (if you haven't already taken the train to get there)
Fornalutx
Torrent de Pareis
Lluc Monastery.
Voyage Tips - Advice
Since this road trip isn't feasible by public transport, if you don't have a car, the best option is to choose an organized tour. The tour includes roundtrip transportation, a traditional lunch, and visits to some of the villages.
You can check the itinerary by clicking on this button: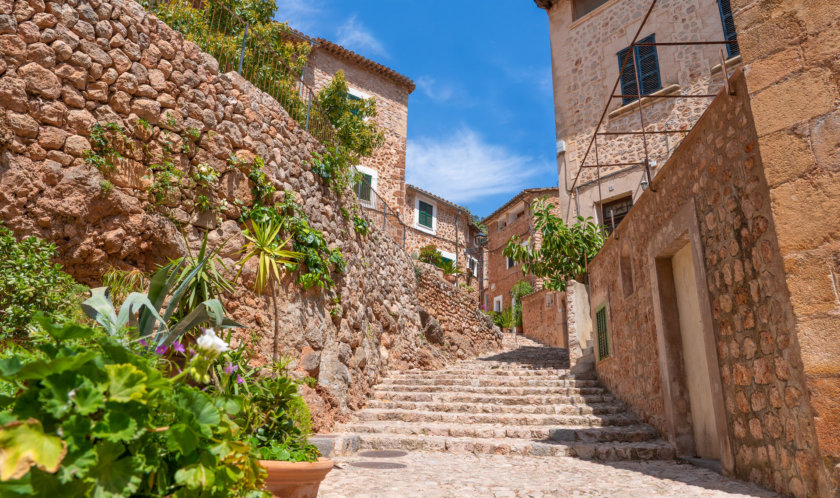 20. Day trips around Palma
If you're in the vicinity of Palma de Mallorca, there are plenty of exciting day trip options to choose from:
Not only can you explore the awe-inspiring chambers filled with a multitude of stalactites and stalagmites, but you can also indulge in a unique classical music concert held in an underground lake and cap it off with a boat tour to round out the experience.
This excursion lasts half a day, but you can also choose the full-day option, which includes a visit to the dels Hams caves, the second most famous caves on the island.
In both cases, the price includes round-trip transportation by minibus from your hotel, an English-speaking guide, and entrance tickets to the caves.
To book this organized excursion departing from Palma, click on the button below:
On this day trip, you'll have the chance to explore three distinct vineyards accompanied by an expert guide and savor a wine tasting session at each stop.
And since it's never a good idea to drink without eating, snacks and lunch are included.
Pick-up is provided from hotels around Palma and you'll be in a small group (maximum of 8 people).
To book, click here:
Amazing excursion, which takes you on a journey through the historic old town of Alcudia and its bustling market, Cap de Formentor, Formentor Beach (where you can take a refreshing swim), and a boat ride from Formentor to the picturesque port of Pollença.

For information and reservations, click on this green button:

I book my trip around Palma now!"I

Visiting Palma de Mallorca with kids
If you're looking to plan a fun-filled family vacation to Palma de Mallorca, check out my list of must-do activities to enjoy with your kids/
A walking tour of the old town of Palma. Very lively and full of colorful shops, they'll love it.
Taking the Soller train
The Palma Aquarium, a classic for a family visit to Palma
A day at Aqualand El Arenal, the largest water park in Mallorca
The Forestal Park (tickets here!), a tree-top adventure park with zip lines, monkey bridges, and climbing walls. Several courses of varying difficulties. For children aged 5 – 6 years and above (over 1.10m tall)
How many days to visit Palma de Mallorca?
Despite being the biggest city of Mallorca, Palma is pretty small compared to European megalopolis such as London or Rome. The majority of Palma's top attractions and activities are located in the Old Town, making it easily accessible by foot.
Therefore, it's possible to explore Palma de Mallorca on foot within a single day.
If you're planning to stay at the same hotel in Palma for the duration of your trip to Mallorca, you can spend the rest of your time exploring the surrounding areas and, of course, enjoy the island's stunning beaches and coves.
Visit Palma de Mallorca in 1 day – Walking itinerary
Best things to do in Palma in 1 day? Here's the program you should follow:
If you're driving, consider parking at the underground parking lot located at Plaça d'Espanya.
Stop at the Olivar Market
Head down Carrer de Sant Miquel and make sure to stop by the church of the same name. While you're there, take a quick tour of the Joan March Foundation museum (admission is free).
You will then reach Plaça Major
Follow Carrer del Colom until you reach Plaça Cort, then head to Plaça de Santa Eulalia and its stunning church.
Art enthusiasts may also want to consider visiting the Palau March
Stop at Parc de la Mar for that must-have photo opportunity.
Depending on your personal interests, you may also want to check out the Diocesan Museum, Mallorca Museum, or the Arab Baths
Make a stop at Monti-Sion church for another great photo opportunity
Visit St. Francis Basilica
For the remainder of the day, you have several options: Option 1: Take some time to go shopping in Palma and then head over to the contemporary art museum, Es Baluard. Option 2: Travel west of Palma and visit Bellver Castle or the Pilar & Joan Miró Foundation. Option 3: Cap off your day with a beautiful sunset by embarking on a catamaran sunset cruise! Book in advance by clicking here!
Visiting Palma de Mallorca in 2 days
If you're staying in Palma de Mallorca for more than one day, I recommend following the itinerary suggested above on your first day.
On Day 2, you should take the small train to Soller and spend some time there.
In the afternoon, you can head to the beach or opt for one of the other activities I suggested in the "Visiting Palma in 1 day" section (shopping, boat trip, Bellver Castle, etc.).
If you have a car, I highly recommend exploring the charming traditional villages nestled in the Serra de Tramontana. This includes visiting Soller, so you won't need to take the train there.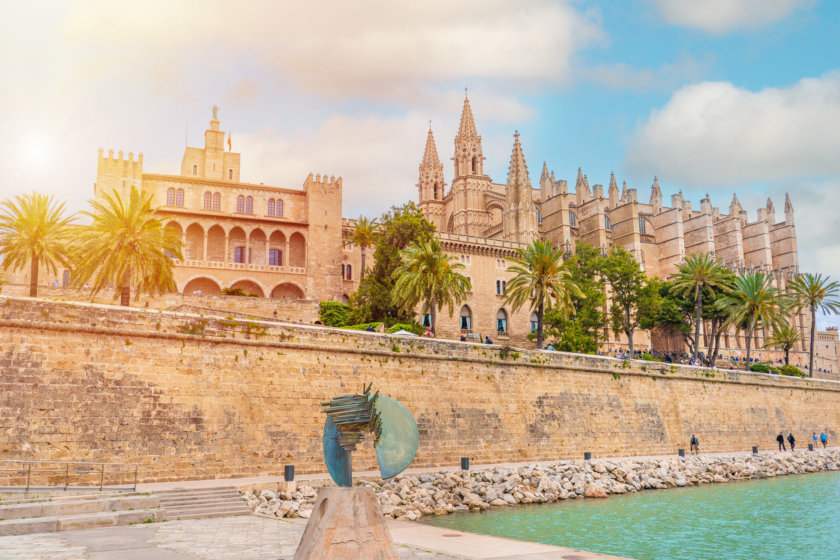 Visiting Palma de Mallorca in 3 days
If you have three days in Palma de Mallorca, in addition to following the itineraries for the previous two days, you can visit the stunning Drach Caves and then spend the rest of the third day at the beach.
If you're looking to spice up your visit to Palma with some fun-filled activities, you should consider the quad bike tour, the buggy tour, and the jet ski tour.
For a family vacation, you can take your kids to the aquarium, Aqualand, or the adventure park. They're all located next to each other in the El Arenal area, next to Palma airport.
Visiting Palma de Mallorca in 4, 5 days or a week
Whether you're planning to spend four or five days in Palma de Mallorca, or even a full week, there's no shortage of exciting activities and attractions to keep you busy. You can soak up the sun on one of the many beautiful beaches in the area, or explore the island in greater depth to discover all it has to offer.
You can go to Alcudia (1 hour drive from Palma) and to Cap de Formentor.
You will find even more ideas on the best things to see on the island in my article: Best things to do and see in Mallorca.
I also prepared some recommended itineraries here:
If you have more time to spare and are looking for an adventure, why not consider visiting one of the neighboring Balearic Islands, such as Menorca? I talk about it in my dedicated article: Best things to do in Menorca.
Where to stay in Palma de Mallorca
Here is my selection of the best places to stay in Palma de Mallorca, tailored to suit your budget.
You need to click on the orange name of the hotels for more information and to make your booking.
And if you can't find what you're looking for, don't hesitate to ask for advice in the comments, indicating your travel dates and preferences. I would be more than happy to assist you in finding the perfect hotel!
And if you're looking for the best 5-star hotels in Palma de Mallorca, you should have a look at the following hotels:
Hotel Victoria Gran Meliá: located right in front of Palma's harbor. Double room starting at €270, breakfast for €29. Strong points: the great location, the sea view, and the amazing staff.
Nixe Palace:: located right next to Cala Major beach, this 5* hotel offers cozy double rooms with a balcony and sea view from €300 per night, breakfast for €24. Strong points: the setting with the stunning sea view, the excellent breakfast and the direct access to the beach. My recommendation for a high-end stay in Palma!
Hotel Antigua Palma – Casa Noble: this superb luxury hotel is located in the heart of the old town, just 100 meters from the cathedral. Stay in sumptuous, elegantly decorated rooms, from €450 per night, breakfast included. Strong points: The amazing spa with hammam and indoor pool, the tranquility, the particularly attentive staff and the rooftop. The best hotel in Palma for a luxury stay!
Where to eat in Palma de Mallorca
Tapas Palma Santa Catalina: as its name suggests, this restaurant is one of the best places to go in Palma if you want to taste excellent tapas. Away from most tourist traps in the old town, the tapas are fresh, hearty and delicious.
Sa Cuina de Mercat: This unpretentious restaurant located in Plaça de l'Olivar (next to the market) offers excellent cuisine made with fresh products. The dishes are well crafted, refined, and very tasty. I'm confident that you'll have a great time!
Asador Bolixe Cocina Esencial: Located near Plaza Espanya, this Argentinian restaurant is a must-try for meat lovers. The quality of all the meats is exceptional, and they are cooked to perfection.
It's worth noting that most tourist guides in Palma recommend eating at the San Juan Gastronomic Market, but they haven't been updated as the market has been permanently closed since the Covid crisis.
Voyage Tips - Advice
If you want to discover traditional Spanish cuisine recipes such as a delicious paella, tortillas, or even Catalan cream, then taking a cooking class with a local chef is an absolute must. Learn how to cook like a pro and impress your friends and family back home!
You'll assist in the preparation of the menu and finish with a tasting accompanied by a good wine.
Book your cooking class in Palma now by clicking the button below:
Rent a boat in Mallorca
If you want to rent a boat for a nice day at sea during your stay in Mallorca, you should book it with Samboat.
Motorboats, sailboats, yachts, small boats without a license, with or without a skipper: they simply have the most complete offer for boat rental!
So, what are you waiting for to book your boat trip in Mallorca? 😊
Tourist map of Palma de Mallorca
To help you get a better idea of the island, I've created a tourist map of Mallorca featuring the places to visit mentioned in this top 20 list of the best things to do in Palma de Mallorca and its surroundings. You can display the map legend by clicking the button with a small arrow at the top left corner.
And you? What sights do you have in mind for your Palma de Mallorca trip?
Book your trip now and save money!
You're traveling to Mallorca? These articles will help you !
Discover all my articles about Mallorca and the Balearic islands: All my articles to help you plan your trip to Mallorca are listed there.
Mallorca
Menorca
You're using Pinterest? Here is the picture to pin!