The Perfect Itinerary for One Week in Menorca
You're planning to visit Menorca and you're looking for the best 1 week itinerary?
You're at the right place!
In order to help you plan your stay, I have prepared for you this one week itinerary in Menorca. It will allow you to make the most out of your stay and visit all the best tourist attractions of the island.
In addition to the best things to do, I will also give you my best tips to visit Menorca in 6, 7 or 8 days as well as my selection of the best accommodations depending on your budget.
So, how to spend a week in Menorca? What are the best places to visit?

Let's discover Mahon, Ciutadella, Menorca's best beaches and a lot more!
One-Week Itinerary in Menorca: Best things to do and see
To explore Menorca in a week, you'll arrive either by plane or ferry, in Mahon or Ciutadella. I've shared all the details about the different ways to reach Menorca in the "Getting to Menorca" section at the end of the article.
For this recommended 7-day itinerary in Menorca, if you want to reach most of the magnificent coves the island has in store, you'll definitely need a car.
Regarding your car rental in Menorca, you should check out Rentalcars.com to compare rates from all rental companies located near the airport or the two city ports.
It's quick and convenient, and you can opt for Rentalcars' full protection insurance, which allows you to be reimbursed in case of theft, accident, or damage to your car. If this insurance isn't already included with your credit card, it's a good option as it's cheaper than taking it directly from the rental company.
Click the green button below right now to compare car rental prices for this one-week itinerary in Menorca.
Day 1 – Mahon and La Mola Fortress
A little heads up before we start: since you'll be staying in the same place for the whole week, feel free to mix up the days. You don't have to follow my recommended itinerary in order. It really doesn't matter. Mix it up as you please.
For the first day, I suggest you kick off with a tour of Menorca's capital: Mahon. Everything can easily be done on foot as the historic center isn't too sprawling.
I recommend parking your car at the covered car park at Plaça de la Miranda (€2/hour), conveniently located next to the market where you'll start your day.
Mahon's market, the "mercat del Claustre", is set in a former cloister and houses some shops under its arcades. Here, you'll mainly find fruits and vegetables, cured meats, and cheese.
Next, swing by the fish market (the "mercat des Peix") which is just around the corner. It's divided into two sections: one with stalls selling fresh fish, and the other featuring loads of truly mouth-watering tapas!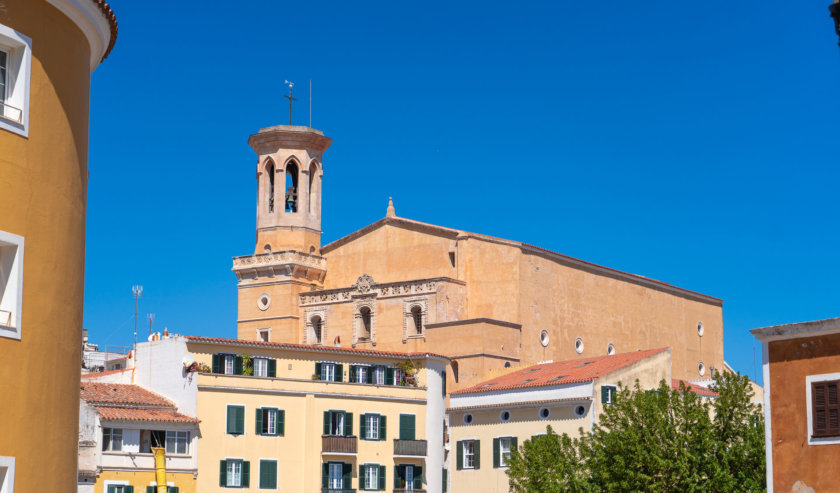 Afterwards, meander through the pedestrian-friendly alleyways such as Carrer Nou, Carrer del Hannover, and Carrer de ses Moreres, all lined with boutiques.
Also worth seeing in Mahon are:
The Santa Maria church in Mahon and its organ composed of more than 3,200 pipes
The portal de Sant Roc and its two towers, one of the only remnants of the old city wall
The Minorca museum that traces the island's history. It's located in the old convent of Sant Francesc.
The art and history centre (Ca'n Oliver) focusing on the city's and port's history.
After lunch, hop back into your car and head to another sight to see during this one-week journey in Menorca: the fortress of la Mola. It's about a 20-minute drive from the center of Mahon, situated at the easternmost point of the island.
Built in the 19th century to defend the port, it's wonderfully well-preserved and also offers lovely views of the coast. The site is quite large, so plan to spend around 2.5 hours touring it on foot, but you also have the option to rent golf carts.
Admission is €8 with an additional charge for an audioguide, but you can also scan the QR codes located throughout to get information about the history of the fortress and all the buildings.
For the rest of the afternoon, I suggest you head over to the first beach on this Menorca one-week itinerary, the beautiful sandy beach nestled next to a small cape of Cala Mesquida. It's just a 15-minute drive from the fortress.
Spend your first night in Minorca. You'll find my selection of the best hotels on the island further down in this article.
Voyage Tips - Advice
You should also take a short one-hour cruise in Mahon Bay to admire breathtaking views of the colonial houses of Mahon, the fortress and the small islets scattered around.
The tour is enjoyable and you'll also get some historical commentary in English.
To book your boat tour in Menorca, you just need to click on the button below: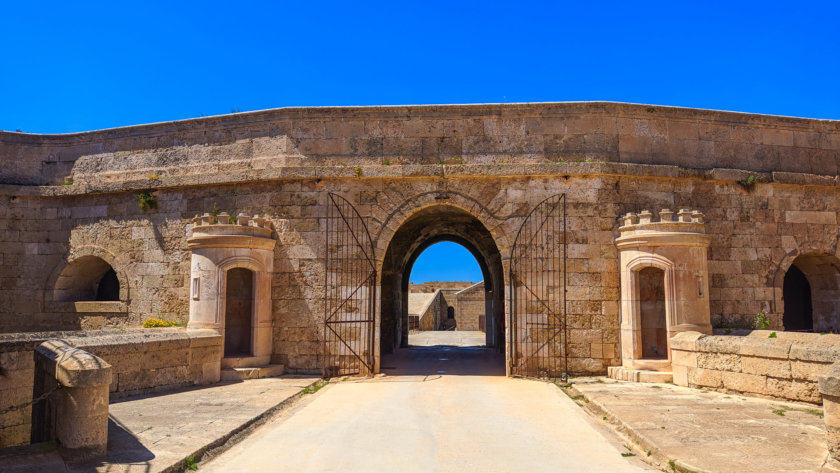 Day 2 – Boat excursion along the south coast of Menorca
For your second day of your week-long stay in Menorca, how about we set sail for a full-day cruise along the southern coast of Menorca?
The adventure kicks off every day around 10 AM from the port of Ciutadella, situated on the western side of the island. Just remember, booking in advance is essential.
As you glide across the water, you'll be treated to gorgeous coastal landscapes until reaching the Cala de Son Saura where you'll have 2 hours to dip into this charming cove made up of two beaches.
Also, take some time to stroll along the shore and check out the Cala des Talaier, a small cove just a 10-minute walk from Son Saura.
Then it's back on board for a delicious lunch of paella, washed down with a refreshing glass of sangria. It doesn't get more quintessentially Spanish than that!!
Next, we'll chart a course for the Cala en Turqueta where you'll have 1.5 hours to swim. Nestled within a pine forest and blessed with turquoise waters, it's one of the most beautiful coves I stumbled upon during my week-long road trip in Menorca!
Head back to the port of Ciutadella by late afternoon.
To secure your spot on this fantastic boat excursion, just click on the green button below. It's one of the best activities to do during your one-week trip to Menorca!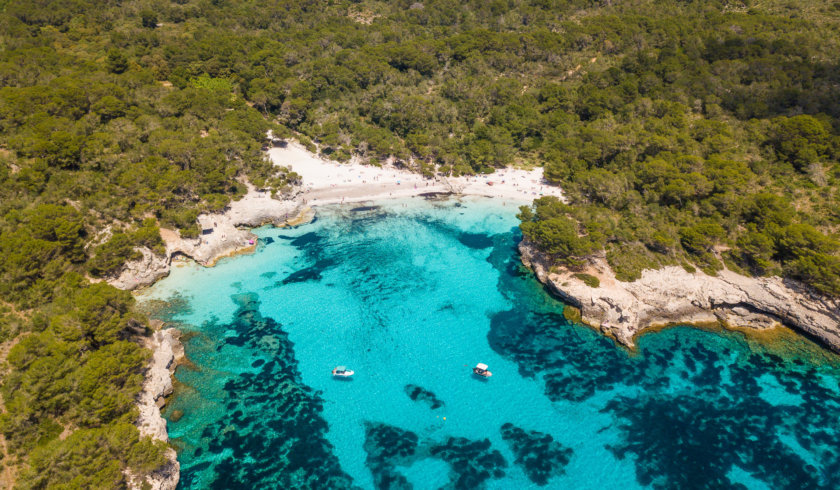 Day 3 – Walk on the Cami de Cavalls / Cavalleria / Fornells
For the third day of this week-long circuit in Menorca, I suggest exploring a small part of the north of the island.
First, head over to Binimel-là beach. You'll need to leave your car in the parking area next to the restaurant and make your way to the beach on foot (5 minutes). Then follow the path to the left of the beach. It's a section of the Cami de Cavalls.
The Cami de Cavalls allows you to walk (or bike or horse ride) around the entire island of Menorca, a journey of 185 km, divided into several stages ranging from 5 to 14 km. Today, I suggest you cover a tiny fraction of the Cami starting from Binimel.
The walk is incredibly picturesque, leading you to Cala Pregonda, where you'll discover 4 coves with ochre sand and crystal clear waters. The landscape is particularly striking with its colour contrasts between the turquoise water, red rocks, and trees.
Feel free to pick your favourite spot for a swim!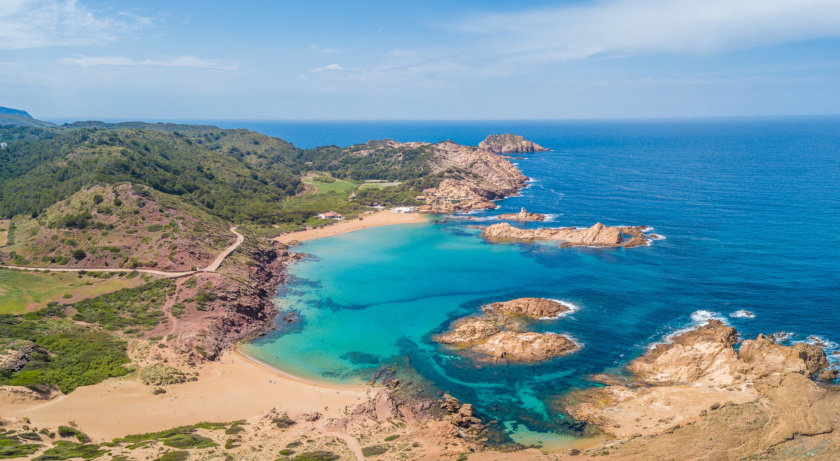 Then it's back in the car for a 15-minute drive to the beach of Cavalleria. The beach is easily accessible, just 300 metres from the parking lot.
You'll find a lovely stretch of golden sand forming a cove fringed by crystalline water. There's no doubt you'll feel the urge to take a quick dip here too!
Next, from the parking lot, take the only road leading to the island's northernmost point, the Cap de Cavalleria, home to the Cavalleria Lighthouse.
Inside, there's a small museum showcasing the history and construction of Menorca's lighthouses. But the real reason I've brought you here is because this spot is famous for offering wonderful views of the entire northern coast of Menorca.
After feasting your eyes, you can head towards Fornells, the final stop of the day.
Nestled by the sea, this charming village with its typical white houses is a pleasure to stroll around. It's famous for its culinary specialty: the caldereta de Llagosta, which is actually a delicious lobster casserole.
So, I suggest ending the day by indulging in this delicacy at one of Fornells' two best restaurants: Sa Llagosta or Es Cranc. Just a heads up, booking is a must!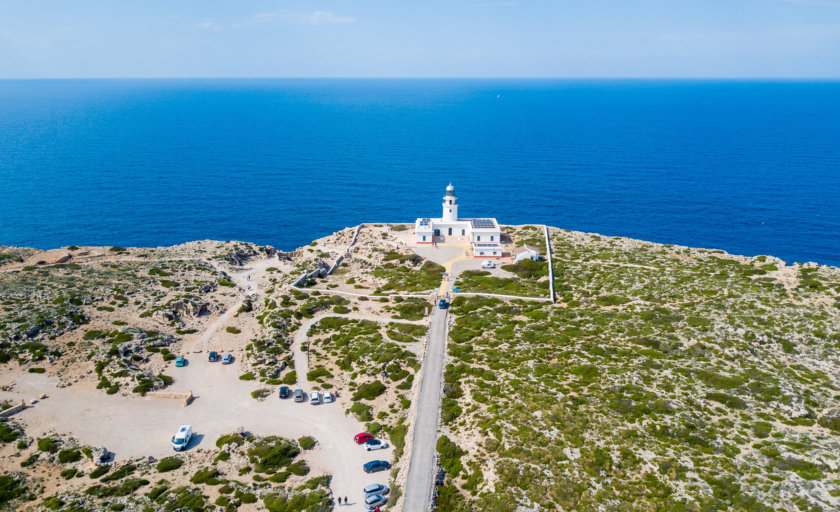 Day 4 – The most beautiful coves around Cala Galdana
Continuing the itinerary, today is dedicated to exploring the most breathtaking coves in Menorca within a week's time. Join me as we venture to discover the spectacular coves nestled on both sides of Cala Galdana.
Each of these coves boasts pristine, crystal-clear waters and is surrounded by lush pine forests. Take a refreshing dip and immerse yourself in the underwater wonders by snorkeling. Remember to bring your mask and snorkel!
Most of these coves are only accessible by boat or on foot (but if you choose the latter, you might not be able to visit all of them in one day). I'll provide information for both options.
1) Rent a boat at Cala Galdana
To visit the coves by boat, you'll first need to drive to the seaside resort of Cala Galdana. At the small harbor, you'll find parking spaces and shacks of companies offering boat rentals.
You really should book your boat in advance, as there aren't exactly a multitude of them. I went with Iguana Boat.
You don't need a license for these types of vessels, and the boats are super easy to handle (even if you've never done it before).
Setting off from the harbor, I recommend starting on the right side with Cala Macarella and Macarelleta.
If you venture a bit further, you'll come across Cala en Turqueta, but if you've done the boat excursion on Day 2, you've already been there, so you might want to skip it.
After that, turn around and venture towards the beaches on the left side of Cala Galdana. Here, you'll encounter a series of captivating coastal gems, including the stunning Cala Mitjana (which ranks among my top 5 most beautiful swimming spots during a one-week stay in Menorca!), Cala de Trebaluger, Cala Fustam, Cala Escorxada, Platja Binigaus and Sant Adeodato beach situated in Sant Tomas.
You're not allowed to venture further by boat (due to rental time and fuel restrictions).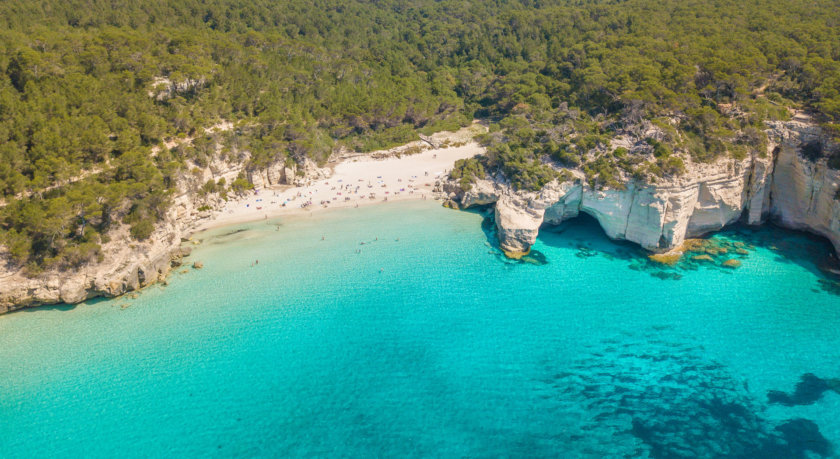 2) Access on foot to the coves of the south coast
For those looking to explore two or three coves in a day and reach them on foot, here are some helpful details to consider.
Note that you can choose to link several coves in a row on foot by following the Cami de Cavalls or return to your car after each cove (but you'll still have to walk as the car parks aren't that close).
Cala Macarella: 1.1 km from the car park or 2.2 km from Cala Galdana via the Cami de Cavalls
Cala en Turqueta: 1 km from the car park or 2.5 km from Cala Macarella
Cala Mitjana: 1.2 km from the car park or 1.2 km from Cala Galdana There's a gorgeous viewpoint to the right of the beach if you follow the trail leading to a second, smaller cove.
Cala de Trebaluger: only accessible via the coastal path from Cala Mitjana (about 1.7 km)
Cala Fustam: 1.6 km from Trebaluger
Cala Escorxada: which you can reach via the coastal path starting from Sant Tomas (about 3.3 km on foot)
Voyage Tips - Advice
If you've decided to visit Menorca in one week with your kids you might prefer to spend the day on a more easily accessible beach.
The beach of Cala Galdana or the beach of Sant Adeodato are perfect as they're large sandy beaches with shallow water. You can even rent sun loungers/umbrellas and pedal boats there.

Day 5 – West Menorca coves / Ciutadella / Pont d'En Gil
All set for day five of your one-week Menorca adventure? Here's what I've got lined up for you.
Morning rendezvous point: one of the lovely coves south of Ciutadella. I'd heartily recommend:
Cala Blanca, nestled deep in a charming little canyon. You'll find a few bars and restaurants nearby to satisfy your taste buds.
Cala Santandria, a delightful cove tucked away at the foot of what looks like a fjord, with several inviting little eateries.
Sa Caleta: a beautiful cove with shallow turquoise waters. I found it incredibly beautiful, especially with the view of the tower.
After a morning of relaxation, fire up the car engine and head over to the historic center of Ciutadella, the former capital of Menorca before Mahon took over.
A stroll through the streets of the old town will give you a chance to admire the impressive buildings, including many bourgeois houses with attractive facades and several churches.
Make sure to swing by:
The Es Born Square home to the town hall and an obelisk.
Ses Voltes, the main shopping street. 
The Ciutadella Cathedral.
The fish market, where several restaurants serve up the day's catch for lunch. And if you're not much of a seafood fan, there are also numerous restaurants in the historic center.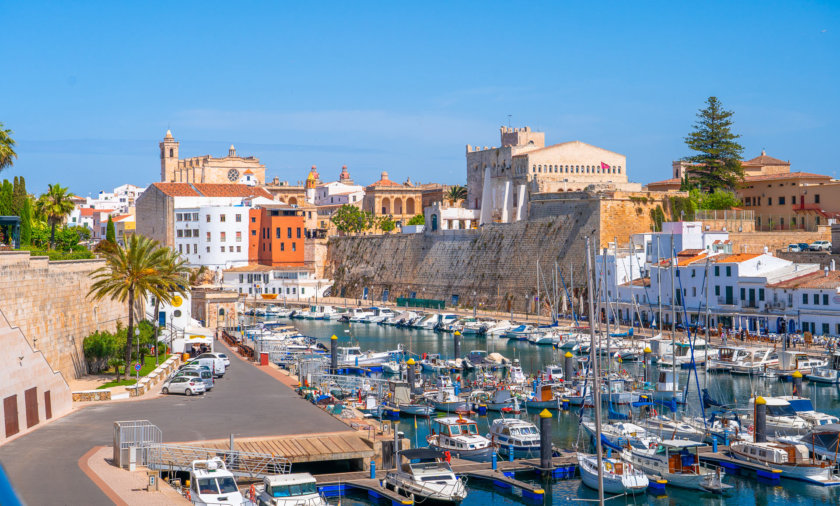 In the afternoon, I recommend touring some of the gorgeous coves north of the city. Your options include:
The picturesque bay of Cala en Blanes.
Cala en Brut: a gorgeous spot featuring several terrace platforms where you can dive straight into the water or climb down via ladders. No beach, though!
Cala en Forcat: a beautiful cove teeming with rocks along the water's edge. The water's quite shallow. The place is perfect for snorkeling. Only slight downside: there's a big hotel on the cliff overlooking it.
Cala Piques, which is pretty attractive, and you can rent sun loungers and parasols. For parking, my advice would be to park on the right side of the beach, it's easier than on the left.
If you find yourself still around during sunset, don't miss the opportunity to visit Pont d'en Gil. It's just a 10-minute walk from the parking area to reach this mesmerizing stone arch stretching out into the water.
The spot's famed as one of the best places to catch a Menorca sunset over the sea in a one-week visit.
Voyage Tips - Advice
If you're up for adding two more offbeat destinations to your itinerary before reaching Ciutadella, consider the following:
Naveta des Tudons, a remarkable burial site from the Talayotic period that is considered one-of-a-kind worldwide (even Mallorca doesn't have anything quite like it).
The former sandstone quarry of Lithica (Pedreres de s'Hostal) which has been transformed into a gigantic maze. Great fun for a one-week family trip to Menorca!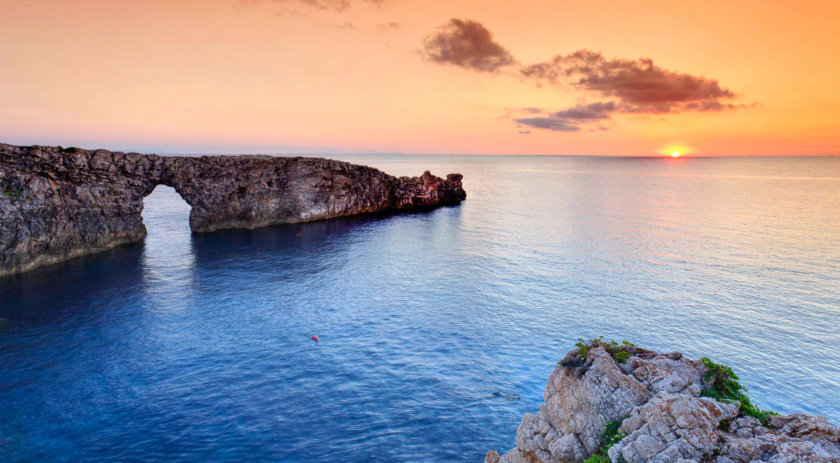 Day 6 – The north of Menorca
Are you ready for the sixth day of your one-week road trip in Menorca? Let's begin by visiting the Monte Toro lookout.
Perched right in the middle of the island, 358 meters high, it's the highest point in Menorca. You can enjoy a beautiful panorama of much of the island, and on a clear day, you might even see Mallorca!
As you descend from Monte Toro, you'll come across Es Mercadal, a quintessential traditional village in Menorca. Its picturesque streets are lined with white houses, and the main square features a few cafés and bakeries where you can enjoy a delightful break. You might want to pick up some Balearic pastries like ensaïmadas and crespells.
Indeed, one of the main reasons to spend 7 days in Menorca is to indulge in the delightful local cuisine and savor the flavors of the island.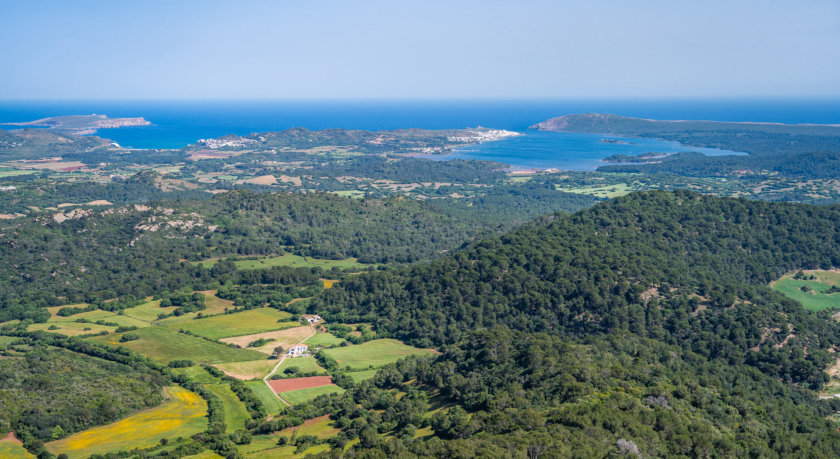 Next stop, Cala Algaiarens, a 30-minute drive from Es Mercadal. This stunning, untouched sandy beach comprises a double cove, framed by dunes and pine trees, adding to its natural allure.
Just a 5-minute walk along the seaside and rocks to the right, you can also reach Platja des Bot. The beach is equally lovely with a shallow sandbank.
The place is truly calm and serene.
Time to take a dip and chill out!
If you don't fancy spending the entire afternoon in one spot, you can then hop back into your car to the parking area of Cala Pilar, a 35-minute drive from Algaiarens.
Accessible by a 45-minute walk along an easy trail, Cala Pilar is a pretty sandy beach with red rocks.

Day 7 – Coves of east Menorca
For the penultimate day of your one-week itinerary in Menorca, I suggest you dedicate your time to exploring the captivating east side of the island. You caught a glimpse of it when you visited Mahon on the first day.
Today, you'll get to admire and swim in the most beautiful coves and beaches around the area.
Here's a compilation of my personal favorite spots in this area (but feel free to choose what suits your preferences and simply unwind if that's what you're in the mood for!):
Cala'n Porter: a white sand beach surrounded by cliffs. You can rent kayaks there.
Cales Coves: accessible only on foot in 20 minutes or by boat. This protected cove surrounded by cliffs is totally wild. Not exactly your typical beach though, mostly rocks.
Cala Canutells: a quiet seaside resort with a pretty cove at the end of the bay
Cala Binidali: a serene and picturesque cove known for its tranquil atmosphere and pristine, crystal-clear waters.
Biniparatx is also superb and very quiet (accessible only on foot)
Calo Blanc: a stunning, albeit compact location. Here, you'll find a small stretch of sandy beach complemented by mesmerizing turquoise waters.
Cala Binibequer: a spacious sandy beach, less untamed than the beaches I've just mentioned
Playa Punta Prima: a beach that tends to attract more tourists due to its monitored status. It offers the convenience of nearby restaurants and bars.

Day 8 – The End!
 You've reached the end of this one-week holiday in Menorca.
Depending on your departure time, you can enjoy the island's beaches one last time or head over to Es Grau. You could take a tour of S'Albufera d'Es Grau natural park or unwind on the large and superb sandy beach. The choice is yours!
From Es Grau, you can also take a boat shuttle to reach the small island opposite. Book the transfer by clicking here!
A perfect way to conclude this 7-8 day itinerary in Menorca!
Voyage Tips - Advice
For a 6-day road trip in Menorca, you can remove any day. Tailor it to your interests.
The same goes for a 7-day stay in Menorca.
Where to stay for a week in Menorca?
I've prepared my selection of the best hotels to stay in Menorca based on your budget.
If you've designed a one-week itinerary in Menorca, there's no need to switch accommodations frequently. The island's not massive, making it pretty easy to get around.
Best hotels near Mahon
Best hotels near Ciutadella and surroundings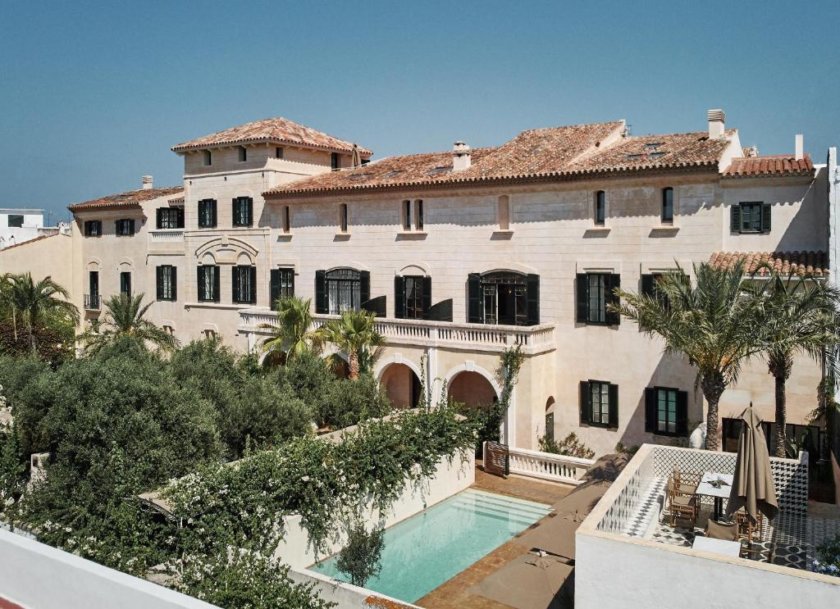 Where to sleep on the south coast of Menorca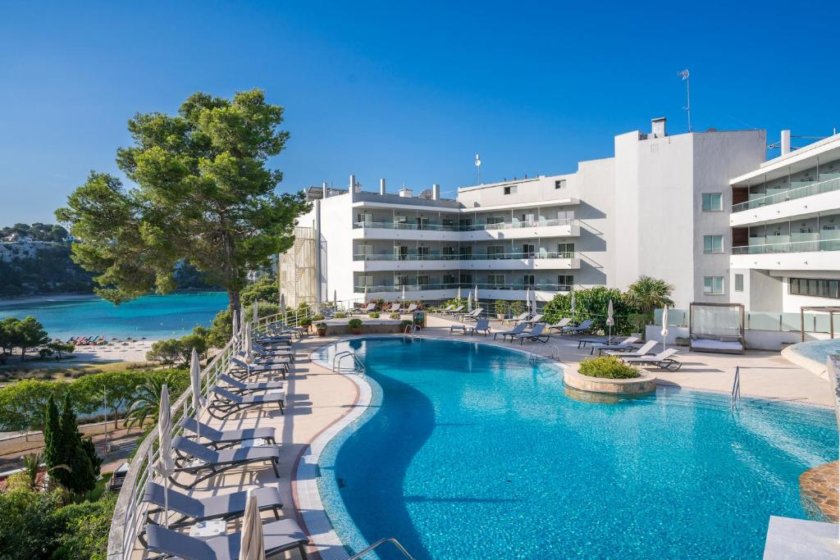 Accommodation in the north of Menorca
Additional activities for a week in Menorca
If you fancy adding other activities to do during your one-week trip to Menorca, I've selected some really cool ones.
Feel free to click on the links to access details and make your reservations:
Boat trips in the south of Menorca
Boat trips in the north of Menorca – Departure from Fornells
Nautical and water activities
More activities
One-day 4×4 off-road excursion that takes you both on established tracks and off the beaten path.
Horse riding: several riding centers organize rides along the Cami de Cavalls.
Hiking on the Cami de Cavalls.
Rent a boat in Menorca
If you want to rent a boat for a nice day at sea during your stay in Menorca, you should book it with Samboat.
Motorboats, sailboats, yachts, small boats without a license, with or without a skipper: they simply have the most complete offer for boat rental!
So, what are you waiting for to book your boat trip in Menorca? 😊
One week in Menorca: flight prices
By plane
To get to Menorca, the quickest option is to hop on a plane.
The Minorca Airport is 4.5 km from the capital, Mahon.
As flight prices to Menorca vary a lot, it's a good idea to compare them as early as possible. To do this, you can use our flight comparator, in partnership with Skyscanner. It's the guarantee of getting the best price.
By ferry
Menorca is served by ferrys coming from mainland Spain.
From Barcelona, expect to spend an average of 9.5 hours for the crossing.
You can also get to Menorca by boat from other Balearic islands such as Mallorca, Ibiza and Formentera.
If you're coming from France, you have the option to travel to Menorca by ferry from Toulon. However, please note that the crossing time is approximately 16 hours.
I'd love to hear your feedback and suggestions on my one-week Menorca itinerary!
If you have any inquiries or need further information about exploring Menorca in a week, don't hesitate to ask your questions in the comments below. I'll be more than happy to assist you!
Book your trip now and save money!
You're traveling to Menorca? These articles will help you !
Discover all my articles about Mallorca and the Balearic islands: All my articles to help you plan your trip to Menorca are listed there.
Menorca
Mallorca
You're using Pinterest? Here is the picture to pin!