Itinerary: How to Spend 4 or 5 Days in Mallorca
You're planning to spend 4 or 5 days in Mallorca for your next trip?
Great idea!
In order to help you plan your stay, I have prepared a detailed itinerary to visit Mallorca in 4-5 days and see all the must see attractions of this charming Spanish island.
I addition to the best places to visit each day, I will also give you all my best tips as well as a list of the best places to stay in Mallorca depending on your budget.
So, what are the best things to do during your 4-5 days trip to Mallorca ? Where to stay?
Let's plan your trip!
What are the things to do and see in Mallorca in 4 or 5 days?
Mallorca has only one airport and a main port both located in the east of Palma de Mallorca, south of the island.
Whether you choose to fly or sail, for this 4-5 day Mallorca tour, you'll land in Palma. You can compare flight prices at the end of this article, in the "Getting to Mallorca" section.
To carry out the itinerary I've prepared, the most convenient way is to rent a car, but you can also opt for organized tours with transportation included.
If you decide to rent a car, you should first compare prices and make your booking on Rentalcars.com.
It's really the most convenient option and also offers the chance to get comprehensive protection insurance for refunds in case of accident or theft (cheaper than what the rental company will offer you at the counter).
To compare car rental prices in Mallorca, click the green button below:

Day 1: Exploring Palma de Mallorca
To visit Palma de Mallorca in one day, I recommend you start with the covered market of Olivar. It's primarily a food market offering delicious local products like cheeses and charcuterie, including the famous sobrassada, a type of spicy dried sausage that is typical of the place.
Coming out of the market, you'll find yourself right in the historic center, where you can wander through the shopping streets and pass by quaint squares. You can follow this walking route: Carrer Sant Miquel / Plaça Mayor / Carrer del Colom / Plaça Cort / Plaça Santa Eulalia.
Then head to the magnificent Palma de Mallorca Cathedral. This awe-inspiring architectural marvel is one of the largest religious monuments in all of Spain. The interior is also home to the largest Gothic rose window in the world.
The cathedral is definitely the must-see in Palma, and often there's a long queue to prove it. To skip the line you should book your ticket in advance by clicking on the green button below (it doesn't cost more than on site):
Just opposite the cathedral, you'll find another iconic city spot: the Royal Palace of La Almudaina. Inside the palace, you get to explore the royal apartments, the hall, and the chapel. The place is well preserved but, let's be honest, kinda empty.
Here as well, it's better to buy your skip-the-line ticket in advance to avoid waiting. Just click on the button below:
Next, take the stairs down to Parc de la Mar, a vast expanse of water, from where you can take the best photos of the cathedral and the royal palace.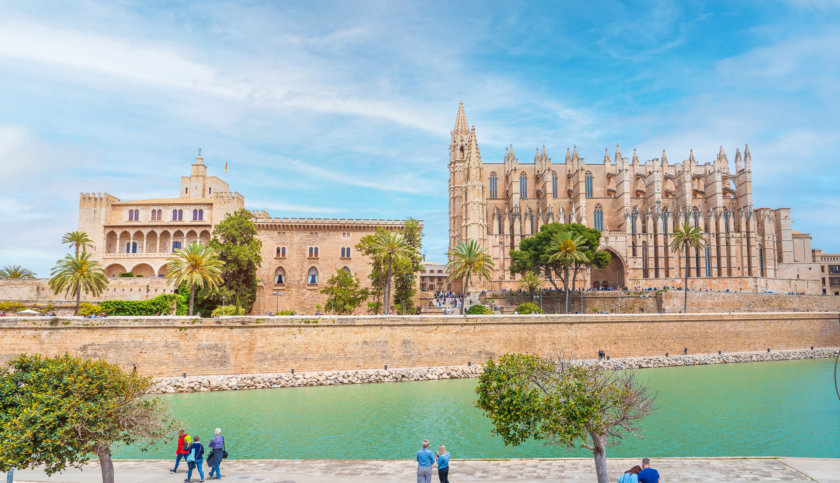 Head back into the old town for some shopping and sightseeing (depending on your interests):
The Museum of Mallorca, showcasing the island's history
The Arab Baths, one of the few remaining vestiges of Mallorca's Muslim occupation
The Basilica of Saint Francis, home to a beautiful Gothic cloister.
In the late afternoon, I've got an amazing activity for you: a boat trip! And not just any boat, but a sleek catamaran!
Setting off late in the day allows you to enjoy a stunning sunset over the entire bay of Palma while enjoying a hearty buffet on board
Book your catamaran cruise in Mallorca by clicking on the green button:
Stay the first night in Palma (you'll find my hotel recommendations further down in the article).
Voyage Tips - Advice
To discover the history of Palma de Mallorca and its buildings, you should book a guided tour. There are several types offered (click on the orange links for details):
To make sure you don't miss any of Palma's highlights, you can also check out my article: The 20 best things to do in Palma.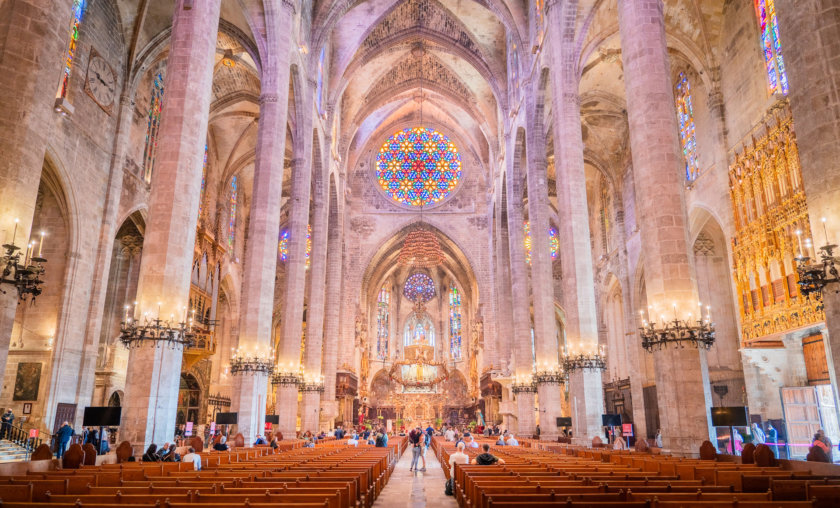 Day 2: The beaches and coves of Southern Mallorca
For the second day of this of 4-5 days itinerary in Mallorca, you'll discover some of the most beautiful beaches of the southern part of the island.
First off, head to Cape Ses Salines, about an hour from Palma. There's no "real" parking space here, but you can leave your car on the side of the road just before you reach the lighthouse at the end of the cape.
From there, you'll have to proceed on foot for approximately 20 minutes along the trail that takes a right turn from the lighthouse and runs alongside the coast. This will lead you to the beautiful and untouched beach of El Caragol. The spot isn't very touristy, so you'll find peace and quiet for a swim.
And if it's a bit crowded, you can carry on a bit further (another 20 minutes walk) to reach the cove of Cala en Tugores.
Remember to bring water and some snacks if you plan to spend some time here since there are no facilities.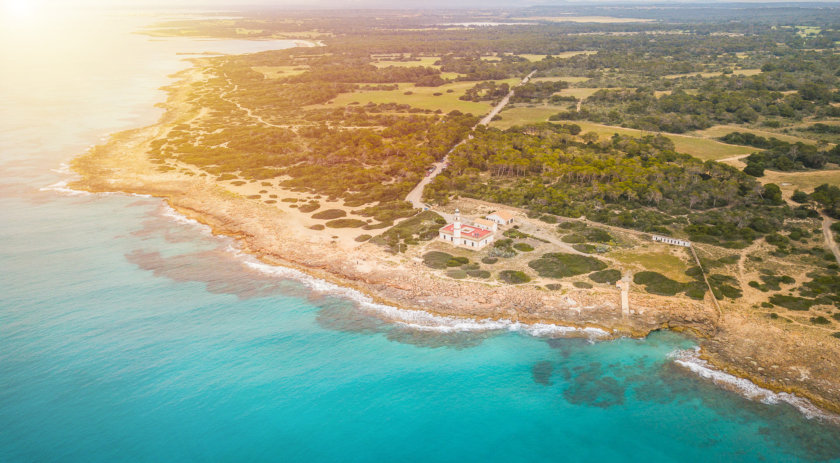 Next, hop back in your car and head towards Colonia de Sant Jordi, a small seaside resort famous for its Es Trenc beach, which consistently ranks in the tops of the most beautiful beaches in Mallorca.
And let's face it, with its fine sand and turquoise water, it's a real postcard picture! If you've decided to spend 4-5 days in Mallorca with kids, the access is more convenient than the beaches of Ses Salines and the water is shallow, making it a fantastic choice.
If you haven't had your fill of gorgeous beaches for the day, still in Colonia de Sant Jordi, I also recommend lounging on the beaches of Des Dolç, Can Curt, Es Carbo, and Ses Roquetes. They're all lined up in a row.
Spend a second night in Palma de Mallorca.
Voyage Tips - Advice
If you haven't rented a car for this trip of 4-5 days in Mallorca, unfortunately, it will be impossible to get to Cape Ses Salines as there's no bus service.
You can, however, get to Colonia de Sant Jordi.
Just take public transport or even better, book your transfer from Palma to Es Trenc beach. This shuttle runs during the tourist season and can be booked by clicking on this link!


Day 3: Exploring southeast Mallorca (Sineu, caves, and beaches)
For the third day of this 4-5 day trip around Mallorca, I'm suggesting you discover the largest market on the island, held every Wednesday morning in the village of Sineu, just a 40-minute drive from Palma.
*If your third day doesn't fall on a Wednesday, feel free to swap it around with any of the other days.
The market, which is spread around the main square, mostly offers clothing, bags, and jewelry stalls, a bit of local crafts, and a small fruit and vegetable market, located near the church.
Take as much time as you fancy in Sineu, then jump back in the car and head further east, to Porto Cristo. This town is home to the 2 most famous caves to see in Mallorca during a 4-5 day trip: the Drach Caves and the Hams Caves.
They are pretty similar, as they both house an underground lake where you can enjoy a nice concert on the water, and rooms filled with numerous stalactites and stalagmites. It's up to you to pick the one you fancy visiting.
To visit the Drack caves, or Coves del Drach, you can click here.
For the Coves dels Hams, you should also book your tickets in advance online, by clicking on the button below:
If you're visiting Mallorca without a car, you should book this excursion with transportation included from Palma which includes the visit to Porto Cristo and the 2 caves. All the information is available by clicking the button below:
Voyage Tips - Advice
On the way between Sineu and Porto Cristo, tennis lovers can make a pit stop at Manacor where they'll find Rafa Nadal Museum Experience. As its name suggests, it's a museum dedicated to the global tennis superstar who was born in this village.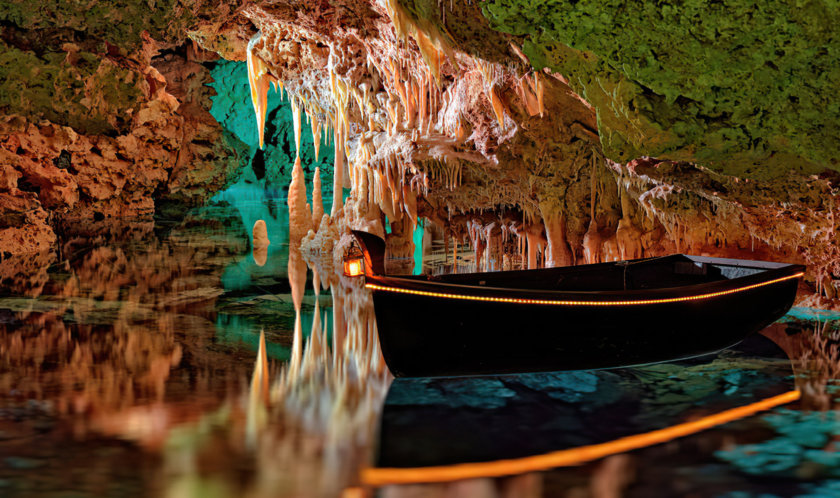 After the Sineu market and cave visit, which will have kept you busy for the morning, I'll leave the afternoon's plans up to you.
If you're in the mood for a bit of a walk and to discover less touristy spots on the island, you could tackle the Four Coves hike, which starts 15 minutes South of Porto Cristo. There's a small parking area at Finca Can Roig.
The trail first passes by Cala Bota which, to be honest, isn't particularly noteworthy. So, I'd suggest you head straight to Cala Virgili, which I found to be the prettiest of the four.
From Cala Virgili, you can either stick to the main path or opt for the rocky seaside route (I chose the latter). This will lead you to the third cove: Cala Pilota.
From there, by heading back on the path, you'll reach the largest of the 4 coves: Cala Magraner.
I found this spot quite pleasant but don't expect the island's most beautiful coves. Still, for a swim in crystal clear water and a peaceful stroll far from any buildings, it's quite a treat.
Another option: if you'd rather relax on the beach in the afternoon and enjoy sun loungers, consider making your way to Cala d'Or. This beach resort features several coves that look like fjords.
You've got options like: Cala Esmeralda, Cala Gran, Cala Petita, and Calo d'es Pou.
In Cala d'Or, you'll also find shops and restaurants if you fancy spending the evening there before heading back to your hotel in Palma.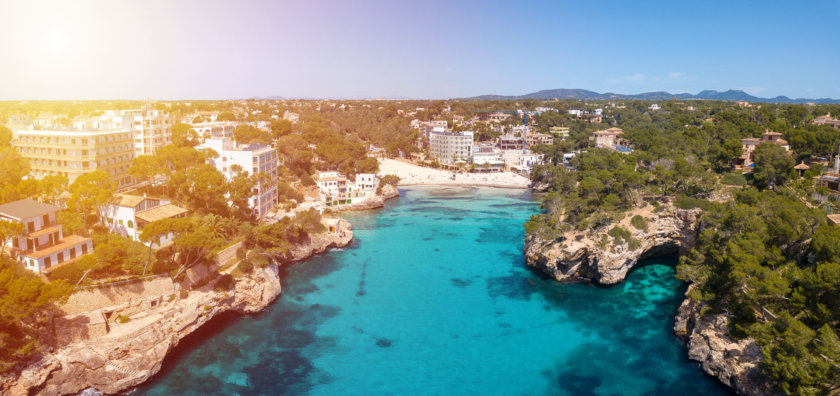 Day 4: Unwind and dive into Mallorca's most beautiful coves
For the fourth day of this itinerary for a 4-5 day trip in Mallorca, don't forget your swimsuit and sunscreen because you're about to laze around on the most famous coves in the south of the island.
We start with a bang with the most famous of all the coves (you'll see it on loads of postcards!), Calo del Moro. After just a 10-minute stroll, you'll find a stunning stretch of shallow turquoise water bordered by rocks. Let's be honest, the setting is breathtaking, and you'll be itching to dive in!
Just past Calo del Moro, a 5-minute walk away, you can also check out Cala s'Almunia and its little fisherman's houses.
If you hop back in your car, North of Calo del Moro, I also fell in love with Cala Llombards and Cala Santanyi, which are more family-friendly beaches.
If you're feeling peckish, for lunch, I suggest heading to Cala Figueras, a small fishing port where you can eat in one of the waterfront restaurants.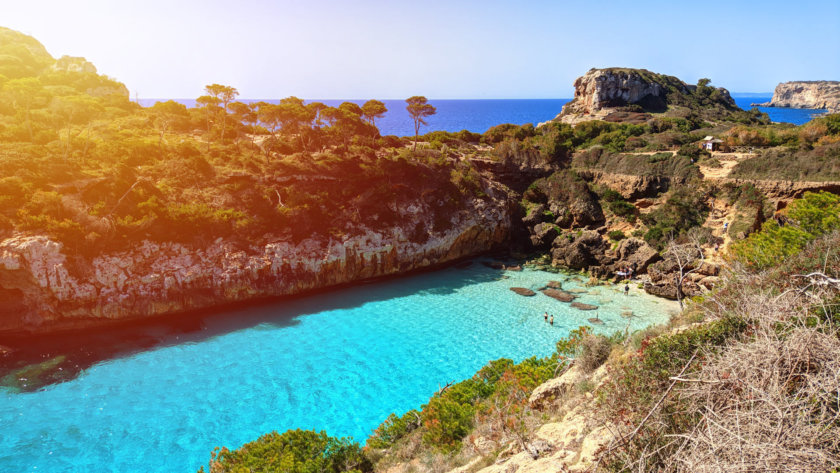 For the afternoon, the next step in your 4-5 day Mallorca road trip, I recommend continuing to explore the wonderful coves by taking a spin to Mondrago Natural Park.
From Cala Figueras, it's a 15-minute drive to Mondrago. The parking fee is €6 per day.
Park your vehicle and continue on foot through the pine forest to reach the stunning sandy beach with crystal clear water at S'Aramador. But before you dash into the water and get comfy, I suggest you go a little further to check out the other two coves in the park:
Cala Mondrago, where you'll find that turquoise water again! It's just a 5-minute walk from S'Aramador
Calo des Borgit: to reach this tiny cove, take the shaded path along the sea for 15 minutes from Mondrago.
Now that you've seen all 3 coves, you can pick your favorite for a relaxing afternoon.
Head back to Palma in the evening.
Voyage Tips - Advice
For those who enjoy water sports and activities, I recommend a jet ski excursion that takes place in Mondrago Park.
You can find all the booking information by clicking on the green button below: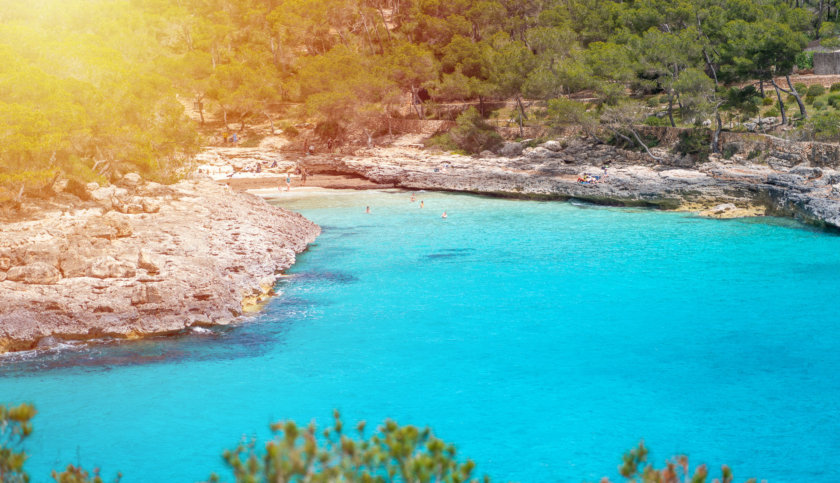 Day 5: The Surroundings of Palma de Mallorca
For the final day of your 4-5 day trip in Mallorca, you have several options.
1) Discover the southwest of Mallorca.
For instance, consider a visit to Sa Dragonera Island, a captivating natural park that invites you to explore four diverse hiking trails ranging from 30 minutes to 3 hours round trip. These trails treat you to breathtaking panoramas encompassing the entire island.
Fun fact: the island gets its name from the thousands of lizards that inhabit it ("Dragonera" can be interpreted as "little dragons"). They're not shy at all and will definitely try to sneak into your backpacks. If you're a little scared of these tiny reptiles, you might want to give it a miss.
To get to Sa Dragonera, you need to go to the village of Sant Elm where a boat will take you to the island in 20 minutes. However, you should get there early or book your spot in advance as access to the island, a natural zone, is limited to a certain number of people each day.
After Dragonera, to continue exploring the southwest of the island on your 4 or 5-day trip to Mallorca, you can swing by Magaluf, the trendy and youthful seaside resort, boasting a long sandy beach, then head to Portals Nous where you'll find the yacht harbor and luxury boutiques.
Next up is Cala Major where art lovers can visit the Pilar and Joan Miro Foundation, located in the former house of the painter and sculptor. Tickets are available by clicking here!
Finally, just before arriving in Palma, I recommend you visit the Bellver Castle, famous for its unique circular architecture. Inside, you'll find the museum of the history of Palma.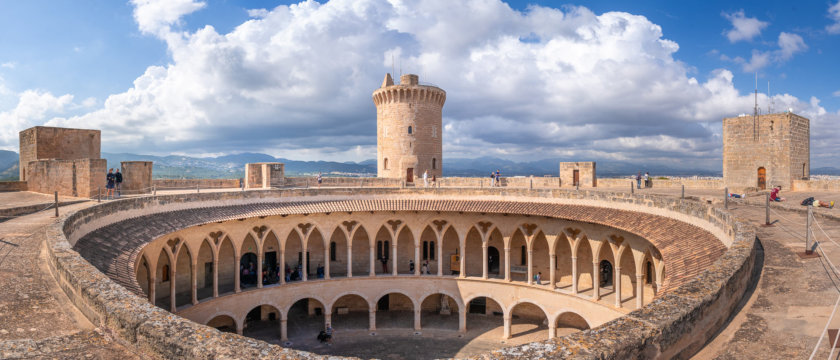 2) 4-5 Day Itinerary in Mallorca with family
If you're on vacation with your kids I'm sure they'll be thrilled if you take them to spend the day at the island's largest water park: Aqualand El Arenal.
With a tempting array of pool, water slides, and rubber ring descents, there's an abundance of exciting activities to keep individuals of all ages entertained and occupied.
To avoid starting the day in a queue, think about booking your entrance tickets by clicking on the button below:
For more ideas of activities to do in Mallorca in 4-5 days with children, I also recommend visiting Palm's aquarium (skip-the-line tickets available here) or doing a treetop adventure course (bookings here for Forestal Park!).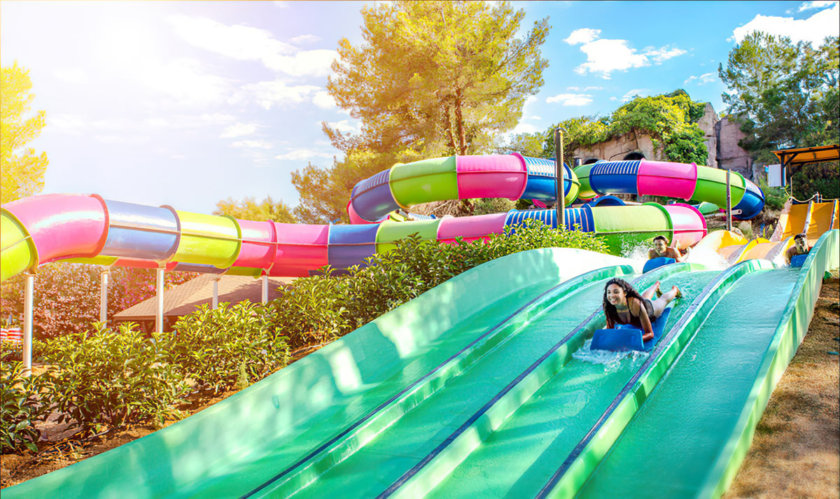 3) Other activities for a 4 or 5 day road trip in Mallorca
If you want to add more activities, I've handpicked a few really cool ones to finish your 4-5 day trip to Mallorca on a high note. Don't hesitate to click on the links to get details and make your bookings:
Outdoor adventures
In Mallorca, you can also opt for an absolutely stunning activity: a hot air balloon ride!! I've put the link in the button below for bookings (it's a must):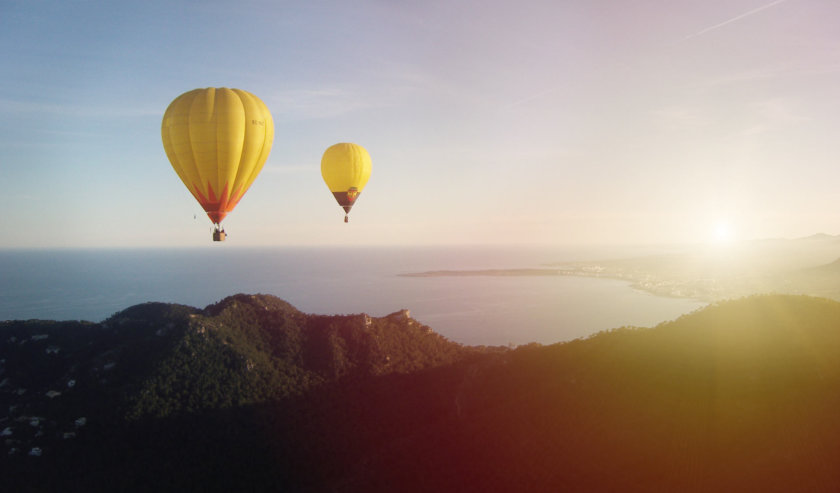 Boat trips
Water Activities
Now you know where to go in Mallorca in 4-5 days! Spend a last night in Palma de Mallorca.
Voyage Tips - Advice
If you're only planning to spend 4 days in Mallorca, simply omit a day from this itinerary. It's as easy as that!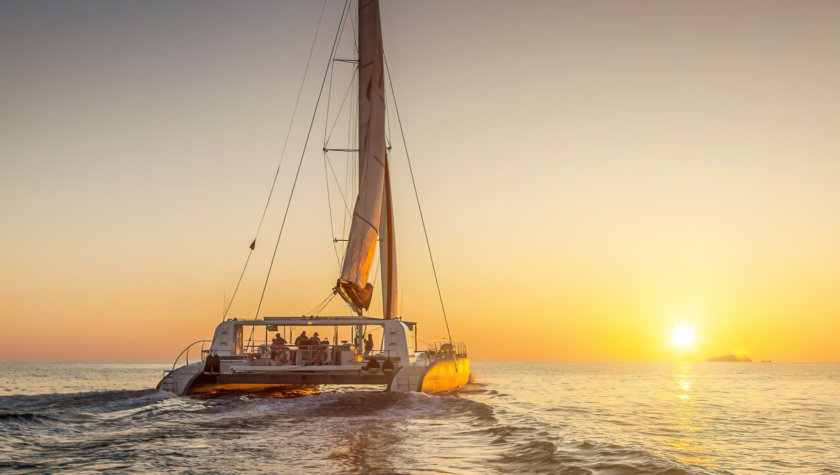 Where to stay in Palma de Mallorca
Here is my selection of the best places to stay in Palma de Mallorca, tailored to suit your budget.
You need to click on the orange name of the hotels for more information and to make your booking.
And if you can't find what you're looking for, don't hesitate to ask for advice in the comments, indicating your travel dates and preferences. I would be more than happy to assist you in finding the perfect hotel!
And if you're looking for the best 5-star hotels in Palma de Mallorca, you should have a look at the following hotels:
Hotel Victoria Gran Meliá: located right in front of Palma's harbor. Double room starting at €270, breakfast for €29. Strong points: the great location, the sea view, and the amazing staff.
Nixe Palace:: located right next to Cala Major beach, this 5* hotel offers cozy double rooms with a balcony and sea view from €300 per night, breakfast for €24. Strong points: the setting with the stunning sea view, the excellent breakfast and the direct access to the beach. My recommendation for a high-end stay in Palma!
Hotel Antigua Palma – Casa Noble: this superb luxury hotel is located in the heart of the old town, just 100 meters from the cathedral. Stay in sumptuous, elegantly decorated rooms, from €450 per night, breakfast included. Strong points: The amazing spa with hammam and indoor pool, the tranquility, the particularly attentive staff and the rooftop. The best hotel in Palma for a luxury stay!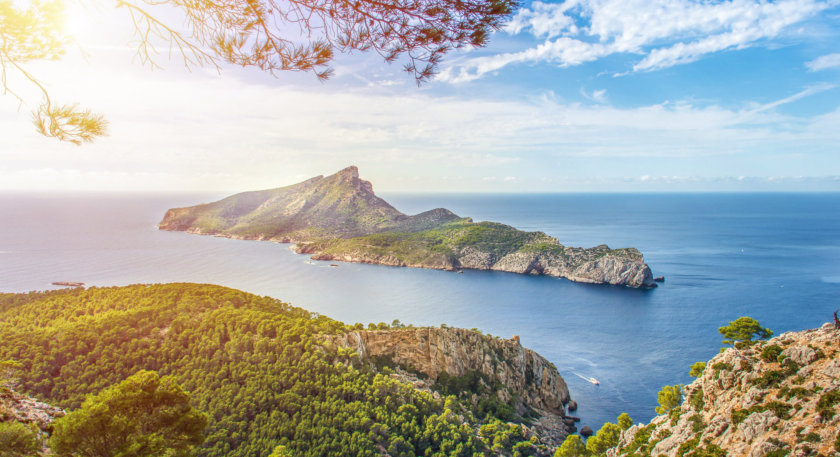 I'd love to hear your feedback and suggestions on my 4-5 day Mallorca itinerary!
If you have any questions about your 5 days vacation to Mallorca, feel free to leave your inquiries in the comments, and I'll be more than happy to provide you with helpful tips for your trip.
Book your trip now and save money!
You're traveling to Mallorca? These articles will help you !
Discover all my articles about Mallorca and the Balearic islands: All my articles to help you plan your trip to Mallorca are listed there.
Mallorca
You're using Pinterest? Here is the picture to pin!