Things to Do in Naxos: The 10 Best Places to Visit (All Highlights)
You're planning to visit Naxos during your next trip to Greece? You're looking for the best things to do, the best places to stay or the best beaches?

You're at the right place!
In order to help you plan your stay, I have prepared for you this guide of the 10 best places to visit in Naxos, with all points of interest and must-see attractions.
In addition to this list of things to do and activities, I will also give you itineraries to visit Naxos in 1, 2 or 3 days as well as my selection of the best accommodations depending on your budget.
And as always, this travel guide contains all my best tips: planning your trip will be super easy!
So, what to do in Naxos? Where to stay?
Let's find out!

Visit Naxos: The 10 Must-See Attractions
1. Chora
The city of Chora (also named Hora, or Naxos like the island) is one of Naxos' major tourist sites. If you take the ferry from Athens or from another Greek Island, you will arrive in Chora.
You will start your visit of the island's main city on the waterfront. There, you will find many restaurants, cafés and shops and also enjoy a beautiful view of the port.
At the waterfront's end, you will reach Naxos' must-see attraction, the famous Portara, located on the islet of Palatia.
The Portara (literally "The door") is the only remain of an unfinished Temple dedicated to Apollo, built in the 6th century B.C. Greek Mythology says that Theseus abandoned the Minoan princess Ariadne here, right after he killed the Minotaur. Then, she was forced to marry Dionysus.
The Portara was built entirely in marble. It's Naxos' most famous monument and landmark. On the site, you will also enjoy an amazing panoramic view of Chora town, the sea and the mountains.
Then, take a stroll in the Old Market streets to reach the Kastro district, the city's oldest neighborhood. You will enjoy a typical and charming Cycladic architecture, with white and blue houses and paved alleys.
In the neighborhood, you can also admire many Venetian houses and the Kastro (castle). You can visit the inside for 2€. There isn't much to see except the view of Naxos from the terrace.
There are also 4 small museums you can visit in Chora:
The Archaeological Museum and its marble statues collection
The Venetian Museum Della Rocca-Barozzi, if you want to discover clothes and furniture belonging to the noble Italian families who lived in the Kastro
The Mitropolis Museum, where you can see the remains of an ancient Mycenaean city.
The Folk Museum Collection, if you want to discover Naxos' History and traditions
Voyage Tips - Advice
If you want to admire the sunset in Naxos, you should go to the Portara. It's simply breathtaking!
If you're an ice-cream lover, try the "Waffle House" ice cream shop in Chora. It was by far my best ice cream during my stay in Greece.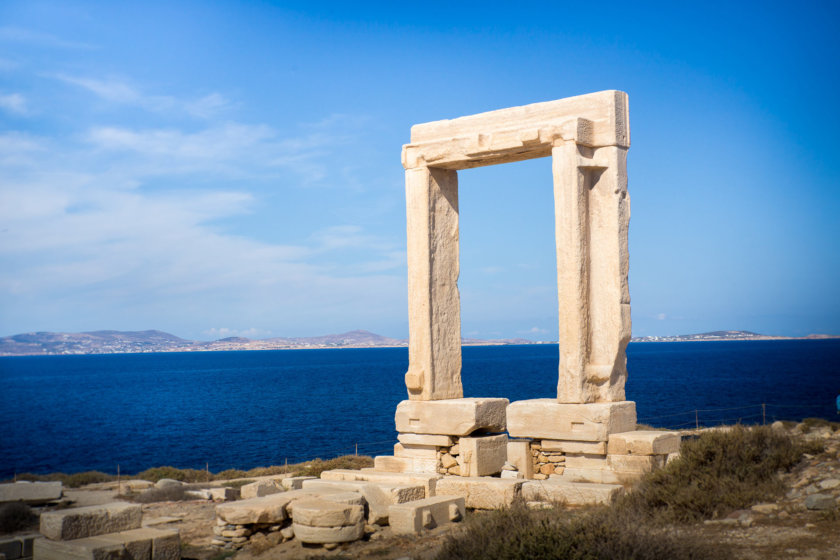 2. Naxos' best beaches
What are the best beaches of Naxos?
Great news: Naxos is among the best Greek Islands if you want to relax at the beach!
Here are my favourite ones (and the ones to avoid):

Agios Georgios Beach, the closest to Naxos. Not the prettiest beach, but ideal if you don't have a car.
Agiassos: a large and quite wild beach. Not very crowded, and with a large car park.
Between Agiassos and Pyrgaki: 3 small and beautiful sand coves. A great place to take a dip!
Pyrgaki: a very large sand beach, with a tavern and 2 hotels. There was no one when I went there.
Kastraki: a wild beach with dunes offering a nice view of Paros' island.
Mikri Vigla Beach (South): a beautiful but quite windy sand beach. There, you can enjoy a beautiful view of Paros too.
Mikri Vigla Beach (North): ideal for Kitesurf
Plaka Beach, a large sand beach
Agia Anna: a small and crowded sand beach, with a private part. You can rent deckchairs and umbrellas here.
Agios Prokopios: a sandy beach with shallow waters. Half of the beach is private. One of Naxos' busiest beaches!
Between Galini and Agia, you will find small coves accessible by car, as Amitis Bay, Hillia Vrisi Bay, Abram Bay or Agios Theodoros Bay. Nice and quiet.
Apollonas Beach, not the best I've seen
The beaches of  Psili Ammos, Panormos and Kalados: 3 very wild beaches, as they are far from Hora.
Voyage Tips - Advice
If you want to do something else than relaxing and swimming, you can take the opportunity of your stay in Naxos to try water sports (simply click on the links to book):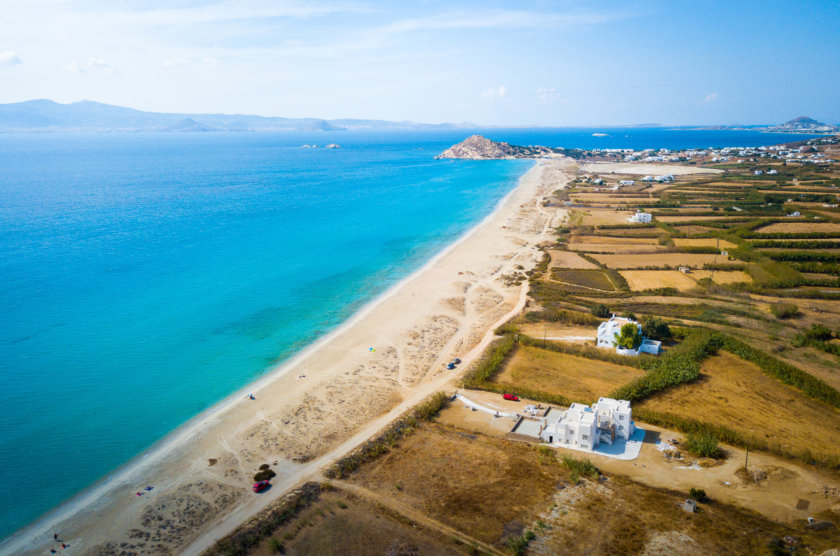 3. Halki
Halki is one of the best places to see in Naxos. The village is located 20 minutes away from Hora, in the mountainous Tragea Valley.
Located in the centre of Naxos, Halki is the perfect place if you want to enjoy a authentic Cycladic atmosphere. When taking a stroll in its charming paved alleys, you will discover many shops selling the best local products. The main square, with its huge plane tree, is also worth stopping by.
If you want to try the best local cuisine, have your lunch break at "Giannis Taverna". The roasted meats are simply delicious!
You can also visit the Vallindras distillery. It's the only place on the island producing the Kitron, a local liquor you won't find anywhere else in Greece.
The Kitron liquor, made with citron (a very big lemon), is available in 3 versions, depending on the alcohol content: green (the lightest), white and yellow (the strongest). You can visit the distillery from May to October.
End your tour of Halki with a visit to the Church of Agios Giorgios Diasorites. From the village, walk for 10 minutes through the olive trees to discover this picturesque small church built in the 11th century.
Voyage Tips - Adive
You should park your car at the village's entrance or exit, as there are only pedestrian streets in Halki.
You can also stop at Panagia Drossiani, one of Greece's oldest churches. This church is located right above Halki, close to Moni village. It is accessible by car (even if it's hard to find a parking space) or by a trail.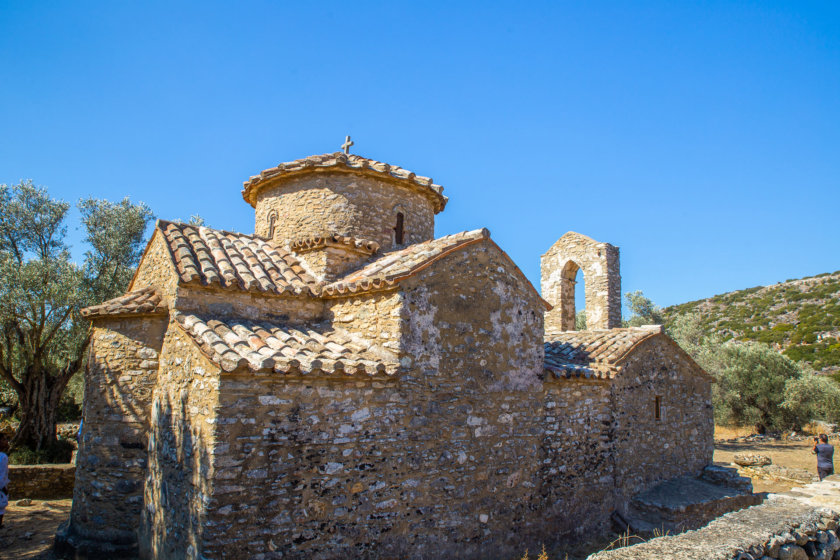 4. Filoti
Filoti, the largest village in Tragea Valley, is another place you should really visit in Naxos.
Take a stroll in Filoti's alleys to admire its typical Greek architecture. At the heart of the village, you will discover a beautiful church, entirely built in white marble.
You will also find many taverns and restaurants along the main road. It's the perfect place if you want to taste typical Greek cuisine.
Voyage Tips - Advice
Speaking of traditional Greek cuisine, you should take a cooking class to discover some of its secrets!

The class takes place in a small family tavern in the village of Potomia. You will first collect all the vegetables and herbs needed for the recipes in the family's garden before cooking delicious local specialties.
You will then taste everything accompanied by a good local wine in a very friendly atmosphere!
You need to book your cooking class in Naxos by clicking on the button below: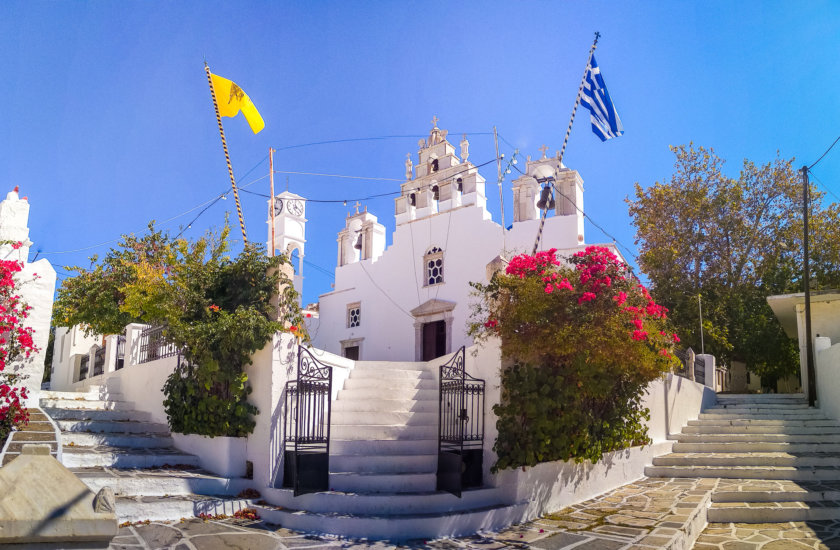 5. Mount Zeus
Filoti is mostly renowned for being the starting point of Naxos' most famous hike. From there, a trail goes to the summit of the 1004-meter high Mount Zeus (or Mount Zas), the highest point of the Cyclades. It was considered as Zeus' birthplace by ancient Greeks.
From Filoti, walk for around 40 minutes to reach "Aria Spring", the hike's first point of interest. If you don't want to walk that much, you can drive to Aria Spring and park your car close to the fountain. You can't miss it, on the road, you will find many signs indicating the direction.
From Aria Spring, hike to the Cave of Zeus (20 minutes away), then continue for 1 hour to reach the summit of Mount Zeus. There, you will enjoy a beautiful panorama of the island of Naxos.
Voyage Tips - Advice
Even if it's a short hike, the trail is steep and rocky. You should wear hiking shoes!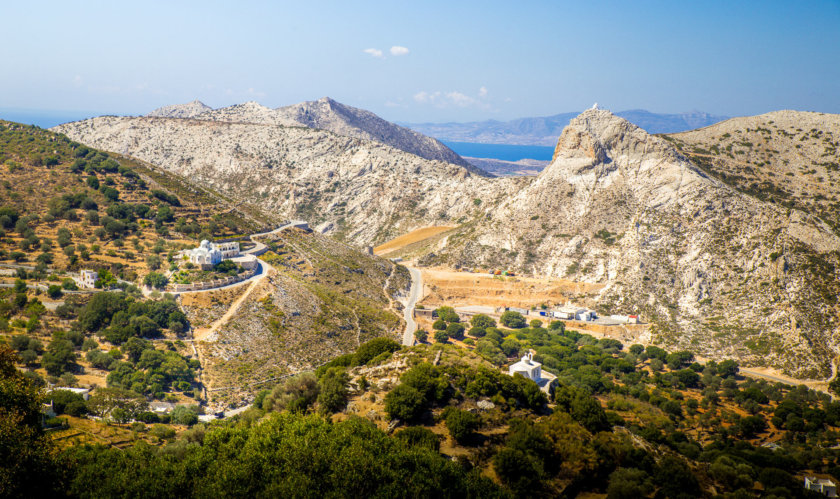 6. Apiranthos
In addition to Halki and Filoti, you should also visit the village of Apiranthos during your trip to Naxos.

Apiranthos is located on the slopes of Mount Fanari, a 45-minute drive from Chora. As in Filoti, you will enjoy beautiful alleys paved with marble as well as many cafés and restaurants.
If you have some time left and want to learn more about archaeology, folklore, art or natural history in the region, you can also visit the village's small museums.
The road connecting the villages of Halki, Filoti and Apiranthos offers breathtaking views of the mountains and the sea. You will also admire many beautiful small churches in the mountains. Even if you don't spend much time in Apiranthos, the road itself is worth passing by!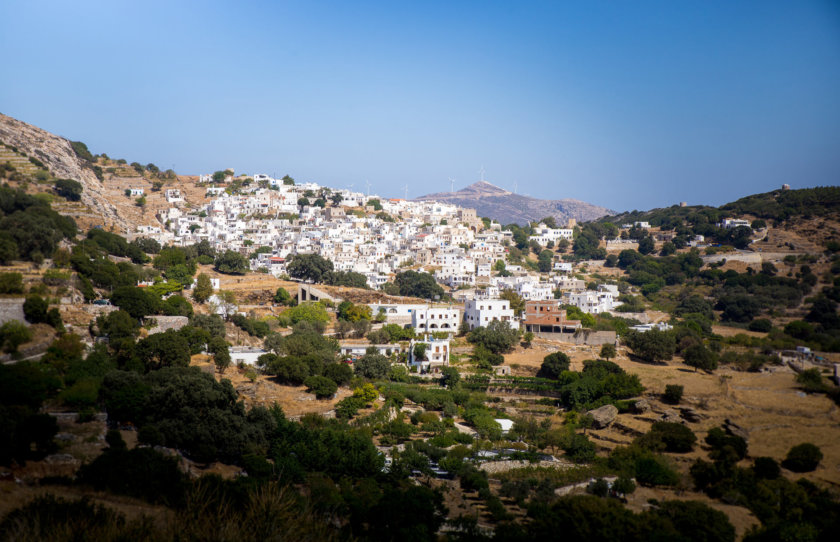 7. The Kouros
The Kouros are among the best things to see in Naxos.
These huge unfinished marble statues are still in the ancient quarries. You will be amazed by their size! Kouros means literally "young man" in Greek.
You can discover Naxos' Kouros in 2 different locations:
In Apollonas, the quarry is located along the road, before the village. The Kouros of Apollonas, carved in the 7th century B.C, is 11-meter long and weighs more than 80 tons! It is the largest Kouros in Naxos.
You can also admire 2 Kouros in Flerio, but they are a lot smaller (around 5-meter long) and not as well-preserved as in Apollonas.
You can access all the Kouros for free. The one in Apollonas is clearly one of Naxos' Must-See attraction.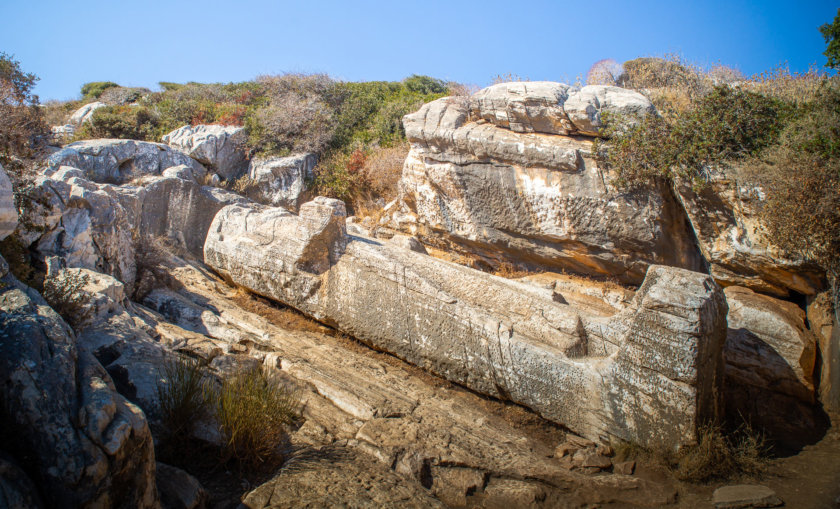 8. Moutsouna
I couldn't do a Naxos' definitive guide without mentioning one of the places I loved the most on the island: the road connecting Skado, Koronos, Stavros, Apiranthos and Moutsouna.
This road offers some of the most beautiful views on Naxos' coast. There, you will enjoy a splendid scenery!
You should also drive down to Moutsouna. If you take the trail on the left, right before you arrive in the village, you will find Azalas beach, a nice and wild pebble beach with deep waters.
The small port of Moutsouna is really lovely, with its many restaurants on the seaside. The fresh grilled fishes were delicious! In Moutsouna, there is also a small sand beach with shallow waters.

If you continue on the road after Moutsouna, you will find 3 wild and remote beaches. The most beautiful is Panormos Beach, the farthest from the port. As the road ends here, you will have to turn around and go back to Moutsouna to continue your tour of Naxos.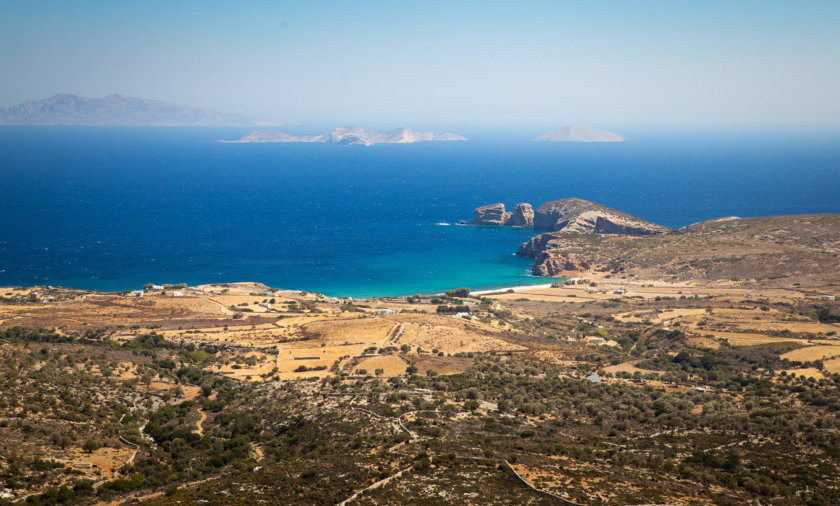 9. Vivlos
Vivlos (also called Tripodes), is located South of Naxos, around 10 km from Hora.
Vivlos is one of Naxos' largest and most picturesque villages. As everywhere else, you will find here the typical Cycladic white houses and narrows alleys. There are also 3 ancient windmills sitting on a hill.
The other points of interest in Vivlos are the Church of Panagia Tripodiotissa, Plaka Tower and the Folklore Museum.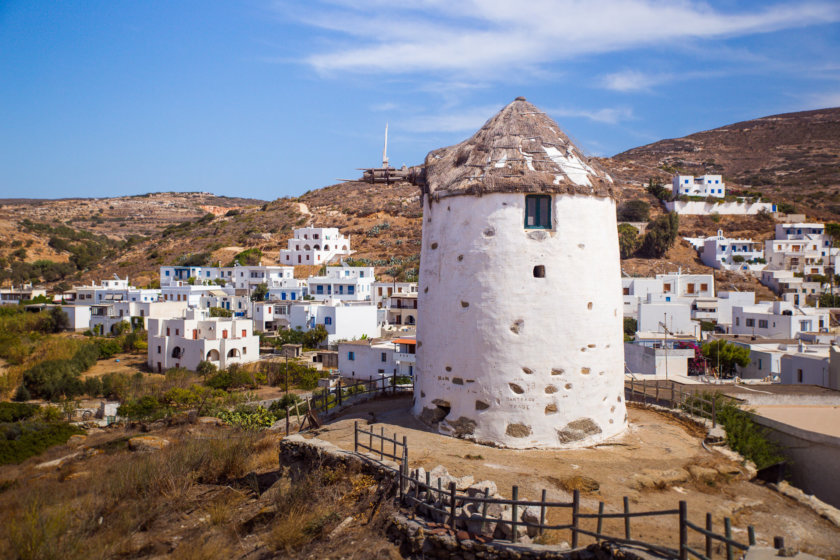 10. Boat trips from Naxos
You want to discover other Greek Islands, and you only have one day? Then, you should do a boat trip from Naxos.
You will find here a list of 1-day boat trips available from Naxos:
And, if you wish to stay closer to Naxos, and do a cruise around the island with several stops to go swimming, you should choose this tour.
You will swim and do snorkeling in Rina Cave and Kalados bay, and around the islands of Iraklia, Schinousa and Koufonisia in the Small Cyclades. You will also get a glance at Paros and Antiparos. It's clearly the best cruise around Naxos!
The 80€ price also includes soft drinks and snorkeling equipment.
Finally, if you're looking for a VIP experience, you should opt for this luxury catamaran cruise in a small group:
The other best Greek Islands to visit around Naxos
If you've seen most of Naxos, you can continue your Cyclades itinerary and visit the other Greek Islands located nearby:
Paros, the closest island to Naxos. There, you will enjoy beautiful beaches and picturesque villages
Mykonos, if you want to party all day and night long
Ios, Mykonos' "little sister", also renowned for its nightlife
Amorgos, the perfect island for hiking lovers
Santorini: the most famous Greek Island, a great place for a romantic gateway!
The Small Cyclades located between Amorgos and Naxos
If you want more details about the other islands around Naxos, you should read my detailed article: The 15 best Cyclades Islands.
You can also visit this website to check the ferries rates, schedules and book them.
How many days to visit Naxos?
To visit the island, you should spend at least 3 days in Naxos.
You will have time to relax at the beach, discover picturesque villages and even do a boat-trip around the island. Of course, you can spend 4, 5 days or more and enjoy relaxing holidays!

Here are my recommended itineraries to visit Naxos in 1, 2 or 3 days.


1 day in Naxos
If you want to visit Naxos in 1 day, start by discovering Hora, the capital.

Then, spend your afternoon at one of the West Coast beaches.
There is another option: if you want to make the most of your stay without having to rent a car, you should do a guided bus tour on the island. During this tour, you will discover the Kouros, Halki and its distillery, Panagia Drosiani church, Apiranthos and even more! It costs around 25€ per person.
You need to book your 1-day bus tour in advance by clicking here.
2 days in Naxos
If you spend 2 days in Naxos, in addition to the first day described above, you should go discover the island's picturesque mountain villages. The most beautiful are Halki, Filoti and Apiranthos.
From Filoti, you can also hike to the top of Mount Zeus. It takes 2 hours to reach the summit.
End your day around Moutsouna, and enjoy the calm on one of the East Coast beaches.
3 days in Naxos
If you have 3 days in Naxos, you can do a boat trip on your last day, to discover Delos, Mykonos, Santorini or the Small Cyclades.
You can find the list of boat trips from Naxos here.
Where to stay in Naxos
If you're going to visit Naxos, the best is to stay in Hora (the capital city) or its surroundings.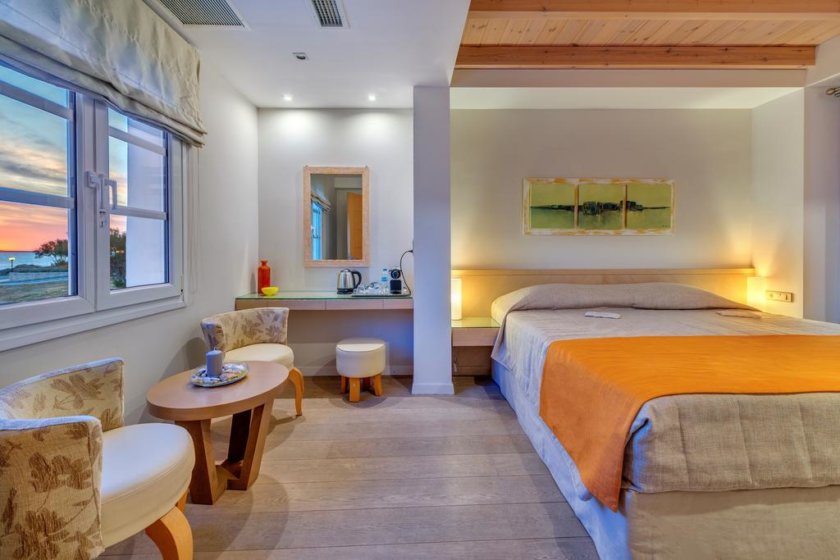 How to get to Naxos?
By plane
There is a national airport in Naxos, with daily flights to and from Athens. It takes only 45 minutes to reach the island!
Naxos airport is located 3 km South of Hora.
By ferry
You can also take the ferry to Naxos from the Port of Piraeus or the Port of Rafina.
These 2 ports are located close to Athens and Athens airport. It takes between 2h30 and 6h to reach Naxos, depending on the port of departure and the ship's speed.
There are also regular ferry connections between Naxos and the Greek Islands of Paros, Amorgos, Ios, Mykonos and Santorini.
If you want to plan your ferry trips in the Cyclades, you should book your tickets in advance, especially during summer!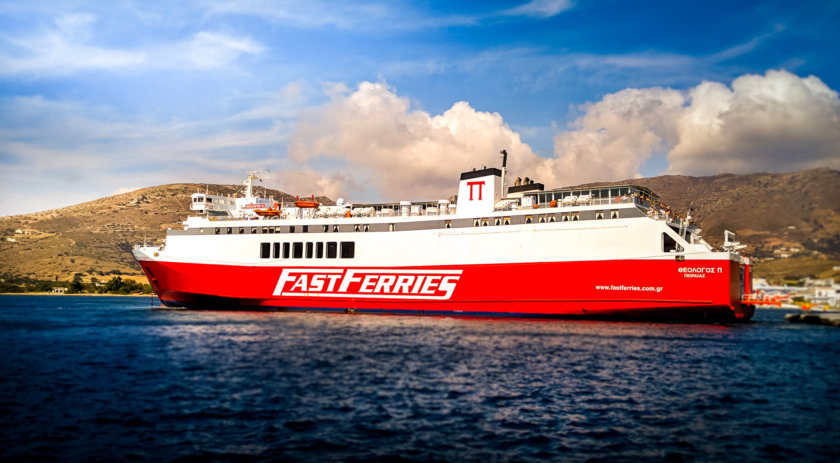 Renting a car in Naxos
As it's the largest Cyclades Island, you should rent a car to visit Naxos.
It's by far the best way to discover its most beautiful beaches and remote mountain villages!
Whenever I'm renting a car abroad, whether I'm in Greece or anywhere else, I always book my cars on Rentalcars.com. It's my favorite website for the following reasons:
You can compare prices between all the car rental companies in Naxos. You will also have access to the customer's reviews.
You can get a "Full Protection Insurance" to be fully refunded in case of theft or accident with your rental car (tested and approved, they refunded me more than 1200 euros to date!)
You can modify, or even cancel your booking for free.
Rentalcars also offers the "Best Price Guarantee". If you find the same car cheaper elsewhere, they will refund you the difference!
Naxos and Greece Tours
On Voyagetips.com, I give you all my best tips and itineraries to plan your trip to Santorini and Greece by yourself. (Click here to read all my articles about Greece).

However, if you prefer to book a Greece tour with a travel agency, I recommend you to check the 10 best Greece tours by clicking the button below:
Renting a boat in Naxos
If you want to rent a boat for a nice day at sea during your trip to the Greek islands, you should book it with Samboat.
Motorboats, sailboats, yachts, small boats without a license, with or without a skipper: they simply have the most complete offer for boat rental.
So, what are you waiting for to book your boat trip in Greece? 😊
Tourist map of Naxos
I have made a tourist map of Naxos for you, to help you picture what the island looks like and where the best places to visit are located. You can display the map legend by clicking on the top left button (the one with a little arrow).

Now that you know everythign about the best things to do in Naxos, which places do you plan to visit during your trip? If you need help to plan your stay, don't hesitate to ask me in the comments section.

Book your trip now and save money!
Greece travel guides
You're traveling to Greece ? These articles will help you !
Discover all my articles about Greece: All my articles to help you plan your trip to Greece are listed there.
Cyclades (Greek islands)
Dodecanese
You're using Pinterest? Here is the picture to pin!