The 15 Best Cyclades Islands to Visit
You want to visit the Cyclades islands during your next trip to Greece?
Great choice!
Located in southern Greece, between Athens and Crete, the Cyclades consists of 39 islands, of which 24 are inhabited. With their white and blue houses and churches, their narrow and winding alleys, they really offer the typical Greek postcard scenery.
You're dreaming to enjoy the sunset in Santorini? To party in Mykonos? To visit the less known islands such as Amorgos, Paros, Naxos, Tinos or Andros?
Then this travel guide is for you!
In order to help you plan your stay, I have prepared for you this guide of the best Cyclades islands to Visit. For each islands, I will tell you more about the best things to do, points of interest and must-see attractions. I will also give you detailed itineraries to visit the Cyclades in 1 week, 10 days or 2 weeks.
So, which Cyclades islands to visit?
Let's find out!
Top Cyclades islands: The definitive guide
Voyage Tips - Advice
In order to help you plan your stay in the Cyclades islands, I have prepared detailed itineraries depending on your trip duration. You should read them after reading this article.
You can find them here, simply click on the orange links to read the articles:
They will allow you to plan your trip very easily!
And if you have any question, don't hesitate to ask me in the comments section, at the end of the article. I would be glad to help you plan your stay.
1. Santorini
If you're planing a trip to Greek Islands, then you definitely have to visit Santorini! It's by far the most famous and visited island in the Cyclades archipelago.
Sure, you will probably spend some time waiting in line to take THE perfect picture of its iconic white church with a blue dome you can see on every postcard. And when you will go admire the sunset, it can be hard to find a good spot in the middle of the crowd. But once there, you will see that it's clearly worth it: the volcanic island of Santorini is truly magnificent!
Also, doing the Caldera hike from Fira to Oia to admire the breathtaking panoramic views from the villages is clearly a must-see attraction during your itinerary in the Cyclades.
The best things to do in Santorini are:
Fira: you can go to the top of the caldera and enjoy the many viewpoints over Santorini. From Fira, walk for 30 minutes to reach Firostefani and Imerovigli villages. And if you want to enjoy the shops, restaurants and cafés, you can go to Golden Street.
Imerovigli: often nicknamed the balcony of Santorini, this village is located at the top of the caldera, 300 meters above the sea.
Oia: it's clearly the best place to admire the sunset. When walking in Oia's alleys, you will take beautiful typical pictures of Santorini!
Black Beach: a volcanic black sand beach
Red Beach, named after the ochre cliffs surrounding it
Nea Kamini: you can do a boat-trip around this volcano, and swim in the hot springs
The archaeological site of Akrotiri, one of the most important in Greece.
Santorini is clearly the best Cyclades island to visit for couples or during a honeymoon.
You will find detailed information about Santorini in my article: Visit Santorini: the definitive guide.
Voyage Tips - Advice
If you want to admire the sunset in Oia, you should get there at least 1 or 2 hours before. Once you've found the perfect spot, keep it carefully!
And if you want to have a drink on a terrace, it's better to book it in advance. You will be asked for a minimum order amount per person.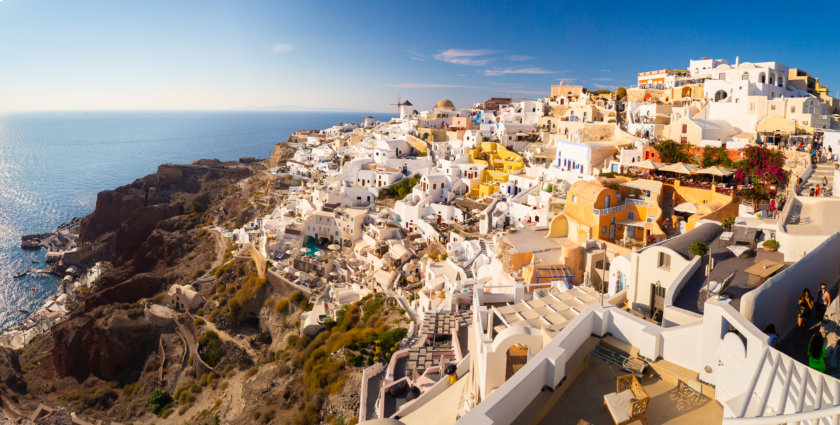 2. Mykonos
Mykonos is the perfect island to party in the Cyclades. With more than 1 million tourists every year, it is, along with Santorini, the other most visited Cyclades island.
On the island, you can party all day and night long with world famous DJs! If you want to enjoy Mykonos, don't forget to plan a significant budget as the prices can be really high, especially in summer.
Mykonos is also famous for its beaches, considered as some of Greece's most beautiful. Once more, you won't find any small cove to take a dip and stay alone. In Mykonos, going to the beach means enjoying hip techno bars and jet-setters on their yachts!
If you're looking for this kind of party atmosphere, you should go to the beaches of Elia, Paradise, Super Paradise or Psarou.
If you want to go on a trip with your friends in the Cylades, Mykonos is the best destination for you.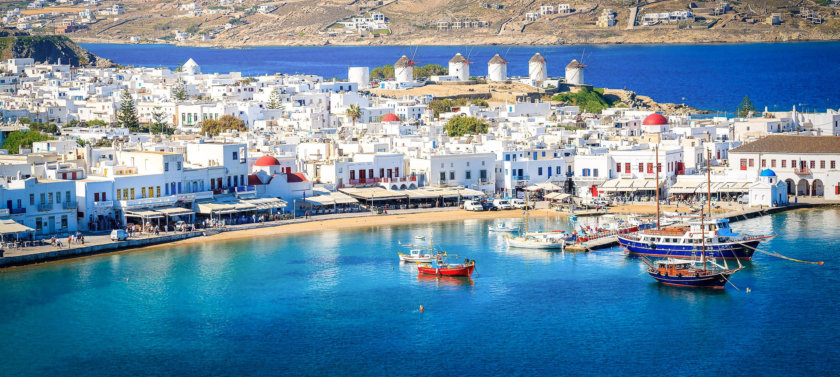 3. Delos
Delos is a small uninhabited island.
To get there, you have to take the boat from Mykonos. As it's forbidden to spend the night on the island, you can only visit it during a 4-hour tour.
Delos is famous for its ancient archaeological site. This UNESCO World Heritage Site was considered as Apollo's and Artemis' birthplace. Then, it became dedicated to the worship of the gods. The oldest temples were built during the 8th century B.C.
Here are the best places to see when you visit Delos, in the Cyclades:
The temple of the Delians: the biggest temple dedicated to Apollo
The Terrace of the Lions, and its alignment of Lion's statues along an alley
The Sacred Lake, where Apollo is said to be born
The Sanctuary of Apollo
The Sanctuary of Dionysus
The temple of the Athenians
The House of Dionysus
The House of Masks
The House of the Dolphins
The Archaeological Museum
Voyage Tips - Advice
You can visit Delos without a guide, but doing a guided visit is clearly the best way to enjoy the place. As there are many remains and monuments on the island, the guide will help you understand what you're seeing and give you historical explanations.
A full-day tour, including the cruise from Mykonos, a guide and the archaeological site entrance costs around 50€ per person. It's really convenient, as they will come pick you up at your hotel. You can book your tour right here.


4. Paros and Antiparos
Let's continue this Cyclades travel guide with Paros.
Located in the heart of the Cyclades, Paros is known for its many sand beaches, beautiful nature landscape and typical villages. In Ancient times, Paros was also renowned for its high-quality marble, used for many masterpieces, such as the "Venus de Milo"!
The best places of interest to visit in Paros are:
Parikia, the capital. Don't miss its churches and the Kastro.
Naoussa, a fishing village with chic small shops and restaurants.
Lefkes: a remote mountain village, famous for its magnificent view over the sea. From the village, take a stroll on the 3km-long Byzantine trail that goes from Lefkes to Podromos, through the olive trees.
The port of Piso Livadi, where you can eat great fresh grilled fish.
Paros Park: walk along the 3 marked trails, and discover the nice view of the coast and the lighthouse. There, you can also enjoy a really beautiful beach with shallow water.
From Paros, it's really easy to reach Antiparos, the small island located right in front. The ferry takes only 10 minutes to go from Pounta town to Antiparos, and you can even cross with your rental car. In summer, you can also reach Antiparos from Parikia (without your car this time!)
In Antiparos, there aren't many things to do: just relax, enjoy the beaches and take a stroll in the main village. You can also visit the Cave of Antiparos, and admire Europe's most ancient stalagmite.
If you want more information about Paros, you should read my detailed article: The 10 best things to do in Paros.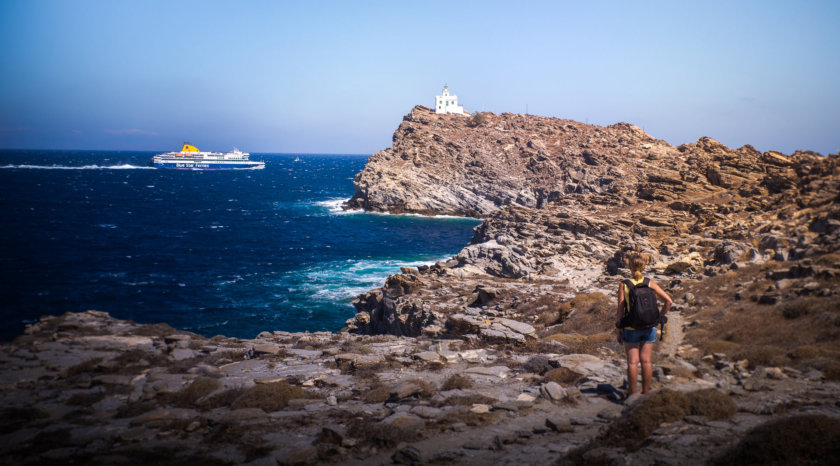 5. Naxos
Naxos is the biggest island in the Cyclades. There, you can enjoy many beautiful beaches and discover remote mountain villages.
Here are the best things to do in Naxos:
Chora of Naxos: the island's main city. Walk in the Kastro district, discover the Old Market alleys and admire the Portara (at the port entrance).
Filoti: a picturesque mountain village.
Halki: another mountain village. From there, you can walk on many marked trails. Don't miss the church, accessible by a 10-minute walk through the olive trees! (just follow the signs).
Apiranthos: another pretty mountain village. Take a stroll in its alleys, and enjoy its small museums.
The Kouros of Apollonas: a 10-meter high statue of Dionysus or Apollo.
The hike to reach the summit of Mount Zeus, the highest point of Naxos.
And if you want to enjoy the best beaches in Naxos, you can try:
Agiassos: a large and quite wild beach, with many parking spaces and a tavern.
Between Agiassos and Pyrgaki, you will find 3 small sand coves. The place is really beautiful and quiet. It's perfect to take a dip.
Pyrgaki: a vast sand beach.
Kastraki: another large beach, with a view of Paros.
Mikri Vigla: 2 windy beaches (south and north) and a great spot for kitesurf.
Agia Anna: a thin sand beach. There, you can choose between the public beach, and the private one with deckchairs and umbrellas.
Agios Prokopios: an half private/half public beach. During my stay in Naxos, it was the most crowded.
You will find all the detailed information about Naxos in my article:  The 10 best things to do in Naxos.
Voyage Tips - Advice
If you want to admire the sunset in Naxos,  you should go to the Portara, also named "the Temple of Apollo".


6. Amorgos
What is the best Cyclades Island to go hiking?
Amorgos!
This island is renowned for its many marked walking trails. For example, you can hike from the Monastery of Chozoviotissa to the village of Potamos, or reach the Timios Stavros Chapel from the village of Langada. These 2 hikes are among the most famous in Amorgos.
You can also follow a 9-km long marked trail to discover 3 beautiful villages: Potamos, Langada and Tholaria.
You will find more information about these marked trails on Amorgos' official website.
Besides hiking, here are the best places to see in Amorgos:
Chora, Amorgos' capital. A very beautiful village, with several cafés and typical restaurants. Enjoy your stroll, and walk up to the ancient windmills located above the village.
Katapola and Aegiali: the island's 2 ports, with a few shops and restaurants.
The spectacular Byzantine Monastery of Panagia Chozoviotissa, built under a high cliff and overlooking the sea.
Agia Anna cove, a very small rocky beach. The area is very photogenic thanks to the small white chapel nearby.
Mouros Beach, sheltered from the wind.
Kalotaritissia: it's for me the most beautiful beach in Amorgos! You will love its fine sand and turquoise waters.
The ship wreck of "The Big Blue" movie. As you may know, a part of this movie with Jean Reno was filmed in Amorgos.
If you want more details about the best things to do in Amorgos, you should read my article: Visit Amorgos: the definitive guide.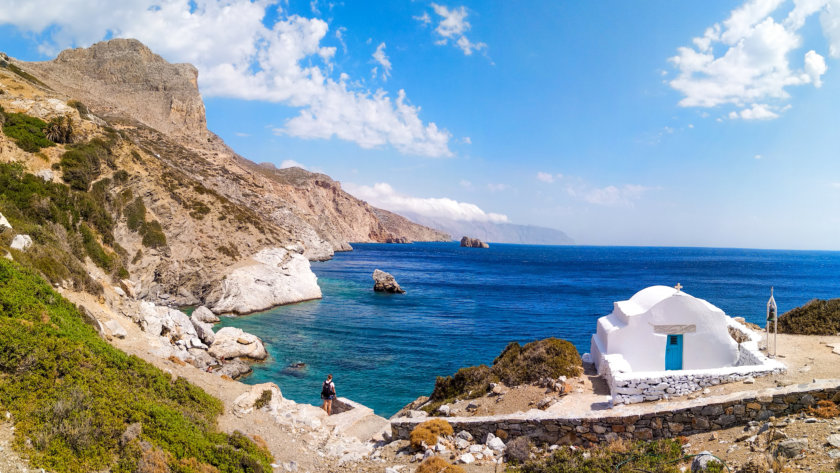 7. Syros
Syros is the administrative centre, the capital and most populated island of the Cyclades, even if it is one of the smallest one!
When walking down Ermoupoli, Syros' main city, you will discover a few neoclassical buildings including the city hall, located around Miaouli Square. Don't miss the Municipal Theatre "Apollo": it looks like a small replica of "La Scala", in Milan!
Then, take a stroll in Vaporia district, located on the Eastern side of Ermoupoli. There, you will admire many beautiful neoclassical mansions.
The other best things to see in Syros includes:
The village of Ano Syros, and its numerous viewpoints, churches and monasteries.
Azolimnos Beach, located close to Ermoupoli.
Galissas: from there, you can walk to the top of the hill, and enjoy a great panoramic view over the village.
Finikas Beach, a sand beach with many tourists!
The beaches of Kini, Delfini, Aetos and Lia.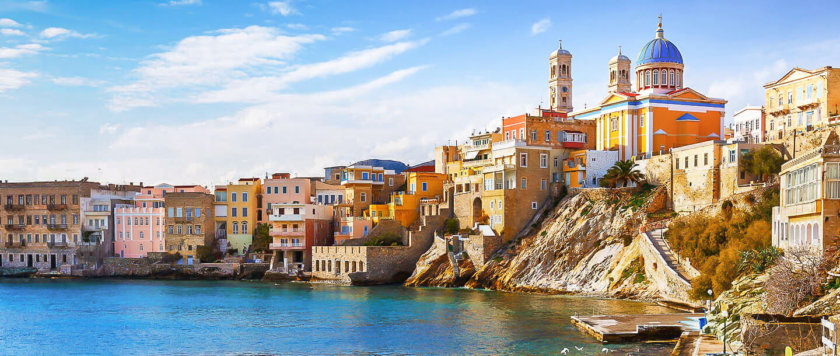 8. Milos
The volcanic island of Milos is famous for its coastline: the strange rock formations and high cliffs plunging down to the sea are really breathtaking!
You may not know it, but Milos offers the largest number of beaches in all the Cyclades.
However, the interior of the island is unfortunately less interesting, as mining is highly developed: Milos is the first place of extraction of perlite and bentonite in the European Union.
The best places to visit in Milos, in the Cyclades, are:
Adamas, Milos' main port, with numerous restaurants and hotels.
Plaka: the best place to admire the sunset in Milos, and the starting point of beautiful hikes.
Klima and its lovely colored fishermen's houses, directly carved into the cliff.
Tripiti and its view over the gulf.
The Roman Theatre: there, a farmer discovered the famous "Venus de Milo", exposed at the Louvre, in Paris.
As I said earlier, Milos is also renowned for its magnificent beaches. With white rocks and transparent waters, Sarakiniko beach is for sure the most famous! You can also enjoy the beaches of Kiriaki, Provatas or Papafragas.
And if you want to try Milos' must-see attraction, just do a boat-trip around the island to admire its many strange rock formations. During this tour, you will also discover a lot of beaches and coves inaccessible by car such as Kleftiko beach.
Many cruises are available in Milos: with different stops, on small or large motor boats, yachts or even catamarans. Choose according to your preferences and budget! The prices are starting from 35€ per person.
If you're looking for a luxury boat trip, you should have a look at this one. The value for money is outstanding!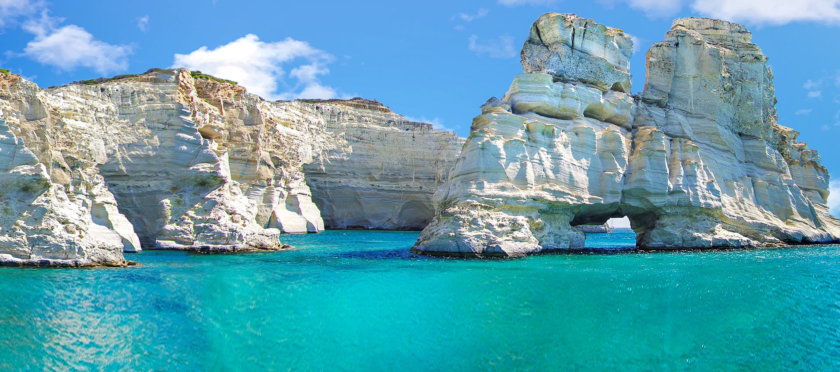 9. Tinos
Tinos is one of the major pilgrimage site for Orthodox Greeks. Every year, thousands of people are coming there to pray at Panagia Megalochari or Evangelistria churches.

Even if you're not much into religion, there are many beautiful places to see on Tinos. Here are some of the best places to visit on this Cyclades island:
Hora, the capital city. Its church, built with Tinos white marble, is truly beautiful. You can also enjoy many boutiques and restaurants.
The monastery of Kechrovouni, organized like a small village, with several houses.
Volax: a small village, surrounded by large round grey rocks.
Kardiani: the village and the road to get there offers many beautiful views over the bay and the beaches below.
Pyrgos, Tinos' largest village, renowned for its marble.
Panormos, a really cute port, with many restaurants on the seaside.
Tarambados, and its famous pigeon towers.
Kolimbithra with its 2 nice sand beaches.
If you want to plan your trip to Tinos, you should read my detailed article: The 10 best things to do in Tinos.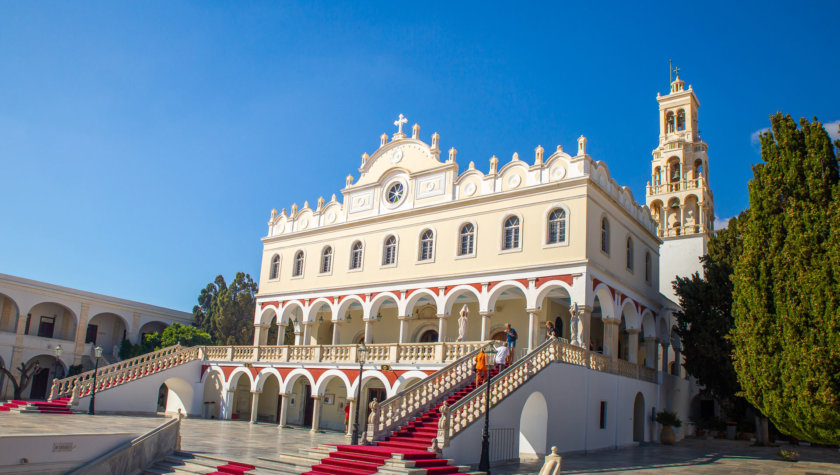 10. Andros
If you want to hike in the Cyclades, but also enjoy beautiful beaches, then Andros is the perfect island for you.
There are 18 marked trails of various length (from 30 minutes to 6 hours) and difficulty level (easy or moderate) on the island. The easiest way to plan your hikes it to get the Andros hiking map, in one of the souvenir shops.
And if you want to know more about Andros' marked trails, you can also check Andros Route website.

The other best things to see in Andros are:
Gavrio: the port where you will arrive, with restaurants and boutiques.
Batsi: a cute seaside resort and a nice beach.
Andros, the capital city: just take a stroll in the main street, down to the bridge and the small island.
Apikia, the starting point of many hikes.
Felos beach: a large and pretty shingle beach located in a bay
The many sand beaches on the road between Gavrio and Batsi: Agios Petros, Chrissi Amnos, Kipri.
And if you want to discover all the best things to do in Andros, you should read my article: Visit Andros: the definitive guide.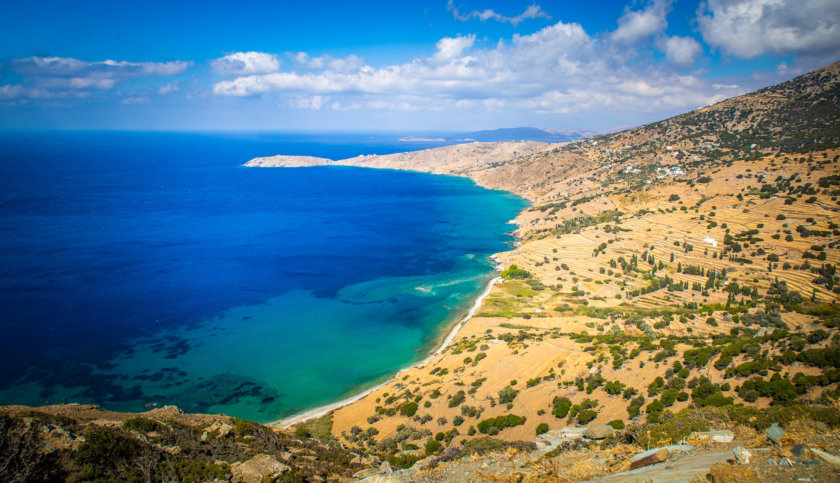 11. Ios
Ios can be considered as Mykonos' little sister. If you want to enjoy an incredible atmosphere and party all night long, it's clearly a great place to visit.
On Ios, your program will be quite simple: during the day, just relax at the beach and get some rest. Then, when the night comes, party until sunrise in the island's many trendy bars! Most people coming to Ios are rather young and from Northern Europe.
In Ios, you will enjoy the best nightlife in summer, between June and September.
And if you want to take a dip, there are many beautiful beaches on the island. For example, you can try Mylopotas Beach, Kalamos Beach or Manganari Beach.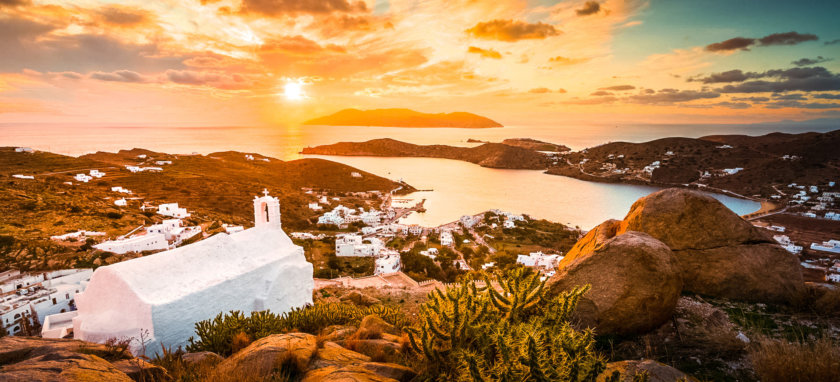 12. Sifnos
Sifnos is mostly renowned for its ceramics and fine cuisine. The food there is known to be among the best in the Cyclades!
The island is also famous for being an hiker's paradise.
There are nearly 100 km of marked trails and a dozen itineraries around the island. From a short walk to a really long hike, you will always find a trail that suits you. Once on the island, don't forget to buy the marked trails Map for 5€.
One of the best hikes on the island goes from Apollonia to Mount Profitis Ilias. Another great itinerary goes from Artemonas to the Panagia Poulati Monastery and the village of Kastro.
The best things to do and see in Sifnos are:
Kamares: the ferries' port of arrival. If you're on a family trip, you will love its beautiful beach with shallow water, it's ideal with children.
Apollonia, the capital city, is a real labyrinth of alleys full of small shops, restaurants and cafés.
Artemonas, one of the most beautiful villages in Sifnos with its typical Venetian houses.
Kastro: a medieval village.
Faros: a small fishing port. From there, you can walk to the Chrisopigi Monastery.
Plati Gialos Beach, the longest sand beach in all the Cyclades archipelago!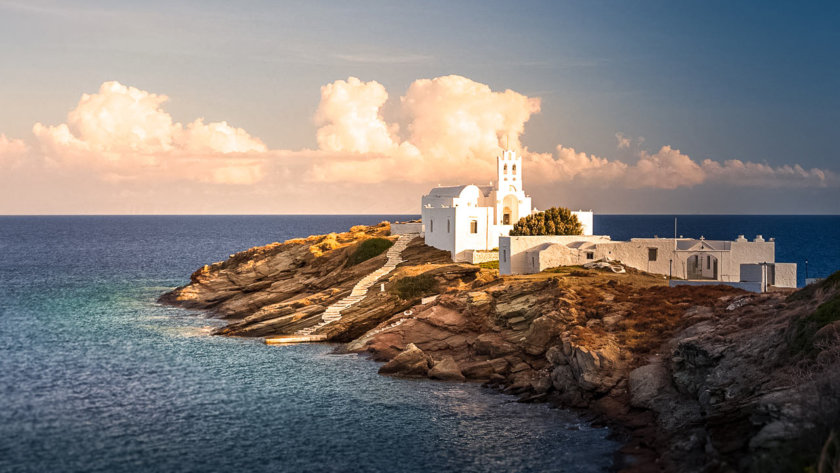 13. Serifos
You're looking for peace and quiet during your holidays in the Cyclades? Then, you should definitely go to Serifos.
Serifos isn't really a tourist place. There, you will have plenty of time to enjoy the island's mountains and arid hills.
During your stay in Serifos, you can visit:
The port of Livadi
The beautiful Livadakia Beach
Hora, the capital
Moni Taxiarchon Monastery
Panagia village and enjoy its views over the plains
The beaches of Karavi, Avlomonas, Lia, Agios Sostis and Psili Amnos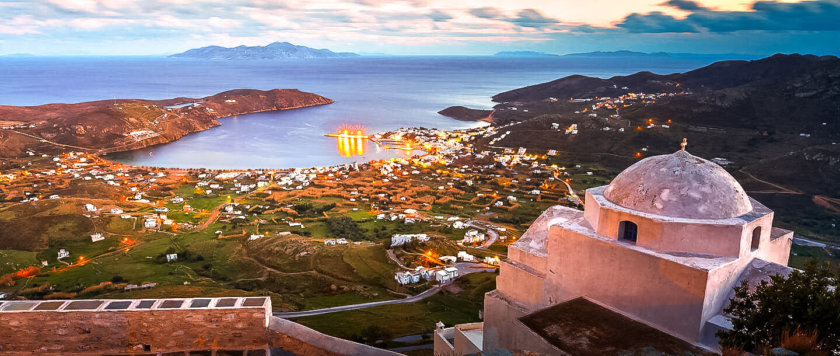 14. Folegandros
In Folegandros, you will discover one of the most beautiful villages of the Cyclades. Hora is a typical Cycladic village, with white and blue houses and lively squares. Don't forget to go to the church above the village to enjoy a beautiful panorama of the island.
There are also many beaches in Folegandros, but the most beautiful ones are only accessible by foot or by boat. If you want to discover them, you can do a 1-day boat trip around the island with many stops to take a dip!

15. The Small Cyclades
The Small Cyclades are a group of islands located between Naxos and Amorgos.
It's a small archipelago of 4 islands inhabited islands (and dozens of smaller ones). Here are the main islands:
Iraklia: accessible by boat from Amorgos, Naxos or Paros. If you want to hike and enjoy the calm, it's the place to visit!
Schinousa is famous for its beaches. You can get there from Amorgos, Iraklia, Naxos and Paros.
Koufonisia and it's amazing beaches is becoming more and more famous every year
Donousa: just relax at the beach, or enjoy beautiful strolls on this calm island.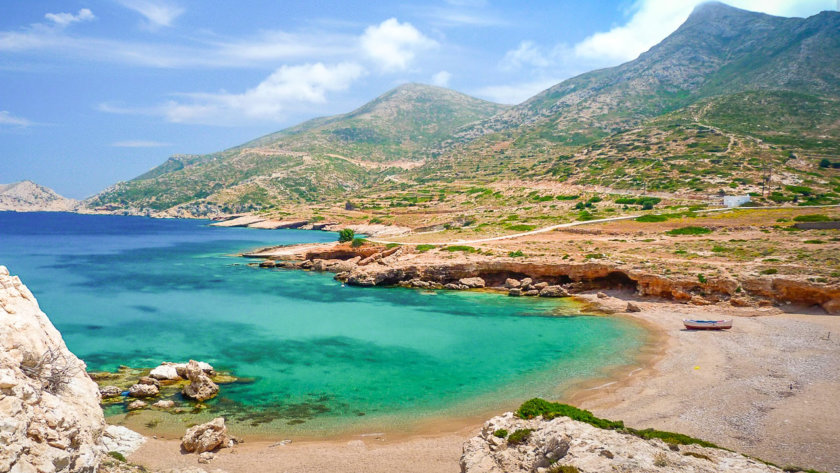 Travelling to the Cyclades
By ferry
During your Cyclades itinerary, you will take the ferry at least once, unless you've chosen to visit only Santorini or Mykonos and took the plane to get there.
During high season, the ferries offer many connections between all the Cyclades Islands.
In winter however (low season starts in November), there aren't many boats.

If you want to reach the Cyclades from Central Greece, you can travel from the ports of Piraeus or Rafina. Both are located close to Athens. You will have the choice between several companies, offering different travel times. As you may expect, the fastest boats are the most expensive!
So I prefer to warn you: price differences are really important depending on the company.
Some boats directly go from Piraeus or Rafina to the island of your choice. Other boats are making stops on one or several Greek Islands before you reach your destination.
When planning my trip to Greece, I've booked all my boat trips in advance on FerriesinGreece website. It's simply the best one to compare prices, travel time and find the best schedules for your trip.
If you don't want to book in advance, all the companies have ticket offices in every port in Greek Islands. However, during high season, the boats might be full, or really expensive. That's why you should book your tickets in advance!
Even if you book in advance, you will have to exchange your confirmation e-mail for a real ticket at the company's desk before departure.
By plane
Do you want to reach the Cyclades as fast as possible? Then, I've got a good news: some of the Cyclades islands have an airport!
Where to land in the Cyclades ?
Santorini: there are direct flights to Santorini from France, Italy, Netherlands, Germany or United Kingdom for example. You can also go to Athens and then take a connecting flight to Santorini.
Mykonos: the  2nd international airport of the Cyclades. There are direct flights from France, Germany or United Kingdom, or connecting flights via Athens.
Naxos, Paros, Syros and Milos have a national airport. You can get there directly from Athens or Thessaloniki.
Flight prices to the Cyclades vary greatly, so it is a good idea to compare them as soon as possible. To do this, you can use our flight comparator, in partnership with Skyscanner. You will be sure to get the best price!
On the results page, don't hesitate to compare several websites to ensure that no fees are added to the final rates.
Voyage Tips - Advice
If you're seasick, choose the slowest boats, as they're bigger and more stable.
In the Port of Piraeus, Santorini, Naxos or in any other island, the waiting lines for the ferries aren't well organized. To stay polite, it's a big mess!
Ferries are arriving and leaving all the time. The place is really crowded, and there are no signs or vocal announces to guide you to your boat. Check out the arrival of every boat, to be sure you won't miss yours and don't hesitate to ask the staff if you're taking the right boat.
How to choose the perfect Cyclades Islands to visit?
Every island in the Cyclades offers a completely different atmosphere and an unique landscape.
If you want a brief summary, here are the Greek Islands you should visit if you like:
Best Cyclades Islands for families: Naxos, Paros, Amorgos, Andros
Best Cyclades Islands for couples : Santorini, Amorgos (for a calm stay)
Best Cyclades Islands for honeymoon : Santorini
Best nightlife Cyclades Islands: Mykonos, Ios
Best Cyclades Islands for hiking: Amorgos, Andros, Sifnos
Best Cyclades Islands for beaches: Naxos, Milos, Andros
Best unknown Cyclades Islands: Sifnos, Serifos, Folegandros or the Small Cyclades
Best Cyclades Islands for teens: Santorini, Mykonos, Ios, Naxos, Paros
Best Cyckades Islands for island hopping: Santorini, Amorgos, Naxos, Paros, Mykonos
Visiting archaeological sites: Delos

Cyclades Islands Itineraries
In order to help you organize your stay in the Cyclades, I have written 3 detailed itineraries. They are ideal for a 1st time stay on the islands!
In each article, you will find detailed descriptions of the best things to do, a list of the best accommodations for each stage of your trip as well as all my best tips to make the most of your stay.
Renting a car in the Cyclades
Is it really useful to rent a car in the Cyclades? The answer is definitely yes!
You might think that the Cyclades islands are quite small, and it's easy to get around them on foot,  by bike or quad bike. Some people are using scooters, quads or buggies on the islands, but I wouldn't recommend it.
It won't be pleasant, as the Cyclades Islands are often very windy. With a car, you will also be able to travel a lot faster and discover more of the islands. In addition, using a scooter or a quad bike on the narrow and winding mountain roads is often slow and always dangerous!
You can always rent a quad bike for a few hours to go explore the remote beaches and coves.
If you want to rent a car in the Cyclades, you should use Rentalcars.com website. It allows you to:
Easily compare all rental cars agencies prices and customer's reviews.
Get a "Full Protection Insurance" and get refunded in case of theft or accident
Cancel or modify your booking for free
They offer the "Best Price Guarantee": If you find a similar car cheaper elsewhere, they will refund you the difference.
It's simple, it's the website I always use when I travel!
If you don't find any available cars on Rentalcars, it's because there might not be any affiliated car rental agencies on the smallest islands. In that case, you can rent your car directly at the port when you will arrive.
An important note: You will have to rent a different car in every Cyclades Island you want to visit, as you can't take the ferry with a rental car.
Renting a boat in the Cyclades
If you want to rent a boat for a nice day at sea during your trip to Greece, you should book it with Samboat.
Motorboats, sailboats, yachts, small boats without a license, with or without a skipper: they simply have the most complete offer for boat rental.
So, what are you waiting for to book your boat trip in Greece? 😊
Tourist map of the Cyclades
To help you picture the Greek Islands a little better, here is a Tourist Map of the Cyclades. This map lists every island I've talked about in this Top 15 of the best Cyclades Islands. If you want to display the map legend, just click on the top left button (the one with a little arrow).
And you, which islands do you plan to visit in the Cyclades? 
Greece Tours
On Voyagetips.com, I give you all my best tips and itineraries to plan your trip to Greece by yourself. (Click here to read all my articles about Greece)

However, if you prefer to book a Greece tour with a travel agency, I recommend you to check the 10 best Greece tours by clicking the button below:
Book your trip now and save money!
Greece travel guides
You're traveling to Greece ? These articles will help you !
Discover all my articles about Greece: All my articles to help you plan your trip to Greece are listed there.
Cyclades (Greek islands)
Dodecanese
You're using Pinterest? Here is the picture to pin!