Things to Do in Santorini: The 12 Best Places to Visit (All Highlights)
You're planning to visit Santorini during your next trip to Greece? You're looking for the best things to do in Santorini?
You're at the right place!
In order to help you plan your stay, I have prepared for you this guide of the 12 best places to visit in Santorini, with all points of interest and must-see attractions.
In addition to this list of things to do and activities, I will also give you itineraries to visit Santorini in 1, 2, 3, 4 or 5 days as well as my selection of the best accommodations depending on your budget.
And as always, this travel guide contains all my best tips to make the most of your stay.
So, what to do in Santorini? Where to stay?
Let's start with the best places to visit on the island!
Visit Santorini: The 12 Must-See Attractions
1. Fira
Fira, Santorini's capital, is one of the best places to see on the island.
During your trip to Santorini, you certainly want to
Discover the famous white and blue houses

Wander in picturesque narrow alleys
Enjoy chic boutiques and luxury hotels with infinity pools
Admire magnificent views of the caldera.
Well, you're lucky: Fira has all of this!
It's the perfect Cycladic town, a real postcard scenery.
Wander in the city's alleys and discover the breathtaking viewpoints of the sea and the caldera. You will for sure fall in love with the island (even if it's often crowded!).
From Fira, follow the beautiful walking trail to reach the villages of Firostefani (only a 10-minute walk) and Imerovigli (the highest point of the caldera, 30 minutes away from Fira). Plan at least between 1 and 2 hours, as you will stop every 2 meters to enjoy the view and take pictures!

You can also walk to the small port of Fira Skala. It's quite easy to get down the 587 steps, but getting back up can be more difficult, especially under the sun!
If you're too tired to walk, take Santorini's cable car. During this nice ride, you will admire the island from a different angle. A one way ticket costs 6€.
You can also get a ride on a donkey, but I wouldn't recommend it, as the animals are often abused.
If you're a History lover, or if you want to know more about Santorini, you can visit 2 museums in Fira:
The Museum of Prehistoric Thera, exposing vestiges discovered in Akrotiri (I will tell you more about it later) and other archaeological excavations on Santorini.
The archaeological museum and its collection of remains from all Santorini, including vases from Akrotiri.
Fira is also a great place to enjoy the nightlife in Santorini: you will find the island's best bars, restaurants and night clubs!
Voyage Tips - Advice
Try to visit Fira early in the morning, to avoid most of the crowd. The temperatures will be cooler and your stroll will be more pleasant.
If you arrive in Fira between 8h30 and 10h, it will also be easier to park your car. The good news is that all parking spaces are free!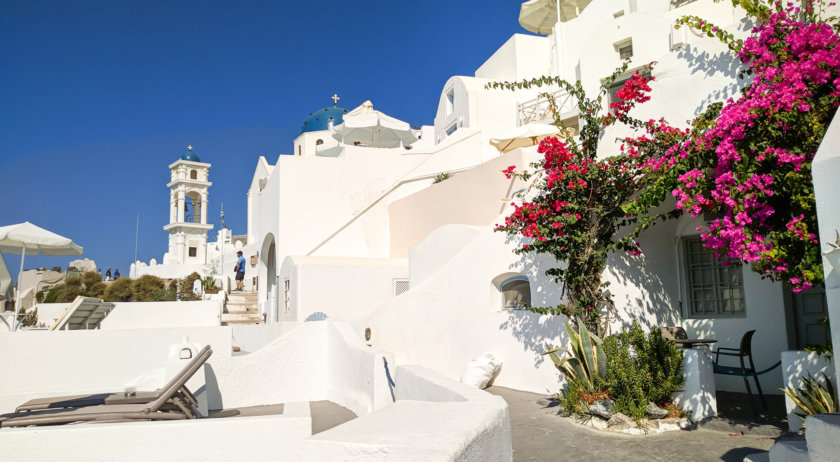 2. Oia
Together with Fira, Oia is the other must-see tourist attraction in Santorini.
As in Fira, you will be amazed by Oia's pretty white houses, churches with a blue dome, and splendid views over the entire caldera!
Oia is also known as the best place to enjoy the sunset in Santorini. At the end of the day, thousands of people are coming to the city for Santorini's most famous show.
When you've found the perfect spot to admire the sunset, sit down and don't leave it!
And if you're looking for a quieter and more romantic atmosphere, you should book a table in one of the many bars and restaurants. Watching the sunset while enjoying a drink is for sure an amazing experience.
Just keep in mind that you'll be asked for a minimum order amount per person. Don't worry: as the drinks are quite expensive, this amount will be easy to reach.
Voyage Tips - Advice
The best place to watch the sunset in Oia is the Byzantine Castle. Be there at least 1 or 2 hours before, so you can get a good spot.
If you visit Oia in the afternoon or in the evening, you will have the perfect lighting for your pictures.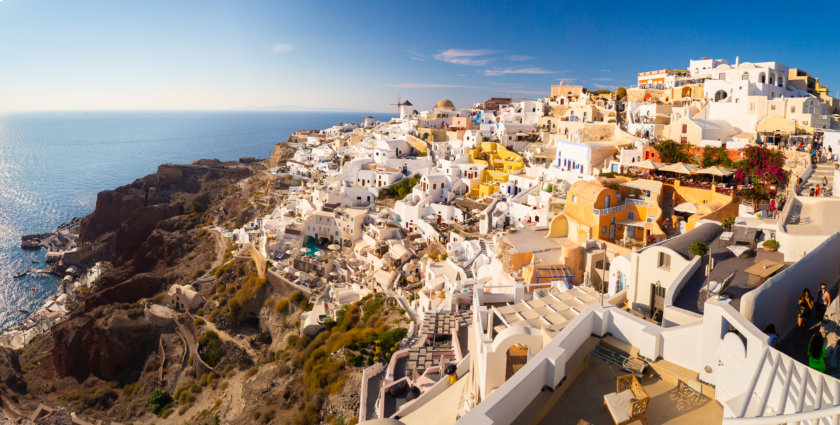 3. Boat trip around Santorini
Boat trips are among the best things to do in Santorini.
The most famous tour is a 1-day cruise in the volcanic islands and Palea Kamini hot springs.
During this day, you will explore the island of Nea Kameni and its still active volcano. You can even walk to the summit of the crater!
You will also stop at Palea Kameni hot springs to take a dip.
Then, you will end your day on Thirassia island, located right in front of Santorini.
As these tours are very popular, you should really book yours in advance. It's very easy, you just have to click on the button below to view the cruise details and book it. For only 37€ per person, you will get the bus transfer from and to your hotel, an audio guide, the cruise and the 3 stops at the volcano, the hot springs and Thirassia!
You can also choose a luxury version of this cruise, on a catamaran. You will sail around Santorini, and enjoy 3 stops for swimming, including one at the hot springs. Snorkeling equipment is even included!
The price includes the minibus transfer from your hotel, the guided tour, the Greek Barbecue and unlimited soft drinks.
At the end of the day, you will also admire the beautiful sunset from the sea.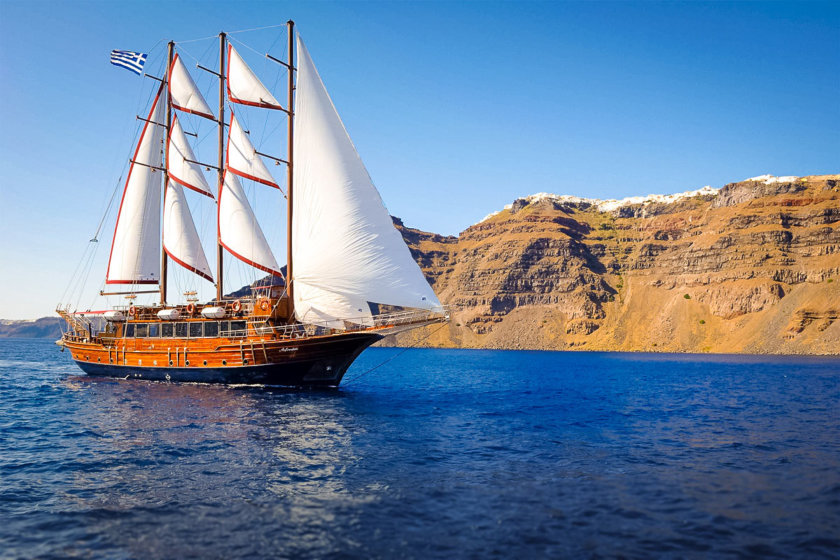 4. Hiking from Fira to Oia
If you want to enjoy magnificent viewpoints of the island and the caldera, you should hike from Fira to Oia.
A 9-km long marked trail on the edge of the caldera connects the 2 cities. You will stop many times to take beautiful pictures, as the view is just breathtaking! It's clearly one of Santorini's best points of interest.
This marked trail isn't really difficult, even if the weather can get really hot on sunny days.  So, it's better to hike in the morning or at the end of the day. You can for example plan your walk to arrive in Oia for the sunset.
From Fira, you will reach Oia in about 2 hours. You should however plan a bit more time, as you will for sure stop a few times on the way to enjoy the panorama and take pictures.
Voyage Tips - Advice
For the hike, it's easier to park your car in Imerovigli than in Fira: there will be more parking spaces. As you will only walk from Imerovigli to Oia, you will do the Fira-Imerovigli part of the trail when visiting Fira.
You should hike from Fira to Oia, and not from Oia to Fira. The most beautiful part is the view over Oia at the end of the trail.
Once in Oia, you can return to Fira by bus. I must warn you: there are not many buses, and they are often full. After 2 full buses, I decided to hitch a ride. Seems it was my lucky day, the first car took me!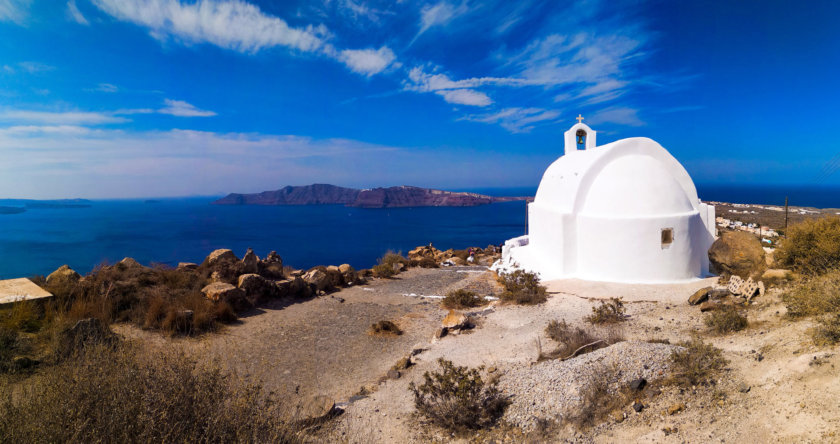 5. Santorini's best beaches
It's impossible to do a definitive guide about Santorini without mentioning the best beaches of the island.

If you want to take a dip in Santorini, the most famous beaches are:
The beaches of Perissa, Perivolos and Agios Georgios: large black sand beaches with snacks and taverns
Kamari Beach, another large black sand beach, where you can rent deckchairs and enjoy many nautical activities.
The Red Beach, named after the volcanic ochre cliffs surrounding it. You can get there in only 5 minutes by a trail.
The White Beach, right next to the Red Beach. You will need take a boat to get there.
Vlihada Beach and its white rocks.
Monilithos Beach, ideal with children with its shallow waters.
Kolumbo Beach, only accessible by foot, and frequented by nudists.
At the main beaches, you can also enjoy a few amazing water sports!
Here are my favorites, simply click on the links to book them in advance (they are extremely popular):

And I end this list with one of my favorite activities: the jet ski tour with an instructor.
You will also have the choice between several different routes starting from Périvolos. You will be able to discover the beaches and the volcano of Santorini!
It's really an unforgettable experience that needs to be booked in advance by clicking on the button below: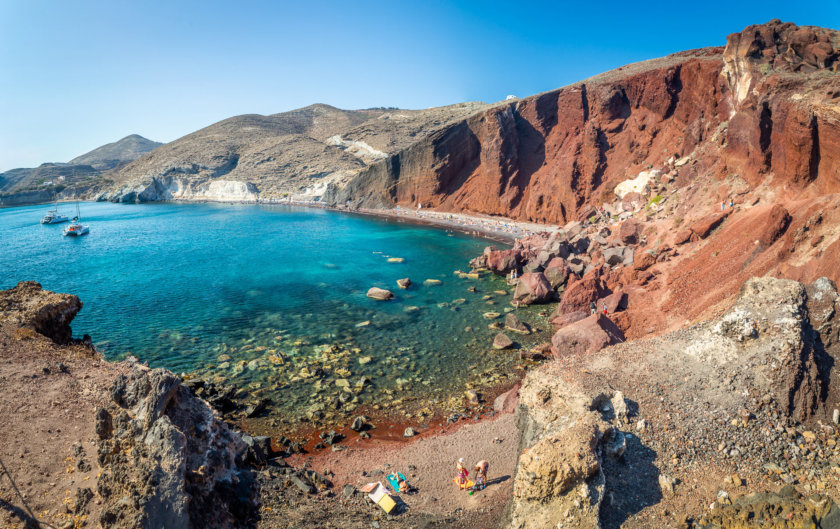 6. Amoudi Bay
Amoudi Bay is a small fishing village located below Oia.
You can get there walking down the 300 steps stairway starting from Oia. You can also drive there, but if you do, don't go to the end of the road, as it's difficult to turn back. Just park your car along the road and finish on foot.
From Amoudi, the view of the ochre cliffs and Oia is really beautiful.
There are also a few nice taverns and restaurants on the seaside. It's perfect if you like fresh fishes!
And, if you want to take a dip in the sea, follow the trail after the restaurants. You will find a nice place to swim and dive into the water.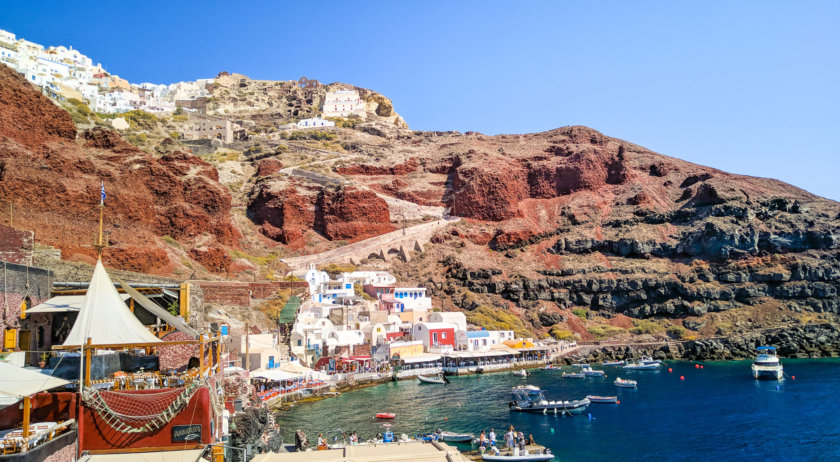 7. Do a Wine Tour in Santorini
Wine Tours are among the most popular activities in Santorini. The island is renowned for its excellent white wines, known as some of the best in Greece.
You can visit many vineyards (known for being the oldest in the world!) on the island, and taste the best wines.
Here is the program of the best wine tour in Santorini:
This wine tasting tour in Santorini lasts around 5 hours and allows you to visit several wineries. During your day, you will visit 3 vineyards:
Boutari vineyard
 Gavalas traditional winery
The Estate Argyros.
You will also taste a dozen of Santorini's best wines, including the traditional Vinsanto and Nykteri! 
This tour includes the transfer from your hotel, an Oenologist guide, and an access to the vineyards. You will be in a small group of 8 people maximum, making this semi-private visit really enjoyable.
For more information and to book your tour, simply click the button below (it must be booked in advanced).


8. Akrotiri
If you're interested in Santorini's History, the ancient site of Akrotiri is one of the island's best place to visit.
This archaeological site is often compared to Pompeii, in Italy. Akrotiri is an ancient Minoan city destroyed by a volcanic eruption in 1,613 B.C. It was only rediscovered in 1967 during an archaeological excavation. The site is one of the most important in the Aegean Sea.
The archaeological excavations are still on going in this very large site. Many remains are probably still undiscovered!
In Akrotiri, wooden footbridges allow you to walk in the city. There, you will admire the ancient buildings, the streets and many ceramics.
Unlike Pompeii, the city of Akrotiri was uninhabited when the eruption occurred, as no human remains or valuable objects were found on the site. What happened to these people? No one knows yet if they moved elsewhere on the island, or sailed to Crete.
9. The other best villages to visit in Santorini
During your trip to Santorini, you will certainly go to Fira and Oia. But don't miss the island's other villages!
Pyrgos is Santorini's highest village. It's a typical Cycladic village, with a traditional architecture and splendid views of the island.
Megalochori, with its picturesque narrow alleys.
Messaria, in the middle of the island and the vineyards.
Emporio, where you will find the Goulas medieval castle at the village's entrance. There are also many small churches.

10. Ancient Thera
The Ancient Thera is another archaeological site in Santorini.
"Thera" is the ancient name of Santorini. In the Middle Ages, the island was then named "Santa Irini" by the Venetians which finally became "Santorini".
Located on Mesa Vouno Hill, Thera was founded in the 9th century B.C. During your visit, you will admire many vestiges from the Hellenic, Roman and Byzantine periods. Take a stroll and discover the remains of the temples, the agora, the theatre and the gymnasium.
You will also enjoy a nice view of the surroundings.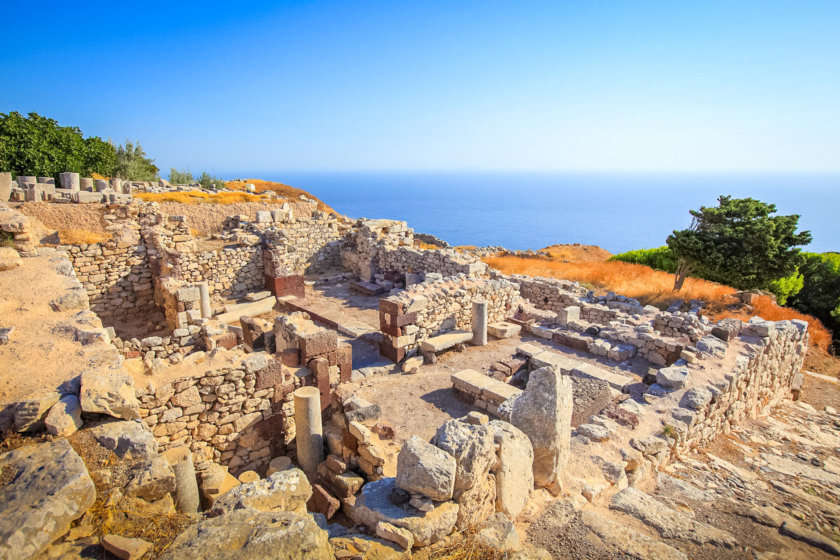 11. Thirassia
The island of Thirassia is located just in front of Oia.
This crocodile-shaped island was separated from Santorini by a huge volcanic eruption.
If you want to visit Thirassia, you can choose a 1-day boat trip (the one going to Nea Kameni's volcano and hot springs also stops there) or take the boat directly from Amoudi Bay.
The island is way quieter than Santorini. During your visit, you will enjoy the charming village of Manolas and its good taverns, and enjoy a splendid view of Santorini!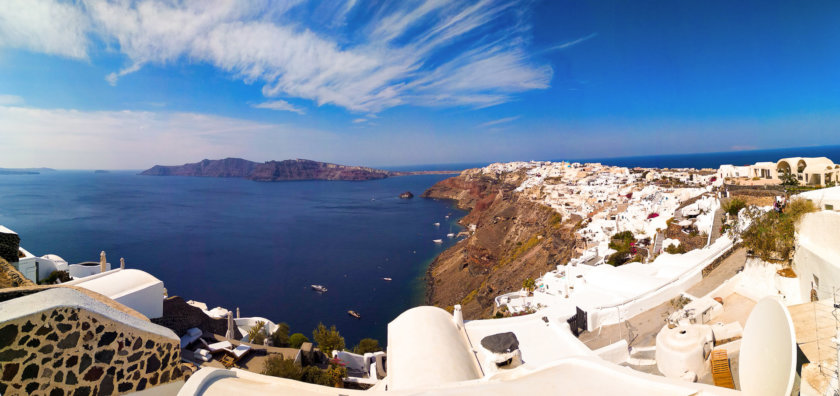 12. Santorini's Open Air Cinema
No matter if you're on a family trip or a romantic gateway in Santorini, you should definitely go watch a movie at the open air Cinema.
The Kamari Open Air Cinema, or Cinekamari, is an outdoor movie theatre located in the middle of the forest. It's a really original and nice place to watch a movie.
From May to October, you can see movies in English (subtitled in Greek) every night starting from 21h30. It costs 8€ per person.
There's also a bar on the site.
Don't hesitate to check the official website for more information.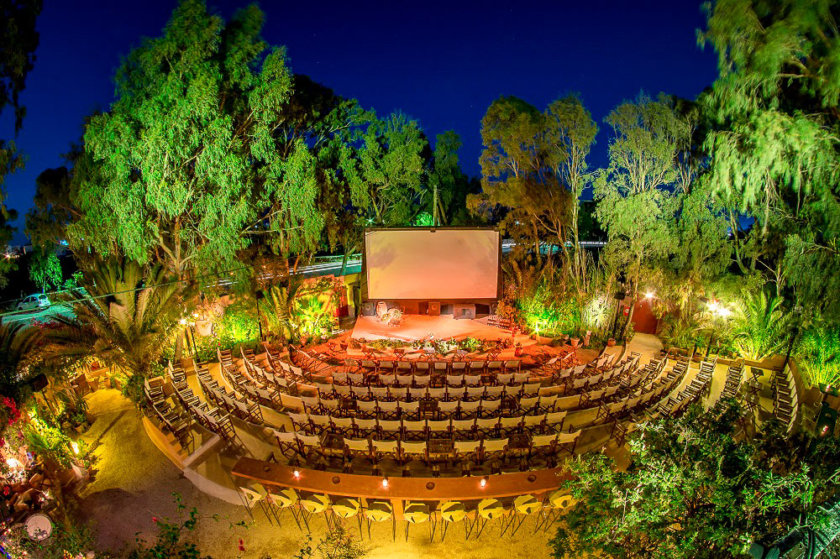 The other best Greek Islands to visit around Santorini
If you've seen most of Santorini, you can take the ferry and visit the islands located nearby:
Ios, the closest island to Santorini. There, you can relax all day at the beach and party all night long.
Amorgos, the best place to hike, there are many marked trails.
The Small Cyclades, if you want to enjoy quieter and less touristic islands (at least for the moment!).
Naxos for its beautiful beaches
Mykonos, where you can dance all day and night long with the best DJs in the world!
If you want more details about the other islands around Santorini, you should read my detailed article: The 15 best Cyclades Islands.
You can also visit this website to check the ferries rates, schedules and book them.

How many days to visit Santorini?
Ideally, you should spend at least 3 days in Santorini. You can visit Fira and Oia on your 1st day, then explore the rest of the island, go on a tour, or relax at the beach during the next 2 days.
Here are my recommended Santorini itineraries depending on the duration of your stay:
1 day in Santorini
You're spending 1 day in Santorini? Then, you will have time to visit the island's most famous villages!
Here are the best things to do in Santorini for 1 day:
Start your day in Fira. Visit the city, and go to Firostefani and Imerovigli, the 2 villages nearby.
Have a drink on a terrace, and stop in one of the 3 villages for lunch.
After a good meal, it's time to hike from Imerovigli to Oia.
Then, visit the magnificent village of Oia.
If you still have some time (and if you're not too tired!), walk down the stairs to Amoudi Bay.
Enjoy the sunset in Oia, the best place to admire it in Santorini.
If you don't feel like walking too much, you can take a guided bus tour. You need to book it in advance here.
During the day, you will visit the archaeological site of Akrotiri, then stop at the Red Beach and discover the village of Emporio. You will also swim in Perissa, taste wines and admire the sunset in Oia.
This excursion is a great way to discover the best of Santorini in only 1 day!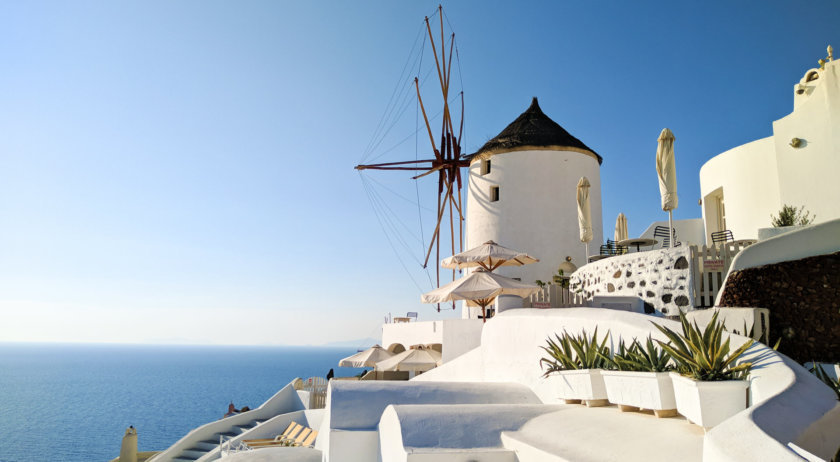 2 days in Santorini
If you have 2 days in Santorini, in addition to the first day described above, you should do a boat-trip to Nea Kameni. You will walk to the top of the volcano and take a dip in the hot springs.
You can book this tour by clicking here. And if you prefer a more luxury version in a catamaran, it's right here!
This cruise is clearly a must-see attraction in Santorini!
3 days in Santorini
If you're spending 3 days in Santorini, in addition to the 2 days above, you can visit the island's other villages and the ancient site of Akrotiri.
Then, how about ending your day at one of the many beaches?
4 or 5 days in Santorini
You've planned 4 or 5 days in Santorini? You're lucky! In addition to all the best places to see on the island, you will have time to take another tour, like Santorini wine tasting tour. You will taste 12 of the island's best wines.
There are also other interesting activities to do in Santorini:
If you're interested in Greek gastronomy, then you have to try this 1-day tour. It combines a Greek cooking class with the tasting of local wines. Needless to say it's amazing 😍.
And if you're a photography lover, book a tour of the island's most beautiful places with a professional photographer. It's clearly magical! You must book it in advance right here.
Where to stay in Santorini
You must know that staying in Santorini, especially in the villages of the caldera like Oia and Fira, is quite expensive.
If you want a less expensive accommodation, it's better to choose a hotel outside these 2 cities.
And of course, even more in Santorini than in any other place, book your hotels as early as possible!
To help you choose, I have made a selection of the best hotels in Santorini, depending on where you want to stay and your budget.
Best hotels in Oia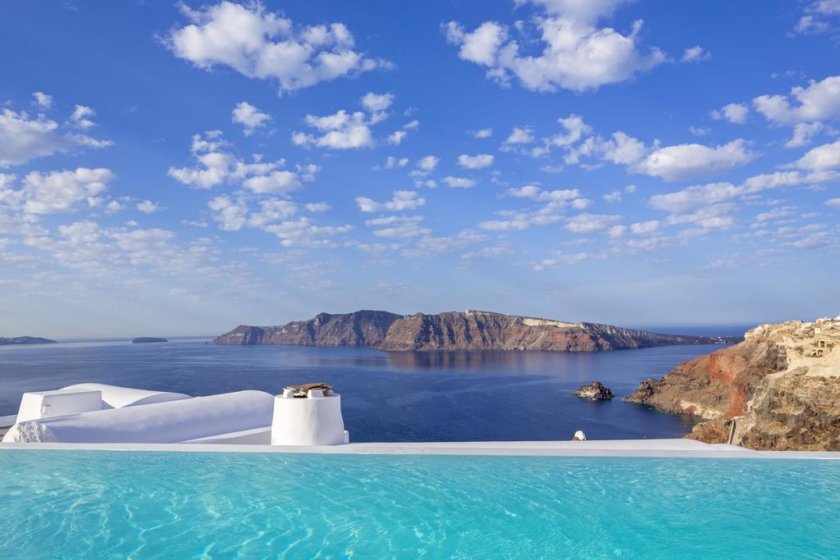 Best hotels in Fira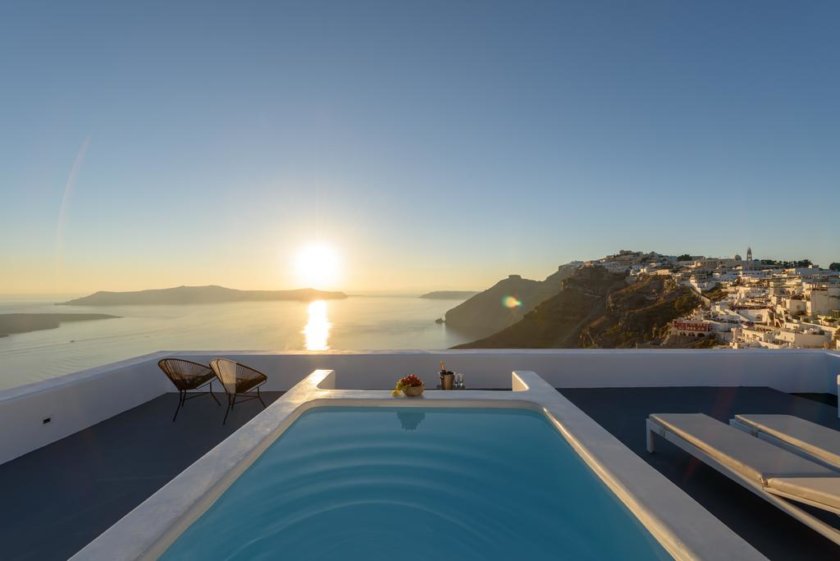 Other best places to stay in Santorini island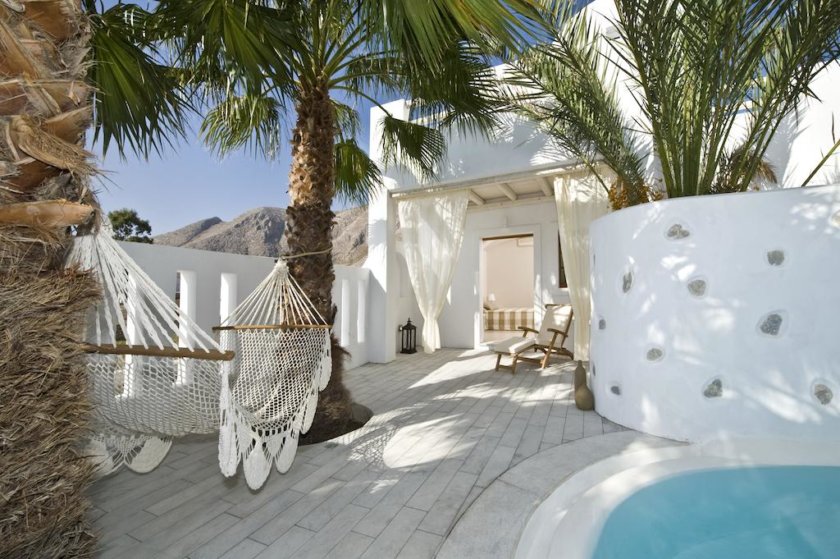 How to get to Santorini ?
If you want to visit Santorini, you have 2 possibilities to get there:
By plane: Santorini has an international airport. Many companies offers direct flights, or connecting flights via Athens. The airport is located only 10 minutes away from Fira and 25 minutes from Oia.
By ferry boat: you can take the ferry from the Port of Piraeus (close to Athens) to Santorini. The journey times varies depending on the boats size and speed. It takes between 5h30 and 8h, and the prices are starting from 40€ per person.
There are also daily ferry connections between Santorini and other Greek Islands. You can get there from Naxos, Paros, Mykonos, Amorgos…
If you want to plan a ferry trip in Greece, and especially in the very touristic island of Santorini, you should book your tickets in advance.
Click the button below to check the schedules, compare prices and book your ferry tickets.
Renting a car in Santorini
If you want to visit Santorini, you should really rent a car. It's the most practical way to discover the island, especially if you're staying a few days. You can also rent a quad bike to reach some remote beaches, but in general, you can get everywhere in Santorini by car.
One of the nice surprises I had during my trip to Santorini is that all the parking spaces are free!
Whenever I'm renting a car abroad, whether I'm in Greece, in Malta or in Spain, I always book my cars on Rentalcars.com. It's my favorite website for the following reasons:
You can compare prices between all the car rental companies in Santorini. Choose the cheapest, or the one with the best customer's reviews!
You can get a "Full Protection Insurance" to be fully refunded in case of accident or theft (They have refunded me more than 1200 euros to date)
Cancel or modify your booking in 1 click!
Last but not least: they offer the "Best Price Guarantee". If you find the same car cheaper elsewhere, they will refund you the difference! Click the button below to check rental cars prices in Santorini now:
Santorini and Greece Tours
On Voyagetips.com, I give you all my best tips and itineraries to plan your trip to Santorini and Greece by yourself. (Click here to read all my articles about Greece)

However, if you prefer to book a Greece tour with a travel agency, I recommend you to check the 10 best Greece tours by clicking the button below:
Renting a boat in Santorini
If you want to rent a boat for a nice day at sea during your trip to the Greek islands, you should book it with Samboat.
Motorboats, sailboats, yachts, small boats without a license, with or without a skipper: they simply have the most complete offer for boat rental.
So, what are you waiting for to book your boat trip in Greece? 😊
Tourist map of Santorini
I have made a tourist map of Santorini for you, to help you picture what the island looks like and where the best places to visit are located. You can display the map legend by clicking on the top left button (the one with a little arrow).
Now that you know more about the best things to do in Santorin, what do you plan to visit during your trip?
Book your trip now and save money!
Greece travel guides
You're traveling to Greece ? These articles will help you !
Discover all my articles about Greece: All my articles to help you plan your trip to Greece are listed there.
Cyclades (Greek islands)
Dodecanese
You're using Pinterest? Here is the picture to pin!