The 6 Best Things to do in Alghero (All Highlights)
You're planning to visit Alghero, in Sardinia, during your next trip?
Great idea!
In order to help you plan your stay, i have prepared this guide of the 6 best things to do in Alghero and its surroundings. You will find all must-see attractions in and around the city as well as itineraries to visit Alghero in 1, 2 or 3 days.
As usual, I will also give you all my best tips and my list of the best places to stay in Alghero depending on your budget.
So, What are the best things to do in Alghero? Where to stay?
Let's find out!
Visit Alghero (+ surroundings): the 6 Must-See attractions
1. Alghero historical center
Let's start this guide of Alghero with the old town, the most interesting area to visit.
When you will arrive, you will directly notice how charming the historical center is, with its narrow paved streets and historical monuments everywhere.
You will also find many coffee shops, restaurants and tourist shop in this touristic city.

As Alghero is the capital of the "Coral Coast", most of the shops are selling red coral jewelry, the local specialty. It really and makes a perfect souvenir to bring back from your holidays in Sardinia!
Here are the best places to visit in Alghero, Sardinia:
The fortifications and ramparts of Alghero: Recently renovated, the promenade along the ramparts is great and offers many nice viewpoints over the coast.
During your stroll, you will also see beautiful gates, towers and bastions, named (for most of them) after famous explorers like Marco Polo or Ferdinand Magellan.
The site has been really well rearranged. It's also the perfect spot to enjoy the sunset in Alghero.
In the old town, there is also:
Alghero Cathedral
The Cathedral's bell tower: you can go up and enjoy the view over Alghero
La Piazza Civica: the main square with many terrace coffee shops
The Coral Museum, to learn more about this local craft
The Church of St. Michael and its colorful dome
The Church of St. Barbara, the most ancient church of the city
The lungomare, for a walk along the sea.
Voyage Tips Advice
To visit Alghero, park your car in one of the parking lots located along the sea, just before getting to the entrance of the historical center.


2. Neptune caves / Cape Caccia
One of the best things to do around Alghero is to go visit the Neptune caves.
There're several ways to go to the caves located in Cape Caccia:
A boat excursion from the Alghero port. There's daily departures to the caves. The boats take you to the caves entrance and pick you up after your visit of Neptune caves. You need to check the marine weather forecast beforehand though, as there's no departure when the sea is rough. Price: about 15€ per person (entrance ticket to the cave is not included).
By bus: go to via Catalogna to take the ARST bus, it will take you to the caves entrance. The round trip costs 5€ and it takes about 50 min one way. Check the schedules beforehand because there aren't many buses per day.
By car: it will take you around 35 min to get to the caves parking lot.
Last option: drive to Porto Conte pier (located on the left before getting to the caves) and then take a boat to the caves entrance.
If you take a boat to Neptune caves, the boat will drop you directly at the entrance.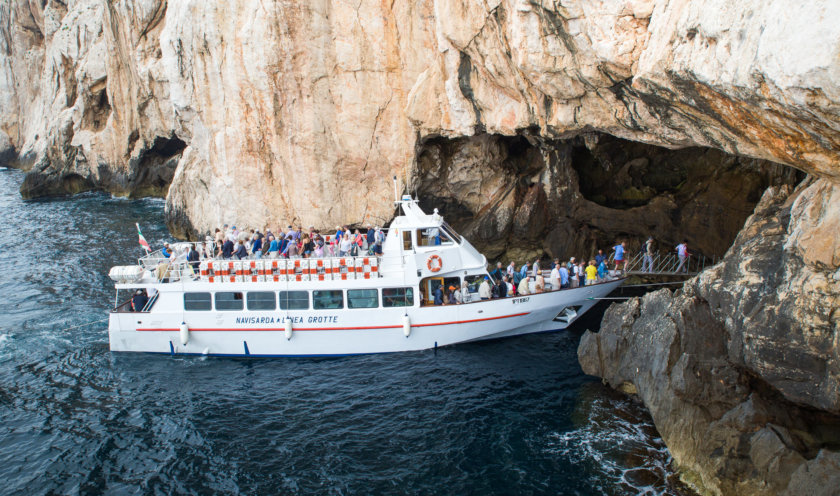 On the other hand, if you choose to take the bus or drive there, a 654 steps staircase will be waiting for you!
As you can imagine, going down isn't really a problem, but going back up is another story 😅.
The stairs are carved into the cliff, so it's really impressive, even if you're not particularly afraid of heights.
Once you arrive at the entrance, you can visit the caves. There're only guided tours available, starting every hour from 09:00 to 19:00.
Make sure you arrive at the caves at the right time to avoid waiting for too long for the next visit to start.
The visit lasts 45 min. It will allow you to discover an inland lake as well as many stalactites and stalagmites.
Tickets are 13€ per adult and 7€ per child.
If you don't want to visit the caves, you should still go down the stairs to the bottom. You can have a look at one of the cave halls and take a few pictures without paying for a ticket.
Voyage Tips Advice
Before getting to the caves parking lot, stop by the Cape Caccia viewpoint to see Isola di Foradada.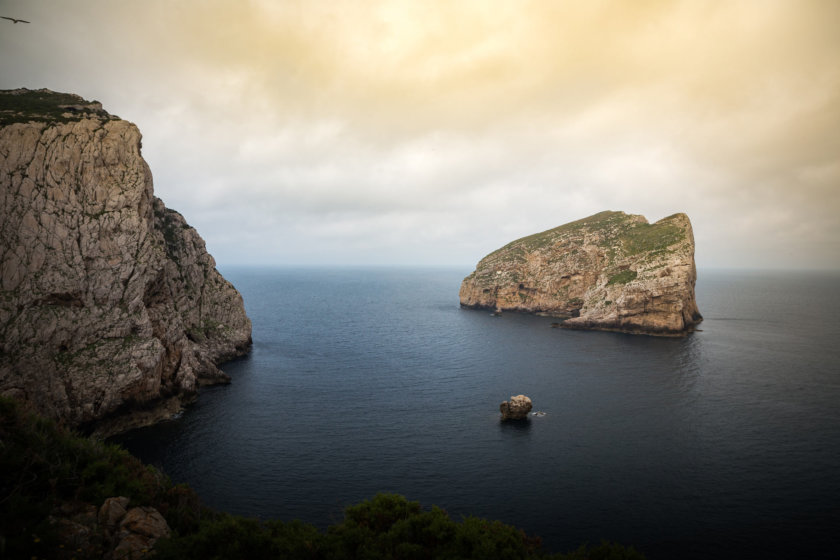 3. Porto Conte Regional Natural Park
If you are around Alghero and enjoy hiking, you should definitely go for a walk in Porto Conte Regional Natural Park. In fact, the Neptune caves and Cape Caccia are parts of it.
In the park, you will find several hiking paths and cycle paths. For truly beautiful walks, head to "Le Prigionette nature reserve" and along Cape Caccia.
To get in the nature reserve, you will have to pay a small entrance fee:
5€ for a car
3€ per bike or on foot
You will then be able to walk along the rocky coast and in the wild maquis.

After your hike, why not go take a dip in the sea?
The 2 best beaches nearby are Spaggia Mugoni, in Porto Conte and Porto Ferro beach.
During high season, Porto Ferro beach is even accessible by bus from Alghero. Surrounded by mountains and the ruins of 3 defensive towers, the beach is wild and very beautiful!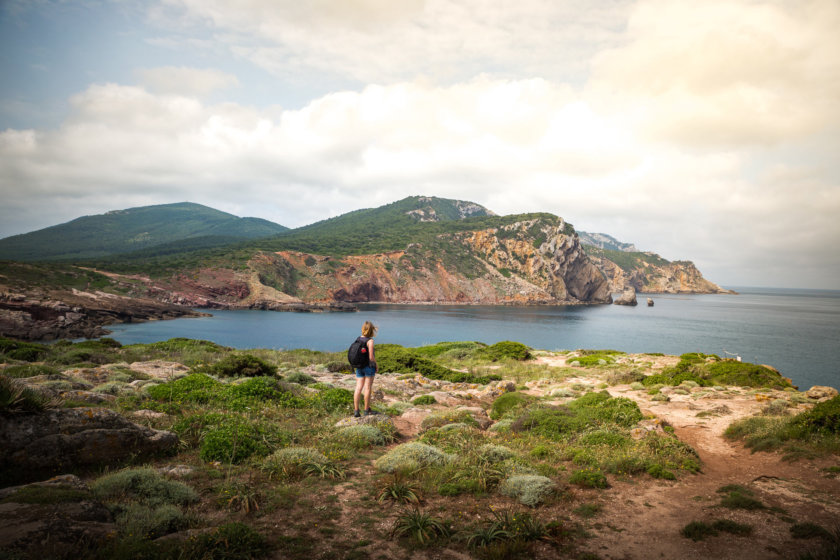 4. The beaches around Alghero
When you will be in Sardinia, you will for sure find stunning beaches everywhere you go, including around Alghero.
You will be able to practice the most popular Sardinian activity: sunbathing! 😋
Here is a list of the most beautiful beaches of Alghero and its surroundings: 
Lido San Giovanni is the closest beach to the old city and you can go there on foot. There, you can rent sun beds and umbrellas. It's also a very kid friendly beach, with shallow water.
Maria Pia beach: large white sand beach with a pine forest nearby. There are many parking spots around.
Bombarde beach: located North of Alghero, towards Porto Conte. Well equipped with sun beds and paddle boats for rents + restaurants around.
Lazzaretto beach: located right next to Bombarde beach. It's a sandy beach with crystal clear water.
Spiaggia Mugoni: the very large sandy beach that I mentioned above (20min away from Alghero)
Spiaggia di Porticiello: its belvedere offers a splendid view over Porto Conte Regional Natural Park
Spiaggia Porto Ferro: I also talked about this one above. It's located 30min away from Alghero and it's the wildest beach in the area.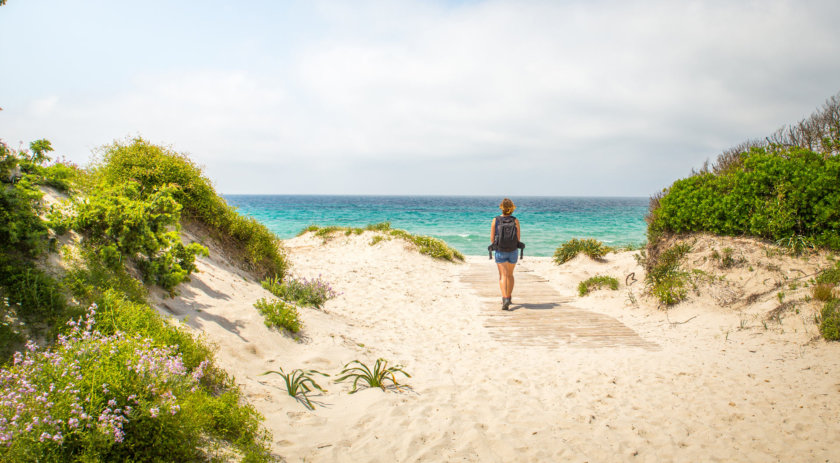 5. Sassari
Close to Alghero, you can also easily go visit Sassari, the largest city of the province of the same name and the 2nd most populated city in Sardinia.
If you go by car, it will take you about 35min to reach Sassari from Alghero. You can also take the bus from Alghero for only 4€ !
In Sassari too, the most interesting isn't the modern part of the city, but rather its historical center.
You can go for a stroll and see the main monuments, such as St. Nicholas Cathedral and its bell tower, St. Anthony Abbot Church, the Civic Theatre and Piazza Italia, a large square surrounded by several Palazzo.
If you're into archeology, you should also check out Sanna Museum (the National Archeological Museum). You'll discover various items and relics found around Sassari and Alghero.
Voyage Tips - Advice
You're going to Alghero?
You probably know it: the hardest part of planning your trip is to find an hotel offering a good value for money!
The closer you get to your travel dates, the harder it will be to get a good deal. Lots of people will be visiting Alghero on the same dates as you, so you can be sure that the best deals are booked extremely quickly!
Hopefully, there is a pretty simple solution to this problem: do like me and book your hotel as early as possible!
So, my best advice is to take 5 minutes (now) to have a look at the list of travelers' favorite hotels in Alghero.
And if you see a good offer, book it!
Most hotels offer free cancellation, so it's quick, easy, and you will avoid the the inconvenience of finding nothing but mediocre rooms at exorbitant prices.
To check the current best deals for your hotel in Alghero, simply click on the green button below 😎:
Once you've booked your hotel, it will be time to continue reading this guide and find out more about the best things to do in Alghero!

6. La Pelosa beach
What are the best things to do in Alghero and its surroundings after you've seen everything I talked about?
Well, then you should go explore a bit further away and discover one of the best beaches of Northwest Sardinia (some will even say of all Europe!): La Pelosa beach.
This very popular beach is a real tourist magnet, so don't expect to be alone!
It's located about 1 hour driving from Alghero, in the Gulf of Asinara, a few kilometers away from Stintino.
From June 1st to September 30th, access to the beach is strictly regulated. You have to book your entrance ticket (3.50€ per person / free for children under 12) in advance on the official website: La Pelosa Stintino.
With its white sand and shallow turquoise water, La Pelosa really feels like paradise. You will often see it on postcards, especially the part with the watchtower and Asinara islands in the background.
Voyage Tips Advice
If you plan to spend the day at the beach,
go there as early as possible in the morning
, to be sure to find a parking space.
The parking is quite large, but it fills up very quickly. Don't park where it's forbidden, you would for sure get a fine, the traffic wardens aren't here to play!


How many days to visit Alghero and its surroundings?
One day is enough to visit the city of Alghero. You can even spend just half a day in the historical center, and the other half at the beach.
If you want to explore the area around Alghero while staying at the same hotel, you can easily stay for 3 nights and go around during the day.
To help you plan your trip to Alghero and be sure to see all the best points of interests, you should follow my recommended one week itinerary around Alghero.
You can read it here: The best North West Sardinia itinerary.
1 day in Alghero
If you're in Alghero only for one day, I recommend the following:
Visit the old town and discover the historical monuments
Lunch break
Go for a walk along the lungomare
Take a dip at Lido San Giovanni beach
Watch the sunset from the ramparts 
2 days in Alghero (and around)
For 2 days in Alghero, you can do the 1 day itinerary and for the second day, add:
An excursion to Neptune caves
Hiking in Porto Conte Regional Natural Park

Take a break at Porto Ferro beach
3 days in Alghero (and around)
For 3 days in Alghero and its surroundings, take the 2 days itinerary and add:
Visit Bosa, located 1hour South of Alghero
Enjoy the sun at Compultittu or S'Abba Drucche beaches.
Where to stay in Alghero
B&B Summertime: Located 10 min walking from the old city. New and modern double room starting from 60€/night, breakfast included. Strong points: friendly hosts, great homemade breakfast, very clean.
Hotel Sa Cheya Relais & Spa: Located 5km away from Alghero. Comfortable and spacious double room starting from 120€/night, breakfast for an additional 15€. What I loved: the swimming pool, the tennis courts, very quiet and pleasant atmosphere, high quality breakfast. That's my favorite hotel for its great value for money!
Villa Las Tronas Hotel & SPA: Located 10min walking from Alghero's historical center. This luxurious hotel offers antique style double room starting from 250€/night, breakfast included. Strong points: the swimming pool and its view, the ideal location and overall atmosphere of the place, super staff. The best choice for a luxury stay in Alghero!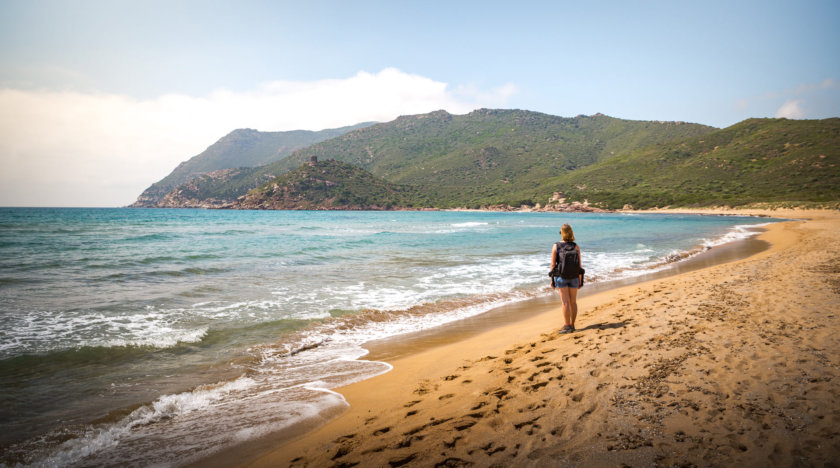 Where to eat in Alghero
La Piadina del Pozzo: Located on Via Minerva n25. It's the ideal spot to quickly grab something to eat, this snack bar offers a wide selection of piadinas (Italian sandwiches). You can also compose your own with the ingredients you like. The sandwiches are generous and made with quality ingredients. They cost 5€ each.
Ok Pizza: Located on Via Sebastiano Satta. This restaurant serves many kinds of pizzas, they're all generous and delicious. They cost between 5.50€ and 9€.
Azienda Agrituristica Sa Mandra: Located on Strada Aeroporto Civile. At this restaurant you can get a traditional Sardinian menu for 40€ per person, including antipasti, a pasta dish, meat, dessert, coffee and digestive. Drinks (wine and water) are also included in the price. Needless to say, it's very copious!
Renting a boat in Alghero
If you want to rent a boat for a nice day at sea during your trip to Alghero, you should book it with Samboat.
Motorboats, sailboats, yachts, small boats without a license, with or without a skipper: they simply have the most complete offer for boat rental.
So, what are you waiting for to book your boat trip in Sardinia? 😊
What about you – Are you going to visit Alghero during your trip to Sardinia?
Book your trip now and save money!
Sardinia travel Guides
You're traveling in Sardinia? These articles will help you!
Discover all my articles about Sardinia: All my articles to help you plan your trip to Sardinia are listed here.
You're using Pinterest? Here is the picture to pin!