Gulf of Orosei and Supramonte: The best places to visit
You want to visit the Gulf of Orosei and the Supramonte during your next trip to Sardinia?
Great idea!
This region is perfect for nature and outdoor enthusiasts: it's the best place on the island to go on a boat trip or alternate hiking and swimming breaks in the most beautiful coves of Sardinia.
In order to help you plan your stay, i have prepared this guide of the 10 best things to do in the Gulf of Orosei and Supramonte. You will find all must-see attractions as well as itineraries to visit the Gulf of Orosei in 1, 2 or 3 days.
As usual, I will also give you all my best tips and my list of the best places to stay in the Gulf of Orosei depending on your budget.
So, What are the best things to do in the Gulf of Orosei and Supramonte? Where to stay?
Let's find out!
Visit the Supramonte and the Gulf of Orosei: All must-see attractions
1. Boat tours in the Gulf of Orosei
Going on a boat trip is for sure the best thing to do in the Gulf of Orosei.
These cruises start from Cala Gonone port, a small seaside town located close to the Gulf.
Both in the city center and at the port, you'll find many agencies booths offering excursions to the Gulf of Orosei. All the tours are pretty similar: same price and same features included, so no need to compare too many agencies, just pick one!
These cruises are very popular among tourists, so even if there are many agencies, it's better to book your excursion at least 1 or 2 days in advance.
For example, when we where there and wanted to rent a zodiac, the first 3 booths we stopped at were fully booked for the day after. And it was not even in high season!
You should also check the weather forecast because in case of bad weather, all the cruises are canceled.
There are 3 options available: 
A zodiac cruise (or on a slightly bigger boat) with a skipper driving the boat. You must respect the stop times allocated for each cove.
A sailboat cruise in the Gulf of Orosei. I recommend it if you're looking for an upscale experience in a comfortable boat.
Renting a zodiac that you can drive yourself (no boat license required). It's the best way to visit the Gulf of Orosei and its beaches with total freedom. We chose this option and it turned out to be one of the best experiences we had in Sardinia!
The cost of an excursion in the Gulf Orosei depends on the option you choose:
40€ per person for a classic tour on a zodiac with a skipper
90€ per person for the sailboat cruise
120€ to rent a zodiac you can drive yourself. This option is very interesting, especially if you're a group of 4 or more. That way, it won't be more expensive than a classic boat tour, but you will be totally free to do what you want.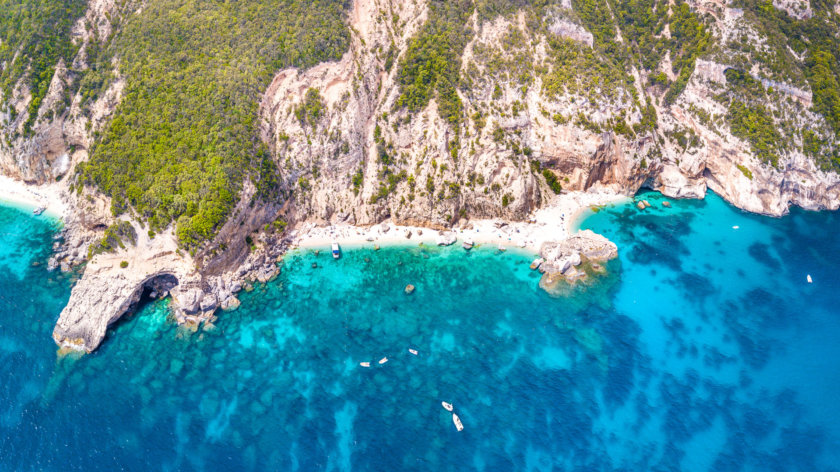 Once you will have choosen the type of cruise that suits you the best, you will be ready to discover the stunning beaches of the Gulf of Orosei:
Cala Luna
Cala Sisine
Cala Biriola
Cala Mariolu
Cala Gabbiani
Cala Goloritzé
They are all so beautiful, I wouldn't be able to tell which beach was my favorite! Everywhere, you'll be able to take a dip in crystal clear water or get off the boat and relax on fine sandy beaches.
If you go on a sailboat cruise or on a zodiac with a skipper, you will stop by several coves, but not all of them. If you rent your own zodiac on the other hand, you can do whatever you want.
Please note that it's forbidden to go to Cala Goloritzé with any kind of boat, so you can only admire it from afar.
During your boat trip to the Gulf of Orosei, you can also visit the Bue Marino Caves. Most agencies include this visit in their tour package.
The caves are named after the monk seal (called "bue marino" in Italian), as they were its last shelter before it went extinct. Visiting the caves is a good way to enjoy a bit of shade on a hot day. During your visit, you will discover several halls of this huge limestone cave.
The entrance ticket costs 9€ and is not included in the price of the boat tour.
However, if you rented your own zodiac, you can't visit the Bue Marine caves. For safety reasons, access to the caves is only allowed to tourist boats driven by a professional skipper.

Voyage Tips Advice
If you're not interested in a boat excursion, there is a very beautiful hike going to Cala Luna.
The beginning of this path to Cala Luna is located on Cala Fuili. You can get there by car or with a shuttle bus leaving from Cala Gonone.
The hike isn't easy, so make sure to wear good hiking shoes and bring enough water. Cala Luna makes it totally worth it!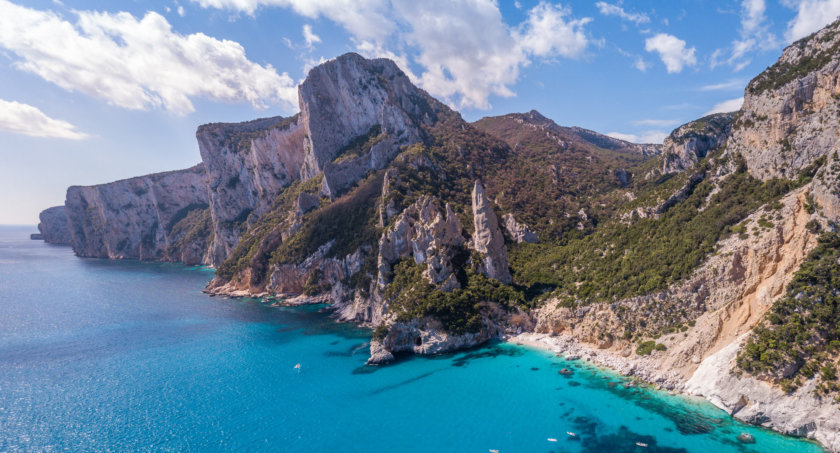 2. Gorropu gorge
Visiting the Gulf of Orosei and Supramonte, also means that you're going to hike in the Sardinian mountains!
Actually, the area is home to one of the most famous hikes of Sardinia: The Gorropu gorge. This gorge is known to be the deepest gorge of the island and even one of the deepest in Europe.
It's for sure one of the best places in Supramonte to do a bit of hiking.
Gorropu gorge is located in the Gulf of Orosei area. To get there, take the SS 125 road that connects Dorgali and Arbatax.
You can start the hike from several departure points:

From the parking lot located close to Silana Hotel at km 183 on the SS 125 road
From Sa Barva bridge, located about 15 km away from Dorgali
In any case, the hike lasts 4-5 hours. The path is quite rocky (hiking shoes are recommended) and goes down to the gorge entrance, where you'll find a booth to buy your 5€ entrance ticket (don't forget to bring cash!).
Inside the gorge, you can choose between several itineraries to explore the site (with different difficulty levels). The highest difficulty level, the red one, can only be done with a guide.
Because this hike is quite long and difficult, there is a Jeep service available if you want to save some time. But even with this service, you will still have to walk for about 1 hour, as it's not possible to reach the gorge by car.
The jeep ride costs about 15€ per person one way.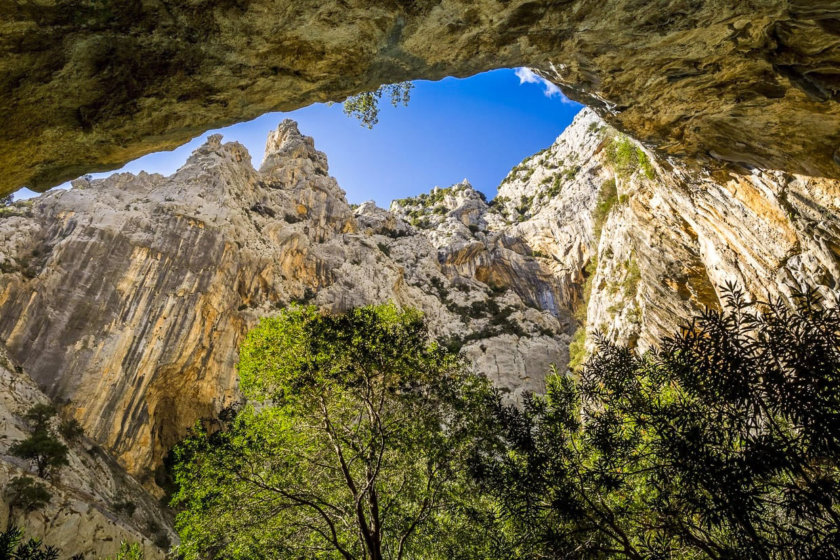 3. Ispinigoli cave
In the surroundings of the Gulf of Orosei, you should go visit Ispinigoli cave. If it's too hot outside, it's the perfect spot to enjoy a lot cooler temperature! It's also a great family-friendly activity to do in the Supramonte.
The cave is located 15 min driving from Dorgali and 25 min from Cala Gonone.
Only guided tours are available (in Italian and English). There is a tour starting every hour and it lasts about 45 min.
The entrance is located at the top of the cave, so you will have to go down 280 steps to admire the various stalactites and stalagmites formations.
What is especially famous in Ispinigoli cave is the impressive 37 meters high column, connecting the floor to the vault. It's the tallest one in Europe.
The cave is open everyday from 10:00 to 18:00 from June to September
In April, May and October, it's closed between 12:00 and 15:00
It's fully closed from November to April.
Tickets are 8€ per person.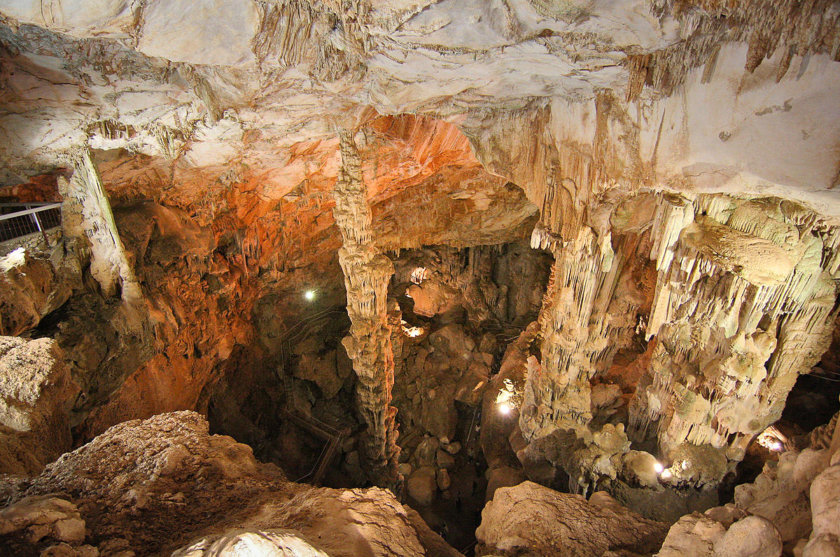 4. Lanaittu Valley
During your trip to the Gulf of Orosei and Supramonte, you should also explore places that are a bit less touristy. 
The valley of Lanaittu is one of them.
To reach the valley, you need to take the Oliena-Dorgali road. Once you've passed Oliena, Take the road for about 10 km following the "Su Gologone" signs and then the ones for the "Valle di Lanaittu".
On the way, you can make a first stop at Su Gologone, a mountain spring with a flow sometimes as high as 10,000 liters per seconds in case of strong rains. Entrance costs 2€ and the site is open from 09:00 to 19:00.
The entrance of Lanaittu Valley is located just in front of Su Gologone entrance. You can explore by car, by bike or on foot.
The valley is 7km long, with mountains and cliffs filled with vines and olive trees. It's definitely a great place in Supramonte to enjoy a nice walk in the nature.
There, you can also visit a cave: the Grotta di Sa Oche e Su Bentu. It's open only from April to September and you will need to pay a small entrance fee to visit.
Not far from the cave, there is also the Nuragic village of So Sedda e Sos Carros. It was built in 1300 BC and you can visit its ruins today (you will need a bit of imagination to see what it looked like!).
Voyage Tips Advice
If you want to visit the cave and the Nuragic village, you can get a combined ticket to save money.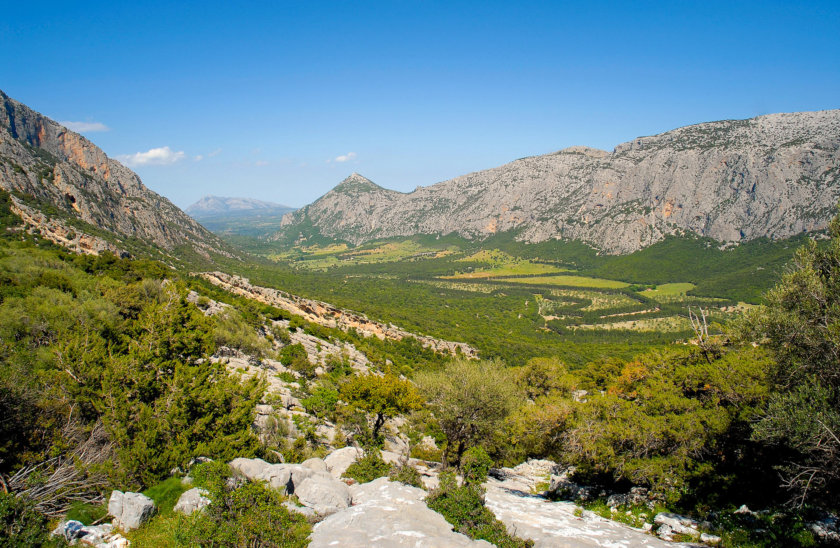 5. Tiscali
Another well known site around the Gulf of Orosei and Supramonte is Tiscali.
Tiscali is a nuragic village hidden in a sinkhole. It dates from the 6th century BC and was inhabited until Roman times. As you can't see it from the outside, it was only discovered at the end of the 19th century.
When it was discovered, the site was still untouched, but it was then unfortunately sacked by grave robbers. You'll still be able to see the ruins of old houses that were once standing there.
Entrance fee: 5€ per person.
Some of the artifacts found in Tiscali are now being displayed at Dorgali Archaeological Museum.
Tiscali is only accessible on foot via 2 hiking paths: 
From Sa Barva bridge (the same I talk about in the part about Gorropu gorge). The path is 8km long and will take you around 4-5 hours round trip (including the visit of Tiscali).
From the Valley of Lanaittu, the hike is about 4 hours long but this path is slightly more difficult than the other one.
Both paths are really rocky, so hiking shoes are highly recommended.

If you want to visit with a guide, there are many excursions to Tiscali available from Dorgali or Cala Gonone. This day-trip will cost you around 45€ per person, including transportation, lunch and the entrance ticket to Tiscali.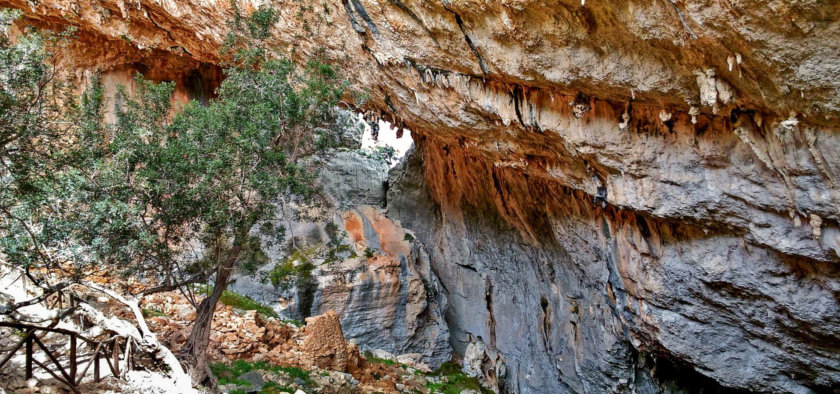 6. Orgosolo
Let's continue this travel guide of the Gulf of Orosei and Supramonte with the village of Orgosolo.
Located about one hour driving from Cala Gonone, it's the Supramonte's most famous mountain village.
Orgosolo is renowned for its hundreds of "murals" painted directly on the houses. They portray political figures or major international events such as 9/11 or World War II.
The first murals were painted as part of a school project in 1975, to celebrate the 30 years of Italy's liberation. Ever since, several generations and even famous artists participated in making Orogosolo a giant art piece.
Most murals can be seen along the Corso Repubblica, the main street of the village. There're also a few more in the adjacent streets.
There is no explanation or description of the artworks in the streets, so you should get an audioguide (5€) to get more info about each of the murals. A map of the murals is also available for 3€.  
The village is quite touristy, with many restaurants and gift shops.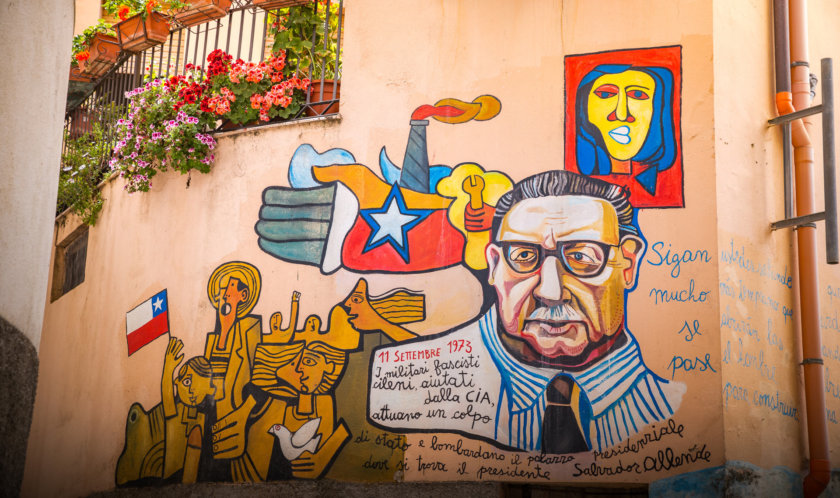 7. Nuoro and Mount Ortobene
Close to the Gulf of Orosei and Supramonte, you can also visit the town of Nuoro.
It's a good idea to combine the visit of Nuoro and Orgosolo on the same day.
Nuoro was for a long time an isolated mountain village, renowned for sheltering bandits and opponents of the central government.
Today, it's ancient history: the city is even is experiencing a revival of cultural vitality thanks to its university and ethnographic museum.
In this museum, you'll find jewelry, weapons and traditional Sardinian costumes and masks. It's a very interesting visit to learn more about the Sardinian culture and folklore.
Tickets are 5€ per person and the museum is closed from 13:00 to 15:00.
From Nuoro, you should take the road heading to Mount Ortobene
You'll find up there the Sardinian version of Christ the Redeemer, a bronze statute of the Christ crushing the head of a demon. You'll also be able to enjoy the amazing view over the mountains and the whole valley from the lookout point.
Mount Ortobene is very popular among locals for the nice walks in the forest you can do there. There is also a picnic area with a small coffee shop located on the parking lot, close to the statue.


8. The Selvaggio Blu
The Selvaggio Blu ("Wild Blue" in English) is a hiking path for experienced hikers only.
For 7 days, you will walk the 45km of the Gulf of Orosei, following the footsteps of former goatherds on the most beautiful coast of Sardinia.
This path is known to be one of the hardest of Sardinia and Italy, but it will allow you to admire breathtaking landscapes along the way. In addition to walking, you'll also have to do rock climbing and abseiling, so it's best if you have some experience in these activities.
For this hike, you will need to be in very good shape, as you'll be walking 6-8 hours a day on paths along cliffs.
You will also need the following equipment: A tent, a sleeping bag, a compass, good hiking shoes, and of course a huge backpack with food and water for the entire week.
This trek is extremly hard, and it's almost impossible to do it on your own, without good knowledge of the area. The path is often hard to see, so you can get lost pretty easily!
If you're up for the challenge, I strongly advise you to do the Selvaggio Blu with a guide.
Guides will also provide you with water and food delivered by boat (there is no drinking water along the way).
Hiking the Selvaggio Blu with a guide costs about 700€ per person (around 100€/day) and it's better to book your trek well in advance.
For more information, you can visit the official website.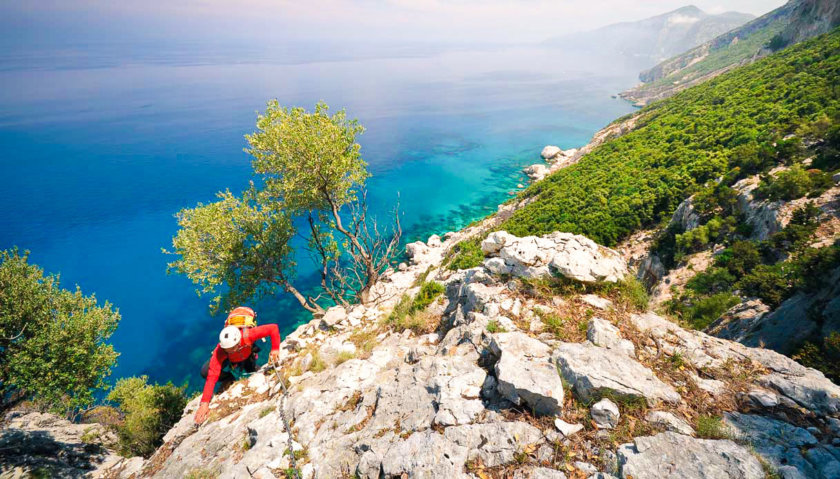 9. Rock climbing in the Supramonte
So, you're in the Gulf of Orosei and Supramonte area and you have already been hiking and on a boat trip? What about doing something a little bit out of the ordinary: rock climbing!

There're several climbing paths in the Eastern part of Sardinia: 
Cala Fuili: an easy climb above the beach, great for beginners
Cala Gonone around La Poltrona, at a maximum height of 175 meters above the ground.
Cala Luna: a climb above the cove, under the shade!
Cala Goloritzé on the Aguglia or Punta Caroddi site.
S'atta Ruia, a cliff in Dorgali
Gorropu Gorge, where Supramonte Hotel is located. Only for experienced climbers.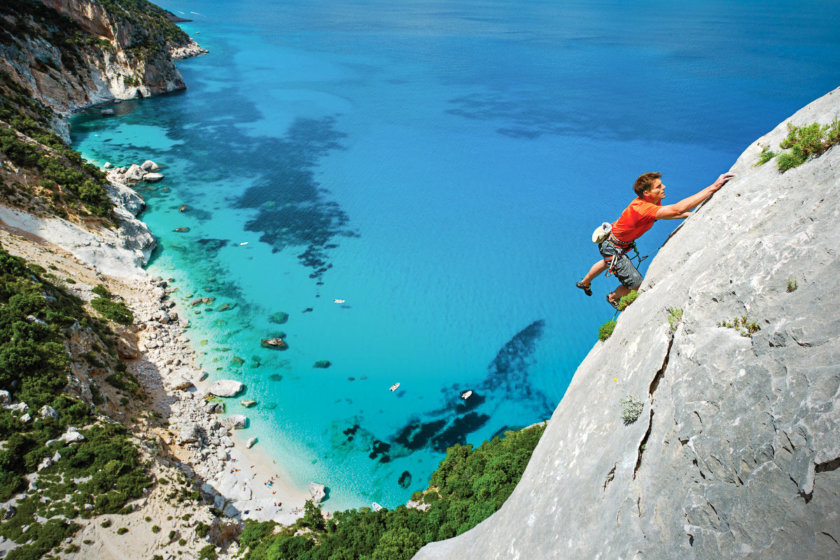 10. The SS 125 road / Orientale Sarda
Where to go in the Supramonte to enjoy the most beautiful views on the surroundings mountains?
That's an easy one: take the SS 125 road (also named "orientale Sarda") from Dorgali to Arbatax. In any case, you will most likely pass by the SS125 on your way to or from the Gulf of Orosei and Supramonte.
This winding road goes through the Supramonte mountains for nearly 60 kilometer. It's really a great way to enjoy the Sardinian mountain landscapes, with its many peaks and gorges.
It usually takes about 1h30 to drive between the two cities but you'll probably take a bit longer, taking into account the photo stops along the way. The road isn't very busy so it's often possible to stop on the side of the road to admire the panorama.
Voyage Tips Advice
If you like good cheese, stop by the Gruthas cheese shop, located just after the Genna e Silana pass, before the road to Urzulei. You'll find delicious goat cheese and ricotta.


How many days to visit Supramonte and the Gulf of Orosei?
You should spend at least 3 days in the Gulf of Orosei and Supramonte:
On the 1st day, you should visit the mountain villages of the Supramonte: Nuoro, Mount Ortobene and Orgosolo
On the 2nd day, go on a boat trip in the Gulf of Orosei to discover some of the most beautiful coves of Sardinia. Don't forget to book a day in advance if you can.
On the 3rd day, head to Gorropu gorge for a hike. In the afternoon, you can visit Ispinigoli cave, it's really nice!
If you're in the Gulf of Orosei for 4 days, you can also go see the Valley of Lanaittu or the nuragic village of Tiscali, or even go rock climbing if you like it.
When you go to or leave the Gulf of Orosei, don't forget to take the part of the SS 125 road between Dorgali and Arbatax, stunning landscapes guaranteed!
Where to stay in the Gulf of Orosei area?
Hotel Bue Marino: Located just in front of Cala Gonone port. Bright and spacious double room with a garden/sea view starting from 65€ per night, breakfast for an additional 10€. Strong points: ideal location to go on a boat trip, the rooftop terrace with a jacuzzi, good breakfast.
Hotel la Playa: Located 5 min walk from the port and beach in Cala Gonone. Comfortable double room starting from 80€ per night, breakfast included. What I loved: very friendly staff, generous breakfast, nice swimming pool.
Cala Luna: Located on the beach front, just a minute away from the sea. Bright and modern double room starting from 100€ per night. Strong points: nice overall atmosphere, stunning view from the terrace, warm welcome. It's my favorite accommodation in Cala Gonone for its amazing value for money!

How to go to the Gulf of Orosei
You will most likely arrive in Sardinia by plane, in Cagliari, Olbia or Alghero.

Here are the travel times from the 3 cities to the Gulf of Orosei:
From Olbia: Cala Gonone is located about 1h30 from Olbia. Flying to Olbia is the best option for a stay in the Gulf of Orosei.
From Alghero: the Gulf of Orosei and Supramonte are about 2h30 away by car.
From Cagliari: It also takes around 2h30 by car to reach Cala Gonone, in the Gulf of Orosei.
If you have any questions to plan your trip to the Gulf of Orosei and Supramonte, don't hesitate to ask me in the comments section below.

Book your trip now and save money!
Sardinia travel Guides
You're traveling in Sardinia? These articles will help you!
Discover all my articles about Sardinia: All my articles to help you plan your trip to Sardinia are listed here.
You're using Pinterest? Here is the picture to pin!