Maddalena archipelago – Sardinia: The Best Things to Do
You're planning to visit the Maddalena archipelago (Sardinia) during your next trip?
Great choice!
The archipelago consists of 7 islands: La Maddalena island, Caprera island, Budelli island, Santa Maria, Spargi, Santo Stefano and Razzoli.
During your stay in La Maddalena national park, you'll be able to do all kind of activities: scuba diving, hiking, boat tours or simply enjoy some of the most beautiful beaches of Sardinia.
In order to help you plan your stay, i have prepared this detailed guide.
I will start with the 5 best things to do in the Maddalena Archipelago. Then, I will tell you more about how to get to La Maddalena and give you more information about a great day trip to visit the islands.

And at the end of the article, I will also give you my list of the best accommodations in La Maddalena depending on your budget.
So, what are the best places to visit in La Maddalena archipelago? Where to stay?

Let's plan your trip!
Visit the Maddalena archipelago: All Must-see attractions
1. Maddalena island
Let's start this travel guide of the Maddalena archipelago with the main island: La Maddalena.
As I told you in the introduction, the Maddalena archipelago consists of 7 islands, and La Maddalena is the biggest one. It's also the only one accessible by ferry boat (I will tell you more about this down below in the "how to get to La Maddalena" section).
As everywhere else in Sardinia, La Maddalena island is, above all, renowned for its beaches, coves and crystal clear water.
The best way to enjoy the island is for sure to rent a car. There aren't really any public transportation and it's too big to explore by bike, unless you're really athletic.
Here's are the best things to do on La Maddalena island:
The town of La Maddalena is where you will arrive with the ferry from Sardinia. This small seaside resort is a lovely and colorful city, where you'll find many gift shops, coffee shops, restaurants and ice cream shops. There isn't any specific monument to see, but it's very nice to walk along the port and in the narrow streets. In the evening during high season, the town gets quite lively!
The 20 km long scenic road going around the island is the best way to see all the most beautiful spots of La Maddalena. You'll also find many nice viewpoints along the road.
Spiaggia di Tegge: a lovely place with rocks in the water. It's also quite photogenic.
Cala Francese and its pink granite rocks.
Carlotto: a small cape where the Madonnetta chapel is located. There are some small and quite wild coves. It's quite rocky, so it's better to wear shoes if you plan to swim there.
Bassa Trinita beach: one of the most famous beach on La Maddalena. Get ready for some white sand and turquoise water !
Spiaggia di Monte di Rena, a quite big and popular sandy beach. You can stop just a bit before reaching it and go down to a smaller, less crowded beach.
Spiaggia del Cardellino: a very quiet beach in a beautiful location.
Cala Lunga is a tiny beach at the end of a bay, it's part of an hotel complex located nearby.
Spalmatore beach, located in the gulf of the same name. There are 3 beaches in that gulf, the 2 other ones are really quieter.
And last but not least, my favorite beach: Capocchia du Purpu or Testa di Polpo beach (meaning "octopus head" in English), located at the Western end, on Isola Giardinelli.
You can get there on foot or by car, but the road is in poor condition. You can park your car at the small parking lot at the end of the road, next to the beach.
From there, take the path hidden behind a rock located at the back of the parking lot to access the beach.
Octopus beach is simply stunning, with its massive rocks immersed in shallow turquoise water. It's in my opinion the most beautiful beach on La Maddalena island!
There isn't unlimited space there, but you can easily find other quieter beaches close by. They are great if you want to take a dip in a peaceful atmosphere.
Voyage Tips Advice
In the mood for a good ice cream on La Maddalena island? You should head to Dolci Distrazioni ice cream shop!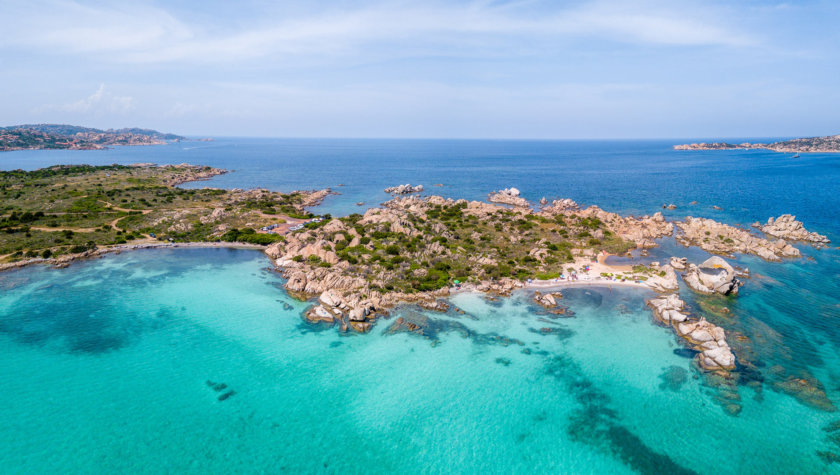 2. Caprera island
The other major island to visit in the Maddalena archipelago is Caprera island.
It's very easy to get there, there's a bridge connecting the islands of La Maddalena and Caprera, so Caprera is only 5 min away by car.
Once again, it's a great place for beach lovers! However the beaches on this island aren't accessible by car, you will have to walk a bit to reach them.
Caprera island is the best place in Sardinia to enjoy a perfect combination of beach and hiking.
The paths are well marked, numbered and the estimated duration of the hikes are indicated. Most of them are less than 1.5 hours and will lead you to a cove. You can also combine several and do a loop itinerary.
Hiking maps are available at the tourist office.
This island is a quite different from its neighbor: it's more authentic, preserved and wilder.
There are also pine forests, and I am sure you'll love the shade they provide after a walk under the sun! You may even see wild goats if you're lucky (caprera means goat, now you probably understand the name of the island! 😉).
Here are the best beaches on Caprera island: 
Garibaldi beach: the only interesting thing about this sandy beach is that it leads you to Cala Serana.
Cala Serena: is accessible from Garibaldi beach (about 15 min away walking). This beach is really amazing, it's one of my favorite on Caprera island! Even if you don't want to take a dip, you should still go check it out.
Cala Caprarese is accessible from Cala Serena on foot or you can park your car close to Garibaldi memorial. There're a few paths going to the coves from there. The path is easy but has no shade, and it will take you about 30 minutes one way. Cala Caraprese is located at the mouth of a river, like a little fjord. The water is super clear and the landscape is really nice.
Cala Napoletena: is accessible from the memorial or after walking a bit from Cala Caprarese. This beach is the most famous one, many boats go there for the day.
Cala Coticcio: you will need to walk for about 40 minutes to reach it. It's quite rocky and some parts can be a bit difficult to pass through, so don't go there wearing flip flops! The cove is very beautiful but quite small, it's therefore best to go there in the morning.
Cala Brigantina: for this beach too, you'll need to wear sneakers to get there. The path starts next to the Batteria Poggio Rasu. It's a lovely cove surrounded by nature.
Cala Portese: a sandy beach with shallow water, ideal for family
Spiaggia Due Mari: also recommended if you have children
Spiaggia del Relitto is known for the ship wreck you can find there. It's one of the most popular beaches on Caprera island.
Cala Andreani: a beautiful white sand beach with crystal clear water. Not a lot of people there.


In addition to the beaches, there are other points of interests on Caprera island: 
Garibaldi Museum: You may not know it, but Caprera island is where the Italian hero Garibaldi decided to retire. He settled there in 1870 and lived there until his death. You can visit his house that was turned into a museum and discover his belongings and uniforms. The museum is open everyday except on Mondays.
The Giuseppe Garibaldi memorial: located inside the old Arbuticci fort, this memorial allows you to learn more about Garibaldi's life and military conquests through movies and interactive terminals. On top of that, you'll be able to enjoy the amazing view over the whole Caprera island from the fort.
The Batteria Poggio Rasu Superiore: This old military fort offers a 360° view over the island. I saw a few wild goats there and I really liked the place!
The Teialone tower viewpoint is the highest point of the island, at 212 meters high. It also offers a great view! To get up there, you will need to take the stairs from the parking lot (about 15 minutes walk).
Voyage Tips Advice
If you're looking for a good lunch break on Caprera island, you should head to
I Mille snack bar
to
eat a delicious sandwich
made with local products. The panini are just delicious and very generous.
The place itself is also very nice, with shade and hammocks to take a nap!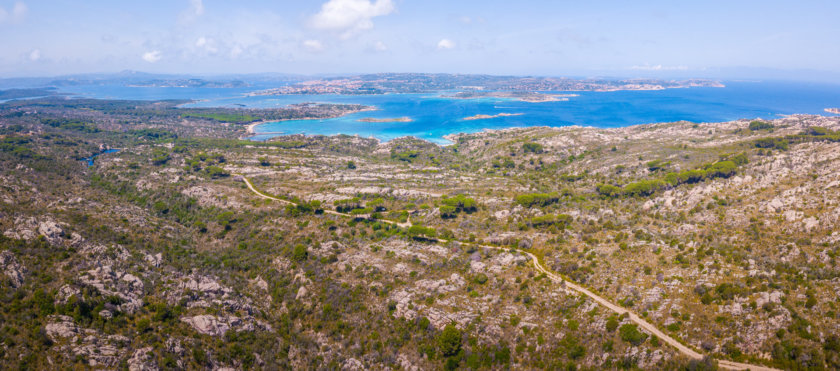 3. The other islands of the Maddalena archipelago
Now that you know everything about the 2 main islands, let's talk about the other islands of the archipelago.
First, there's only one way to go there: by boat!
But you have to admit, there are worst things to do in life than being on a boat in La Maddalena, right?😆
The other islands are smaller, less popular, and no one lives there. They are also protected, so any kind of construction is strictly forbidden. That's the reason why boat is the only way to explore them.
Tour agencies offer 1-day boat tours around the islands. Departures are from La Maddalena port or from Palau.
As these kind of excursions are often sold out, you should really book your tickets in advance.
It costs around 40€ per person, and when booking, you will be able to choose your port of departure. This day tour includes swimming stops as well as a lunch served on the boat.
During your trip, you will visit the other islands of the Maddalena archipelago: 
Budelli island: world famous for its Spiaggia Rosa. Unfortunately, you can only enjoy it from afar, because the island is protected and access is forbidden.
Santa Maria island: where you'll be able to take a dip in the crystal clear waters of Cala Santa Maria
Spargi island and its stunning beach, Cala Corsara
Razzoli island and its famous beach, Cala Lunga
Santo Stefano island is also part of the Maddalena archipelago but there's nothing interesting to see there. There's only a giant hotel resort, so boat tours don't stop there.
To book your boat trip, simply click on the button below:
Voyage Tips-advice
And if you're not a big fan of organized tours with a set schedule, you can also rent your own boat.
This will allow you to take your time and stop for a swim at the beaches you want!
If you want to rent a boat for a nice day at sea during your trip to La Maddalena, you should book it with Samboat.
Motorboats, sailboats, yachts, small boats without a license, with or without a skipper: they simply have the most complete offer for boat rental.
So, what are you waiting for to book your boat trip in Sardinia? 😊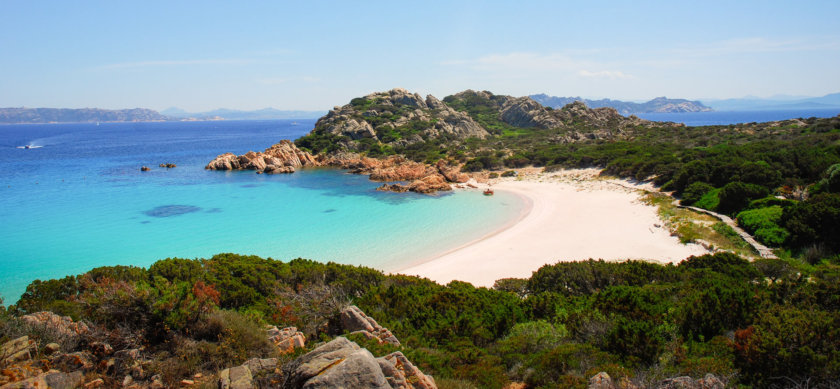 The 2 Best things to do around La Maddalena
After visiting La Maddalena archipelago, you can continue your trip and visit the surroundings. Here are the 2 best places to visit nearby:
4. Costa Smeralda
The Costa Smeralda is for sure the most luxurious part of Sardinia.
There, you will see luxury villas, hotels, designer shops, and marinas full of big yachts. The Costa Smeralda is renowned for being one of the the favorite holiday resort among the international jet set.
It's is located about 40 min away by car from Palau, the town where the ferries from La Maddalena arrive.
You can go try to spot a few celebrities at the chic marinas of Porto Cervo and Porto Rotondo, or simply enjoy the beach at Principe beach, Perevo beach or Romazzino beach.
It's also possible to do it the other way around: you can go visit La Maddalena islands from the Costa Smeralda. There are day-trips to the islands from several seaside resorts such as Poltu Quatu, Baia Sardinia or Cannigione.
If you are interested in one of these boat trips, you can book them directly here by clicking on the orange links below:
If you prefer, you can also opt for a Jetski excursion:
For more information about the best things to do on the Costa Smeralda, you can read my article: The 10 best places to visit in Costa Smeralda.


5. Capo Testa
Capo Testa is another place to visit around La Maddalena.
Located about 40min away by car from Palau, Capo Testa is a former granite quarry. There, you will find big rock formations with surprising shapes, right next to the sea. The site is really impressive!
And if you're up for a bit of (easy) hiking, it's also a great spot, with nice coves to take a dip such as Cala Francese or Cala Spinosa.
Capo Testa was one of my favorite places to visit during my trip to Sardinia!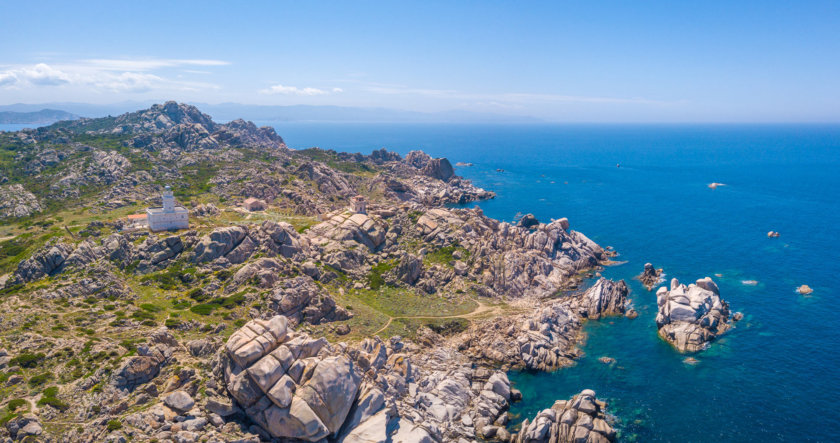 How many days to visit the Maddalena archipelago ?
To visit the Maddalena archipelago, you should ideally plan 3 days:

On the first day, you can drive around Maddalena island via the scenic road and stop for a beach break whenever you want.
On the second day, head to Caprera island, it's a great spot to hike and enjoy beautiful coves. There's also a stunning scenic view from the top of Teialone tower and the Batteria Poggio Rasu.
If you're interested in the history of Garibaldi, you can also go visit his former house as well as the Garibaldi memorial.
On the third day of your stay in La Maddalena, you should explore the other islands such as Budello or Spargi. You need to book it in advance by clicking here.
Of course you can also spend more time on the archipelago if you're looking to simply relax and enjoy the beach.
Where to stay in La Maddalena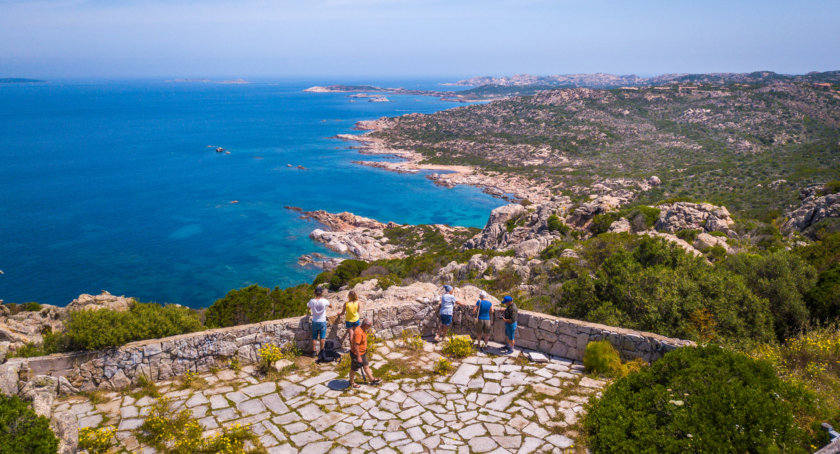 Where to eat in Maddalena
Ristorante Pizzeria Sergent Pepper's: located on Via Giordano Bruno. The pizzas are baked in a wood fired oven and portions are generous. It offers great value for money and the service is quick and efficient.
Gastronomia da Anselmo: Located on Piazza Santa Maria Maddalena, next to the church. This caterer is both a restaurant and a take-away place. Local specialties are delicious! Everything is homemade and you can get a full meal for about 10€ per person.
U Campu du Pastori Osteria: Located on Via Quarto, this small traditional restaurant offers just a few different dishes, that's often a sign of quality! The homemade pasta and the meat are delicious and the staff is very friendly.
How to get to the Maddalena archipelago?
You need to take a ferry to go to the Maddalena archipelago.
Departures are from Palau port, in the Northeastern part of Sardinia. It's located about 50min from Olbia airport and 3.5 hours from Cagliari.
You should get there about 30min prior to departure, so you'll have enough time to buy your tickets at the ticket counter and make sure seats are still available, especially if you have a car.
For our trip, we paid 40€ for two people + one car (roundtrip). There are several agencies offering ferry trips, all at similar prices. It's up to you to decide which one has the more convenient schedule for you.
The trip to the island takes about 20 minutes one way and will take you to La Maddalena, the main island of the archipelago. That's the only option.
If you just have 1 day or have some time to visit the other islands, you can choose to go on the boat day trip I was talking about above. It's leaving from Palau or La Maddalena island.
In just one day, you will discover the best beaches of the Maddalena archipelago!
To book your day trip to La Maddalena archipelago, click the button below:
And you, are you planning to visit the Maddalena archipelago during your trip to Sardinia?
Book your trip now and save money!
Sardinia travel Guides
You're traveling in Sardinia? These articles will help you!
Discover all my articles about Sardinia: All my articles to help you plan your trip to Sardinia are listed here.
You're using Pinterest? Here is the picture to pin!