The 10 best places to visit in Costa Smeralda – Sardinia
You want to visit the Costa Smeralda ("Emerald Coast" in English) during your next trip to Sardinia and you're looking for the best places to visit?
You're at the right place!
In order to help you plan your stay, I have prepared this guide of the 10 best things to do in Costa Smeralda. You will find all must-see attractions as well as my list of the best accommodations depending on your budget.

And as usual, I will also give you all my best tips to make the most of your stay.
So, What are the best things to do in Costa Smeralda? Where to stay?
Let's find out!
Visit the Costa Smeralda: All must-see attractions
1. Porto Cervo
Porto Cervo is for sure the most famous place to visit in Costa Smeralda.
Considered as the capital of this part of Sardinia, Porto Cervo was created from the ground to welcome billionaires and celebrities from all over the world.
It was created by the Aga Khan who fell in love with the place in 1962 and decided to form a consortium to buy parts of the coast. The goal was to build luxury infrastructures and develop tourism in the area.
That was a success!
Today, rich businessmen, political figures and jet set personalities own villas on the Costa Smeralda to enjoy relaxing holidays.
And Porto Cervo is the meeting point of all the rich and famous! The marina is the best equipped of all Sardinia and can accommodate the biggest yachts and sailboats of the stars.
So you get the idea, the city is entirely dedicated to luxury tourism: luxury boutiques, hotels, restaurants and more! The 2 main commercial streets are la Sottopiazza and la Passeggiata.
If you want to see celebrities, you should go to the Piazzetta de Porto Cervo. In the evening, everyone goes to this small square located in the town center to have a drink.
And if you like to party in VIP clubs and trendy bars, Porto Cervo is also a great destination. However, it can be sometimes difficult to get in unless you know famous people or you're ready to spend a lot of money inside!
In addition to all this luxury, you can also go visit "La chiesa di Stella Maris". This small church designed by a famous architect is located above the port and offers a lovely view over the city.
Voyage Tips Advice
The best time of the year to play paparazzi is July-August, when most celebrities are coming to the Costa Smeralda. Yes, during summer you have the choice: go whale watching in Canada, or try to spot a few celebrities here, in Sardinia 😋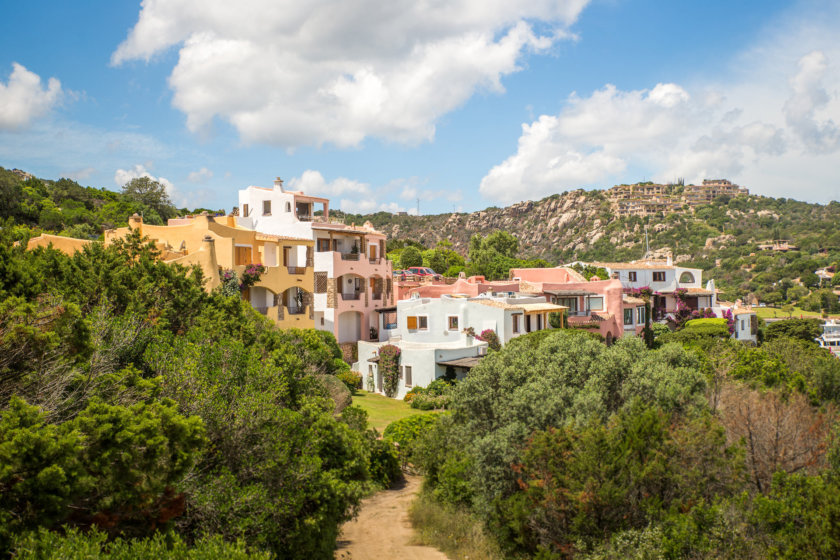 2. The best beaches in Costa Smeralda
Your trip to the Costa Smeralda will be the perfect opportunity to enjoy some of the most beautiful beaches of Sardinia.
So, here are the best beaches of the Costa Smeralda:
Grande Pevero Beach and Piccolo Pevero beach, located right next to each other. With their clear water, fine sand and view over Li Nibani islands, these two beaches are very popular. The water is very shallow, so they're great for families. There is a snack bar and you can rent pedal boats, parasols and sun beds.
Capriccioli beach is the best beach if you have children. There is a large parking lot nearby, so it's very convenient! You can also rent sun beds.
The famous Principe beach, which was supposedly Aga Khan's favorite. This beautiful beach is nowadays very popular! I really don't recommend it if you're going to the beach with a lot of equipment for your kids or for picnic. The last 50 meters are very narrow and steep, so it's better not to have too many things to carry around.
Romazzino beach: a lovely beach, with turquoise water and a bit of vegetation around providing some shade.
Cala di Volpe: a stunning beach with crystal clear water. You can also rent parasols and sun beds.
Liscia Ruia beach is the largest beach of Costa Smeralda. It's well equipped and you'll find there several private beaches, for an upscale beach experience! If you're looking for something quieter and more natural, don't hesitate to continue a bit further on the way to Petra Ruja beach.
Rena Bianca beach: has a very beautiful view over the Gulf of Cugnana.
Cala Granu, famous for its fine sand and crystal clear water.
Celvia beach, the beach where all the Costa Smeralda jet set goes.
Voyage Tips - Advice
To discover the most beautiful beaches of the Costa Smeralda in one day and to avoid the parking problems, you should opt for a cruise.
You will be picked up at your hotel (any hotel near Porto Cervo and Baia Sardinia) and taken to the boat departure location.
You will then enjoy an afternoon cruise along the Costa Smeralda with a stopover in: Pevero, Romazzino, Principe, Capriccioli, La Celvia and Liscia Ruja.
3 swimming and snorkeling stops are also planned.
To book your boat trip + Snorkeling, simply click on the button below:


3. Poltu Quatu
Let's continue this Costa Smeralda travel guide with Poltu Quatu.
This small seaside resort located 4km away from Porto Cervo is among the fanciest and most upscale spots on the coast.
This village, mostly made of white houses with red tiled roofs, is located at the end of a fjord surrounded by cliffs. It's a real postcard scenery!
There isn't much to do there, except gazing at the boats in the marina, shopping in luxury boutiques and enjoying a good meal at a restaurant's terrace. The view over the Maddalena archipelago is also very nice.
And if you like snorkeling and scuba diving, the 2 main activities on the Costa Smeralda, there're organized day-trips leaving from Poltu Quatu.
For example, you can go on a scuba diving trip to the Marine Protected Area of Tavolara, or around the Maddalena islands. Another option is to opt for a boat excursion: they offer whale watching and dolphin watching cruises.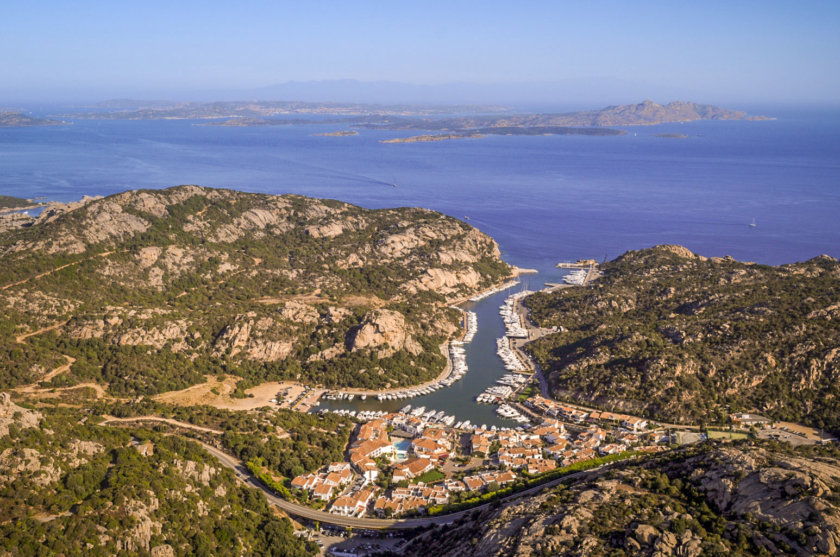 4. Baia Sardinia
During your trip to the Costa Smeralda, you can also visit Baia Sardinia.

In this renown seaside resort, you will of course find hotels, restaurants as well as shops selling local delicacies and Sardinian craft.
While in Baia Sardinia, you should really go take a dip at Cala Battistoni. The water is crystal clear! You can also go on a day-trip to the Maddalena archipelago from there.
To get more information and to book, click on the following links:
You can also opt for a Jet Ski trip around Caprera island or around Spargi island. It's amazing!

And if you want to party at night, you should then head to "Ritual", at the city's outskirt. This club is carved in the rocks and famous all over the Costa Smeralda! Jet setters from all over the world come there to party.
Voyage Tips - Advice
You're going to Porto Cervo?
You probably know it: the hardest part of planning your trip is to find an hotel offering a good value for money!
The closer you get to your travel dates, the harder it will be to get a good deal. Lots of people will be visiting Porto Cervo on the same dates as you, so you can be sure that the best deals are booked extremely quickly!
Hopefully, there is a pretty simple solution to this problem: do like me and book your hotel as early as possible!
So, my best advice is to take 5 minutes (now) to have a look at the list of travelers' favorite hotels in Porto Cervo.
And if you see a good offer, book it!
Most hotels offer free cancellation, so it's quick, easy, and you will avoid the the inconvenience of finding nothing but mediocre rooms at exorbitant prices.
To check the current best deals for your hotel in Porto Cervo, simply click on the green button below 😎:
Once you've booked your hotel, it will be time to continue reading this guide and find out more about the best things to do in Porto Cervo!


5. Arzachena
Wondering about the best places to visit on the Costa Smeralda when you're not a fan of the jet set lifestyle? Then you should go to Arzachena!
It's definitely a great place to visit if you're interested in Sardinian History and archeology. There are many neolithic sites you can visit such as nuraghes and Giants' graves, the 2 typical type of archaeological sites in Sardinia.

Here are the best historical points of interest around Arzachena:

The nuraghe of Albucciu: 3€ for a 30 min visit
The nuraghe of La Prisgonia: the main one in the region
The Giant's grave of Coddu Ecchju
The necropolis of Li Muri with is 4 megalithic tombs
The Giant's grave of Li Lolghi
The Malchittu nuragic temple
You can also stop by the town of Arzachena and walk around. If you want to take a break and have a drink, you should go to the main square, the Piazza del Risorgimento.
Beofre leaving Arzachena, don't forget to take a picture of the "Roccia del Fungo", a big mushroom shaped rock. This natural curiosity is now the symbol of the city.
Voyage Tips Advice
If you want to visit all these archaeological sites, you can buy a combined ticket and save money.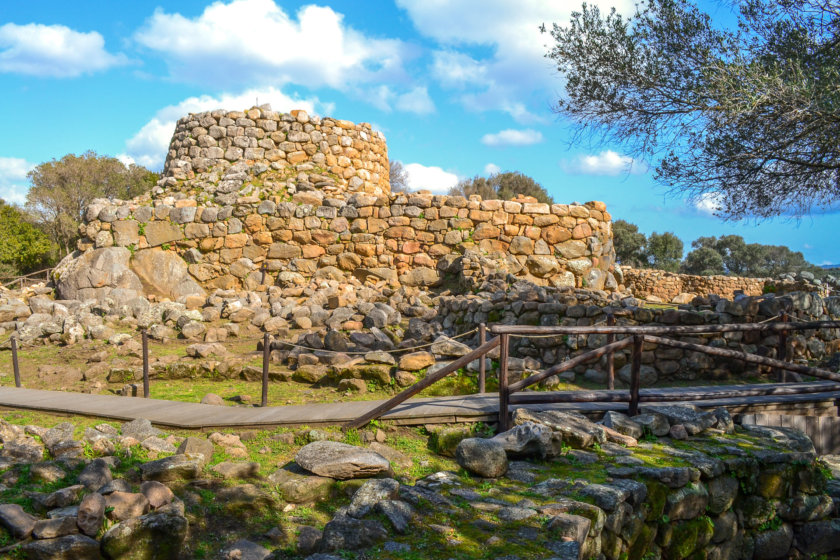 6. San Pantaleo
You're looking for an authentic village on the Costa Smeralda? Somewhere really far from the luxury tourism?
You should then visit San Pantaleo, a traditional village among the most beautiful in Sardinia. It's located about 15 km away from Porto Cervo.
You can stroll around the main square (there is a market every Thursday), admire the church and walk in the peaceful streets while having a look at the local craft stores. The atmosphere is really authentic!
San Pantaleo is of course very small and it's not going to keep you busy for the day, but it's worth stopping by if you're in the area. It also offers a great scenic view over the mountains.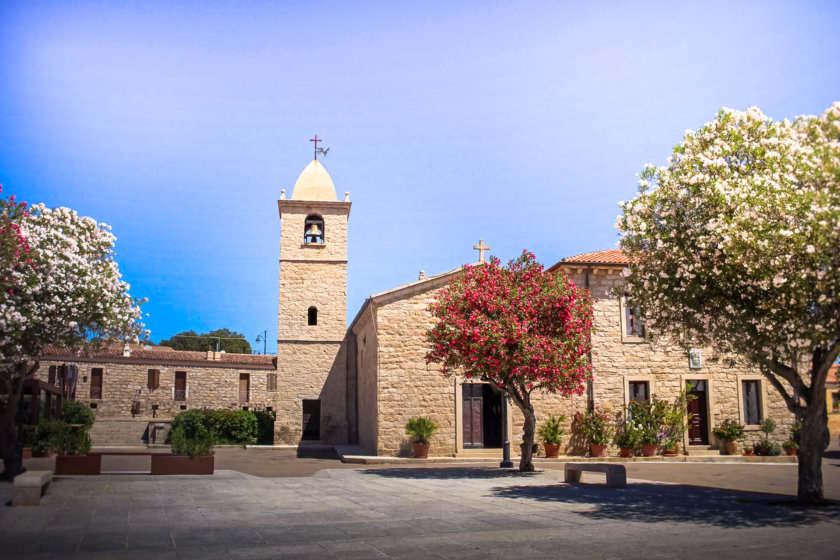 7. Cannigione
During your trip to the Costa Smeralda, you can also go to Cannigione on the west side of the Gulf of Arzachena.
Like Poltu Quatu and Baia Sardinia, Cannigione is a former fishermen village turned seaside resort, with hotels, campsites, restaurants and gift shops. However, it remains a bit more authentic than other places on the Costa Smeralda, but for how long?
Not far from Cannigione, you should go take a dip at Tanca Manna beach. This nice sandy beach with shallow water is perfect if you're traveling with children.
During high season, there are also daily cruises from Cannigione to La Maddalena islands.
You want to do an amazing activity?
Then you should really book your diving session to discover the sea bed of the Maddalena National Park. Click here to book your dive!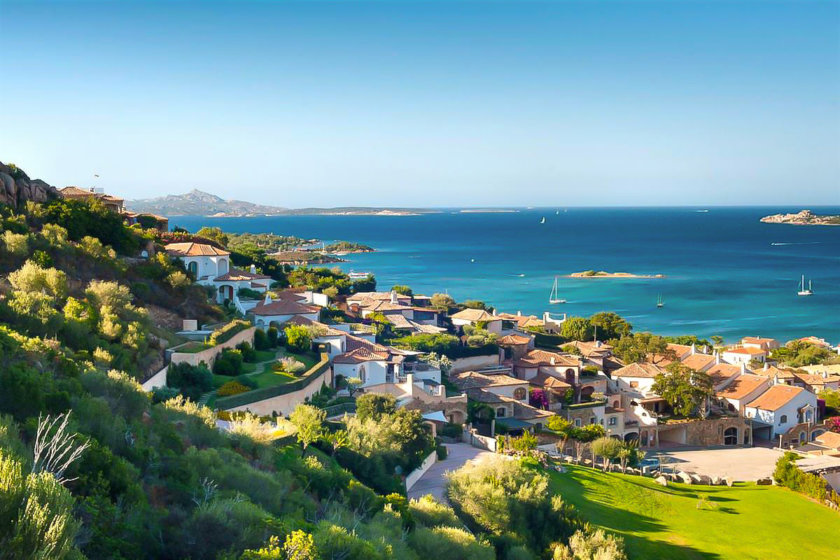 8. Porto Rotondo
Porto Rotondo is another place you should visit during your trip to Sardinia.
It's one of the most popular destinations of the Costa Semaralda, and even of Sardinia in general.
Porto Rotondo is the second largest marina of the island (after Porto Cervo) and it also attracts its share of celebrities. It's known to be where Silvio Berlusconi goes on holidays, attracting paparazzi from all over the world.
There isn't much difference between Porto Cervo and Porto Rotondo: same upscale hotels and villas and same luxury boutiques. The village was also built from zero to develop luxury tourism.
With its cobbled streets, bridges and Piazza San Marco, Porto Rotondo is often compared to a smaller version of Venice.
This small town is for sure very well maintained and filled with flowers, so it's quite photogenic. During summer, you can also attend one of the shows performed in Porto Rotondo's amphitheater.
During your visit, don't forget to take a stroll on the seaside and the port to look at the beautiful boats.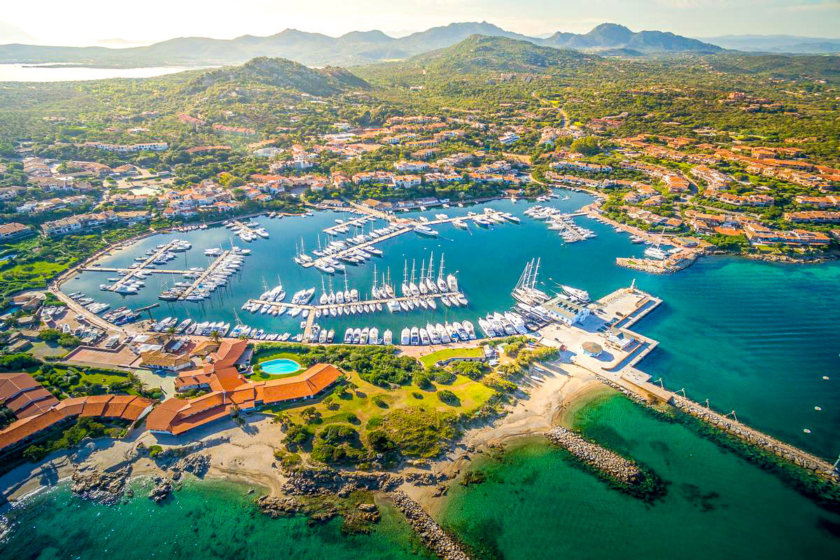 The 2 Best Things to do around the Costa Smeralda
During your trip to the Costa Smeralda, you should really visit the 2 following places:
9. The Maddalena archipelago
I have already talked a bit about the Maddalena archipelago in this article: from the Costa Smeralda, you can go on a boat trip to discover Maddalena islands. They start from 3 towns: Poltu Quatu, Baia Sardinia and Canniogione.
If you are interested in one of these boat trips, you can book them directly here by clicking on the orange links below:
If you prefer, you can also opt for a Jetski excursion:
If you're doing a road trip in Sardinia with a rental car (or your own!), you can also take the ferry boat. It starts from from the city of Palau, located about 40 minutes away from Porto Cervo.
You will need to get on the ferry with your car and it will take you about 20min to reach the main island of the archipelago: La Maddalena island.
The archipelago is made of 7 islands and only 2 of them (Maddalena and Caprera) are accessible by car. You can go to the other ones only by doing a boat tour or renting your own boat.
In any case, you'll be able to enjoy the beautiful beaches of the archipelago, to take a dip and of course to relax.
If you're spending your holidays on the Costa Smeralda, don't miss going there. You will for sure love your trip to the Maddalena islands!
For more information about La Maddalena, you should read my detailed article: The 10 best places to visit in La Maddalena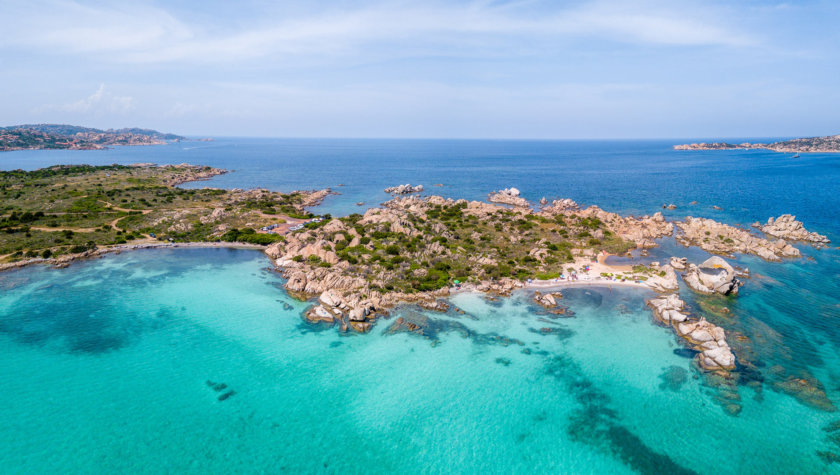 10. Capo d'Orso
The Capo d'Orso is located close to the Costa Smeralda, about 40 min driving from Porto Cervo and 12 min from Palau.
You can stop there on your way to the Maddalena archipelago (or on your way back).
The cape is named after the Roccia dell'Orso ("Bear Rock" in English), a rock sculpted by erosion evoking the shape of a bear.
To go see it, you will have to park at the parking lot (3€) and go up a path to the rock (10-15 min walk). Then, it will cost you an additional 3€ per person to enter the site.
In my opinion, that's a lot of money just to go see a rock, but that's the Costa Smeralda, everything is a bit expensive around here.
From the Roccia dell'Orso, you will also have a stunning view over the coast and the Maddalena islands.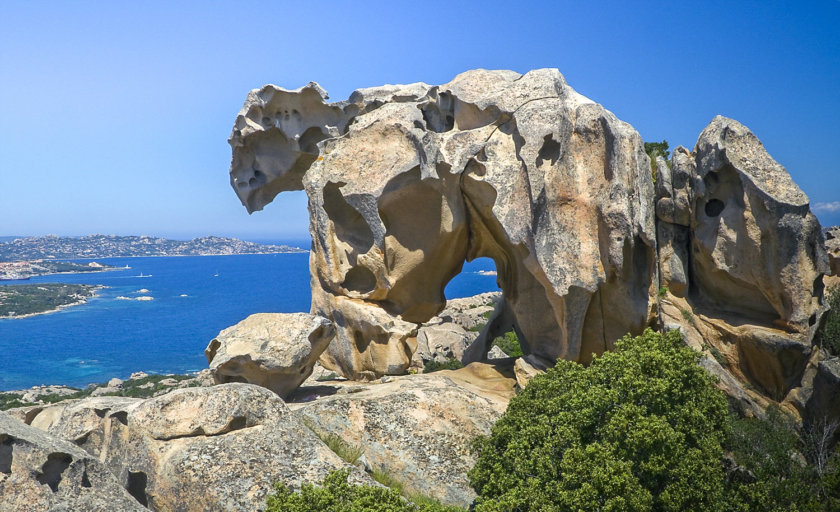 How many days to visit Costa Smeralda ?
There isn't an ideal duration to visit Costa Smeralda. It's really up to you.
You can spend an entire week or even more in one of the hotels on the Costa Smeralda, and enjoy the beaches during the day + go on a few excursions to La Maddalena or San Pantaleo for example.

You can also just stay for 2-3 days, relax at the beach while enjoying the luxury amenities and visit 1 or 2 archeological sites around Arzachena.
The 3rd and last option would be to only spend a day in the Costa Smeralda during your itinerary in Sardinia (the coast is only 55 km long). In that case, you should choose 1 or 2 beaches to take a dip at and stop by one of the seaside resorts (Porto Cervo or another one).
Where to stay on Costa Smeralda
You get it, the Costa Smeralda is the most touristic and expensive place of Sardinia. There are many luxury hotels, so it's really perfect if you're looking for an upscale experience!
However, the best hotels are fully booked months in advance, so you should really book your accommodation as early as possible.

Renting a boat in Costa Smeralda
If you want to rent a boat for a nice day at sea during your trip to Costa Smeralda, you should book it with Samboat.
Motorboats, sailboats, yachts, small boats without a license, with or without a skipper: they simply have the most complete offer for boat rental.
So, what are you waiting for to book your boat trip in Sardinia? 😊
How to go to the Costa Smeralda
There are 3 airports in Sardinia, and they are located in Olbia, Alghero and Cagliari.
Here are the travel times from the 3 cities to the Costa Smeralda:
From Olbia: Porto Cervo is located just 40 min by car from Olbia. Flying to Olbia is the best option for a stay on the Costa Smeralda.
From Alghero: Costa Smeralda is 2h15 away by car.
From Cagliari: it will take around 3h30 by car to reach Porto Cervo, on the Costa Smeralda.
If you need help to plan your stay on the Costa Smeralda, don't hesitate to ask me in the comments section below.
Book your trip now and save money!
Sardinia travel Guides
You're traveling in Sardinia? These articles will help you!
Discover all my articles about Sardinia: All my articles to help you plan your trip to Sardinia are listed here.
You're using Pinterest? Here is the picture to pin!