The 30 Best Things to do in Bangkok (All Highlights)
You're planning to visit Bangkok, in Thailand, during your next trip?
Great idea!
In order to help you plan your stay, I have prepared this guide of the 30 best things to do in Bangkok and its surroundings. You will find all must-see attractions in and around the city as well as itineraries to visit Bangkok in 1, 2, 3 days or more!
No matter if you want to discover the Grand Palace, visit the most beautiful temples, go shopping in the modern part of the city or visit one of the famous floating markets, you will for sure find many activities to enjoy during your stay.
And as usual, I will also give you all my best tips and my list of the best places to stay in Bangkok, depending on your budget.
So, What are the best things to do in Bangkok? Where to stay?
Let's find out!
Visit Bangkok: the 30 Must-See attractions
1. The Grand Palace
The Grand Palace (or Royal Palace) is the most visited tourist site in Bangkok and one of the must see attractions during a trip to Thailand.
It's located on the edge of the Chao Phraya river and is surrounded by a 1.9 kilometers long wall.
Built in 1782, the year when Bangkok officially became the capital of the country after the fall of the Ayutthaya and Thonburi kingdom, the complex includes more than 100 buildings, palaces, and pavilions.
The sovereigns of Thailand lived there for many years in the past, but today the King only goes there for official ceremonies.
During your visit to the Grand Palace in Bangkok, don't miss the Temple of the Emerald Buddha, a royal chapel. In the chapel, you can admire a jade statue of Buddha found in 1434 in Chiang Rai (in the north of Thailand). This statue is revered by all Thai people.
Another impressive building is Chakri Mahat Prasat palace, built by King Rama V to be his residence.
The palace is open everyday and the entrance fee is 500 bahts (plus 200 bahts for an audio guide).
Your ticket allows you to visit all the buildings (outside + inside) as well as the museums (textile museum and Royal Thai Decorations and Coins museums). Admission to a Thai dance show at the Royal Theater is also included.
You can find more information at the official website.
Voyage Tips - Advice
When visiting The Grand Palace and temples in general, appropriate dress is required. Legs and shoulders must be covered.
If you're not dressed properly, you can buy pants or skirts for 100 bahts on the street or rent an outfit at the entrance of these sites. That's why you see everyone walking around in loose pants decorated with elephants! 😆
One last thing to keep in mind: if your pants are too tight or ripped, you will not be allowed to enter neither!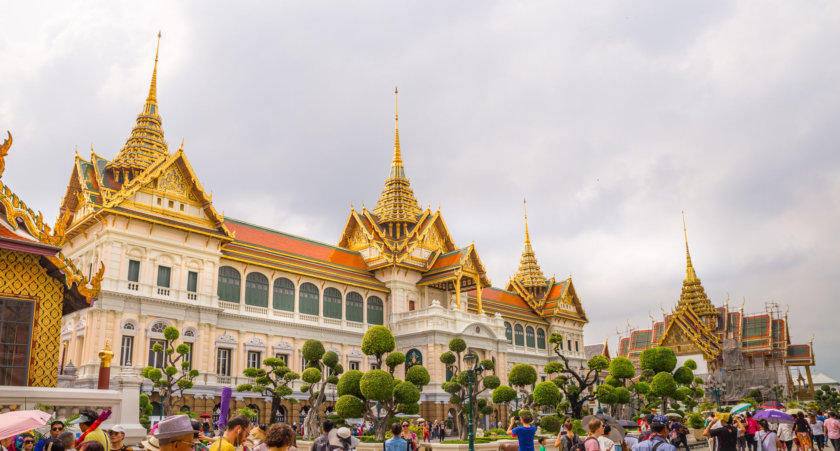 2. Wat Pho
Wat Pho, the second main tourist attraction in Bangkok, is located not far from the Grand Palace and is easily accessible on foot.
It's one of the oldest Buddhist temples in the country. Inside, you can admire the largest reclining Buddha in the city: 45 meters long and 15 meters high! The statue represents Buddha's death.
During your tour don't forget to admire the soles of the feet: they are encrusted with pearls and decorated with symbols.
In the temple complex, you can also discover:
The Buddha Gallery and its 394 golden Buddhas
The 4 royal Chedis covered in colorful ceramics
The Phra Ubosoft, where the ashes of King Rama I are guarded by another famous golden Buddha statue.
Entry to Wat Pho costs 200 bahts and the visit takes around an hour and a half.
Any other information needed can be found on the official website.
Voyage Tips - Advice
In the room with the reclining Buddha you'll find several bowls filled with coins (108 in total!). For around 20 bahts, you can buy 108 coins and put them one by one in each bowl. The goal? Attract good luck!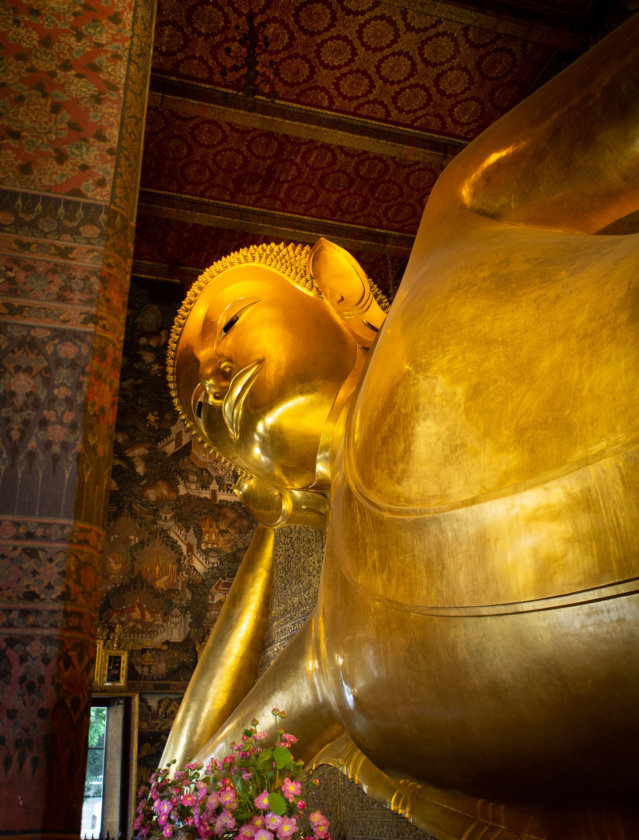 3. Wat Arun
Wat Arun completes the trio of temples to visit during your stay in Bangkok.
It's located on the other side of the river from the Grand Palace and Wat Pho. To get there, you'll have to take a boat shuttle (4 bahts) that drops you off right in front of the entrance.
Wat Arun is especially known for its 82 meters prang (a tower), entirely covered in tiny pieces of colorful porcelain. It's surrounded by 4 smaller prangs, also encrusted with mosaics.
Recently renovated, the location is really worth the visit. And if you have the chance, come back in the evening to see it illuminated from the other side of the river.
Wat Arun is open everyday and the entrance fee is 50 bahts.
Voyage Tips - Advice
You'll find almost no signs with information or explanations at these 3 main tourist sites: The Grand Palace, Wat Pho, and Wat Arun.
If you want to learn more about their history, you should really opt for a guided visit of these 3 points of interest in Bangkok. It's amazing!
You need to book it in advance by clicking here.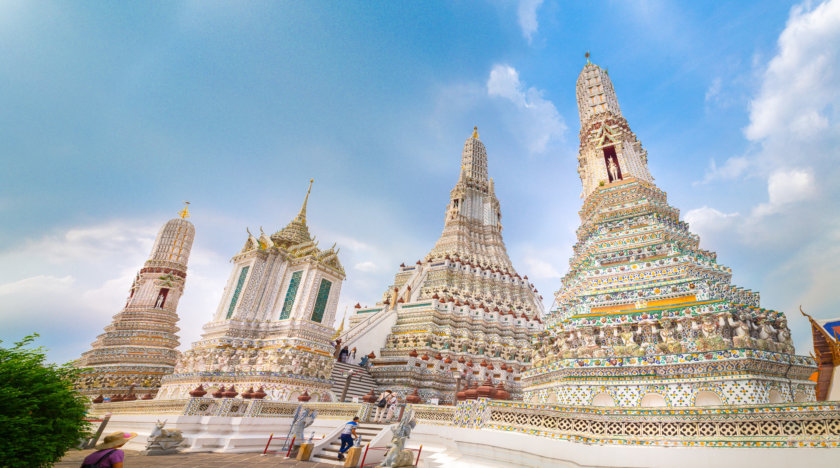 4. Chatuchak Weekend Market
If you're in Bangkok during the weekend, you should really visit Chatuchak Market, the largest market in Thailand (more than 15 000 stands).
It's so big, they even give you a map when you enter to help you get around.
The market is organized into sections: clothes, shoes, jewelry, souvenirs, and much more! And as you can imagine, there is a also a large part dedicated to food.
If you didn't know what to do on Sunday in Bangkok, your problem is solved! However I should warn you, you won't be the only ones to have the same idea, the place is super busy.
And to relax a bit, you should go to the large park located nearby. Lots of Thais go there with their family and friends to picnic by the lakeside.
Chatuchak market is really the city's most famous market.
But don't worry, if you're visiting Bangkok during the week (not on the weekend), you only have to walk down the commercial streets or in the shopping centers to find the various products sold at the market, including the famous "I Love Bangkok" t-shirts and elephant key rings!
And if you continue your trip in Thailand to the north, towards Chiang Mai or Chiang Rai, you will also have the opportunity to discover other markets.
Voyage Tips - Advice
Since the market is a bit far from the city center, the easiest and fastest way to get there is to take the metro and get off at the Chatuchak Park station.
As the market is really touristy, pickpockets are going there too! Pay attention to your belongings and when you take your wallet out to pay for your purchases.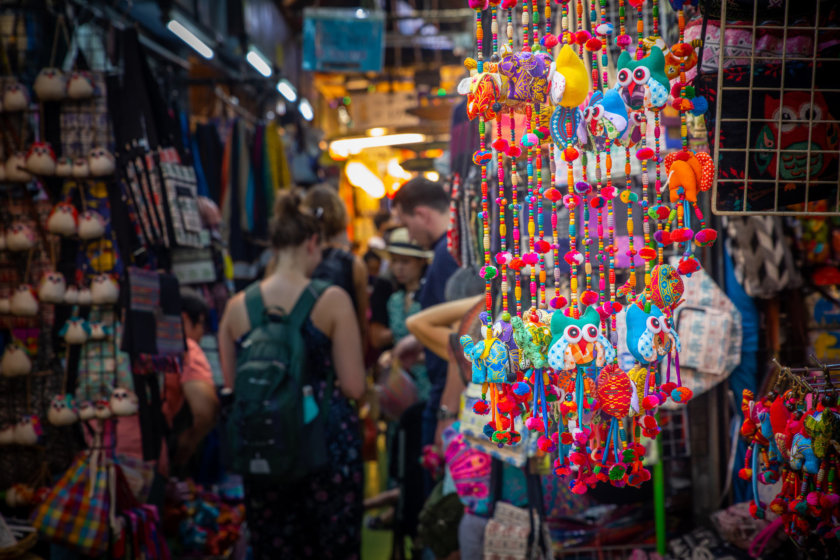 5. Wat Saket / The Golden Mount
Let's continue our Bangkok travel guide with the Golden Mount.
Built on the top of a hill, the Golden Mount temple allows you to enjoy a 360 degree view over Bangkok. To get there, you will have to climb a few steps, but really nothing too insurmountable!
Along the path, you will find fountains and statues, as well as several gongs you can ring to attract luck, love, or money (your choice!).
The entrance fee is 50 bahts.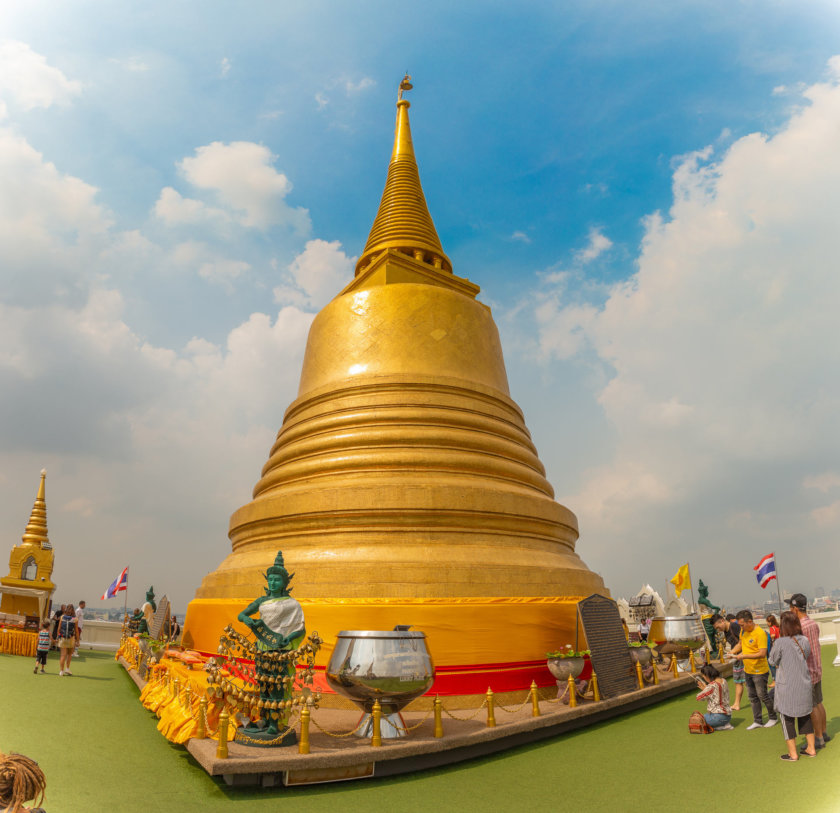 6. Khao San Road
I can't write a guide of Bangkok without talking about Khao San road!
This street is one of the city's main tourist attractions, along with the Grand Palace or Wat Pho. A few years ago, it was especially a good place for backpackers to find cheap accommodation.
Nowadays, the place is super touristic and Khao San road clearly became one of the most cosmopolitan areas of the city. There, you will find bars and restaurants where everyone goes in the evening to have a drink.
There are still many low-costs hotels in the neighborhood, but it's not really the quietest place to sleep in Bangkok.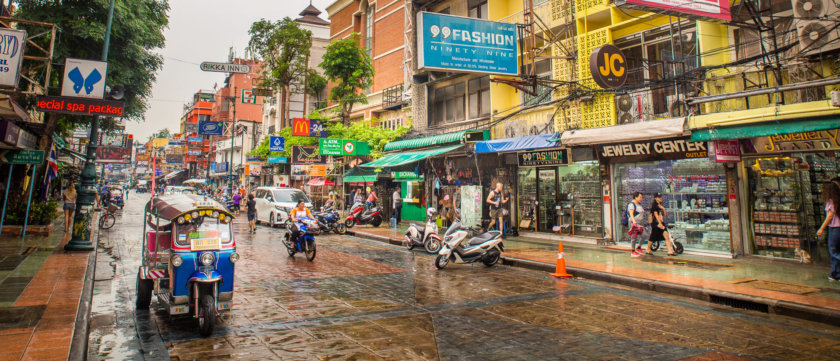 7. Chinatown
In Bangkok, you should also take a stroll in Chinatown district, one of the main points of interest of the city.
You'll find yourself transported to China with the noises, smells, and colors. Stroll in the alleys and discover the shopping stalls and street vendors where you can taste Chinese cuisine.
In Talat Mai, the Chinatown market, you can stock up on exotic fruits or, for the bravest among you, some culinary oddities.
In this district, you can also find many gold jewelry boutique.
In my opinion, it's a lot more authentic than other Chinatowns in cities like Montreal or Singapore.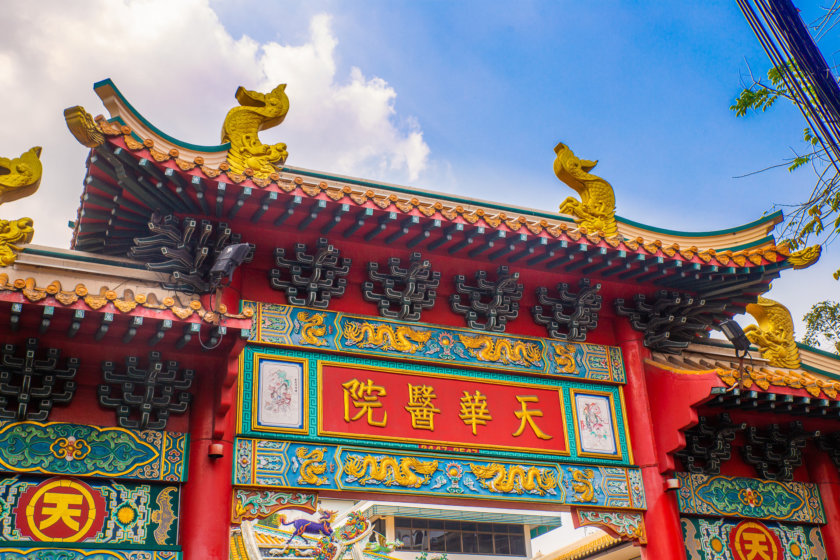 8. Wat Traimit / Golden Buddha
Take advantage of your stroll in Chinatown to visit the Wat Traimit.
Inside the temple, there is an impressive solid gold 5.5 tons and 3 meters high Buddha.
Originally, the statue was more commonplace, made in golden stucco and housed in another temple in Chinatown. But when the temple had to be destroyed, the monks decided to move the statue to Wat Traimit.
While transporting it, the statue felt down and the stucco cracked, revealing the gold. They realized that the statue was completely made of gold and had been covered in stucco to protect it during the invasion of Thailand by the Burmese.
Since then, Wat Traimit has been an important pilgrimage destination for the Thais and is one of the most important temples of Bangkok.
The entrance ticket for the temple costs 40 bahts.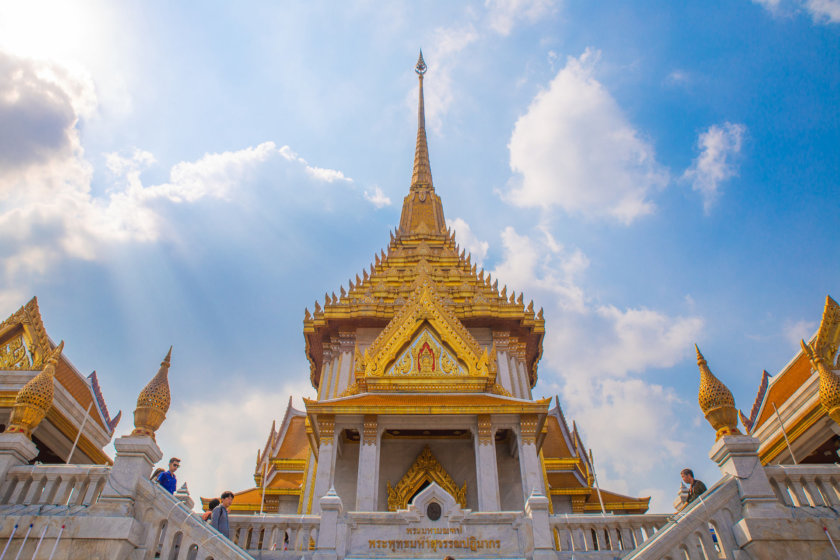 9. Lumphini Park
If you've had enough of the crowds and noise of Bangkok, you should head to Lumphini Park.
This huge park is the largest green space in the city. You can stroll along landscaped paths and around the lake. If you have kids, they will for sure enjoy the playgrounds and swan shaped pedal boats!
During your walk in the park, keep your eyes open and you will probably spot a few Malay lizards.
As they look like Komodo dragons, they can be quite impressive at first glance! However they are not reputed to be dangerous (still, they are wild animals with unpredictable reactions). They can be up to 3 meters long.
They are very common in parks, especially near ponds or lakes
The lizards are generally calm and you can take pictures of them. However never try to pet them or to give them food, they have sharp teeth and long claws.
You should always keep in mind that even if they look slow, they are capable of lightning fast acceleration. I saw it myself on an island, when 2 tourists ran out of a forest chased by a big lizard.
It was funny to see, but it also makes you think twice before approaching one!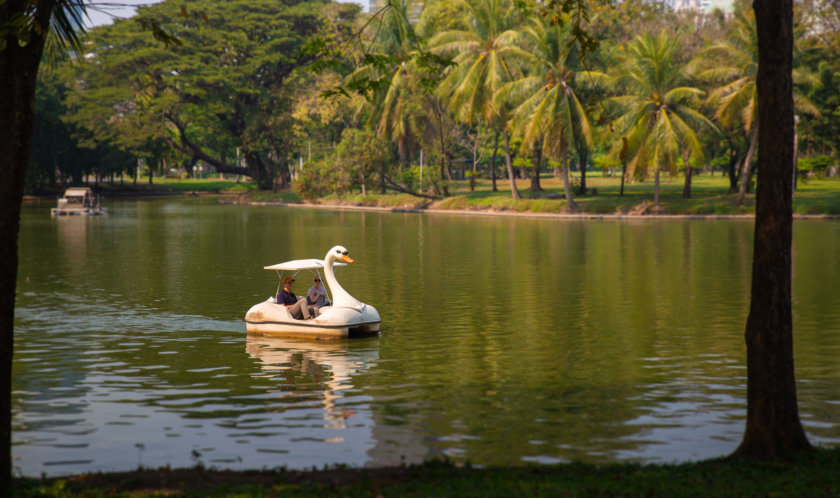 10. Jim Thompson's House
What's the best place to visit in Bangkok if you're an art lover?
Jim Thompson's House, which belonged to an American businessman and art collector. Based in Bangkok and fascinated by Thai silks, he contributed to make them word famous and used by leading international fashion designers during fashion shows in Milan or London.
Besides the textiles, you can admire numerous works of art during your visit.
The house itself is quite unusual: it was built from several sections of traditional wooden houses brought to Bangkok from Ayutthaya.
Only guided visits are available and admission costs 200 bahts. More information can be found on the official website.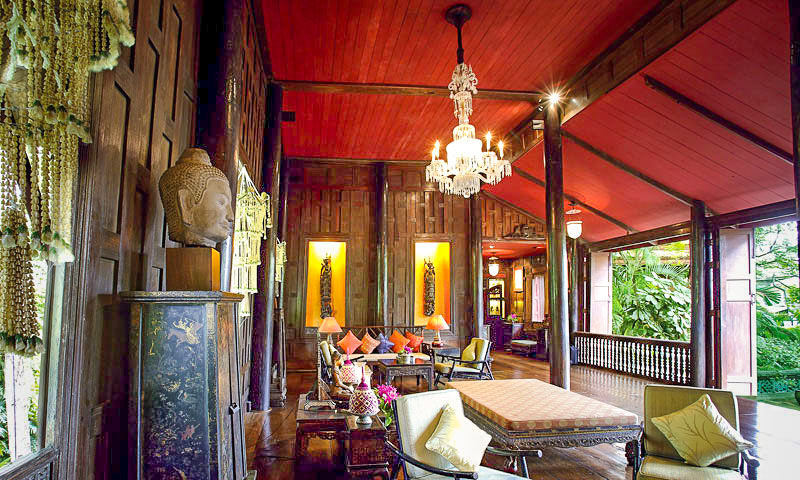 11. Dusit Park
Dusit Park is another place to visit during your stay in Bangkok
There are 2 main buildings of very different styles:
The Italian Renaissance style Dusit Palace, where you can discover the Throne Room. It's the place where the famous photos of the royal family you see almost everywhere in Thailand are taken.
Vimanmek Mansion, the former royal residence. It's the largest golden teak building in the world.
During my visit, the two buildings were unfortunately closed for renovations (no reopening date was given at the time). But you can still see the exterior of the palace.
Until 2018, the park was also housing Bangkok Zoo, which is now closed. The animals were dispersed to various Thai zoos until the construction of the new zoo is finished.
Voyage Tips - Advice
If you go to Dusit Park, you should also visit Wat Benchamabophit, a temple located nearby. I has been built entirely in white Italian marble.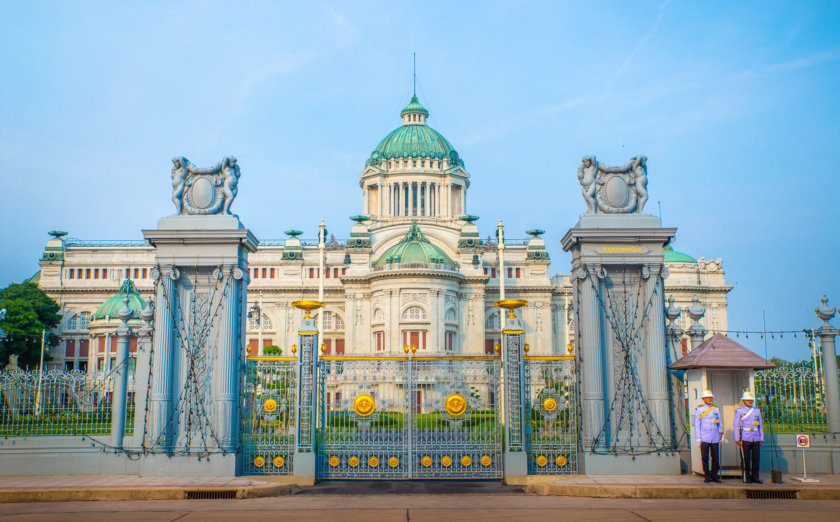 12. Doing a River Cruise
A river cruise is another great activity to do in Bangkok. It will allow you to discover the temples and monuments from a new angle!
You should do it in the evening, when the buildings are illuminated.
Several companies also offer dinner cruises on the Chao Praya river. You don't go necessarily for the food buffet, but rather for the ambience and to enjoy the view during the meal.
If you want to go on a dinner cruise, you will need to book one in advance. Simply click on the button below for more info:

And for a more luxurious, less touristy option, I recommend you this dinner cruise on a former rice barge.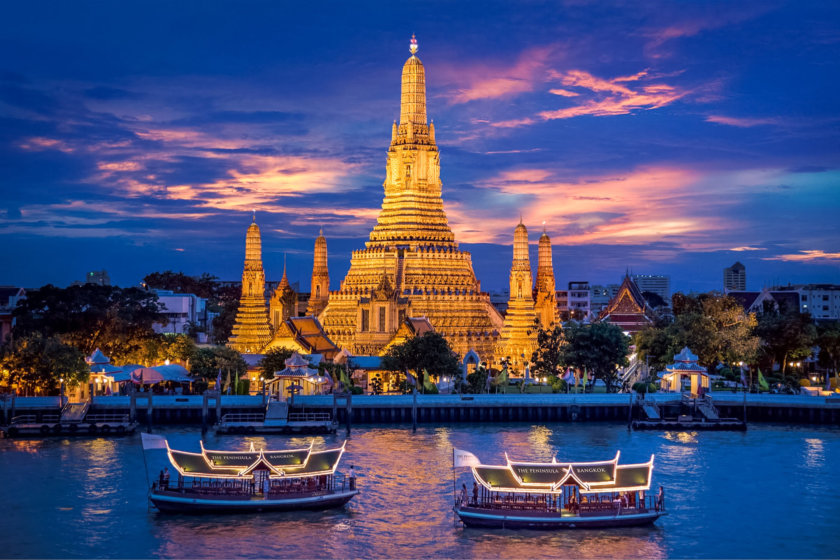 13. Shopping in Bangkok
You want to take advantage of your time in Bangkok to do a a bit of shopping?
Good idea!
The best is to head to Siam district, where all the moderns and trendy shopping centers are located.
At the MBK Center, you will find electronics as well as clothes. There is also a bazaar-like section with souvenir stores.
The Siam Paragon, is on the other hand, more chic, with lots of luxury boutiques.
In the area, there is also CentralWorld, one of the largest mall in South Asia.
They are open everyday until late in the evening. They all have a food court, where you can you can find Thai and international dishes.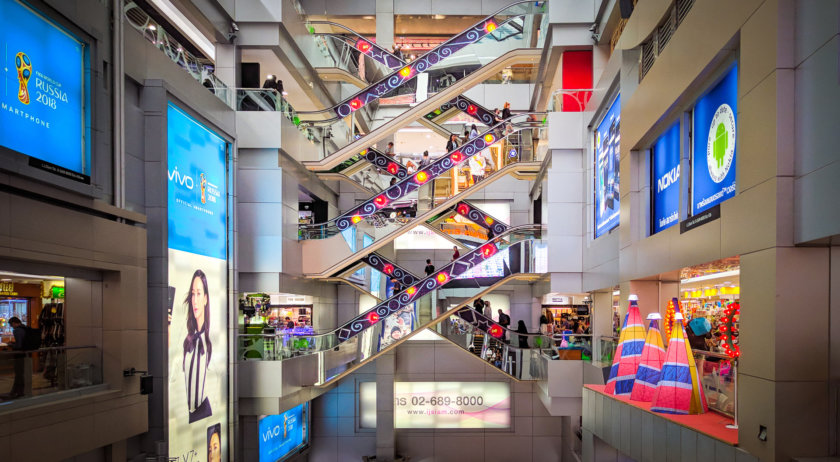 14. Bangkok's Rooftops
There's nothing better than a rooftop on one of the highest buildings in Bangkok to contemplate the city.
Today, the highest skyscraper in Bangkok is Baiyoke tower. The terrace on the 77th floor and a revolving roof deck on the 84th floor allow you to enjoy a panoramic view of the entire city.
If you want to go there, you must buy your tickets in advance, as it's a very touristy place! The ticket also includes a food buffet. Just click on the button below to book it.
There are other rooftop bars offering beautiful views of the city in Bangkok. However be warned: The prices for cocktails are rather high and the dress code quite strict.
Here's a selection of Bangkok's best rooftops
The Roof, with a splendid view of Wat Arun
Vertigo Moon Bar, located on the top of the Banyan Tree Hotel
Sky Bar Lebua, where scenes from the movie "The Hangover" were filmed
Three Sixty Lounge, at the top of the Hilton Hotel
Park Society, close to Lumphini Park
Cloud 47 in the financial district
Red Sky on the 55th floor of CentralWorld


15. Bangkok's Museums
There are several great museums you should visit in Bangkok:
The National Museum, about the history and culture of Thailand. It's the largest museum in southeast Asia!
Museum of Siam, another history museum. It's more playful, with videos and games
Jim Thompson House, which I told you about earlier
Royal Barges Museum, where you can discover the 8 royal barges the king was using when he traveled.
Art in Paradise Museum: an interactive museum featuring 3D illusion paintings, where you can take super funny pictures. Really well done! (click here to book it)
Bangkok Art and Culture Center, for contemporary art lovers
The Doll Museum, with a collection of hand-made, traditional Thai dolls.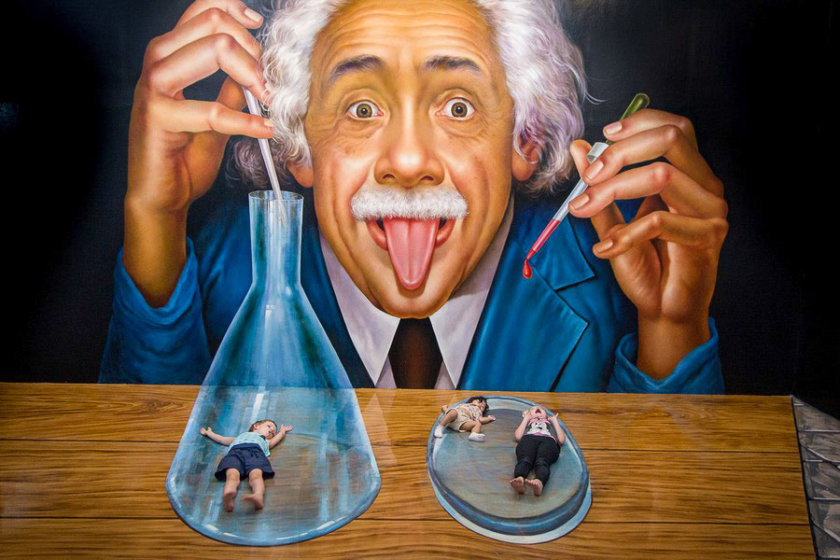 16. Attend a boxing match
While you're in Bangkok, why not attend a Muay Thai boxing match?
Inspired by Thai soldiers combat training, it's Thailand's national sport.
More than just a simple fight, Muay Thai is above all an art form. During the warm-up, the fighters practice "the boxing dance", a sort of simulated combat. Fights are also accompanied by musicians adapting the rhythm to the moves and blows.
Even if you're not a fan of boxing, attending a match in Bangkok is a must-do, if only for the atmosphere.
The two main Muay Thai stadiums are Lumpinee Stadium and Rajadamnern Stadium.
If you plan to attend a match, you need to buy your tickets in advance by clicking on the button below: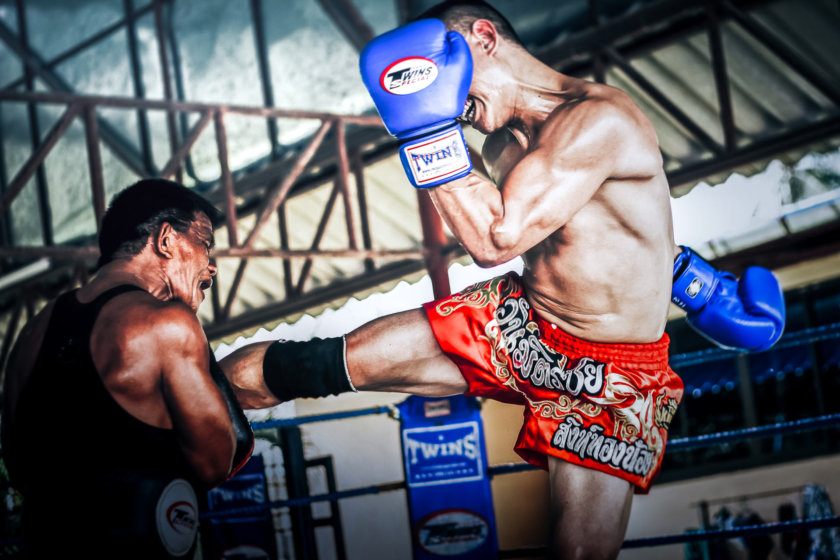 17. Enjoy a traditional Thai massage
If you have already visited all places in Bangkok and need a moment of relaxation, you should opt for a traditional Thai massage.
You'll find hundreds of salons throughout the city. Prices start at around 250 bahts for an hour long foot massage and around 500 bahts for a full body massage.
The experience is a bit unusual, you'll be stretched everywhere, sometimes in quite weird positions! However at the end of the massage, you will feel relaxed, even if a bit sore at first.
In Bangkok, most hotels have spas and also offer this service.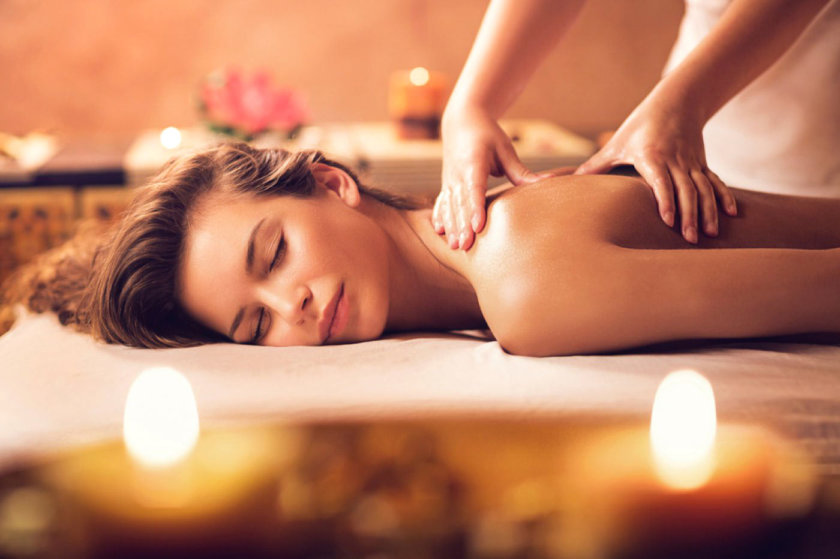 The best things to do around Bangkok
If you're spending a few days in Bangkok and have already seen the main attractions, you should visit the surroundings. There are several places nearby that can be visited on a day trip.
18. The floating markets near Bangkok
The floating markets are a classic thing to do on a roadtrip in Thailand. For sure, the markets are very touristy and some were created just for folklore. Nevertheless, they are one of the best things to do in Bangkok's surroundings.
If you have to only choose one, you should visit Damnoen Saduak floating market, one of the most famous. To go there, the best is to opt for an organized tour departing from Bangkok.
In addition to Damnoen Saduak floating market, the tour I recommend also allows you to visit Mae Klong market, one of the largest fish markets in Thailand. During your trip, you will first take a train from Bangkok, and then a boat to reach the floating market.
To book it, simply click on the button below: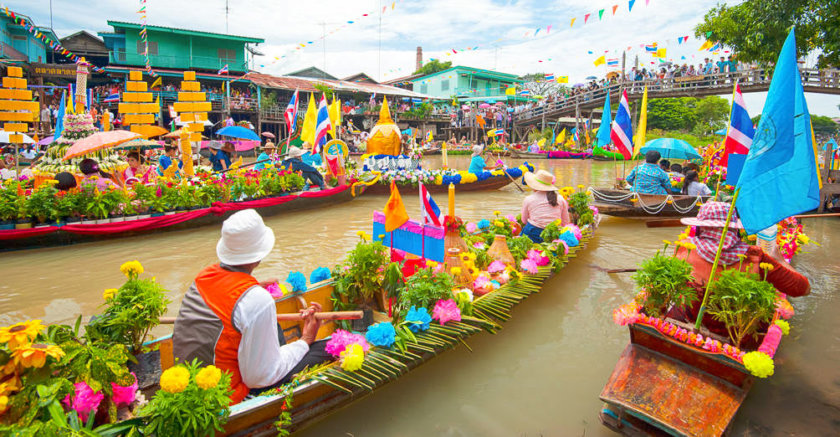 19. Ayutthaya
The historic city of Ayutthaya is only 1 hour away by car from Bangkok.
The Ancient capital of the kingdom of Siam, nowadays a UNESCO World Heritage site, features many temples to visit.
If you can only do one day trip from Bangkok, you should really do this one!
Everyday, buses and trains leave for Ayutthaya. And if you don't want to bother with the organization of the trip, you can book an organized day trip.
The journey starts from Bangkok, by bus. During the day, you'll visit the main temples of Ayutthaya and then return to Bangkok by boat. You will for sure love the scenery!
If you want more details about the best things to do in Ayutthaya, you should read my article: Visit Ayutthaya: the definitive guide.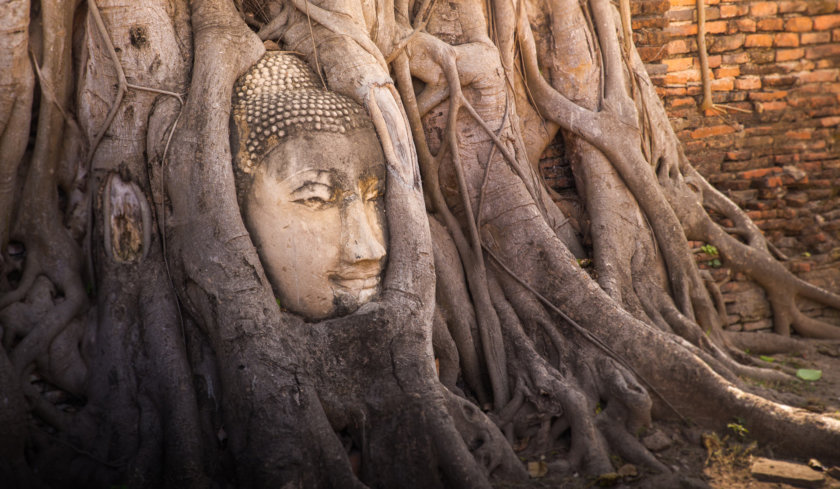 20. Kanchanaburi and the bridge over the river Kwai
Looking for more places to visit around Bangkok? The you should head to Kanchanaburi!
There, you will find the world famous bridge over the river Kwai. Built by thousands of prisoners of war during the Second World War, the bridge is one of the most important historical sites in Thailand.
Besides the bridge, you will also be able to visit several historical museums. A real journey through time!
As for Ayutthaya and the floating markets, excursions to Kanchanaburi are organized from Bangkok. They include transport, a visit to the town, the bridge, the museums, a train ride, and the lunch.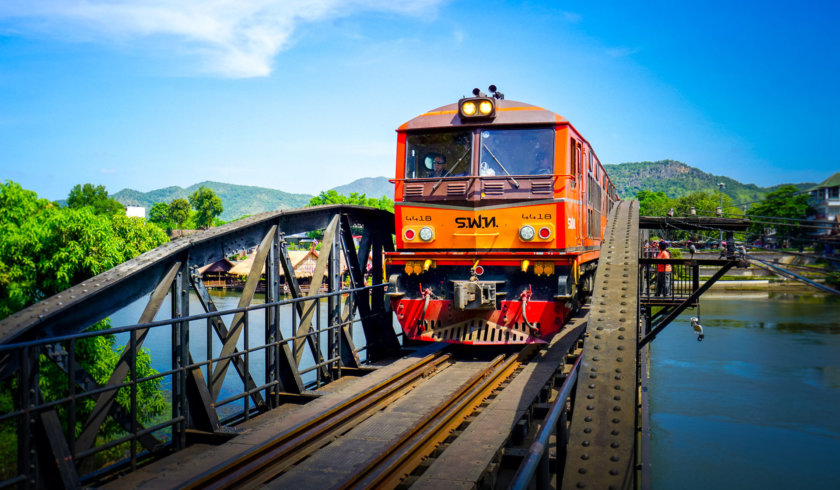 21. to 30 – The 10 best things to do in Bangkok with family
To help you organize your family trip to Bangkok, here is my list of the best things to do with kids:
A stroll in Lumphini Park, to enjoy some greenery and avoid the crowds
Visit Bangkok's aquarium: The Sea Life Bangkok Ocean World. Book your tickets here!
Discover Madame Tussauds Museum, featuring wax figures of international celebrities. Buy your tickets there!
Go to Fun-arium, the largest indoor playground in the city
The Children's Discovery Museum, with plenty of interactive activities. Free of charge!
Attend a Thai dance and music show at Siam Niramit. Get your tickets here!
Ancient City, a park with miniature versions of Thai monuments and temples
Siam City Park, one of the largest amusement parks of southeast Asia. Tickets are there.
Kidzania, where kids can try out different professions in realistic settings: a fire station, an operating room…
Dream World amusement park. Book your tickets here.
How many days to visit Bangkok?
As Bangkok is a rather large city, the places to visit aren't really close to one another. Some parts of the city can easily be visited on foot, but you will for sure have to take a taxi or the metro to cross the city during your stay.

In my opinion, you should spend a minimum of 2 days in Bangkok, to have the time to visit the most important tourist sites as well as a good part of the places I mentioned in this guide.
Of course, you can stay 3 or 4 days in Bangkok and have the time to discover the surroundings!
Here are my itineraries for 1, 2 or 3 days in Bangkok:
1 day in Bangkok
If you have only one day in Bangkok, I recommend the following itinerary:
Visit the Grand Palace, the must-see site in Bangkok. Get there as early as possible to avoid the crowds. (Click here to book your guided visit)
Go to Wat Pho to see the reclining Buddha
Cross the river to see Wat Arun
Take the shuttle boat across the river
Visit the National Museum of Thailand or the Museum of Siam, depending on your interests
Dinner cruise on the river (Click here to book it or there for the luxury version).

2 days in Bangkok
If you have 2 days in Bangkok, follow the previous itinerary and then add:
Climb up to the Golden Mount Temple
Stroll in Chinatown
Visit to Wat Traimit
Walk in Lumphini Park (easily accessible by metro from Wat Traimit)
Shopping in Siam district: MBK Center or Siam Paragon
And if you're not too tired, head to Jim Thompson House (10 minutes on foot from Siam)
Your choice for the evening: The rooftop terrace of Baiyoke Tower or a Muay Thai boxing match.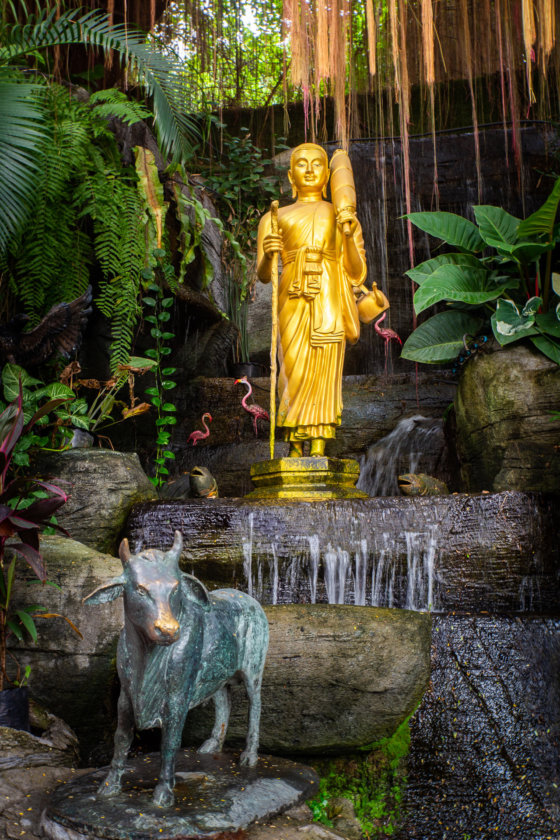 3 days in Bangkok
if you have 3 days in Bangkok, in addition to the 2 previous days itineraries, you have 3 options:
You can finish your visit of the city. You can head to Dusit Park or visit some of the museums.
If your third day falls on a weekend, it's the perfect occasion to take a stroll in the alleys of Chatuchak Market.
The third option is to visit the surrounding areas of Bangkok.
Here are the best day trips offered from Bangkok:
As all these excursions are full-day tours, you can easily spend 4 or 5 days in Bangkok!
Where to stay in Bangkok
In Bangkok, there are thousands of accommodations, so it can be a bit complicated to find the perfect hotel for your trip!
As I know the city very well, here's my selection of the best hotels to stay in Bangkok:
The best hotels near the Grand Palace and Wat Pho:

The best quiet hotels near the metro (to get around easily)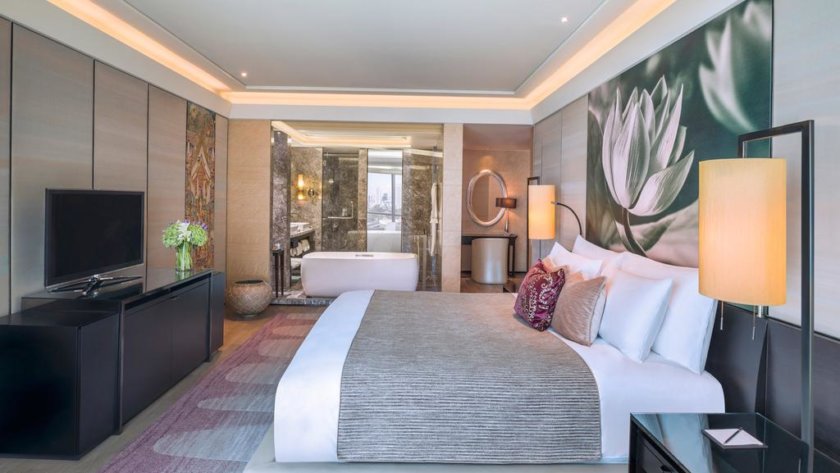 Where to eat in Bangkok
I don't have any specific restaurant recommendations for Bangkok. That would really depend on where you are staying and where you are when you start to feel hungry!
There are tons of restaurants, markets, and street food vendors everywhere in the city. You'll be able to eat everything and at any hour of the day.
The food courts located in the shopping centers are also a great option if you prefer to be seated, with air conditioning, or if you want to try out different dishes from around the world.
All the dishes I ate in Thailand were really very good, super well cooked and seasoned. I didn't knew much about Thai food before going to Thailand, but I have been pleasantly surprised by the quality of the ingredients and dishes (Both from street vendors to more high end restaurants!).
So, simply enjoy the local food and eat what you feel like eating. It's delicious everywhere and very cheap!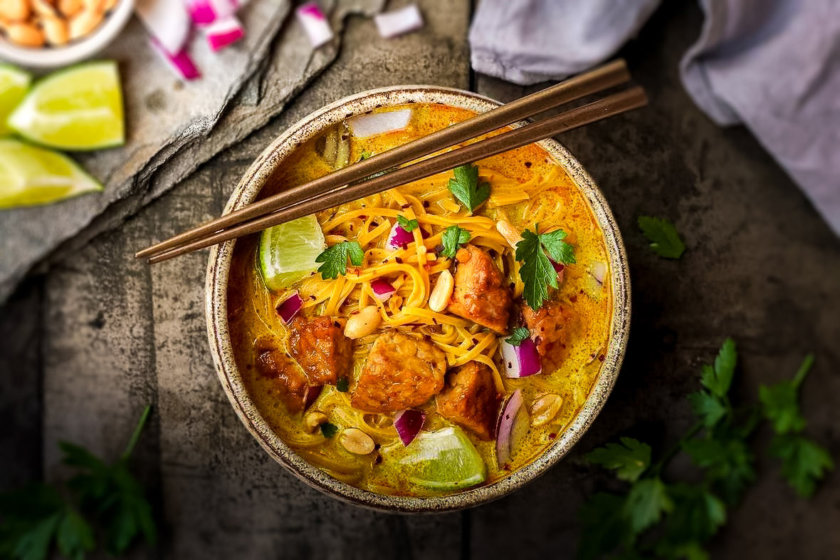 Where to go in Bangkok at night
I've already talked a bit about this earlier in this guide, the rooftops of Bangkok are an excellent choice to spend a relaxing evening and enjoy the view.
If you want more ambience and backpacker style bars, head to Khao San Road.
Finally, in Sukhumvit district, you'll find many clubs and trendy bars for every taste.
How to get around Bangkok?
There are several options to get around Bangkok and go to the various tourist attractions.
The Sky Train (BTS), very convenient to avoid all the traffic jams. Unfortunately it does not go to the main temples such as the Grand Palace and Wat Pho. But you can easily travel to Lumphini Park, the Siam district, the financial district, or Chatuchak market for example.
Public buses: I don't really recommend them. If you don't speak Thai, it will be difficult to know if you're on the right bus and they are crowded.
Boat shuttles, to cross the river in a few minutes. Very convenient to go to Wat Arun or Wat Pho. There are several boat lines with different stops on the docks of the Chao Praya river.
The MRT, the underground metro crossing Bangkok from north to south. It's connected with the BTS and Airport Link.
Taxis, as long as you're not stuck in a traffic jam, a taxi ride will not be too expensive (always ask the driver to start the taxi meter and do not accept fixed fares).
Tuk-Tuks, always negotiate the price before riding, their fares are often higher than a taxi.
Moto-Taxis, personally I won't try them in Bangkok, it's not very safe.
The airport City Line (Airport Link) links the Suvarnabhumi International Airport with Bangkok. Tickets are 45 bahts! 10 times cheaper than a taxi and you're guaranteed to have no traffic!


The most common scams in Bangkok
I can't write a travel guide about Bangkok without talking about scams. They are unfortunately very common! And even if I had been warned, I almost got scammed once too.
Here are some the most frequent scams:
Scammers claim the place you want to visit is closed and they offer to show you something else. Flee or you will end up at a tailor or jewelry shop, where they will try to force you to buy something.
They approach you saying it's "Buddha Day": A scammer tells you that today the temples are free + the Tuk Tuk fares are cheaper, as Tuk-Tuks don't pay for gas on that day. You will get in the scammer's friend tuk-tuk, which will then drive you to a tailor or jewelry shop to force you to buy something. Important: in any case, never enter the shop! The driver will get upset and will end up leaving you there (see my experience below). You will then have to walk or take a taxi.
A taxi offers you a fixed price and refuses to turn on his meter. Never accept, because it will definitely be more expensive! If he doesn't want to listen, just take another taxi.
It's not a scam, strictly speaking, but as in all cities with lots of tourists, whether Bangkok, Paris, Milan, Rome etc.., pickpockets are everywhere. Pay attention to your belongings. Personally I use this backpack. It opens only from the back and has a double bottom. It's impossible to steal anything from it!
And yes, I experienced scam number two!
A young Thai man who seemed friendly (the best scammers are always nice!) accosted us at the edge of the Golden Mount, telling us that today was "Buddha Day" and the Tuk-Tuks weren't paying for gas. It allowed them to organize low cost tours to visit some of the temples in Bangkok.
I thought "why not?" and got on board.
We first visited one temple, but unfortunately the second stop was in front of a tailor shop. I understood right away that the driver brought us there to get a commission, so I refused to enter the shop.
The driver started to get upset and wanted to force me to go inside. I kept refusing and he finally left me there!
Fortunately, I hadn't paid anything in advance, so I got out of the experience OK and ended up walking to the next temple. Even if I am a frequent travelers and know about scams, it's easy to get fooled by the apparent kindness of some Thais.
Hopefully, there are plenty of genuinely nice Thai people as well! Just if someone you don't know approaches you at a tourist location, speaking a relatively good English, there is generally something suspicious going on.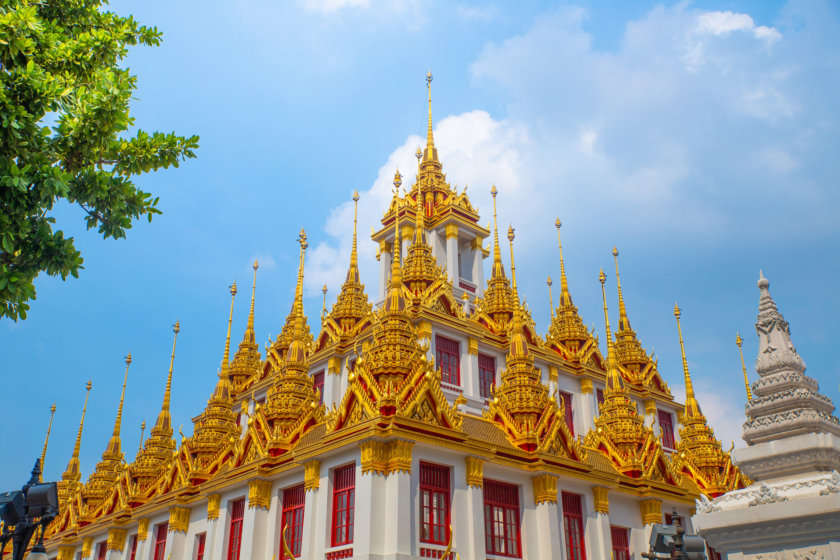 Thailand Tours
On Voyagetips.com, I give you all my best tips and itineraries to plan your trip to Thailand by yourself. (All my Thailand travel guides are here)

However, if you prefer to book a Thailand tour with a travel agency, I recommend you to check the 10 best Thailand tours by clicking the button below:
Traveling to Bangkok: flight prices
Flight prices to Thailand vary widely, so it is a good idea to compare them as soon as possible. To do this, you can use our flight comparator, in partnership with Skyscanner. It's the best way to pay the best price!
Tourist Map of Bangkok
To help you visualize where the best places to visit in Bangkok are located, I have made this tourist map of Bangkok, listing everything I talk about in this guide. You can display the map legend by clicking on the top left button, the one with the little arrow.
And you, what do you plan to visit during your stay in Bangkok?
Book your trip now and save money!
Thailand travel Guides
You're traveling to Thailand? These articles will help you!
Discover all my articles about Thailand: All my articles to help you plan your trip to Thailand are listed there.
You're using Pinterest? Here is the picture to pin!