How to visit Ayutthaya Historical Park (Thailand)
You're planning to visit Ayutthaya, the most famous historical park in Thailand, and you're looking for info to plan your visit?

You're at the right place!
Listed as a UNESCO World Heritage Site, Ayutthaya is home to dozens of ancient temples, and the least I can say is that they are very impressive.
Along with the historical park of Sukhothai, it's really one of the must-see archaeological sites on a trip to Thailand!
To help you plan your visit, I have prepared this guide to Ayutthaya. I will start by telling you more about the 6 main temples, and will give you all by best tips to make the most of your visit.
In addition to the temples guide, I will also give you my selection of the best hotels in Ayutthaya depending on your budget, and will explain how to get to the historical park from Bangkok.
So, what are the best things to see in Ayutthaya? Where to stay?

How to visit Ayutthaya: all the info you need!
Let's start with some practical information to visit Ayutthaya.
How to visit all the temples, what types of tickets you need and how much it costs: I will tell you everything!
First and foremost: The archaeological site is vast and the temples are located in different places in the city. It's therefore not possible to visit everything on foot.
If, like us, you have rented a car to visit Thailand, then it's not an issue and you can drive from one temple to another. There are free parking lots at the entrance of each area in the historical park.
We visited Ayutthaya in January (high season) and we always found parking spots.
The other option to visit Ayutthaya is to rent a bike. This is the solution chosen by most people who don't have a car, and who arrive from Bangkok by train or bus (I tell you more about it in "How to get to Ayutthaya" section, at the end of this article).
Almost all of the city's guesthouse and hotels rent bicycles for 50 Bahts a day or even for free if you have booked a night at their place. There are also rental agencies in front of the most important temples.
If you're comfortable riding a scooter or a motorcycle, you can also rent one in Ayutthaya. Less tiring and faster than cycling!
Simply ask your hotel for advice on the choice of the rental company. It will cost you between 200 and 300 Bahts to hire a scooter/motorcycle for a day in Ayutthaya.
Lastly, you can rent a tuk-tuk to visit the historical park. The tuk-tuk will drop you off at the entrance of each temple and wait for you there.
The fare is usually 200 Bahts per hour (of course it's not the cheapest option!) or 1200 Bahts per day, but you can try to negotiate a bit.
Opening hours: The temples of the historical park of Ayutthaya are open every day from 8 am to 6 pm.
The entrance fee to most temples is 50 Bahts per person, but some less known or less touristy temples charge 20 Bahts or are even free to visit.
If you have the time and intend to visit several temples, both in the historical park and the more remote ones, you should buy the Pass that allows you to visit 6 temples for only 220 Bahts. It's available at the entrance of each of the 6 temples.

It is very convenient and valid for 30 days. So if you're spending 2 days in Ayutthaya, you don't have to hurry to visit all 6 temples.
Here is the list of the 6 temples included in this pass (I will provide more details a bit below):
Voyage Tips - Advice
When visiting Ayutthaya (especially if you're exploring the site by bike), remember to bring caps, sunscreen and a bottle of water.
For ladies, you must wear clothing that covers your legs when visiting the temples. Bring long trousers or a loose skirt in your bag.
And one final tip: don't forget mosquito repellent!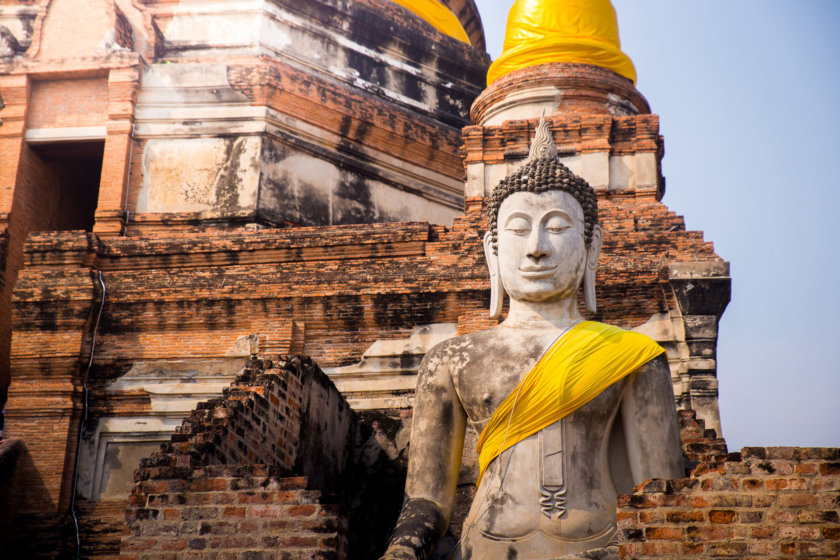 The 9 most beautiful temples to visit in Ayutthaya
Naturally, people visit Ayutthaya to explore the historical park and the numerous temples.
I have prepared a short list of the important temples to see and those that I found the most interesting.
Let's start with the 6 temples included in the 220 Baht Pass:
1) Wat Mahathat: built in the 14th century, it's the oldest temple in Ayutthaya and one of the most photographed temples today.
Here you will find the famous Buddha head entwined in a tree trunk, which has become the symbol of the park. The head is considered sacred and many Thai people come here to worship her.
As you walk around the temple, you will see that the majority of Buddha statues have been beheaded by the Burmese. The entrance fee is 50 Bahts without the Pass.
2) Wat Ratchaburana: built in the 15th century, this Khmer-style temple houses the largest chedi (also called Stūpa) in Ayutthaya.
The Wat was built by the king in memory of his 2 brothers who fought to death trying to conquer the throne following the death of their father.
Both of them died and the 3rd child inherited the kingdom. It costs 50 Bahts without the Pass.
3) Wat Phra Si Sanphet: also known as the Old Palace or the Grand Palace (not to be confused with the one in Bangkok!).
This temple built in the 16th century is the largest temple in Ayutthaya and has 3 magnificent and extremely well preserved chedis.
The temple is an excellent photo spot and is definitely one of the 3 most beautiful temples to visit in Ayutthaya! The entrance fee is 50 Bahts without the Pass.
Just before the entrance of the Wat Phra Si Sanphet, you can explore the interior of Wiharn Phra Mongkon Bophit. It houses a huge gold seated Buddha statue, which is almost 12 metres high.
4) Wat Phra Ram: a Khmer-style temple with an immense prang surrounded by smaller chedis. The temple is very beautiful, and is nestled in a natural setting. Entrance costs 50 Bahts without the Pass.
5) Wat Chai Watthanaram: its construction began in the 17th century and lasted for almost 20 years. This Khmer-style temple located on the river banks features a large central prang, about 35 metres tall, surrounded by several smaller chedis.
You really should go there to experience the sunset, it is truly splendid! Along with Wat Phra Si Sanphet, it's one of the temples I enjoyed the most during my stay in Ayutthaya. The entrance fee is 50 Bahts without the Pass.
6) Wat Maheyong: located outside the historical park, towards the floating market. Unfortunately, there isn't much left of it, which perhaps explains why it is not flocked by tourists. If you have taken the Pass and you have a little time to spare, you can always go and have a look.
In addition to these 6 temples included in the Pass, you really should go see the next 3 temples during your visit to the historical park of Ayutthaya:
7) Wat Yai Chaya Mongkon (or Mongkhon): a magnificent temple with a large bell-shaped chedi flanked by 2 large seated stone Buddhas covered with golden robes.
All around the chedi are several other Buddha statues and a small garden at the back. At the entrance, there is also a 7-meter long sleeping Buddha statue. The entrance fee is 20 Bahts.
This one is in my top 3 most beautiful temples to see in Ayutthaya!
8) Wat Lokayasutharam and its 42-metre long sleeping Buddha. Very impressive! No entrance fee.
9) Wat Phanan Choeng houses a gigantic 19 metre-tall seated Buddha statue. This temple is very popular among Thai people and ceremonies are held there every weekend. The entrance fee is 20 Bahts.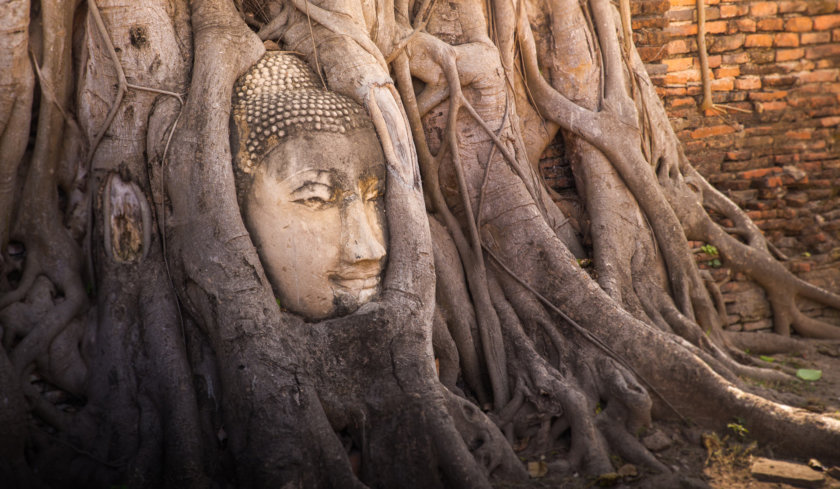 Visiting Ayutthaya by boat
Here is another nice activity you can do in Ayutthaya: a boat tour around the island and the historical park to discover the temples from another angle.
These cruises are organised in the late afternoon and allow you to make at least 3 stops to gaze upon the temples. The last stop of your tour will be Wat Chai Watthanaram, the best place to watch the sunset. And when you go back, you can see the other illuminated temples.
The trip lasts from 2 to 3 hours for about 200 Bahts per person. 
This tour is offered everywhere, by tour agencies as well as by guest houses and hotels.
Voyage Tips - Advice
As the boat trip does not allow you to discover all the most beautiful temples, you should visit Ayutthaya during the day and end the afternoon with this boat trip.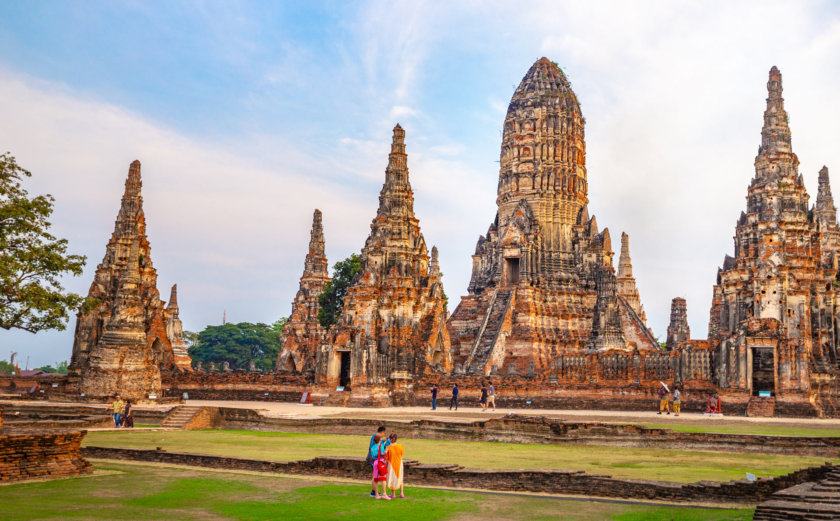 Voyage Tips - Advice
You're going to Ayutthaya?
You probably know it: the hardest part of planning your trip is to find an hotel offering a good value for money!
The closer you get to your travel dates, the harder it will be to get a good deal. Lots of people will be visiting Ayutthaya on the same dates as you, so you can be sure that the best deals are booked extremely quickly!
Hopefully, there is a pretty simple solution to this problem: do like me and book your hotel as early as possible!
So, my best advice is to take 5 minutes (now) to have a look at the list of travelers' favorite hotels in Ayutthaya.
And if you see a good offer, book it!
Most hotels offer free cancellation, so it's quick, easy, and you will avoid the the inconvenience of finding nothing but mediocre rooms at exorbitant prices.
To check the current best deals for your hotel in Ayutthaya, simply click on the green button below 😎:
Once you've booked your hotel, it will be time to continue reading this guide and find out more about the best things to do in Ayutthaya!
Visiting Ayutthaya from Bangkok (day trip)
If you're looking for an hassle-free solution, you can visit Ayutthaya from Bangkok with an organised day trip.

These guided tours are really the best way to visit Ayutthaya if you don't want to deal with the organisation. In addition, you will have a guide to learn more about the history of the site and get interesting anecdotes!
To help you out, I have selected the 2 best day trips to Ayutthaya here:
The tour leaves Bangkok early in the morning. They even pick you up from your hotel. You will get to Ayutthaya by bus and will have the opportunity to discover the temples of the historical park during the day.

And for the return journey, instead of taking the bus again, you will get back to Bangkok by boat!
The river cruise also includes a buffet lunch.
The rate of around 65€ per person includes pick-up in front of your hotel, transportation, guide, entrance fees to temples, cruise and lunch.
To book your day trip to Ayutthaya from Bangkok, it's very easy, simply click on the button below:
That's about the same as the previous trip: everything is organized for you!
A minibus will pick you up in Bangkok and take you to Ayutthaya. There, you will enjoy a guided tour of the 4 main temples.
Lunch is also included.
However, for this trip, the return journey to Bangkok is by minibus and not by boat.
You need to book this tour by clicking here:

How many days to visit Ayutthaya?
You should plan for a minimum of one day to visit Ayutthaya. There are many temples to see and the historical park is really vast.
Try to be there as early as possible in the morning to see as many things as possible. And ideally, you should finish at the Wat Chai Watthanaram for sunset.
It's best to spend a night in Ayutthaya: you can then enjoy the illuminated temples at night and perhaps visit one or 2 temples the next morning, before continuing your trip in Thailand!

The 3 best things to do around Ayutthaya
In addition to the historical park, there are a few other places to see near Ayutthaya. Here they are!

1) Bang Pa In Palace
About 20 km from Ayutthaya, you should visit Bang Pa In palace.
The palace is unique and includes several monuments of totally different architectural styles. There is for example a Chinese temple, a Thai-style pavilion and a very colourful tower that kind of looks like a lighthouse.
Surrounded by a lake and pretty well-maintained gardens, the place is really pleasant!
The park can be visited easily on foot, but you can also hire a small golf cart to move around (400 Bahts for an hour).
Entrance to the palace costs 100 Bahts, but be careful of the opening hours, as the site closes early, around 4 pm.
To reach Bang Pa In Palace from Ayutthaya, if you don't have a car, the easiest way is to take the train. The journey takes only 15 minutes and costs only 3 Bahts (yes, you read that right!).
From the arrival station, it takes about 25 minutes on foot to get to the palace (1.7 km), but you can also take a song thaew or a motorcycle taxi.
2) Bangkok
Only 75 km from the historical park, Bangkok is the nearest "big city" from Ayutthaya.
And it's very likely that you have planned to visit it during your stay in Thailand!
As you may imagine, there are tons of things to do and see in Bangkok, the capital of Thailand.
To organise your visit to the city, you should really read my definitive guide to Bangkok by clicking on the following link: The 20 best things to do in Bangkok.
In this guide, you will find all the information you need to prepare your visit: the best things to do, my recommended itineraries to visit Bangkok in 1, 2 or 3 days, a tourist map, my selection of the best hotels and much more!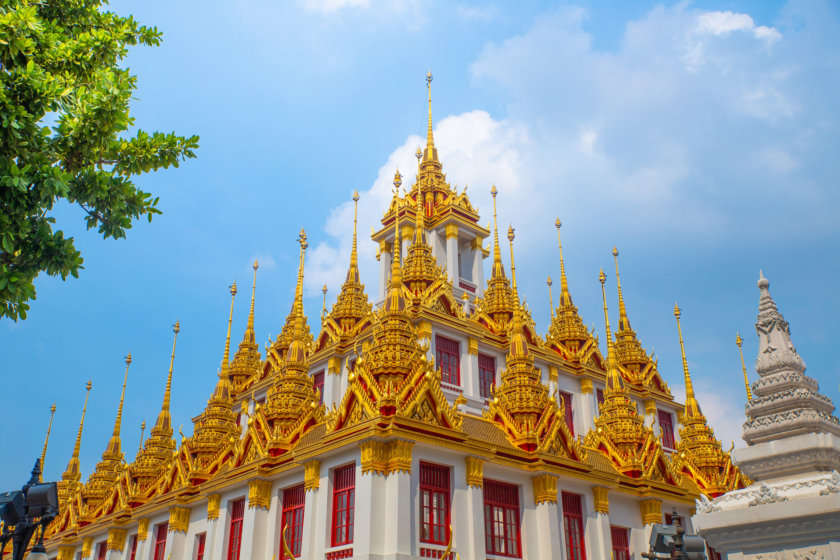 3) Lopburi
Only a 1 hour drive north of Ayutthaya, you can also visit Lopburi.
The city is known for being home to hundreds of monkeys and most tourists go there to see them. In addition to the monkeys, you can see a few ruined temples, Lopburi being one of the oldest cities in Thailand.
The main temple to see in the city is Prang Sam Yot. It's also where the majority of the monkeys are living!
When going to see monkeys, be careful with your hat or glasses and store your food in your bag. And remember, these are wild animals, there's always a risk of being bitten or scratched.
Where to stay in Ayutthaya

Where to eat in Ayutthaya
For evening meals in Ayutthaya, you should really visit the Night Market, taking place every evening. On weekends, you can also enjoy the other Night Market, located near Wat Phra Si Sanphet.
There, you will find numerous street food stands where you can try the local cuisine. The perfect opportunity to taste everything!
The atmosphere is very pleasant, with wooden tables for eating and traditional dance shows.
How to get to Ayutthaya?
You should get to Ayutthaya from Bangkok (only 75 km), it's the easiest!
To do so, several options are available, depending on your budget and  preferred mode of transportation. And of course, there are also the organized day trips I told you about earlier!
Here are you options to get to Ayutthaya:
Bangkok – Ayutthaya by car
If you have rented a car to visit Thailand, it will take you only 45 minutes to get to Ayutthaya from Bangkok.
It's best torent a car at Bangkok's Don Muang Airport, as it's located right on the way to Ayutthaya. It means you won't have to start driving in Thailand in the city of Bangkok, stuck in traffic.
And if, like us, you have opted for a road trip to Thailand, including a visit to Ayutthaya, Sukhothai and up to Chiang Mai or Chiang Rai for example, you can then leave your car at the airport of one of these 2 cities, without paying extra charges.
If you are interested in renting a car in Thailand, you should use Rentalcars.com website.

It's super convenient, as it allows you to compare car rental prices between all car rental agencies at a given location.
They also offer a "full protection" insurance (don't forget to check the box when booking): in case of damage or even if your car gets stolen, you'll get a full refund of the costs. Tested and approved, they have already refunded me for more than 1200 euros!
To check the prices of rental cars in Thailand, simply click on the button below:
Bangkok – Ayutthaya with private driver
If you don't want to rent a car but you still want to go from Bangkok to Ayutthaya quickly, you can hire a private driver for a day.
He will pick you up in front of your hotel to take you to Ayutthaya. He will then take you to the entrance of each temple of the site and wait for you for as long as it takes.
In the late afternoon, he will take you back to Bangkok. 
You need to book your private driver by clicking on the button below:
*Please note that the reason I recommend this particular service is that the cars are in good condition, comfortable and the driver is driving safely. This is not always the case in Thailand so you should really avoid booking on random websites.
Bangkok – Ayutthaya by train
To go to Ayutthaya from Bangkok, you can also take the train.
This is the most economical option with a one-way journey that will only cost you 15 Bahts! Allow about 2 hours to get there by train, or even a little less, if you take the express train.
Hua Lamphong station is the derparture point for trains to Ayutthaya. You can get there with the MRT (This is the name of the metro) and stop at Hua Lamphong station).
Bangkok – Ayutthaya by bus
To take the bus to Ayutthaya, take the BTS (also called "Sky train") in Bangkok to Mo Chit stop. You will arrive directly at the bus station of the same name.
There are trips several times per hour, all day long. It costs around 50 baht for a 1h30 journey.
Bangkok – Ayutthaya in minivan
At the Mo Chit bus terminal, you can also take a minivan to Ayutthaya.
The advantage compared to a conventional bus is that they are a little faster (about 1 hour drive). It's barely more expensive, costing 70 Bahts.
Minivans leave as soon as they are full, but there are always some available.

Tourist map of Ayutthaya temples
Here is the tourist map of Ayutthaya, which will be given to you at the entrance of the site. You can save this map on your smartphone, it's the most convenient!

Map to visit Ayutthaya in 1 day
To help you find your way around and organise your visit to the temples of Ayutthaya, I have prepared a map with an itinerary to discover the main temples. You can display the map legend by clicking the button at the top left with a small arrow.
The temples with a blue pin are those planned for a day trip. Those with orange pins are optional. You can visit them if you have time or, if you spend 2 days in Ayutthaya.
Should I visit Ayutthaya or Sukhothai?
As I told you, Ayutthaya was the second capital of the kingdom of Siam. The first capital was in Sukhothai, some 370 km to the north.
Like Ayutthaya, Sukhothai has now been renovated and the historical park includes several beautiful temples to discover.
Many travellers choose to visit only one, due to lack of time and therefore wonder which city to choose between Ayutthaya and Sukhothai.
I was lucky enough to be able to visit the 2 during my trip to Thailand and I really loved both. I found that the temples of Ayutthaya were more impressive but those of Sukhothai are in a more natural environment, which balances things out.
If you are staying in Thailand for a short time, it's best to go to Ayutthaya, as it is very close from Bangkok.
But if you're in Thailand for 2 or more weeks, I really recommend you to go and see both and form your own opinion.
From Ayutthaya, you can reach Sukhothai by bus (direct journey of 6 hours) or take a train to Phitsanulok and then a bus to Sukhothai.
From Bangkok, there are also flights to Sukhothai.
To discover Sukhothai, you should read my article about the historical park: Sukhothai: the definitive guide.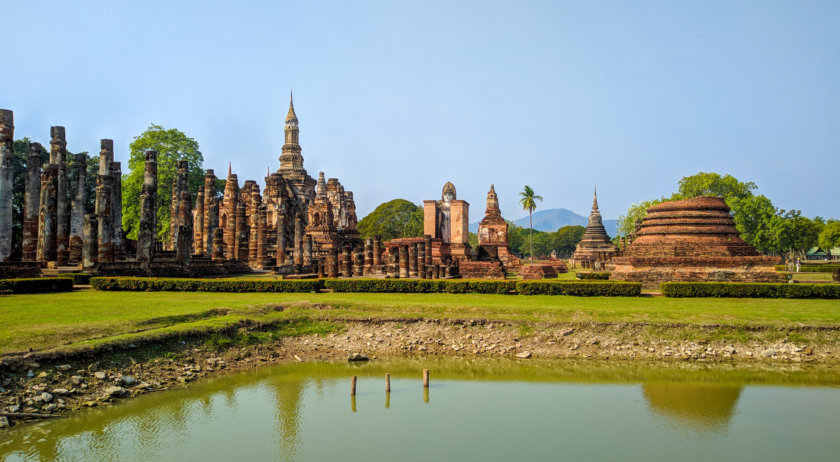 Ayutthaya: a bit of history!
Let's end this guide with a short overview of Ayutthaya's history. It's good to know it beforehand since not much explanation is available there.
Ayutthaya was the second capital of the kingdom of Siam, from 1350 to 1767. It has succeeded the city of Sukhothai, located further north.
In fact, the city of Ayutthaya was chosen for its strategic location, surrounded by rivers. They served as natural barriers, but not only that: they also helped to facilitate international trade with China or India.
The city was a major economic and commercial centre, with more than a million people living there.
Long considered the most powerful and rich city in Southeast Asia, it was home to no less than 400 temples!
The city was completely destroyed in 1767, following an attack by the Burmese. In order to assert their domination, they decided to decapitate all Buddha statues. Thousands of residents were enslaved and all treasures were looted.
Ayutthaya subsequently lost its status as capital to Thonburi for a while, and then to Bangkok.
It was not until 1969 that major restoration works were carried out to restore some of the marvellous temples you can discover today. Nowadays, the site is a must-see for a road trip in Thailand!
And do you plan to visit Ayutthaya during your holidays in Thailand? If you have any questions, feel free to ask me in the comments.
Book your trip now and save money!
Thailand travel Guides
You're traveling to Thailand? These articles will help you!
Discover all my articles about Thailand: All my articles to help you plan your trip to Thailand are listed there.
The 25 Best Things to Do in Thailand
You're using Pinterest? Here is the picture to pin!