The 20 Best Things to do in Chiang Mai (All Highlights)
You're planning to visit Chiang Mai during your next trip to Thailand?
Great idea!
In order to help you plan your stay, i have prepared this guide of the 20 best things to do in Chiang Mai and its surroundings. You will find all must-see attractions in and around the city as well as itineraries to visit Chiang Mai in 1, 2, 3, 4, 5 days or more!
In this guide, you will learn everything about the most beautiful temples, the Night Markets, Doi Suthep National park as well as all the activities to do in Chiang Mai.
Of course, I will also tell you more about the best elephant Sanctuary as well as the places to visit around such as Chiang Rai and Mae Hong Son province!
And as usual, I will also give you all my best tips and my list of the best places to stay in Chiang Mai, depending on your budget.
So, What are the best things to do in Chiang Mai? Where to stay?
Let's find out!
Visit Chiang Mai: the 20 Must-See attractions
1. Chiang Mai Old Town
If you want to discover the majority of Chiang Mai's attractions and tourist sites, you should go to the old town.
There, you will find most of the main temples (more details below), street markets and museums. There are also several bars and restaurants as well as agencies to book activities or day trips!
Bordered by moats and ancient ramparts, you can enter the town through four main gates located at each of the four cardinal directions. Inside the old town, you can enjoy a peaceful stroll and admire the traditional buildings.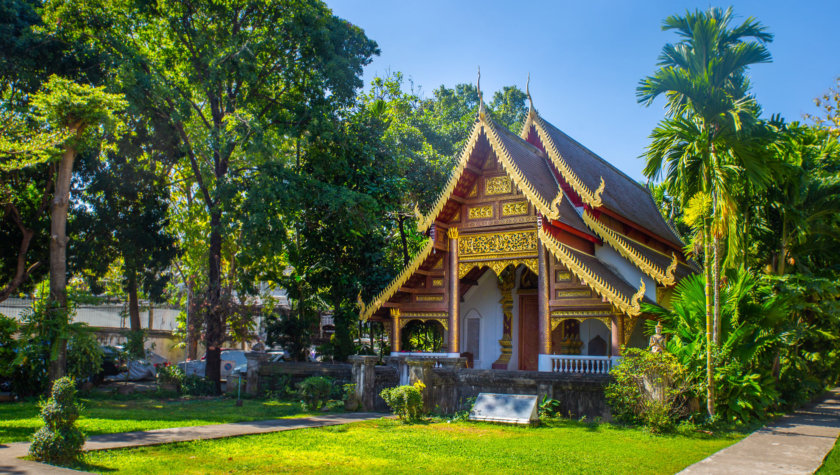 2. Top Temples in Chiang Mai
As I told you in the introduction, The temples are for sure among of the best places to visit in Chiang Mai.
You will find them almost everywhere in the old town. Most of them are free, and others are charging a very small entrance fee. It would be a shame to miss them!
Here are the my favorites temples in Chiang Mai:
Wat Phra Sing, one of the most famous and most revered by Thais. Thousands come every year to worship the Buddha Phra Sing statue. Entrance is free.
Wat Chedi Luang (40 Bahts) once housed the famous emerald Buddha that you can see today in Bangkok's Grand Palace. Even though it was partially damaged by an earthquake, the temple is still an impressive sight.
Wat Inthakhin Saduemang, a small teak temple not far from the three kings monument. Right next to it, you should visit the free Temple Museum.
Wat Chiang Man is the oldest temple, built by the founder of the city in the 13th century. It houses two statues of Buddha, one in marble and one in crystal.
Wat Saen Fang, is very pretty, ancient and unique at the same time. I really liked the two statues of guardian snakes.
Wat Bupparam (20 Bahts), one of my favorites in Chiang Mai!
Wat Mahawan, a temple merging the Lanna and Birman styles, with several sculptures of different creatures
Wat Si Suphan, also called "the Silver Temple", as it is was mostly built with silver, symbolizing purity
Voyage Tips - Advice
When visiting temples, whether in Chiang Mai or anywhere else during your trip to Thailand, you must have your shoulders and legs covered.
Plan to always have a pair of loose pants or a long skirt to put on before entering. This is useful for both men and women!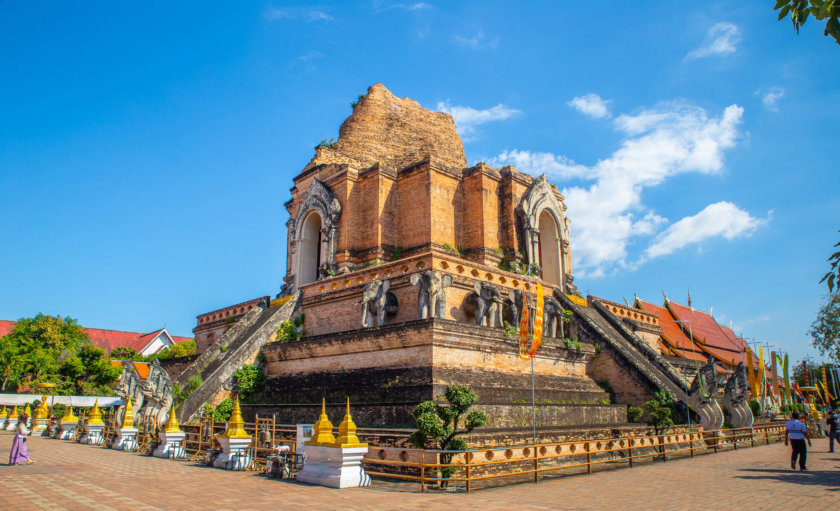 3. Doi Suthep National Park
During your stay in Chiang Mai, you should definitely visit Doi Suthep National Park, located just outside the city.
A road allows you to easily go from one attraction to the other and visit the park in a day.
The most visited site is in the park is for sure the Wat Phra That Doi Suthep, a temple built on the top of a hill. From there, you can enjoy a 360° view of Chiang Mai and its surroundings.
To get there, you have to climb around 300 steps or take an elevator (for an extra fee).
The stairs aren't very steep, so if you're healthy, you won't have any problem to get up there. You may just sweat a bit as the climate is quite hot, but that's what you expect when traveling in Thailand!
The entrance fee for the temple is 30 Bahts.
You will also find many souvenir shops and restaurants at the bottom of the temple.
Here are the other places to visit in Doi Suthep National Park:
Bhubing Palace (50 Bahts): the winter residence of the Thai royal family when they come to the north of the country. Only the gardens (well maintained and flowered) are open to visitors. Don't miss the rose gardens and giant bamboo plants! Pay attention to the opening and closing hours: generally, the palace closes at 15:30. Also, plan on wearing long pants to be allowed into the gardens (without holes and not too tight!). The dress code is taken very seriously.
Hmong Doi Pui Village features a small waterfall and a pleasant garden (entrance fee is 10 Bahts). In the village itself, you'll find almost only souvenir shops.
Mon Tha Than Waterfall (100 Bahts + 30 Bahts for one car): To go to the waterfalls, you will need to drive 3 km on a narrow road + a five-minute walk from the parking lot to the first waterfall. Then you can also take a trail to the left to see a 2nd waterfall. You can then continue on the trail to reach a 3rd Waterfall (Sai Yoi Waterfall), but it was closed when I visited.
Huay Kaew Waterfall: when coming from Chiang Mai, it's the first stop in the park. Park your car in the parking lot and walk for 5 minutes to reach the waterfall.
The best way to discover the park is to rent a car or scooter in Chiang Mai.
If you don't have your own vehicle, you can also take one of the red collective taxis (called "Songthaew" or "sorng-taa-ou" in Thailand) that will take you from place to place in the park.
Finally, if you don't want to worry about organizing the excursion yourself you should book a half-day tour departing from Chiang Mai.
It includes pick-up at your hotel, transport by minibus (only 10 seats), a guide and the entrance fees for the temple and Hmong village.
This is the best way to visit the Doi Suthep National Park if you're not spending a lot of time in Chiang Mai or if you don't have a car!
You can book your tour by clicking the button below: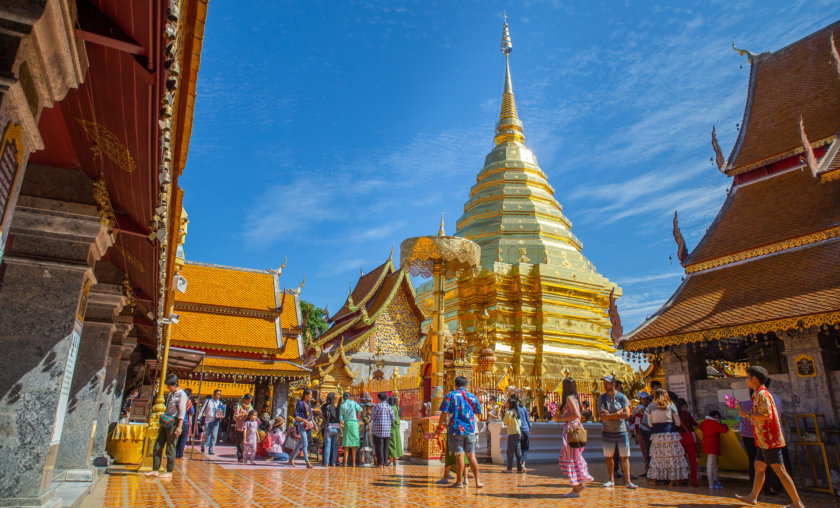 4. Take a Thai cooking class
Here is a great activity to do in Chiang Mai if you want to discover Thai gastronomy: take a cooking class!
In recent years, the city has become the leading destination in the north of the country to learn how to cook. Thus, many travelers try this experience during their road trip in Thailand.
Several cooking schools can teach you how to make delicious curries, tasty Pad Thai and Khao Soy, a northern specialty: curry soup with fried noodles and chicken.
Classes usually last half a day. You will first visit the market to discover the different spices, herbs and vegetables used in traditional dishes. You will then go back to the school to cook the ingredients and at the end of the day, you will of course taste your creations!

You will even receive a free recipe book to impress your friends when you will get back from your holidays.
If you want to take a Thai cooking class in Chiang Mai, it's very simple, just book your activity by clicking on the link below: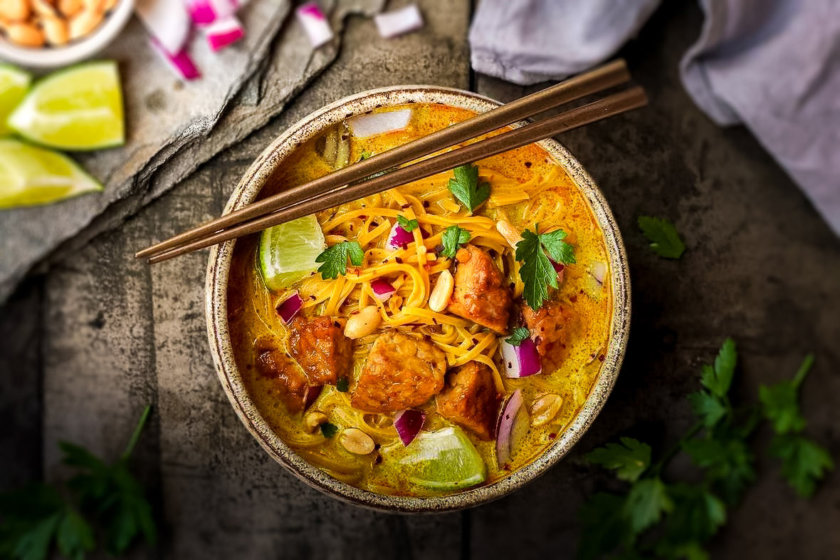 5. Lake Huay Tung Tao
You want to get out of the city and enjoy some peace and quiet near Chiang Mai?
Then you should go to Lake Huay Tung Tao, located about 15 minutes from the city center by car. This is where Thai people meet on weekends to spend time with their family by the water.
There are many small wooden huts installed on the banks of the lake where you can eat fresh fish and spend a relaxing afternoon.
You can also rent a pedal boat or swim in one of the dedicated areas. A lot of people are fishing there too!
The lake is really big and you can go around it by car, scooter or bicycle.
Don't miss the area with giant gorillas, elephants, lions or buffaloes made out of straw. It's the perfect place to take fun pictures!
The entrance fee to the lake is 50 Bahts per person, to be paid at the small hut before you enter.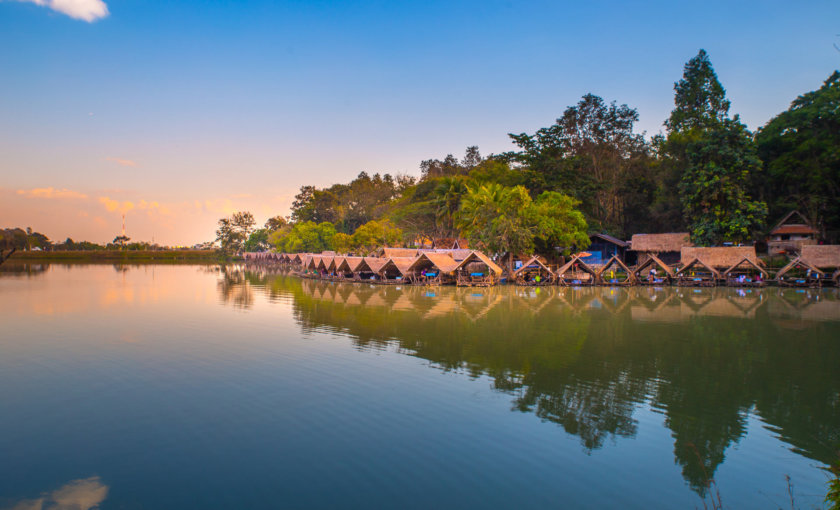 6. Chiang Mai markets
A visit to Chiang Mai should also include a stroll through the city's many markets.
Whether you want to buy souvenirs or stock up on fruits and spices, you are sure to find what you are looking for.
During the day, you should wander through the alleys of Talat Warorot market, the largest of the city. It has everything, from food stalls to clothing. Located east of the old town and next to Chinatown, this market is very popular among locals.
You can also visit the nearby flower market on the river bank. Florists make beautiful arrangements for offerings and flower garlands to hang in cars (they are very popular in Thailand!)
In the evening, head to the Night Bazaar (night market), which opens daily from 6 pm. It's located on Chang Klan Road.
There, you will find handmade goods made by indigenous mountain tribes. However, as it's super touristy, the prices are higher than at the other markets. It's also a great place to enjoy delicious dishes at one of the many street-food stalls.
On weekends, don't forget to go to the Saturday or Sunday Night Market. There is a huge selection of handicrafts, souvenirs, clothes, figurines and the prices are reasonable (cheaper than at the weekend market of Chatuchak in Bangkok for example).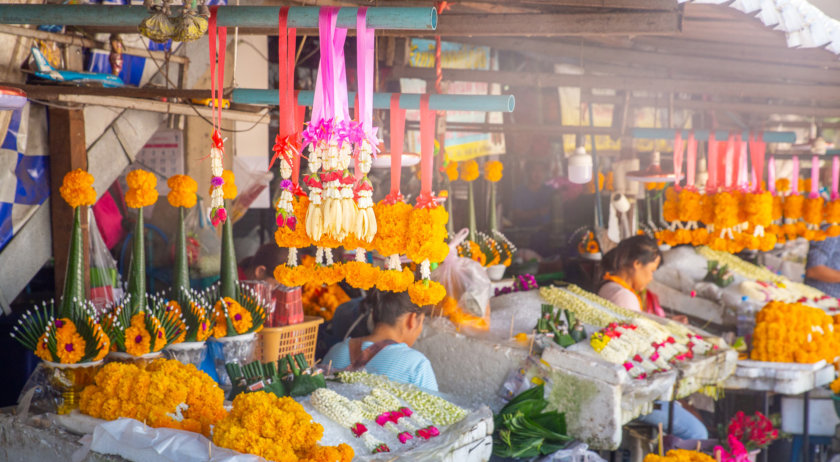 7. Museums
In Chiang Mai, you can also enjoy a bit of cultural tourism by visiting one of the local museums.
Here's the list of the main museums of the city:
The National Museum of Chiang Mai, to learn everything about the history of the Lanna kingdom.
Lanna Folk Art Museum, to educate yourself on this unique culture of Northern Thailand.
Chiang Mai Cultural and Artistic Center, to learn about the history of Chiang Mai.
Art in Paradise museum, a place where you can take pictures with 3D optical illusions in the background. This is one of the most visited tourist attractions in Chiang Mai. It's very realistic and fun! Purchase your tickets here!
Chiang Mai History Center
Museum of World Insects and Natural Wonders, and its collection of hundreds of insects
The Treasury Pavilion

8. Where to see elephants in Chiang Mai?
During your stay, you can also spend a day in an elephant sanctuary near Chiang Mai.
Elephant sanctuaries take in abused or abandoned elephants to take care of them.
You will have the opportunity to help the staff feed and bathe the elephants in the river. No back riding here! Most of these shelters now observe certain ethical standards and try to recreate a natural environment as much as possible.
One of the most famous sanctuaries is the Elephant Nature Park. It was one of the first parks ever created to protect elephants.
Several agencies offer half-day or full day packages from Chiang Mai to visit a sanctuary and take care of the animals. They are all similar, only the location of the sanctuary is different depending on the agency.
Prices start around 1800 Bahts for half a day and can reach 2500 Bahts for a full day.
You can book your day trip at the best elephant sanctuary by clicking on the link below.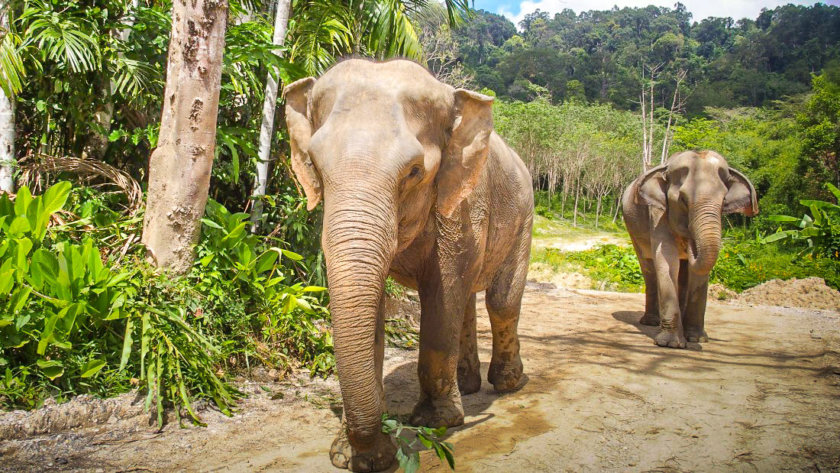 9. Go on a zip-line adventure
If you want to combine nature and adventure, ridding a zip line in Chiang Mai is an excellent idea.
And if you are visiting Chiang Mai with your family, it will allow your children to enjoy something else than temples or cities visits!
I recommend the Flight of the Gibbon park, located about an hour's drive from Chiang Mai.
It meets all the safety requirements (which isn't always the case with these kinds of activities in Thailand), the guides are super nice and the zip-line runs through the jungle. You may even be lucky enough to see some gibbons!
If you don't have a car, day trips are organized from Chiang Mai. The package includes transportation to and from your hotel, 3 hours spent in the park, lunch and a walk in the forest to see a waterfall. It's really a fun thing to do!
Just click on the link below to book: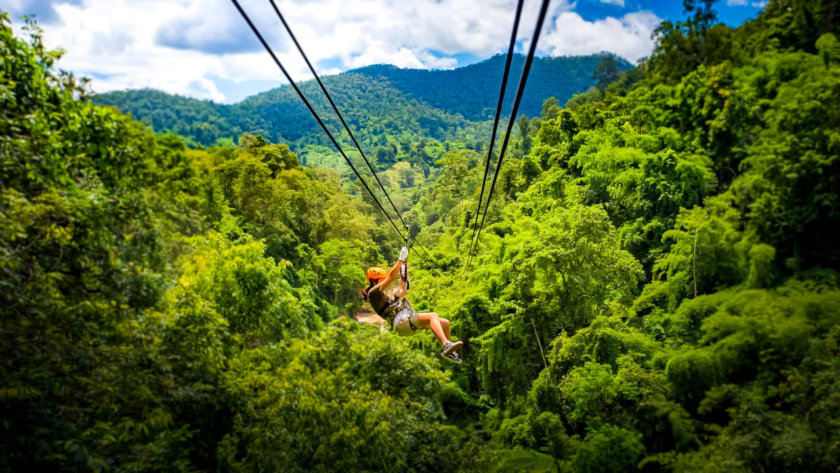 10. Other sports activities to do in Chiang Mai
If you are done visiting the main sights in the city and don't know what to do in Chiang Mai, you can try one of the many available sports activities.
You can choose between:
Mountain biking in Doi Suthep National Park: 3 trails are available. The price starts at 1,650 Bahts for 4 hours of cycling.
Climbing on the limestone cliffs of the Crazy Horse Buttress.
Rafting: A descent of about 10 km will cost 3,000 Bahts per person.
Driving an ATV in the Thai countryside. Starting at 2,200 Bahts for 3 hours.
Kayaking on the Mae Ping river. Starting at 1,750 Bahts for 4 hours.
Buggy in the jungle: 1 hour for 2,000 Bahts per person.
Most agencies also offer a combination of activities in the same day, such as driving an ATV and rafting or cycling and kayaking. These tours start at 3,000 Bahts, which can be cheaper than doing 2 separate activities.
Voyage Tips - Advice
In Thailand, never book activities with a random agency. Ask around to make sure it's reliable and if all safety precautions are taken during the activities. Every year, there are many accidents in Thailand caused by the lack of observance of safety standards.
To be sure to choose a safe agency, you should book your activities in advance. It isn't more expensive and you will be sure to use a reliable agency. Click on the link below to view all the activities in Chiang Mai: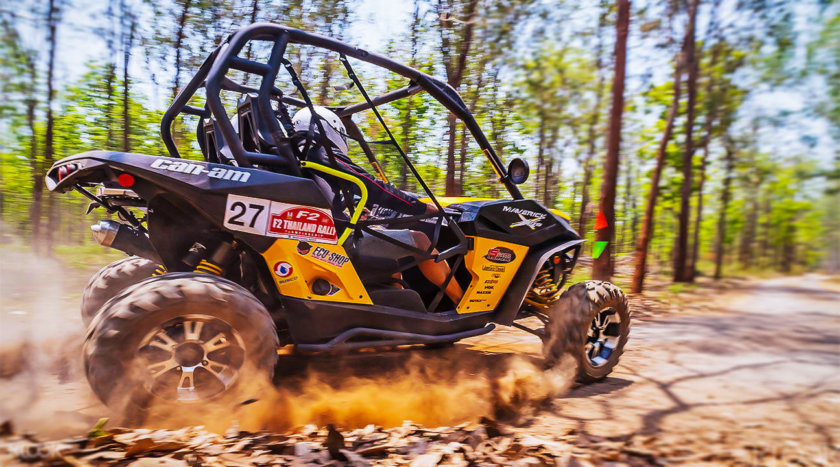 11. Hikking in Chiang Mai
Chiang Mai is also a popular destination to go hiking in the wilderness.
You can go on a day hike or a multiple-day adventure in the jungle of Northern Thailand. The best areas to hike around Chiang Mai are Chiang Dao, Mae Tang, Mae Wang or Doi Inthanon.
Hikes organized by agencies usually include an overnight stay with a mountain tribe, such as the Karen, Akha or Lahu, and a trip down the river in a bamboo raft. Many also offer a visit to an elephant camp (refuse those who offer a ride on their backs).
Prices for a 2-day tour begin at 3,500 Bahts per person.
The best time to go on a hike during your visit to Northern Thailand is from November to February.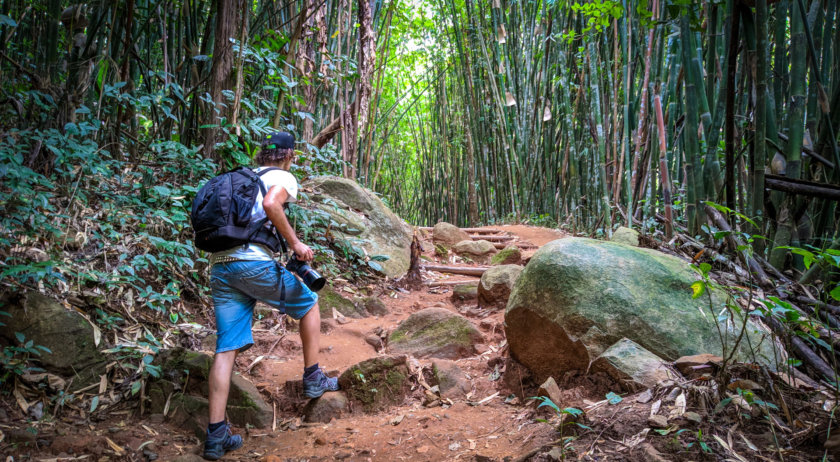 12. Chiang Mai Zoo
If you're interested in learning more about Thailand's animals, you can visit Chiang Mai Zoo, the largest in the country.
It's located at the foot of Doi Suthep, at the exit of the city.
You will be able to observe more than a hundred species (crocodiles, monkeys, hippopotamuses…) spread over 80 hectares. For those who don't want to walk, a shuttle bus allows you to explore the zoo without getting tired.
And if you are traveling to Chiang Mai with your kids, they will for sure be delighted to feed some of the animals!
The zoo also features special areas such as an aquarium, a snow dome and the pandas' house. The pair of pandas living there are the biggest stars of the zoo and some of the most popular animals among visitors. A supplement must be paid on top of the entrance fee to visit these 3 attractions.
A slight drawback is that you shouldn't expect a beautiful, well-maintained park like in Europe or North America. The standards are not the same and some areas may seem a little neglected. Besides, it's still a zoo, so animals don't always have all the space they need.
You can find more information on the official website for opening hours and admission fees.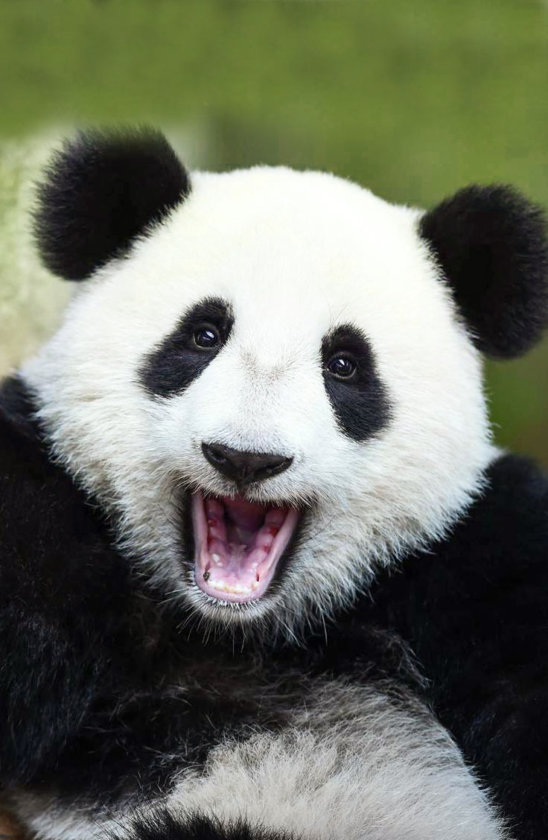 13. Chiang Mai festivals and celebrations
When you visit Chiang Mai, you might be lucky enough to be there during one of the festivals held in the city.
There are 3 main festivals – They all draw a lot of Thai people and tourists to the city:
The Songkran takes place every April and symbolizes the Thai New Year. The tradition is to spray water on everyone to celebrate it. Bottles, bucket, cans, or water pistols, you will need to choose your weapon! It lasts for an entire week, so if you visit the city at that time of the year, there is now way that you'll stay dry!
The Loi Krathong also known as the "lantern festival", where thousands of lanterns float in the sky and on the rivers. Takes place in November.
The Chiang Mai Flower Festival takes place every year during the first weekend of February. Dance performances, float parades and open-air concerts are organized for this event.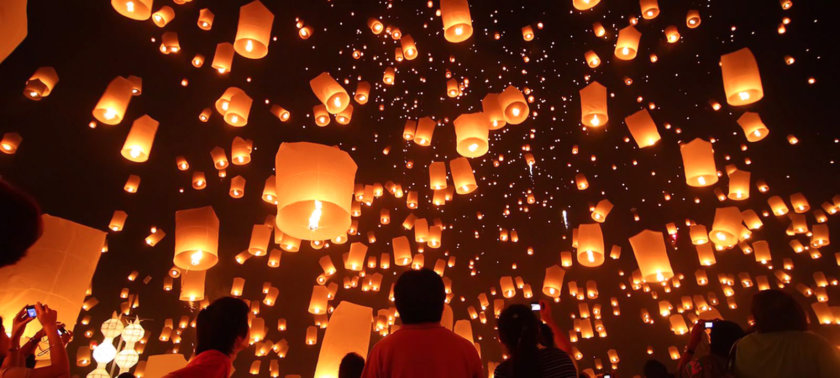 14. Watch a Muay Thai fight
This activity is becoming more and more popular in Chiang Mai.
Muay Thai fights are really impressive to see in person! This fighting technique originated from a military training method used by Thai soldiers and is now the national sport in Thailand.
The experience is worth it, even if you are not a big fan of violent sports. The atmosphere of the fights is amazing, with musicians and simulated combat demonstrations during the warm-up.
There are 3 places to watch a Muay Thai fights in Chiang Mai: Kalare Stadium, Thapae Boxing Stadium and Loi Kroh Stadium.
The entrance fee is between 400 and 600 Bahts.
Don't hesitate to ask your hotel staff for advice, they will be able to tell you where the fights are held according to the day of the week.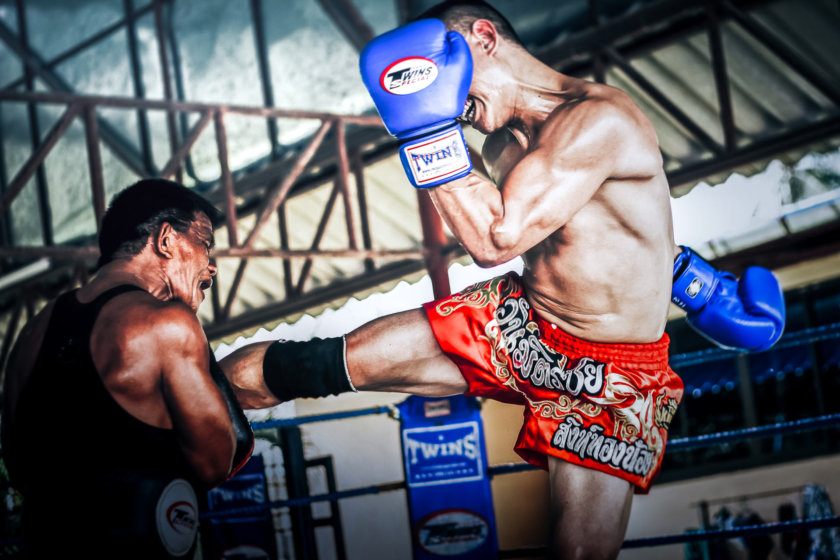 15. Enjoy a traditional Thai massage
After a long day spent visiting Chiang Mai on foot, nothing beats a traditional Thai massage to relax a bit!
You will find massage parlors all over the city, around temples and in the streets of the old town. Most hotels also offer massage services, and some of them have really nice spas.
It costs about 250 Bahts for a one hour foot massage and 500 Bahts for a full body massage. You should expect a special experience because you will be stretched in every direction and will probably leave feeling a little stiff. But don't worry, you will feel better a bit later!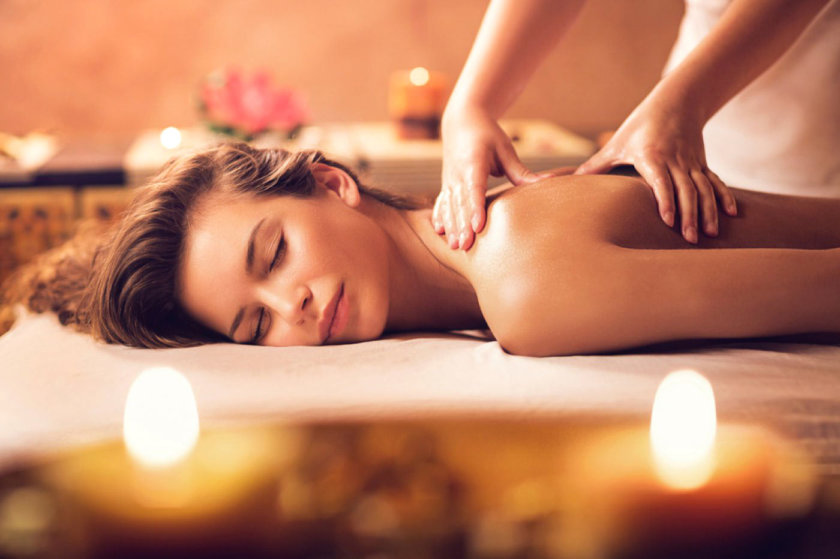 The 5 best Things to do Around Chiang Mai
If you've been in Chiang Mai for several days and have already visited all the attractions mentioned above, you should go explore the surroundings.
There are several places to visit nearby on day trips or short 2-day tours.
16. Doi Inthanon
Doi Inthanon National Park is located 80 km from Chiang Mai.
Doi Inthanon is the highest mountain in Thailand, reaching an altitude of 2,565 meters. You can easily go there by car and then take a short walk to reach the summit.
You will also be able to admire the waterfalls of Nam Tok Mae Klang and Nam Tok Wachirathan in the park.
You should also see the twin stupas, built in honor of the king and the queen, whose terraces offer a very nice view.
The easiest way to get to the Doi Inthanon if you don't have a car is to book a day trip from Chiang Mai. Hotel pick-up, transportation, guide, entrance fees and lunch are all included!
You can book it by clicking on the link below: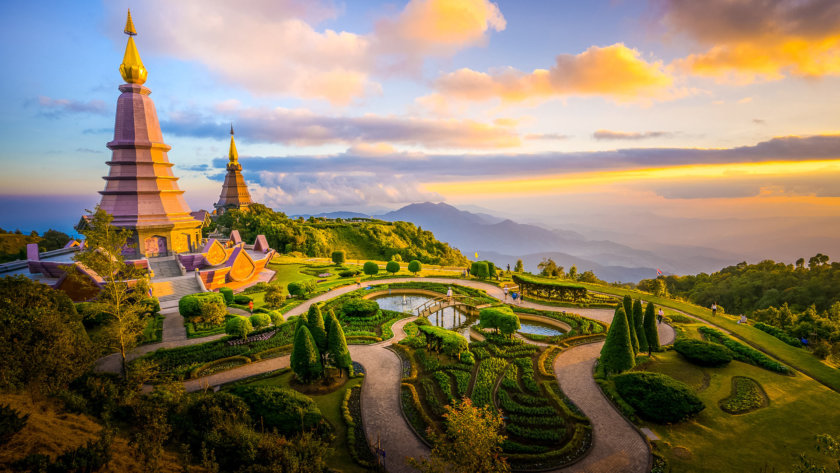 17. Hot springs
The best complement to a Thai massage is to try one of the hot springs around Chiang Mai.
The most famous are the hot springs of San Kamphaeng, about 40 km east of Chiang Mai.
You can soak your feet in a 40° water pool, in a beautifully landscaped garden.
However, the most popular activity there is to boil eggs where the water gushes out at over 100°. Small baskets with 3 eggs are sold at the hot springs for about 20 Bahts. You will see Thai people soaking them in water before eating them!
The entrance to the springs costs 100 Bahts and you will have to pay an extra 50 Bahts if you want to bathe in the mineral water pool.
This is an enjoyable and fun thing to do near Chiang Mai!
Voyage Tips - Advice
If you are looking for a relaxing moment, you should go to the springs during the week. On weekends, the site is packed with Thai families.
If you don't have a car to go to San Kamphaeng from Chiang Mai, you can take the songthaew (collective yellow taxi) at Warorot market. The trip takes 1 hour and costs 50 Bahts
.
18. Bua Thong Waterfall
Bua Thong waterfall is another beautiful natural site to visit near Chiang Mai.
It's located 70 km north of the city.
This waterfall is quite unique: the rock on which the water runs is sticky, allowing you to climb it bare foot! It is thus nicknamed the "sticky waterfall". A series of ropes help you climb the 3 levels of the waterfall.
Your kids will for sure love it if you're on a family trip in Chiang Mai! You should go to the waterfall during the week to enjoy it while it isn't too busy.
If you don't have a car to get there, you can take a collective minibus from the Chiang Mai bus station. The minibus will drop you off about 3 km from the waterfall.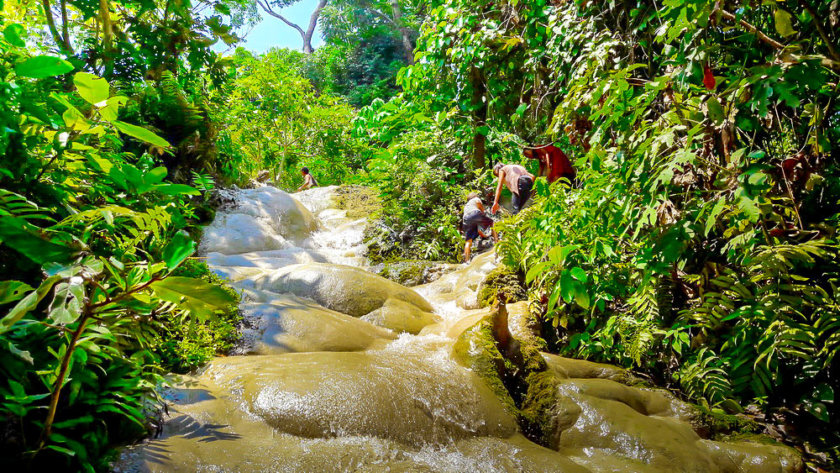 19. Mae Hong Son Province
From Chiang Mai, you can go on a road trip to Mae Hong Son province, 145 km away.
The landscapes are stunning and you will see many waterfalls, hot springs and temples in the area.
The most famous city of the province is Pai. This town is very popular among tourists for its hippie and bohemian atmosphere. It is also very lively at night!


20. Chiang Rai
Near Chiang Mai, you should also visit another city: Chiang Rai.
To be honest, it's not that close as it takes about 3 hours to drive the 200 km that separate both cities.
But it would be a shame to miss the main tourist attraction there: the famous White Temple. It's definitely one of the most beautiful buildings I visited during my stay in Northern Thailand!
Even if I saw pictures of it before, it was still very impressive to see the White Temple in person. The fine workmanship, the sculptures and the white color used everywhere create a wonderful overall effect.
You can also visit the Blue Temple, the Black House Museum and the Khun Korn Waterfall if you spend a few days in Chiang Rai.
If you are not afraid of the long drive, you can also visit the white temple from Chiang Mai as a day trip. You will be picked up from your hotel in a minivan and driven to Chiang Rai to visit the temple.
A trip to the hot springs, a visit to a museum and a long-tail boat ride on the river are also included!
Sure, it will be a long day, but it's the best solution if you don't want to drive or if you want to use your time efficiently.
You can book your day trip to the White Temple by clicking on the link below:
This excursion to Chiang Rai can also be booked as a private 2 day tour, which is the best option if you have enough time. This tour is simply amazing! You need to click there for more info and to book it:
Please read our full city review for more information: The 17 Best Things to do in Chiang Rai.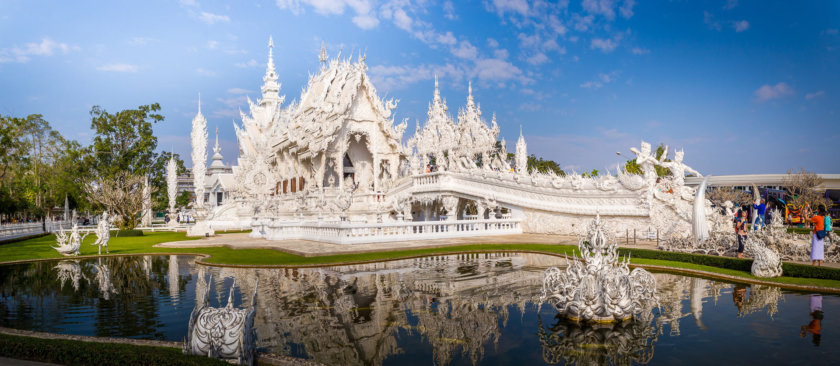 8 Best Things to do in Chiang Mai with kids
So, what are the best things to do in Chiang Mai with children?
In order to help you have a wonderful stay with your family, here is the list of the best places to visit and activities to do with your kids in Chiang Mai.
Have a picnic by the Huay Tung Tao Lake. Don't forget to take pictures with the giant straw animals! Both children and adults will love it! (see picture below 😋)
A family walk through the Saturday or Sunday Night Market, to stock up on souvenirs and enjoy street food.
The Art In Paradise Museum and its 3D decors
Visit Chiang Mai Zoo
Go for a relaxing day at the hot springs
Climb the sticky Bua Thong waterfall.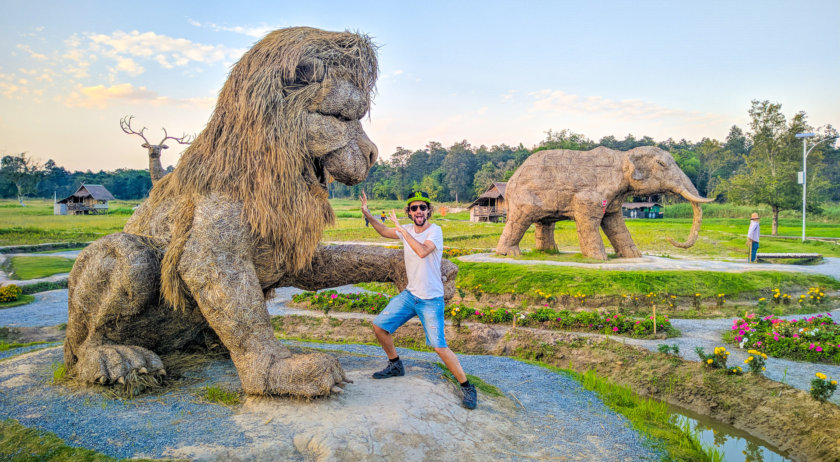 How many days to visit Chiang Mai?
I recommend planning at least 3 days to visit Chiang Mai and its surroundings.
The old town can easily be visited on foot in one day, but there are so many other activities to do that it would be a shame not to spend a few extra days in Chiang Mai to try them out!
1 day in Chiang Mai
If you only have a day to visit Chiang Mai, you should focus on the old town and visit the most famous temples and local markets.
Here's the program!
Visit Wat Phra Singh
Explore Wat Chedi Luang
Take a few pictures at Wat Inthakin Sadue Muang
See the the 3 Kings Monument
If you're interested, you can visit one of the 3 museums located on the monument square: the Cultural Center, the History Center or the Lanna Folklife Museum.
Head to Wat Chiang Man
Walk through Moon Muang Road and check out the many cafes, restaurants and the market.
Go through the alleys of Warorot market.
Visit the temples of Wat Saen Fang, Wat Buppharam and Wat Mahawan.
In the evening during the week, go to the Night Bazaar or if it's the weekend, go to the Saturday or Sunday Night Market.
2 days in Chiang Mai
If you have 2 days in Chiang Mai, use the previous itinerary and add:
A visit to Doi Suthep National Park.
In the afternoon, you will have 2 choices:

Chiang Mai Zoo, conveniently located at the foot of the Doi Suthep
A relaxing end of the day at Huay Tung Tao lake.

In the evening, you can go watch a traditional Muay Thai fight.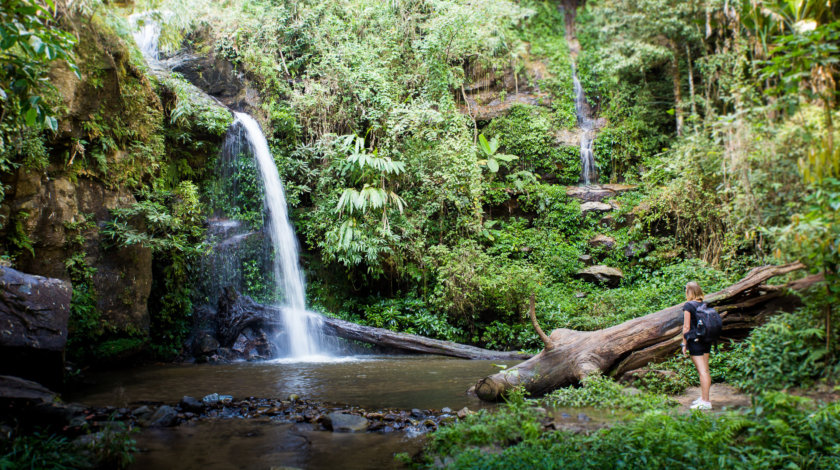 3 days in Chiang Mai
If you have 3 days in Chiang Mai, in addition to the 2 previous days, I would suggest you 3 options for the third day:
1. Stay in Chiang Mai for a quiet day. You can take a cooking class in the morning, walk around the city to see the Wat Si Suphan, visit a museum and end the day with a Thai massage.
2. Spend a day at an elephant sanctuary (best one here).
3. For the sporty type: try the zip line or another activity such as trekking, quad, biking or rafting.
4, 5 days in Chiang Mai (or even a week!)
You are planning to spend 4, 5 days in Chiang Mai, or even a week?
Then it's time to explore the surroundings!
1. Spend a day in the Doi Inthanon National Park.
2. Relax in the hot springs of San Khamphaeng.
3. Climb up the Bua Tong waterfall.
4. Go on a road trip to the Mae Hong Son province.
5. Organize a day trip to Chiang Rai to visit the White Temple. (or even better, opt for this amazing 2 days tour if you have the time!)
Where to stay in Chiang Mai
There are a lot of hotels for all budgets in Chiang Mai. However, the best ones are fully booked very quickly, so make sure to reserve your room as early as possible!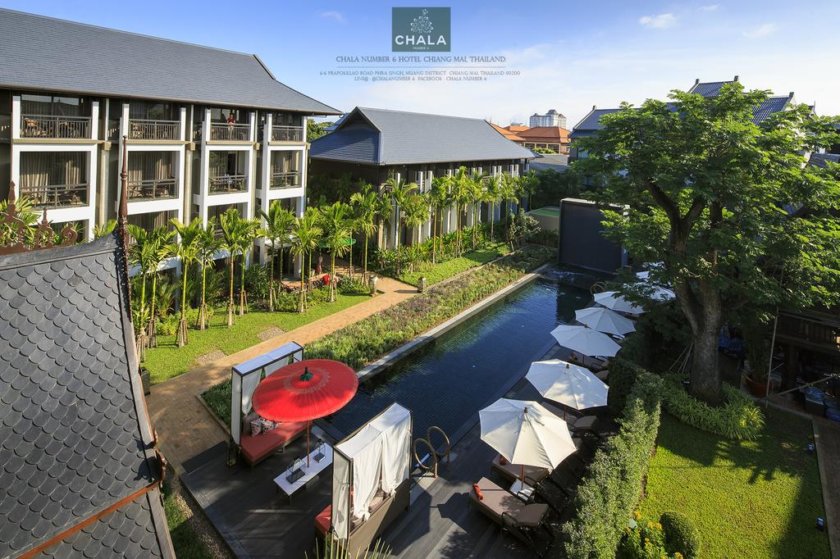 Where to eat in Chiang Mai?
I don't really have any specific restaurants to recommend in Chiang Mai.
As everywhere in Thailand, you will have plenty of options to eat great food! The old city is full of cafes, restaurants and bars. There are food stalls everywhere and you can also go to the market to buy whatever you want.
Basically, you can really eat anything at any time of the day and for cheap!
Be aware though that the restaurants in the old town are quite touristy and therefore a bit more expensive. If you're really looking for authentic and family-friendly places to eat, just get off the main streets and you'll have no trouble finding them.
If it makes you feel better, all the food I ate in Chiang Mai was really delicious, so don't be afraid to try everything! You should really try the sticky mango rice, a local dessert. It won't be really hard to find, it's sold everywhere in the city!
How to get around Chiang Mai?
Public transportation in Chiang Mai is not as developed as in Bangkok. There are no subways or bus lines. Taxis are very rare there, I hardly saw any during my stay in Chiang Mai.
As I mentioned in this guide, the best way to visit the old city is on foot!
But there are still a few other options to get around Chiang Mai:
There are collective taxis called "Songthaew", which look like minibuses. They have different colors (red or yellow) depending on where they go in the city. You just have to flag them down and tell the drivers where you want to go. They'll let you know if they're going that way or not.
Tuk-tuks are great for short distances, but the drivers have an annoying tendency to try to rip you off! Negotiate first and if you feel that the price is too high, try the next one.
Renting a car is still the best way not to waste time and explore the surrounding areas of Chiang Mai.
Renting a scooter can be a good option if you're not afraid of traffic, but it's a lot slower than by car if you go out of the city.
You can also hire a driver for the day if you really don't want to drive.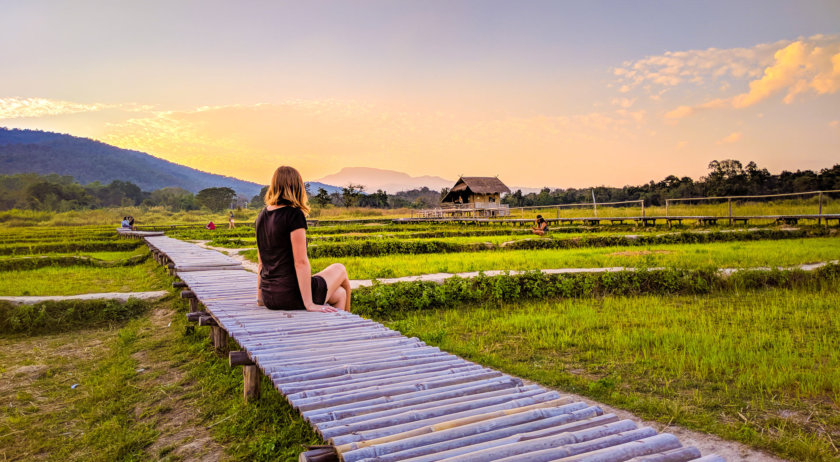 How to get to Chiang Mai?
You have several options to reach Chiang Mai:
By airplane
Chiang Mai has an international airport located 15 minutes away from the city center. Taking a flight is therefore the fastest way to get to Chiang Mai!
There are direct flights from many international cities.
You can also take a domestic flight from Bangkok (1 hour only!) or from other cities in Thailand such as Phuket or Krabi. Fares are inexpensive and it's a good way not to waste time.
Be sure to compare flight prices for Chiang Mai with our flight comparison tool a bit below.
By train
You can arrive at Chiang Mai train station from Bangkok and other neighboring countries such as Laos and Burma. Very convenient if you want to make a long road trip in Asia.
The easiest way to get to Chiang Mai from Bangkok by train is to take the night train, which takes about 12 hours. The prices are really low and you should book early, as this is a very popular way to travel!
By bus
You can also go to Chiang Mai by bus, from Bangkok for example.
The travel time is similar to the train (about 12 hours) and the prices are low too. Choose a VIP or super VIP bus as they have reclining seats and toilets for added comfort.
By car
Naturally, you can easily reach Chiang Mai by car. This is what I did during my stay in Thailand.
I went did the following trip: Bangkok – Ayutthaya – Sukhothai – Chiang Mai without any problem. The multi-lane highways are very well maintained!
Besides, Thai people drive very cautiously.
The other advantage of renting a car is that it makes it very convenient to visit the surroundings of Chiang Mai.
You can compare car rental prices in Thailand by clicking on the link below:
Thailand Tours
On Voyagetips.com, I give you all my best tips and itineraries to plan your trip to Thailand by yourself. (All my Thailand travel guides are here)

However, if you prefer to book a Thailand tour with a travel agency, I recommend you to check the 10 best Thailand tours by clicking the button below:
Traveling to Chiang Mai: flight prices
Flight prices to Thailand vary widely, so it is a good idea to compare them as soon as possible. To do this, you can use our flight comparator, in partnership with Skyscanner. It's the best way to pay the best price!
Tourist Map of Chiang Mai
To help you visualize where the best places to visit in Bangkok are located, I have made this tourist map of Chiang Mai, listing everything I talk about in this guide. You can display the map legend by clicking on the top left button, the one with the little arrow.

How about you? What do you plan to visit during your stay in Chiang Mai?
Book your trip now and save money!
Thailand travel Guides
You're traveling to Thailand? These articles will help you!
Discover all my articles about Thailand: All my articles to help you plan your trip to Thailand are listed there.
You're using Pinterest? Here is the picture to pin!