Greek islands: The best 10 days Itinerary in the Cyclades
You're planning to go 10 days in Greek islands? You're looking for the best Cyclades itinerary?
You're at the right place!
In order to help you plan your stay, I have prepared for you this 10 days itinerary in the Cyclades islands. During your 9, 10 or 11 days trip, you will visit some of the most beautiful Greek islands.
You will start by visiting the world famous Santorini island and then head to Amorgos and Naxos, 2 other islands of the Cyclades archipelago.
In this guide, in addition to the best things to do on each islands, I will also give you all my best tips and accommodation suggestions depending on your budget. You will see, organizing your trip will be super simple!

So, what's the best 10 days Greek islands hopping itinerary?
1) Santorini (3 days)
If you want to visit the Cyclades in 9-10 days, the best is to land directly in Santorini. There is an international airport on the island, so it's much faster to arrive directly rather than flying to Athens and then taking a ferry to Santorini.
During your 3 days stay in Santorini, if you want to visit the whole island, you will have to rent a car. The great thing is that all parking spaces are free on the island.
If you're thinking of taking the bus to discover Santorini, I wouldn't recommend it. They are really crowded, they often don't stop (as they are full!) and they don't go everywhere.
When renting your car, you should use Rentalcars.com website. It's my favorite website to rent a car, whether I'm in Greece, Sicily or even Canada!
With a single click, you can easily compare all rental cars agencies prices in Santorini's airport. Then you just have to choose the one that suits you best.
When booking a car, don't forget the Full Protection Insurance. It's the only way to get refunded in case of accident or theft. As the island is really busy and has a lot of narrow streets, it's highly recommended!
If you already have your travel dates for your 10 days Greek islands itinerary, you can book your car right now to get the best prices. It won't commit you to anything, as you can modify or cancel your booking for free.
As Santorini is a very touristic island, it's better to book your car as early as possible.
Just click the button below to compare car rental prices for 3 days in Santorini:
Now that you've got your car, it's time to start this 9-10 days trip in the Cyclades.
For your 1st day in Santorini, drive to Fira. Fira is one of the most typical Cycladic villages, with its white and blue houses, chic small shops and hotels with infinity pools.
When you visit Fira, you don't have to follow an itinerary: just wander in the alleys and enjoy the view of the Caldera!
The main walking street will take you to Firostefani and Imerovigli, the 2 adjacent villages. If you feel like hiking a bit, you can continue on the walking trail that goes from Imerovigli to Oia town. This 2 hours hike is clearly the most beautiful in Santorini.
If you don't feel like walking, you can also take back your car and drive to Oia.
Once in Oia, visit the village and its numerous small shops, bars and restaurant.
I really recommend you to stay there until sunset, as it's the best place to admire it in Santorini.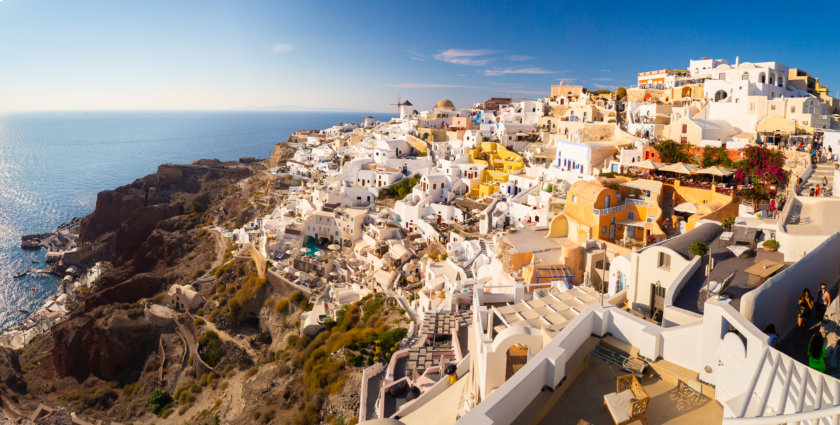 For your 2nd day, how about a boat trip around the island? It's one of the best things to do in Santorini.

During this cruise, you will have 3 stops:
The first one in Nea Kameni, an island close to Santorini where there is an active volcano. You will get some time to climb to the top of the crater!
Another at Palea Kameni hot springs, to go swimming.
Then you will go to Therasia, the island located right in front of Santorini.
As all tourists wants to do this cruise, you need to book it in advance. For more detailed information, just click the button below:
There is also a more romantic version of this tour. You will spend your day on a catamaran, and even watch the sunset over Santorini from the boat.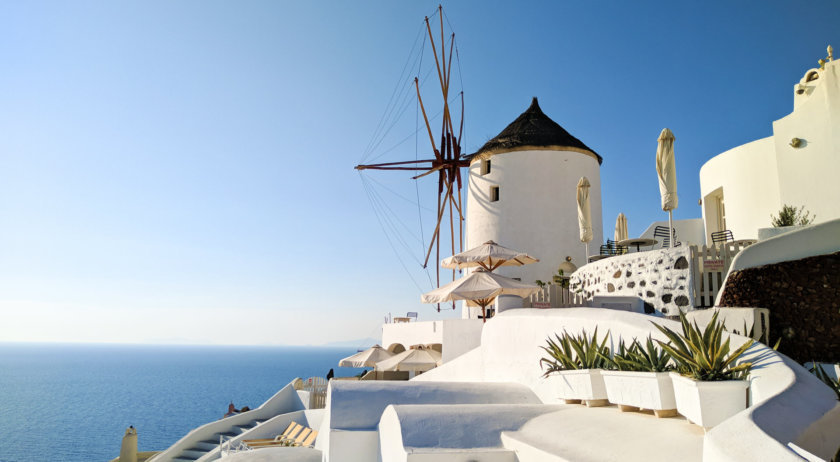 For your 3rd and last day in Santorini, you should do a road trip to explore the rest of the island.
Here are some of the best things to do:

Visit the other beautiful villages of the island: Pyrhos, Megalohori and Emporio.
Taste Santorini's best wines during an oenology tour in a small group. You can book it right here!
Discover 2 ancient sites, if you're an history lover: Akrotiri and the Ancient Thera.
End your day at the beach: the most famous are the Red Beach, Kamani and Perissa. For a quieter place, go to Monolithos beach!
Spend the night in Santorini, before taking the ferry the next morning.
If you want more information about the best things to do in Santorini, you should read my article: Visit Santorini: the definitive guide.
Voyage Tips - Advice
For your 3 days car rental in Santorini, drop your car off at the port, and not at the airport. It will be easier to continue to the next destination of this 10 days itinerary in the Greek Islands.
You can't take the ferry with a rental car. You have to rent another one on each island.
Where to stay in Santorini
You must know that staying in Santorini, especially in the villages of the caldera like Oia and Fira, is quite expensive.
If you want a less expensive accommodation, it's better to choose a hotel outside these 2 cities.
And of course, even more in Santorini than in any other place, book your hotels as early as possible!
To help you choose, I have made a selection of the best hotels in Santorini, depending on where you want to stay and your budget.
Best hotels in Oia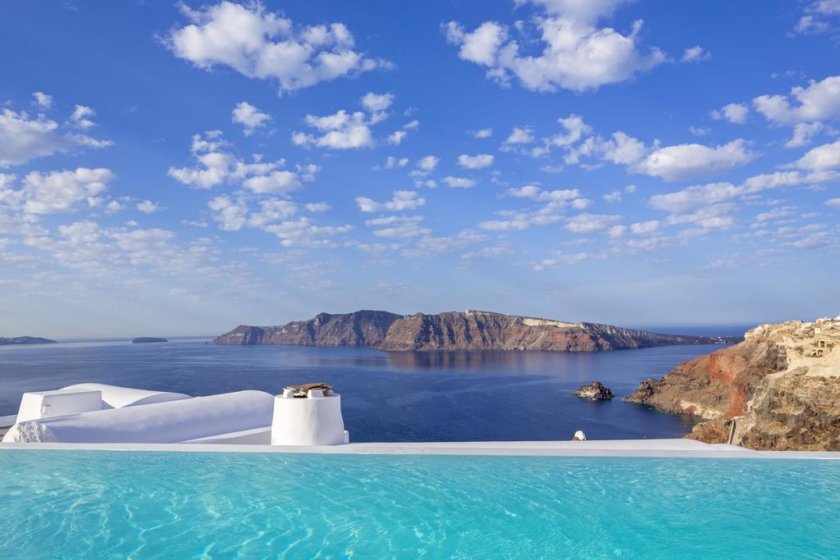 Best hotels in Fira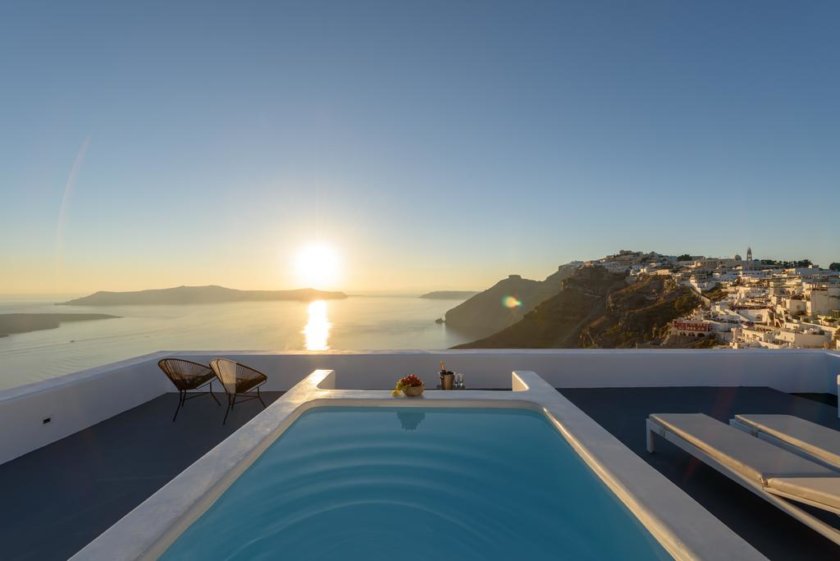 Other best places to stay in Santorini Island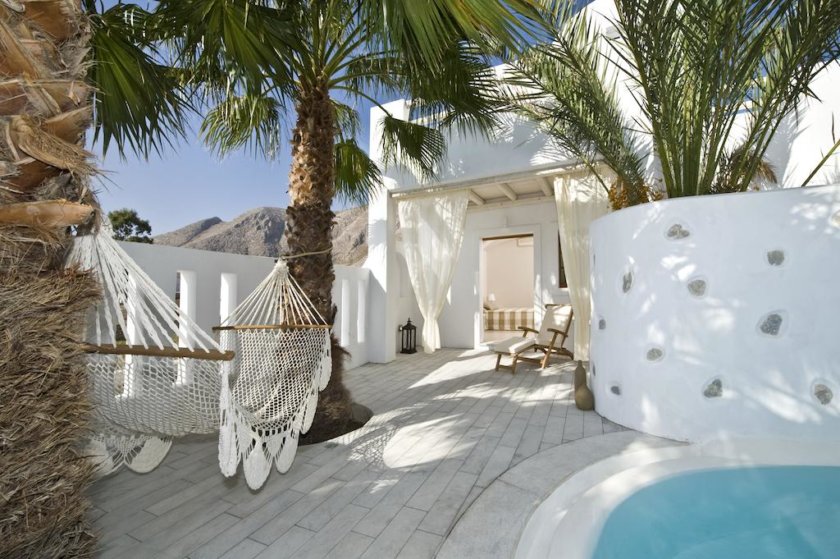 2) Amorgos (3 days)
For the next stage of your 9, 10 or 11 days itinerary in the Cyclades, let's discover the island of Amorgos.
From Santorini, the ferry will take you to Amorgos in less than an hour.
You will need to book your ferry tickets in advance. If you want more information about rates and schedules, you can click the button below. (You will need this website to plan your journeys to the next islands, so keep it in your bookmarks!)
When you will arrive in Amorgos, start by renting a car. You can't book it in advance using Rentalcars.com, as there are no affiliated car rental agencies yet. However, you can rent your car directly at the port. All the prices are similar.
For your 1st day in Amorgos, you can start with a walk in Katapola, the main port of the island.
Then, take your car and go to Hora, the capital. There, you can also go on a little stroll above the village to see the windmills. If you're hungry, try one of the typical taverns: you'll love the food and atmosphere!
After Hora, let's drive around Amorgos to visit some of the best points of interest. You will start with the Monastery of Panagia Hozoviotissa, built under a cliff and overlooking the sea. You can visit the inside of the Monastery, but you will need to be dressed properly! No worries however: if you don't have long pants or your shoulders aren't covered, you can borrow some clothes at the entrance.
Outside the Monastery, drive on the road down to the seaside. You will reach a parking lot and Agia Ana cove. If you're a fan of "The Big Blue" movie, you will recognize the place where the young Jacques Mayol dives. Don't miss the souvenir photo!
End your day at the Kalotaritissa Beach to go swimming. On the road getting there, you can stop to discover a ship wreck also seen in "The Big Blue".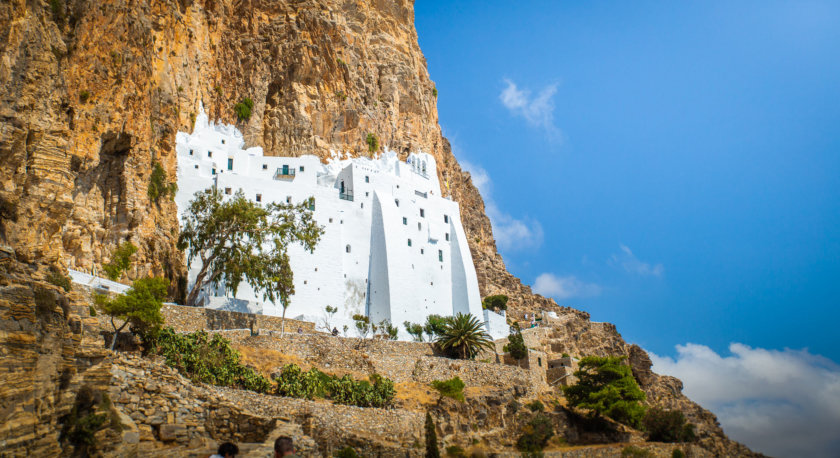 Amorgos is considered as one of the best islands in the Cyclades for hiking lovers. There are many marked trails, of various lengths and difficulty levels.
During the next 2 days of your 10 days trip in the Greek islands, just hike and discover the best of Amorgos.
If you want to know more about the trails and choose your itineraries, go on Amorgos' official website.
Most itineraries will include very nice beaches and coves to go swimming.
And for more information about Amorgos, you can read my article: The 8 best things to do in Amorgos.
Voyage Tips - Advice
When booking your ferry tickets to Amorgos, you should be aware that there are 2 ports on the island: Katapola and Aegiali.
You can arrive in one and leave from the other, but don't make a mistake the day of your departure! And when you rent your car, most car rental companies are charging an extra 10€ if you want to drop your car off in another place.
Where to stay in Amorgos
When you visit Amorgos, you can stay in one of the 2 main cities: Katapola and Aegiali. Choose between the 2 according to your port of departure!
Here is a selection of the best places to stay in Amorgos:
Best hotels in Katapola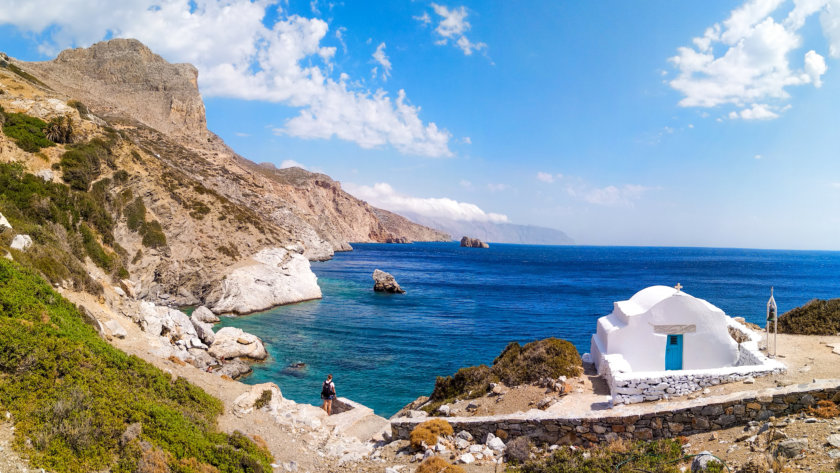 Best hotels in Aegiali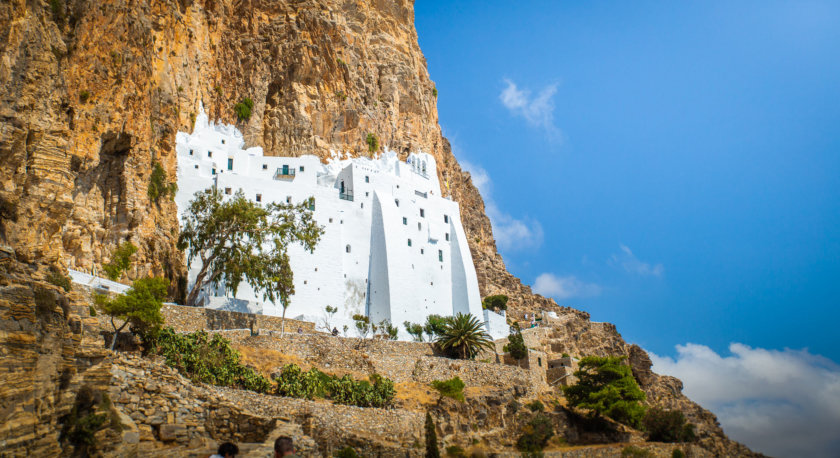 3) Naxos (3 days)
For the 3rd stage of your 9-10-11 days Cyclades itinerary, you will visit the island of Naxos.
From Amorgos, the ferry takes 1h15 to go to Naxos.
As usual, don't forget to book your tickets in advance:
You can also book your rental car for 3 days in Naxos. As Naxos is the biggest Cyclades island, you will definitely need a car to visit it.
Once you've got your car, let's continue this 10 days Greek islands itinerary. The first place you will visit is Hora, main city (and port) of the island.
Start your tour and discover Hora's most iconic landmark: the Portara. It's the only remain of a temple dedicated to the god Apollo. There, you will enjoy a magnificent view of the island and the surrounding mountains.
In Hora, you should also wander in Kastro district, with its typical Cycladic alleys and its many shops. And if you're looking for a restaurant or a café, there are plenty on the seaside!
After your walk and a copious lunch break, enjoy your afternoon and relax at one of the West Coast beaches.


The next day, continue your 10 days road trip in the Cyclades with the visit of the most famous mountain villages of Naxos:
Halki, where you will find many shops, and the only distillery making the local liquor: the Kitron. You can also walk 10 minutes to reach the church of Agios Giorgios Diasorites. Halki is located in the centre of Naxos.
Filoti, with its many taverns and restaurants, and a beautiful marble church. Close to the village, at "the Aria Spring", you can hike to the top of Mount Zeus, the highest point of the Cyclades. It takes 1h30 to reach the summit!
Apiranthos: a very small village. The road to get there is beautiful, you will for sure enjoy the beautiful panoramas of the sea and the mountains.
End your day around Moutsouna, on one of the East Coast beaches.
Spend another night in Naxos.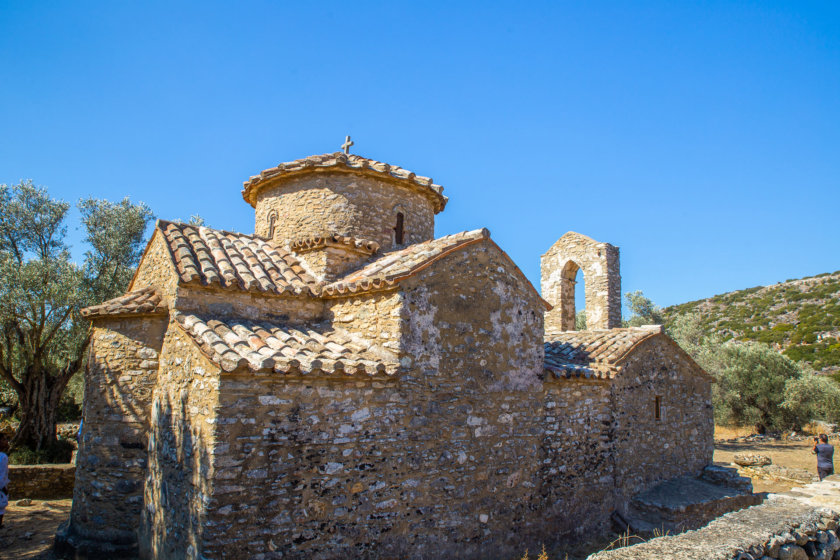 For your last day in Naxos, you can do a boat trip around Naxos.
This tour includes several stops to go swimming in really beautiful places like Rina Cave or Kalados Beach. From the sea, you will also get a glance at the Small Cyclades and Antiparos.
The 80€ price also includes soft drinks and snorkeling equipment.
If you don't feel like sailing, you can go to the beach and swim, walk a bit, or see one of Naxos' curiosities: the Kouros, big unfinished marble statues.
They are located in Apollonas (on the road, before you get to the village) and in Flerio.
Spend a last night in Naxos.
You will find all the practical details to visit Naxos in 3 days in my article: The 10 best things to do in Naxos.
Voyage Tips - Advice
 If you're an ice cream lover, you have to try the "Waffle House" in Naxos. You won't regret it!
Where to stay in Naxos
If you're going to visit Naxos, the best is to stay in Hora (the capital city) or its surroundings.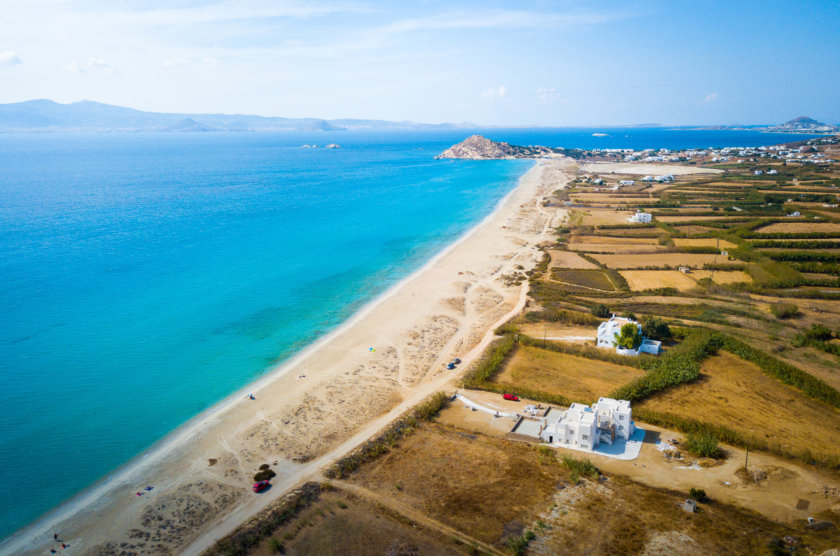 4) Return to Santorini (1 day)
Your 9-10 days Cyclades itinerary is already over!
From Naxos, take a ferry back to Santorini to take your return flight.
Voyage Tips - Advices
If you are having a 9 days holiday in the Cyclades, you can spend only 2 days in Amorgos or in Naxos.
And for a 11 days trip in the Greek islands, just add a day in one of the islands, depending on what you like the most!
7 Tips to plan your ferry trips in the Cyclades
The ferry is the only way to go from an island to another in the Cyclades.
You will find here 7 tips to help you plan your 10 days Greek islands itinerary:
There are many ferry companies. Depending on the journey time, the prices can vary from simple to double. The fastest boats are the most expensive!
The Seajet boats are the fastest, but also the smallest. In case of strong wind (and it's quite often), your trip can be really shaky. It wont be the best option if you are seasick, even if vomit bags are available during your crossing! 🤢
If you book your tickets in advance, you will get the best prices. You will also choose your time of departure, and even your seats sometimes. During peak season, it's the safest way to have a seat, as the boats are always full.
When booking your tickets online, you will get an e-mail confirmation. This confirmation can't be used as a ticket: you will have to exchange it for a real ticket at the company's desk, before your departure. Desks are available in every port of the Cyclades. Sometimes it can costs 50 cents or 1€ to get your ticket.
The ferries connections are regular between June and September, but there are fewer boats during the rest of the year. You have to plan your trip to Greece in advance, to organize your holidays depending on the ferries schedules.
All the ships are really comfortable, with a bar and a cafeteria.
The waiting lines for the ferries aren't well organized. To stay polite, it's kind of a big mess, as everyone in the crowd is waiting for a different boat. Check the arrival of every boat, to be sure you won't miss yours, and don't hesitate to ask the staff several times, especially in Santorini!
Now you know how to organize your Cyclades itinerary! If you have any questions about planning your 9, 10 or 11 days greek island trip, don't hesitate to ask me in the comments section.
Greece Tours
On Voyagetips.com, I give you all my best tips and itineraries to plan your trip to Greece by yourself. (Click here to read all my articles about Greece)

However, if you prefer to book a Greece tour with a travel agency, I recommend you to check the 10 best Greece tours by clicking the button below:
Renting a boat in the Cyclades
If you want to rent a boat for a nice day at sea during your itinerary in the Greek islands, you should book it with Samboat.
Motorboats, sailboats, yachts, small boats without a license, with or without a skipper: they simply have the most complete offer for boat rental.
So, what are you waiting for to book your boat trip in Greece? 😊
Book your trip now and save money!
Greece travel guides
You're traveling to Greece ? These articles will help you !
Discover all my articles about Greece: All my articles to help you plan your trip to Greece are listed there.
Cyclades (Greek islands)
Dodecanese
You're using Pinterest? Here is the picture to pin!