Itinerary: One week in Greece – What to do + Where to stay?
You want to go for a 1 week trip to Greece and you're looking for the best Itinerary?
You're at the right place!
In order to help you plan your stay, I have prepared this recommended Itinerary for a week in Greece. You will discover some of the best places to visit in the country!
In this itinerary, you will visit Athens, the capital as well as the world famous Santorini island located in the Cyclades archipelago.
A quick note: If you prefer to visit Central Greece (Athens and Peloponnese), you should read my other itinerary article: How to spend 6, 7 or 8 days in Central Greece?
For this itinerary, in addition to the best things to do and must-see attractions, I will also give you all my best tips as well as a list of the best accommodations depending on your budget.
So, what to do during one week in Greece?

1) Athens (3 days)
To visit Greece, the best is to directly land in Athens, the capital city.
It's very easy to visit Athens on foot, so you won't have to rent a car for your first 3 days in Greece!
To reach the city centre from the international airport, you have 4 options:
Take a taxi: it takes about 50 minutes and costs 40€ to reach the centre of Athens. Don't be afraid of the waiting line. It can seem impressive, but it's rather fast.
Take the Metro: the line 3 (the blue one) will allow you to avoid traffic jams on the road, especially during busy hours! You will reach the city centre in 45 minutes, for 8€.
The Bus: the line X95 goes to Syntagma Square in 1 hour, 24 hours a day. It's the cheapest solution to go to the centre, and it will cost you only 6€.
There is an other option: you can ask your hotel if they offer an airport shuttle service. They can wait for you at the airport when you will land, and take you directly to your hotel.
Let's start the visit of Athens with The Acropolis, the most iconic site of the captial. You can reach the Acropolis on foot or use the Metro, depending on your hotel location. The closest Metro Station is named "Acropoli", making it very easy to remember!
There, you will get a better understanding of the historical context and the construction of the Acropolis. In the Museum, you can also admire all the remains discovered on the site. And don't forget to end your visit at the top floor terrace, it offers an amazing view of the Acropolis.
As it's Athens' most popular museum, you should really buy your skip the line tickets here:
Now that you're immersed in Athens History, it's time to visit the Acropolis!
This UNESCO World Heritage Site is one of the most visited ancient sites in Greece. During your visit, you will admire its most famous monument: The Parthenon. It's the first building in the world that was entirely made of marble.
The propylaea, the monumental gateway to the site
The Erechtheion (or Erechtheum), where 6 young girls statues are used as columns.
The Temple of Athena Nike
The ancient Theatre
The Odeon of Herodes Atticus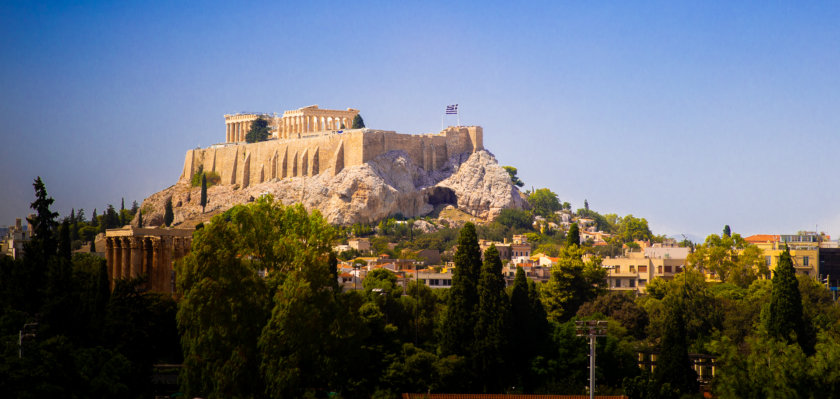 If you need to rest after this busy morning, how about a lunch break at one of the many restaurants in the area?
You can also try a typical Greek sandwich: the Gyros (there are 2 versions, chicken or pork). I must admit that Gyros and ice cream were my daily lunch during my tour in Greece! It might seem unhealthy, but it was compensated by the busy days 😋.
After that, continue your visit with a short walk in Plaka district, located at the foothill of the Acropolis. This picturesque district, with its neoclassical houses and Byzantine buildings, is one of the oldest of the city. As it's quite touristic, you will also find many souvenir shops there.

Then, continue your tour of Athens' historical sites with the Ancient Agora. Nowadays, the site is mostly in ruins, except for the restored Temple of Hephaestus.
In ancient Greece, the Agora was the cultural, political and social centre of the city. The museum, located within the site, displays the objects and statues found during the archaeological excavations.
After leaving the Agora, go to Monastiraki district. There, you'll find lots of small shops, with souvenirs, clothes or jewellery. It feels a bit like the Arabic souks!
To end this great day in Athens, climb to the top of Philopappos hill to watch the sunset over the Acropolis and the Parthenon.
And when the night comes, if you want to celebrate the beginning of your holidays in Greece, just go to Gazi neighborhood. It's the best place to have a drink, or even party all night in a night club!
Spend the night in Athens.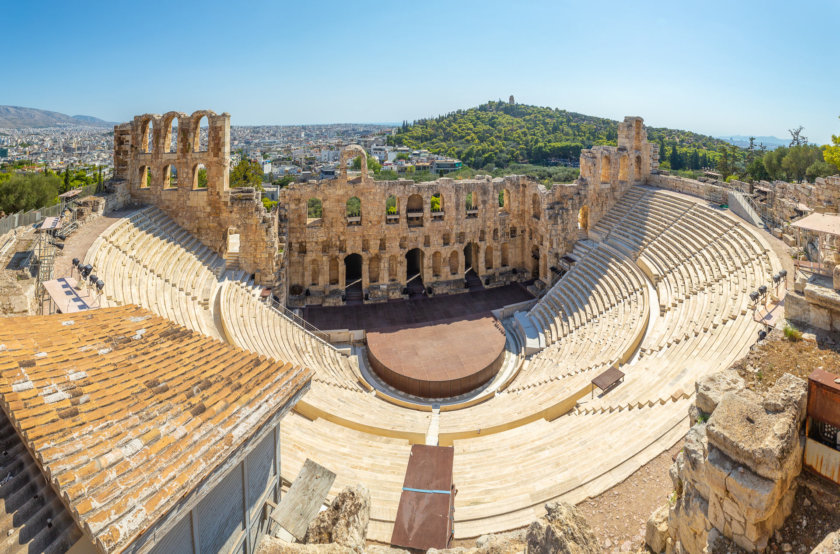 For this second day of your one week trip to Greece, let's continue this tour of Athens.
Your 1st visit of the day is the Panatheic Stadium or Kallimarmaro. It was built to host track-and-field competitions as well as chariot races. Gladiator fights were also organized! It was rebuilt in the 19th century to host the 1st Modern Olympic Games.
You can visit the Stadium for 5€, but you can also see it very well from the outside. If you don't want to pay, the best is to go to the public park near the stadium, it will allow you to go to the top of the bleachers for free. From there, the view on the Acropolis is breathtaking.
After that, make a short photo stop to see 2 other ancient sites, the Arch of Hadrian and the Temple of Olympian Zeus (visible from the outside). You will also enjoy a bit of greenery in the Zappeion Park and National Garden. If you are on a family trip with kids, they will be happy to enjoy the playgrounds.
Crossing the park will take you to Syntagma Square, Athens' main square. There, you will see the House of Parliament and the Changing of the Presidential Guard ceremony. It takes place every hour and allows you to admire the traditional uniforms of the guards (the Evzones) with skirts, tights and pompom shoes!
From Syntagma Square, head to Ermou Street, Athens' main commercial street. There, you'll find most of the big international brands. Prepare your credit card!
Then, visit the National Archaeological Museum of Athens, where you can admire many ancient objects discovered in Greece, from the Neolithic era to the Roman period.
End this day by going to Mount Lycabettus, one of the best places to admire the sunset in Athens. You'll have the choice between walking or riding the cable-car to go up there.

Spend another night in Athens.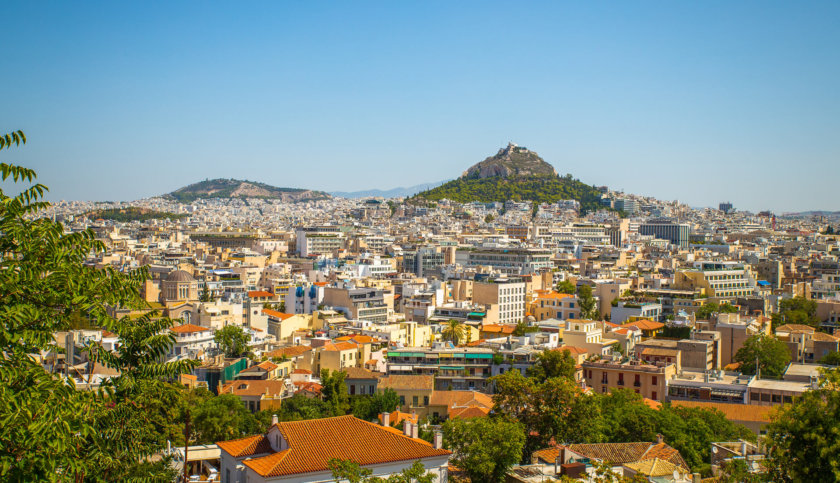 For the third day of your 1 week itinerary in Greece, You should visit Athens surroundings. There are some really nice day trips to do from Athens. You either can go to the beach, Cape Sounion, Peloponnese, Delphi or the Saronic Islands.
If you want to be independent, the best website to rent a car is Rentalcars.com.
And if you don't want to rent a car for just 1 day, you can also book a full-day trip from Athens.
My favorite place to visit is the ancient site of Delphi, located 2:30 drive from Athens. It's quite far from the city, but it's really worth it! On Mount Parnassus, you will discover the Temple of Apollo, where the oracle of Delphi, the Pythia, transmitted Apollo's directives from gods to humans.
You will also visit the theater, the stadium and enjoy a breathtaking view over the valley. Don't miss a visit to the Delphi Archaeological Museum either.
This Day Trip includes the transfer from Athens, all entrance fees, guide and lunch. All you have to do is get on the bus and enjoy the trip!
Click on the following button for more info about your trip to Delphi: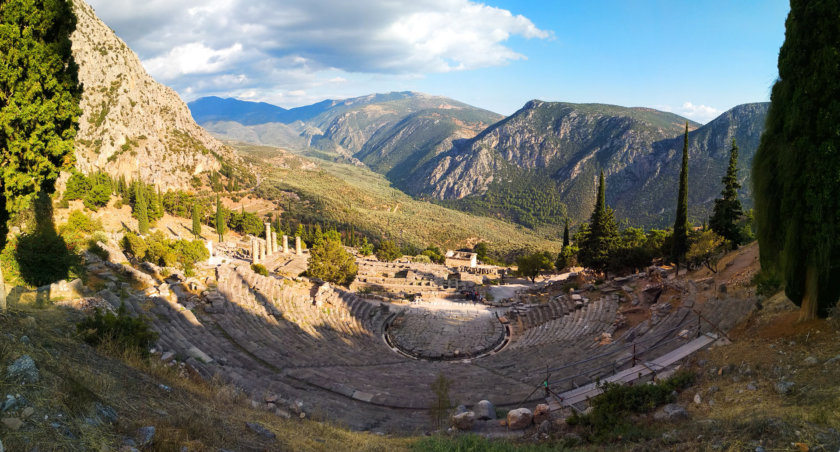 If you wish to stay closer to Athens, several other excursions are available:
From Athens – Visit the Temple of Poseidon and Cape Sounion:

During this Day Trip, you will go to Cape Sounion, located at the end of the Attic Peninsula. On the road, you will see the famous beaches of the Coast of Apollo. Then, you will visit the Temple of Poseidon. This temple is built on a hill, and the landscape around is breathtaking, especially at sunset!

From Athens – Visit the Saronic Islands: How about a full-day cruise to the Saronic Islands? There, you will visit the islands of Poros, Hydra and Aegina. The lunch is included.
From Athens – A full-day Mycenae and Epidaurus trip: This bus Day Trip starts with the archaeological site of Mycenae, that was once King Agamemnon's home. After that, you will make a stop in Nafplio to admire the Palamidi Fortress. You will end this trip discovering the Ancient Theatre of Epidaurus. Entrance fees, transfer, guide and lunch are included!
After this amazing day of visits, it will be time to spend one last night in Athens.
You can find all the best places to go and must-see attractions in Athens in my article: Visit Athens: the definitive guide.
Voyage Tips – Advice
If you wish to visit Athens' 6 most famous ancient sites such as:
The Ancient Agora
Hadrian's Library

The Temple of Olympian Zeus
The Roman Agora
The Aristotle's Lyceum
The Kerameikos.
You should buy the 30€ combined ticket. It's valid for 5 days, and it's a skip the line ticket .
To get this combined ticket, it's very simple, you just have to book it by clicking on the button below:
To make them most of your visit to Athens, you should opt for the Athens City Pass. It includes all the must-see attractions, such as:
The combined Acropolis ticket mentioned above
The Acropolis Museum entrance ticket
An audio guide for your visit to Athens
A 10% discount on all other attractions in Athens
To book it, simply click here:
And if you want to learn everything about the Acropolis History, the best is to opt for a guided visit (it's also a skip the line ticket).
The best guided tour in English is the one from GetyourGuide Originals. It's so great that they will give you a full refund if you don't enjoy your time!
To book it, you just have to click on the button below:
Where to stay in Athens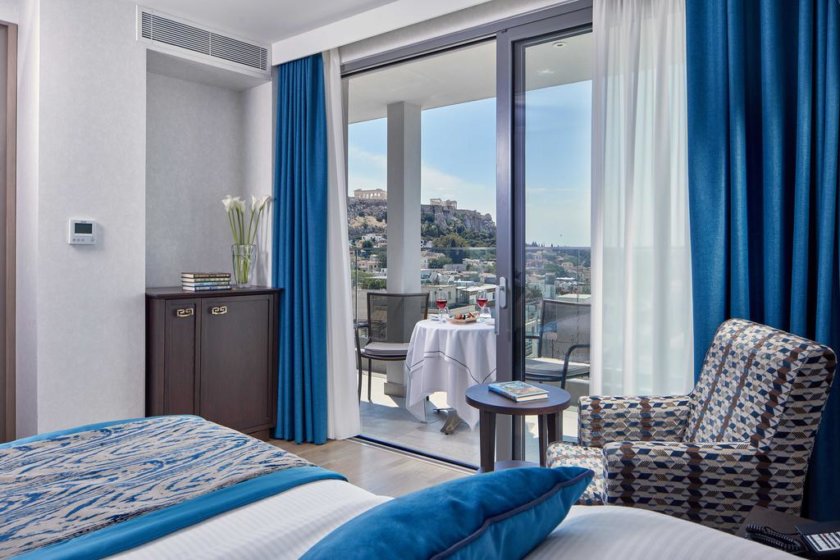 2) Santorini (3 days)
For the 2nd part of your one-week trip to Greece, how about a complete change of scenery? Let's go to Santorini, in the Cyclades!
You can go to Santorini from Athens by boat or by plane.
In my opinion, the best is to take the plane: it's not necessarily more expensive than the boat, and you will not be wasting a whole day for the transfer. For a one-week itinerary, I think it's by far the best choice.
Now that you're in Santorini, I will give you the best itinerary and tips to visit the most famous and romantic island of the Cyclades.
First of all, if you wish to visit Santorini in 3 days, you really should rent a car. Take a look at Rentalcars.com to compare car rental prices and choose the one that suits your needs.

I recommend you to get an insurance that will cover your car in case of damages or accident. Rentalcars.com offers the "Full Protection Insurance", which is very effective (they refunded me more than 1200 euros to date).
It can be really useful in Santorini, as the streets and the parking lots are often narrow and some people aren't very careful, so a scratch or bump that will cost you a few hundreds euros can happen very quickly.
Once you've got your car, let's go to one of Santorini's most famous villages: Fira.
Located on the edge of the caldera, Fira feels like a postcard landscape. There, you'll discover pretty white and blue houses, luxury hotels with infinity pools and premium shops. You just have to walk down its narrow alleys to enjoy splendid views.
From Fira, a walk takes you to 2 other adjacent villages located on top of the caldera: Firostefani and Imerovigli, the caldera's highest point.
After your lunch break, how about a hike on Santorini's most beautiful walking trail? Starting from Fira, this trail goes to Oia town. You've already done a small part of it from Fira to Imerovigli!
Follow the path along the Caldera to reach Oia. Don't forget the photo stops: you'll enjoy wonderful views and you will never get tired of looking at those landscapes!
And if you don't feel like walking, you can take your car to drive directly to Oia.
Once in Oia, you'll enjoy walking in the typical alleys of Santorini's other most visited village.
And at the end of the day, 1 hour before sunset, pick a good spot admire it. Don't leave your spot: thousands of tourists (including you!) are coming to enjoy the most famous show in Santorini.
Spend the night in Santorini.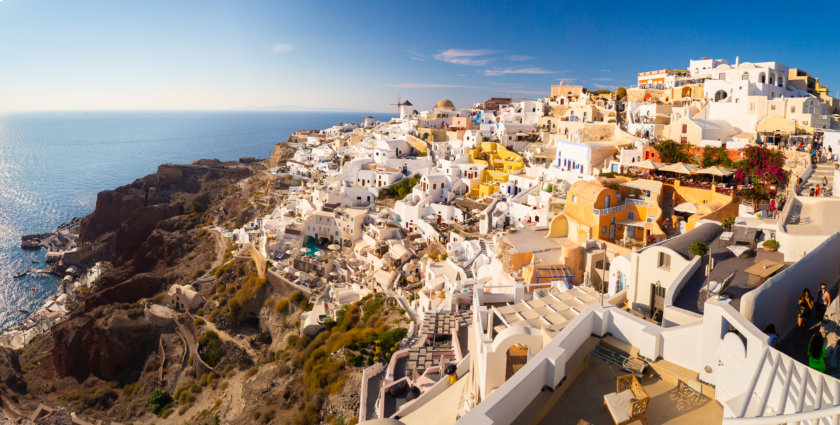 Let's continue this one-week in Greece itinerary with your 2nd day in Santorini.
Cruises are among the island's most popular tourist attractions. So, how about a boat trip to visit the surroundings of Santorini? The classic one-day cruise includes 3 stops:
Nea Kameni island, with its still active volcano. You can even climb to the top of the crater.
Palea Kameni Hot Springs, a must do swim!
The island of Therasia, located in front of Santorini.
This 39€ per person tour includes a transfer from and to your hotel, audio commentaries, the cruise and the 3 stops.
Those one-day boat tours are very popular. You must book it in advance, especially during high season! You can book your tour directly here by clicking the button below.
You can also book a more luxurious cruises. There, you will sail on a catamaran, and have 3 different stops (including the Hot Springs) to go swimming.
Snorkeling equipment, a full barbecue lunch and unlimited soft drinks are included.
You will also have the opportunity to watch the sunset over Santorini from the sea!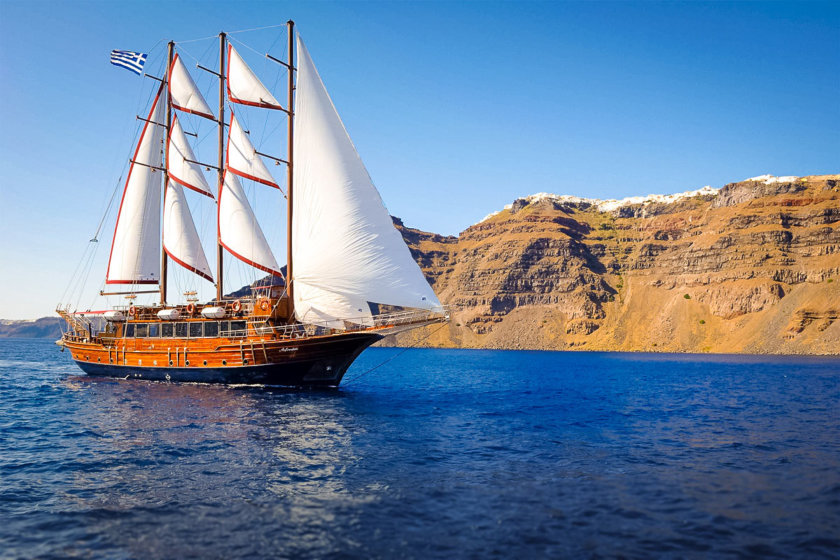 For your last day in Santorini, you should do a road-trip on the island, to discover other nice places.
Santorini is not just Fira and Oia. There's so much more to discover! You just have to take your car and explore the island.
You can visit the picturesque villages of Pyrgos, Megalochori and Emporio.
If you are interested in Santorini's History, visit the ancient site of Akrotiri. This ancient Minoan city was destroyed by an eruption, like Pompeii, in Italy. The only difference is that Akrotiri was uninhabited when it happened.
The Ancient Thera is another archaeological site of Santorini that's also worth visiting. There, you'll also enjoy a magnificent view from the hill of Mesa Vouno.
Wine enthusiasts are aware that Santorini also produces excellent white wines and that there are some vineyards on the island. So if you wish, you can also book a wine tour. During 5 hours, you will visit the vineyards, and of course, taste some wines! Wine tours are a great opportunity to taste a dozen of Santorini's best wines.
These wine tours are very convenient: they will come and pick you up at your hotel. During the tour, you will have an Oenologist guide as well as the explanations of the winemakers. Another strong point is that you will be in a small group of 8 people maximum.
Then, you can end your day on one of Santorini's best beaches!
The most famous and popular beaches are Khamari and Perissa, with its volcanic black sand. The Red Beach, surrounded by high ocre cliffs is also quite famous. There, you can rent deckchairs and beach umbrellas.
If you are spending one-week in Greece with your family, then you will enjoy Monolithos beach. The shallow water makes it an ideal place to play with children!
Spend a last night in Santorini
The next day, it will be time to take your return flight or the boat. Santorini has an international airport, so you can either go home directly from here, or take  a connecting flight in Athens.
For more details about the best things to do in Santorini, you can read my article: Visit Santorini: The definitive guide.
Where to stay in Santorini
You must know that staying in Santorini, especially in the villages of the caldera like Oia and Fira, is quite expensive.
If you want a less expensive accommodation, it's better to choose a hotel outside these 2 cities.
And of course, even more in Santorini than in any other place, book your hotels as early as possible!
To help you choose, I have made a selection of the best hotels in Santorini, depending on where you want to stay and your budget.
Best hotels in Oia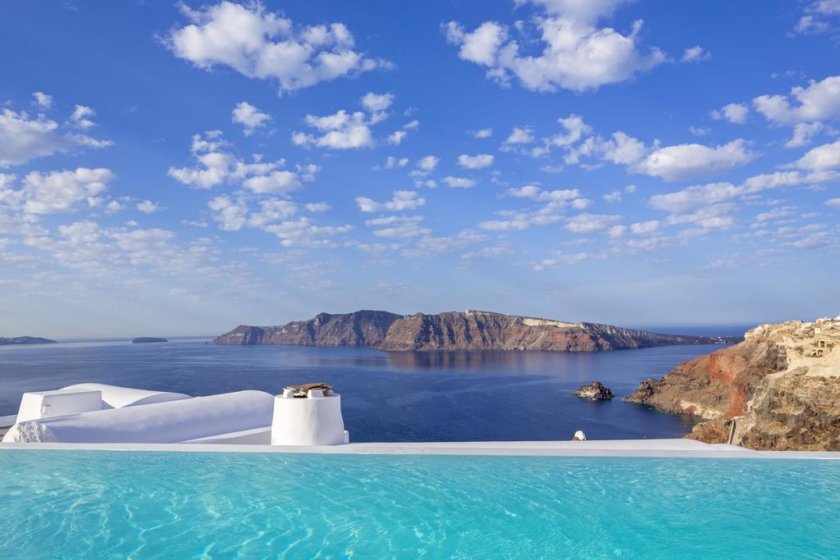 Best hotels in Fira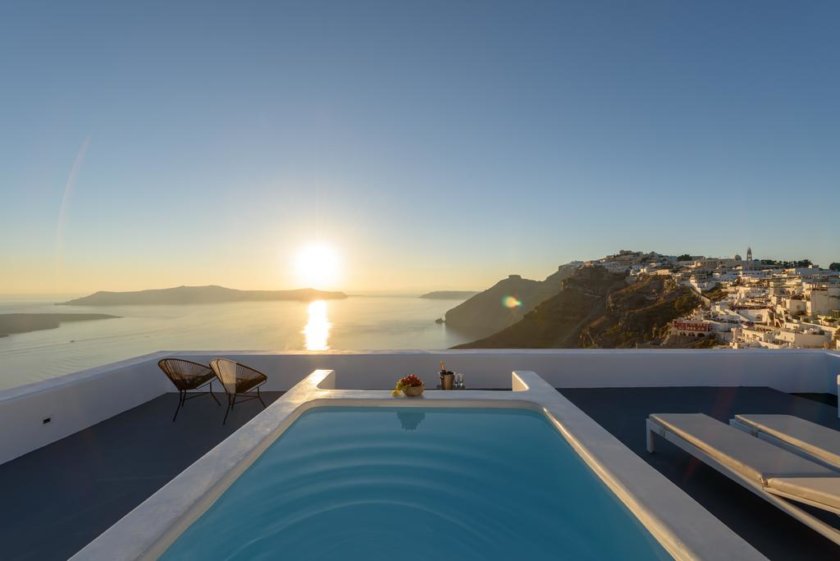 Other best places to stay in Santorini Island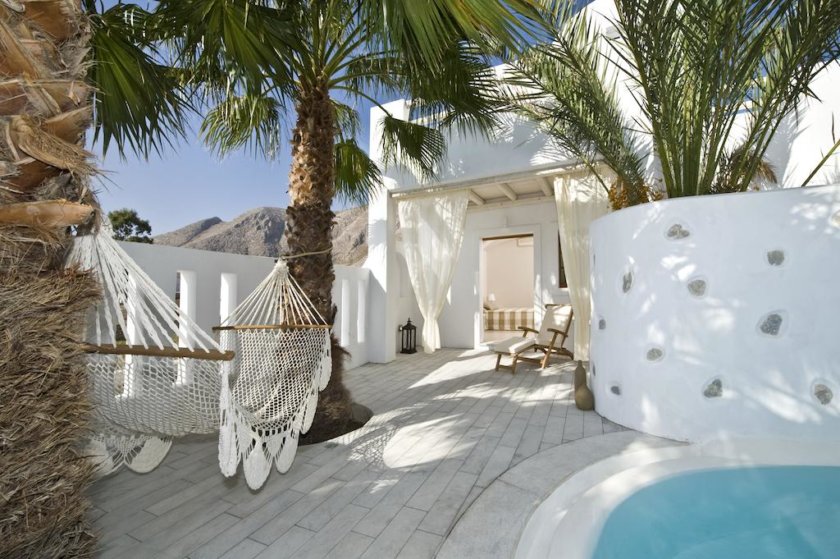 Greece Tours
On Voyagetips.com, I give you all my best tips and itineraries to plan your trip to Greece by yourself. (Click here to read all my articles about Greece)

However, if you prefer to book a Greece tour with a travel agency, I recommend you to check the 10 best Greece tours by clicking the button below:
Renting a boat in Greece
If you want to rent a boat for a nice day at sea during your trip to Greece, you should book it with Samboat.
Motorboats, sailboats, yachts, small boats without a license, with or without a skipper: they simply have the most complete offer for boat rental.
So, what are you waiting for to book your boat trip in Greece? 😊
If you need help to plan your one week itinerary in Greece, don't hesitate to ask me your questions in the comments.

Book your trip now and save money!
Greece travel guides
You're traveling to Greece ? These articles will help you!
Discover all my articles about Greece: All my articles to help you plan your trip to Greece are listed there
Cyclades (Greek islands)
Dodecanese
You're using Pinterest? Here is the picture to pin!