Things to Do in Tinos: The 10 Best Places to Visit (All Highlights)
You're going to visit Tinos during your next trip to Greece? You want to know everything about the best things to do in Tinos?
You're at the right place!
Visiting Tinos, in the Cyclades, is discovering a quiet and authentic Greek island, still protected from mass tourism. It's located only 20 minutes by boat from Mykonos, its chic and trendy neighbour.
In order to help you plan your stay, I have prepared for you this guide of the 10 best places to visit in Tinos, with all points of interest and must-see attractions.
In addition to this list of things to do and activities, I will also give you itineraries to visit Tinos in 1, 2 days or more . And if you're wondering about where to stay in Tinos, you will find my selection of the best accommodations depending on your budget at the end of the article.

And as always, this travel guide contains all my best tips to make the most of your stay.
So, what to do in Tinos? Where to stay?
Visit Tinos: the 10 Must-See attractions
1. Tinos
The city of Tinos, also named Hora, is the first place you will see when arriving on the island.
If you take the ferry from Athens or from another Greek Island, you'll arrive in Tinos, the island's main port. Right next to the docks, go on your right and follow the seaside (on foot or by car) to reach the city centre. You will find many restaurants, cafés and taverns on Tinos' waterfront and inside the city.
Tinos is mostly renowned for being a major tourist and religious site for Orthodox Greeks. Every year, thousands of pilgrims are coming to the island for the Assumption of the Virgin Mary. During this pilgrimage, people are walking on their knees up to the Church of Panagia Evangelistria.
This church is the most important pilgrimage site for Orthodox Greeks as well as Tinos' emblematic monument.
In 1823, a very valuable icon of the Virgin Mary was found by Sister Pelagia, a nun. She had a vision: the Virgin Mary herself appeared in a dream, showing her the icon's location. This icon has quickly been renowned for its miraculous and curative virtues, and the church was built to honour it.
Even if you're not much into religion, the church is still worth a visit. Located above Tinos, this neoclassical building is really impressive, with its vast esplanade made entirely of white marble. When wandering on the main street (Megalochari Street), you will find many shops selling religious articles and candles.
You can visit the inside for free, and admire the icon covered in gemstones. If you want to enter, you must wear long pants (or skirts for women) and cover your shoulders.
In Tinos town, you can also visit the Archaeological Museum and admire its collection of sculptures found in the Sanctuary of Poseidon and Amphitrite, located North of Hora.
Voyage Tips - Advice
If you're not interested in religious tourism, you should avoid visiting Tinos during the Assumption of the Virgin Mary (the 15th of August) or Greek Easter (the 25th of March). During these holidays, the island is full of pilgrims, and it's nearly impossible to find a place to stay!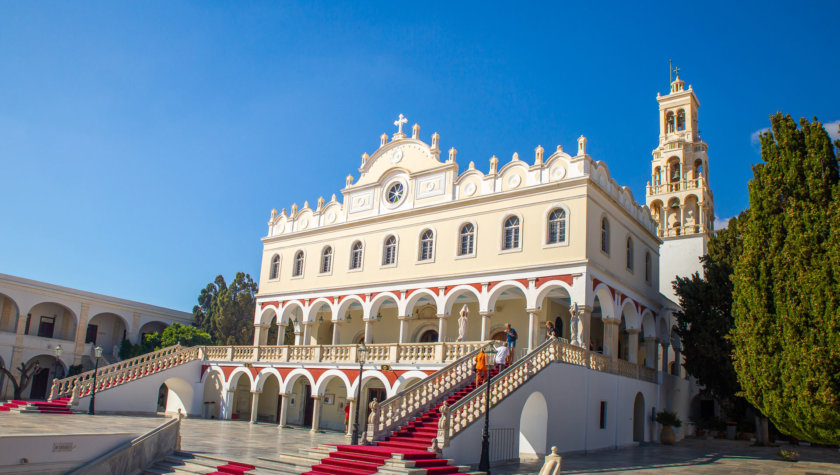 2. Volax
You're looking for the best places to see in Tinos? Then you should definitely visit Volax.

This village surrounded by hills is located 6 km away from Hora. Volax is especially famous for the unique landscape surrounding the village: many round granite rocks, of all size and shapes are laying in the valley! A few centuries ago, people used to believe these rocks came from a meteor shower. In fact, a very uncommon geological phenomenon created this magnificent scenery.
Even if Volax is a very small village, you will find here several shops and taverns. As the place is famous for basketry, you can take some time to admire the basket weavers at work. There is also a small outdoor theatre.


3. Pyrgos
Located 24 km North East of Hora, Pyrgos is one of the island's biggest and most beautiful villages. It's clearly a must-see attraction in Tinos!
Pyrgos is famous for its marble. During your visit, you will find marble everywhere: in the streets, on the houses, door frames, fountains, churches and even the cemetery! The village's main square is also very beautiful.
Many famous sculptors came to Pyrgos, attracted by the quality marble and skilled craftsmen. In Pyrgos, there is also a Sculpture School, renowned all over the world.
Don't miss a visit to the museum located in the birthplace of Yannoulis Halepas, one of Greece's most famous neoclassical sculptors. It's located at the village's main entrance.
And if you want to know more about the marble's extracting and sculpture techniques, you should also visit the Museum of Marble Crafts. The museum is open everyday from 10 a.m, except on Tuesdays.
Voyage Tips - Advice
You're going to Tinos?
You probably know it: the hardest part of planning your trip is to find an hotel offering a good value for money!
The closer you get to your travel dates, the harder it will be to get a good deal. Lots of people will be visiting Tinos on the same dates as you, so you can be sure that the best deals are booked extremely quickly!
Hopefully, there is a pretty simple solution to this problem: do like me and book your hotel as early as possible!
So, my best advice is to take 5 minutes (now) to have a look at the list of travelers' favorite hotels in Tinos.
And if you see a good offer, book it!
Most hotels offer free cancellation, so it's quick, easy, and you will avoid the the inconvenience of finding nothing but mediocre rooms at exorbitant prices.
To check the current best deals for your hotel in Tinos, simply click on the green button below 😎:
Once you've booked your hotel, it will be time to continue reading this guide and find out more about the best things to do in Tinos!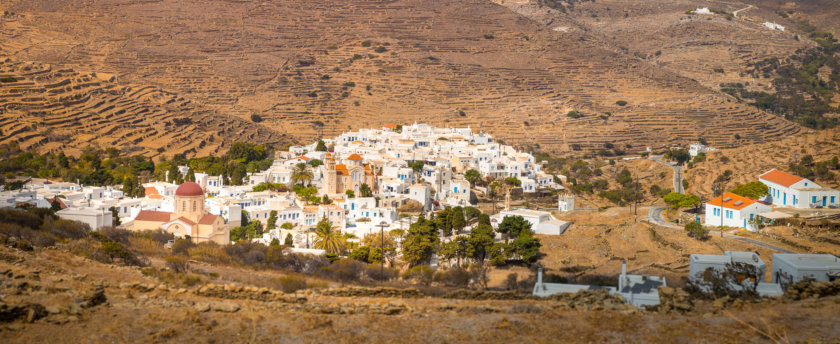 4. Panormos
Panormos is another place you should visit in Tinos. It's located 30 km North of Hora.
You will love this charming and picturesque port and its many restaurants and taverns where you can eat great fresh fish. There is also a small shaded sand beach, with a nice view of the island facing the village.
And if you want to enjoy very beautiful wild beaches and coves, you can take walk from Panormos and reach:
Rohari Beach (in the South)
Agia Thalassa and Kavalargos (in the North)
These beaches are perfect if you want to enjoy the calm!


5. Kardiani and Isternia
Let's continue this Tinos travel guide with 2 of the island's main points of interest.
Kardiani and Isternia are respectively 17 and 20 km away from Hora. You can't miss these 2 villages, as they are on the main road connecting Hora to the North of the island. When driving on this road, you will enjoy many splendid views over Yiannaki Bay and its beaches.
Kardiani is located on the mountainside and is probably Tinos' greenest and most picturesque village. As it's built on cliffsides, you will have get up and down quite a few stairs to discover it. It's clearly worth the small effort: you will be rewarded by the breathtaking view of the Aegean Sea.
Take some time to admire the village's 2 beautiful churches. Then, you can walk down to the beach on a superb trail.
Isternia is quite similar to Kardiani. From there, you will also enjoy a magnificent view over the sea!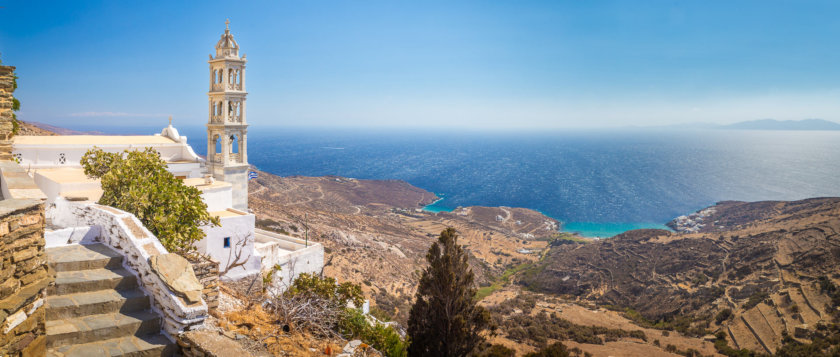 6. Tarambados
In Tinos, you will also find many dovecotes. I'm not kidding, it's really one of the island's must-see attractions!
Tinos is renowned for its hundreds of dovecotes that became one of the island's landmarks.
These dovecotes aren't just simple wooden buildings. They were built like true works of art by the inhabitants of Tinos. I must say that they're quite pretty and picturesque, with their ornate and well-decorated facades.
The most beautiful and well-preserved dovecotes are located near Tarambados village, 7 km away from Hora. Back in the days of the Venetians and the Turks, owning a dovecote was a symbol of wealth and power. Every Tinos' family wanted their own! That's why you will find so many on the island.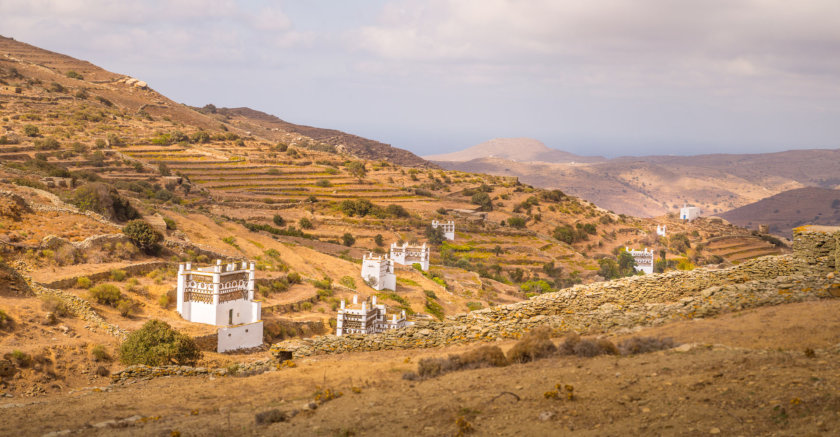 7. Tinos beaches
You're wondering what are the best places in Tinos if you want to take a dip?
Here is a list of Tinos' best beaches:
Agios Sostis, a very large beach, where you can rent deckchairs and umbrellas. There are also hotels and restaurants.
Agios Markos, a mostly private beach with deckchairs
Agios Romanos for its calm!
Agios Fokas, one of Tinos' most famous beaches, as it's located right next to Hora
Pachia Ammos, facing Mykonos
Kionia, a very large sand beach. It's perfect if you travel with children as there is a water playground.
Isternia, a small beach sheltered from the wind.
Kolimbithra (or Kolimvithra), a bay with 2 sand beaches.
Santa Margarita, a very wild beach, as it is only accessible on foot!
Kalivia, a long sand beach. There is a bar, but the place is still quite wild.
Livada, a pebble beach, with huge rocks shaped by the wind, and crystal clear water. Only accessible with a 4WD and then on foot.
The beaches close to Panormos, including Agia Thalassa, are quite remote and wild.
Voyage Tips - Advice
There are often strong winds in Tinos, such as the Meltemi, a cold Northern wind. It can be really strong, especially during summer.
If you want to swim, go to the Southern beaches, as they are calmer and sheltered from the wind.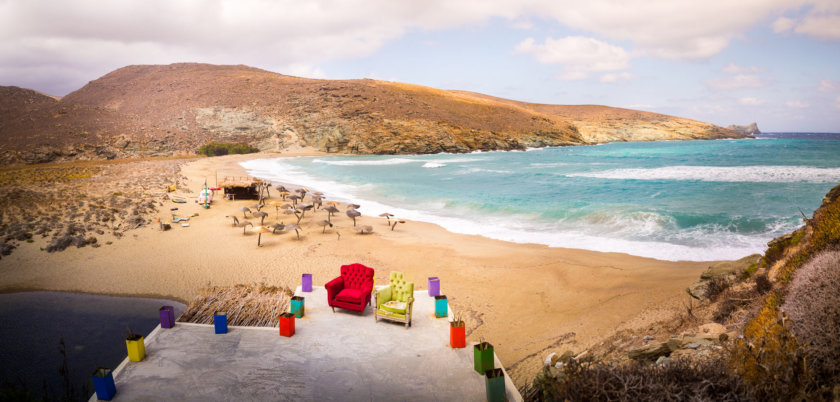 8. Mount Exomvourgo
During your trip to Tinos, you should go to Mount Exomvourgo.
This 640-meter high hill can be seen from all over the island. If you want to reach the summit, you can hike on the trail starting from the Xinara village. You will find the remains of an ancient Venetian stronghold, destroyed by the Turks in 1715.
At the top of Mount Exomvourgo, you will admire a magnificent 360° view of Tinos, the Aegean Sea, and the islands of Mykonos, Naxos and Samos.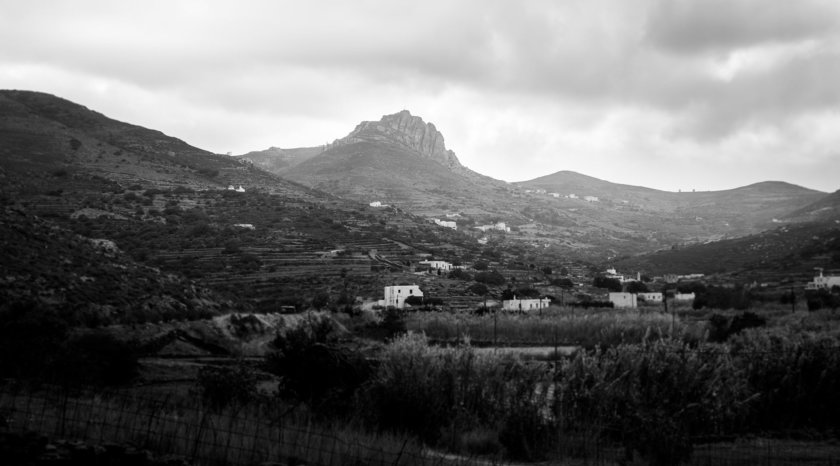 9. Kechrovouni Monastery
When visiting Tinos, you should also go have a look at Kechrovouni Monastery.
It's in this convent built during the 11th century that Sister Pelagia had her vision of the Virgin Mary showing her the icon's location. Then Tinos became a major pilgrimage site for Orthodox Greeks, often compared to Lourdes for Catholics! This convent is one of the biggest in Greece.
The site looks like a small village, with several individual houses. You can visit the inside (if you're properly dressed), and see Sister Pelagia's cell. Another original (and quite weird) relic is kept at the convent: Sister's Pelagia's mummified head!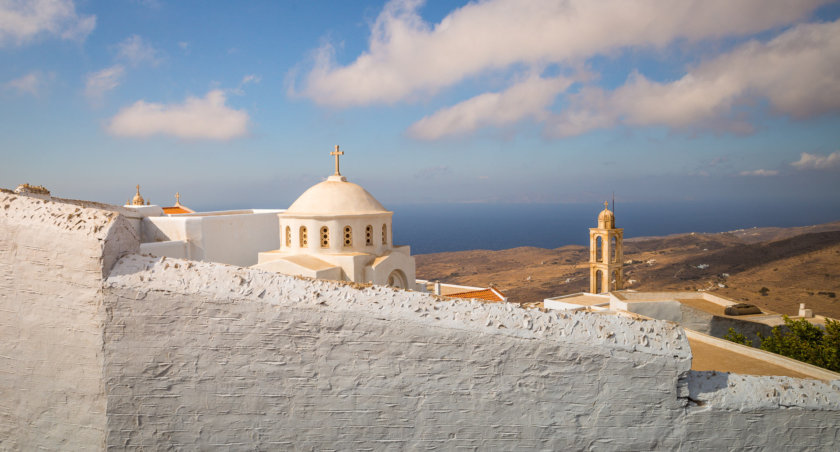 10. Loutra
Loutra is among the oldest villages in Tinos. It's located 8 km from Hora.
For a long time it housed a large community of monks (in a Jesuit Monastery) and nuns (at the Ursuline's convent). Until 1980, the convent served as an elementary and secondary school for wealthy families' girls. These girls were coming from all over Greece to study here.
The monastery was built in 1840 ans is now a Folklore Museum.
The village is located in the centre of Tinos, in the heart of nature. There, you will enjoy many walking trails!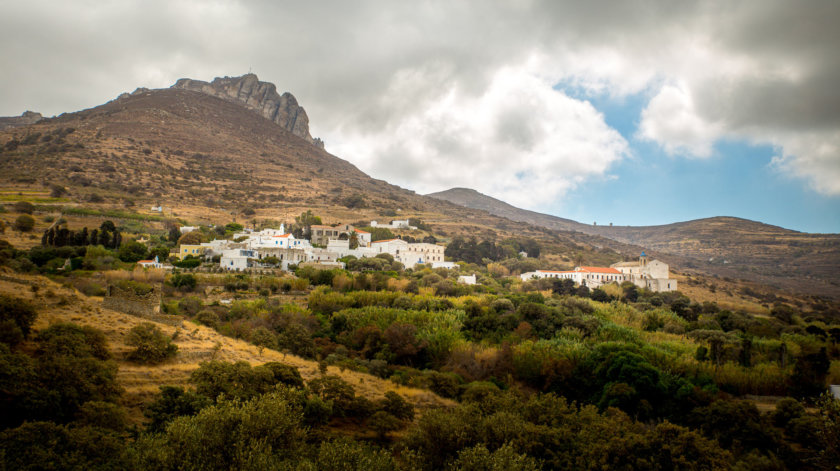 The other Greek Islands to see around Tinos
After visiting Tinos, you will probably want to discover the other islands located nearby during your Cyclades itinerary:
Mykonos is the closest island to Tinos. It's the best place if you want to party.
Syros, a really small island, but also the most populated in the Cyclades.
Andros, if you're an hiking lover.
Naxos, and its many sand beaches
Paros for its pretty villages and beautiful beaches
Santorini, the most popular Greek Island.
Amorgos, the best island if you want to hike!
You will find every information you need to visit the Cyclades in my article: The 15 best Cyclades Islands.
And, if you want to plan your ferry trips between Tinos and the other islands, you should use Ferries in Greece website.
How many days to visit Tinos ?
If you rent a car, spending 2 days in Tinos is enough to get a good overview of the island. Of course, you can spend more time and enjoy the beaches, hikes, and go in remote places!
1 day in Tinos
If you have 1 day to visit Tinos, you can follow this itinerary:
Discover the island's "capital", Hora. Wander in its alleys and walk up to the church.
Visit Kechrovouni Monastery
See the village of Volax
Walk down to Kolimbithra Beach.
Stop by Loutra
Hike to Mount Exomvourgo from Xinara.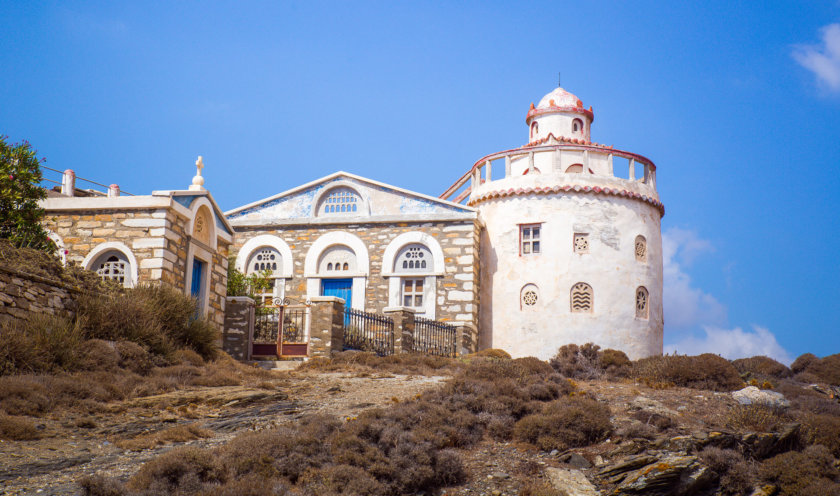 2 days in Tinos
If you're spending 2 days in Tinos, in addition to the 1st day described above, you can:
Discover the dovecotes in Tarambados
Take a stroll in Kardiani
Go to Isternia
Visit Pyrgos: this village is renowned for its marble
Drive to the small port of Panormos, at the end of the island.
You can end your day at one of the Southern beaches, such as Ormos Isternia, Yiannaki, Kalivia or Agios Romanos.
Where to stay in Tinos
How to go to Tinos ?
If you want to go to Tinos, you have to take the ferry boat. Unlike Santorini or Naxos, the island has no airport!
From Athens – Port of Piraeus or Rafina – it takes between 1h45 and 4h45 (for the slowest boats) to reach Tinos. There are regular bus connections between Athens airport and the 2 ports.
If you're already in the Cyclades, there are daily ferry connections between Tinos and Andros, Paros, Naxos or Mykonos.
You can check the ferries schedules and book your tickets online, to organize in advance your Greek Island hopping itinerary.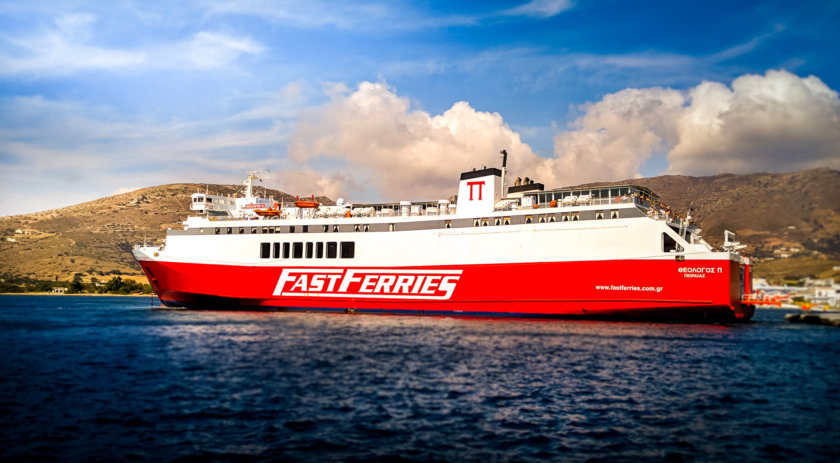 Renting a car in Tinos
If you want to visit Tinos, you should rent a car. It's the most convenient way to get around the island!
I always rent my cars using Rentalcars.com website, but there are no affiliated car rental companies in Tinos.
Don't worry, there are many car hire agencies in Tinos. The most famous is Vidalis Rent a car, with 4 offices in the city of Tinos alone! You can book your car in advance on their website.
They will bring your car directly at the port when you will arrive.
And when you will leave the island, you can also drop off your car at the port. It's really convenient!
Tinos and Greece Tours
On Voyagetips.com, I give you all my best tips and itineraries to plan your trip to Santorini and Greece by yourself. (Click here to read all my articles about Greece)

However, if you prefer to book a Greece tour with a travel agency, I recommend you to check the 10 best Greece tours by clicking the button below:
Renting a boat in Tinos
If you want to rent a boat for a nice day at sea during your trip to the Greek islands, you should book it with Samboat.
Motorboats, sailboats, yachts, small boats without a license, with or without a skipper: they simply have the most complete offer for boat rental.
So, what are you waiting for to book your boat trip in Greece? 😊
Tourist map of Tinos
I have made a tourist map of Tinos for you, to help you picture what the island looks like and where the best places to visit are located. You can display the map legend by clicking on the top left button (the one with a little arrow).
Now that you know all the best things to do in Tinos, what do you plan to visit? If you have any question, don't hesitate to ask me in the comments section below.

Book your trip now and save money!
Greece travel guides
You're traveling to Greece ? These articles will help you !
Discover all my articles about Greece: All my articles to help you plan your trip to Greece are listed there.
Cyclades (Greek islands)
Dodecanese
You're using Pinterest? Here is the picture to pin!