Things to Do in Amorgos: The 8 Best Places to Visit (All Highlights)
You're going to Greece and you're planning to visit Amorgos?
Great idea!
In order to help you make the most of your stay, I have prepared this guide of the 8 best things to do in Amorgos.
In addition to the must-see attractions and activities, I will also give you itineraries to visit the Amorgos in 1, 2, 3 or 4 days as well as my selection of the best accommodations depending on your budget.
And as always, this travel guide contains all my best tips to enjoy your stay on this beautiful island of the Cyclades archipelago.
So, what are the best places to visit in Amorgos? Where to stay?
Visit Amorgos: The 8 Must-See Attractions
1. Katapola
Katapola, the island main port, is certainly the 1st village you will discover during your trip to Amorgos.
If you take the ferry from Athens or another Greek Island, you will probably arrive in Katapola!
Katapola is a picturesque Cycladic fishing village, with many restaurants and shops on the seaside. You will also find all the car or buggy rental companies here (for more information, read the "Renting a car in Amorgos" section, at the end of this article).
The village is particularly busy when the ferries arrive or leave the port.
You will enjoy this really cute place, with its typical Cycladic architecture and narrow alleys.
If you follow the walking path above Katapola (you can also go there by car, but the road is in poor condition), you will reach the remains of the Minoa ancient city. Many vestiges found on this site are exposed in Athens National Archaeological Museum. This city was the former summer residence of Minos, the 1st king of Crete.
This ancient site is also renowned for its magnificent panorama over the bay!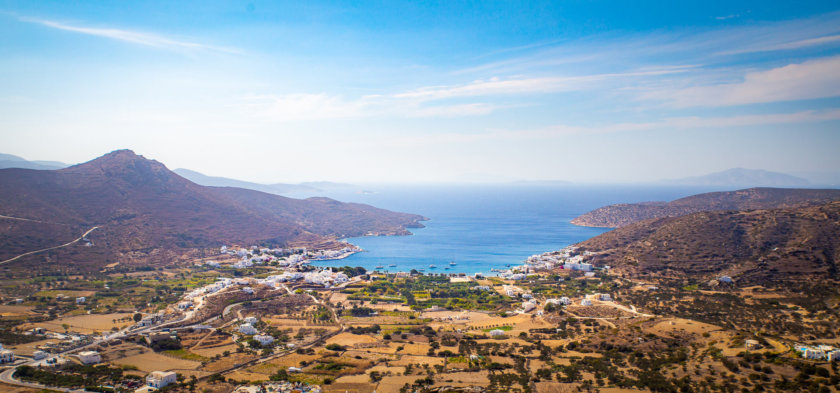 2. Aegiali
Aegiali is another village you should visit in Amorgos. It's located in a very beautiful bay, about 20 kilometers north of Katapola.
It's the second port of the island. There, you will find a few Greek restaurants and taverns as well as a mini market. You will for sure love its authentic and family atmosphere: it's completely different from Santorini and Mykonos, the most touristic islands!
Aegiali is also a great place for a family holiday in Amorgos. And if you want to relax at the beach and swim, you should know that Aegiali has one of the largest sand beach in Amorgos. There's even a playground for children!
During your trip, you should also head to the villages of Langada, Tholaria and Potamo, located above Aegiali. You will certainly love the typical Greek alleys, taverns and the panoramic view over the bay.
And if you want to explore and hike in the North of the island, many walking trails start from Aegiali. (I will give you more information about them below).
Voyage Tips - Advice
As I have told you, Amorgos has 2 ports: Katapola and Aegiali. Be careful when booking your ferry tickets, and check your port of arrival and your port of departure. You don't want to miss your boat when leaving the island!
You can rent your car in Katapola, and drop it off in Aegiali, but it will cost you an extra 10€. And don't be surprised if they tell you to leave the car on the parking lot, with the car keys inside. It seems to be completely safe!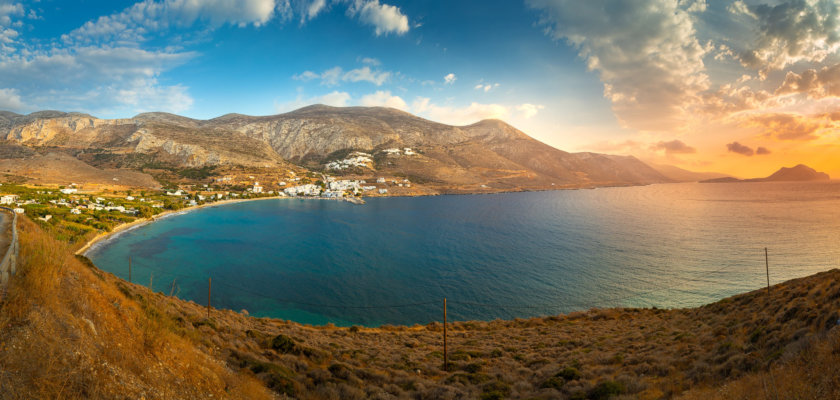 3. Chora
Another point of interest in Amorgos is its capital, Chora (also called Hora).
You might know that, even if Chora is Amorgos' capital, it has nothing to do with Athens or Rome. Chora is a typical Cycladic village, with white washed houses decorated with bougainvillea and a labyrinth of narrow alleys!
No doubt you will fall in love with its authentic and picturesque atmosphere, it feels really peaceful and relaxing. You can also have your lunch in one of the town's many local taverns (no tourist traps!), and enjoy great typical Greek food for a reasonable price.
From Chora's main square, you can reach the Venetian Kastro. Built in the 13th century at the top of a rock, it offers a beautiful 360° view over Amorgos.
During your visit, don't miss the archaeological museum (the entrance is free). You will discover ancient objects from the Minoan civilization found on the island.
And before leaving Chora, walk East of the village up to the ancient windmills. From there, you will also enjoy a very beautiful view.
Voyage Tips - Advice
You're going to Amorgos?
You probably know it: the hardest part of planning your trip is to find an hotel offering a good value for money!
The closer you get to your travel dates, the harder it will be to get a good deal. Lots of people will be visiting Amorgos on the same dates as you, so you can be sure that the best deals are booked extremely quickly!
Hopefully, there is a pretty simple solution to this problem: do like me and book your hotel as early as possible!
So, my best advice is to take 5 minutes (now) to have a look at the list of travelers' favorite hotels in Amorgos.
And if you see a good offer, book it!
Most hotels offer free cancellation, so it's quick, easy, and you will avoid the the inconvenience of finding nothing but mediocre rooms at exorbitant prices.
To check the current best deals for your hotel in Amorgos, simply click on the green button below 😎:
Once you've booked your hotel, it will be time to continue reading this guide and find out more about the best things to do in Amorgos!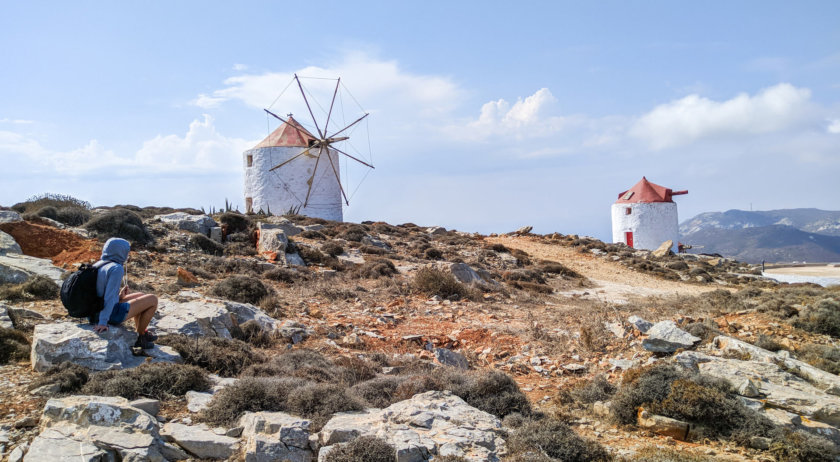 4. The Monastery of Panagia Hozoviotissa
The Monastery of Panagia Hozoviotissa is, without a doubt, Amorgos' must see attraction. It's also the island most iconic landmark!
It's located only 5 minutes away from Hora. If you're going there by car, just park below the monastery or along the road, as there are not many parking spaces.
This Monastery dedicated to the Virgin Mary was built in the 11th century, making it the 2nd oldest Monastery in Greece. It's built on cliffsides, 300 meters above the sea. Its bright white color contrasts with the cliffs, making the place look really impressive.
To reach the entrance of the Monastery, you will need to climb the 300 steps stairway. During this short walk, you will enjoy the beauty of the site and have the opportunity to take great pictures. You can visit the inside of the Monastery for free (a donation is appreciated). It won't take long, as the place is really small.
Voyage Tips - Advice
If you want to visit the Monastery, you will need to be dressed properly! Men have to wear long pants, and women must wear long skirts and cover their shoulders. If you don't have clothes, or if you don't want to spend a whole summer day in long clothes, you can borrow some at the entrance.
After visiting the Monastery, walk down to Agia Anna cove. The place is really photogenic, with its small white and blue chapel by the water surrounded by cliffs.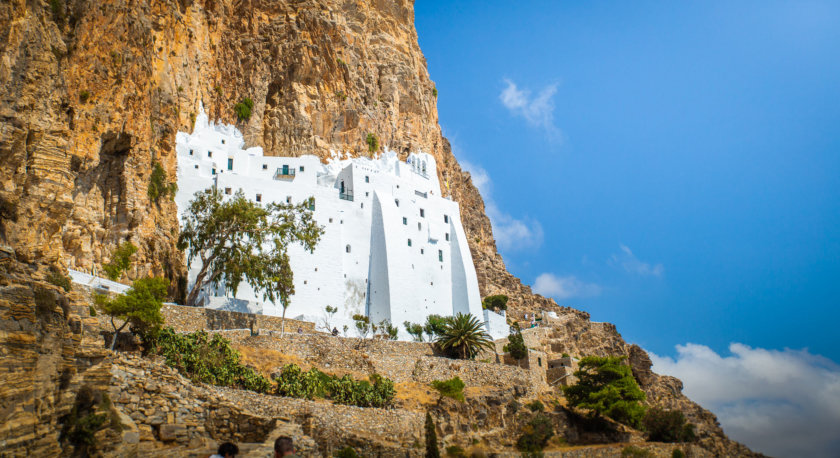 5. Hiking in Amorgos
Hiking is clearly one of the best things to do in Amorgos. It's a great way to discover every corner of the island and enjoy splendid panoramas.
There are many marked trails around the island, connecting all villages. These ancient trails are well maintained and Amorgos is a real hikers' paradise. During your walks, you will discover many beautiful views of the Aegean Sea!
If you want to hike in Amorgos, here are the 7 main marked trails (you can, of course, combine them and create your own itinerary):
Palia Strata: Starting from Chora, this trail goes to the Monastery of Panagia Hozoviotissa, Kapsala, Asfondilitis, Potamos and finally reaches Aegiali. Duration: between 4 and 5 hours. Difficulty: hard.
Photodotis: This little stroll goes from Hora to Katapola. During your walk, you go through Milies and Agia Irini. Duration: 1h. Difficulty: easy.
Itonia: Katapola – Minoa – Lefkes – Sivrisa – Kamari – Kastri – Vroutsi. Duration: 3 hours. Difficulty: moderate.
Melania: Explore the North of the island from Aegiali: Aegiali – Langada –  Gorge of Araklos – Tholos – Tholaria – Fokiotripa. Duration: 2 hours. Difficulty: easy.
Pan: this trail takes you to Amorgos' highest mountain: Langada – Epanohoriani – Theologos – Stavros – Krikelos. Duration: about 2h30. Difficulty: hard.
Valsamitis: Katapola – Agios Georgios Valsamitis – Agia Marina – Minoa. Duration: 2 hours. Difficulty: easy
Evangelistria: Katapola/Xylokeratidi – Nera – Peristeria – Evangelistria. Duration: 1 hour. Difficulty: easy
You can read more about these marked trails on Amorgos' official website.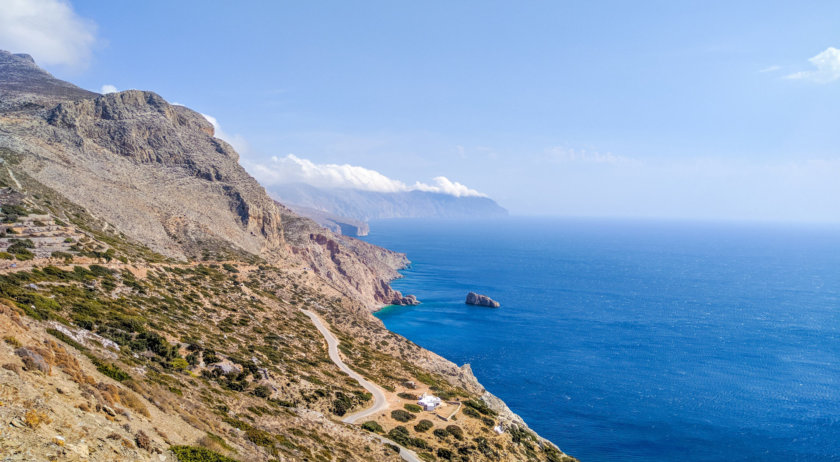 6. The Big Blue
In Amorgos, you can also do some "Film Tourism"!
If you're a fan of Luc Besson, you certainly know that "The Big Blue" movie, with Jean Reno and Rosanna Arquette, was mostly filmed in Amorgos. It's now time to discover the filming locations of this 1988 cult film.
For example, the kids are growing up in the village of Hora.
The Agia Anna cove, located below the Monastery of Panagia Hozoviotissa, is the place where the young Jacques Mayol dives.
And, at the Southern end of the island, you will find a shipwreck. There, Jacques saves an American soldier.
Voyage Tips - Advice
For the fans of the Big Blue movie (and the others!), you can take advantage of your stay in Amorgos to go scuba diving.
For more information and to book, simply click on the links below: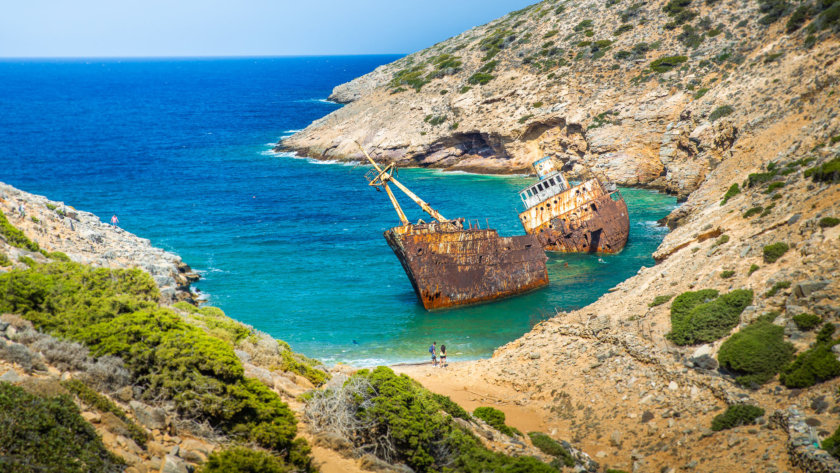 7. The best beaches in Amorgos
What are the best beaches to relax or take a dip during your holidays in Amorgos?
Here is a detailed list of Amorgos' beaches:
The beach of Aegiali: Amorgos' largest sand beach. Ideal with children, as it's easy to find some shade.
Agia Anna beach: a small pebble cove located below the Monastery. There is a parking lot and a snack. The place is clearly worth a look!
Mouros beach: a small beach sheltered from the wind. Above the beach, you will find a restaurant with a nice view. I had a great meal for a reasonable price.
Paradise beach: a really small and not so pretty beach.
Kalotaritissa: Sheltered from the wind, this beach is clearly one of Amorgos' most beautiful, with its fine sand and turquoise waters. There's also a snack.
Mikri Glifada Beach, only accessible by a walking trail from Tholaria
Agios Pavlos Beach: a long sand beach between Katapola and Aegiali
The beaches of Nikouria (small island): take the boat from Agios Pavlos to get there.
The beaches of Levrossos, Psili Ammos and Chochlakies are located close to each other, and are only accessible by boat or by a trail.
The small cove of Maltezi is located a 20-minute walk from Katapola.
Plakes Beach: from Katapola, walk for 45 minutes to reach this little beach.
Voyage Tips - Advice
To discover some of the most beautiful beaches and places to swim, you should book a snorkeling trip.
The excursion lasts 2 hours and allows you to snorkel in the most beautiful spots of the island including the caves of Nikouria, Agios Pavlos or the bay of Aegiali.
Simply click on the button below to book it: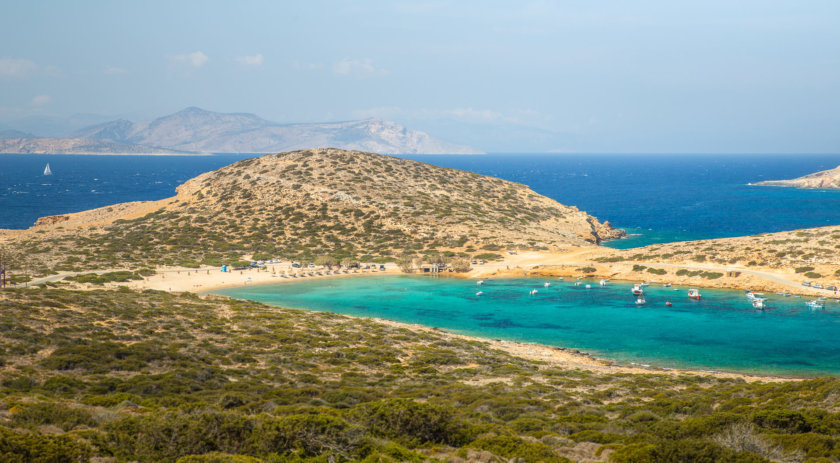 8. Boat trip around Amorgos
Let's end this definitive guide of Amorgos with one of its most popular activities: a boat trip! It's the best way to discover the island's most remote beaches and coves.
There are numerous boat companies in Katapola and Aegiali, offering 1-day cruises around the island, with several stops to discover beaches you can only access by boat. During these tours, you can go swimming and snorkeling in the turquoise and transparent waters.
And if you're feeling romantic, you can take a cruise at sunset, to admire it from the boat.
There are also one-day cruises to the Small Cyclades, the closest islands to Amorgos.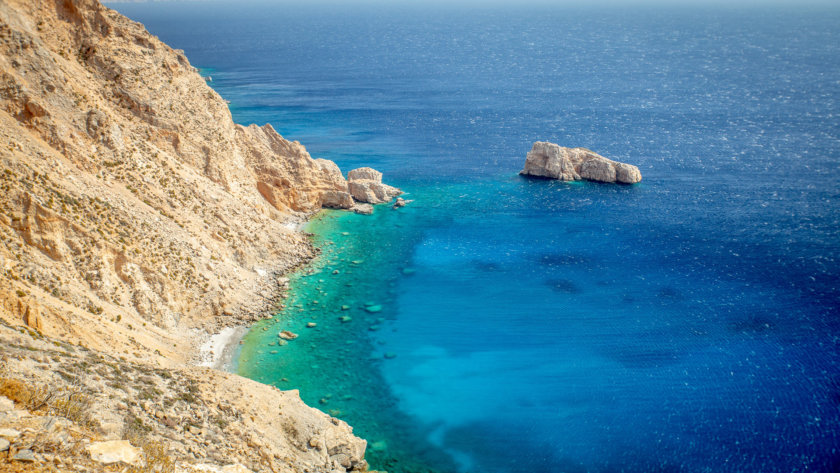 The other best islands to visit around Amorgos
You're having a few days in Amorgos, and you have already seen most of the island? Then, you can visit the other Greek Islands located nearby!
The Small Cyclades, located between Amorgos and Naxos, are the closest islands. If you're looking for calm, it's clearly a great place to continue your Greek Island hopping itinerary!
Naxos: the biggest Greek Island is located only 1h15 away from Amorgos (with the fastest boats). There, you will discover charming mountain villages and beautiful sand beaches.
Paros: you can go to Paros in around 2 hours by ferry boat. It's the perfect island if you want to relax at the beach.
Santorini: only 1 hour away from Amorgos by ferry boat. You should definitely visit the Cyclades's most famous island.
Ios, if you want to party all night.
You will find every information you need to visit the Cyclades in my article: The 15 best Cyclades Islands.
And, if you want to plan your ferry trips between Amorgos and the other islands, you will need to use Ferries in Greece website.
How many days to visit Amorgos ?
2 days in Amorgos are enough if you just want to visit the main villages and spend some time at the beach.
If you wish to hike in Amorgos, you should spend more time on the island to get around its many marked trails on foot!
1 day in Amorgos
If you want to visit Amorgos in 1 day, here is the best itinerary to make the most of your stay:
Take a stroll in Katapola, Amorgos' main port

Visit the capital, Hora, and its ancient windmills
Have your lunch in a typical Greek tavern
Walk to the Monastery of Panagia Hozoviotissa
Take pictures at Agia Anna cove
Follow the southern road to Kalotaritissa beach, where you can take a dip. Don't miss "the Big Blue" movie shipwreck located close to the beach.
2 days in Amorgos
If you have 2 days in Amorgos, in addition to the 1st day described above, you can:
Discover Aegiali
Visit the villages of Langada, Tholaria and Potamos. You can choose to hike between these 3 villages.
Have your lunch break
Spend your afternoon at one of the beaches and coves close to Aegiali, or hike on one of Amorgos' many trails! You can also hike in the morning, when the weather is cooler, and discover the villages in the afternoon.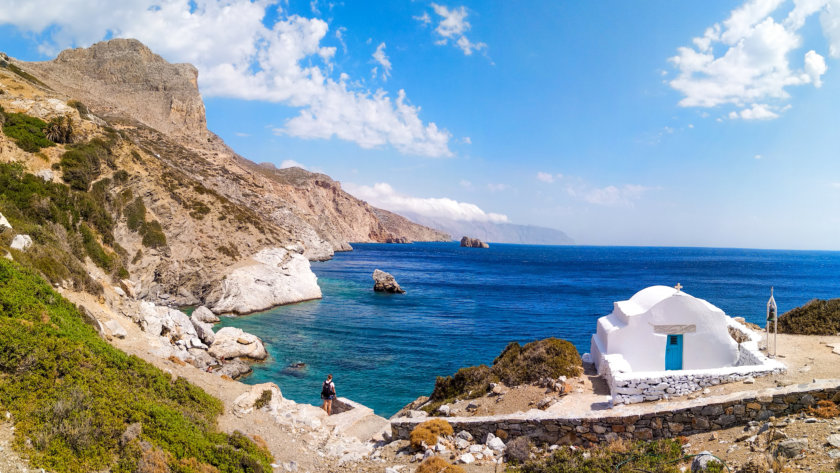 3, 4 days or more in Amorgos
If you're spending 3 days in Amorgos, in addition to the 2 days above, you can add:
A boat trip around Amorgos or in the Small Cyclades
Another hike on Amorgos' many trails.
If you're really an hiking lover, you can spend 4 or 5 great days or even a week in Amorgos and its surroundings. You will also have time to discover the Small Cyclades.
Where to stay in Amorgos
When you visit Amorgos, you can stay in one of the 2 main cities: Katapola and Aegiali. Choose between the 2 according to your port of departure!
Here is a selection of the best places to stay in Amorgos:
Best hotels in Katapola
Best hotels in Aegiali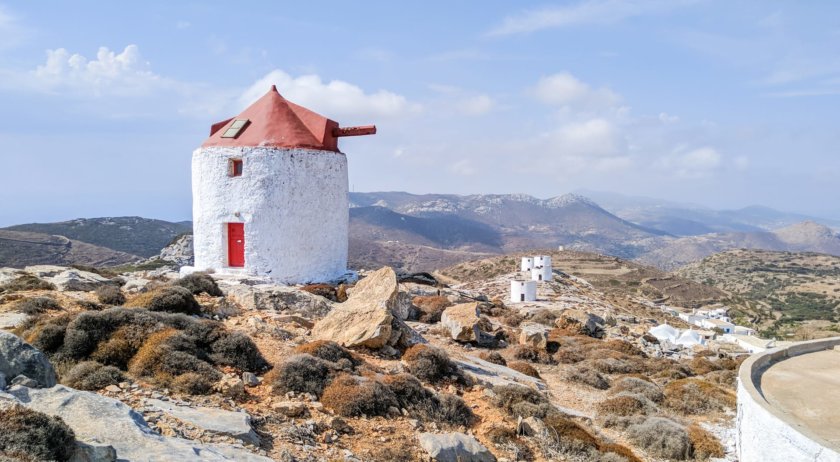 How to get to Amorgos ?
If you want to visit Amorgos, you will have to take the ferry, as the island has no airport (unlike Santorini, Naxos and Paros).
From Athens, you have to take the ferry at the Port of Piraeus. It's really easy to get there, as there are regular bus connections between Athens airport and the port. It takes between 5 and 10 hours to reach Amorgos, depending on the ferry company.
If you're already in the Cyclades, there are ferry connections between Amorgos and Ios, Mykonos, Naxos, Paros and Santorini.
As I said earlier in this article, be careful when booking your ferry tickets, as Amorgos has 2 ports: Katapola and Aegiali. You might arrive in one and leave from the other. Remember to check your port of departure, so you won't miss your boat when leaving the island!
You should book your tickets online to plan your itinerary in the Greek Islands.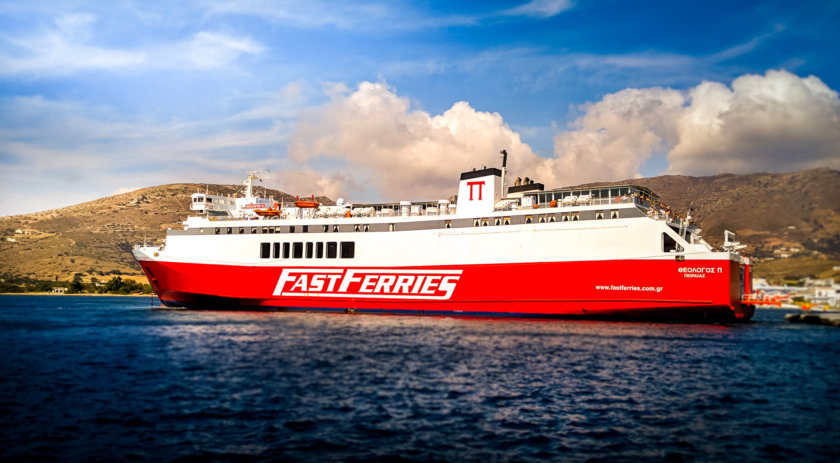 Renting a car in Amorgos
If you want to visit Amorgos, you should rent a car. There is only one road connecting the North and the South of the island, making it quite easy to find your way.
As Amorgos is a small island, you won't find any car rental companies affiliated to Rentalcars.com. Simply rent your car at the port when you will arrive, the rental agencies are just in front of the ferry pier. You can't miss them.

A small car costs around 35€ per day. You can also rent a buggy or a quad bike for 50€ per day, but I wouldn't recommend it: as the island is quite windy, it won't be very pleasant.
You can add an insurance for 10€ per day. If you're renting a car in Katapola and dropping it off in Aegiali, it will cost you an extra 10€.
If you're coming to Amorgos mostly to hike, then you probably won't need a car during your whole stay.
Amorgos and Greece Tours
On Voyagetips.com, I give you all my best tips and itineraries to plan your trip to Amorgos and Greece by yourself. (Click here to read all my articles about Greece)

However, if you prefer to book a Greece tour with a travel agency, I recommend you to check the 10 best Greece tours by clicking the button below:
Renting a boat in Amorgos
If you want to rent a boat for a nice day at sea during your trip to the Greek islands, you should book it with Samboat.
Motorboats, sailboats, yachts, small boats without a license, with or without a skipper: they simply have the most complete offer for boat rental.
So, what are you waiting for to book your boat trip in Greece? 😊
Tourist map of Amorgos
In order to help you plan your stay, I have made a tourist map of Amorgos for you, with all the best places to visit and points of interest. You can display the map legend by clicking on the top left button (the one with a little arrow).
Now you know everything about the best things to do in Amorgos. If you have any question to plan your trip, don't hesitate to ask me in the comments.
Book your trip now and save money!
Greece travel guides
You're traveling to Greece ? These articles will help you !
Discover all my articles about Greece: All my articles to help you plan your trip to Greece are listed there.
Cyclades (Greek islands)
Dodecanese
You're using Pinterest? Here is the picture to pin!