How to visit Sukhothai Historical Park (Thailand)
You would like to visit Sukhothai during your next stay in Thailand? Want to know everything about the historical park?

You're at the right place!
Listed as a UNESCO World Heritage Site, Sukhotai is home to magnificent ancient temples. They symbolise all the wealth and importance of the city at the time when Sukhothai was the capital of the kingdom.
Along with Ayutthaya, the country's other famous historical site, it's definitely one of the places to see during your trip to Thailand!
To help you organise your visit, I have prepared this guide of Sukhothai, with practical information and all my best tips.
In addition to the temples guide, I will also give you my selection of the best hotels in Sukhotai depending on your budget, and will explain how to get to the historical park from Bangkok or Chiang Mai, the 2 nearest major cities.
So, what are the best things to see in Sukhothai? Where to stay?
How to visit Sukhotai: all the info you need!
We will start with some practical information to visit Sukhothai: how to get around the historical park, the different areas to explore, the entrance fee: you will get the answers to all your questions!
First thing to know: the Sukhothai site actually includes several areas quite far away from each other. If you want to visit all of them, you will need a means of transport, as it is not possible to walk from one area to another.
If you are planning to tour Thailand by car, that is the most practical solution. You can drive from one area to another with your rental car and park in the car parks at the entrance.
During our visit to the historical park of Sukhothai in January (peak tourist season), we had no problem parking. The cool thing is that parking spaces are free!
The other option, which is chosen by the majority of people arriving from Bangkok or Chiang Mai by public transport or by plane (see the section "How to get to Sukhothai"), is to visit Sukhothai by bike. 
You will easily be able to rent a bike for the day. All the guesthouse and hotels offer this service, and most even offer it for free, provided you stay there for the night. There are also several shops at the entrance to the central area. The charges are between 30 and 50 Bahts for a bike rental for 1 day.

Faster and less tiring than riding a bike, you can also consider riding a scooter or a motorcycle around the park. But in this case, it's better to be used to driving this kind of vehicle.
If your hotel does not offer this service, you can ask the staff for advice, they can refer you to a rental company. Allow between 250 and 300 Bahts to rent a scooter/motorcycle for a day in Sukhothai.
If you don't want to drive or cycle, you can also hire a tuk-tuk for the day. The driver will take you to the different areas and wait for you. But it is far from the most cost-effective solution. Prices start at around 200 Bahts per hour and up to 1200 Bahts per day. Always try to negotiate a little.
As I said, the historical park of Sukhothai has 5 zones:
The central area and other areas at cardinal points (North, South, East and West).
The entrance ticket for the 3 zones: Central, North and West is 100 Bahts per person. Admission is free for the South and East zones, but there is really not much to see.
Note that unlike in Ayutthaya, there is no pass to visit the historical site. You will have to pay entrance fees at the entrance of each zone. You will then have to add 10 Bahts to enter the park by bike, 20 Bahts for a scooter and 50 Bahts by car.
Voyage Tips - Advice
When visiting Sukhothai, bring hats or caps, sunscreen and lots of water. Also consider getting mosquito repellent, it can be really useful!
On the other hand, you don't need to follow specific rules for clothing, contrairement à d'autres temples où vous devez vous couvrir les jambes et les épaules. Mesdames on ne vous dira rien si vous êtes en short!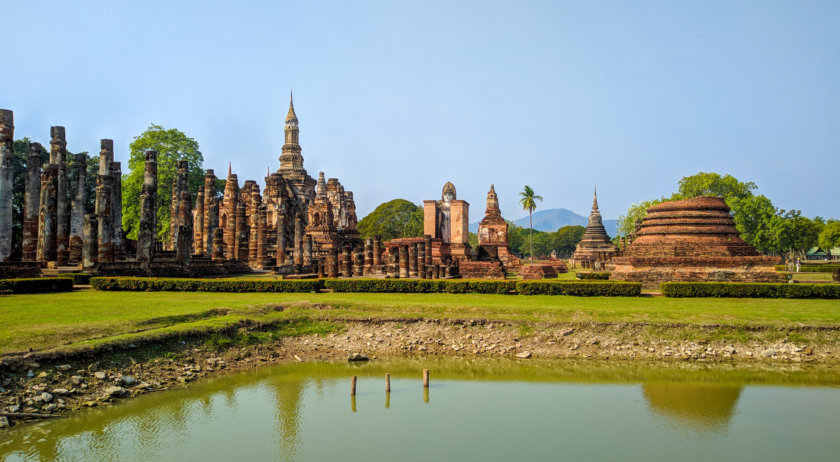 Voyage Tips - Advice
You're going to Sukhothai?
You probably know it: the hardest part of planning your trip is to find an hotel offering a good value for money!
The closer you get to your travel dates, the harder it will be to get a good deal. Lots of people will be visiting Sukhothai on the same dates as you, so you can be sure that the best deals are booked extremely quickly!
Hopefully, there is a pretty simple solution to this problem: do like me and book your hotel as early as possible!
So, my best advice is to take 5 minutes (now) to have a look at the list of travelers' favorite hotels in Sukhothai.
And if you see a good offer, book it!
Most hotels offer free cancellation, so it's quick, easy, and you will avoid the the inconvenience of finding nothing but mediocre rooms at exorbitant prices.
To check the current best deals for your hotel in Sukhothai, simply click on the green button below 😎:
Once you've booked your hotel, it will be time to continue reading this guide and find out more about the best things to do in Sukhothai!
Temples to see in Sukhothai
To help you plan your visit to Sukhothai, I will now tell you about the most beautiful temples to see in each area.
Let's go!
Visiting the central zone
You must absolutely go here when in Sukhothai. It houses the most important and most impressive temples.
1) Wat Mahathat: the largest temple in Sukhothai. Guarded by 2 large Buddhas standing 9 metres tall, it has a central chedi in typical Sukhothai style, surrounded by 8 other smaller chedis. I think this is the most beautiful temple of Sukhothai!
2) Wat Si Sawai: built by the Khmers in the 13th century, this Hindu shrine dedicated to Shiva was later converted into a Buddhist temple. It is located south of the Wat Mahathat.
3) Wat Traphang Ngoen: its name can be literally translated as the "temple of the silver lake". Built in the 14th century, it has large chedi shaped like a lotus flower, with a large seated buddha in front of it.
4) Wat Sa si: built at the end of the 14th century, it is located on a small island accessible by a bridge. This monument has a bell-shaped stupa and a statue of a walking Buddha.
5) The Ta Pha Daeng Shrine: a small temple built by the khmers in the 12th century. Several images of gods have been discovered carved into stone.
6) Wat Sorasak: a chedi with 24 statues of elephants, appearing to support it, at its base.
In addition to the temples, the area includes the Ramkhamhaeng National Museum (entrance fee is 150 Bahts). It has a collection of objects discovered at Sukhothai and you can discover the culture and history of this period.
It is dedicated to King Ramkhamhaeng, considered the originator of the Thai alphabet. There is a large statue of the king in the park.
To visit the central area of the historical park of Sukhothai, it will takeabout 2 hours on foot to go around the temples, taking your time.
You can also choose to explore the area on bikes but I find it less practical to have to stop every time or to lock your bike. And if like me, you go around with all your camera gear, you have to stow and unpack everything.
For those who can't walk or cycle, there is a small train that will take you around the area in 1 hour. There is no timetable, it leaves when it is full. However, you will have to settle for explanations in Thai. The cost is 40 Bahts per person.
The central area is open from 6:30am to 6:00pm every day.
Voyage Tips - Advice
To visit the main area and listen to all historical explanations, you can rent an audio guide at the entrance for 150 Bahts. Available in English.
If you visit Sukhothai on a Saturday, the area stays open till later (9pm) and you will have the chance to see the illuminated temples.

Visiting the Northern zone
In the northern zone, there are 2 main temples:
Wat Si Chum is famous for its 12m tall seated Buddha.
Wat Phra Phai Luang has 3 Khmer-style towers but there isn't much left to see.
The northern zone is open from 6:30 am to 5:30 pm. The entrance fee is 100 Bahts + 10 B for a bicycle – 20 B for a scooter – 50 B for a car.
You must visit this area second, since it is closest to the central area. It is still possible to walk there, but it is better to take a bike, scooter or car. There is a car park near each temple.
Visiting the Western zone
The western zone has quite a few ruins far away from each other, which is not very practical, even on a bike.
The best option is to take a car, but apart from Wat Saphan Hin and its statue of a standing Buddha at the top of a hill, there isn't much point visiting it.
The area is open from 8:00am to 4:30pm. The entrance fee is 100 Bahts + 10 B for a bicycle – 20 B for a scooter – 50 B for a car.
Eastern and Southern zones
If you have a little time left, you can always visit the Eastern or Southern zones, but fair warning, the tour is short.
Things worth seeing:
Wat Chang Lom, a chedi with sculpted elephants
Wat Chetuphon is known for its 4 statues of Buddha in various positions: seated, standing, lying down, walking.
Wat Chedi Si Hong with bas relief works of frescoes with lions and elephants.

How many days to visit Sukhothai?
To know how long it will take you to visit Sukhothai, it all depends on the areas you want to explore and your means of transport.
If you are travelling by car, keep around 4 hours to cover the central, northern and western zones. If you would like to visit the central area only, 2 hours are enough to walk around and a little more if you visit the museum.
On bikes, you must plan one day to visit these 3 zones.
I am not including the Eastern and Southern zones, because unless you are staying for several days in Sukhothai (or if you want to go there quickly in a car!), I won't recommend going there.
And I don't know about you, but if you continue your road trip in Thailand via Chiang Mai and/or Chiang Rai, having already visited Ayutthaya and Bangkok, you can easily get bored of the temples, a very classic situation for travellers in the country! 😅
Voyage Tips - Advice
If you are pressed for time when exploring the park, the best advice I can give you is to focus only on the central zone.

The 3 best things to do around Sukhothai
After visiting the historical park, here are some places to see, close to Sukhothai.
1) The Organic farm
About 30 km from Sukhothai park, close to the airport, you can visit a vast organic farm.
Fruits, vegetables and rice are grown in traditional ways.
And the most interesting thing is that you can even get an experience of life on the farm: ploughing, maintaining rice paddies or egg collection. All stages of rice production, from planting to harvesting, are explained.
After a quick morning's work, there is a Thai cooking class with farm produce, culminating in a tasting!
For half a day at the Organic Agriculture Project, the cost is about 900 Bahts.
2) Si Satchanalai Historical Park
Near Sukhothai, you must visit another, less well-known historical park: Si Satchanalai historical park. 
It is 60 km north of the city.
Just like with Sukhothai, you can explore some temple ruins including Wat Chang Lom, the most important temple in Si Satchanalai.
To visit the park, guests can rent a bike at the entrance for 30 Bahts.
The entrance ticket is 100 baht and the site is open from 8:30 am to 4:30 pm every day.
Voyage Tips - Advice
The site is worth it for its natural beauty and is much less touristy, but don't expect to see temples as beautiful as those in Sukhothai.
A faire si restez plusieurs jours dans le coin.
3) Kamphaeng Phet
You still haven't had your fill of historical parks? So here is a last one for the road!
Kamphaeng Phet is 77 km from Sukhothai. Even though it is not a tourist hotspot, the historical park is listed as a UNESCO World Heritage Site.
It has several 15th century temples, which are certainly not as well preserved as Sukhothai, but the bike ride is really pleasant.
An unmissable spot: Wat Phra Kaew and its sleeping Buddha, behind which there are 2 seated Buddha statues. This is not the same as the temple with the same name located in Bangkok.
The entrance fee is 100 Bahts.
Where to stay in Sukhothai
Here is my selection of the best accommodations in Sukhothai, according to your budget. Book as early as possible to get the best prices!

Where to eat in Sukhothai
There really aren't many places to eat near the historical park.
It is better to go to the modern part of the city: New Sukhothai. Here you will find lots of small restaurants and street stands and will be spoilt for choice.  There is also a small Night Market in the evenings and a larger riverside market that is only held on Saturday evenings.
And for all those who may miss European food, here's a place where you can eat excellent pizza in Sukhothai: the Pizza House restaurant by Somprasong guesthouse.
I admit that I was a bit reluctant to try the Thai version of pizza because I was often disappointed by my experiences of "international cuisine" in Asia. This is quite normal, each country has its own specialities and that's just fine!
But this pizza was really good: wood-fired, excellent dough and exceptional toppings. The pizza costs between 200 and 300 Bahts, which is certainly more expensive than a typical Thai dish, but it's worth it!
However, just a little tip, consider taking mosquito repellent before you go to eat, it might save you from being devoured. It's not pizza that the mosquitos are interested in! 😆

How to get to Sukhothai?
Sukhothai is located halfway between Bangkok and Chiang Mai. You can easily reach it from these 2 big cities.
I'll give you all the possible options based on the modes of transport and your budget.
Getting to Sukhothai from Bangkok
You have several options for travelling 440 km from Bangkok to Sukhothai.
By car
This is the option we chose for our trip to Thailand, which included visiting Bangkok, Ayutthaya, Sukhothai, Chiang Mai and Chiang Rai. 
By car, it takes 6 hours.
If you choose to rent a car in Bangkok, it is best to rent one at Don Muang Airport. This will allow you to easily reach the road to Sukhothai, avoiding the traffic jams of the city centre.
For car rental in Thailand, you must use the website Rentalcars.com.
You will be able to compare all the rental fares at the airport directly and see options which do not charge a one-way trip (the charges applcable if you take your car from one place and drive it to a different place). For example, we drove our car back to Chiang Rai Airport and didn't get any extra charge.
The website also offers comprehensive insurance, which ensures the reimbursement of costs incurred in the event of an accident, regardless of its severity.
To compare the prices of a car rental in Thailand, just click the button below:
By plane
From Bangkok, you can fly to Sukhothai.
There are usually 2 daily flights operated by Bangkok Airways. The journey takes 1h15 and costs approximately 2000 Bahts.
It's the fastest option, but it's also the most expensive.
To book your ticket, you can use our flight comparison tool, in partnership with Skyscanner.  
By bus
Another option to go from Bangkok to Sukhothai: bus.
To take the bus, take the BTS (Skytrain) in Bangkok to the Mo Chit stop. You will arrive directly at the bus station of the same name.
There are several trips in a day. The cost will be around 300 Bahts for a 7-hour journey.
By train
There is no train station in Sukhothai.
If you take the train in Bangkok, you will have to stop in the city of Phitsalunok. It takes between 5 and 7 hours and costs between 100 and 600 Bahts, depending on the class.
Arriving in Phitsalunok, you will have to take a bus or minibus to Sukhothai. The journey takes 1 hour and costs around 50 Bahts. There are frequent departures.

Get to Sukhothai from Chiang Mai
Sukhothai is 300 km from Chiang Mai.
By car
If you are driving, it will take about 4 hours and 30 minutes. 
To compare the prices of a car rental in Thailand, just click the button below:
By plane
Although Sukhothai does have an airport, there is no direct flight from Chiang Mai.
You will inevitably have a layover in Bangkok and the time taken will therefore be almost as long as a bus ride. Not to mention that it is the most expensive option.
By bus
From Chiang Mai Bus Station, a bus ride to Sukhothai takes about 6 hours and 300 Bahts.
There are several departures during the day.
This is the cheapest option.
By train
As I told you earlier, there is no railway station in Sukhothai.
So it's the same as when you come from Bangkok: you will have to go down to the town of Phitsalunok. (6 to 8 hours and 100 to 600 Bahts depending on the type of ticket).
Once in Phitsalunok, you will have to take a bus or minibus to Sukhothai ( 1 hour journey – 50 Bahts). There are many departures every day, so don't worry!
Tourist map of Sukhothai temples
Here is the tourist map of Sukhothai, which they will provide at the entrance of the site. You can save this map on your smartphone, it's always convenient!

Should you visit Sukhothai or Ayutthaya?
If you are planning your trip to Thailand, you might wonder which historical park to choose between Sukhothai and Ayutthaya.
The majority of travellers choose to visit only one, due to lack of time or because they think it there would be too many temples to see. Personally, as I stayed in Thailand for quite some time, I was lucky enough to visit both.
And I have to say that I liked both. Yes I know that's not very helpful, but if I had to compare, I would say that the temples of Ayutthaya are more impressive but that the environment of Sukhothai park is more natural and less thronging with tourists.
To get an idea before you leave, you can also read my article dedicated to Ayutthaya: Ayutthaya: the definitive guide.
From Sukhothai, you can go to Ayutthaya by bus: a direct journey lasting 6 hours.
Feel free to tell me which historical park you preferred in the comments!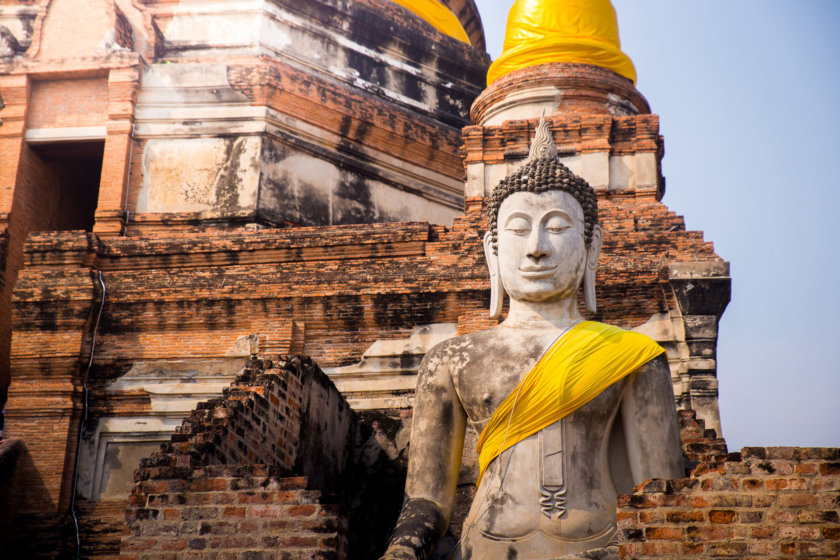 Sukhothai: a bit of history!
Let's end with a bit of history, to get you warmed up before your visit to the historical park.
There are no explanations on the site, except if you take the audio guide in English.
Sukhothai was the first capital of the kingdom of Siam from 1238 to 1438.
For 2 centuries, Sukhothai has been the place of succession of 9 kings, including king Ramkhamhaeng, whom I have already mentioned in this article and who is considered to be the inventor of the Thai alphabet.
The city was very prosperous, so much so that this era is often referred to as the golden age of Thai civilisation.
This can also explain the literal translation of the name Sukhothai, "The dawn of happiness."
Following the King's decision, the capital was then moved to the city of Ayutthaya, further south, and Sukhothai became part of the new kingdom.
And do you plan to visit Sukhothai during your holidays in Thailand? If you have any questions, feel free to ask me in the comments.
Book your trip now and save money!
Thailand travel Guides
You're traveling to Thailand? These articles will help you!
Discover all my articles about Thailand: All my articles to help you plan your trip to Thailand are listed there.
The 25 Best Things to Do in Thailand
You're using Pinterest? Here is the picture to pin!