How to spend 3 Days in Bangkok: The Best Itinerary + Where to Stay
You want to spend 3 days in Bangkok and you're looking for the best things to do?

You're at the right place!
In order to help you plan your stay, I have prepared for you this 3-day itinerary in Bangkok.
It's perfectly optimized to allow you to discover all must-see attractions of the city as well as (if you wish to!) enjoy a day trip to Ayutthaya, Kanchanaburi or the floating markets.
In addition to the best places to visit and activities for each stage of your itinerary, I will also give you all my best tips and accommodation suggestions depending on your budget.
So, what are the best places to visit in Bangkok in 3 days? Where to stay?

Let's find out!
Quick Tip for a Perfect 3-Day Stay in Bangkok
If you already know your travel dates (or as soon as you will have them!), you should really book your accommodation.
As Bangkok is one of the most touristic cities in the world, the hotels offering the best value for money are often fully booked months in advance.
As a seasoned traveler, I can assure you that it's always by planning as far in advance as possible that I've found the best hotels or apartments deals.
You agree that it would be a shame to somewhat ruin your stay in Bangkok by ending up in a not-so-great hotel that costed you a fortune, right? 😅
So your best bet is to take 5 minutes now to have a look at traveler's favorite hotels in Bangkok.
And if you like one of the hotels you find, book it!
It's fast, it's easy and most accommodation offer free cancellation. That's the best way to protect yourself from the inconvenience of finding nothing but mediocre rooms at exorbitant prices.
To check the best hotels deals in Bangkok, simply click on the green button below:
After securing your dream stay, it's time to continue reading this guide!
3 days in Bangkok: the perfect itinerary for your visit
We start directly with the essentials with my 3 day itinerary in Bangkok.
The schedule of activities that I propose is based on 3 full days, with a map of places to visit for each day.
If you still have questions about organising your holiday after reading it, please feel free to ask me your questions in the comments section at the end of the article.
Day 1 of your itinerary in Bangkok: the Grand Palace and more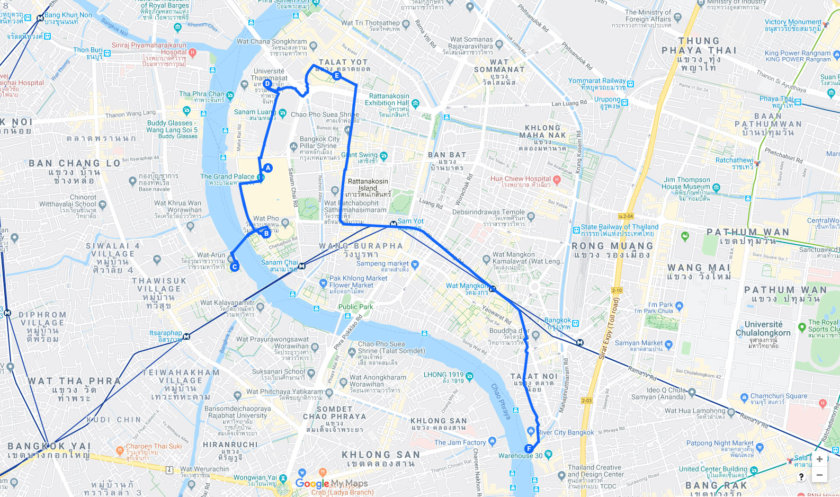 Day 1 visits:
A. The Grand Palace
B. Wat Pho
C. Wat Arun
D. The National Museum of Thailand or the Museum of Siam
E. Khao San Road
F. Dinner cruise on the river
A. The Grand Palace
I suggest you start your 3-day trip to Bangkok with the most visited site of the city: the Grand Palace.
There is no metro stop nearby, so you will have to walk there if your hotel is not too far away or take a taxi/tuk-tuk.
Built in 1782, the Grand Palace, which is actually a complex of several buildings, has long served as a residence for Thai rulers. Today it is only used for certain official ceremonies.
The entrance fee for the Grand Palace is 500 Bahts and allows you to discover the royal chapel of the temple and the statue of the Emerald Buddha, the imposing palace of King Rama V or the museum of the currency or the textile.
Voyage Tips - Advice
A tip that will serve you during your entire 3-day stay in Bangkok and even for the rest of your tour in Thailand: when visiting the temples and monuments, a proper outfit is required. For both men and women, legs and shoulders should be covered.
Bring a shawl to cover yourself and if you don't have one, you can buy trousers or skirts at 100 Bahts around the Grand Palace.
Other details: excessively tight pants (such as leggings) or torn ones are not allowed.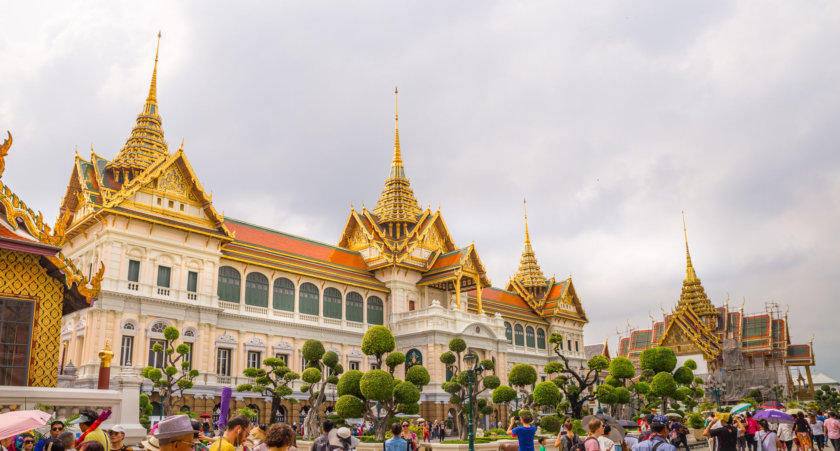 B. Wat Pho
Just a 10-minute walk from the Grand Palace, continue your 3-day trip of Bangkok with a visit to Wat Pho.
This temple houses one of Bangkok's emblems: a statue of a reclining Buddha 15 metres high and 45 metres long! You can walk around it and observe the soles of its feet decorated with symbols and inlaid with mother of pearl.
Several bowls, 108 in total, filled with coins are also placed all around. You can buy 108 coins for about 20 baht and put them in each bowl for luck.
The ticket to the Wat Pho costs 200 Bahts and also allows you to discover:
The Buddha Gallery with its 394 golden Buddhas
The 4 royal chedis covered with colourful ceramics
The Phra Ubosot where the ashes of King Rama 1st are enshrined, next to another famous statue of Buddha all in gold.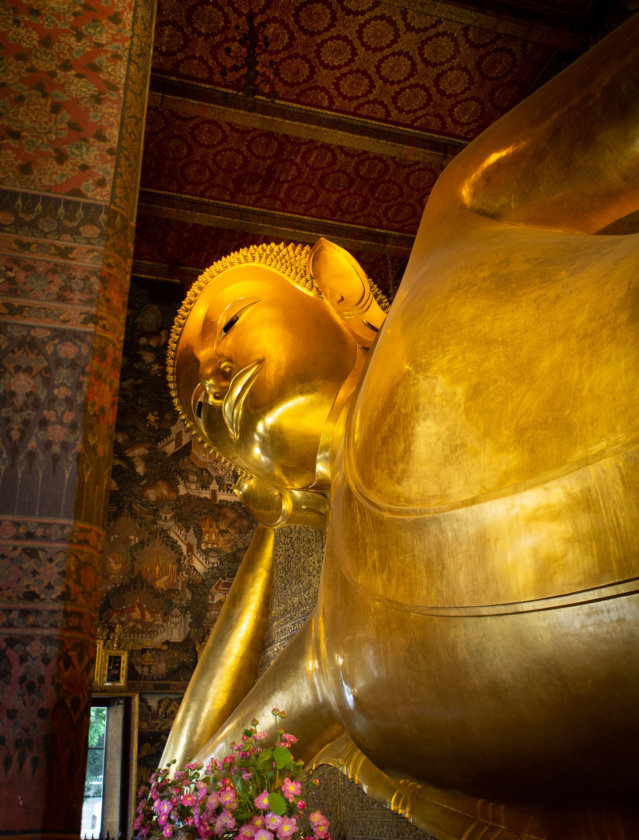 C. Wat Arun
Among the other must-see monuments on the program of this first day, you must visit Wat Arun.
This temple is famous for its almost 80 metre tall tower entirely covered with mosaics. The whole complex has 4 other smaller towers which are also covered with small pieces of coloured glasses.
The entrance fee is 50 Bahts for visiting Wat Arun.
To get there from the Wat Pho, you have to cross the river in a ferry for only 4 Bahts. It will drop you right in front of the entrance.
Voyage Tips - Advice
There are no explanation panels at Wat Arun and the Grand Palace.
If you would like to hear explanations of what you are seeing, I recommend you take a guided tour of the 3 sites. For half a day, you will discover the history of these emblematic monuments.
And you can then resume this 3-day Bangkok trip at the next step.
Book your guided tour of the Grand Palace + Wat Pho + Wat Arun by clicking here: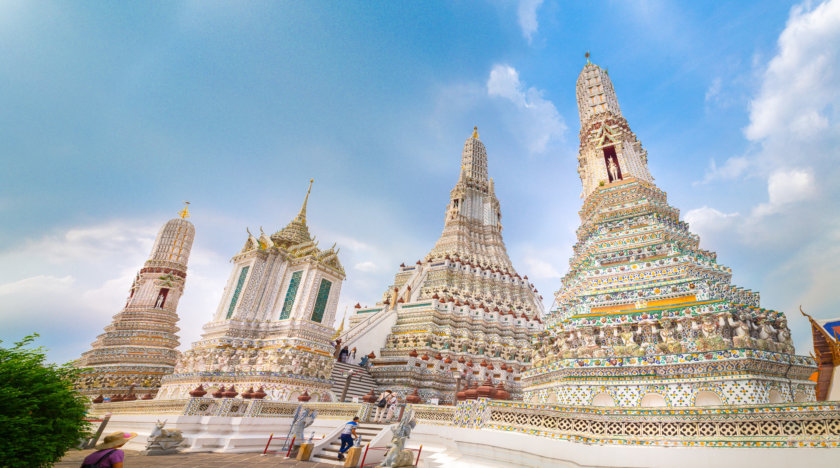 D. The National Museum of Thailand or the Museum of Siam
After a morning dedicated to temples, you must discover a little more Thai culture by visiting one of the 2 following museums:
The Siam Museum is exhibits the history of the country but in a very playful way with games and videos. If you are going to visit Bangkok in 3 days with your children, it can be a good idea to go out.
This museum is just a 10-minute walk from the pier. The entrance fee is 300 Bahts.
The National Museum of Thailand, also devoted to history but with a more traditional approach. It's one of the largest museums of its kind in Southeast Asia.
It is about 2 km from the pier on the way back from Wat Arun. The entrance fee is 200 Bahts.
E. Khao San Road
It is impossible not to include Khao San Road in this 3 day trip to Bangkok!
It is located very close to the national museum.
It is certainly the most famous street in Bangkok, popularised in the film "The Beach" by the beloved Leonardo di Caprio.
A former haunt for travellers and backpackers for these very low-cost accommodation, Khao San Road has retained its cosmopolitan character and now has plenty of bars and restaurants that are very popular at night.
There are also several jewellery shops.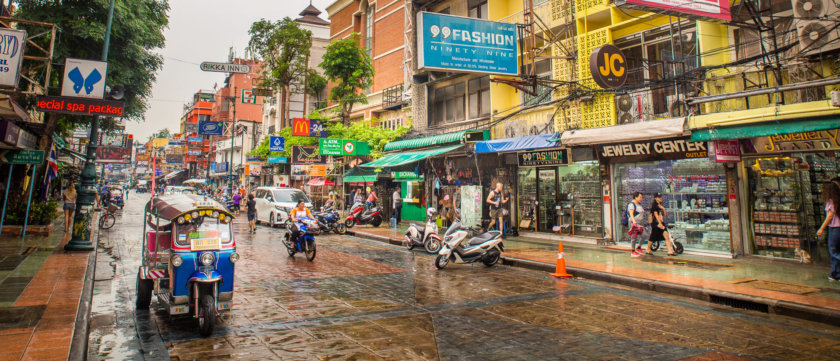 F. Dinner cruise on the river
To end this first day of your Bangkok trip, head to the river banks for a small cruise.
It is a very nice activity to relax, spend a good romantic evening and gaze at the Bangkok temples lit for the night.
Buffet dinner is always included in this type of boat ride, but it's certainly not the place to discover all the flavours of Thai cuisine.
The purpose is rather to enjoy the view and the atmosphere.
You can book this dinner cruise in advance by clicking on the following button:
And for the more luxurious and less touristy version, you can take this dinner cruise aboard an old rice barge: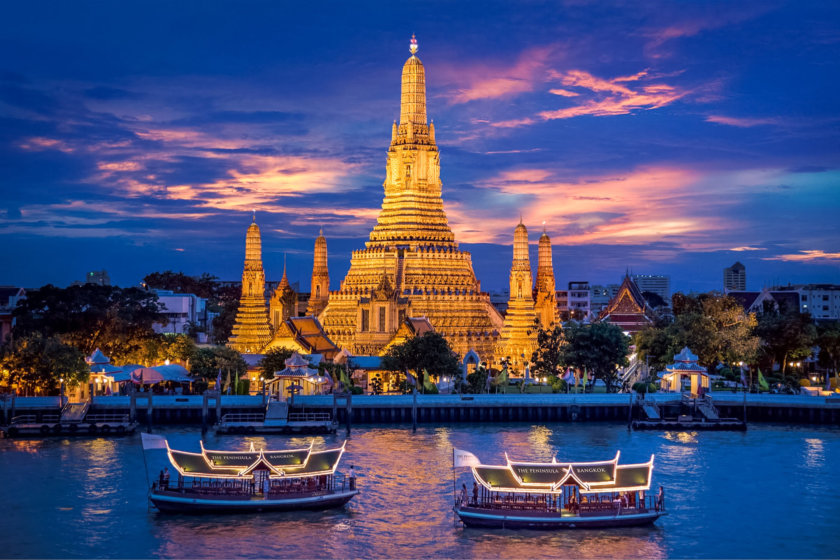 Day Two in Bangkok – What to do and see?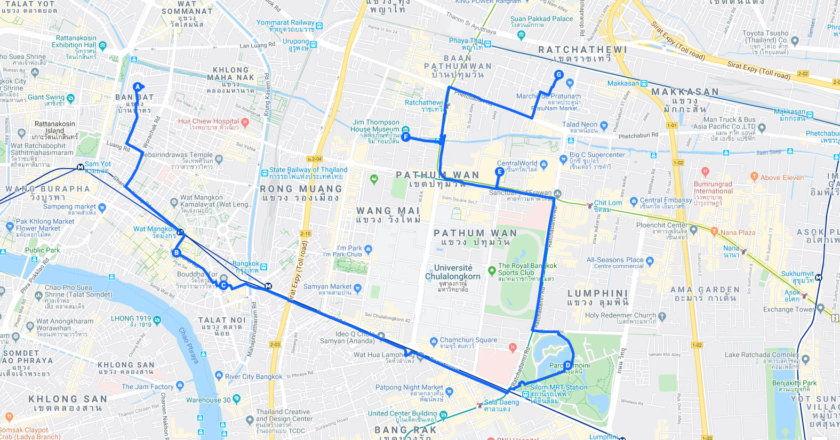 Day 2 visits:
A. The temple of the Golden Mount
B. Chinatown
C. Wat Traimit
D. Lumpini park
E. Siam
F. Jim Thompson house
G. Bayoke Tower
A. The temple of the Golden Mount
For the second day of this three-day stay in Bangkok, you must start with the Golden Mount Temple or "Wat Saket".
The entrance fee is 50 Bahts.
The temple itself is not as impressive as Wat Pho or Wat Arun, but it does offer a 360° view of the whole city.
The path to the top of the temple is very nice, with fountains, statues and gongs that you will have to ring if you want to attract luck, love or wealth …
Voyage Tips - Advice
To reach the Wat Saket, you can take the blue underground line to the Sam Yot stop. You then have to walk for 1.2 km. Otherwise, you can also get there by taxi or tuk tuk from your hotel.
Beware of scams at the Golden Mount: a friendly Thai English speaker will approach you to offer a tuk tuk tour. He will tell you that it is Buddha Day and that for this occasion, he offers low-cost tours to visit the temples.
He will certainly take you to first temple but the second stop will be in a shop of custom costumes or precious stones from where it will be very difficult to go out without buying anything if enter it by misfortune!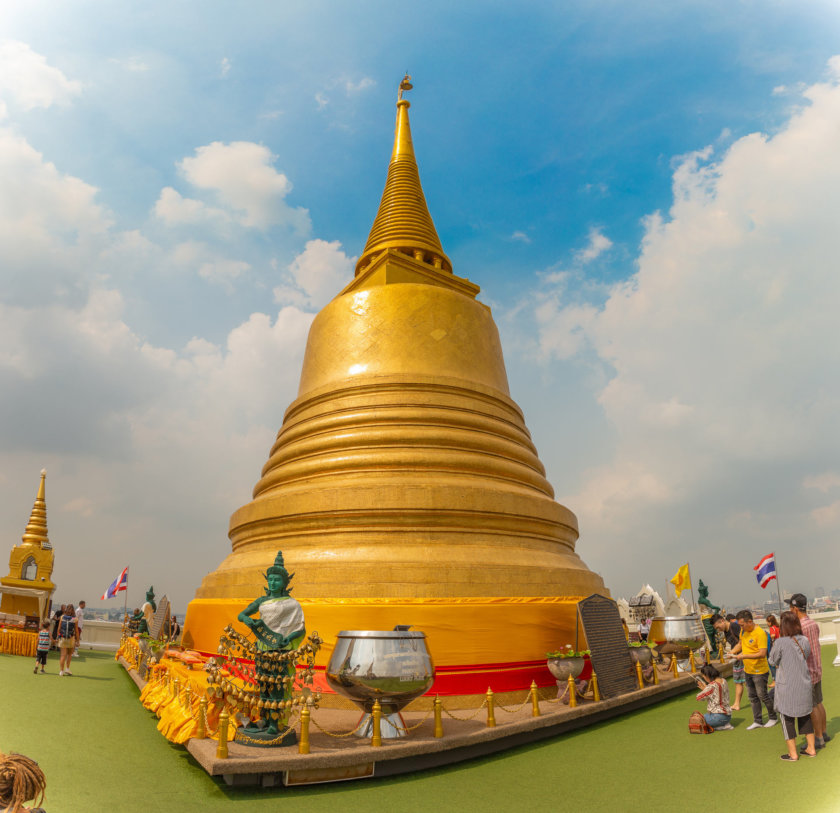 B. Chinatown
Then head to Chinatown, a 20-minute walk from Wat Saket.
Bangkok's Chinatown is home to several Chinese stalls and numerous shops selling gold jewellery.
You must also to visit the Talat Mai market if you want to experience some culinary quirks or just taste some exotic fruits.
C. Wat Traimit
Also in the Chinese district, continue the walk by visiting Wat Traimit. And yes, there is a temple on the schedule of this 3-day tour in Bangkok!
This one is known for its huge Buddha statue (still him!) made of solid gold and weighing over 5.5 tons. 
An interesting tale, it was when the statue was transferred to the Wat Traimit (it used to be in another temple) that people realised that it was entirely made of gold. It was covered in stucco to protect it from the Burmese during the invasion of Thailand.
During transport to Wat Traimit, the statue fell and the wood cracked, showing the gold underneath. You will see a lot of Thai people on pilgrimage to the Wat because it is very venerated.
The entrance fee is 40 Bahts.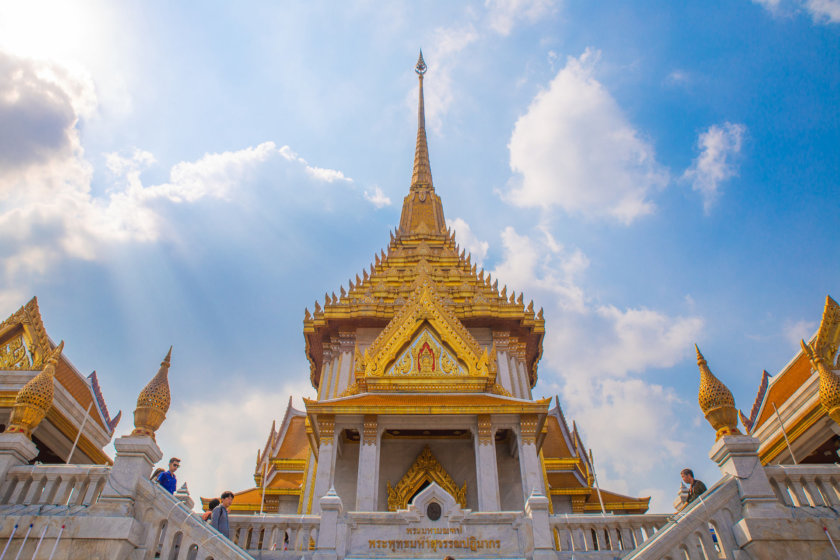 D. Lumpini park
To take a break from the crowds and hustle and bustle of Chinatown, continue with your day in Lumpini Park.
From Chinatown, take the subway at the Hua Lamphong station and get off at the Lumpini stop.
Walk along the paths of the largest park in the city to the lake and enjoy the greenery and tranquillity. For a three-day visit to Bangkok with children, the park is an excellent choice as they can also enjoy the playgrounds.
Do not be surprised if you come across the local residents: Asian water monitors. Quite impressive because they strongly resemble the Komodo dragons, but are not considered dangerous.
They'll let themselves be photographed, but don't try touching or feeding them, they're still wild animals with sharp teeth and long claws.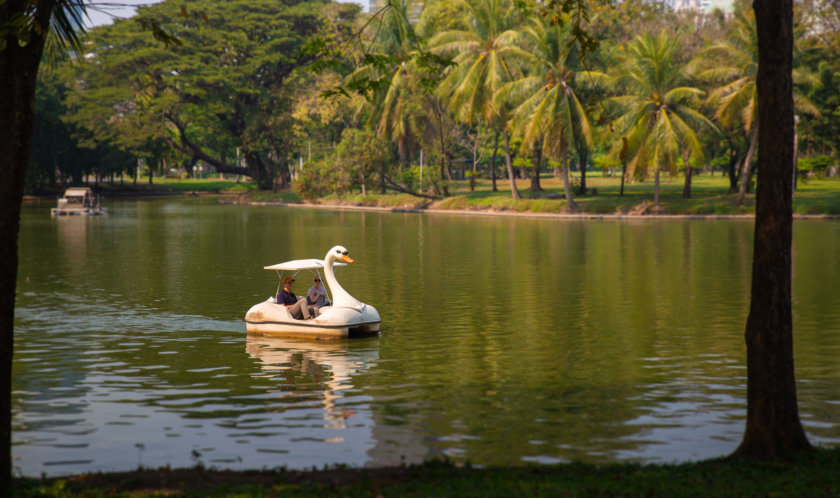 E. Siam
If you feel like shopping during your 72h trip to Bangkok, you must visit the Siam district.
It contains all the major shopping centres of the city. You will find everything: clothes, jewellery, electronics, cosmetics and souvenirs. Very modern and trendy, even if you don't want to burn your bank card, you can at least enjoy the air-conditioning!
The 3 best known shopping centres are:
MBK Centre: more focused on electronics and clothing. On the upper floors, you will also find plenty of souvenir shops.
Siam Paragon for luxury boutiques
CentralWorld, one of the largest centres in South Asia.
They also have food courts serving Thai and international cuisines.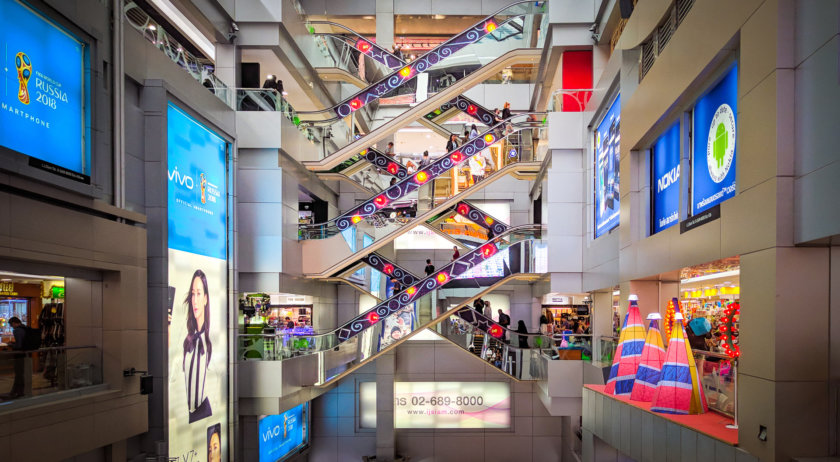 F. Jim Thompson house
A fifteen minute walk from Siam, art lovers can then visit Jim Thompson's house.
This wealthy collector, an American businessman, collected many traditional works of art in his house.
Even the building is very special, as it was built from sections of traditional houses in Ayutthaya. They were dismantled, transported and rebuilt in Bangkok. 
Jim Thompson is also known around the world for introducing Thai silks to the greatest designers. You can see haute couture collections made with these fabrics during shows in Milan or London.
The entrance fee is 200 Bahts and the only option is a guided tour . Open every day/ Last guided tour at 6pm.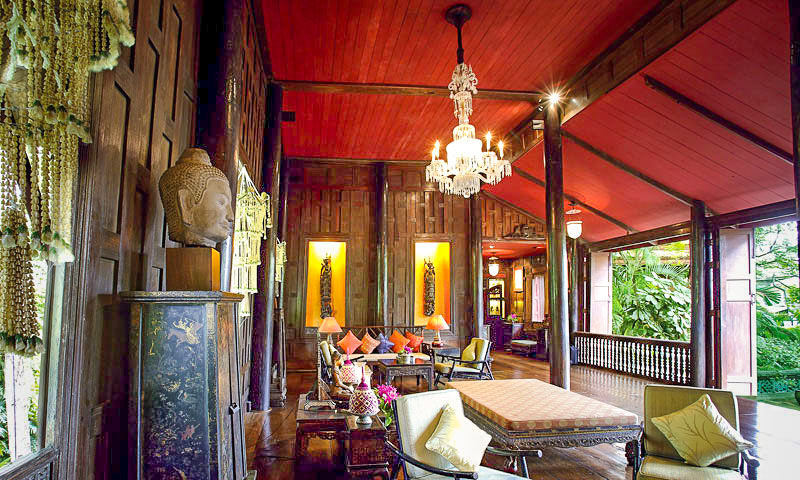 G. Baiyoke Tower
For your second night in Bangkok, I suggest you climb up and spend the evening at the top of the city's tallest building: Baiyoke Tower.
From the terrace on the 77th floor or from the revolving platform on the 84th floor, you can enjoy the panoramic view of all the illuminated buildings.
The climb up is often crowded, so it is best to book your ticket in advance. The one I recommend also includes a buffet meal in the price:
If you fancy an evening in a more chic environment but also want to be able to admire the view, there are also several rooftop restaurants in Bangkok.
But expect a high price for cocktails and you can only enter the places if you follow a rather strict dress code.
Among the best rooftop in Bangkok, there are:
King Power MahaNakhon SkyWalk which is the highest observation platform in Bangkok. At 1000 ft high, you will enjoy a 360° view of Bangkok while sipping a nice cocktail. Just like the Bayoke Tower, it is highly recommended to buy your tickets in advance by clicking here!
The Roof and its splendid view of Wat Arun
The Vertigo Moon Bar at the top of the Banyan Tree Hotel
The Sky Bar Lebua where scenes from the movie "Very Bad Trip" were shot. To make sure you have a table, I recommend booking your table in advance by clicking here. The round-trip from hotel to Bangkok is also included.
The Three Sixty Lounge, at the top of the Hilton
The Park Society, opposite Lumpini Park
The Cloud 47 in the Financial District
The Red Sky on the 55th floor of CentralWorld.
Voyage Tips - Advice
For those who would like a little more action and a much more charged atmosphere, you must attend a Thai boxing match.  Even if you are not a fan, the Thai national sport is an art!
The matches are held in 2 places: the Lumpini stadium and the Ratchadamnoen stadium.
It is best to buy your tickets in advance by clicking on the button below:


Day three in Bangkok – Places to visit
If you are going to spend 3 days in Bangkok on the last day, you have several options:
Stay in town and continue the tour
Go on a trip to discover the surroundings.
I'll explain these options in detail below:
Option 1 – Continue with your Bangkok trip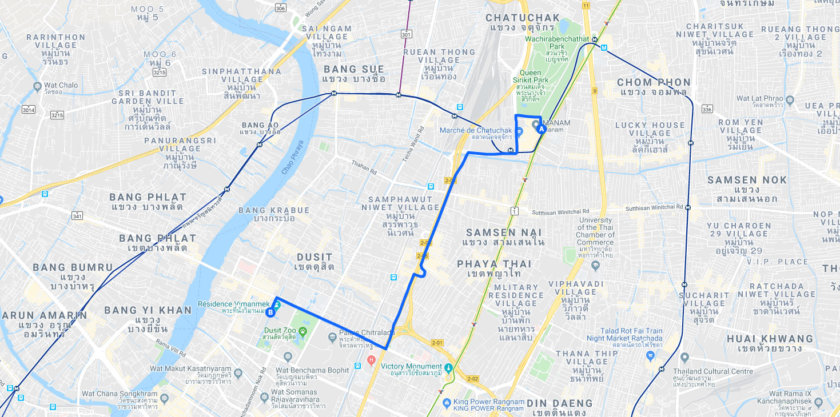 First option for the rest of your 3-day trip to Bangkok: continue your tour of the city.
A. Chatuchak market
If you are in Bangkok for the weekend, there is one thing you must not miss: Chatuchak market. Open on Saturdays and Sundays, Thailand's largest market hosts more than 15,000 stands!
Organised in sections to make your trip easier and easier, it offers clothing and accessories, souvenirs, jewellery, furniture, plants and animals. There are also ceramics and antiques.
It also has several food stalls. You can do as the Thai people do and enjoy your meals in the large park just next to the market.
To get to Chatuchak market, which is quite far from the centre, take the subway and get off at the "Chatuchak Park" stop.
Voyage Tips - Advice
Watch out for pickpockets at the market. The high concentration of tourists attracts thieves.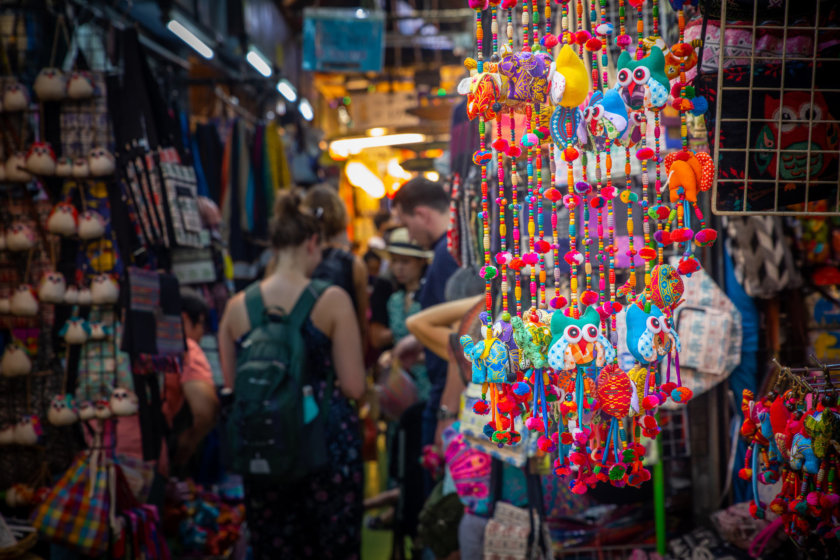 B. Dusit Park
Some twelve km south of the market, (it is best to take a taxi/ tuk tuk to get there), you can visit Dusit Park.
The place is home to 2 symbolic buildings:
The Dusit Palace, whose throne room is where all the pictures of the Royal Family of Thailand are taken, which you will see all over the country.
The Vimanmek Mansion is considered the largest golden teak monument in the world. This is a former royal residence.
Next to the Dusit park, do not miss out on going to Wat Benchamabophit, a temple built entirely of white marble from Italy.
Voyage Tips - Advice
If you still have time on your third day in Bangkok, you can then visit one of the museums or relax with a traditional Thai massage.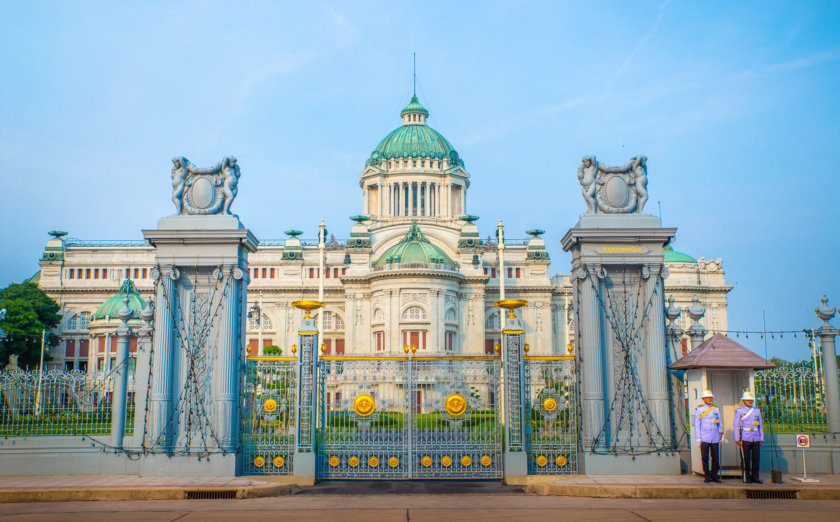 Option 2 – Trips around Bangkok
The second choice is to continue your 72h stay in Bangkok by visiting the surrounding areas.
Here are several suggestions for things to do around Bangkok:
1) Floating markets
A tour of Thailand's floating markets is a classic for a road trip in Thailand. One of the best known and closest to the capital is the Damnoen Saduak floating market.
To get there, the most practical thing is to choose an organised excursion. From Bangkok, you will first reach the Mae Klong market, a fish market located on train tracks. You can then take a boat to the floating market.
You can book this excursion by clicking on the button below:
2) Kanchanaburi
The name Kanchanaburi may mean anything to you, yet it is one of the country's most important historical sites. This is where the Kwai River bridge is located, built during World War II by thousands of prisoners.
To discover its history, you can visit the city's museums.
There are also trips from Bangkok, including transportation, tours, lunch and a train ride.
Get details and reservations by clicking here:
3) The historical site of Ayutthaya
Listed as a UNESCO World Heritage Site, Ayutthaya is the ancient capital of the kingdom of Siam. You will discover numerous vestiges of temples from the era.
Ayutthaya is easily accessible by bus or train from Bangkok.
You must read my article dedicated to the temples of Ayutthaya to organise your visit. It is located here: Ayutthaya: the definitive guide.
There are also organised trips that you can book by clicking the green button below: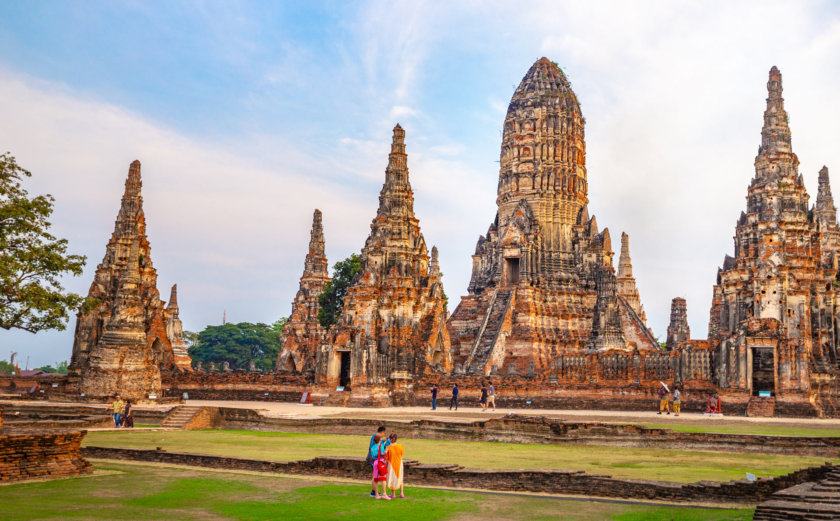 Where to stay in Bangkok
Bangkok has numerous accommodation options and it can be quite complicated to choose a hotel from among the hundreds of options.
To help you, here is my selection of the best hotels to stay in Bangkok!
The best hotels near the Grand Palace and Wat Pho:
The best quiet hotels near the metro (to get around easily)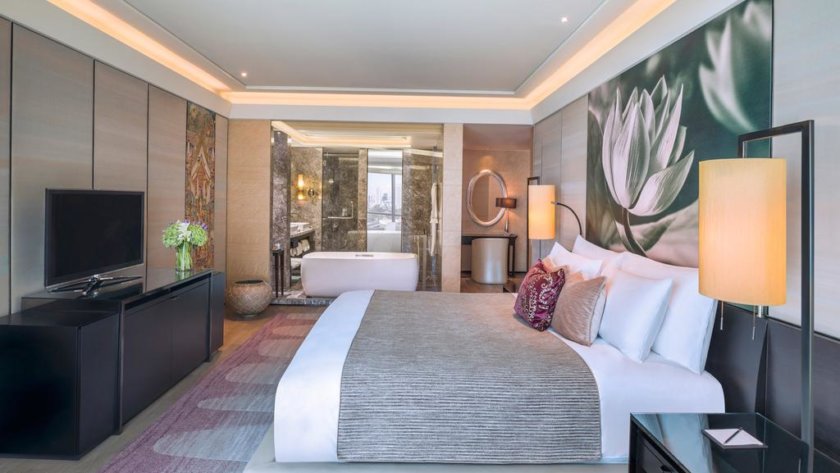 Visit Bangkok in 3 days with your family
Are you wondering if going to Bangkok for 3 days with your family is a good idea?
Yes it is! If they are a little tired of seeing temples, you can intersperse your days with activities that they will certainly enjoy.
Here is a list of things to do in Bangkok in 3 days with your children:
Visit the Bangkok Aquarium:  Sea life Bangkok Ocean World. Book your tickets here!
Discover Madame Tussauds and its wax statues of international celebrities. Buy your tickets here.
Go to the Fun-arium , the largest indoor playground in the city
The Children's Discovery Museum with lots of interactive activities. Plus it's free!
Ancient City, a park with miniature versions of Thailand's monuments and temples
Siam City Park, one of the largest amusement parks in Southeast Asia. Entrance tickets here.
Kidzania  where children will be able to try their hand at different jobs in realistic settings: a fire station, an operation theatre, and much more
The Dream World amusement park. Book your tickets here.
More things to do and see in Bangkok in 3 days
All the places on this three-day tour of Bangkok and many other ideas for places to visit can be found in my other post: The best things to do in Bangkok?
If you want to organise your itinerary yourself or find other things to do, please do read it.
You will also find tips for travelling around Bangkok and a list of the most frequent scams because unfortunately this can happen to you too.
What to do and where to go after these 3 days in Bangkok?
This three-day visit to Bangkok is probably just a prelude to continuing your tour in Thailand.
Whether you plan to visit Thailand in 1 week, 10 days, 2 weeks or even 1 month for some lucky people, you should read my detailed itineraries.
They include daily tours and suggestions for hotels to stay in at each stop. They will allow you to discover Ayutthaya, Chiang Mai or Chiang Rai and also the most beautiful Thai islands like Phuket or Koh Lanta.
Read here depending on the length of your stay:
Voyage Tips - Advice
Before travelling to Bangkok and Thailand, don't forget to take out travel insurance. This allows you to cover all your health expenses in case of problems or accidents and allows you to benefit from repatriation assistance.
This insurance is essential if you want to avoid paying thousands of Euros in case of hospitalisation and it costs nothing: for 3 weeks the cheapest option is only €34.
To choose your insurance in Thailand for the duration of your trip and your needs, I strongly advise you to read my article: What is the best travel insurance for Thailand?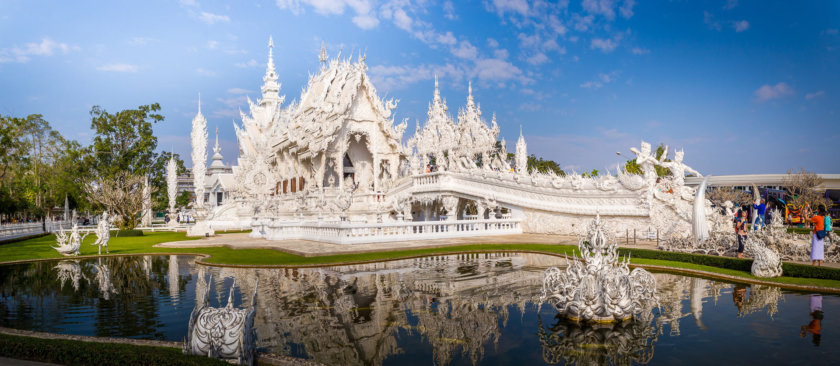 Map for your 3-day itinerary in Bangkok
To help you view your itineraries during these 3 days in Bangkok, I have made you a map listing the places to visit daily. You can display the map legend by clicking the button at the top left with a small arrow. You will then be able to view the itineraries for each day.
Travelling to Bangkok: flight prices
Since flight prices for Bangkok vary greatly, it is a good idea to compare them as soon as possible. To do this, you can use our flight comparison tool, in partnership with Skyscanner. You can rest assured that you will get the best rates.
Need help organising your 3-day trip to Bangkok? Feel free to ask me your questions in the comments section.
Book your trip now and save money!
Thailand travel Guides
You're traveling to Thailand? These articles will help you!
Discover all my articles about Thailand: All my articles to help you plan your trip to Thailand are listed there.
The 25 Best Things to Do in Thailand
You're using Pinterest? Here is the picture to pin!