Things to Do in Krabi: The 17 Best Places to Visit (All Highlights)
You're planning to visit Krabi during your next trip to Thailand?
Great idea!
With its karst cliffs and small islands with idyllic beaches, It's for sure the perfect destination for a dream holiday.
In order to help you plan your stay, I have prepared this guide of the 17 best things to do in Krabi, with all points of interest and must-see attractions.
In addition to this list of things to do and activities, I will also give you itineraries to visit Krabi in 1, 2, 3, 4, 5 days (or even 1 week!) as well as my selection of the best accommodations depending on your budget.
So, what are the best things to do in Krabi? Where to stay?
Visit Krabi: All Must See attractions
1. Krabi Town
Beginning this guided tour of Krabi, you can take small walk in the city itself, in order to discover the main monuments. 
What are the things to see in Krabi?
1) Wat Kaew Ko Wararam: a pretty, white temple (not to be confused with Chiang Rai temple) which has a staircase decorated with dragon sculptures. Inside, you can admire a golden Buddha.
The temple is located in the heart of the city, on Maharaj street. Entry is free.
2) Andaman Art Museum, which opened just recently, opposite the Wat Kaew. This contemporary art museum houses a collection of paintings and sculptures by Thai and international artists.
3) Krabi market: a local and not really a touristy market where you can eat pocket friendly food. A Pad Thai costs barely 40 Bahts and you can end up with fresh fruit at 20 Bahts, all accompanied by a 30 Baht coconut water. Less than 100 Bahts for the meal, dessert and drink!
It is also located on Maharaj street.
4) Krabi Weekend Night Market: the Krabi Town night market is located towards the Chao Fah pier on Maharaj 8 Alley street. From Friday to Sunday evening, you can try delicious Thai cuisine sold in the numerous street stands.
There are also dance and music shows.
5) Khao Kanab Nam: these 2 karst rocks shaped like crab pincers and 100 metres tall have become the symbol of the city.
You can admire them from the river in Krabi Town or even go by long tail boat (the typical Thai boats). The boats leave from Chao Fah quay and the crossing takes just 15 minutes.
Exploring the 2 rock formations is usually combined with a visit to the caves just nearby (entrance at 30 Bahts) and a passage through the mangrove. You will end the tour with a stop at a fish farm in the fishing village of Ko Klang.
The ride lasts 2 hours and costs between 450 and 600 Bahts for the boat. The more people with you, the less you will pay.
Voyage Tips - Advice
As you walk around Krabi Town, be sure to look up and admire the rather original traffic lights avec les statues qui s'y trouvent.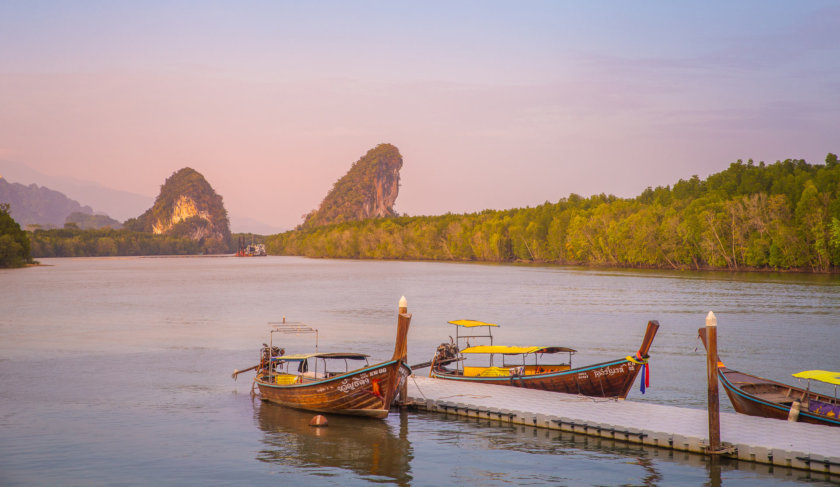 2. Tiger Temple / Wat Pham Suea
The Tiger Temple or Tiger Cave Temple is one of the main places of interest to visit in Krabi.
It is located less than 12 km from the city centre.
Built on top of a hill, the upper part of the temple is accessible via a staircase that has no less than 1,237 steps to be precise. And to top it all off, the staircase is really very steep, which makes the climb akin to a sports activity. Take your time, bring some water and all will be well!
At the top, if the weather is clear, you can enjoy a 360° view of the whole province. If it has become one of the most popular tourist attractions in Krabi despite the arduous climb, it's indeed worth it!
The round-trip takes between 1h and 1h30. 
On the site, on the right side before the stairs to climb the temple, you can also take a walk in the part called "Wonderland". To reach it, you will also have to go through a staircase but much smaller than the one that leads to the top.
You can also see the "Tiger cave", the cave after which the temple is named. Tiger paw prints were found there, which led to believe that a tiger lived there.
During the 30 minute walk through the jungle you can also admire some very large trees.
Practical information: entry to the temple is free. Ladies, remember to bring something to cover your shoulders and legs with you.
There are several bars, restaurants, shops and toilets all around and inside the hotel.
Voyage Tips - Advice
To get to the Tiger Cave Temple from Krabi Town, you have to take the red song thaew (shared taxi). They leave from Utarakit street but you can hail them on the road and they will stop if they are not full.
You also have the option of a tuk tuk or a taxi, but it will be more expensive.
The last possibility is to book a trip including the visit of the temple and exploring Krabi Town and the market. You will find all the information about this trip to Krabi with driver by clicking here!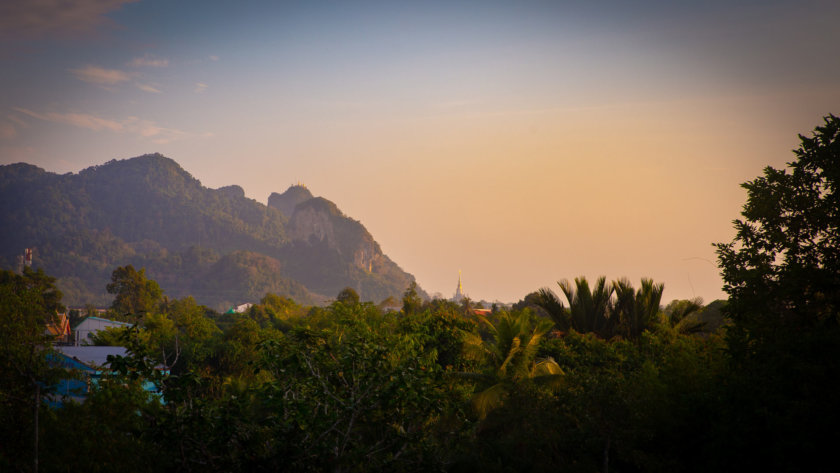 3. Ao Nang
Ao Nang is one of the must-see spots during a stay in Krabi.
It is the province's main seaside resorts. Here you can find the beaches closest to the centre, about 20 km away.
Many people choose to stay there to be near the sea rather than in the city.
The Ao Nang area has several beautiful beaches:
Ao Nang Beach: a large sandy beach bordered by numerous bars, restaurants and tour desks. All the tourist activities of Krabi and the surrounding area are concentrated there. This is where you can take the boat to Railay (I'll tell you a bit more about that in this article).
Noppharat Thara Beach: another big beach with fewer people than Ao Nang. Also very pretty and wilder. However, there are no boats leaving from this beach.
The Centara Grand Beach Resort & Villas beach in a protected bay. To reach there, you have take a staircase and a path through a forest that begins at the end of Ao Nang beach. Alternatively, you can rent a kayak to get there. There aren't a lot of people here apart from the hotel guests.
If you are staying in Ao Nang during your trip to Thailand, it is also the best way to visit the surrounding islands. All tour operators offer trips to Koh Phi Phi, the Hong Islands or the 4 islands with departure from Ao Nang Beach.
I will give you the details for all these trips in the rest of this article.
Ao Nang is also famous for its beautiful sunset. If you are spending some time in the area, you can admire it from the beach, but if you want to change it up a little and do a nice activity, you must book a cruise at dusk.
The cruise, which begins in the early afternoon, offers several snorkelling stops before ending with a dinner at sunset on the islands of the Andaman Sea.
The rate includes cruise, meals, soft drinks and unlimited fruit, as well as snorkelling equipment.
To book your cruise at sunset, just click on the button below:
Voyage Tips - Advice
Just a few miles from Ao Nang is Fossil Shell Beach, a fossil shell a seashell graveyard on the beach.
After reading this, you may want to go there, but in reality there isn't much to see except a few mineral slabs (strongly resembling concrete slabs) with embedded fossils.
I would only recommend it to people interested in geology. Especially as since the area is part of the Mu Ko Phi Phi National Park, you will have to pay 200 Bahts to access it.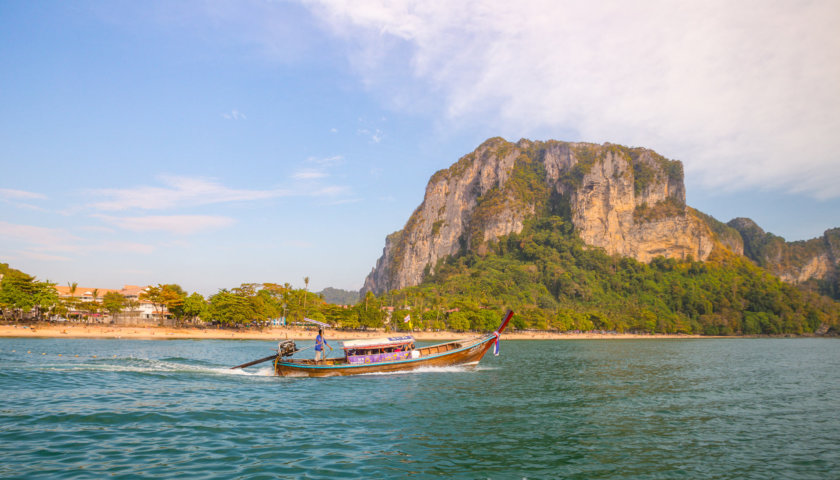 4. Railay
Railay is one of the places you must absolutely see in the province of Krabi.
To get to Railay, you have to take the boat from Ao Nang Beach. You do not need to book your trip in advance. Just go there and buy your ticket directly at the shack by the beach.
The fare is 200 Bahts per person for a boat trip of less than 10 minutes.
Once you get to Railay, you will quickly realise that this is one of the most beautiful places to go to the beach in Krabi. The setting is truly heavenly! However, don't expect to be alone, there are a lot of people.
What are the things to see in Railay, Krabi province:
1) Railay West Beach: this beach is where you will arrive by boat, half of the beach is reserved for disembarking from boats.
Flanked by large karst cliffs, this large beach with fine sands is really very pretty. You can swim, sunbathe and rent kayaks and paddle boats.
2) Railay East Beach: this beach is not really suitable for swimming, especially at low tide. Rather, it is used for boats that disembark and board people staying at nearby hotels. To the left is a small, quiet beach that is easily accessible.
3) Between the beach of Railay West and that of Railay East, there is a small tourist village that has several restaurants, shops, hotels and tour and information offices.
4) The Phra Nang Nai Cellar: a cave that can be visited for 200 Bahts but frankly, it is not interesting.
5) Railay view point: to get there, you will have to make a very steep climb with ropes for about 20 minutes. If you don't have sneakers, it is better to go bare foot than flip-flops: it's muddy and slippery.
The view from the top will be worth the effort!
You can then continue the walk by going to the Princess Lagoon, a crater filled with water with a small cave on the side. The descent to get there is a bit difficult and even requires a bit of climbing at the end.
Voyage Tips - Advice
You're going to Krabi?
You probably know it: the hardest part of planning your trip is to find an hotel offering a good value for money!
The closer you get to your travel dates, the harder it will be to get a good deal. Lots of people will be visiting Krabi on the same dates as you, so you can be sure that the best deals are booked extremely quickly!
Hopefully, there is a pretty simple solution to this problem: do like me and book your hotel as early as possible!
So, my best advice is to take 5 minutes (now) to have a look at the list of travelers' favorite hotels in Krabi.
And if you see a good offer, book it!
Most hotels offer free cancellation, so it's quick, easy, and you will avoid the the inconvenience of finding nothing but mediocre rooms at exorbitant prices.
To check the current best deals for your hotel in Krabi, simply click on the green button below 😎:
Once you've booked your hotel, it will be time to continue reading this guide and find out more about the best things to do in Krabi!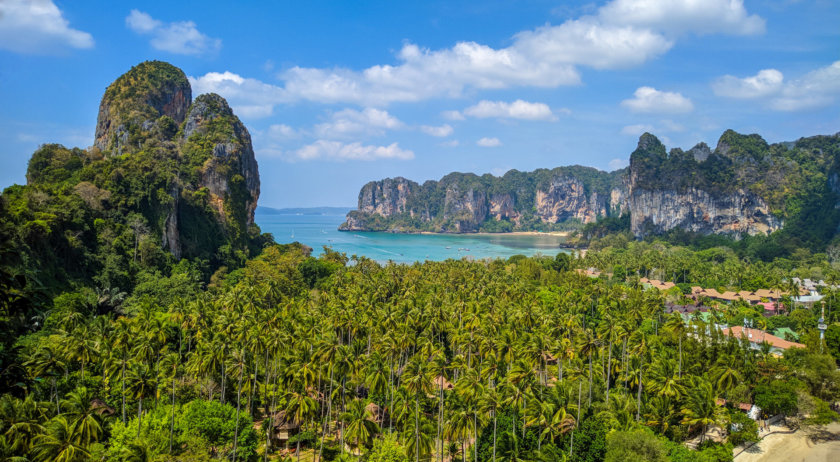 6) Phra Nang Beach: clearly the most beautiful beach in Railay, the place is truly superb, a postcard-worthy vista! This is one of the most beautiful beaches I have seen on my tour in Thailand.
On the left, at very the end, you can go and see the Phra Nang Cave. Legend has it that the cave is inhabited by the spirit of a princess whose boat ran aground here after a big storm. The Thai fishermen come here to lay down wooden phalluses so that the princess will grant them an abundant bounty of fish.
If you cross the cave and go across the rocks, there's a small view point.
On the opposite side of Ao Nang Cave, at the end of the beach, you can also take a path that climbs up to a large cave.
However, you will need a flashlight to explore it, as the place is not developed at all. It is not possible to continue the path further and go down the other side on Railay West Beach, unless you have climbing equipment.
And talking about climbing, this is one of the main reasons why people come to spend some time in Railay. The peninsula is known for its approximately 700 climbing routes.
Whether you are a beginner or a veteran climber, you will have plenty to do in Railay. You can choose to take a course lasting a few hours or even one lasting several days.
To book a 4-hour climbing course in Railay, please click on the button below.
Rates include pick-up at your hotel in Krabi, Ao Nang or Railay, an experienced instructor and equipment rental.
The guide is very nice and you can do this activity safely with equipment that meets international standards.
Voyage Tips - Advice
If you are looking for a beautiful beach with fewer people, I recommend going to Tonsai Beach. It is located between Ao Nang beach and Railay West beach.
Accessible seulement en bateau ou par un chemin au niveau du Railay Phutawan Resort, elle est plus isolée et vous y serez tranquille.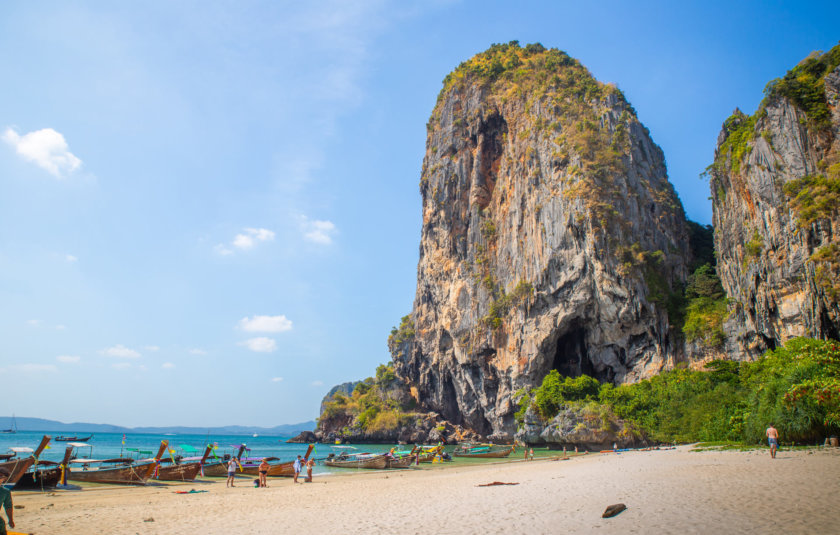 5. Boat trip to the 4 islands
Did you visit Krabi Town? You have explored the nearby beaches and you don't know what to do in Krabi anymore?
Now you can discover the most beautiful islands in the area through boat trips.
One of the most famous is the one that takes you to 4 small islands near Krabi:
Koh Poda
Koh Kai, nicknamed Chicken Island because of its chicken-shaped rock formation
Koh Tup
Phra Nang Cave (in Railay)
Departures every morning from Ao Nang beach. A boat will pick you up and take you around the 4 islands, stopping at each one so that you can swim and go snorkelling. 
The price includes pick-up from of your hotel, one-day boat rental, diving equipment, lunch and as much water as needed.
You can book this one-day boat trip by clicking on the button below:
The trip I've just mentioned involves a boat, but if you wish, you can also make this trip in longtail boats, the traditional Thai boats.
You can reserve it by clicking here!
Finally, if you prefer to visit the 4 islands around Krabi in the afternoon (departure around 1.30pm) in order to watch the sunset afterwards, this is the trip you need (click here)!

6. Trip to Koh Phi Phi
Another unmissable trip from Krabi and Ao Nang is the one-day trip to Koh Phi Phi.
If you haven't already visited this island during your Thai itinerary, then now the time!
The island of Koh Phi Phi is famous worldwide for the famous Maya Bay beach where a part of the movie "The Beach" starring Leonardo di Caprio was shot.
Unfortunately, the fame spread so much that every day dozens of boats and thousands of people came to the beach. This influx was disastrous for the ecosystem and corals, which were severely damaged.
The beach was therefore closed down completely for several years (and even today the authorities can decide to close it a few months a the year to protect it). And even you are able to go there during your visit, it is now forbidden to swim there.
Rest assured though, you will still have the opportunity to admire it from the boat!
In addition to Maya Bay, the trip includes:
Snorkelling in Hin Klang Reef 
A visit to the Viking cave with its murals
Snorkelling in the Pileh lagoon
A trip through the Bay of Monkeys
Lunch on Phi Phi Don Island
A relaxing break on the Bamboo Island beach
To book this trip to Koh Phi Phi, you can just click the button:
Voyage Tips - Advice
If you are going to Krabi for a short time, you can also book a trip to discover Koh Phi Phi + the 4 islands mentioned above (Koh Poda, Koh Tup, Chicken Island and Phra Nang Cave).
This is a 2-in-1 trip, and is very convenient to see everything in 1 day instead of 2.

7. Trip to Hong Islands
Last boat trip available to you during your stay in Krabi: explore the Hong Islands.
Embark on a day of total relaxation with only snorkelling and swimming in the turquoise water on the agenda.
The round-trips from your hotel, the day-trip in a boat, diving equipment, lunch and guide expenses are included in the price.
To book this amazing trip, just click on the following button:
This boat trip to the Hong Islands from Krabi is also available with an afternoon departure to enjoy a barbecue on the beach at sunset.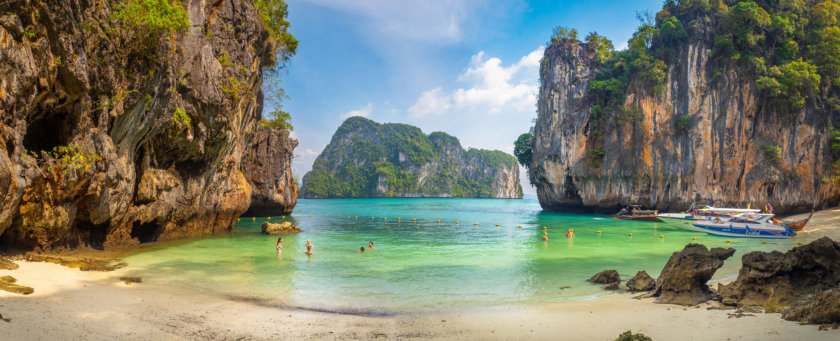 8. Emerald Pool /Hot Springs
Here is another idea for a day trip from Krabi, but this time on land: the emerald pool and the hot springs.
Located some fifty km from Krabi, the Emerald Pool (Sa Morakot in Thai) is one of the most popular tourist sites in Krabi. It is frequented by both tourists and Thai people, who love to come here with their families on weekends.
The swimming pool is actually a natural pool where you can swim in spring water with an incredible emerald green colour. On the site, in addition to the swimming area, you can also take the paths and go to another natural swimming pool: the Blue Pool (swimming not allowed).
From the car park, you have to walk a little less than 1 km to reach the emerald swimming pool. The entrance to the nature reserve costs 200 Bahts per person.
As there is no public transport to get there, it is best to either rent a scooter or go on an organised tour.
If you choose the latter option, the trip, in addition to the Emerald Pool, can also take you to the hot springs fed by a waterfall with water at 40°.
You will finish the day at the Tiger Temple, which I mentioned at the beginning of this article.
To book this trip at the Emerald Pool + Hot Springs + Tiger Cave, just click the button: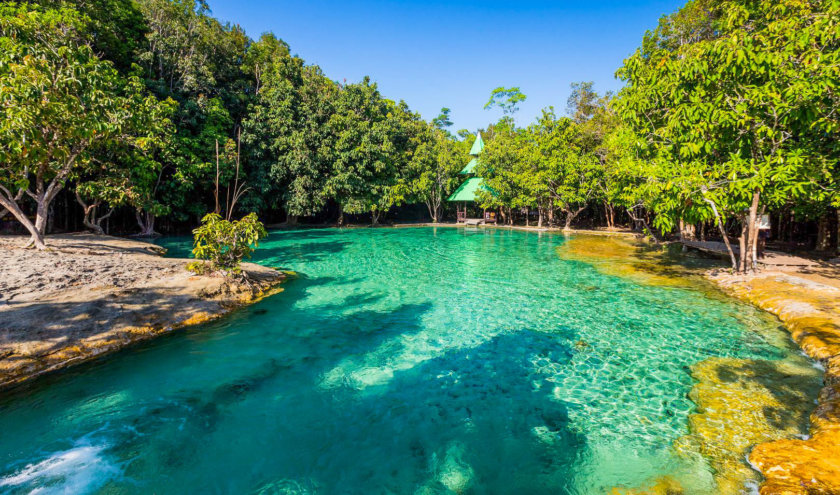 9. Khao Phanom Bencha National Park
For a change from the long sandy beaches and islands, I recommend that you go for a ride in the Khao Phanom Bencha National Park during your holiday in Krabi.
It is just 20 km north of the city.
The park is the ideal place to go hiking in Krabi. It has several paths to walk through the jungle and observe the fauna and flora.
Also another unmissable spot is the Huay Toh waterfall, which has several levels and where the main waterfall is 230 feet high. You can even take a dip!
To go to Khao Phanom Bencha National Park, you will have to rent a scooter, a car or book a tuk tuk or a taxi for the day.
Entrance to the park is 200 Bahts per person + 20 Bahts for scooter.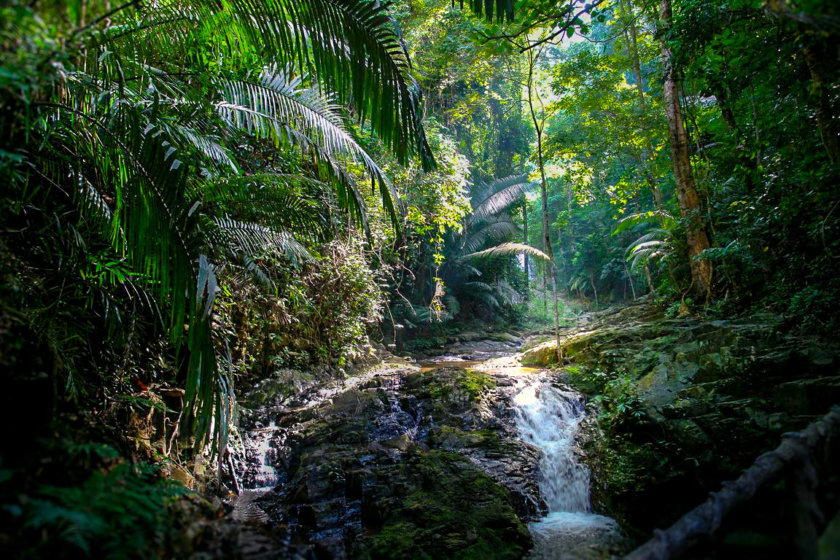 10. Tab Kak Hang Nak Nature Trail
Visiting Krabi is also about enjoying nature.
If you enjoy hiking, in addition to Khao Phanom Bencha National Park, you can also do the Tab Kak Hang Nak Nature Trail.
The 3.7 km path leads up to the summit and affords a panoramic view of Krabi province and the islands.
This trail is rather gruelling, so don't wear flip-flops. Sneakers or even hiking shoes are mandatory to climb the stony trail. And remember to bring enough water.
It takes about 2 hours to reach the summit.
Entry to the site is free but the rangers who welcome you and give you some explanations will appreciate it if you leave a tip.
There is also no public transport to reach the beginning of the trail. From Krabi (40 km away), you can take a scooter, car, tuk tuk or taxi.
The time taken to get there, go up, take photos, climb down and return to Krabi, is more or less one day.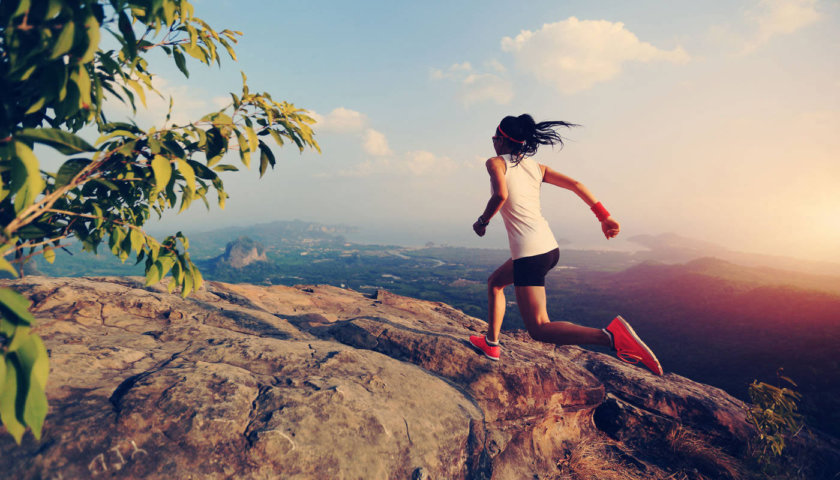 11. Activities to do in Krabi
If you're tired of basking on the beach, you can do several sports activities in Krabi (click on the orange links to book):
Ziplines and tree-climbing. The Ao Nang Fiore Zipline Adventure offers 2 different options: one for beginners and/or families and one more complicated. Book here!
Sea kayaking in the Thalane mangrove where you can observe crabs, herons and monkeys. If you want to go kayaking in Krabi, you can book your activity here.
Quad biking. The route takes you right through the rainforest.
Several tours even offer a combination of quad bikes with kayaking, which allows you to do 2 activities in the same day. To make sure you go through a reliable agency, you can book this activity here.
A horse ride on the beach is an option for a romantic activity in Krabi!
A Thai boxing class to discover one of the country's most popular sports
A bike tour with a guide in a national park around Krabi
Go karting 
Buggy ride
Paintball
Rafting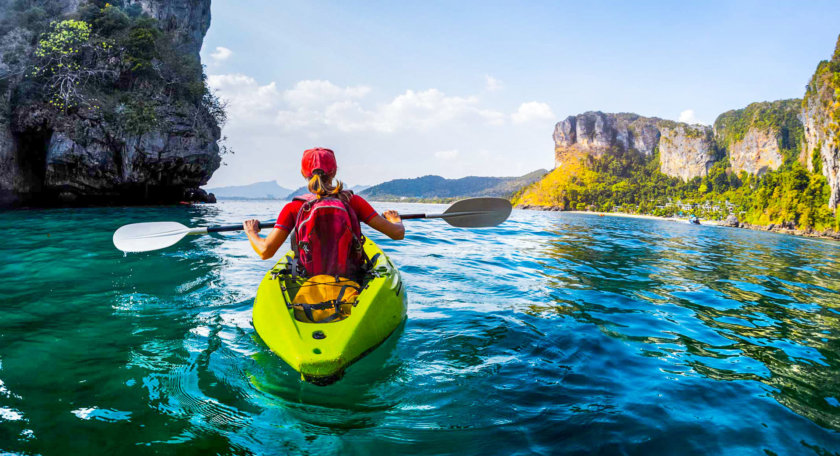 12. Visit an ethical elephant sanctuary
Several Krabi agencies also offer sports activities such as quad biking or kayaking + a ride on elephants. Knowing how these animals are treated, I strongly advise against it.
If you really want to see elephants, I recommend the Krabi Elephant Sanctuary, which houses abused elephants. For half a day, you can feed them and help bathe them. 
The round-trip to and from the sanctuary is included.
If you wish to go and see the elephants during your stay in Krabi, you must book in advance by clicking on the green button below: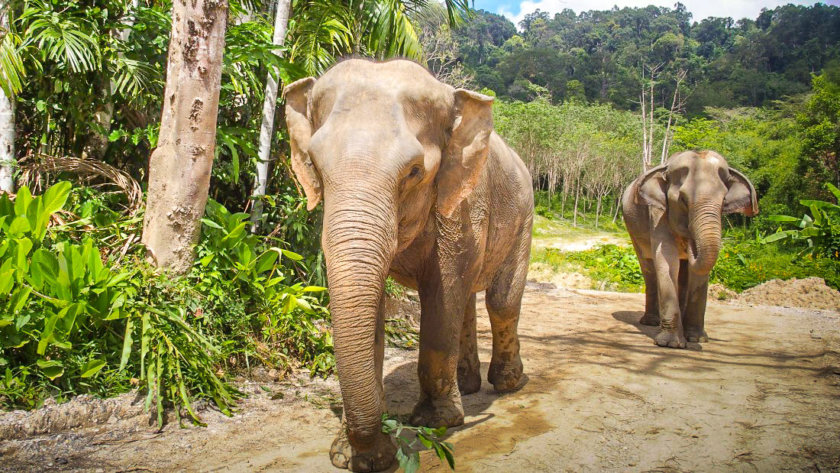 13. Thai cooking classes in Krabi
As you will see, the food in Thailand is really delicious! Even the simplest dishes like fried rice are very good.
If you want to make the local specialities once you get home, I suggest you take the opportunity during your holiday in Krabi to take a cooking class. In addition to learning how to cook 4 dishes and taste them, you will leave with a recipe booklet!
And what I find very nice is that each person can choose the dishes that they want to prepare, including a green curry, Pad Thai pad, spicy shrimp soup, coconut milk chicken , sticky mango rice, curry sauce pasta etc..
To book your cooking class in Krabi,, you can click this button: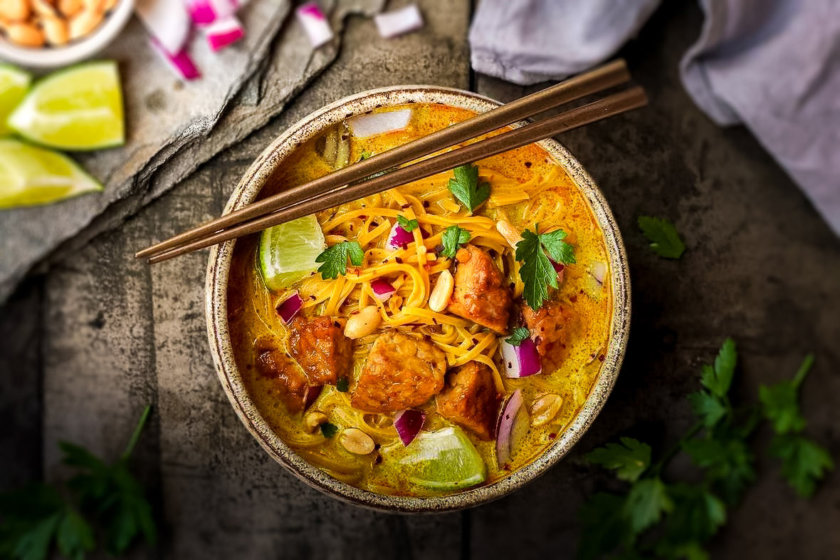 The best things to do around Krabi?
After doing all the things I'm talking about in this guide to Krabi, it's time to continue your road trip in Thailand!
From the Krabi province, you can easily reach other famous places such as Koh Lanta or Phuket.
14. Koh Lanta
Koh Lanta is one of the best known islands to visit in the surroundings of Krabi.
To discover the island, you just have to rent a scooter and follow the main road in search of the most beautiful beaches. 
From Koh Lanta, you can also go on boat trips to Koh Rok or the islands of Koh Ngai and Koh Muk.
I will give you all the detailed explanations to visit Koh Lanta in this article: The best things to do in Koh Lanta?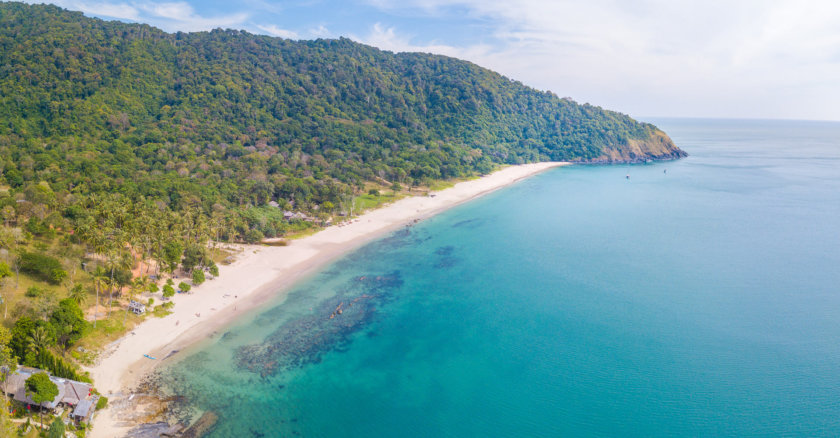 15. Koh Yao Noi
Less well-known than Koh Lanta and yet just as pretty, Koh Yao Noi is also close to Krabi.
The island is still not much visited and doesn't have mass tourism. In short, a paradise for those seeking peace and quiet, the ideal place to spend a totally relaxing holiday in a postcard setting.
It is also the perfect island for boat cruises to James Bond Island or the islands of Than Bok Khorani National Park.
All things to do in Koh Yao Noi can be found in our article: Visit Koh Yao Noi.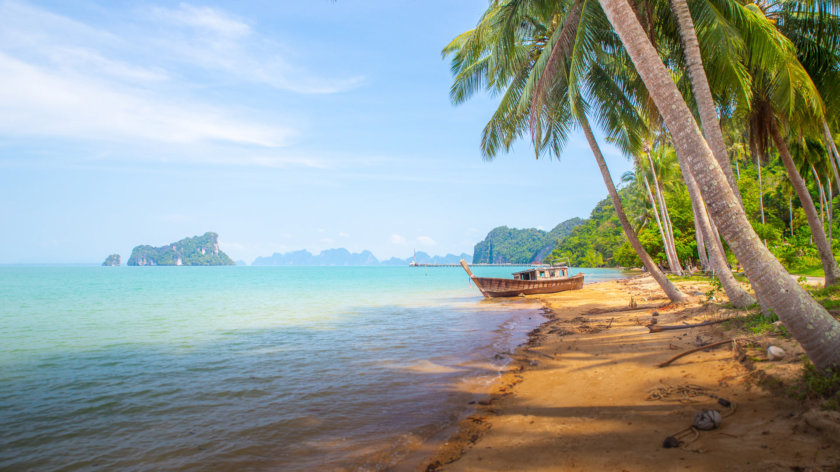 16. Phuket
Phuket is without doubt the most touristy island around Krabi.
People come here mainly to party all night and enjoy the beautiful beaches and water activities during the day.
The island is also an excellent starting point for discovering Koh Phi Phi, Phang Nga Bay or even the Similan Islands.
If you would like to visit Phuket, we recommend you read our article: Phuket: the definitive guide.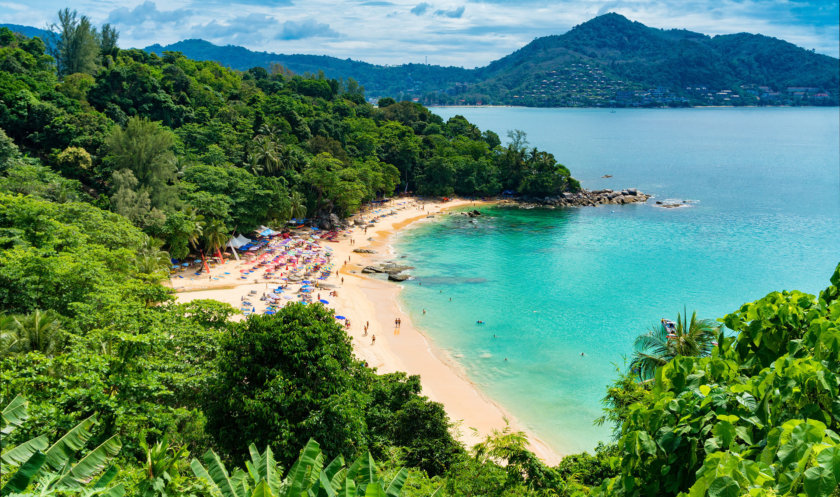 17. Koh Sriboya / Koh Jum
These 2 names probably don't mean anything to you (and it's understandable because I had never heard of them before I went to Krabi) and yet these 2 small islands lie between Krabi and Koh Lanta.
They both have a few hotels but are completely protected from mass tourism and still very authentic. 
It is an excellent choice if all you want for your vacation is some quiet and rest! It is a place that is totally off the beaten track, perfect for a relaxing stay in Thailand.
To reach these islands, you will have to take a boat to Krabi, or, if you are coming from Koh Lanta, the ferry makes 2 stops on the way to unload the passengers.
How many days to visit Krabi?
To visit Krabi, I recommend a minimum of 3 days.
You can of course spend 4, 5 days or even 1 week here to do all the activities or simply stay on the beach.
Visit Krabi in 1 day
In 1 day in Krabi, you must go to Railay.
Guests can relax at the beach, discover the Phra Nang Cave and climb to the viewpoint.
On your way back in a boat to Ao Nang at the end of the day, you can enjoy the beautiful sunset over the bay.
Visit Krabi in 2 days
If you have 2 days in Krabi, you can continue from the schedule for the first day and add a trip to the surrounding islands, with the choice of: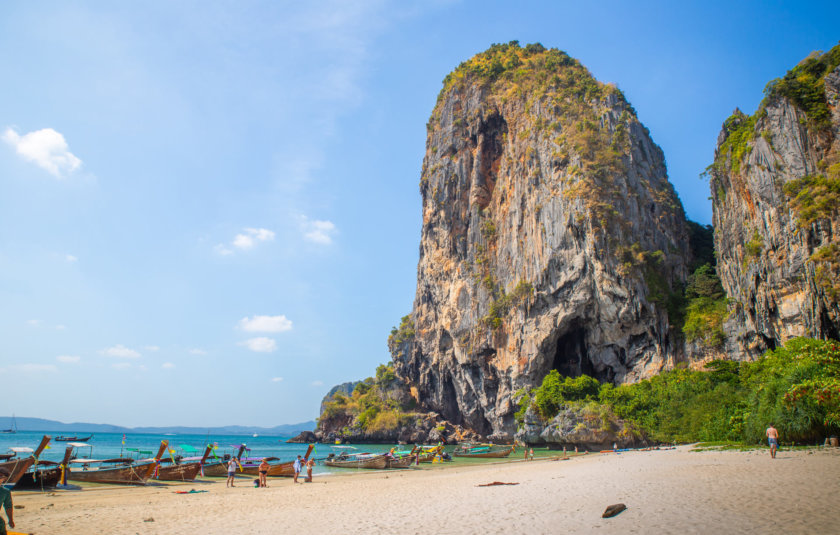 Visit Krabi in 3 days
On the third day in Krabi, in addition to the previous 2 days, you have several options:
1) A trip to the islands, choosing those that you did not go to on day 2
2) Climbing to the Tiger temple in the morning and discovering Krabi Town in the afternoon
3) One day at the emerald pool and hot springs
4) The Tab Kak Hang Nak trail
5) Hiking in Khao Phanom Bencha National Park
6) Sports activities such as kayaking in the mangrove or zip line.
Visit Krabi in 4-5 days / one week
For 4, 5 or even 7 days in Krabi, you won't have to choose, you'll be able to do all the important things.
If you spread out the day 3 options over the rest of your stay in Krabi, you will have plenty to do!
You can then continue your holiday in Thailand by going to Koh Lanta or Phuket.
Where to stay in Krabi
There are 3 main areas to stay in Krabi province:
Krabi Town, practical for visiting "land" sites such as the national park, the tiger temple or the emerald swimming pool.
Ao Nang if you are looking for a lively area on the seafront and for trips to nearby islands such as Koh Phi Phi or Chicken Island.
Railay to enjoy the beach.
To help you, I have prepared a selection of the best hotels to stay based on these areas and your budget.
Best accommodation in Krabi Town
The best hotels in Ao Nang
Where to stay in Railay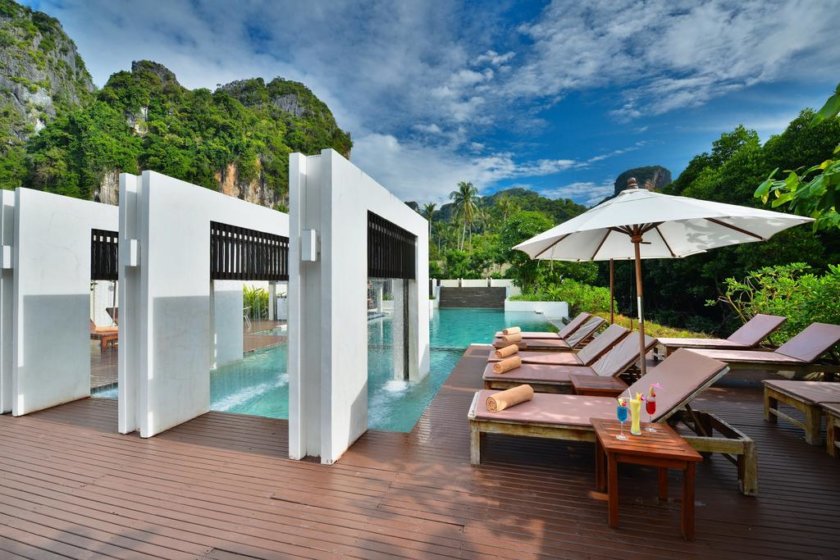 How to get around Krabi
The easiest way to get around Krabi, Ao Nang and the surroundings is to rent a scooter. You don't have to follow a schedule and you can do anything you want during the day.
If you only plan to stay in Krabi Town or Ao Nang, you can also use the song thaew. The red ones connect Fossil Shell / Ao Nang / Krabi / Tiger Cave. The Blue ones, Krabi Town and the airport.
But you can't go to the emerald pool or the national park in a song thaew, for example.
You will then have to book a taxi for the half day or the day.
If you wish to hire a car (or even a minibus) with a private driver that will take you to visit the places of your choice, the rates are around €65 for 2 for 4 hours and €90 for 2 for 8 hours. 
You can click on the button to view the details and make your reservation: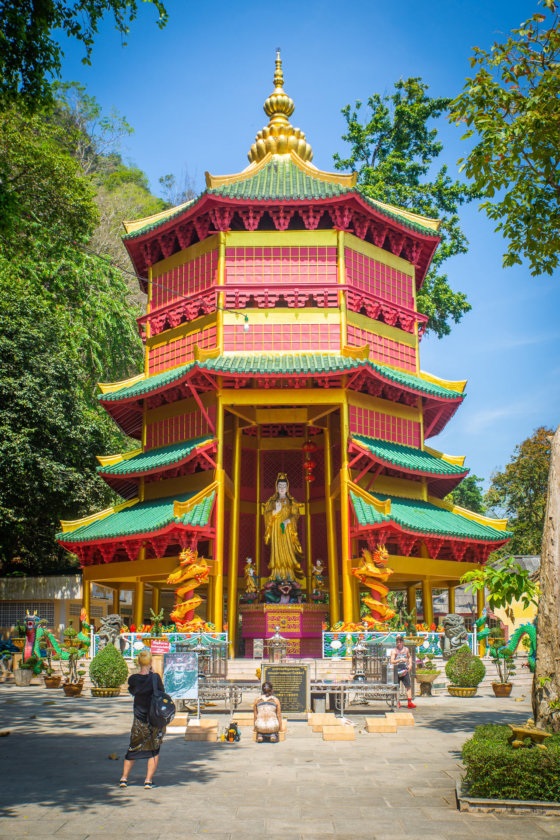 How to go to Krabi
You have several options to reach Krabi.
From Koh Lanta
To go to Krabi from Koh Lanta, you will have to take the boat.
The journey takes about 2h30 with 2 5-minute stops to disembark the passengers who want to go to Koh Jum and Koh Siboya. To give you an idea, we paid 350 Bahts per person with the transfer from our hotel in Koh Lanta to the port.
In the boat, you will be offered shuttles to reach your hotel in Krabi, Railay or Ao Nang. The prices are quite high but don't hesitate to negotiate.
Otherwise, when you arrive at the port, you will find taxis but the prices are fixed and just as high.
From Koh Phi Phi
The ferry ride from Koh Phi Phi to Krabi takes about 2 hours.
You can book your transport with pick-up directly from your hotel and the included boat ticket by clicking on the button below:
And ifyou prefer to take a speedboat to reduce the travel time (1 hour only), this is also possible and you need to book it here.
From Phuket
The quickest way to get to Krabi from Phuket is to take a minibus.
The journey takes a little more than 3 hours. You have to take the bus to Phuket station or the airport.
From Bangkok
Krabi has an airport 10 km south of the city. There are flights from Bangkok every day.
The flight time is only 1 hour 10 minutes from Bangkok to Krabi. The price is also super interesting: less than €50 per person.
If you are not in a hurry, it is also possible to catch a bus to Krabi from Bangkok. Departure is from the Southern Bus Terminal (Sai Tai Mai in Thai).
The ride is 12 hours, so I recommend you book a VIP bus for more comfort.
Transport from Krabi airport to Krabi Town or Ao Nang
Once you arrive at Krabi airport, you can catch the bus or a song thaew to Krabi Town, Ao Nang or Railay. 
To avoid hassle, you can also book your group transfer from Krabi Airport to Krabi town or Ao Nang. A driver will wait for you upon your arrival to take you to your hotel. Prices start at only €8 per person.
However, you have to book in advance by clicking here!
Private transfers are also available and it really doesn't cost much more if there are 2 or 3 of you. Here is the link with all the information.
Visit Krabi: flight prices
Since flight prices for Krabi vary greatly, it is a good idea to compare them as soon as possible. To do this, you can use our flight comparison tool, in partnership with Skyscanner. You can rest assured that you will get the best rates.
Tourist map of Krabi
To help you visualise the town a little better, I made you a tourist map of Krabilisting the places to visit that I talk about in this top 17 things to do in Krabi and nearby. You can display the map legend by clicking the button at the top left with a small arrow.
So what have you planned to in Krabi?
Book your trip now and save money!
Thailand travel Guides
You're traveling to Thailand? These articles will help you!
Discover all my articles about Thailand: All my articles to help you plan your trip to Thailand are listed there.
The 25 Best Things to Do in Thailand
You're using Pinterest? Here is the picture to pin!