Itinerary: One Month in Thailand – Best Places to Visit + Tips
You're planning to spend one month in Thailand for your next trip?
Great idea!
In order to help you plan your stay, I have prepared for you this 1 month itinerary in Thailand.
During your 30-31 days trip, you will visit the best of Thailand, starting with Bangkok, Ayutthaya, Sukhothai, Chiang Mai and Chiang Rai.
The second part of your holiday will then take you to the Southern Islands to discover Phuket, Koh Lanta, Krabi and Koh Yao Noi.
In addition to the best places to visit for each stage of your itinerary, I will also give you all my best tips and accommodation suggestions depending on your budget.
So, how to spend a month in Thailand? Where to go and where to stay?
1) Bangkok (3 days)
For this 1 month trip to Thailand, you must begin with Bangkok, the country's capital.
Arriving at the Suvarnabhumi airport, you have 2 options to reach your hotel:
The Airport Rail Link, which connects the airport to the city centre for only 45 Bahts and avoids all traffic jams. Departure every 15 minutes between 6am and midnight. It is very practical and also has underground (MRT) and BTS (elevated metro) connections, making it easy to get to most of the hotels (you might have to end up taking a taxi if you're staying in the historical centre). This is the quickest and cheapest solution.
Taxis: between 250 and 450 Bahts depending on your destination and especially traffic conditions. Ask the driver to set the meter and never accept a set fare. Also, show him the address of your hotel in Thai to avoid mistakes.
Book private transport by clicking here! From 1070 baht (€30 for 2).
Spend a quiet evening and your first night in Bangkok to recover from jet lag.
Here are the places to go on the first full day in Bangkok:
The Grand Palace: former residence of the monarchs – 500 Bahts
Wat Pho and its famous sleeping Buddha – 200 Bahts
Wat Arun, entirely covered with mosaics – 50 Bahts
The Siam Museum (300 Bahts) or the Bangkok National Museum (200 Bahts), both showcase the history of Thailand, but the Siam museum does so in a more playful and less classical manner.
Khao San Road for its shops, atmosphere and bars.
And there is nothing better than to end this day with a cruise and dinner on the river to admire Bangkok's most famous illuminated monuments.
You can book directly by clicking the button below:
If you prefer a more romantic version, you should opt for this dinner cruise on board an old rice barge:
Voyage Tips - Advice
As there are no really explanatory signs to when visiting the 3 main tourist attractions in Bangkok (Grand Palace + Wat Pho + Wat Arun), you can opt for a guided visit. You can book it directly by clicking here.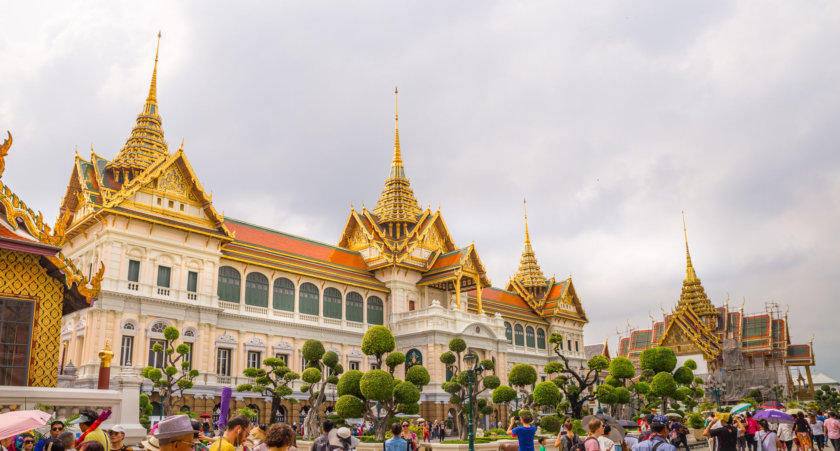 Agenda for the second day in Bangkok:
Wat Saket for its panoramic terrace – 50 Bahts
Chinatown and Wat Traimit for its 5.5 ton gold Buddha statue
Lumpini park for a quiet moment away from the crowds
The Siam district and its huge, ultra-modern shopping centres
The Bayoke tower to admire Bangkok at night. Tickets to access the panoramic platform can be booked here.
Or the King Power Mahanakhon which is now the highest observation deck in Thailand. Tickets available here!
Sports lovers may prefer to watch a Muay Thai boxing match, the national sport of Thailand. Tickets available here.
For the last day in Bangkok, if it's the weekend, you must visit Chatuchak market. The largest market in Thailand has no less than 15,000 various stands: clothes, jewellery, and souvenirs galore. And of course, there are plenty of food stalls too!
If you would rather visit the areas nearby Bangkok, you can opt for a day trip. There are 2 very popular options:
You will find all the details to visit Bangkok and its surroundings in our detailed article: The best things to do in Bangkok?
Voyage Tips - Advice
When visiting temples, whether in Bangkok or elsewhere on your month-long tour of Thailand, women must have their shoulders and legs covered (also valid for gentlemen in some cases).
If you haven't brought shawls, you can borrow clothes at the entrance to the sites or buy clothes for a hundred bahts.
Accommodation in Bangkok
The best hotels near the Grand Palace and Wat Pho:

The best quiet hotels near the metro (to get around easily)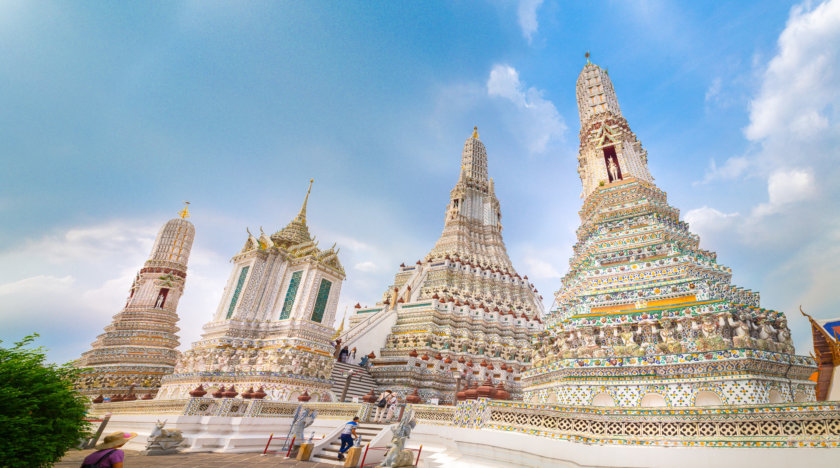 2) Ayutthaya (1 day)
To continue your month-long stay in Thailand, you will now head to Ayutthaya, just 75 km from Bangkok.
To get there, you can choose fromseveral means of transport:
Rent a car (which you will keep until Chiang Rai). This is the fastest way to get around on this month-long road trip in Thailand. My recommendation is renting a car from the Don Muang airport in Bangkok (not the one you arrived at) as it is directly on the way to Ayutthaya. It will only take you 45 minutes by car.
To book your rentalcar, you must use Rentalcars.com. Simply because the website allows you to compare all the fares for the airport's rental companies in one click and their comprehensive insurance system is very effective in case of accident or theft.
You can directly compare all the rental rates by clicking on the button below:
Train: a train ticket costs only 15 Bahts and the journey takes 2 hours, this is the cheapest option.
Bus: It takes 90 minutes and costs 50 Bahts
Minivan: It takes one hour and costs 70 Bahts
Upon arriving in Ayutthaya, you can spend the rest of the day visiting the historical park and its many temples, which are listed as a UNESCO World Heritage Site.
The prices, timings, and must-see temples are given in detail in my dedicated article: How to visit Ayutthaya?
Spend a night in Ayutthaya.
Voyage Tips - Advice
To rent a car or a scooter in Thailand, you will need an international driver's permit. Remember to get it done before you leave.
Il ne vous sera pas forcément demandé au moment de la location mais si vous ne l'avez pas en cas d'accident, vous pouvez dire adieu à vos assurances!
Accommodation in Ayutthaya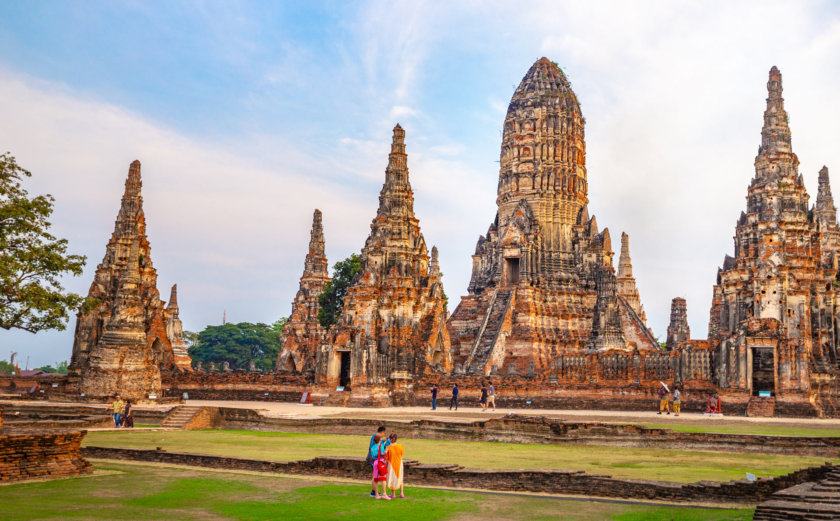 3) Sukhothai (2 days)
For this leg of our 1 month itinerary in Thailand, I would suggest going a bit to the north: towards Sukhothai, 350 km from Ayutthaya.
In view of the distance, it is best to keep one day just to get there:
By car, expect it to take around 5 hours, and the roads are in excellent condition, lined with many brand new petrol stations
By bus: from the Ayutthaya bus station it's a 6 hour journey. There are several departures during the day. Price: 300 Bahts.
By train: Sukhothai does not have a railway station, you will have to take the train to Phitsalunok (4h / 700 Bahts) + 1 bus from Phitsalunok to Sukhothai (1h / 50 Bahts).
The next day, you will get a full day to discover the historical park of Sukhothai. Along with Ayutthaya, these are the 2 must-see parks. Sukhothai is also a UNESCO World Heritage Site.
As with for Ayutthaya, I have prepared a comprehensive article with all the information to visit Sukhothai here: Practical tips for visiting Sukhothai.
Spend another night in Sukhothai.
Accommodation in Sukhothai

4) Chiang Mai (4 days)
For the fourth leg of this one-month trip to Thailand, continue further north and travel 300 km to Chiang Mai.
The journey vary depending on your means of transport:
4h30 drive by car, once again the roads are excellent and the journey is straight. No stress!
6 hours by bus (departure from Sukhothai Bus Station) – 300 Bahts
By train: from Sukhothai, you will first have to go to Phitsalunok by bus (1h / 50 Bahts) then take the train: 6 to 8 hours and between 100 to 600 Bahts (different classes).
Here too, you can expect a good day's journey, but if you feel like it, you can take a short walk at the end of the day to get an initial glimpse of the city.
On the second day, you can start with the actual exploration of Chiang Mai, renowned for its many temples. The majority of the temples are located in the old town, which gives you the perfect opportunity to take a walk and see:
Wat Phra Singh. Free of cost.
Wat Chedi Luang – 40 bahts.
Wat Inthakhin Sadue Muang. Free of cost.
The Three Kings Monument
One of the 3 history museums of the city: the cultural centre, the history centre and the Lanna museum of popular arts.
Wat Chiang Man
Warorot market
Wat Saen Fang, Wat Buppharam and Wat Mahawan. Only the Buppharam temple has an entrance fee: 20 Bahts.
From 6 to 7 pm, head either to the Night Bazaar (during the week) or to the Saturday or Sunday market. Typical of many Thai cities, you will find plenty of souvenirs and food stands where you can taste the excellent traditional cuisine.
You can also explore the night market in a guided visit, which also includes numerous tastings. Click here to book!
Return to your Chiang Mai hotel for a second night.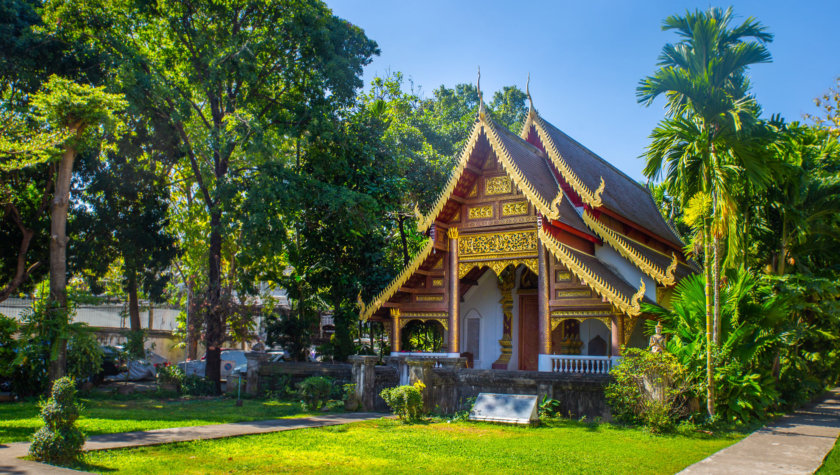 On the third day in Chiang Mai, head to the Doi Suthep National Park, a classic destination near the northern capital.
It is best to take your car or rent a scooter to go there and have the freedom to plan your day. Alternatively, you can also take one of the shared taxis (song thaew) leaving from the old town. However, you will have to wait until it fills up before you can leave.
Last choice: go on an organised trip with a guide. This is a practical solution because you don't need to manage anything are picked up from your hotel.
To find our more about reserving this tour by clicking on the button below:
Here is the list of places to see in the park:
Huay Kaew waterfall: at the entrance – Free of cost
Mon Tha Than waterfall – 100 Bahts + 30 Bahts for a car
The Doi Suthep temple and its panoramic view overlooking the whole province – 30 Bahts
The gardens of Bhubing Palace for a walk at the winter residence of the royal family – 50 Bahts
The Hmong village at the end of park road. With lots of souvenir stands and a garden with a waterfall – 10 Bahts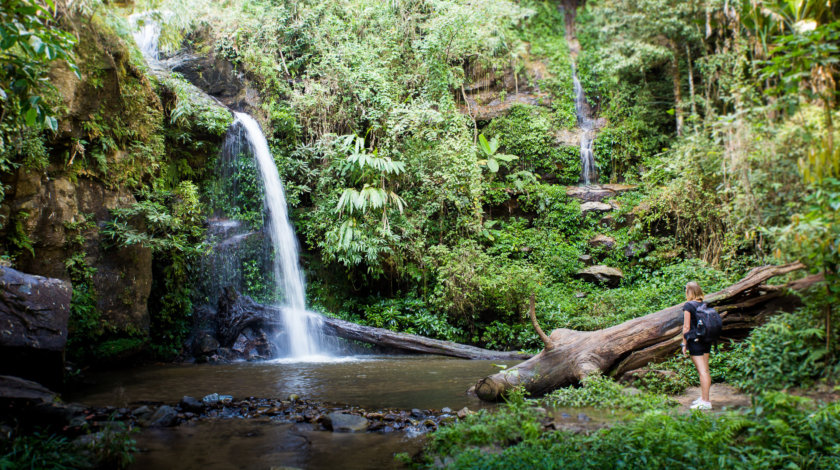 On the last day in Chiang Mai, I'll let you choose between 2 standard activities of a month-long stay in Thailand:
Spend a day with elephants at a shelter where you can feed and wash them. It is better to book in advance, since there only a small number of are visitors allowed a day so as not to disturb the elephants.
Take a Thai cooking class with which includes buying ingredients at the market, making delicious recipes and of course a tasting!
If you have a car, you must spending the late afternoon at Huay Tung Tao Lake, about 15 minutes from the city centre. It is very popular with locals who love to come and eat on stilted huts by the water.
There is also a large area with giant straw animals for souvenir photography.
Access to the lake costs 50 Bahts per person.
Spend one last night in Chiang Mai.
Need more information about Chiang Mai? Read my article: Chiang Mai: the definitive guide.
Accommodation in Chiang Mai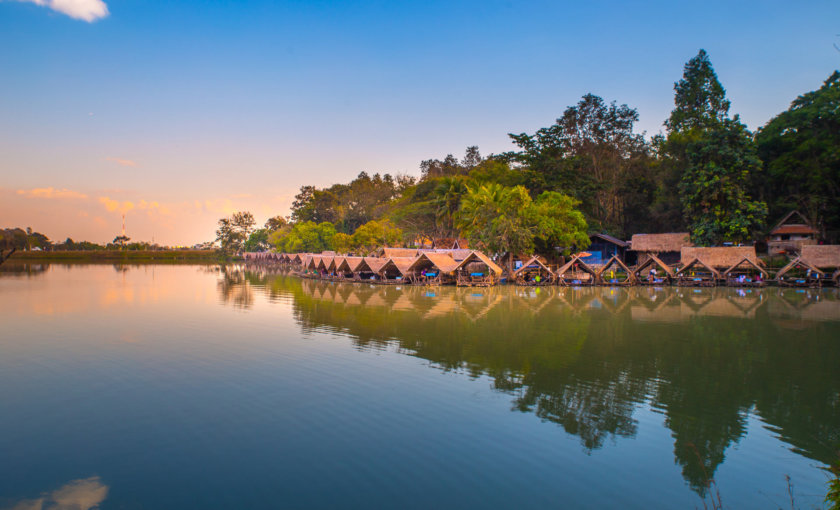 5) Chiang Rai (3 days)
Continue this 1 month tour in Thailand with a last stop in the North, at Chiang Rai.
What are the options to go from Chiang Mai to Chiang Rai?
Car: 3h30 to cover 200 km between the two cities
Bus: 3h30
No trains
Once you arrive in the afternoon, you must take a walk around the city.
The must-see spots:
Wat Phra Kaew – Free
 The golden clock tower – Free
Wat Ming Meuang – Free
Wat Phra Sing – Free
Wat Klang Wiang – Free
Wat Jet Yot – Free
The HillTribe Museum on the history of the mountainous ethnicities of northern Thailand – 50 Bahts.
The Oub Kham Museum and its superb collection of objects from the kingdom of Lanna. Only guided tours available (300 Bahts).
In the evening, visit the traditional Night Bazaar for a bite to eat and go stroll among small shops selling souvenirs and local handicrafts.
The next day, you can start strong by going to the absolutely unmissable place of this stay in Chiang Rai: the white temple.  Undoubtedly the most visited monument in the region and one of the most famous in all of Thailand!
Its special feature is the completely white walls covered with lime and mirror shards that make it sparkle in the sun. The entire temple is decorated with many sculptures and statues with impressive details.
The entrance fee is 50 Bahts.
Voyage Tips - Advice
Try to go there early in the morning pour éviter tous les cars touristiques. Il y a vraiment énormément de monde.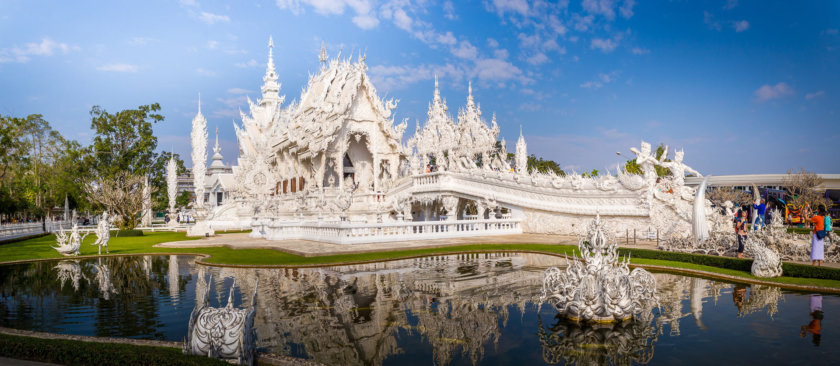 For the rest of the day, you have the following options:
The Khun Korn waterfall, accessible via a small hike – Free
Singha Park, to visit the tea plantations, and make sure you take a photo of the park's emblem: a large statue of a golden lion. Free
Wat Huay Pla Klang and its 3 temples, each one more impressive than the other – Free
The blue temple, a beautiful spot, and free!
After a good night's sleep, you can continue exploring Chiang Rai and its surroundings:
Visit to the Baan Dam Museum, which is a cluster of several black houses with a peculiar and surprising decor: animal skins, bone thrones, animal skulls… – 80 Bahts
Go to Doi Tung to explore the Mae Fah Luang Garden, a splendid and very well developed garden, and the Doi Tung Royal Villa, residence of the Princess Mother of Thailand – The pass costs 220 Bahts to visit everything. You can also experience a zip-line descent in the park, but for an additional fee.
Take a road trip amidst beautiful landscapes between Doi Tung and Mae Salong
Walk to Mae Salong market.
Last night in Chiang Rai.
All things to do in Chiang Rai can be found in our article: What are the things to see and do in Chiang Rai?
Voyage Tips - Advice
To visit Chaing Rai and its surroundings, it's better to have a car. The places to visit are scattered and quite far away, and most of them are not connected by public transport.
If you really don't want to drive, the best solution is to hire a driver for the day.
Accommodation in Chiang Rai

6) Phuket (4 days)
Now we have reached the second part of this 1 month road trip in Thailand. For today, you can reach Chiang Rai Airport and fly to South Thailand.
And yes, visiting Thailand in 1 month also includes enjoying the beaches. And what better way than to start with one of the country's best known islands: Phuket!
Here is an idea for an itinerary to explore the island and its surroundings in 4 days:
First day (after landing): go to Patong beach to relax or enjoy water activities like parasailing. At the end of the evening, you can go to Bangla Road with its many bars. You will also have the opportunity to attend a ladyboy show (tickets available for purchase here) or a boxing fight (tickets can be purchased there).
Day two: boat trip to Koh Phi Phi. Click here to book!
Day three: trip to the Similan Islands to swim in one of the most beautiful places in the world. Book your trip here!
Day Four: road trip to visit Phuket: Phuket Town, Monkey Hill, Khao Rang Hill, Wat Chalong, beaches…
I have explained everything in detail in this article: Visit Phuket.
Accommodation in Phuket
If you want to be in the middle of the action, I have prepared a selection of accommodation on the Patong side:
If you prefer to stay in Phuket Town, here is my selection of hotels:

7) Koh Lanta (4 days)
You must continue this itinerary for about thirty days in Thailand with a well known island that is a little less touristy than Phuket: Koh Lanta.
To get there, you have to take a boat from the port of Rassada in Phuket to Koh Phi Phi (2h30) and from there change to another boat to Koh Lanta (1h15). The prices online are about 1000 Bahts but by going through our hotel, who called the company directly, we were able to get our tickets for 700 Bahts for 2 with transfer to and from the port included.
If you prefer to take a single boat, you can also take a speedboat, but there are not many seats. For this trip, it's better to book in advance. To get more information about the reservation, click here!
In the afternoon, enjoy one of the many beaches on Koh Lanta Island on the west coast. The further south you go, the fewer people there will be.
Spend the first night in Koh Lanta.
For the next 3 days, here are my recommendations:
Take the 4 islands trip to Koh Chuek, Koh Waen, Koh Muk and Koh Ngai. A fully relaxed schedule with swimming and snorkelling.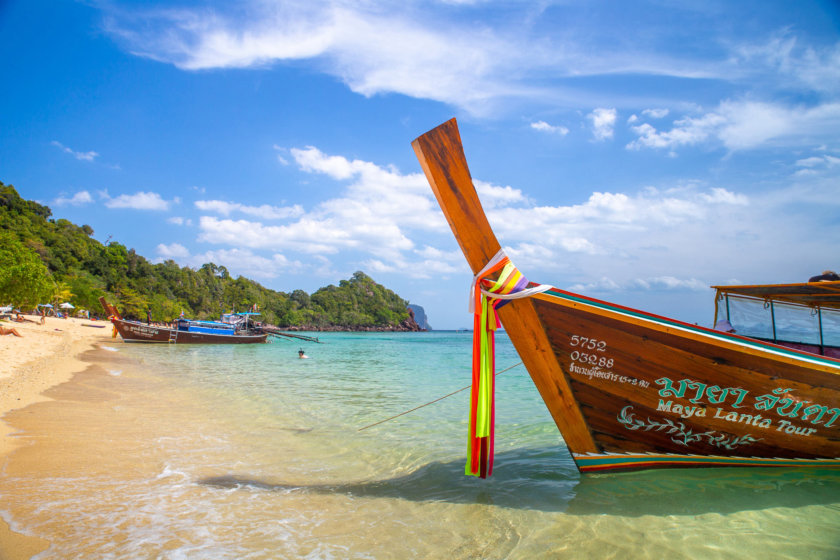 Go to Koh Rok for a day trip on this beautiful island with fine sands and turquoise waters:
My detailed explanations of things to do in Koh Lanta can be found here: The best things to do in Koh Lanta?
Voyage Tips - Advice
During your stay in Koh Lanta, you must go and eat at once at the Sai Nat restaurant, on the road-side, towards Klong Toab Beach. Tous les plats, aussi bien indiens que thaïlandais sont délicieux et ultra copieux.
Accommodation in Koh Lanta
In Koh Lanta, hotels are located on the west coast of the island, close to the numerous beaches.
As always, the best rooms are fully booked months in advance, so make sure to book as soon as you have your travel dates!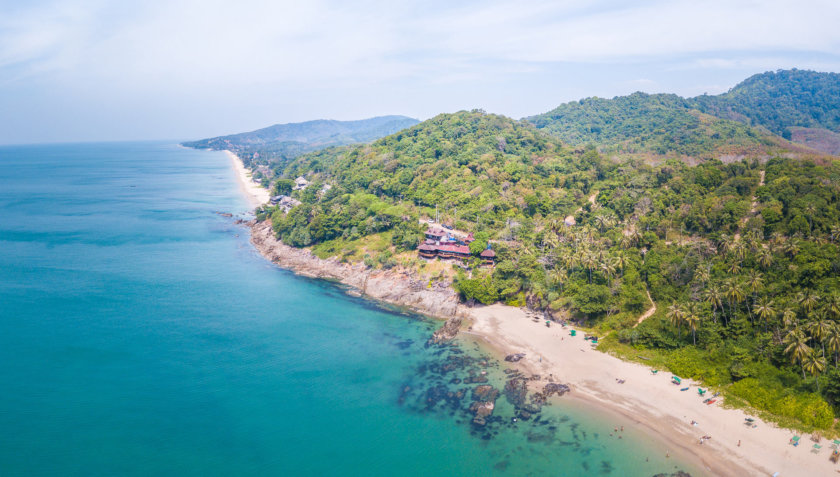 8) Krabi (4 days)
Another stop on this 4 week trip to Thailand: Krabi.
Same as for the previous legs, you will have to take the boat to go to Krabi from Koh Lanta: approximately 350 Bahts per person for a 2 hour and 30 minute crossing.
In Krabi you must stay in Ao Nang, the main seaside resort of the province. This will allow you to spend the afternoon on the first day on the Ao Nang beach or Nopparat Thara beach, which isn't far away.
For the other 2 days in Krabi, you can:
Spend a day on the Railay peninsula, which is accessible only by boat from Ao Nang beach: 10 minutes for 200 Bahts. At Railay you can enjoy the 2 beautiful beaches of Railay West and Phra Nang. If you feel like exercising a bit, you can choose from kayaking, paddling and climbing. Railay is a destination which is known worldwide for this sport. Beginners can even book a course there directly!
Take a trip to the islands of Koh Poda, Koh Kai and Koh Tup on a boat with a snorkelling stop.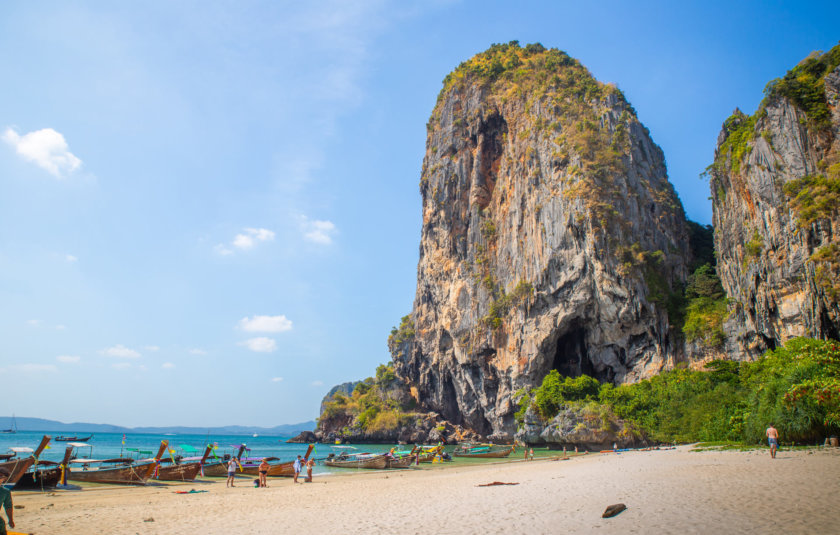 On the last day at Krabi and Ao Nang, you have the following options:
If you want to know more about Krabi, read our article: Krabi: the definitive guide.
Accommodation in Krabi / Ao Nang
There are 3 main areas to stay in Krabi province:
Krabi Town, practical for visiting "land" sites such as the national park, the tiger temple or the emerald swimming pool.
Ao Nang if you are looking for a lively area on the seafront and for trips to nearby islands such as Koh Phi Phi or Chicken Island.
Railay to enjoy the beach.
To help you, I have prepared a selection of the best hotels to stay based on these areas and your budget.
Best accommodation in Krabi Town
The best hotels in Ao Nang
Where to stay in Railay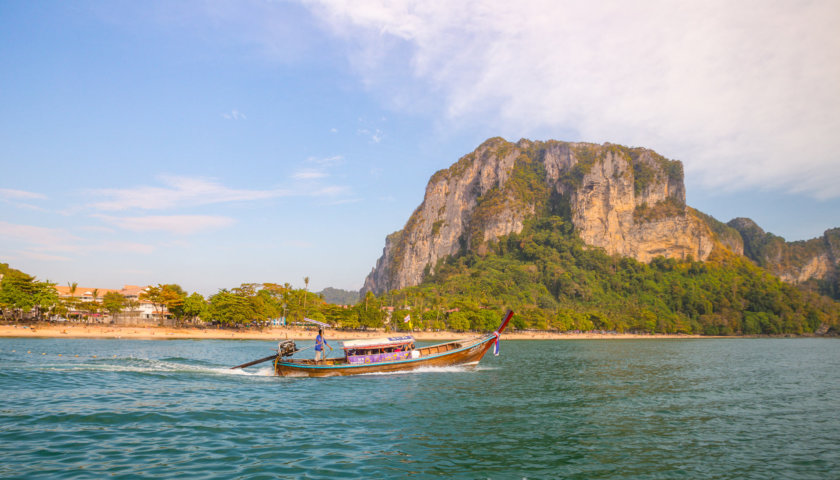 9) Koh Yao Noi (3 days)
For the last stop of this 1 month tour in Thailand, you must end your holiday on a small island that is not yet flooded by tourists: Koh Yao Noi.
A super practical option and only 30 minutes by boat from Krabi (the journey costs 300 Baht).
On the agenda for these 3 days on Koh Yao Noi:
Enjoy the beaches and take a walk. You can rent a scooter to explore the island.
The boat trip to the 4 islands was the best experience I had during my entire one month road trip in Thailand! The fare is 2500 Bahts for the boat (divided by the number of passengers).
The trip to Phang Nga Bay, with James Bond Island and Koh Panyee for 4500 Bahts per boat (here too, divided among passengers).
All the things to do in Koh Yao Noi are given in our article: Visit Koh Yao Noi.
And now your one month vacation in Thailand is coming to an end! From Koh Yao Noi, you can either return to Krabi or Phuket to get to the airport and catch your return flight.
Accommodation in Koh Yao Noi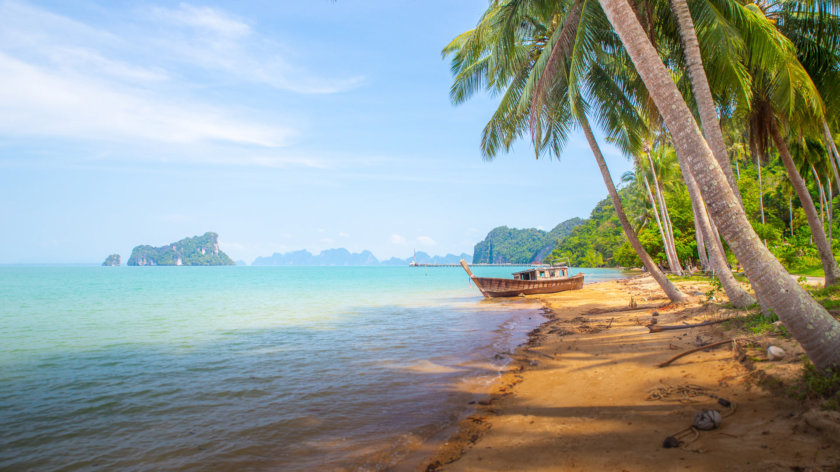 If you have any questions for organising your 1 month itinerary in Thailand, please feel free to ask me in the comments.

Book your trip now and save money!
Thailand travel Guides
You're traveling to Thailand? These articles will help you!
Discover all my articles about Thailand: All my articles to help you plan your trip to Thailand are listed there.
The 25 Best Things to Do in Thailand
You're using Pinterest? Here is the picture to pin!